Santa Barbara with Kids: 11 Top Things to Do
Soaked in year-round sunshine, Santa Barbara is a wonderland for wiggly kids. Nature scores top billing here, and children of all ages will find a range of exhilarating outdoor adventures, from whale watching cruises and harbor seal sanctuaries to action-packed playgrounds, calm beaches, surf breaks, and beachfront bike paths.
The city is also home to a fantastic zoo, where kids can hand-feed giraffes and come face to face with western lowland gorillas. For a small-town, Santa Barbara also features an impressive medley of museums, including an excellent natural history museum, a maritime museum, and sea center.
Children will also enjoy some of Santa Barbara's fun parades and festivals. Favorites are the Summer Solstice Parade in June and the week-long August Fiesta celebrations, when kids love to dress up in colorful Spanish costumes and crack confetti-filled eggs.
Plan your Santa Barbara family vacation with our list of the top things to do in Santa Barbara with kids.
1. Walk on the Wild Side at the Santa Barbara Zoo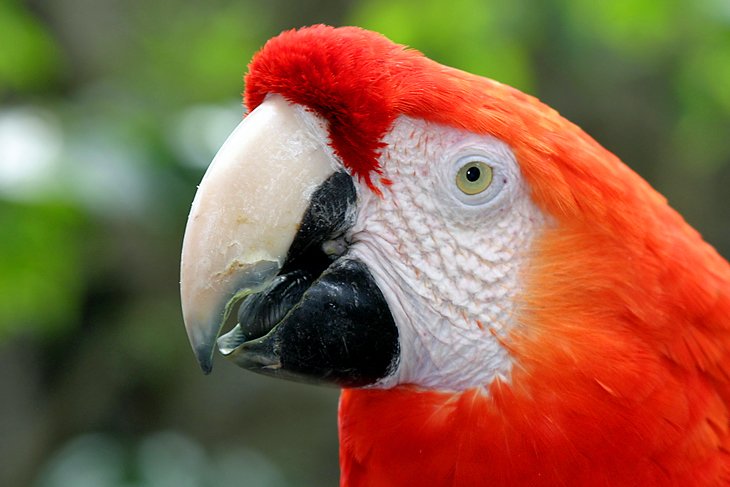 In a beautiful location on a hilltop overlooking the sea, Santa Barbara Zoo is hands-down the city's top kid-friendly attraction. For such a small town, the zoo boasts an impressive collection of critters, representing around 146 species, and the exhibits feature low barriers and expansive windows, so little ones can get up close to the animals.
Kids can hand-feed giraffes, come face-to-face with western lowland gorillas, and giggle at the playful otters. Other favorite exhibits include the California condors, penguins, meerkats, and lions. Hop aboard the little train to tour the beautiful palm-studded grounds and see the exhibits from a different perspective.
Half a day is plenty of time to tour the zoo, and after visiting all the animals, many visitors like to pack a picnic lunch and relax amid the lush gardens.
Fun programs designed especially for kids include Keeper for a Day, Behind-the-Scenes tours, and live stage shows. After touring all the exhibits, little ones can run wild at the playground.
Strollers and wagons are available for rent at the gift store near the entrance.
Address: 500 Ninos Drive, Santa Barbara, California
Official site: http://www.sbzoo.org/
2. Soak up the Fun at Stearns Wharf and the Sea Center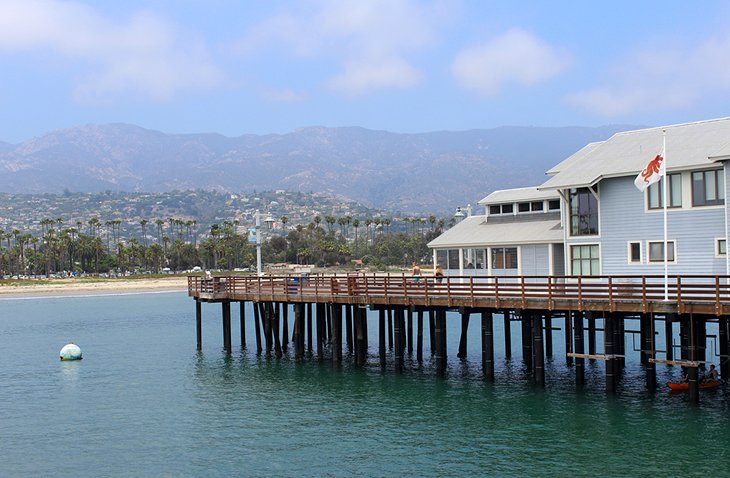 One of the most popular tourist attractions in Santa Barbara is also one of the most fun for families with kids. When the weather is fine, which is most of the time, you can stroll in the salt-tinged fresh air, look for sea lions in the water, watch the blue herons and pelicans perched along the edge of the pier, and feast on fresh seafood at one of the ocean-view restaurants.
The top thing to do here for kids up to about 12 years of age is the Santa Barbara Museum of Natural History Sea Center. With engaging interactive exhibits, the center offers a window into life below the surrounding blue sea. A favorite is the intertidal touch tank, where you can feel the texture of a sea anemone tentacle and the tickle of a hermit crab. The surge tank tunnel offers a glimpse into the workings of a tide pool, and the mezzanine level hosts exhibits on marine mammals, with stunning views of the Pacific.
After exploring the exhibits, many families love to wander around the shops with an ice-cream and read the informative plaques about the local sea life. Budding anglers can also visit the bait and tackle shop here and cast a line from the end of the pier.
Parking is limited on the wharf and includes valet parking, but you can usually find a space in one of the lots along Cabrillo Boulevard and wander the half-mile to the end of the wharf. Along the way, notice the dolphin fountain at the entrance to the wharf; a replica appears in all of Santa Barbara's sister cities around the world.
Bring your camera to this fantastic sightseeing spot. The views of the ocean and mountains are spectacular - especially at sunset.
Insider's tip: A fun way to arrive here, is to catch the Lil' Toot water taxi from the Santa Barbara Harbor.
Address: 211 Stearns Wharf, Santa Barbara, California
Official site: http://stearnswharf.org/
3. Hop aboard a Whale Watching Cruise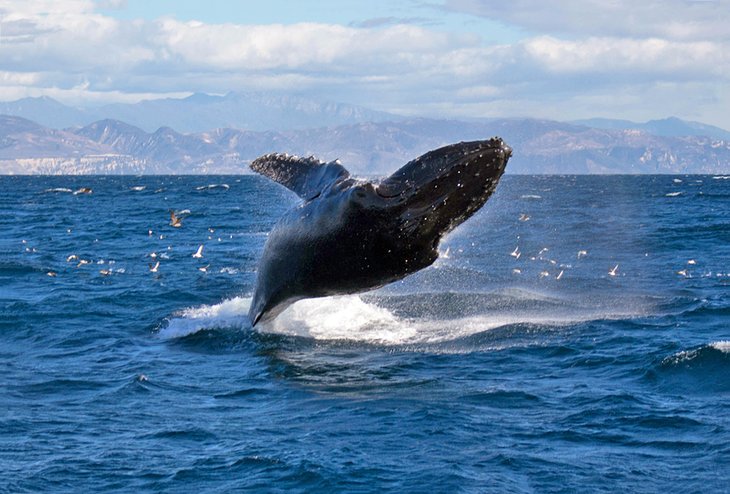 For pint-sized animal-lovers, nothing beats seeing wildlife in its natural habitat - especially the world's largest marine mammals. From May through November, humpback and blue whales feed in the Santa Barbara Channel, and gray whales migrate along the Santa Barbara coast on both their northern and southern migration.
Hop aboard a whale watching cruise for a front-row seat to all the action. These majestic creatures often breach, launching themselves into the air -a breathtaking spectacle that will wow even the most jaded of teens. Some of the cruises host representatives from the Channel Islands National Marine Sanctuary, who happily answer questions from curious kids.
Even if you don't spot whales, you can usually see dolphins, sea lions, porpoises, or even orcas. Some cruises also offer a whale watch guarantee, so if you don't spot any on your first trip, and you have at least two days in Santa Barbara with kids, you can try again for free on another day during the season.
In total, more than 27 different species of cetaceans (whales and dolphins) swim in the Santa Barbara Channel, making it a fun and fertile teaching ground for budding marine biologists.
Official site: http://condorexpress.com/
4. Bike along the Cabrillo Bike Path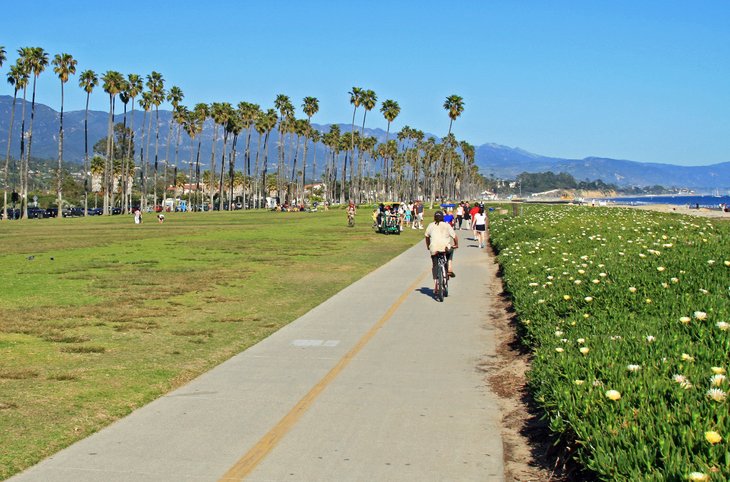 For a family-friendly, quintessential California experience, you can't beat biking along the beautiful Cabrillo bike path on the Santa Barbara waterfront.
Most of the bike rental shops lie along the stretch of Cabrillo Boulevard opposite Stearns Wharf. Here, you can rent virtually any kind of bicycle you can imagine, including beach cruisers, mountain bikes, Taga bikes, push buggies, Deuce Coupes, pedal go-karts, scooters, and even a family-size Surrey with a fringe on top.
Once you hit the bike path, you can cruise for miles in either direction. From Stearns Wharf, pedal east, and you'll eventually end up in posh Montecito. Pedal west, and you can make a pitstop at the Santa Barbara Harbor for a fresh seafood lunch.
The terrain is flat, and you'll bike under the iconic colonnades of palm trees lining some of Santa Barbara's best beaches. At the end of your adventure, you can top off your fun with an ice-cream on Stearns Wharf.
5. Go Mad at MOXI, The Wolf Museum of Exploration + Innovation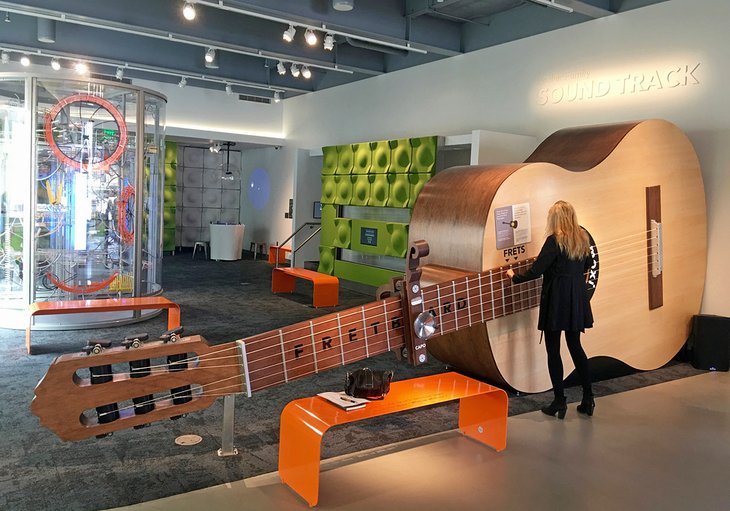 Curious kids can go crazy at Moxi. Housed in a beautiful Spanish-style building, this engaging museum is perfect for the budding scientists in your family. Here, they can conjure, create, and test their own inventions at intriguing hands-on exhibits.
In the innovation lab, kids can explore how 3D printers create products. In Fantastic Forces, they can explore propulsion, gravity, and magnetism; launch an air rocket; and conduct a test flight in the Wind Tunnel Workshop. At the Speed Track, they can build their own race car and test it on the tracks.
Do you have a music lover in your family? They can step inside a giant guitar, or create their own sound effects for film clips.
After exploring all the indoor exhibits, head up to the Sky Garden. This sun-splashed rooftop deck is home to the Whitewater interactive water feature. Best of all, both parents and kids can soak up spectacular views over Santa Barbara from the observation deck by peeking through five different scopes.
This is one of the best places to visit in Santa Barbara with kids on a rare rainy day.
Address: 125 State Street, Santa Barbara, California
Official site: http://www.moxi.org/
6. Surf and Swim at Arroyo Burro Beach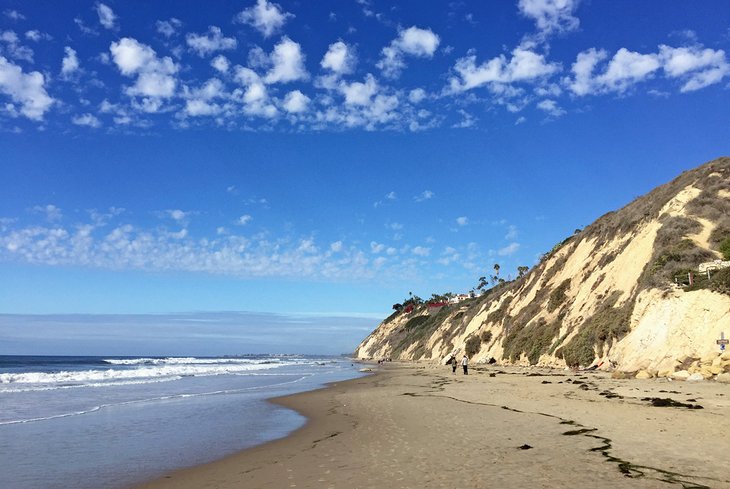 Better known as "Hendry's Beach" by the locals, Arroyo Burro Beach is a family favorite. Hanging out on this beach on a beautiful day is one of the best free things to do in Santa Barbara with kids.
Gentle swells make this a great spot for beginner surfers to practice their skills, and pet owners love this dog-friendly stretch; the south side of the beach is an off-leash area and the north side is for leashed dogs.
At low tide, kids love to tinker around in the tide pools here and hunt for small sea critters. You can also look for dolphins and whales offshore.
After a fun day of sun, sand, and sea, grab a bite to eat at the seafood restaurant here, steps from the sand.
Insider's tip: Bring old shoes or flip flops. Like most Santa Barbara beaches, tar deposits mar the shoreline. But if you do find some splotches on the soles of your feet, baby oil works wonders.
7. Explore the Santa Barbara Museum of Natural History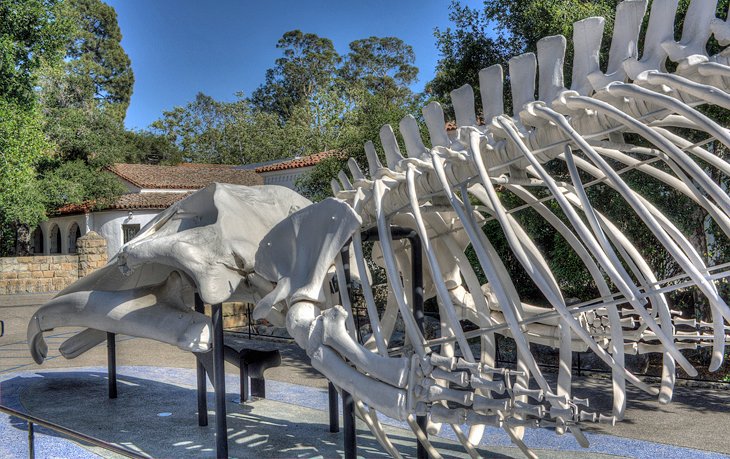 At the Santa Barbara Museum of Natural History, on 11 oak-studded acres, you can gaze up at a 72-foot blue whale skeleton, gawk at a grizzly bear, and learn all about the Chumash Indians who once thrived in this region.
Exhibits here feature everything from the birds, reptiles, marine life, and mammals of the region to geology and paleontology, with plenty of interactive exhibits to keep little hands busy. The mineral and gem gallery is a favorite.
At the Gladwin Planetarium, budding astronomers can enjoy live, multimedia shows on all things space-related. Zoom through the Milky Way galaxy, see the surface of the moon, and explore the constellations.
After touring all the exhibits, kids love to wander along the museum's tree-shaded nature trail by Mission Creek and hunt for lizards and birds. Before you go, check the website for special exhibitions.
Are you visiting the museum in the summer? If so, you're in luck. You can take the kids to see the popular Butterflies Alive! exhibit, where clouds of these winged beauties flutter freely around the enclosure, providing fantastic photo opportunities. The exhibit usually runs from Memorial Day to Labor Day.
Note that if you are also planning a visit to the excellent Sea Center on Stearns Wharf, you can save money by purchasing a Nature Pass here, which allows entry to both attractions on two consecutive days.
Address: 2559 Puesta del Sol, Santa Barbara, California
Official site: http://www.sbnature.org/
8. Play at Chase Palm Park Shipwreck Playground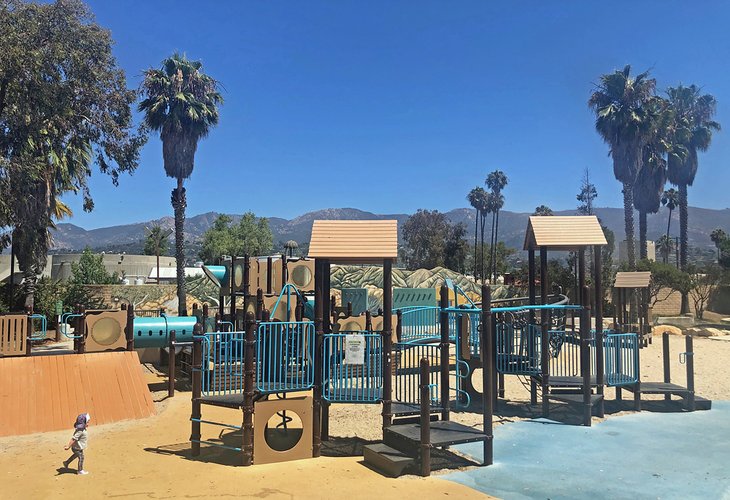 In a beautiful location across from the Santa Barbara beachfront, Chase Palm Park Shipwreck Playground is a haven for active kids. Targeting toddlers up to 12-year-olds, this imaginatively designed playground represents the geographical features of Santa Barbara, from the mountains to the sea.
Kids can clamber over bridges, explore islands and a cityscape, climb a shipwreck, and cool off near water-spouting whales. Beachy kids also love digging in the sand here, so it's a good idea to bring a bucket and shovel.
During July and August on Thursday nights, Chase Palm Park hosts free Concerts in the Park, when Mom and Dad can relax on the lawn with a picnic, listening to music spanning all genres, while the kids run wild in the playground.
Across the road on the beachfront, Skater's Point skate park is the hot hangout for skateboarders with 14,600 square feet of riding area, including a half-pipe, fun boxes, and rails. Young skateboarders and beginners should try to arrive before noon on the weekends, when it tends to be a little quieter.
Address: Cabrillo Boulevard, Santa Barbara, California
9. Climb a Magic Castle at Kid's World, Alameda Park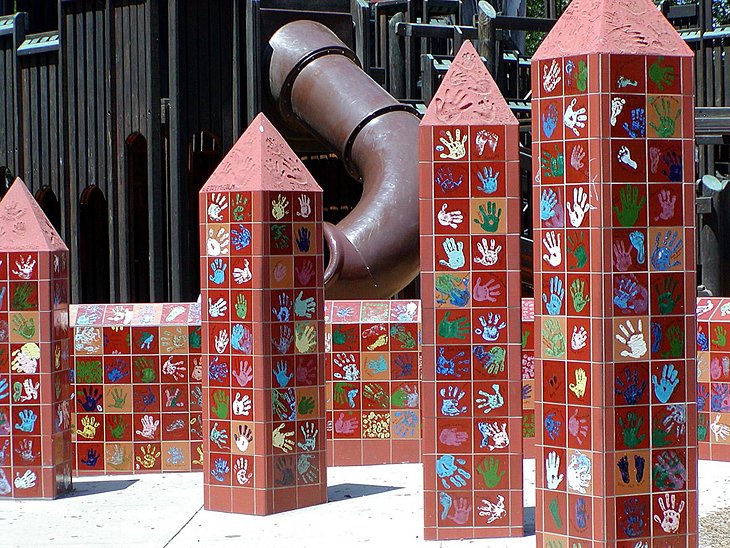 At Kid's World in Alameda Park, children can climb a magic castle; clamber through bridges, tunnels, and towers; swing from ropes; and ride sharks and whales in 8,000 square feet of outdoor fun.
The Santa Barbara community helped design this popular playground, which caters to kids from ages two to 12 years, and you can tell by the crowds that it's a huge hit. Younger kids can hang out in the toddler area with slides, swings, and smaller climbing equipment.
Insider's tip: Note that it's a good idea to dress your children in bright colors at this playground, so you can spot them easily among all the other kids in the labyrinthine play equipment.
After the frenetic fun of Kid's World, you can enjoy a picnic at the Alice Keck Park Memorial Garden across the street. Kids love the tranquil goldfish pond, turtles, and sensory gardens.
Address: Corner of Micheltorena and Garden Streets, Santa Barbara, California
10. Discover Seafaring History at the Santa Barbara Maritime Museum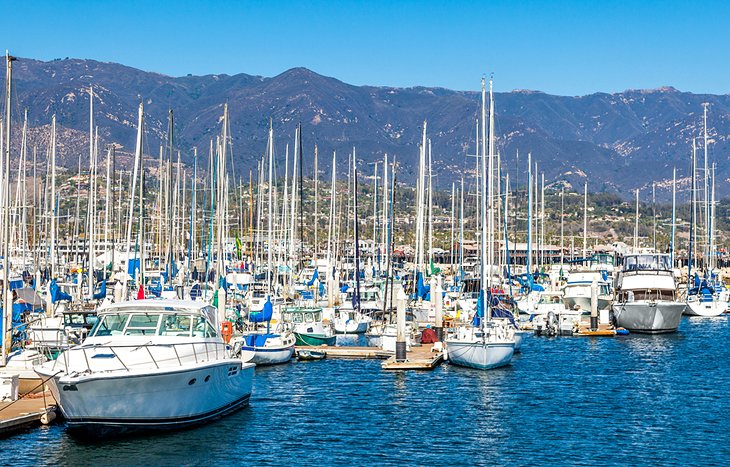 At the Santa Barbara Maritime Museum on the harborfront, children can learn all about the region's rich maritime history through fun hands-on exhibits.
Favorites include the deep sea fishing simulator, dress-up corner, antique diving suits, and oil rig models. Other exhibits unveil the fascinating local history of the Channel Islands, as well as abalone diving, surfing, shipwrecks, and the Chumash Indians. Best of all, kids can follow a treasure hunt with a map that takes them through the museum.
After viewing all the exhibits, pop up to the top deck for sweeping views of the harbor, and if you're looking for a fun lunch spot, one of Santa Barbara's most popular seafood restaurants, Brophy Bros., is nearby.
A fun way to access the maritime museum is aboard the Lil' Toot water taxi, which runs between Stearns Wharf and the Santa Barbara Harbor.
After your museum visit, stroll around the docks, so the kids can watch all the boating action.
Address: 113 Harbor Way, Ste 190, Santa Barbara, California
Official site: http://www.sbmm.org/
11. Stroll to the Carpinteria Harbor Seal Rookery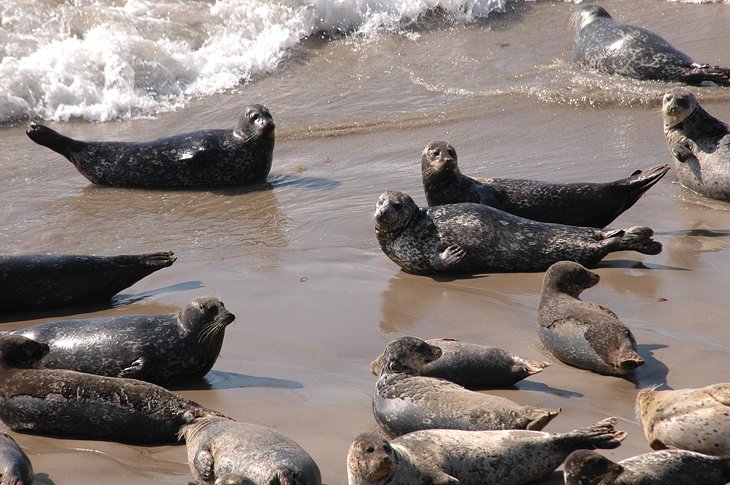 Wriggly wildlife-lovers who want to blow off steam and see harbor seals in their natural habitat at the same time should head to the Carpinteria Bluffs Nature Preserve. Along the soaring sea cliffs here, you can hike to a seal rookery viewpoint along the scenic Coastal Vista Trail, one of the top hiking trails in Santa Barbara.
This flat one-mile trail accommodates off-road strollers and is an easy walk for older children, but be sure to take care along the cliff edge.
The best time to visit is from December through May, when the seals rest on the beach to give birth and nurse their pups. At this time of year, the beach below is closed so that the seals can birth without disturbances, but you can observe them from the clifftop viewpoint. Docents are usually here to answer questions, and if you visit from February through April, you may be lucky enough to see a harbor seal give birth.
Look for dolphins and whales offshore, as well as ground squirrels and lizards along the path. From the seal rookery, follow the trail through the coastal salt marsh, where you can spot more than 200 species of birds. It's a good idea to bring binoculars, so little eyes can see the wildlife up close.
If you walk north along the trail, you'll end up at Carpinteria State Beach, a great place to visit for a cool dip. To access the trail, exit from US 101 south at Ballard Avenue in Carpinteria. Head towards the ocean to the bluffs parking lot. Note that dogs are not permitted near the seal colony.
If you're looking for a kid-friendly lunch spot after your wildlife-watching adventure, head to Padaro Beach Grill in a park-like seafront setting, about 3.4 miles north on US 101. Here, little ones can dig in the large toy-filled sand pit while you eat in peace.
Official site: http://carpinteriabluffs.org/