12 Best Parks in Bakersfield, CA
City parks spread throughout the city of Bakersfield in the San Joaquin Valley of Central California. These public sites offer green space and relief from the sun in the form of large shade trees and splash pads. They also provide a lovely natural area for escaping busy and developed streets.
The city maintains over 60 parks, ranging from linear parks along a bluff to sprawling campuses complete with lakes and disc golf courses. Other notable park features include expansive playground equipment, outdoor amphitheaters, and Kern River Parkway Trail connections.
One of the first places to visit in Bakersfield is Hart Park, part of the larger Kern River County Park. This expansive public area is the crown jewel natural space in Bakersfield and tends to draw the biggest crowds. Still, like all Bakersfield's best parks, it's easy to find space to explore on your own.
Enjoy the sunny forecast of Central California with our list of the top parks in Bakersfield.
1. Hart Park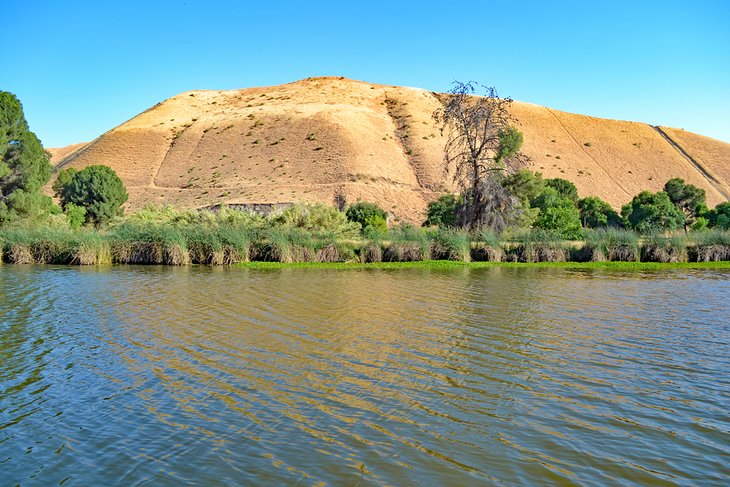 Hart Park is the signature outdoor space in Bakersfield and one of the oldest parks in Kern County. It's northeast of downtown and accessible with a 15-minute drive. The last bit of driving to the park is on a scenic stretch of the Alfred Harrell Highway.
Hart Park encompasses 370 acres between the Sierra Nevada foothills. The Kern River runs right through the park, bordered by ample picnic space and other notable natural features like Hart Park Lake. Amenities like picnic benches and walking trails throughout this area encourage time spent at leisure.
Hart Park is also home to two excellent disc golf courses. One course navigates the flat interior of the park, including a hole that throws over the Kern River. The other course, known as Shark Tooth Mountain Disc Golf Course, climbs into the foothills for a challenging but fun 18.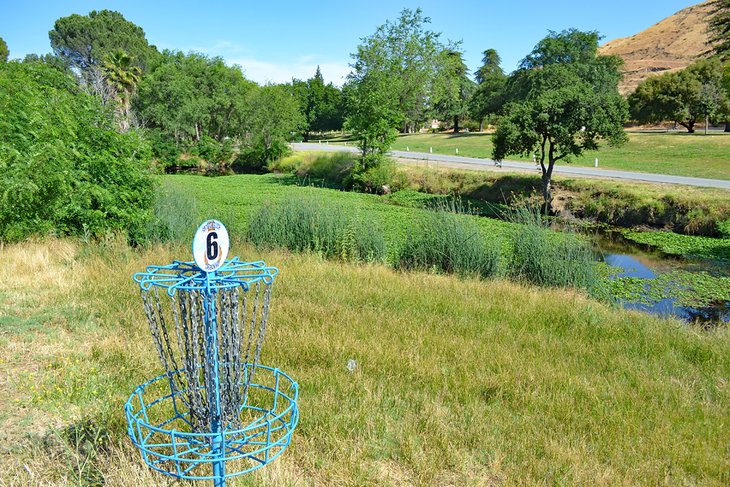 Hart Park is part of the larger Kern River County Park. This sprawling acreage extends well beyond Hart Park. It includes other notable Bakersfield attractions like Lake Ming and the California Area Living Museum (CALM). With so much to see in this area, plan for the entire day exploring everything Kern River County Park has to offer.
2. The Park at River Walk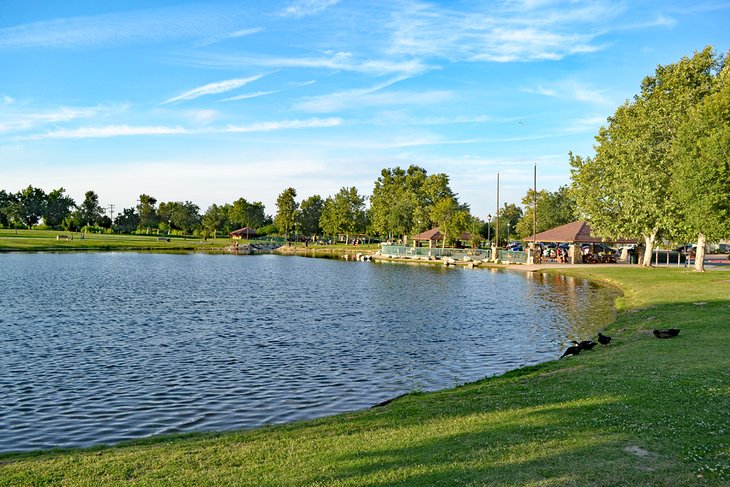 This public park on the city's west side is a beautiful example of urban engineering. It's behind a busy shopping center and was long ago saved from commercial development. It was largely inaccessible for many years, but today it's one of the city's most popular and lovely public parks.
The Park at River Walk encompasses 32 acres and connects to the city-spanning Kern River Parkway Trail. Among its landscaped surroundings are two beautiful lakes connected by an artificial creek circulating the water. This aquatic landscape includes scenic bridges, fountains, and walking trails that follow the flow.
The park feature that attracts the most attention is the Bright House Networks Amphitheatre. This eye-catching outdoor venue puts on concerts and community events throughout the year. It has state-of-the-art lighting and sound equipment and hosts events with thousands in attendance.
3. Panorama Park

Panorama Park is a popular linear park on the northeast side of town. As its name implies, the park sits atop a bluff overlooking the Kern River Valley and offers a spectacular view, especially come sunset.
The park stretches for approximately a mile along the bluff, with parking lots on either side. Ample parking is also available along Panorama Drive next to the bluff. Several picnic benches and trash cans also line the park's walkway, offering ample opportunity to sit and enjoy the view.
Walkers can make a loop within the park with a two-mile hike. The route follows the paved section atop the cliff and a lower dirt trail with minimal elevation gains. The mid-day summer temperatures at Panorama Park can be stifling without much shade around. Nonetheless, expect other trail users most days.
The view atop Panorama Park includes the massive oil fields that have propped the local economy for years. Also in view is the Kern River, including the growth surrounding the banks. To explore this riparian corridor up close, drive down the cliffside and cross the river to visit the Panoramic Vista Preserve.
4. Beach Park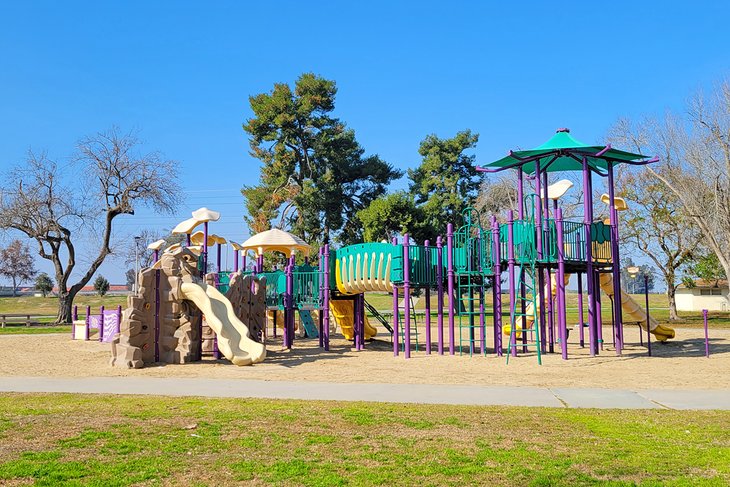 Beach Park is one of the most visible parks in Bakersfield. It's at the 24th and Oak Street intersection, next to the Golden State Highway (California State Route 99). This visibility makes the park a common spot to congregate when the weather is nice.
Beach Park has a large lawn area, encompassing several features like playgrounds, picnic shelters, and a large bocce ball complex. The playground is enormous and features several traditional and modern features like slides and climbable structures. The park is also home to a popular skate park in its northwest corner.
The Kern River and Kern River Parkway also run next to the park. This proximity makes Beach Park a common staging area for the trail. Visitors often bring their bikes to Beach Park to start a bike ride heading north or south.
5. Central Park at Mill Creek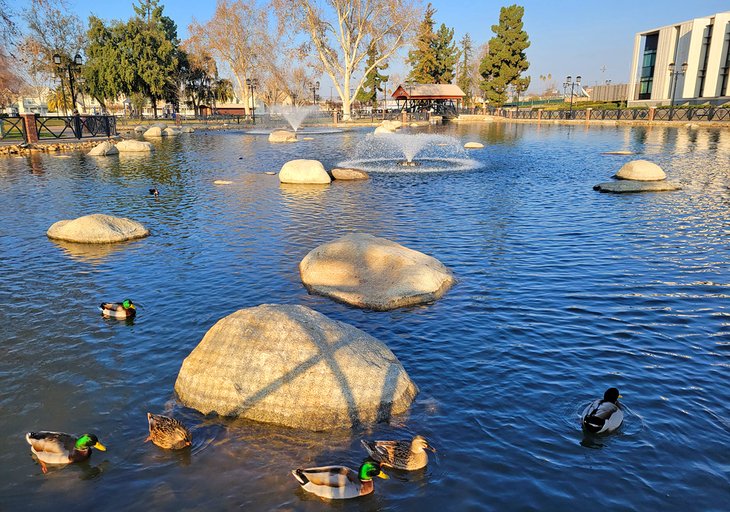 Central Park at Mill Creek is a beautifully landscaped space on the east edge of downtown. It's the only downtown park, and features a linear design, following what used to be an irrigation canal between Truxtun Avenue and 21st Street.
Mill Creek and Central Park received significant renovations in the early 2000s. Today, the once-industrialized area has an eye-catching appeal with water fountains and landscaped paths. These upgraded landscapes also include the renovated Mill Creek Bridge in Central Park.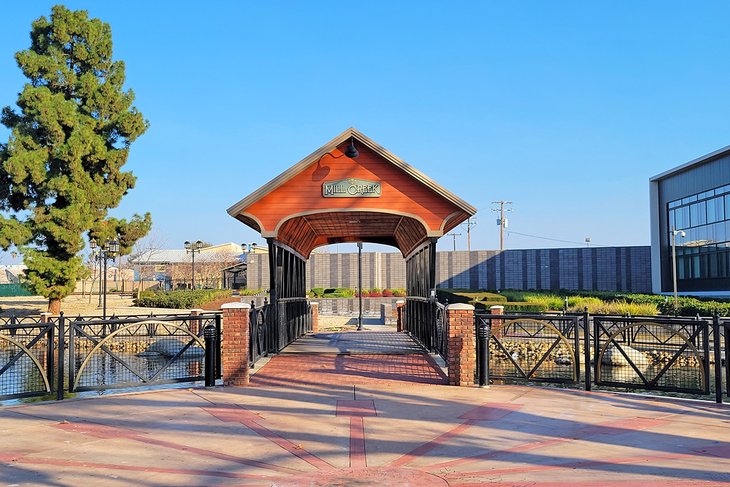 Central Park is primarily a linear park best suited for walking. Picnic benches line the pathway, offering places to enjoy the moving water. In Central Park itself, green space extends from the west bank, complete with modern playground equipment and restrooms.
Park-goers should budget some time to visit the Bakersfield Museum of Art when visiting Central Park. This non-profit museum is next to Central Park and offers several galleries to peruse, including an outdoor sculpture garden.
6. Kern River Parkway Trail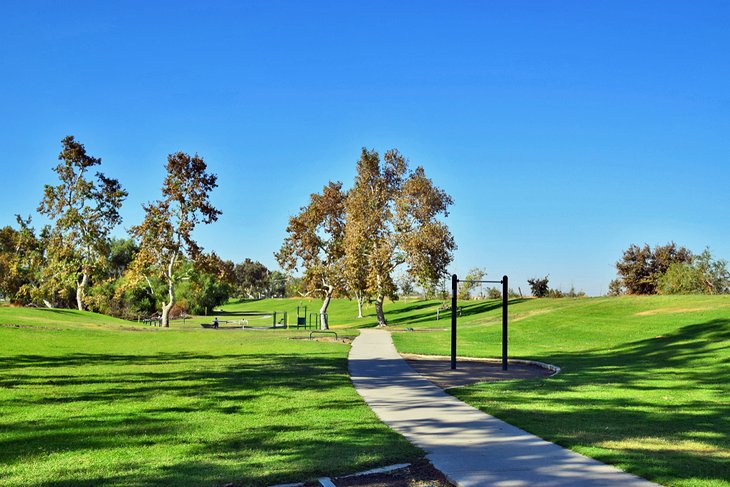 The Kern River Trail stretches for 30 miles through Bakersfield, connecting several public parks along the way. It follows the banks of the Kern River, which is a drainage for the Sierra Nevada Mountains and is often dry by the time it gets to the city. And even in this arid riparian corridor, the habitat surrounding the trail abounds with plants and the skitter of wildlife.
The middle of the trail cuts through Bakersfield and connects several city parks. A few signature spaces along the way include Beach Park, Panoramic Park, and the Park at River Walk. These parks offer excellent staging spots to hop on the trail, or great pitstops during a day of exploring. Several other access points are on Truxtun Avenue, such as Truxtun Park.
The trail begins and ends in the city's more remote landscapes. The eastern terminus is near the Kern River Oil Field, one of the largest such operations in California. And the western terminus is far out near the Kern County Raceway Park. Both trail ends have parking areas with restrooms.
7. Beale Park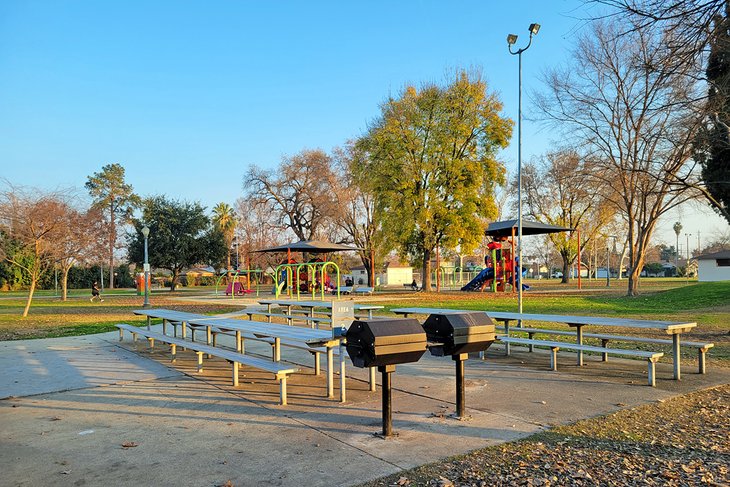 Beale Park is a lovely public space in the Oleander/Sunset neighborhood, south of downtown. It's one of Bakersfield's oldest parks and is still today a popular place for families to congregate. It's also a popular place for wild parakeets to gather, as it's home to a company of these colorful birds.
The park has several children's facilities, including a playground and splash pad. It also has ample green space and dozens of picnic tables for meals spent outside. Adults also spend time at the park, utilizing the basketball courts, open green space, and tennis courts.
The Beale Park Band puts on free shows within the park's outdoor Greek Theatre. These community shows typically take place on Sundays throughout the summer. The band, also known as the Bakersfield Municipal Band, mainly comprises members of the Bakersfield Symphony Orchestra.
8. Jastro Park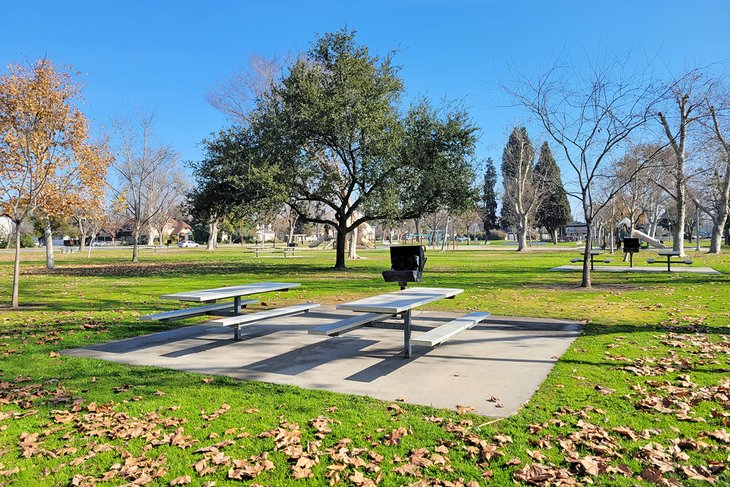 This lovely neighborhood park is accessible off Truxton Avenue, west of downtown. It encompasses approximately nine acres of flat green space punctuated by park facilities, including a playground, amphitheater, and splash pad.
The park is relatively quiet, though it's often hosting outdoor birthday celebrations on the weekends. The modern playground also tends to see some traffic with families visiting throughout the week. Otherwise, come to Jastro for a peaceful moment outside. Jastro Park also recently renovated their tennis courts for recreational pickleball.
9. Emerald Cove Park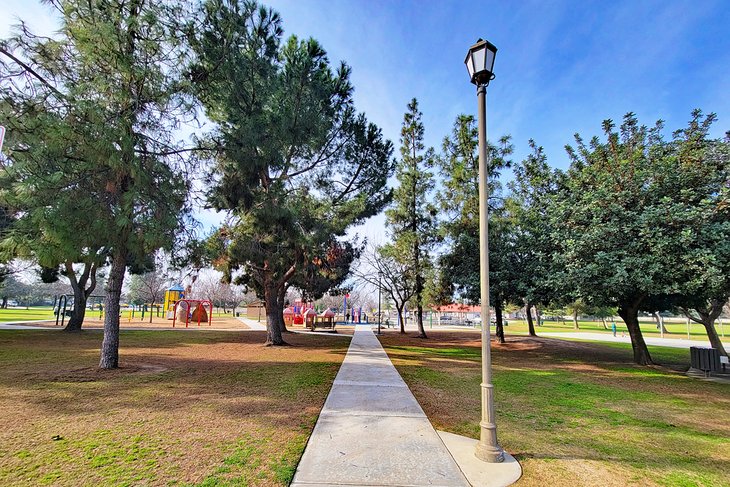 Emerald Cove Park is a lovely 12-acre public space west of downtown in the Fruitvale neighborhood. It has several family-oriented attractions, including an expansive playground set and picnic areas. The park is also popular for its open green space, catering to field sports and lying out in the sun.
Other park features include basketball and tennis courts, a splash pad, and horseshoe pits. It's a quieter park than other centrally located city spaces, making it a gem for those looking to avoid the crowds. The lack of crowds also makes reserving the park's covered picnic structure an easier endeavor.
10. Silver Creek Park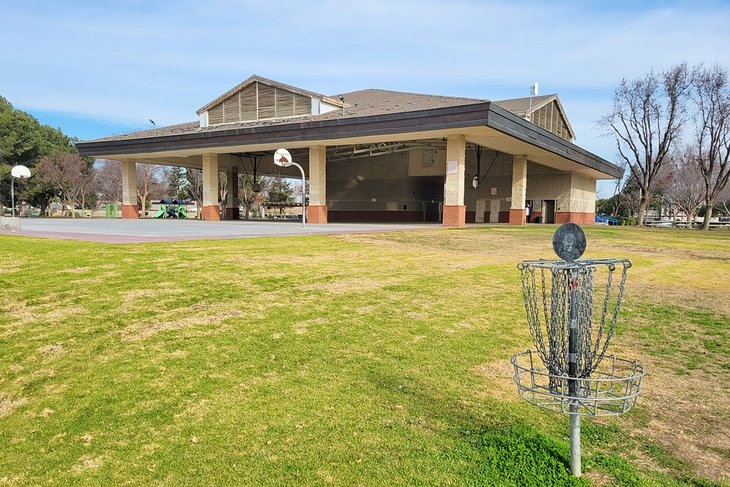 Silver Creek is a large city park southwest of downtown. It features ample open space and facilities like two playgrounds and picnic areas. It's also home to the Silver Creek Park Pool, with six swimming lanes and a wading pool. The pool is open from June through the beginning of August. Lifeguards are on duty.
Silver Creek Park is also home to a reservable community center. This covered space features a meeting room, kitchen, and a large outdoor pavilion that lights up at night. The pavilion also acts as a lighted basketball court when the community center isn't booked. Reservations for the community center must be made three weeks in advance.
For disc golfers, Silver Park also has an introductory nine-hole course good for practicing. Each hole isn't very long but offers a variety of mid-range and putter shots. Disc golfers must watch out for other park patrons when playing.
11. McMurtrey Aquatic Center
This public pool complex is one of the coolest places to be during the hot summer days in Bakersfield. It features an Olympic-sized swimming pool for lap swimming and a zero-depth entry pool for kids' activities. The aquatic center also features diving boards, a small double waterslide, and a concession area.
The pool is open to the public from June through the beginning of August, with lifeguards on duty. There's a small admission fee for swimming, which includes access to the facility's locker rooms. The pool also offers swim lessons and water aerobic programs throughout this season.
McMurtrey is one of four city pools in Bakersfield. The other three are Jefferson Park, Dr. Martin Luther King Jr. Park, and Silver Creek Park. All four pools operate during the same June to August season.
12. Yokuts Park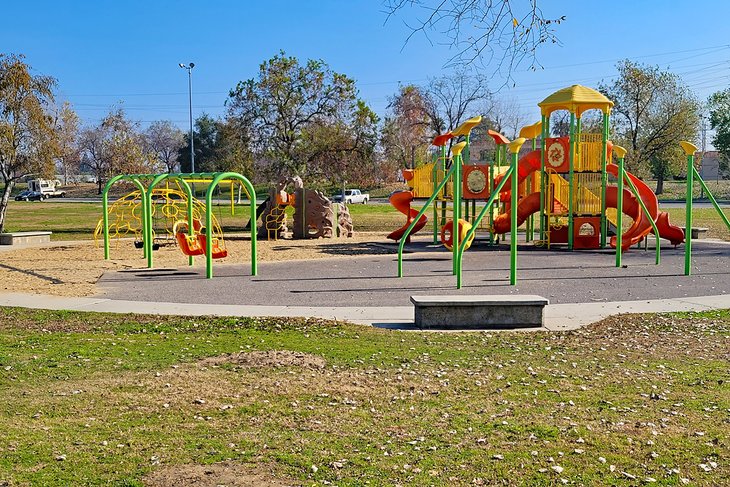 Yokuts Park is opposite the Golden State Highway from Beach Park, connected by the Kern River Parkway Trail. It has ample green space bisected by paved and dirt trails lined with picnic tables. These trails make Yokuts a popular thoroughfare on a long bike ride or run outside.
Yokuts also features an expansive playground set popular with families. A large pavilion is next to the brightly colored playground to catch some shade. This playground and pavilion are popular spots for packed lunches and playdates.
Bakersfield - Climate Chart
Average minimum and maximum temperatures for Bakersfield, CA in °C
J
F
M
A
M
J
J
A
S
O
N
D

13

4

18

6

20

8

24

10

29

14

33

18

36

21

35

20

32

18

27

13

18

7

13

3

PlanetWare.com
Average monthly precipitation totals for Bakersfield, CA in mm.

30

31

36

11

6

3

0

2

4

8

15

19