18 Top-Rated Day Trips from San Luis Obispo, CA
San Luis Obispo is within easy reach of many appealing day-trip destinations, from picturesque historic towns to rejuvenating beaches. A short drive from town, visitors can explore a wide array of Central Coast attractions, including the world-famous Hearst Castle, the seaside village of Morro Bay, and the relaxed beach resort of Cayucos.
Natural beauty beckons on San Luis Obispo's doorstep. Guadalupe-Nipomo Dunes Preserve, the world's largest coastal dune ecosystem, lies less than 30 miles from town. Also an easy drive away is sparkling Lake Nacimiento and Montaña de Oro State Park, with hiking and horseback riding trails and colorful springtime wildflowers.
Learn about the best places to visit and things to do with our list of the top day trips near San Luis Obispo.
1. Hearst Castle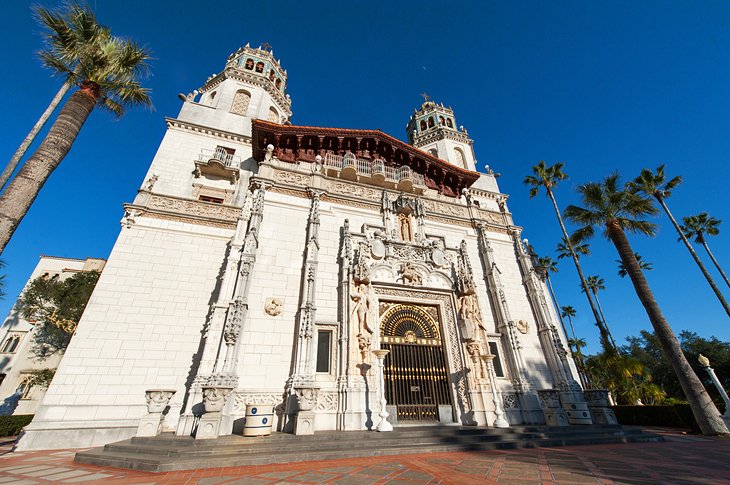 Perched on a hilltop in a magnificent coastal setting, Hearst Castle is one of the must-see attractions of Central California. This legendary estate is listed as a Historic Monument.
The castle is an architectural masterpiece that was created for newspaper baron William Randolph Hearst. The overambitious project envisioned by Hearst was considered infeasible by most architects at the time; all said it couldn't be done except for Julia Morgan.
Architect Julia Morgan was the first woman (in 1898) to study architecture at the prestigious Ecole des Beaux-Arts in Paris. This classical training in France, as well as a civil engineering degree from the University of California at Berkeley, provided Morgan with the skills required to complete the Hearst Castle project.
Despite the challenges and a nearly 30-year construction process (from 1919 to 1947), Morgan succeeded at building a magnificent Mediterranean-inspired mansion on an expansive estate overlooking ranch lands, rolling hills, and the Pacific Ocean.
The 115-room main building, known as the Casa Grande, resembles a 16th-century Spanish cathedral. The High-Gothic-style interior displays exquisite works of art, such as 16th-century Flemish tapestries. Everything was meant to dazzle the high society and Hollywood celebrities who were invited to the castle. Guests could flip through a Gregorian illuminated manuscript or admire a 3,000-year-old Goddess Sekhmet statue from Egypt.
The outdoor space was also created with entertainment in mind. Within its sprawling estate, the Hearst Castle grounds include 127 acres of lush gardens complete with decorative pools, fountains, and sculptures.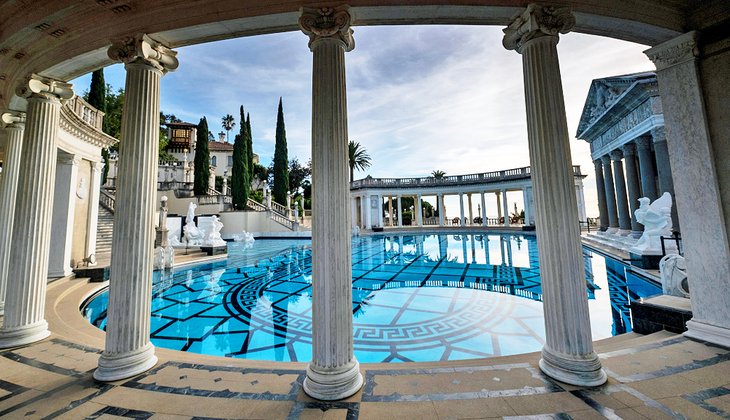 Other highlights of the elaborate grounds are the outdoor Neptune Pool, framed by classical colonnades and statues, and the indoor Roman Pool, exquisitely decorated with a million Murano glass mosaic tiles. In one corner of the gardens are bougainvillea-trimmed Moorish-style cottages that provided overnight accommodations for the house guests.
Today, the site is managed by California State Parks, and tourists may only visit on a guided tour. Visitors choose from various guided tours that focus on specific locations of the property, such as the grand rooms, the upstairs suites, or the cottages. During high season, it's best to reserve tickets in advance, because popular tours such as the Grand Rooms Tour tend to sell out.
Hearst Castle is an easy day trip from San Luis Obispo, about 45 miles away, a 50-minute car ride, or a one-hour-and-45-minute bus ride with one transfer at Morro Bay. The RTA bus from San Luis Obispo leaves from the SLO County Government Center at 1055 Monterey Street; one-day and multiple-day bus passes are available at the RTA ticket office inside the Government Center building.
2. Morro Bay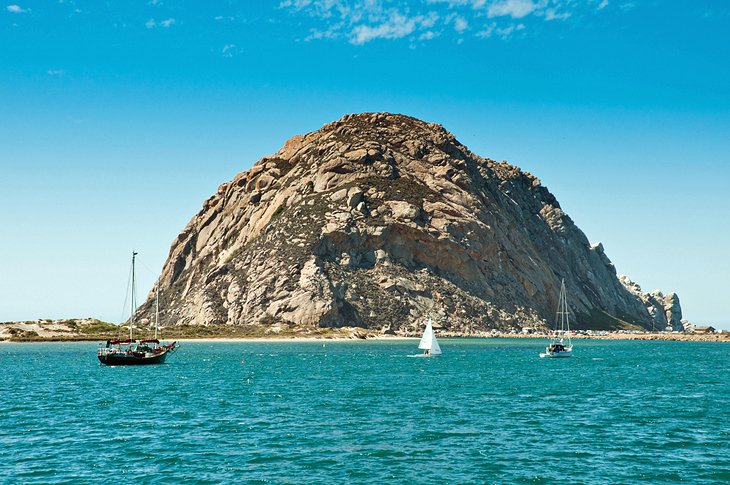 Once a small fishing village, Morro Bay is now a recreational destination that delights visitors with its relaxing seaside ambience and stunning scenery. The town overlooks the distinctive Morro Rock, an iconic nature site and protected bird sanctuary. The calm waters of Morro Bay make it a popular place for surfing, kayaking, and sailing.
The area is also wonderful for fishing, cycling, nature walks, and spotting wildlife. Other popular things to do in Morro Bay are organized boat tours. They allow visitors to see the amazing marine animals including seabirds, sea lions, and sea otters.
When it comes to dining, Morro Bay is one of the best places to visit near San Luis Obispo for seafood meals. The waterfront restaurants lining the harbor offer delicious locally caught fish, served at bayside patios with views of Morro Rock and the bay.
3. Pismo Beach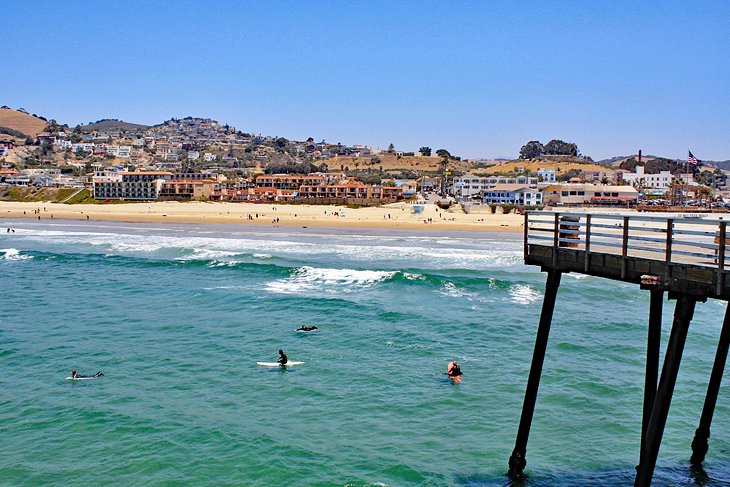 Pismo Beach delights summertime vacationers with its seaside recreational opportunities and fun-in-the-sun ambience. Surf shops, fish and chips restaurants, and breezy cafés add to the classic beach-town vibe.
Excellent facilities and accommodations plus a wide range of tourist attractions make Pismo Beach a perfect holiday destination. Tourists can choose from a wide variety of places to stay, from beachfront resorts to house rentals that cater to families with kids.
Surfers flock to Pismo State Beach to ride the consistently good waves, while sunbathers stretch out on the sandy shoreline. A typical scene includes children playing with beach balls or building sand castles, and fishing enthusiasts reeling in catches from the pier.
The three-mile stretch of coastline at Pismo State Beach is a recreational paradise. Visitors can make use of the camping sites, go for strolls along the walking trails and boardwalk, and picnic at the tables along the pier. Other things to do include beach volleyball, kayaking, sailing, scuba diving, bird-watching, and whale watching during the migration season.
From late October through February, thousands of monarch butterflies make a stop at the Monarch Butterfly Grove to seek shelter during their annual migration. Clusters of the colorful creatures can be seen on eucalyptus branches, giving the impression that the trees are blooming with butterflies.
A favorite attraction among kids is the oceanfront Dinosaur Caves Park located at Shell Beach (Price Street and Cliff Avenue) near Pismo State Beach. This dinosaur-themed playground features realistic-looking dinosaur eggs (made from concrete), swings, picnic tables, and walking trails with awe-inspiring coastal views.
4. Avila Beach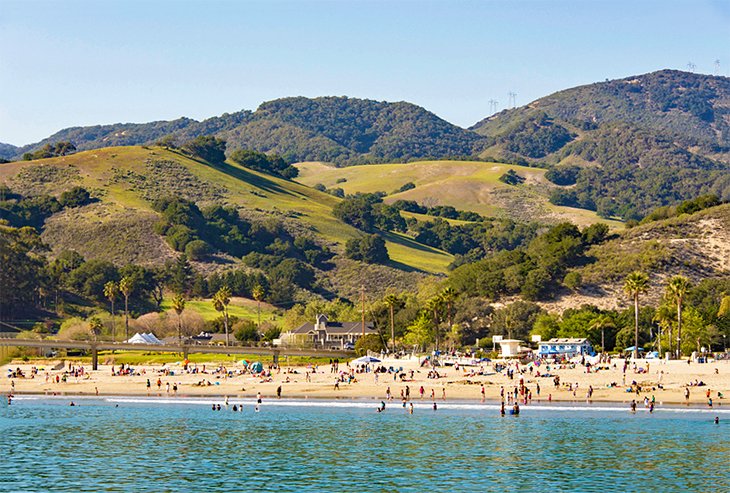 Gently rolling foothills frame Avila Beach on the sheltered San Luis Obispo Bay, giving the place a secluded feel almost like a hidden paradise. Adding to the charm, the downtown features a pedestrian-only waterfront area with casual eateries and gourmet restaurants. Many dining establishments have outdoor terraces ideal for soaking up the sea breezes and shoreline vistas.
Sunbathers and recreational enthusiasts can choose from several sandy beaches that are mostly protected from the winds. City Beach is the largest and most popular beach with amenities such as restrooms and picnic tables.
The 1,600-foot Avila Beach Pier at City Beach offers fisherman a chance to reel in fresh catches (unlike other public piers, a license is not required). Families with kids will have fun at the children's playground and the Central Coast Aquarium located in a park behind City Beach.
In a quiet cove, the Olde Port Beach is prized for its calm waters. It's less busy than City Beach and is ideal for relaxing in nature while listening to the gentle waves. This small sandy beach has restrooms but no shops and few amenities.
5. Arroyo Grande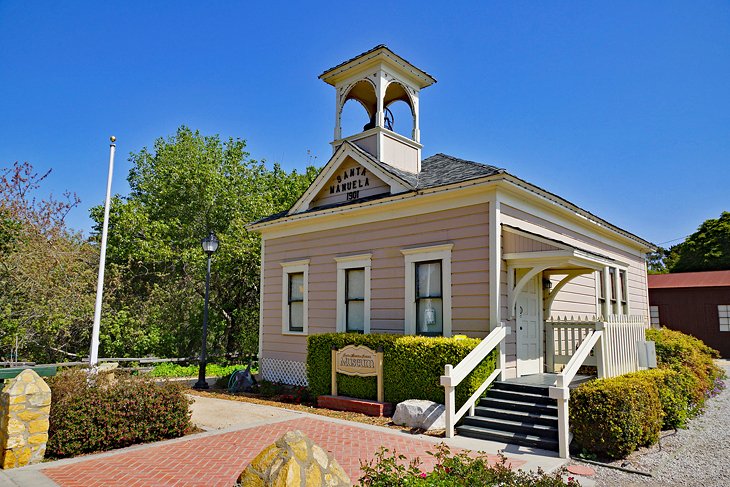 Just 15 miles south of San Luis Obispo, this historic village is known for its old-fashioned small-town charm, as well as its selection of antique shops and vintage boutiques. The town boasts several small museums, including the Santa Manuela Schoolhouse and the Heritage House Museum in a Victorian cottage surrounded by a lovely garden.
Also known for its community events, Arroyo Grande has a lively Farmers Market on Saturday afternoons and a Strawberry Festival over the Memorial Day weekend.
Visitors enjoy strolling the town and going for hikes or bike rides on nearby trails. For an afternoon excursion in the countryside, pick up a picnic lunch in Arroyo Grande and then spend the afternoon at nearby Lopez Lake located 10 miles away. This picturesque lake is a delightful spot for fishing, boating, windsurfing, hiking, and horseback riding.
6. Cayucos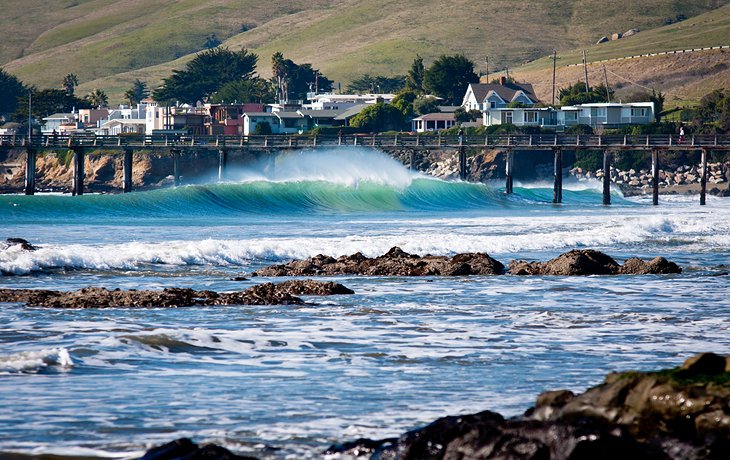 Cayucos is tucked away on the Estero Bay, 18 miles from San Luis Obispo on the way to Hearst Castle (another 26 miles away). This small, laid-back beach town has a charming downtown filled with surf shops; hotels; and restaurants offering Mexican cuisine, seafood dishes, and other local specialties.
Cayucos is prized for its long, wide shoreline and historic pier on Ocean Front Avenue (a great spot for fishing). Swimmers and sunbathers appreciate the Cayucos State Beach for its mild, sunny weather and fine white sand. Surfers enjoy the waves. Amenities at the beach include picnic tables, restrooms, and lifeguard surveillance during the summertime.
7. Cambria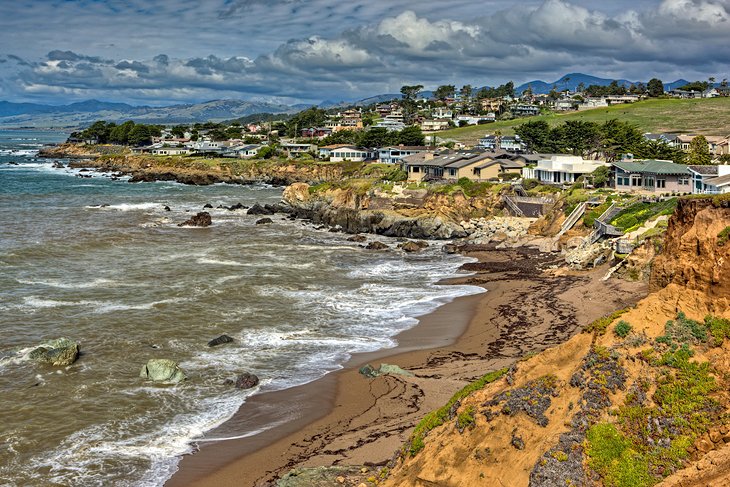 This cute beach town is a pleasant place to stop on the drive from San Luis Obispo to Hearst Castle (10 miles away) to get lunch or dinner in between sightseeing. It's also a good location for an overnight stay. The town has many enticing boutiques, art galleries, restaurants, and cafés. Tourists will enjoy taking a leisurely stroll through the town to browse the shops.
Nature lovers rave about Cambria's pristine Moonstone Beach, which is brimming with sea life in its tide pools and ocean environment. Ideal for scenic walks, the Moonstone Beach Boardwalk is a meandering one-mile seaside path that affords sweeping coastal panoramas. Many spots along the way offer vantage points for viewing dolphins, otters, and whales.
8. Nipomo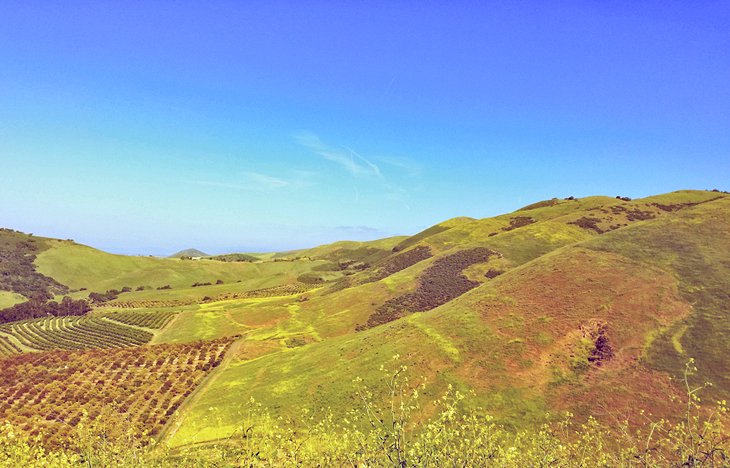 One of the most well-known photographs of all times, Dorothea Lange's iconic image of a Migrant Mother, was captured at a farmers' camp in Nipomo during the Great Depression. This photo became symbolic of the farm workers' plight during the 1930s.
About 25 miles south of San Luis Obispo, the historic ranching community of Nipomo has a quaint Old Town with several important landmarks. On the outskirts of the town, the Dana Adobe was constructed in 1839 from the area's distinctive clay soil. Encompassing 130 acres, the property features panoramic views of the rolling foothills. At the site, the DANA Cultural Center educates visitors about California's ranching history.
The town's agricultural heritage has endured, and farming is still the driving force of the local economy. Citrus orchards, avocado plants, and fields of strawberries and vegetables surround the town.
Nipomo also has three world-class golf courses, including the award-winning Monarch Dunes, an 18-hole course; the Blacklake Golf Resort, which features three nine-hole courses; and Cypress Ridge Golf Course, an 18-hole course on an Audubon International nature preserve.
9. Rancho Guadalupe Dunes Preserve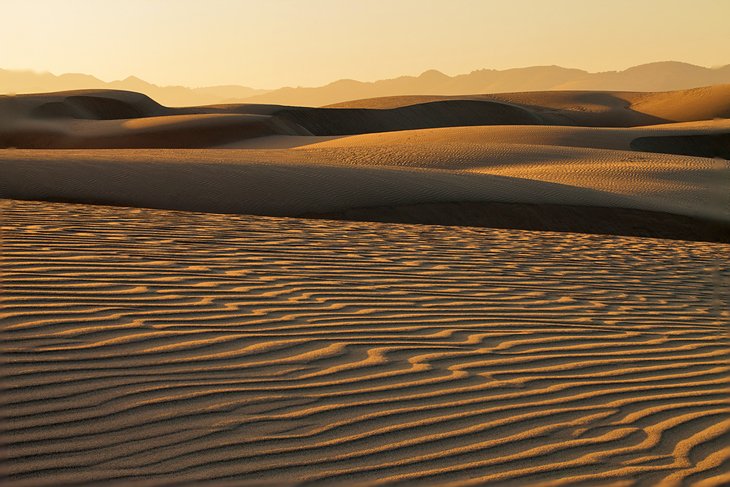 Drive about 30 miles south from San Luis Obispo to discover this incredible nature site. The world's largest coastal dune ecosystem, the Rancho Guadalupe Dunes Preserve is a protected 15,000-acre coastal stretch that features striking sand dune formations. The tallest dunes stand at over 500 feet above sea level.
Within this nature preserve, Guadalupe Beach (also known as Main Street Beach) is a popular place for surfing, fishing, whale watching, and bird-watching.
Visitors can hike through the preserve to admire windswept mounds of sand covered with rare, endangered plants and colorful seasonal flowers. The dunes are also home to birds, butterflies, lizards, and other wildlife.
Birders will enjoy spotting the California Brown Pelican, as well as protected bird species such as the Western Snowy Plover.
10. Paso Robles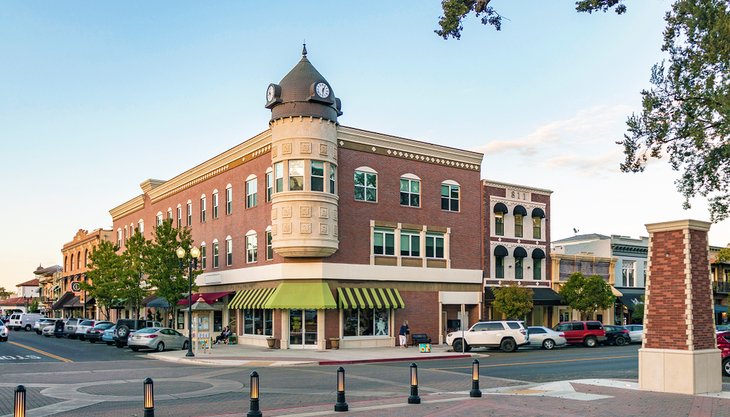 This rustic-chic country town is nestled in the vine-covered rolling hills about 30 miles away from San Luis Obispo. The town has a slow pace and quaint old-time ambience, with lovely tree-lined streets and many restaurants featuring outdoor dining.
11. Mission San Miguel Arcángel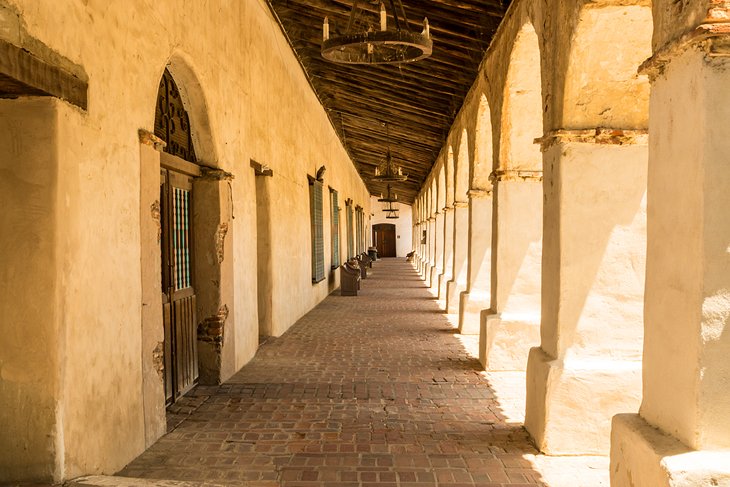 A 35-minute drive from San Luis Obispo, San Miguel is a rural town surrounded by a pastoral landscape of almond orchards and cattle ranches.
The main tourist attraction is the Mission San Miguel Arcángel. Founded over 200 years ago, this National Historic Landmark has an impressive arcaded portico and exquisite murals inside the church.
Mass is held at the Mission Church daily and several times on Saturdays and Sundays.
Address: 775 Mission Street, San Miguel, California
12. Lake Nacimiento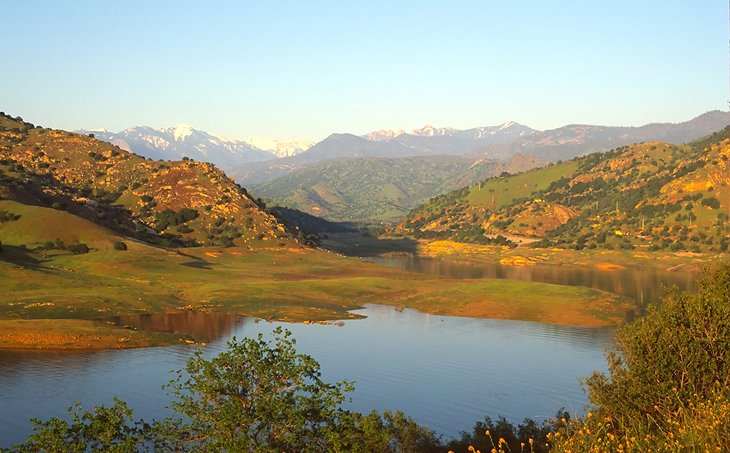 About a 45-minute drive from San Luis Obispo, the Lake Nacimiento recreational area is well worth a detour. Appreciated for its warm and sunny weather, the lake is a destination for water skiing, boating, kayaking, paddle-boarding, fishing, and swimming.
During summertime, the Lake Nacimiento recreational area is a popular spot for camping. Those seeking hotel accommodations prefer the Lake Nacimiento Resort, which offers private lakeside lodges, as well as cottages.
Lake Nacimiento's 165-mile shoreline invites visitors to spend time relaxing and sunbathing. In the pine forests and oak groves surrounding the lake are more than 100 miles of trails for hiking and nature walks.
13. Solvang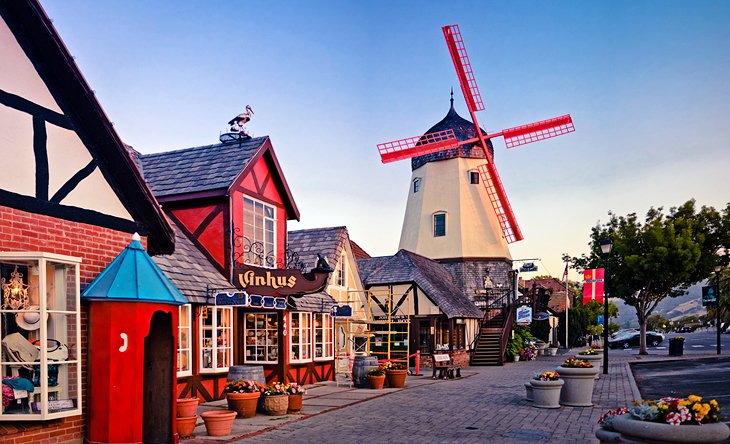 One the way to Santa Barbara (34 miles away), a perfect stopping point is Solvang, the "Little Denmark" of California's Central Coast. Nestled in the Santa Ynez Valley, this enchanting destination resembles a Danish village complete with a windmill and authentic Danish bakeries.
Solvang is well-designed for visitors with more than 150 unique boutiques, many hotels, and excellent restaurants that serve international cuisine. Tourist attractions include art galleries, the Hans Christian Andersen Museum, the Elverhøj Museum of Danish-American History & Art, and the historic Old Mission Santa Inés.
To keep visitors entertained during summertime, the Solvang Festival Theater presents concerts, Broadway musicals, and award-winning shows from June through September. It's a memorable experience to watch one of the performances under a starry night sky at the festival's venue, a 700-seat outdoor amphitheater.
14. Cachuma Lake Recreation Area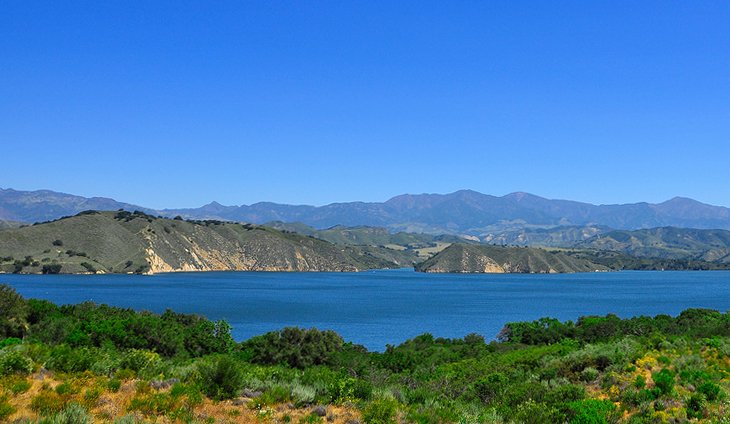 Just 23 miles from Santa Barbara, Lake Cachuma is a serene nature site surrounded by the Santa Ynez and San Rafael mountains. With its sunny skies and mild weather year-round, the lake is a top destination for camping and trout fishing.
The area has many wonderful trails for hiking and nature walks. An especially scenic trail at Lake Cachuma is the Sweetwater Trail, a moderate five-mile round-trip hike.
Swimming and water sports are not allowed because the lake is used as a drinking water supply. However, the Cachuma Lake Recreation Area does have several swimming pools that are open during the summertime. Other facilities include a nature center, general store, fishing piers, and children's playgrounds.
15. Los Olivos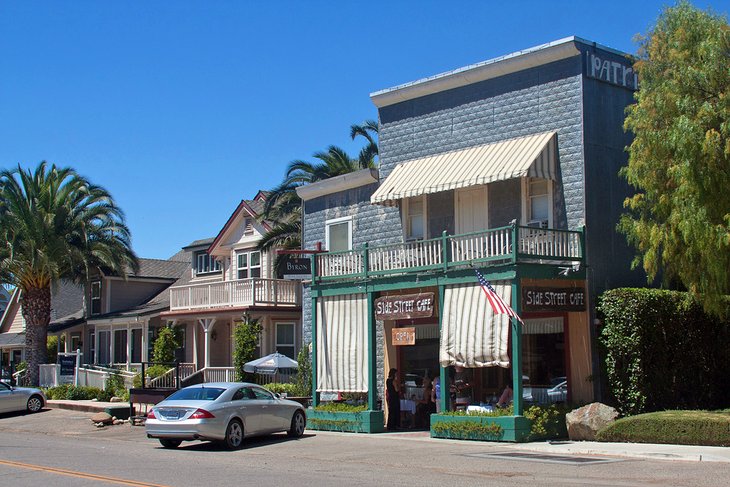 Los Olivos is a jewel of a town in the bucolic Santa Ynez Valley. Dating back to 1861, this tiny Old West town has become trendy and is nowadays a popular weekend getaway or day trip destination. The proximity to San Luis Obispo (60 miles away) and Santa Barbara (35 miles away) make Los Olivos an easy escape to the countryside.
Along the charming tree-lined streets of the historic town are Victorian-era buildings filled with artisan boutiques, upscale home decor shops, art galleries, and restaurants. The Corner House Cafe is a locals' hangout with a rustic look and feel.
Foodies will want to check out the Global Gardens farm stand (open Thursday through Monday), which sells locally produced olive oils made from estate-grown olives. The farm stand is located one mile from downtown Los Olivos, a pleasant walk or bike ride through the countryside.
16. Montaña de Oro State Park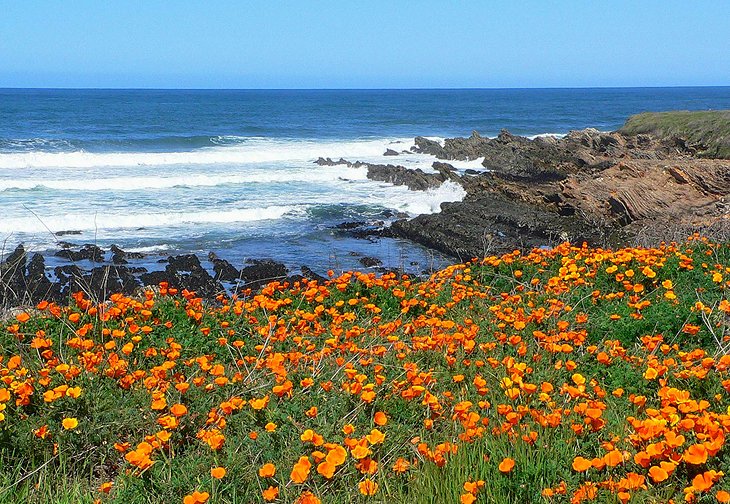 For an escape to a pristine nature site, take a 45-minute (20-mile) drive from San Luis Obispo to Montaña de Oro State Park, one of California's largest state parks. The park's hiking and horseback riding trails traverse beaches and fields that blossom with wildflowers during springtime.
For a challenging outdoor adventure, hikers can ascend up to the 1,347-foot peak of Montaña de Oro. The breathtaking, panoramic views from the summit reward hikers for their efforts.
17. Lompoc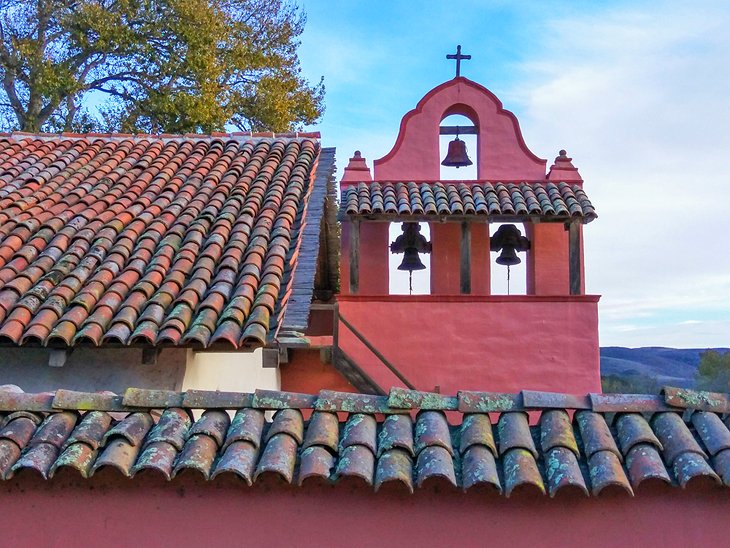 Vine-covered rolling hills enclose this rural community in the Lompoc Valley, offering a peaceful escape in the country (about a one-hour drive from San Luis Obispo). In the Old Town, tourists can shop at artisan boutiques and admire vibrant murals depicting historical scenes.
Not to be missed, La Purisima Mission in Lompoc is the best-preserved mission in California with extensively restored buildings that date to 1787. The 2,000-acre mission property includes hiking paths and horseback riding trails, as well as a gift shop and visitor center.
For families with kids, a top attraction in Lompoc is the Aquatic Center, which features a children's play structure and two water slides.
The Lompoc Valley is also one of the best places to visit in the San Luis Obispo county for cycling, with scenic bike paths through the rolling hills and farmlands.
An easy 10-mile biking route begins in the Old Town of Lompoc and leads to the Pacific Ocean at Ocean Beach Park & Estuary, a prime spot for beach walks and bird-watching. However, the beach is closed from March through September during the Snowy Plover nesting season.
18. Jalama Beach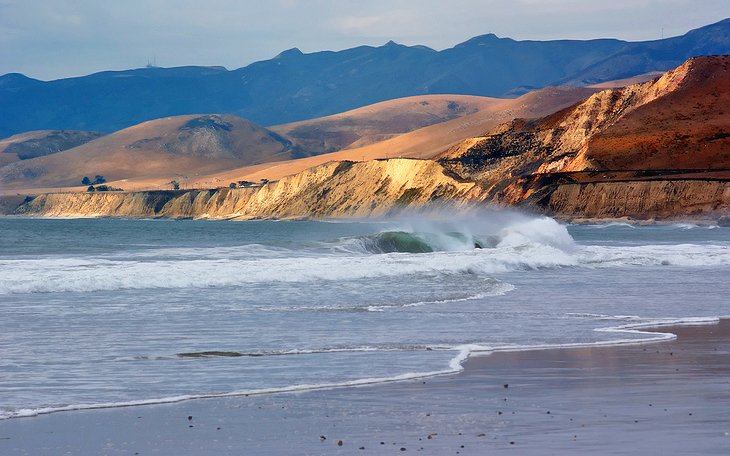 Beach lovers adore the natural beauty of Jalama Beach, about a 30-minute drive from Lompoc and a 90-minute drive from San Luis Obispo. The draw of this beach is the wild, unspoiled environment, although it is exposed to high winds and subject to rough surf.
Visitors can access beach caves during low tide.
Surrounding the beach are several hiking trails ideal for discovering the coastal scenery.
Map of Day Trips from San Luis Obispo, CA
More Related Articles on PlanetWare.com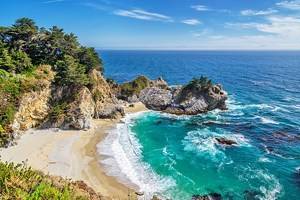 Other Beautiful Places Nearby: Beside its small-town charm, San Luis Obispo offers an idyllic rural landscape in the Santa Lucia foothills. Plus, the nearby attractions of California's Central Coast provide plenty of reasons to extend a vacation. Spectacular natural beauty awaits at Big Sur, a 90-mile coastal stretch where sheer mountains plunge into the ocean. Driving from the south, Big Sur begins around Hearst Castle and stretches all the way to the romantic seaside resort of Carmel, famed for its fairy-tale cottages and sublime sandy beach.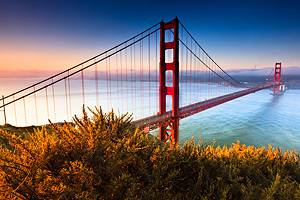 Northern California's Cultured Cities: About a 2.5-hour drive away from San Luis Obispo (and just five miles north of Carmel) is the atmospheric port town of Monterey, renowned for its aquarium, as well as the historic waterfront that still conjures up scenes from Steinbeck's Cannery Row novel. Continuing farther north (about a four-hour drive), travelers can choose to visit San Francisco and the cultured multi-ethnic city of Oakland across the bay.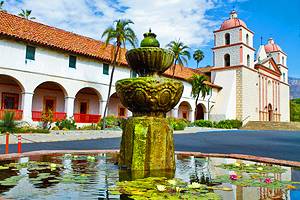 Sunny Southern California Destinations: Less than a two-hour drive from San Luis Obispo is Santa Barbara, a glamorous seaside town distinguished by its handsome Spanish architecture and superb sandy beaches. Santa Barbara's kid-friendly attractions also appeal to families with young children. For many tourists, a must-see stop is the quintessential SoCal destination of Los Angeles with its palm-fringed boulevards and glitzy neighborhoods such as Hollywood and Beverly Hills.