12 Top-Rated Tourist Attractions in San Luis Obispo, CA
We may earn a commission from affiliate links ()
Nestled in the foothills of the Santa Lucia Mountains, San Luis Obispo is proud to be called the "Happiest City in America." This small town has a friendly atmosphere, 315 days of sunshine a year, a fun-loving student population, and interesting attractions like Pismo Beach and Bubblegum Alley. Visitors can enjoy sightseeing and delightfully relaxing activities such as strolling along the pleasant tree-lined streets, dining outdoors beside a babbling creek, or listening to crickets chirp in the evenings.
Just 10 miles outside of town are gorgeous sandy beaches, rejuvenating hot springs, and a picturesque rural landscape. San Luis Obispo is also a popular halfway stopping point on a drive from San Francisco to Los Angeles. Discover the best things to do with our list of the top tourist attractions in San Luis Obispo.
See also: Where to Stay in San Luis Obispo
Note: Some businesses may be temporarily closed due to recent global health and safety issues.
1. Mission San Luis Obispo de Tolosa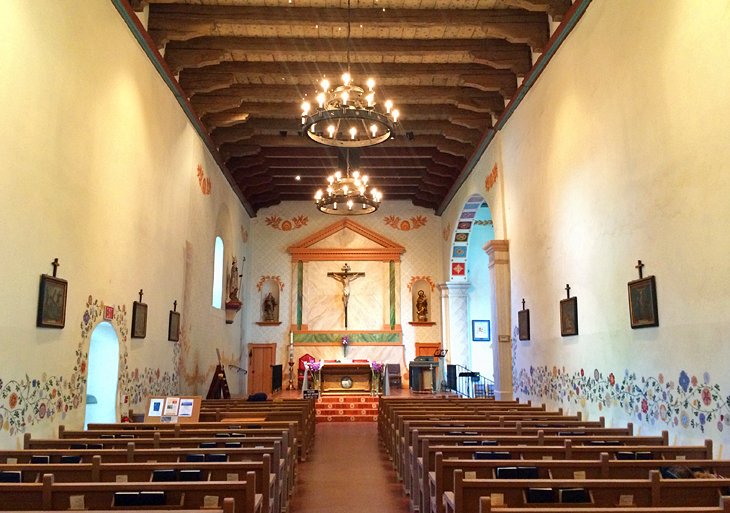 One of California's most beautiful missions, San Luis Obispo de Tolosa was founded by Father Junipero Serra in 1772 and dedicated to Saint Louis, the Bishop of Toulouse in France. Father Serra chose this idyllic site because of its mild climate, abundant fresh water, and the friendly local Chumash (Indian) tribe.
The mission is a large complex overlooking the tranquil tree-shaded San Luis Creek. The typical Spanish missionary adobe building features porticoed arcades and a courtyard garden planted with oak trees, grape vines, and roses.
The interior of the mission's church is exquisitely decorated with a brightly painted floral motif along the walls and arches. The simple altarpiece and high ceiling supported by wood beams lend a serene ambience. Mass is held here twice daily and several times on Sundays.
Housed in the former residential quarters is an interesting museum. Exhibits focus on the history of the Spanish missionaries and the culture of native Indian people of this area. Another highlight is the gift shop, which sells jewelry, artwork, books, and unique items such as handcrafted nativity sets.
2. Thursday Night Farmers' Market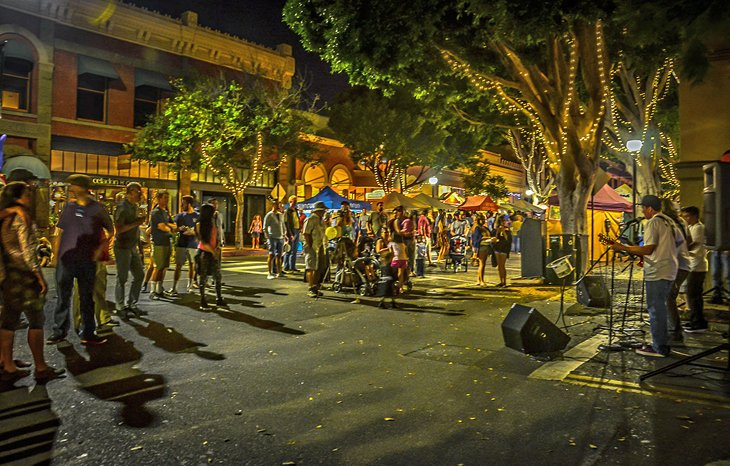 San Luis Obispo is famous for its farmers' market, which is considered one of the best in California. Crowds flock to this weekly event on Higuera Street (between Nipomo and Osos streets). Locals come to shop for fresh produce, and out-of-town visitors enjoy the street food. San Luis Obispo restaurants bring their specialties to outdoor stands, selling everything from pizza to sushi. Live music adds to the festive ambience.
The farmers' market is held on Thursday evenings from 6pm to 9pm, except in bad weather and on major holidays.
Official site: https://slocountyfarmers.org/
3. Pismo Beach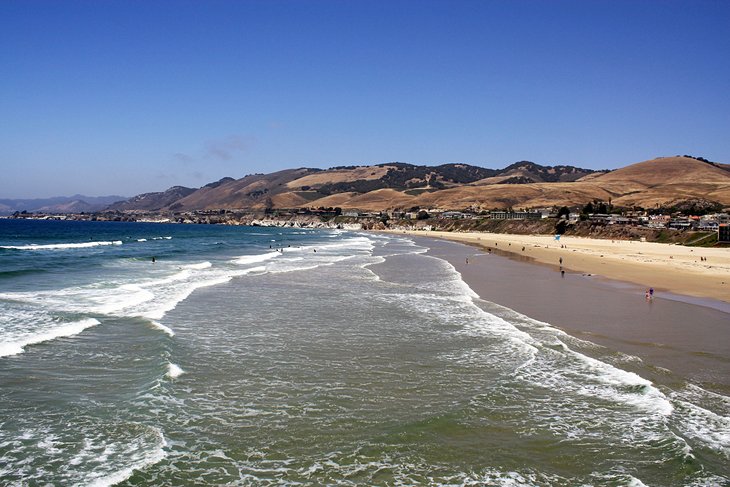 The laid-back town of Pismo Beach has the feel of Southern California, even though it's in the heart of the Central Coast. This classic beach destination has many hotels, surf shops, cafés, and fish & chips restaurants packed into the main downtown area.
Surfers and bodyboarders love this 23-mile-long stretch of shoreline because of its consistent waves. During summertime, the sandy beach is a lively scene of sunbathers and sports enthusiasts. Things to do include beach volleyball and fishing on the public fishing pier, which also has picnic tables with stunning ocean views.
Pismo Beach has a warm, sunny climate year-round with an average temperature ranging from 68 to 78 degrees Fahrenheit. During July and August, the temperature can reach the high 90s. However, the beach tends to be windy, which keeps it cooler and is fabulous for flying kites.
Pismo Beach is a 15-minute drive from San Luis Obispo or a 30-minute bus ride from the Government Center. The bus drops off at the Pismo Beach Premium Outlets shopping mall, about a 20-minute walk, partially alongside the highway, to the beach.
Pismo State Beach is also a great place for sailing and kayaking. Lifeguards are on duty during the summer. When the conditions are right, scuba diving is possible, and whale watching is popular during the migration season. Another highlight at Pismo State Beach is the Monarch Butterfly Grove, where thousands of vibrant Monarch butterflies cluster around the branches of eucalyptus trees from late October through February.
Throughout the year, Pismo Beach has many cultural events, including the Kite Expo in April, Art in the Park at Shell Beach from May through November, the long-running annual Pismo Beach Clam Festival in October, and the Jazz Jubilee by the Sea music festival in late October. The Pismo Beach farmers' market is held on the pier promenade every Wednesday starting at 3pm in the afternoon.
4. San Luis Obispo's Historic Downtown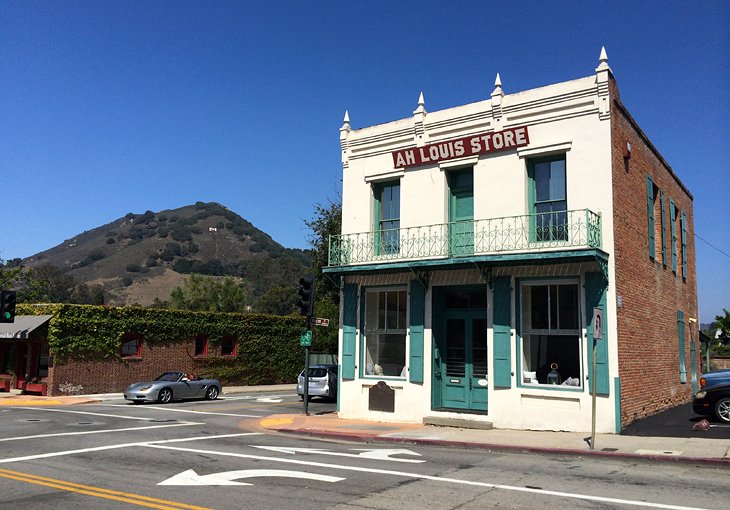 Centered around the old mission, the historic downtown of San Luis Obispo delights visitors with its tree-lined streets and handsome, traditional Spanish-style buildings. The most happening area of the town's historic center is Higuera Street, which is lined with restaurants, shops, and cafes. On the north-facing side of Higuera, the restaurants have inviting back patios that overlook the San Luis Obispo Creek.
Kids will love Doc Burnstein's Ice Cream Wonderland, which allows visitors to help make ice-cream and offers tastings of inventive ice-cream flavors. Another amusing attraction of San Luis Obispo is Bubblegum Alley (off Higuera Street), a narrow, 70-foot-long alleyway plastered with countless pieces of already-chewed bubblegum in a multitude of colors.
On Palm street (near the intersection with Chorro street) are hints of the city's old Chinatown, although little evidence remains except for the Mee Heng Low Noodle House (a Chinese restaurant specializing in "chop suey") and the Ah Louis Store. Built in 1874 and listed as a Historical Landmark, the Ah Louis building was once a general store for a vibrant Chinese immigrant community in the 19th century.
A great place to learn about things to do and where to stay in San Luis Obispo is at the Visitor Center (895 Monterey Street). Nearby is the main RTA bus terminus, in front of the Government Center at Osos Street and Palm Street. The RTA bus is convenient for getting to top tourist destinations in the area, including Pismo Beach, Avila Beach, Morro Bay, and San Simeon (the location of Hearst Castle).
5. Avila Beach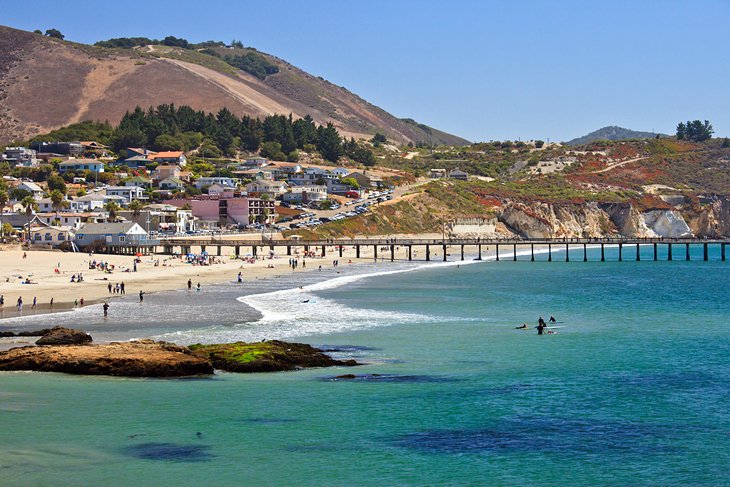 In a protected cove of San Luis Obispo Bay, this picturesque beach tends to be warmer than nearby Pismo Beach because surrounding hillsides shelter it from winds. The beach has a wide, sandy shoreline (ideal for sunbathing) and a palm-fringed boardwalk lined with shops and restaurants featuring outdoor terraces.
The relatively calm ocean environment is great for bodyboarding or learning to surf. Other outdoor activities include fishing, paddleboarding, kayaking and sailing. Families will appreciate the small playground and the pleasant picnic area.
Summer is the best time to visit, however Avila Beach is lovely in all seasons. Cultural events take place throughout the year, such as the Blues Festival in May, the Festival Mozaic (classical music concerts in July through August), the Central Coast Shakespeare Festival in July through August, and the Open Studios Art Tour (with hundreds of participating local artists) in October.
Avila Beach is a 15-minute drive from San Luis Obispo or a 30-minute bus ride from the Government Center (to Pismo Beach Outlets and then a 10-minute "trolley" ride to Avila Beach).
6. Avila Valley Hot Springs and Hiking Trails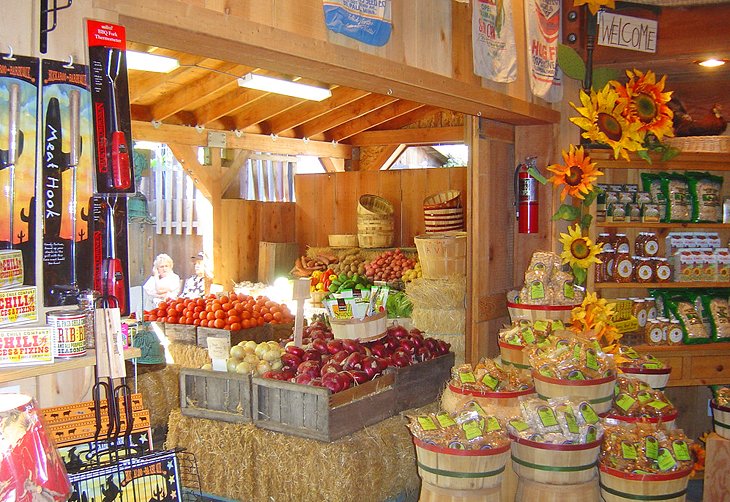 A few miles from the beach, the rural Avila Valley is prized for its natural mineral-water hot springs, believed to have therapeutic health benefits. With its 20- by 20-foot thermal soaking pool, the historic Avila Hot Springs caters to visitors seeking relaxation and rejuvenation. Other amenities are the outdoor swimming pool with a water slide for the kids, picnic area, camping sites, and cabins.
Tucked away in 100 acres of woodlands, the Sycamore Mineral Springs Resort and Spa offers upscale accommodations, healing arts classes, and a tropical-inspired thermal spa pool.
The Avila Valley is right off the freeway exit on the way to Avila Beach, so visitors can easily drive here before or after heading to the beach. It's also accessible by bus, taking the same trolley bus that goes to Avila Beach. Another way to arrive at Avila Valley from San Luis Obispo is by taking the Bob Jones Bike Trail, a three-mile biking and hiking route that meanders alongside the San Louis Obispo Creek. Three other hiking trails allow visitors to explore the Avila Valley's luxuriant creekside landscape, dense forests, and coastal scrublands.
For those who love old-fashioned farms, a favorite destination in the area is the Avila Valley Barn. This charming small farm has a rustic-chic country store that sells fresh-grown fruits and vegetables. Adding to the tourist appeal are the bakery, ice-cream parlor, and farm animal petting area for children. Visitors can also take tractor rides and pick berries, apples, peaches, and pumpkins based on seasonal availability.
7. Shell Beach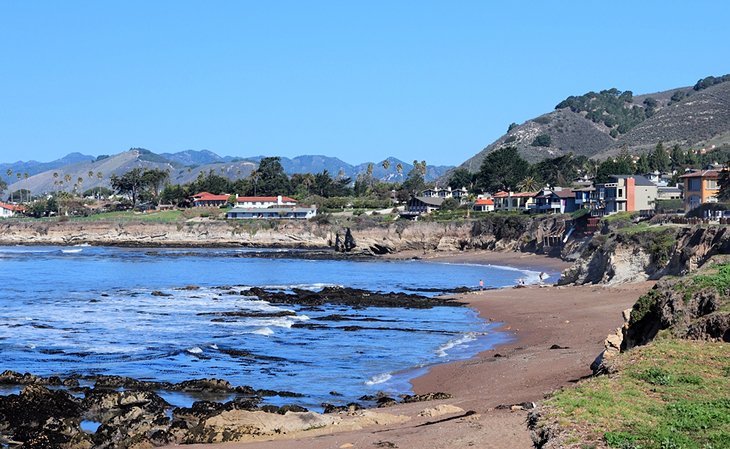 This secluded shoreline offers an unspoiled coastal environment that is truly inspiring. Hidden below cliff sides within sheltered coves are nine separate sandy beaches. Nature lovers come here to explore the tide pools, where they can see crabs and starfish, while kayakers appreciate the gentle waters. It's also a great place for spotting sea lions, dolphins, and migrating whales.
Other favorite activities are picnicking, watching the sunset, and fishing from the cliffs or just admiring the spectacular ocean views.
8. Oceano Dunes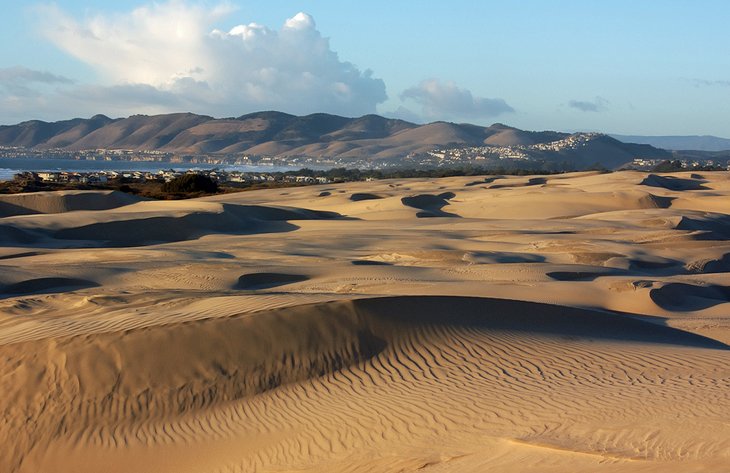 The Oceano Dunes State Vehicular Recreation Area allows visitors with OHVs (off-highway vehicles) to drive right on the beach. However, the recreation area limits the number of vehicles each day, and ATV safety training is recommended. This unique state park is comprised of 1,200 acres of unique coastal terrain, including open sand dunes and over five miles of sandy beach. Some of the rolling sand dunes are as high as 100 feet.
Other outdoor activities at Oceano Dunes are surfing, horseback riding, fishing, bird-watching, and camping.
9. San Luis Obispo Museum of Art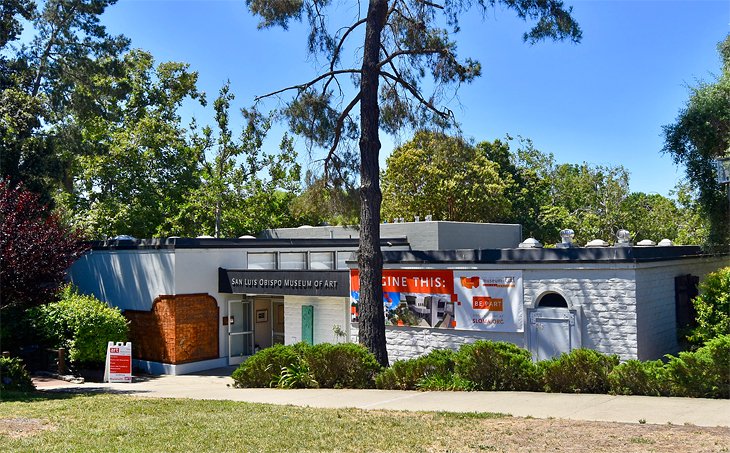 At the heart of downtown on the western end of the Mission Plaza, the San Luis Obispo Museum of Art displays an excellent collection of contemporary works by California artists. The permanent collection includes a wonderful assortment of paintings, representing a variety of artistic styles.
Updated frequently (usually on a monthly basis), the temporary exhibitions are presented in an insightful way that encourages a deeper understanding and appreciation of the art. The museum also hosts film nights, educational lectures, concerts, and other cultural events.
Address: 1010 Broad Street, San Luis Obispo, California
Official site: https://sloma.org
10. Bishop Peak Hikes
With a summit over 1,500 feet, Bishop Peak is the most prominent mountain in San Luis Obispo. A great place for hiking, Bishop Peak has several trails ranging from a moderate walk to a rigorous uphill climb. The two-mile hike to the top takes around two hours (for those who are in good physical fitness) and rewards with sweeping panoramic views, including vistas of the city and coastline.
For those who prefer a more gentle hike, the 2.7-mile, round-trip Felsman Loop is a good choice, with less challenging elevation gain. Access to the trails is on Patricia Drive in San Luis Obispo.
11. San Luis Obispo Children's Museum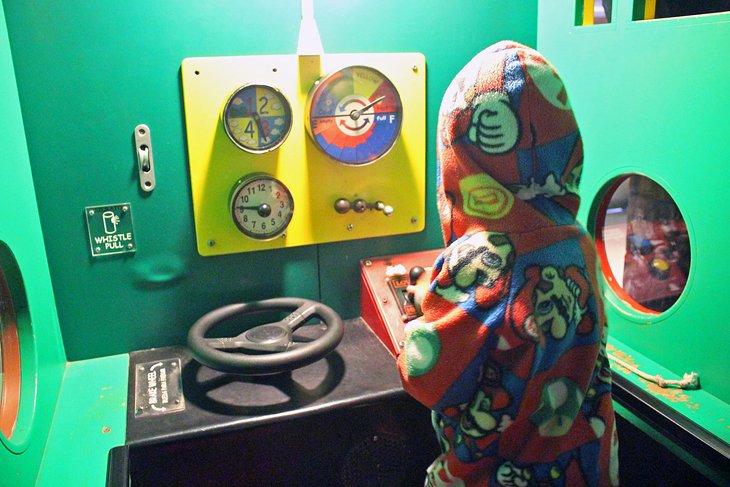 Families with young children will have a fantastic time at the San Luis Obispo Children's Museum. Designed for children aged one to 10 years, the hands-on exhibits are fun for children and families to explore. This extensive museum has three floors of indoor learn-by-doing activities that encourage curiosity, imagination, and creativity through interactive play. The museum also has educational programs and field trips.
Address: 1010 Nipomo Street, San Luis Obispo, California
Official site: www.slocm.org
12. San Luis Obispo Railroad Museum
At this museum, visitors can learn more about San Luis Obispo's historic Railroad District. Through its display of artifacts and exhibits, the museum tells the story of railroading on the Central California Coast. A highlight of the collections is the assortment of vintage railroad cars, including Southern Pacific Boxcar (circa 1926) and the Pullman La Cuesta Café/Observation Car (with an elegant dining area). The museum also has a small gift shop, which sells unique railway-themed items.
Address: 1940 Santa Barbara Avenue, San Luis Obispo, California
Official site: http://slorrm.com/
Where to Stay in San Luis Obispo for Sightseeing
The historic downtown of San Luis Obispo, the several blocks radiating around the Mission Plaza, is the best choice of location within easy walking distance to the main tourist attractions, restaurants, and shops. However, it's nearly as convenient to stay outside the historic core in a pleasant residential area that is just a short stroll from downtown. For those who prefer more resort-like accommodations and beachfront hotels, Avila Beach and Pismo Beach are great places to stay. We recommend these highly rated hotels in San Luis Obispo, as well as outside the city in the countryside.
Luxury Hotels: The Granada

Hotel

provides four-star accommodation right in the historic downtown of San Luis Obispo, a short walk to Mission Plaza and Bubblegum Alley. Housed in a stately brick edifice that was built in 1922, the hotel is decorated in classic style with modern touches. Guest rooms are outfitted with hardwood floors, Persian rugs, marble-accented bathrooms, fine Italian bed linens, and plush down comforters. Complimentary organic coffee is served each morning in the lounge. The hotel's French bistro-style restaurant serves healthy dishes for breakfast, brunch, lunch, and dinner. With its decadent and quirky decor, the Madonna

Inn

captures the youthful, fun-loving spirit of San Luis Obispo. Each of the themed guest rooms is embellished in an eccentric, over-the-top style. The hotel is nestled on a 1,000-acre ranch with a garden, equestrian center, tennis courts, swimming pool, spa, and hiking trails. A half-mile walking/cycling path leads from the property to the historic downtown. This three-star destination resort has a restaurant, café and bakery, gift shop, and fashion boutique. The San Luis Creek

Lodge

treats guests to luxurious accommodations in a quiet residential area near the peaceful San Luis Creek. The spacious rooms feature traditional decor, fine bed linens, and marble-accented bathrooms. Accommodations include a full breakfast with hearty options such as waffles, scrambled eggs, oatmeal, and freshly baked pastries. The hotel is a half-mile walk (or quick trolley ride) from the historic San Luis Obispo downtown.
Mid-Range Hotels: Just a few blocks from the restaurants and shops of Higuera Street, the Quality Suites Downtown San Luis

Obispo

offers the convenience of a central downtown location along with modern amenities. The three-star hotel has a fitness center, swimming pool, and stylish guest rooms with refrigerators and microwaves. Accommodations include complimentary breakfast. The Garden Street

Inn

is a quaint boutique hotel at the core of historic downtown San Luis Obispo, just steps away from Bubblegum Alley and the restaurants of Higuera Street. Brimming with old-world charm, the four-star bed-and-breakfast hotel occupies a lovely Victorian house (circa 1887) decorated with cheerful decor and antiques. The hotel has a sunny "morning room," where a gourmet breakfast is served, and an inviting library, where guests may socialize. An oasis of tranquility in the lush Avila Valley (10 miles from San Luis Obispo), the Sycamore Mineral Springs Resort and

Spa

is renowned for its rejuvenating mineral water pools, which have attracted wellness seekers since the 19th century. This three-star resort has naturally heated hot tubs and a waterfall lagoon filled with thermal mineral water. Other amenities include an award-winning spa, healing arts classes, a restaurant that serves organic "garden cuisine," and access to Avila Hot Springs. Guest rooms feature tropical-inspired decor and views of the surrounding trees and rolling hills. Combining country charm with modern amenities, the Apple Farm

Inn

is found in a peaceful setting near downtown San Luis Obispo. This three-star property has a swimming pool, garden, gift shop, and free parking. The cozy guest rooms feature fireplaces and little seating nooks. A favorite locals' eatery, the Apple Farm Restaurant specializes in farm-fresh cooking.
Budget Hotels: The Avenue Inn Downtown San Luis

Obispo

offers stylish accommodations at an affordable price, just a few blocks from the historic center of San Luis Obispo's downtown. This two-star hotel provides free parking and complimentary breakfast. Guest rooms include refrigerators and microwaves. On a quiet residential street near the historic downtown, Los Padres

Motel

is a good choice in the budget category. This two-star hotel has stylishly decorated guest rooms with microwaves and coffee makers, as well as updated bathrooms. Accommodations include free parking.
More Related Articles on PlanetWare.com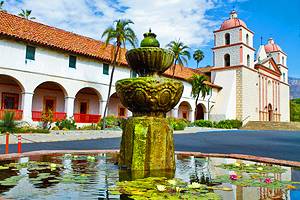 Vacation Getaways near San Luis Obispo: Pristine nature sites, beautiful beaches, and historic towns abound in the outskirts of San Luis Obispo. Among the top day trips from San Luis Obispo are Morro Bay, a destination for water sports, fishing, and boat tours; the historic village of Arroyo Grande and nearby Lopez Lake; and the lively beach town of Cayucos. Less than a two-hour drive or train ride is the glamorous beach town of Santa Barbara. Perfect for a summer vacation, romantic getaway, or just a day of fun in the sun, Santa Barbara is distinguished by its elegant Spanish-style architecture and gorgeous sandy beaches.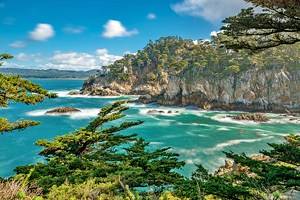 Central California's Coastline: California's most spectacular stretch of coastline is just a one-hour drive from San Luis Obispo. A place of sublime scenery where the mountains meet the sea, Big Sur is considered one of the best places to visit in California. North of Big Sur is the enchanting seaside resort village of Carmel, which delights visitors with its storybook cottages, superb sandy beach, and European ambience.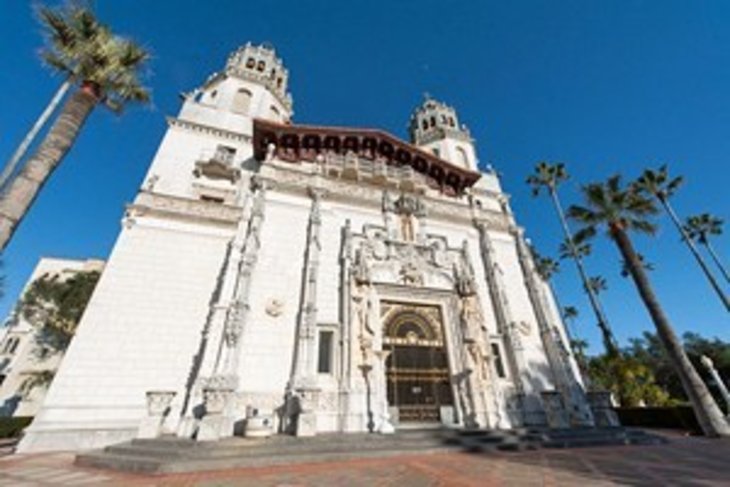 A Marvelous Castle above the Sea: On the way to Big Sur, travelers can admire Hearst Castle on its hilltop perch overlooking the Pacific Ocean. Hearst Castle is one of the top day trips from San Luis Obispo, as well as one of California's best off-the-beaten-path destinations. This unique architectural masterpiece was created for William Randolph Hearst, the San Francisco newspaper baron with exquisite taste in European art. The castle is open to the public for guided tours.