20 Best State Parks in California
State parks in California offer a lifetime of adventure. They easily outnumber the best national parks in California and come complete with dramatic waterfalls and prominent mountain peaks. These public spaces are popular for activities like hiking, camping, fishing, and scuba diving–as well as simply staring in wonder at the stunning nature on display.
Whether for weekend adventures or extended California road trips, California state parks provide a great contrast to the busy cities that surround them. And from the redwood forests in Northern California to the always sunny shoreline in Southern California, the variety of landscapes to explore reflects the wide diversity in the state.
Camping is available at most state parks in California, enabling the multi-day adventures required to see everything these special environments have to offer. From fanning waterfalls and magnificent rock features to elaborate castles and ghost towns in a state of "arrested decay," a vast array of treasures wait to be uncovered in the state parks of California.
The state provides adventures throughout the year. California state parks to visit during the winter almost outnumber the spots to explore throughout the rest of the year. Some of these snowless parks include desert and ocean environments.
Start planning your outdoor adventures with our list of the top state parks in California.
1. Crystal Cove State Park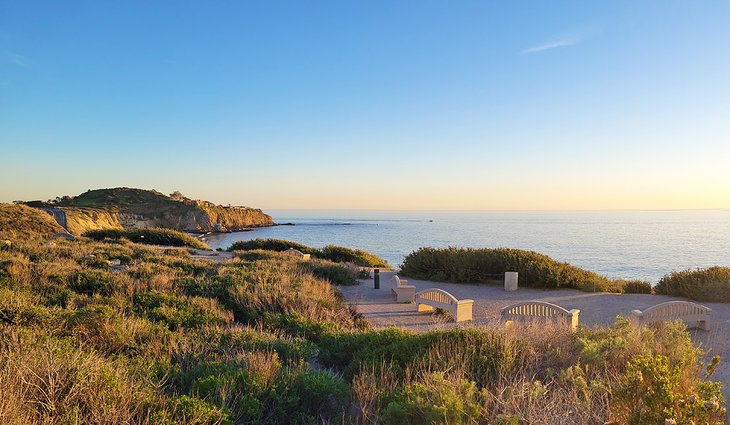 Crystal Cove State Park encompasses miles of sandy beach and a sprawling tract of inland wilderness off the Pacific Coast Highway between Corona Del Mar and Laguna Beach. The access and enormity of natural space at Crystal Cove is a treat in Southern California, and between the beachgoers and backcountry hikers, this state park is one of the most popular in the state.
Weekend activities at Crystal Cove often include skin diving, surfing, and admiring sunsets from the bluff-side campground. Several hiking trails also extend into Moro Canyon within the state park, connecting to the adjacent Laguna Coast Wilderness Park.
Address: 8471 N Coast Hwy, Laguna Beach, California
Official site: http://www.parks.ca.gov/?page_id=644
2. Julia Pfeiffer Burns State Park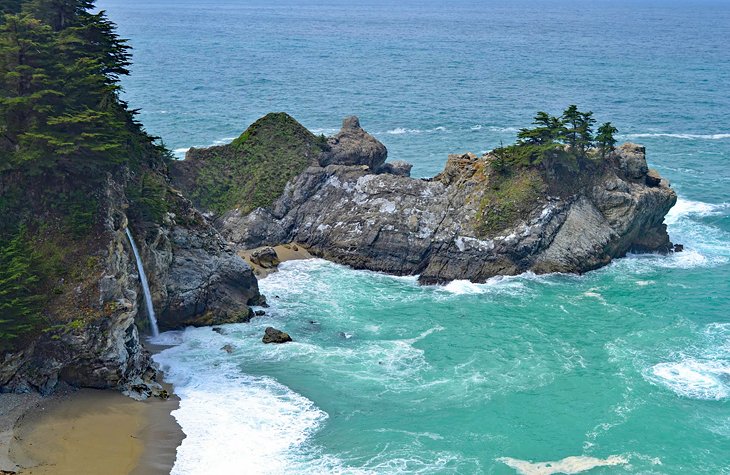 Big Sur is a roughly 90-mile stretch of rugged coastline where the Santa Lucia Mountains meet the Pacific Ocean. Numerous state parks, natural attractions, and pull-offs line this stunning corridor, and Julia Pfeiffer Burns State Park perhaps best epitomizes the mountain slopes, redwood forests, and dramatic shorelines of the region.
The 80-foot McWay Falls within Julia Pfeiffer Burns, plummeting from a rocky slope into the ocean, is a must-see natural feature of the region. Visitors reach a viewpoint of this dramatic natural scene with a short walk from the day-use parking area.
Numerous other state parks surround Julia Pfeiffer Burns State Park, including Limekiln and Pfeiffer Big Sur State Park, which also host some of the best campgrounds in the area.Other postcard-worthy examples of Big Sur beauty nearby include Pfeiffer Beach, Point Lobos State Natural Reserve, and the Bixby Bridge.
Address: 52801 California State Route 1, Big Sur, California
3. Henry Cowell Redwoods State Park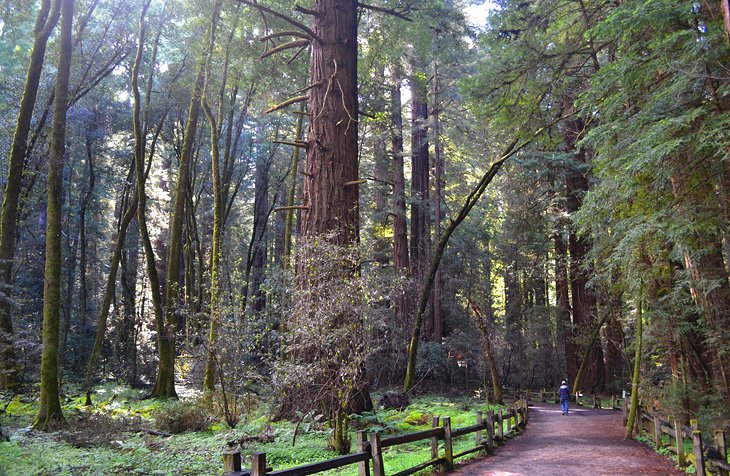 Home to many of the best hiking trails of Santa Cruz, Henry Cowell Redwoods State Park is located less than five miles from the city. Alongside this proximity to Santa Cruz and the Pacific Ocean, Henry Cowell is an international destination thanks to the towering redwood trees within its borders.
Henry Cowell encompasses over 4,600 acres including the day-use Fall Creek Unit. This acreage provides endless ways to enjoy the giants that helped jumpstart a conservation movement in California. One of the most popular outlets to enjoy the park's redwoods is hopping on the less-than-a-mile Redwood Loop near the visitor center.
For additional big tree attraction, Big Basin Redwoods State Park is located roughly twenty miles northwest of Henry Cowell. It's one of California's oldest state parks and home to several of the best campgrounds near Santa Cruz. Big Basin also features redwood grove hiking trails and lush canyons full of life.
Address: 101 N Big Trees Park Road, Felton, California
4. Emerald Bay State Park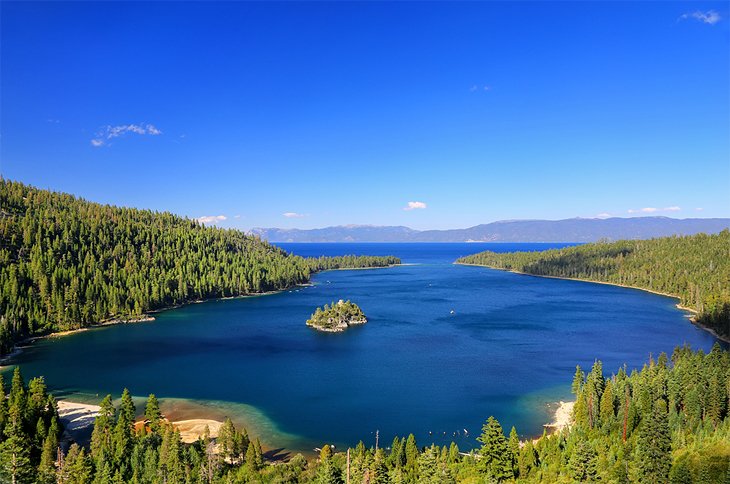 Emerald Bay State Park encompasses its own special slice of California's most scenic lake. It's named after the shallow blue-green waters on the southwest corner of Lake Tahoe and hosts many of the best campgrounds at South Lake Tahoe,
Emerald Bay provides stunning lakeside camping, hiking, and unique cultural features like the 38-room Vikingsholm castle. It's also designated as an underwater state park, with California's first maritime heritage trail touring sunken ships and vessels at the bottom of the bay.
Address: 138 Emerald Bay Road, South Lake Tahoe, California
5. Castle Crags State Park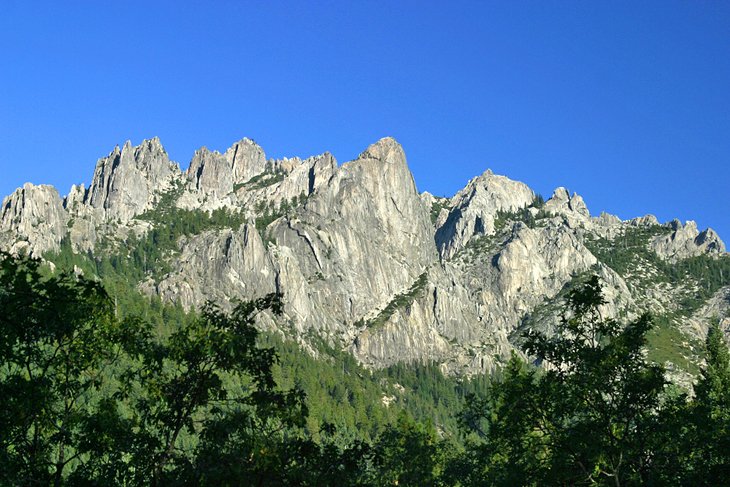 The 6,000-foot granite spires of Castle Crags draw tourists from around the world to this state park in Northern California. The park is accessible from Redding, an hour's drive away, and features over 25 miles of hiking trails that navigate the base of these dramatic mountain monuments.
The campground at Castle Crags is a popular home base for adventures, with over 75 sites available. The park is also home to one of the best day hikes on the Pacific Crest Trail, which passes through Castle Crags with great views of Castle Dome along the way.
Address: 20022 Castle Creek Road, Castella, California
6. Limekiln State Park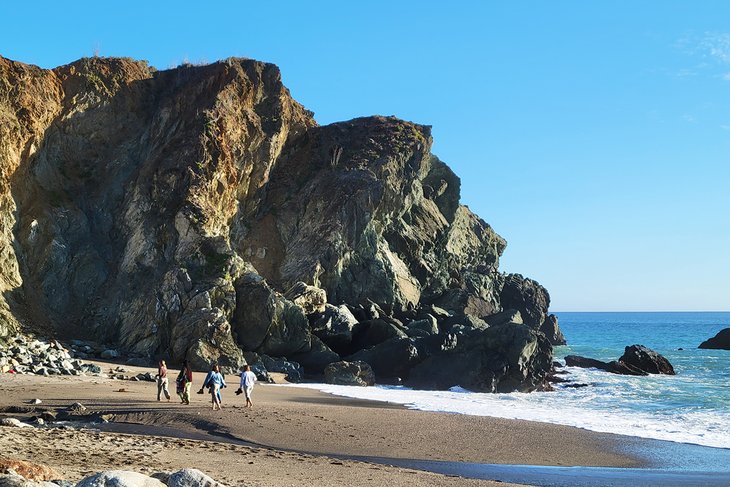 Limekiln State Park offers vibrant landscapes on the Big Sur coastline in Central California. The state park is directly off the Pacific Coast Highway along this winding edge of the coast, directly below the Limekiln Creek Bridge, where mighty Pacific waves crash onto the shore. And just barely inland, a redwood forest invites neck-craning exploration.
The big trees and dynamic shoreline at Limekiln offer several ways to spend the day. And the state park's campground, split between redwood campsites and ocean campsites, provides outlets for overnight travel. These popular campsites are a sought-after resource for a Big Sur road trip.
7. Anza-Borrego Desert State Park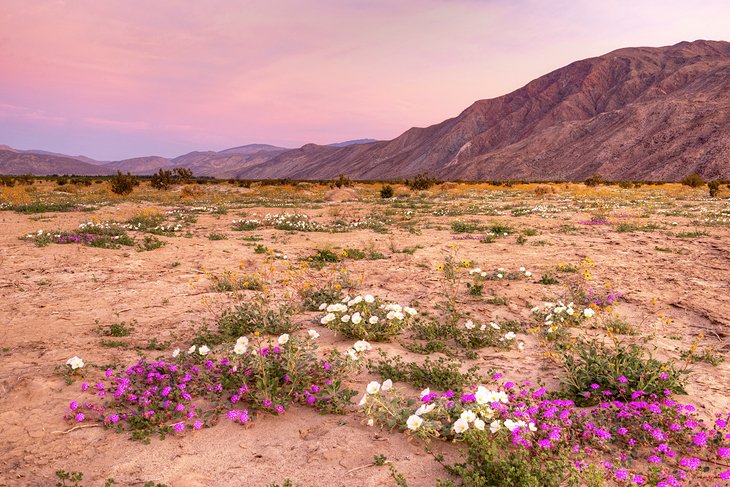 Anza-Borrego is one of California's largest state parks, encompassing over 600,000 acres near the California/Mexico border. Visiting Anza-Borrego Desert State Park requires preparation to navigate the rugged terrain, which is heavily comprised of a pristine desert wilderness, including slot canyons, palm springs, and an abundance of wildflowers come spring.
The nation-spanning Pacific Crest Trail passes through Anza-Borrego, and numerous interpretive trails provide other hiking opportunities.
Address: 200 Palm Canyon Drive, Borrego Springs, California
8. Empire Mine State Historic Park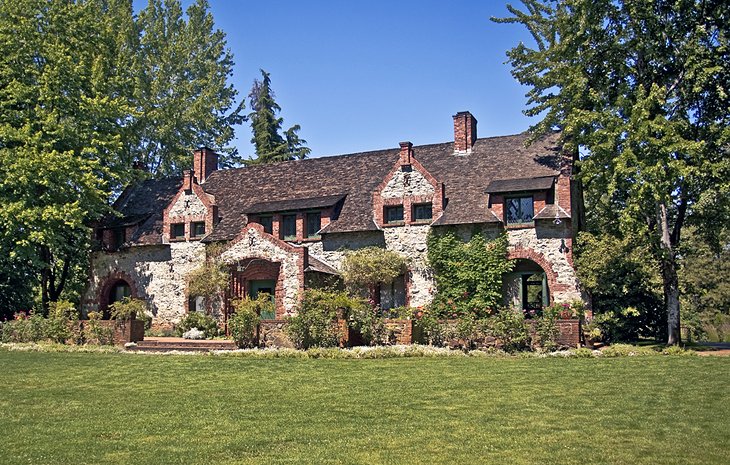 Empire Mine State Historic Park displays the rich history of the 19th-century California Gold Rush and preserves one of the most prosperous gold mines in the state. A collection of preserved buildings is at the heart of the park, dating back to when the mine was in operation. These facilities include a machine shop, clubhouse, and the entrance to the now-flooded shafts of the mine.
Fourteen miles of hiking trails stem from the preserved village and are lined with interpretive information and artifacts.
For further insight into the California Gold Rush, Marshall Gold Discovery State Historic Park is the first-place visitors should go. At the location of the first gold discovery in California, about an hour east of present-day Sacramento, this historic site spawned the mass migration of fortune seekers who comprised the California Gold Rush. At the State Historic Park, visitors can learn more about the events at the Gold Discovery Museum and see for themselves the land that changed the nation.
Address: 10791 E Empire Street, Grass Valley, California
9. Jedediah Smith Redwoods State Park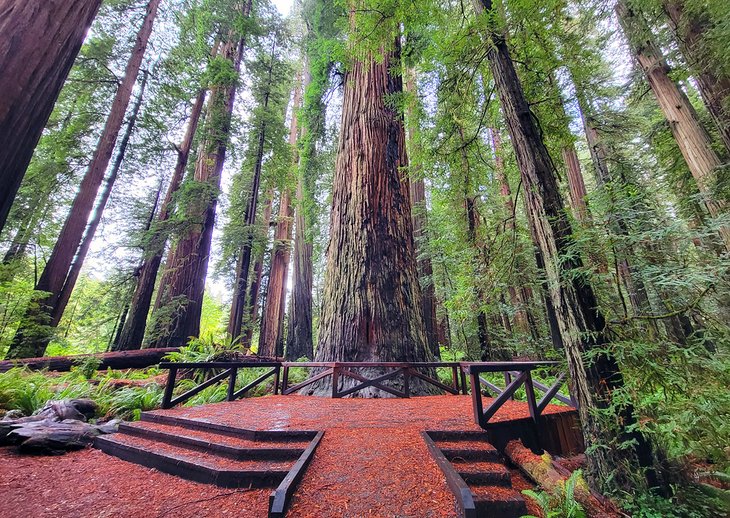 Encompassing over 10,000 acres and a significant portion of the last remaining old-growth redwood forests in the world, this redwoods state park is laced with giants. No roads run through the central core of Jedediah Smith State Park, named after an early-19th-century explorer of the region, but 20 miles of hiking trails lead through the enormous and lush environment. The park is also home to one of the best campgrounds in Redwood National State Parks.
Jedediah Smith Redwoods State Park is part of a cooperative management agreement between the National Park Service and California State Parks. Both Del Norte Coast and Prairie Creek Redwoods State Parks to the south are part of this agreement, as is Redwoods National Park. Together, Redwood National and State Parks host millions of visitors from across the world to marvel at the grandeur of these old-growth trees.
Address: Crescent City, California
10. MacKerricher State Park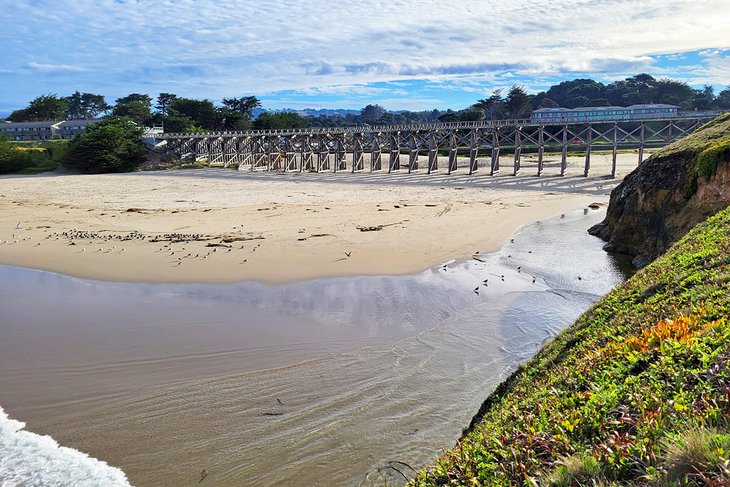 This popular ocean-side state park is just north of Fort Bragg, on the Mendocino County coastline. It spans approximately nine miles of shoreline, with a range of habitats, including tide pools, sandy coves, and miles of shifting sand dunes. The historic Haul Road navigates much of this shoreline, offering a popular avenue for walkers, cyclists, and anyone that enjoys an ocean view.
Other popular activities at MacKerricher State Park include whale-watching, horse riding, and fishing with a valid California fishing license. Spending the night is also popular, and the state park has over 140 campsites available, catering to tents and RVs. Approximately 10 backcountry sites are also available for those willing to hike in their gear.
11. Morro Bay State Park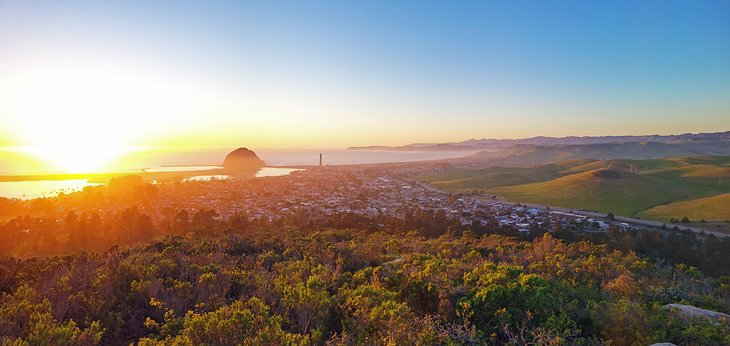 Part of what makes Morro Bay one of the best small towns in California is Morro Bay State Park at its southern border. It offers generous views of Morro Rock and the surrounding bay, and features a postcard marina, an 18-hole golf course, and a seaside Natural History Museum.
The campground at Morro Bay State Park supports tent camping and RVs. The campground lends easy access to one of the most popular hikes in the park, Black Hill, which leads to a 360-degree view of the region, including Morro Bay. The state park is also close to other scenic areas, including Montaña de Oro State Park.
Address: 60 State Park Road, Morro Bay, California
12. Malibu Creek State Park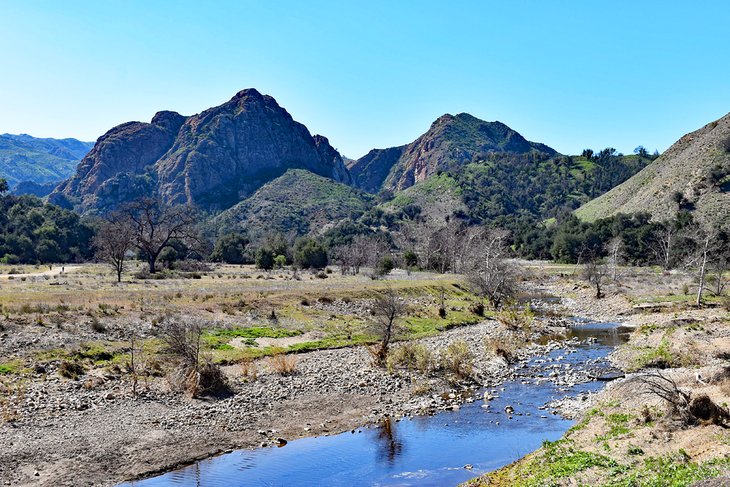 Malibu Creek State Park is within the Santa Monica Mountains, backdropping the beautiful coastal city of Malibu in Los Angeles County. It has a long history in the area, spanning Indigenous cultures, Spanish settlers, and Hollywood directors before becoming a state park in 1976.
Malibu Creek State Park encompasses over 8,000 acres with over 35 miles of trails and fire roads. Several of these routes meander near segments of the 14-mile-long Malibu Creek, offering a rich riparian habitat with bountiful wildlife sightings. And a few hiking trails lead to prominent filming locations, including movie sets for the 1968 Planet of the Apes and several episodes of the hit show M*A*S*H.
Malibu Creek also has over 50 campsites that enable multi-day adventures. These sites are reasonably spread out and accommodate tents and RVs, although no electric hookups are available. From the campground, it's a six-mile drive on Malibu Canyon Road to reach the coastline and the rest of Malibu.
Read More: Top-Rated Things to Do in Malibu, CA
13. McArthur-Burney Falls Memorial State Park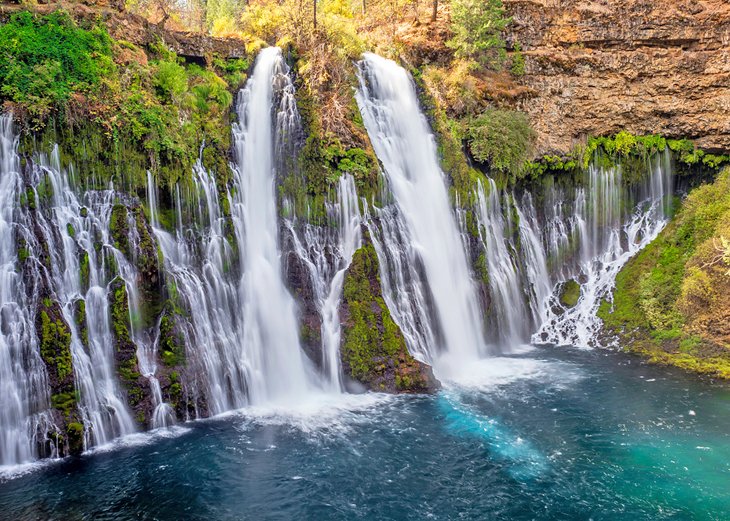 This popular state park is on the banks of Lake Britton in the Cascade Mountains of Northern California. It's often visited thanks to the spring-fed waterfall within its borders. Visitors can park at the visitor center or hike the backcountry Burney Creek Trail to see the 129-foot Burney Falls fanning down a cliffside.
The Pacific Crest Trail makes a prominent stop next to the falls, and five miles of other hiking trails span the park.
Address: 24898 CA-89 Scenic, Burney, California
14. Mendocino Headlands State Park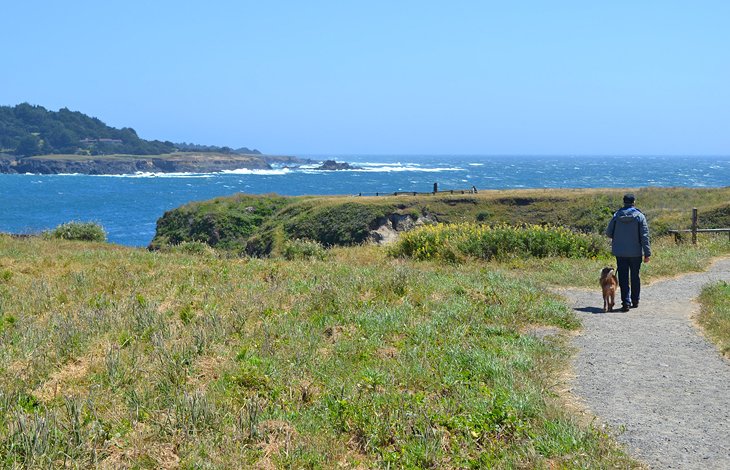 Mendocino Headlands State Park surrounds the seaside village of Mendocino in Northern California, binding this historic community to the everlasting waves of the Pacific Ocean. A scattering of trails leads throughout the bluff environment, providing multiple angles of the ocean and connecting to the adjacent community. Visitors can access an estuary environment and tidal areas at the Big River Beach unit of the state park.
The entire Mendocino coastal area is lined with other great state parks worth a visit. North of the village, Russian Gulch State Park features unique tidal features like the Devil's Punchbowl, as well as a Fern Canyon hiking trail leading to a rushing waterfall. South of Mendocino, Van Damme State Park offers similar natural appeal and a campground, as well as an intriguing Pygmy Forest.
15. Hearst San Simeon State Park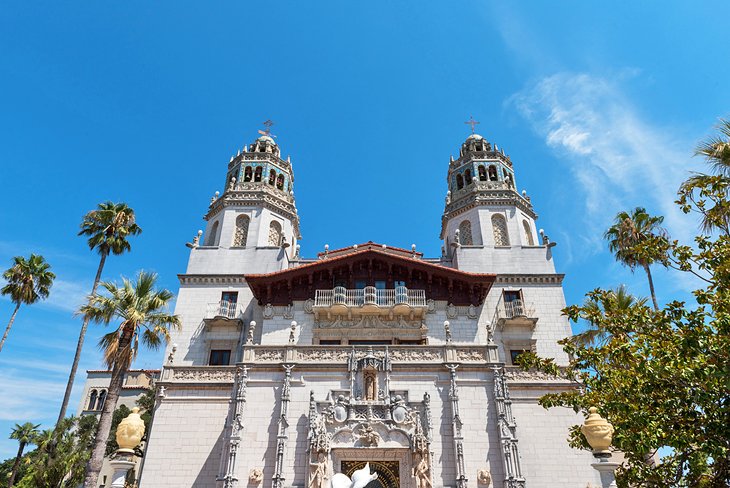 Stretching for twenty miles along the California coast north of San Luis Obispo, this special state park offers unobstructed views of the rugged shoreline. Alongside generous views of the ocean and a great vantage point of an elephant seal rookery, the state park also lends access to the fantastic Hearst Castle, a National Historic Landmark, and a stunning piece of architecture. Guided tours of the grand rooms, pool areas, and zoo are available seven days a week.
Address: 500 San Simeon-Monterey Creek Road, Cambria, California
16. Bodie State Historic Park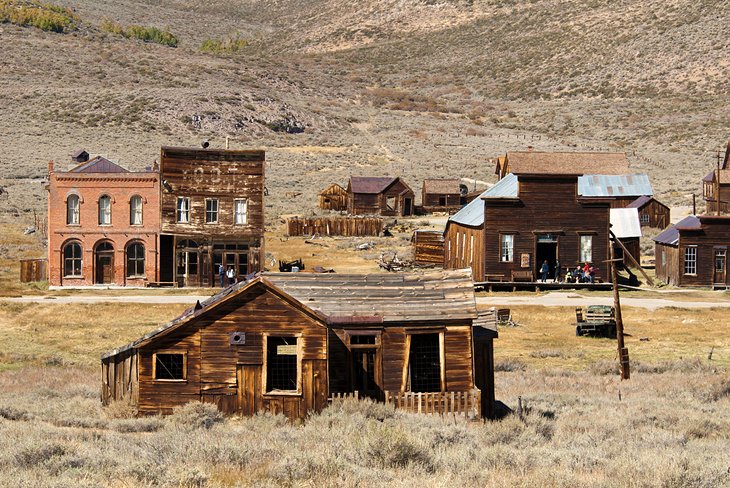 Bodie State Historic Park is a ghost town in the Sierra Nevada Mountains just outside of Yosemite National Park. And it has remained untouched since the last gold miners left in the 1940s.
Numerous furnishings and artifacts remain within the public spaces of this well-preserved ghost town, providing visitors with a sense of stepping back into the city's Wild West past. Special Bodie Ghost Walks occur throughout the year, lending the opportunity to also see the star-studded night sky of this day-use state park.
Address: CA-270, Bridgeport, California
17. Salt Point State Park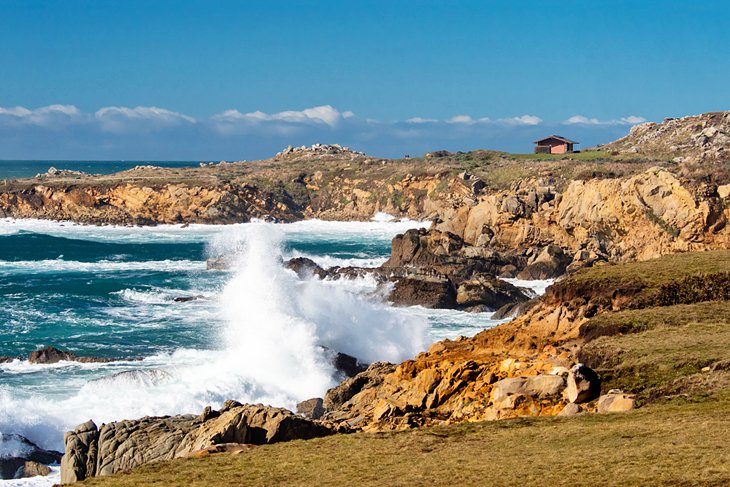 Ten miles north of the equally stunning Sonoma Coast State Park on Highway 1, Salt Point State Park offers dramatic ocean views and an abundance of inland trails to explore. It's a popular place, with beachcombers, abalone divers, and sunset photographers.
Sandstone rocks and pounding waves line the six miles of beachfront property at Salt. And over 20 miles of trails span the rest of the park, connecting with inland features including two campgrounds and a visitor center.
Address: 25050 CA-1, Jenner, California
18. Prairie Creek Redwoods State Park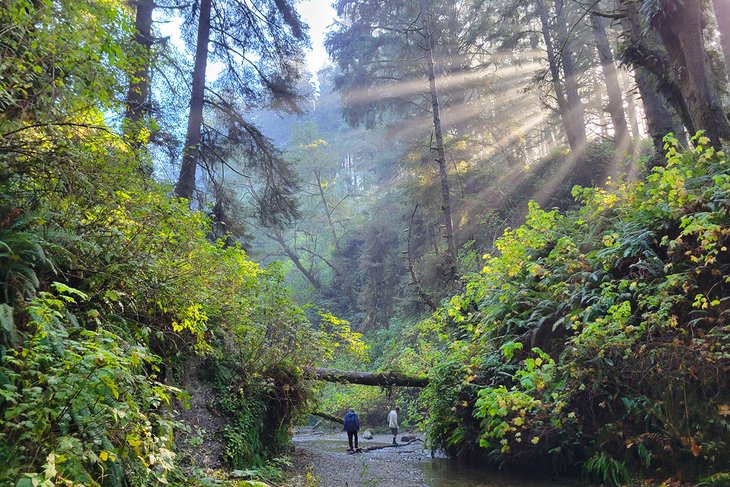 Prairie Creek is part of the larger Redwood National and State Parks complex in Northern California. It's approximately 50 miles north of Eureka and offers a diverse range of environments. On any given day, visitors encounter startlingly tall trees, a remote coastline, and the call of Roosevelt elk somewhere in the forest. The park is also home to over 75 miles of hiking trails.
Camping is the best way to experience everything Prairie Creek has to offer. The state park has two campgrounds: the Elk Prairie Campground and Gold Bluffs Beach Campground. Elk Prairie is the place to go for RV camping and forest exploring, while Gold Bluffs Beach requires a skinny and winding gravel road to reach (not recommended for trailers).
A special California landscape awaits at the north end of Gold Bluffs Beach in Prairie Creek Redwoods State Park. Here, the aptly named Fern Canyon navigates a trickling creek bed draped with hanging foliage. As off-the-beaten-path as it is, Fern Canyon requires advanced parking permits to visit, as of 2022.
19. Fremont Peak State Park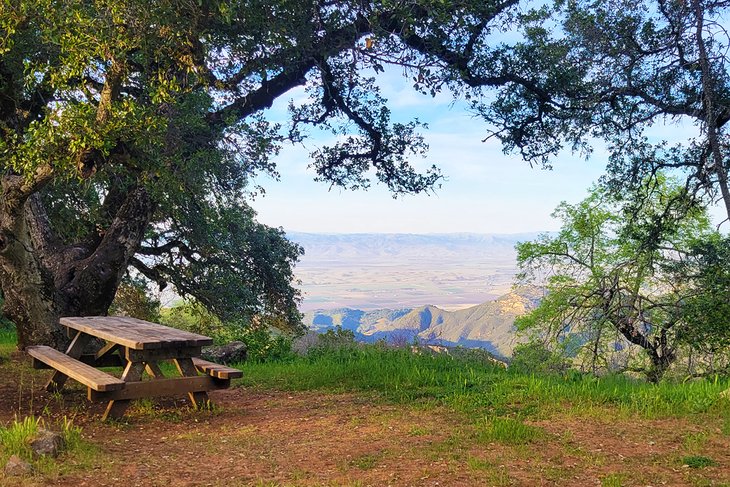 Fremont Peak State Park is a bit of a hidden gem in California. It's accessible from the city of San Juan Bautista, which is approximately 20 minutes north of Salinas. And upon making the narrow, winding, and paved route to the elevated state park, enormous views encompassing Monterey Bay unfurl in every direction.
Approximately 25 campsites at the state park enable easy enjoyment of the stunning sunsets from this state park's high vantage point. And the views extend into the evening and dead of night, as the park offers fantastic dark skies for celestial viewing. The on-site Fremont Peak Observatory occasionally offers public programs.
20. Grover Hot Springs State Park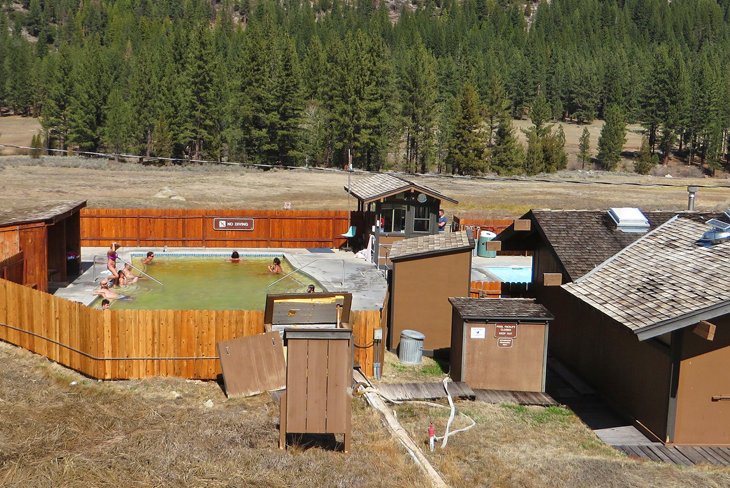 On the eastern flank of the Sierra Nevada Mountains, the hot springs of this state park have been attracting visitors for thousands of years. Today, as one of the best hot springs in California, the state park collects the heated groundwater from six springs into a large swimming area for the public to enjoy. Special day-use fees apply when wanting to take a dip, and the state park hosts a campground nearby with more than 75 sites available.
Address: 3415 Hot Springs Road, Markleeville, California
More Related Articles on PlanetWare.com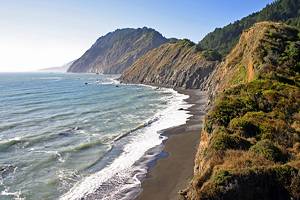 California Hiking: The best way to explore California's many natural resources is without a car. The best hiking trails in California give an introduction to all there is to see throughout the state, including scenic tours of waterfalls, volcanoes, and old-growth forests.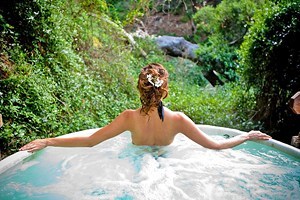 More California Adventures: With prestigious places to visit like Yosemite, Joshua Tree, and Redwoods, the best national parks in California deliver on the full picture of the state's many landscapes. For some much-deserved soaking times in beautiful environments, hot springs in California deliver with hydrothermal appeal. To connect some of the most adventurous places in California for an awesome trip, many of the best West Coast road trips tour through California and string together a bucket-list vacation.