California in Pictures: 20 Beautiful Places to Photograph
The most beautiful places to photograph in California stretch beyond the imagination. Mountain meadows, desert gardens, and roaring shorelines pose for brilliant pictures in California. Also in frame are verdant valleys, sea-glass-covered beaches, and magnificent redwood forests. No state is more deserving of a camera and tripod than California. And no challenge would be as rewarding as trying to capture all the stunning attractions within the state.
1. Yosemite Valley, Yosemite National Park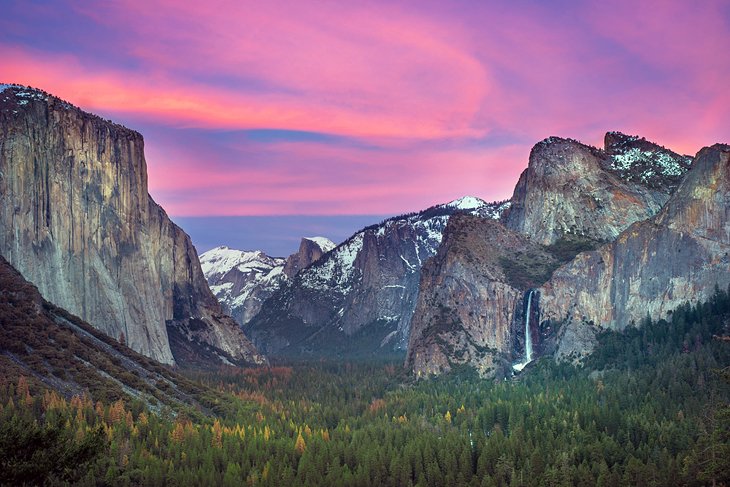 One of the best national parks in California, Yosemite is world-famous for its waterfalls, rock features, and hiking trails. Yosemite Valley is an absolute must-visit for camera owners. One of the first views when visiting Yosemite Valley is also one of the most iconic. In focus at Tunnel View is the incomparable El Capitan, Half Dome, and Bridalveil Fall.
For inspiration, have a look at Ansel Adams incredible collection of photographs of Yosemite before you visit.
2. Joshua Tree National Park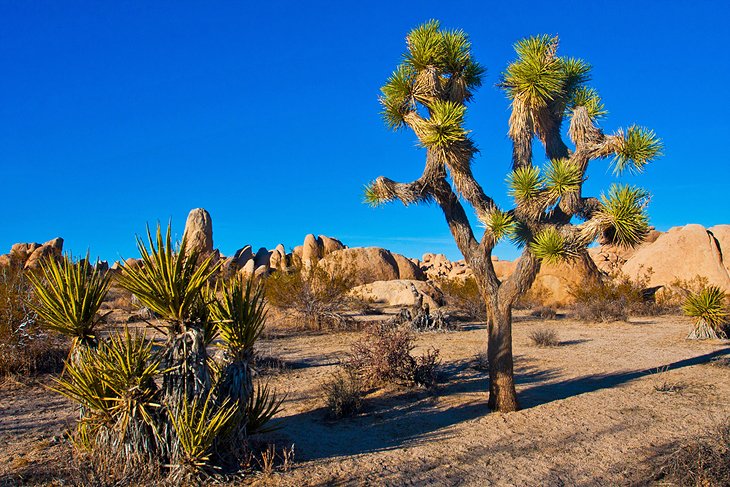 At the intersection of the Mojave and Colorado Deserts, Joshua Tree National Park is a photographer's dream. Alongside massive rock features and forests of the namesake fauna, the light in Joshua Tree makes for incredible pictures. The Jumbo Rocks area of the park is particularly notable thanks to its dense collection of giant boulders. Skull Rock is another impressive site in the park. In the springs, the wildflowers add a new dimension to the landscape.
3. Pfeiffer Beach, Big Sur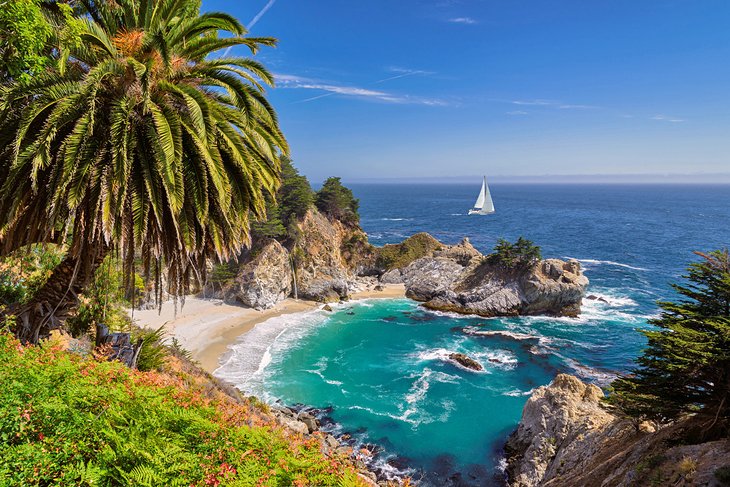 Where the Santa Lucia Mountains meet the sea, the Big Sur coastline is the most beautiful 90 miles of shoreline in the state. Among other beautiful places like Julia Pfeiffer Burns State Park and the Bixby Canyon Bridge, Pfeiffer Beach is a magical place to take photographs. The giant keyhole rock at Pfeiffer Beach, in particular, offers new scenic appeal with each turning tide.
Accommodation: Best Hotels in Big Sur, CA
4. San Francisco Presidio, Golden Gate Bridge National Recreation Area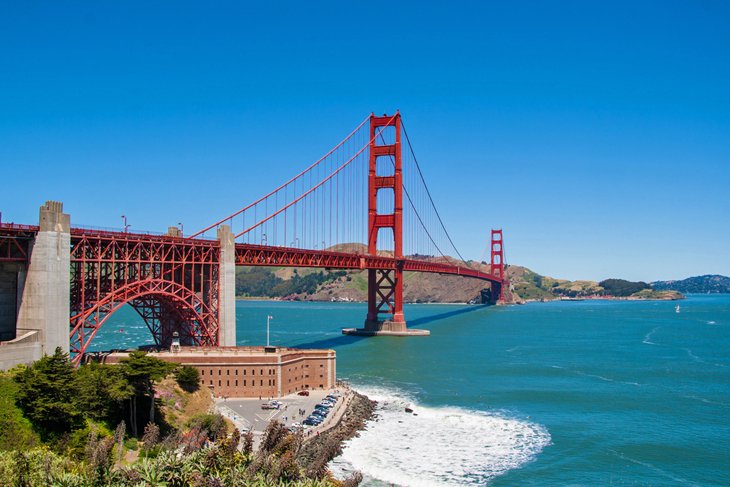 The Golden Gate National Recreation Area encompasses 37 different park units surrounding San Francisco. From massive trees in the Marin Headlands to a stunning beach scene at Mori Point, the Golden Gate NRA highlights the city's natural features. The Presidio of San Francisco is the centerpiece of the entire recreation area and offers great pictures of the Golden Gate Bridge.
Accommodation: Where to Stay in San Francisco: Best Areas & Hotels
5. Lady Bird Johnson Grove, Redwoods National Park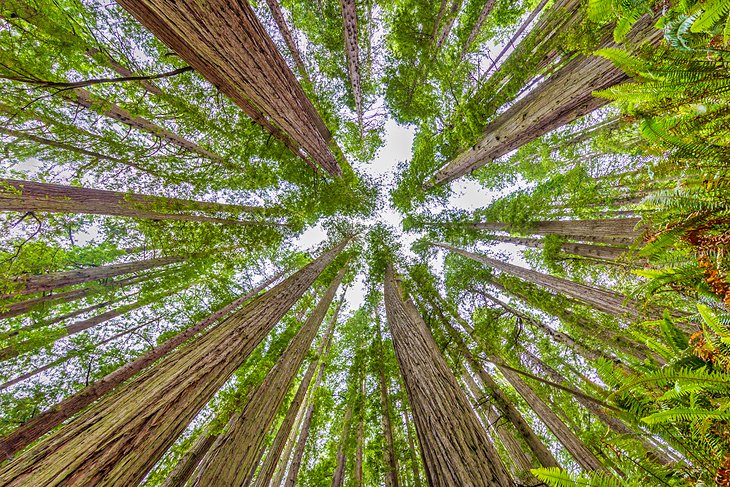 Northern California has one of the densest concentrations of giant redwood trees in the world. Several state and national parks offer a close look at these massive tree trunks. Perhaps the most famous is the neck-craning Redwoods National Park. The Lady Bird Johnson Grove Trail is one of many great hikes in Redwood National Park, and one that is most accessible for first-time visitors.
6. Heisler Park, Laguna Beach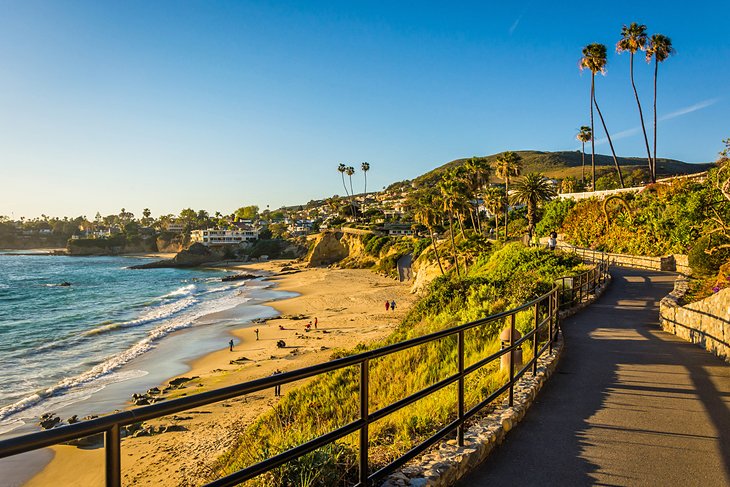 An oceanfront park in Laguna Beach, Heisler Park delivers with colorful flowers, pounding surf, and public art. With benches overlooking the scenic beauty, a paved pedestrian path navigates through Heisler Park and meanders next to views of the ocean. Sunsets from Heisler Park offer a postcard picture of the California coast.
Accommodation: Best Hotels in Laguna Beach, CA
7. Griffith Park, Los Angeles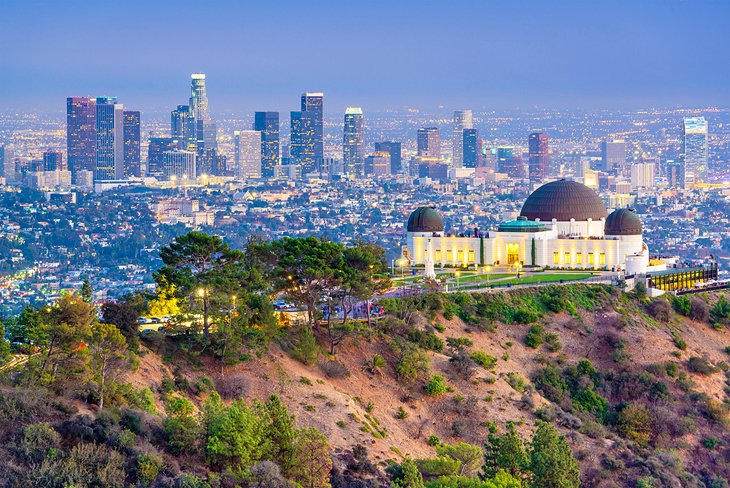 One of the top attractions of Los Angeles, Griffith Park, is home to many facilities, like the Los Angeles Zoo and the Griffith Park Observatory. Alongside a great view of the city, visitors to Griffith Park can also snap pictures of the iconic Hollywood sign atop the adjacent Mount Lee. Free telescopes are available at the Observatory to get a good look at the moon and other celestial landmarks.
Accommodation: Where to Stay in Los Angeles: Best Areas & Hotels
8. Glass Beach, Fort Bragg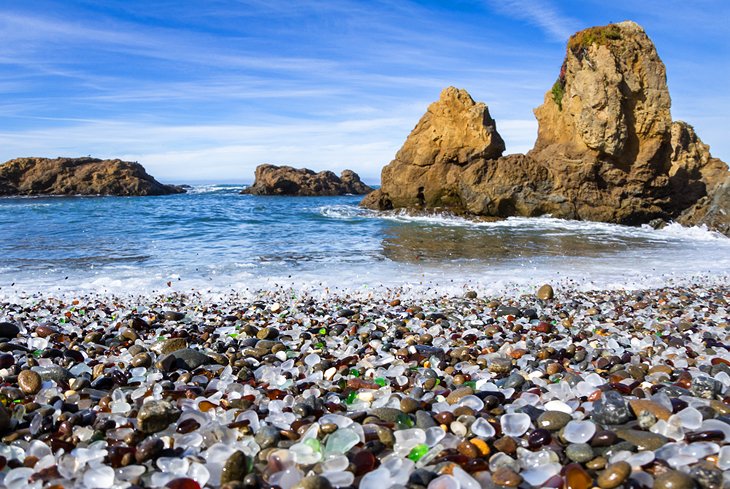 One person's trash is another beach's treasure. This unique beach in Fort Bragg was once a trash dump following a devastating 1906 earthquake. Over the last century, the ocean has smoothed the many pieces of broken glass before washing them back to land.
Today, photo opportunities abound with colorful pieces of sea glass littering the pebbly shore. Photographs are encouraged, though it is against the law to bring any sea glass home with you.
9. Emerald Bay, Lake Tahoe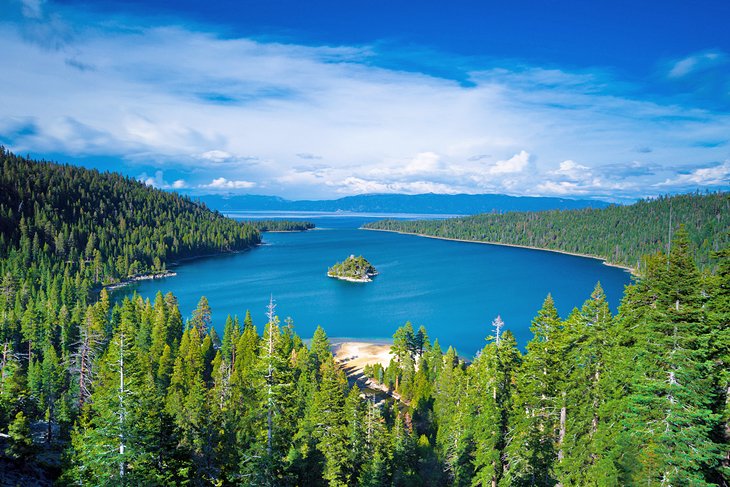 One of the best lakes in California, the shimmering blue water of Lake Tahoe reflects the surrounding Sierra Nevada Mountains. One of the best spots to enjoy the scenery and recreation available at Lake Tahoe is Emerald Bay State Park, with a view that overlooks the bay and Fannette Island. Emerald Bay also provides architectural appeal with the historic Vikingsholm mansion.
Accommodation: Where to Stay in Lake Tahoe: Best Areas & Hotels
10. Zabriskie Point, Death Valley National Park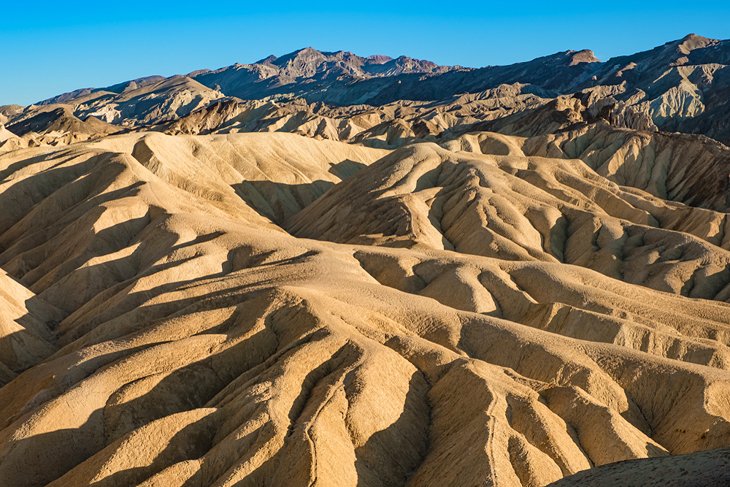 Death Valley in Southern California offers opportunities for stunning photographs. Colorful canyons and magnificent sand dunes are only a few of the fantastic photos captured in this 3.3-million-acre national park. Near the tourist-friendly Furnace Creek area of Death Canyon, a 360-degree view of the contoured landscape is presented at Zabriskie Point.
11. Burney Falls, McArthur-Burney Falls Memorial State Park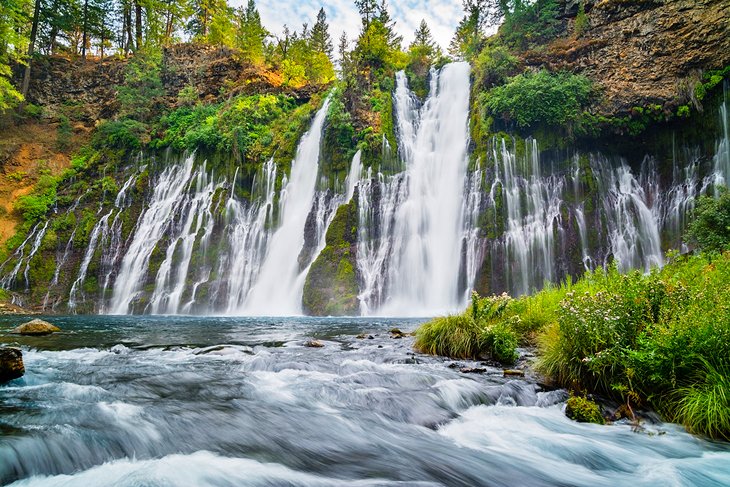 Sixty miles northeast of Redding in Northern California, this stunning waterfall is one of the most photographed in the state. Within McArthur-Burney Falls Memorial State Park, and a prominent stop on the Pacific Crest Trail, this spring-fed waterfall is always surrounded by an enchanting cloud of mist. Easy to gaze at for hours, the waterfall offers excellent opportunities to practice long exposure photography.
12. Bumpass Hell, Lassen Volcanic National Park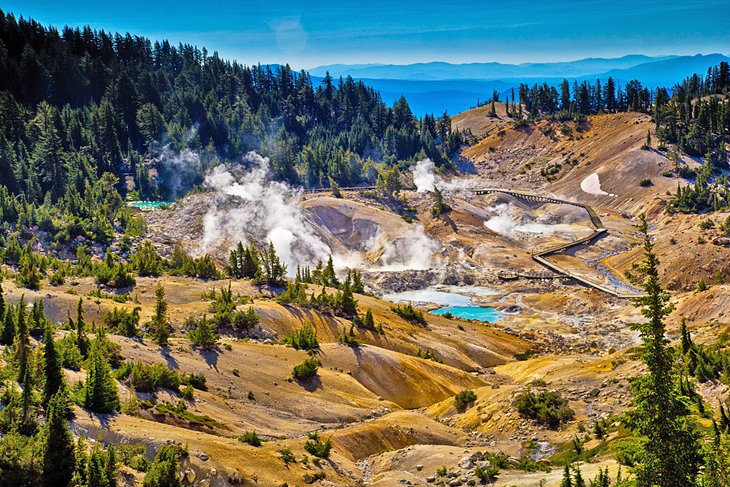 Filled with unique photos of steaming features, Bumpass Hell is the largest hydrothermal area of Lassen Volcanic National Park. Partially comprised of a boardwalk path, a three-mile trail navigates this bubbling area of the park. For safety reasons, visitors need to stick to the designated trail. While this active area is fun to photograph any time of day, the sunsets in the regions add even more color to the landscape.
13. Moro Rock, Sequoia National Park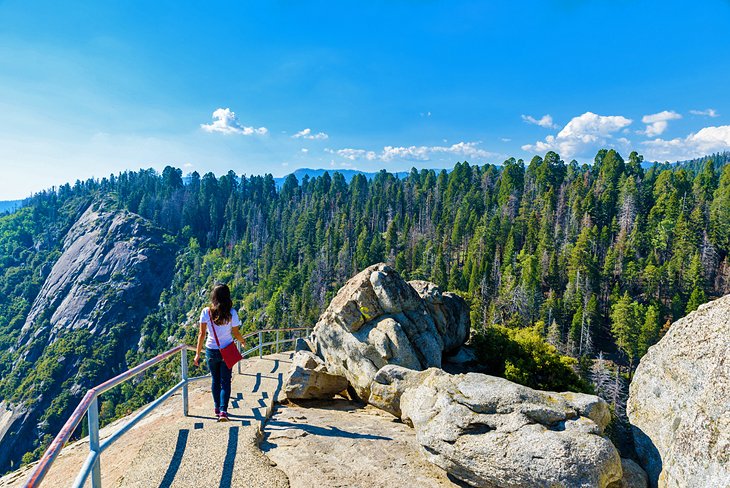 Photographers should head to the top of Moro Rock in Sequoia National Park for excellent pictures of the Sierra Nevada Mountains. At over 6,700 feet in elevation, this massive granite dome offers unparalleled views of the Great Western Divide mountain range. A short but challenging set of stairs leads hikers to the top of Moro Rock from the Moro Rock parking area.
14. Muir Woods National Monument, Golden Gate National Recreation Area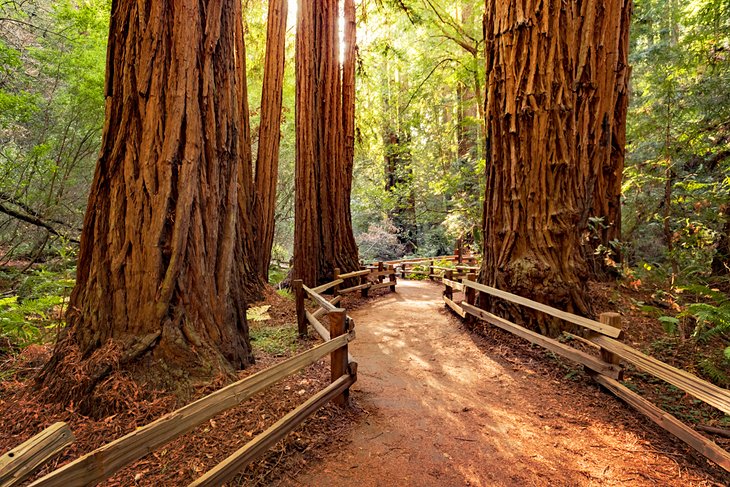 In the Marin Headlands north of San Francisco, Muir Woods offers old-growth redwood trees and a tranquil landscape. It's been a national monument since 1908. The six miles of trails that follow Redwood Creek are among the most popular hikes near San Francisco. The canopies of the towering trees along this path filter the afternoon light for eye-catching photographs.
15. Napa County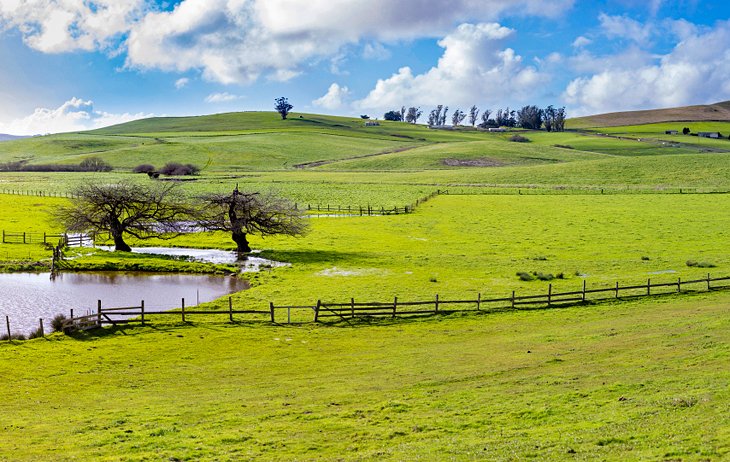 The verdant hillsides of Napa County offer stunning photographs for all types of connoisseurs. The local estates of Napa County encourage visitors with food offerings and opportunities to enjoy the local produce. Sunset is a particularly glowing time for Napa County, and some avid photographers opt for hot air balloon rides to get a fuller picture.
Accommodation: Where to Stay in the Napa Valley: Best Areas & Hotels
16. Balboa Park, San Diego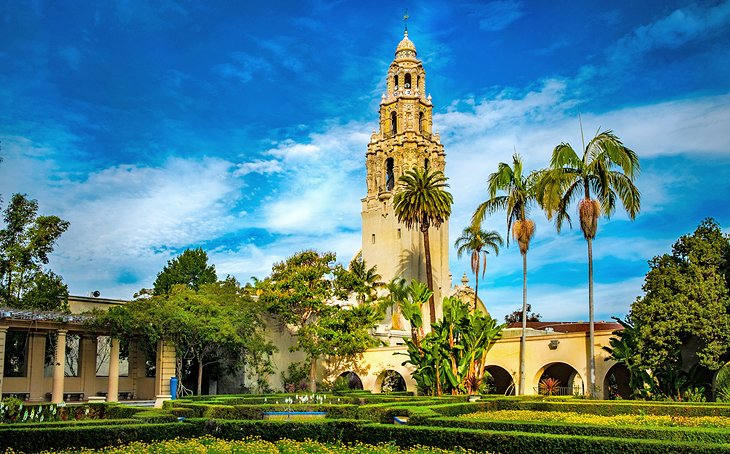 An urban public space filled with scenic attractions, Balboa Park encompasses 1,200 acres on the outskirts of downtown San Diego. With manicured grounds, Balboa Park encompasses iconic spots like the San Diego Zoo and the San Diego Museum of Art. Bountiful gardens and historic Spanish-style buildings punctuate the entire space, making photographs easy to capture while walking through the park.
Accommodation: Where to Stay in San Diego: Best Areas & Hotels
17. Lake George, Mammoth Lakes Basin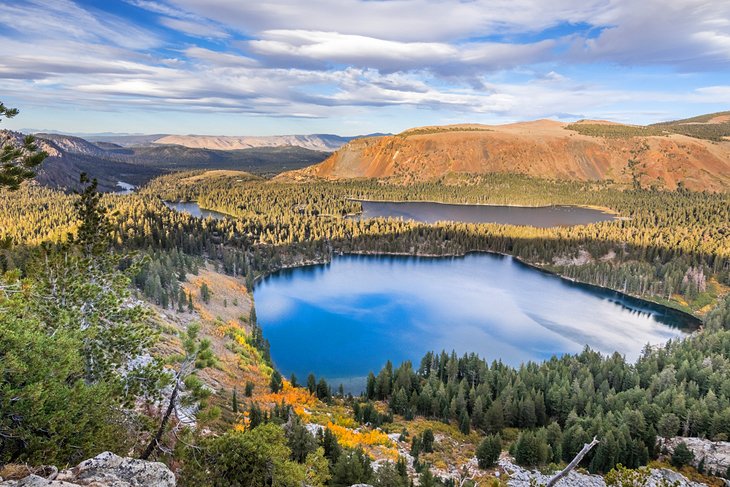 Accessible from the resort town of Mammoth Lakes, Mammoth Lakes Basin offers a dense collection of alpine lakes. Lake George is the highest lake accessible by vehicle and has opportunities to camp, hike, and fish. Photography is also popular at the lake with lodgepole pines and Sierra Nevada mountains adding extra depth to photos.
18. Mono Lake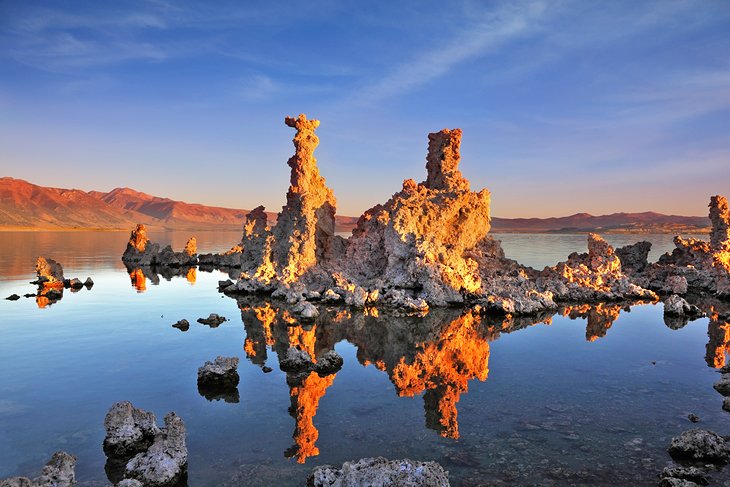 Near Yosemite National Park, Mono Lake is a special place to photograph thanks to the ancient "tufa tower" formations jutting out of the water. The lake's high alkaline levels add to the creation of these unique mineral deposits. These alkaline levels also allow swimmers to float on top of the water. Sunsets at Mono Lake tend to glow against the salty water and make for mesmerizing pictures.
19. Shasta Lake Caverns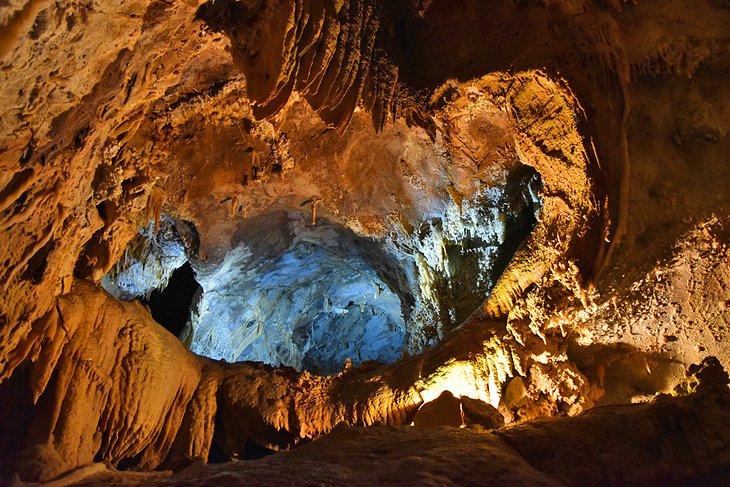 The only way to see the underground world of Shasta Lake Caverns is by a guided tour. Tours first begin with a scenic boat ride across the lake. Inside the caverns, visitors follow lighted passageways on an interpretive tour. Seen along the way are several low-hanging cave formations. Taking pictures of the subsurface landscape requires a steady hand, as tripods are not allowed on many of the cave tours.
20. Devils Postpile National Monument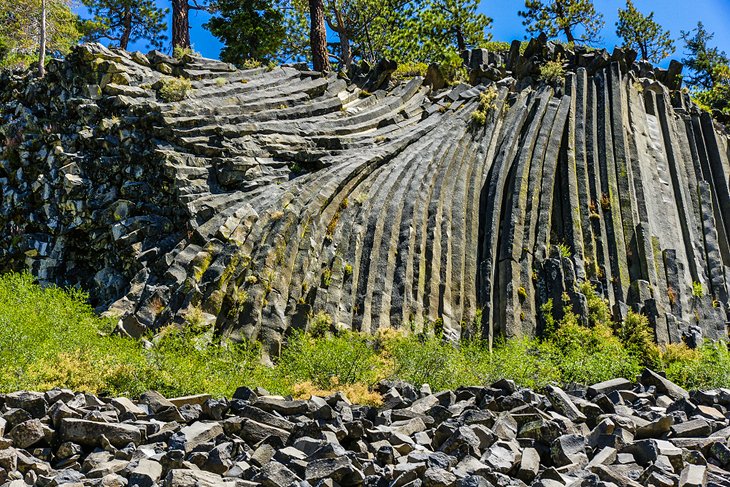 Comprised of large basalt columns, Devils Postpile was created over 100,000 years ago from an ancient lava flow. This outstanding rock feature in the Sierra Nevada Mountains is accessible with a shuttle from Mammoth Lakes. To the south within the national monument, the 101-foot Rainbow Falls is another photogenic attraction in the area.