10 Best Dog-Friendly Vacations in the United States
We may earn a commission from affiliate links ()
Your vacation is going to be exponentially better when you bring your dogs along, and thankfully there are plenty of dog-friendly destinations in the United States to visit. From frolicking on the golden beaches of San Diego and Florida to hiking the mountains of Oregon, Maine, and North Carolina, your dogs will have endless fun on the road with you. Cities embrace canines, offer doggie spas and off-leash parks, and welcome them into stores and alfresco restaurants.
To see the look of contentment as they traverse hills with their tails wagging, run off-leash on a pristine beach with their ears flopping, or savor the last bits of ice-cream at a roadside shop is worth every moment spent planning your dog-friendly vacation.
Whether you are road tripping or flying with Fido for a fun getaway, there are beautiful landscapes and dog-friendly urban centers across the country to choose from. Book yourself a pet-friendly hotel, pack your pet's food, favorite toys, vaccination records, and travel gear, and you are all set for a trip of a lifetime.
If you are driving, restrain your dog with a harness seatbelt (it's illegal to drive with an unrestrained dog in some states). For your air journeys, check airline regulations and get the proper carrier, along with a comfortable mat and enough water for the duration of the flight.
For ideas on where to go with your furry friend, read our list of the best dog-friendly vacations in the United States.
Note: Some businesses may be temporarily closed due to recent global health and safety issues.
1. Bend, Oregon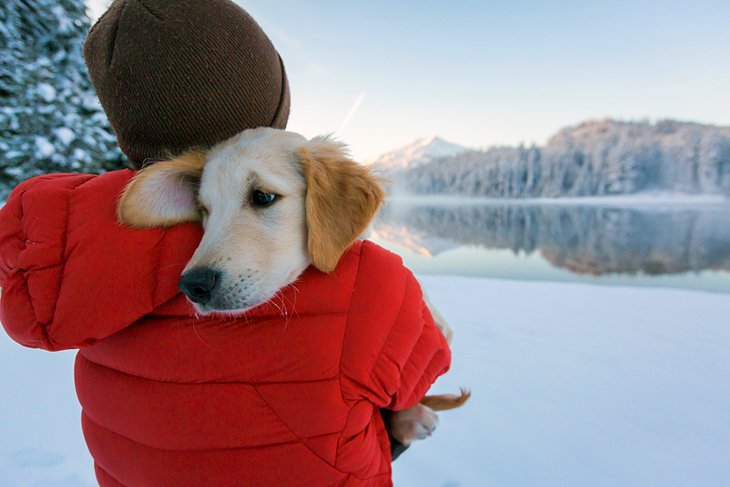 Outdoor lovers will be in heaven in Bend, Oregon, the city on the Deschutes River surrounded by National Forests, alpine lakes, and extinct volcanoes. Legend has it that Bend has the highest per capita dog population in the world, with an estimated 49 percent of residents owning dogs. The scenic Central Oregon city boasts 51 miles of trails within its limits, 13 off-leash areas for your best friend to roam around in, and hiking trails in the lush forests.
Take your pup on a refreshing walk on the Deschutes River Trail or the Farewell Bend Park path. If Fido needs to cool off, there are plenty of opportunities to jump in the water for a swim. Or you can rent a canoe from Tumalo Creek Kayak & Canoe.
For serious hikers, Deschutes National Forest has many trails along Douglas firs, including the fan favorite of North Fork Trail. And in the winter, you can make snow angels with your pooch on cross-country ski and snowshoe trails at Wanoga, Edison, and Kapka Sno-Parks.
2. Sedona, Arizona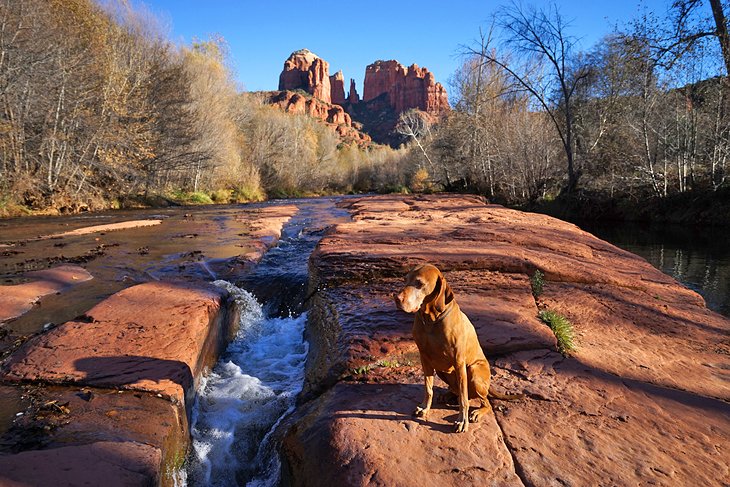 Get some incredible shots of your four-legged friend against the backdrop of red rock country in Sedona, Arizona. Active dogs will love venturing into Slide Rock State Park, a 43-acre park in Oak Creek Canyon located just outside the city or Coconino National Forest, known for iconic red rocks, Ponderosa Pine Forests, and alpine tundra. Many of Sedona's best hiking trails are suitable for dogs.
You can also sign up for pet-friendly tours, which offer backpacking, camping trips, and visits to Indian ruin sites. Pooch-friendly Red Rock Magic Trolley Tours also offers tours such as Boynton Canyon Tour and Bell Rock Tour. Reward your pooch after all that adventuring with a delicious treat at the Whiskers Barkery at Sinagua Plaza.
Those looking to stay within the city limits can make an afternoon out of a visit to Sedona Dog Park, the city's first and only dog park, featuring wonderful views and separate areas for small, large, and senior dogs. It even has a large natural area for traipsing off-leash.
Several hotels in Sedona offer pet-friendly accommodation. Many campgrounds in and around Sedona also welcome pets.
3. Bar Harbor, Maine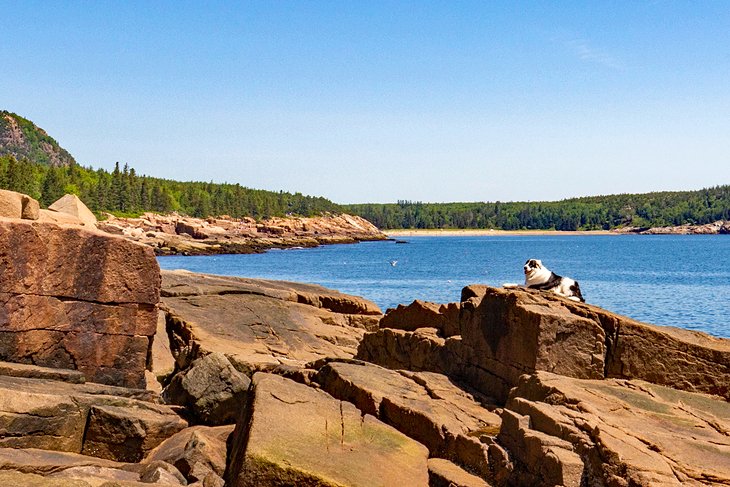 Maine's Bar Harbor is within a short driving distance to Acadia National Park, a 47,000-acre wilderness area on Mount Desert Island with 120 miles of dog-friendly hiking trails along the scenic glacier-sculpted coast.
Acadia is one of the most pet-friendly national parks in the country, with most of its hiking trails (with the exception of those that involve ladders) and carriage roads open to four-legged explorers. Drive the Scenic Park Loop Road to Cadillac Mountain summit road, stopping along the way at lookout points for pictures and potty breaks for your pups. Pets are also welcome on the shuttles that take you to scenic vistas throughout the park.
The seaside New England city allows dogs on its buses, making it easier to get around if you don't have your own transportation. Even better, Bar Harbor has outfitters like the Downeast Windjammer that allow you to bring your pets on a boat cruise around Frenchman Bay. There's also no shortage of dog-friendly eateries in downtown Bar Harbor.
4. Lake Placid, New York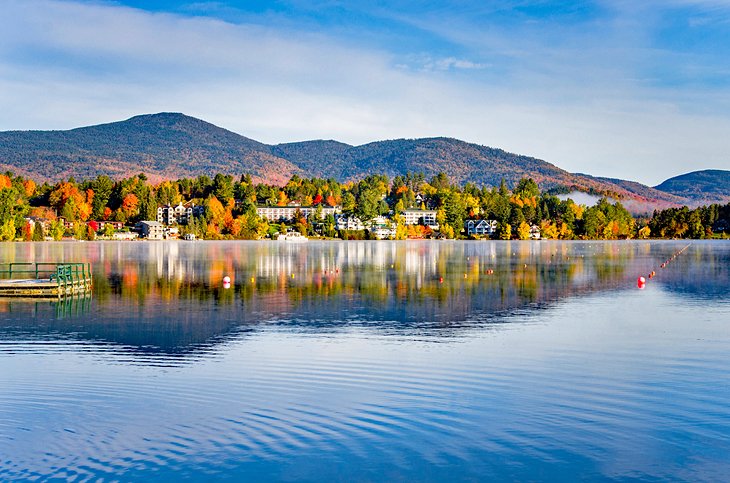 Located a five-hour drive from New York City in the heart of the Adirondack Mountains, Lake Placid is a quintessential romantic getaway. Bring your four-legged friend along and make memories along the lake's beaches and at luxury lodges like the Lake Placid Lodge.
Lake Placid is an all around outdoor destination, where you can go skiing, hiking, biking, and fishing all in just one trip. A must-do is a stroll along Mirror Lake on a 2.7-mile paved trail for lovely views and fresh air. Located on the west side of the lake, the path has some shops that welcome dogs.
If Rover likes riding in the car, take a drive up to Whiteface Mountain along the Whiteface Veterans Memorial Highway (open only in the summer), stopping along the way for some Instagram-worthy pictures with stunning backdrops.
After all that exploring, take a break with a relaxing stroll on Main Street, stopping by Lisa G's for classic American dishes.
5. Sanibel Island, Florida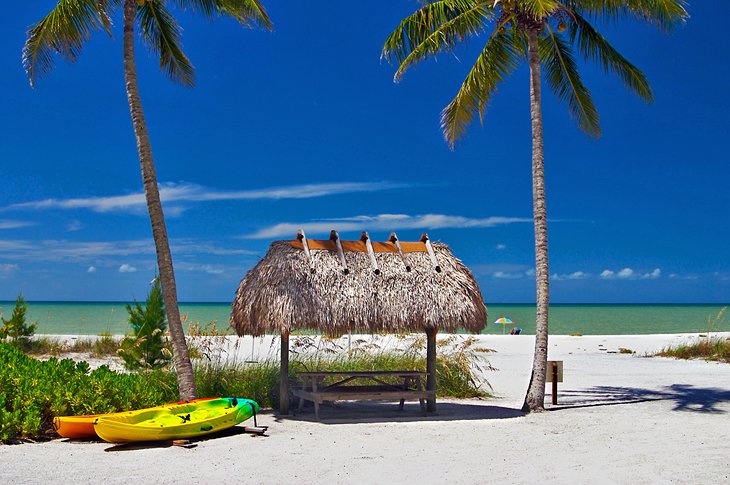 If you've got a beach bum on your hands, head to Florida's Gulf Coast on Sanibel Island. Sun-kissed beaches and year-round balmy weather make this Southwest Florida region a wonderful escape.
Take in magnificent sunsets, search for seashells, or jog on the beach with your four-legged companion in this barrier island where nearly all of the beaches are pet-friendly. One of the most popular beaches is the Gulfside Beach, (which also goes by Algiers Beach), which offers picnic areas, barbecue grills, outdoor showers, and restrooms.
At the J. N. "Ding" Darling National Wildlife Refuge, one of the country's largest undeveloped mangrove ecosystems and one of the top attractions on Sanibel, you and your leashed pet can explore the wetlands and mangroves and spot herons, manatees, and migratory birds on a pleasant drive along a public access road called Wildlife Drive.
Accommodation: Top-Rated Resorts on Sanibel Island
6. Kanab, Utah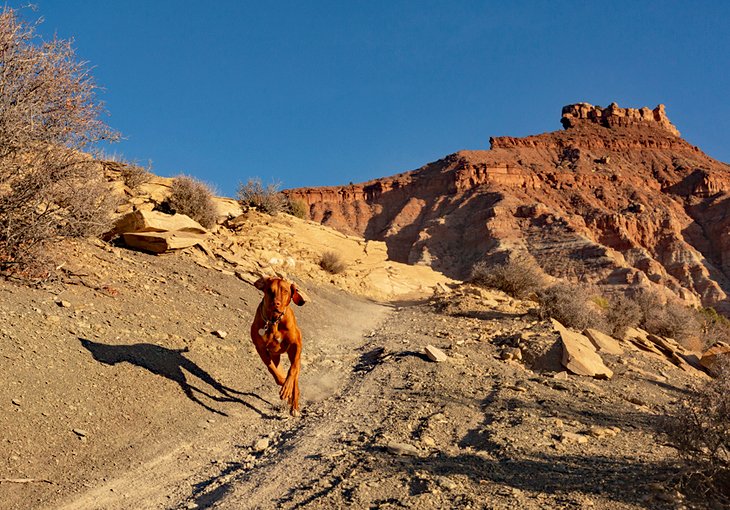 Kanab is a small town located in Southwestern Utah bordering Arizona, but the main attraction here is the Best Friends Animal Society's sanctuary, the largest no-kill companion animal shelter in the country. Spread across 3,700 acres, the sanctuary houses adoptable dogs, cats, bunnies, farm animals, horses, and orphaned and injured wild animals.
Best Friends has shelters all across the country, but the main location is a must-see, where animal lovers can spend time with adoptable animals and volunteer to clean kennels and socialize with and train the pets. If you've left your dog at home, you can borrow one to have a sleepover with in your hotel room or in one of the on-site cottages (as long as you dedicate a few hours to volunteer during your stay).
Best Friends' new pet-centric hotel, Best Friends Roadhouse and Mercantile, located five miles from the sanctuary, has 40 guest rooms featuring pet introduction doors, elevated furnishings, and areas with pet mattresses. The premises include a fenced-in dog park, splash zone, and a pet washing station. It also offers pet-sitting and dog walking services, as well as sanctuary tours.
7. Austin, Texas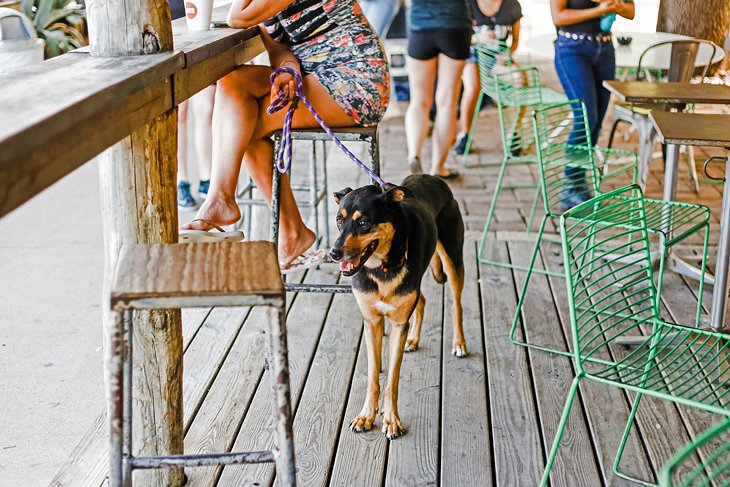 When traveling to one of the best dog-friendly cities in the country, expect nothing less than the best, from restaurants that roll out the red carpet to green spaces right in the middle of downtown for your dog to romp around in.
Go on a thrilling hike or a bike ride on the 10-mile trail and boardwalk at Lady Bird Lake. If you've got your water-loving retriever, rent a kayak or stand up paddleboard for a relaxing time on the lake.
The Texas State Capitol building's lawn is open to pets, and so are dozens of restaurants, including the aptly named Austin Terrier, serving dog-named sandwiches and pizzas, and Kerbey Lane Café serving delicious brunch all day at seven locations.
Austin also gives new meaning to the word downward dog with its unique offering of Austin Doga. That's right, you can now do your asanas with your faithful pet by your side. The studio offers group and solo lessons and even helps you organize a party for your dog.
A short drive from the city center, you and your active pup can explore the woods and check out the waterfalls at the Barton Creek Greenbelt Preserve, often referred to simply as the Greenbelt. Nearby, at the Barton Creek Farmers Market, support local farmers and vendors, some of whom sell dog food and accessories. Meet like-minded folks at the Red Bud Isle lakefront off-leash dog park, and have a lovely time swimming in the lake and enjoying scenic views.
Accommodation: Where to Stay in Austin: Best Areas & Hotels
8. San Diego, California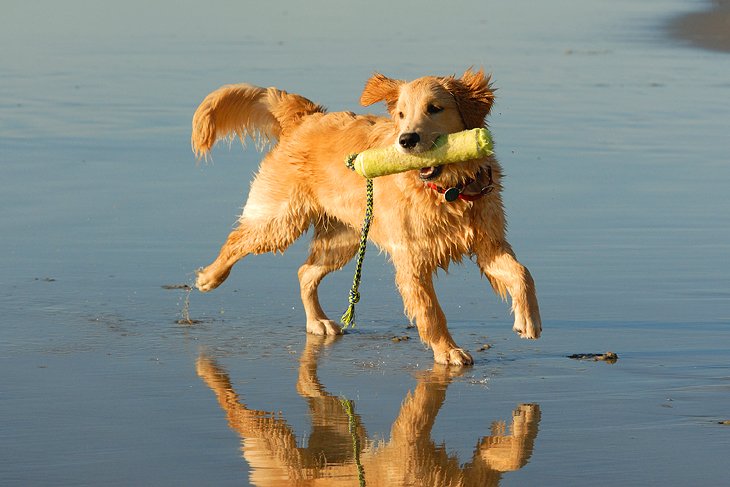 Sunshine, surf, and miles of sandy shoreline make San Diego an ideal destination for your beach vacation with your sidekick. Delight in picture-perfect vistas along the cliff-lined coasts of La Jolla and Del Mar communities and choose a different beach every day, from Fiesta Island, Mission Bay Park, Ocean Beach, and Dog Beach among many others.
If you are visiting in July, don't miss the Unleashed Surf Dog competition at Imperial Beach, the largest dog surfing competition in the nation. When you've had your fun on the beaches, head to the dog parks at Balboa Park to socialize with other pets and their owners.
The prominent Cowles Mountain, located within the city of San Diego, has a hiking trail to the summit where you can enjoy 360-degree views of the city and the ocean beyond; of course, your pet will just love being with you and sniffing all the scents along the way.
Other popular dog-friendly activities in this SoCal city include walking the streets of Old Town San Diego State Historic Park and shopping at the open-air Westfield UTC Center. Sports lovers can head to Petco Park's Barkyard, a private area for pet owners in the left-center field.
Accommodation: Pet-Friendly Hotels in San Diego, CA
9. Asheville, North Carolina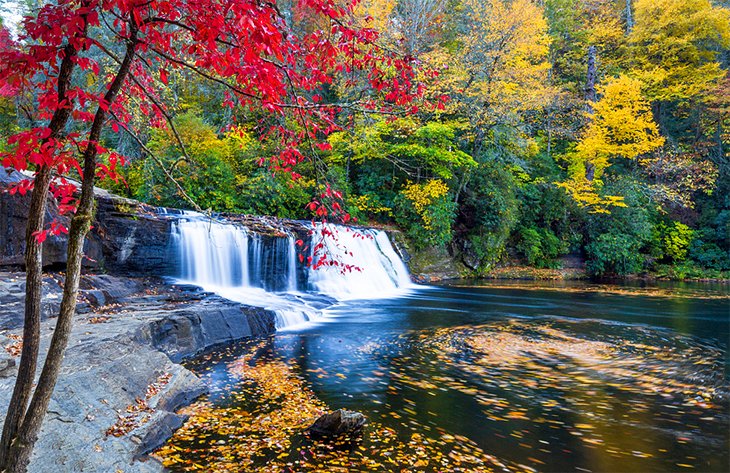 Set aside time in autumn to see colorful foliage in Asheville's countryside with your favorite family member. This North Carolina bohemian city has abundant opportunities to experience the great outdoors with your dog. Take in serene mountain views on a leisurely drive up the Blue Ridge Parkway and choose from hiking trails in the breathtaking Blue Ridge Mountains and national forests.
Stay in luxurious pet-friendly hotels and walk the grounds of top attractions like the Biltmore Estate, North Carolina Arboretum, and the French Broad River Park. The River Park has a winding, shaded path along the river; a wildflower garden; and a well-visited, fenced-in dog park. The Biltmore Estate provides kennels, so you can browse the interiors.
Accommodation: Where to Stay in Asheville: Best Areas & Hotels
10. Long Island, New York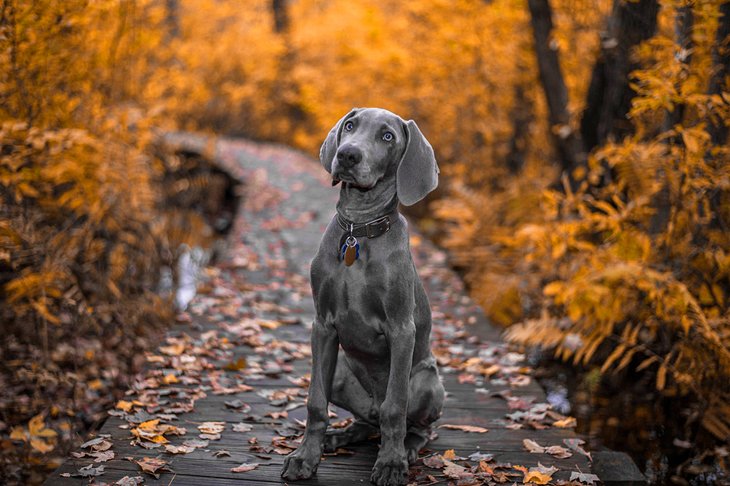 While New York City's Central Park is a haven for dogs, the larger playground just an hour drive from the city lies in Long Island. The U.S. mainland's largest island has beaches, Gold Coast mansions, hiking trails, and, of course, the famed Hamptons.
Bring your nature-loving pet on hikes at Sagamore National Historic Site, Sands Point Preserve, Gardiner County Park, Belmont Lake State Park, and Sunken Meadow State Park among others. Drive out to the Hamptons' and Montauk's dog-friendly beaches in the South Fork or visit pumpkin patches and lavender fields in the North Fork.
Take the ferry from Patchogue to the Watch Hill campgrounds on Fire Island National Seashore and watch the fireworks go off across the length of Long Island during July 4th festivities. The landscaped gardens of Old Westbury Gardens become available to pets twice yearly during Dog Days, so you and your pets can smell the flowers and make memories. Walk the Nautical Mile in Freeport, stopping by to get ice-cream at Ralph's Italian Ices and food at various dog-friendly establishments.