12 Top-Rated Beaches in Northern California
We may earn a commission from affiliate links ()
What are you waiting for? Get out of the city and hit the beach! The rugged and beautiful coastline of Northern California offers beachgoers an extremely wide variety of options for their beach experience.
Within only an hour of San Francisco and many other Bay Area cities, there are an amazing array of beach environments you can enjoy. There are vast, deserted beaches, like the 11 miles of The Great Beach in the Point Reyes National Seashore, and crowded archetypal amusement beaches, like Santa Cruz, with its wooden boardwalk, vintage roller coaster, and carnival games.
There are scenic beaches, like Baker Beach, located almost directly beneath the Golden Gate Bridge (easily accessible via public transportation) and remote, wild beaches, like Centerville Beach, close to the Oregon border.
By law, all beaches in California are free to access and publicly accessible, and most in Northern California also have free parking. Check out the top places to visit with our list of the best beaches in Northern California.
Note: Some businesses may be temporarily closed due to recent global health and safety issues.
1. Santa Cruz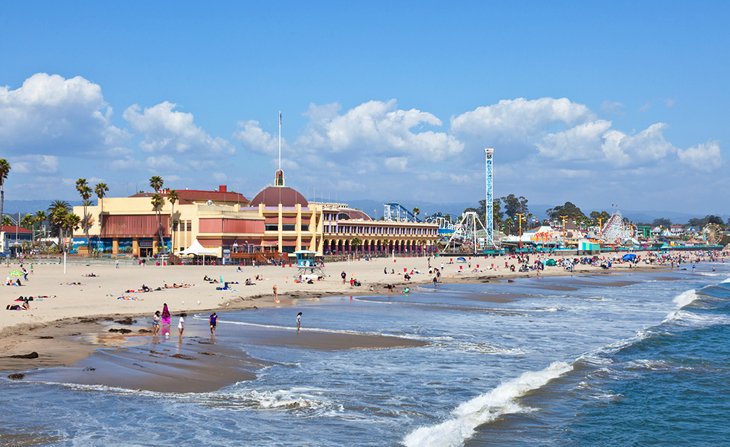 If you're looking for a family-friendly beach with a lot of things to do, you can't beat Santa Cruz. You start with a big beach, wide and flat, with soft, golden sand and reasonably gentle surf.
Then you add the iconic Santa Cruz Beach Boardwalk. One of the top attractions in Santa Cruz, the Boardwalk is an old-school, mile-long wooden boardwalk, lined with shops, carnival games, and part of an amusement park. Together, they create a wonderful beach experience with something for everyone.
The Santa Cruz Boardwalk has been making beachgoers happy since opening in 1907, and two rides, the Giant Dipper roller coaster and the Looff Carousel, are National Historic Landmarks.
When you're done enjoying the rides, there's plenty of natural scenery to admire. The ocean in front of the beach is part of the Monterey Bay National Marine Sanctuary. From the beach, you can see dolphins, otters, sea lions, and whales.
If you want to stay for a few days, the West Cliff Inn, a Four Sisters Inn is a well-managed, popular boutique hotel, on a hill overlooking the beach.
2. The Great Beach, Point Reyes National Seashore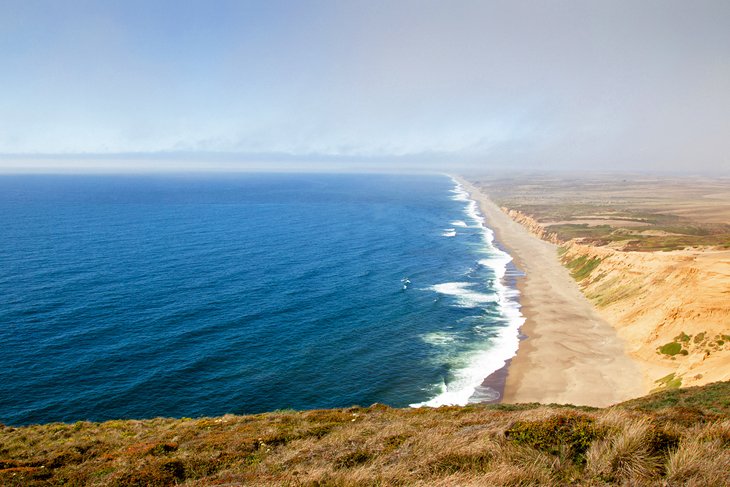 Within an hour of San Francisco, you can find yourself on a vast, deserted beach that stretches for over 10 miles. The Great Beach, aka Point Reyes Beach, is part of the Point Reyes National Seashore, a national park only an hour from downtown San Francisco.
Aside from the beautiful beaches in the park, be sure to visit the Point Reyes Lighthouse. It's down a 300-step staircase that leads down the rocks to the lighthouse, built in 1870.
If you want seriously vast expanses of deserted, wide sandy beach, complete with heavy, pounding surf, this beach is for you. The Great Beach is 11 continuous miles of undeveloped, unspoiled wild beach. Access is easy, with two drive-up parking lots at either end, right at the sand. Because of the rough waves, this beach is better for walking and exploring than it is for swimming.
Olema House Point Reyes, formerly known as the Lodge at Point Reyes, is a mid-range boutique hotel next to the national park entrance. This popular property charges a premium for its convenient location but makes up for it with a free breakfast and free, fast Wi-Fi. It also allows for a secluded getaway – the hotel's 22 rooms and two cottages are on a three-acre property.
3. Three Rocks Beach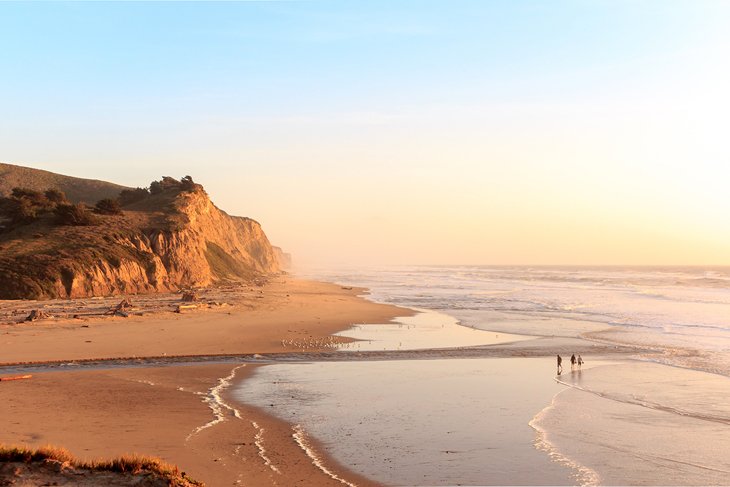 Three Rocks Beach in Half Moon Bay delivers on all the key ingredients for a great beach. Half Moon Bay is about 30 minutes south of San Francisco airport and less than an hour from downtown, and the beach is relatively undeveloped (there are homes but they're all set back a few hundred yards), yet easily accessible.
This beach has wide, flat sandy sections and other areas with huge boulders and rocks (great for photos). The rocks create a lot of tide pools, which are fun to explore with kids. It's also nice as there are tall cliffs, with hiking trails along the top.
Three Rocks Beach is a public park, but it's almost a part of The Ritz-Carlton, Half Moon Bay. The luxury resort is perched on top of the cliff adjacent to the beach, with dramatic views of the coastline in both directions. The building has the feel of a Victorian seaside resort done in a modern, luxurious style.
4. Drakes Beach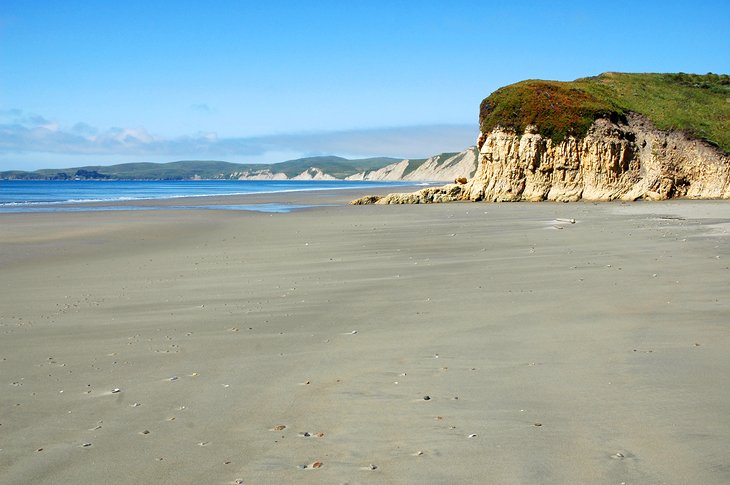 Northern California's answer to England's White Cliffs of Dover, this beautiful, wide beach has the similar striking, white sandstone cliffs as the English coastline.
Drakes Beach is another beach that is part of the Point Reyes National Seashore and located almost next to Point Reyes Lighthouse. The waves are rough, and the water is very cold, rarely above 50 degrees Fahrenheit (10 degrees Celsius). People do surf and enjoy some water sports here, but a wetsuit is necessary for any extended time in the water.
The beach has easy parking, with drive-up access, a visitor center, restrooms, and a small beachside café.
5. Baker Beach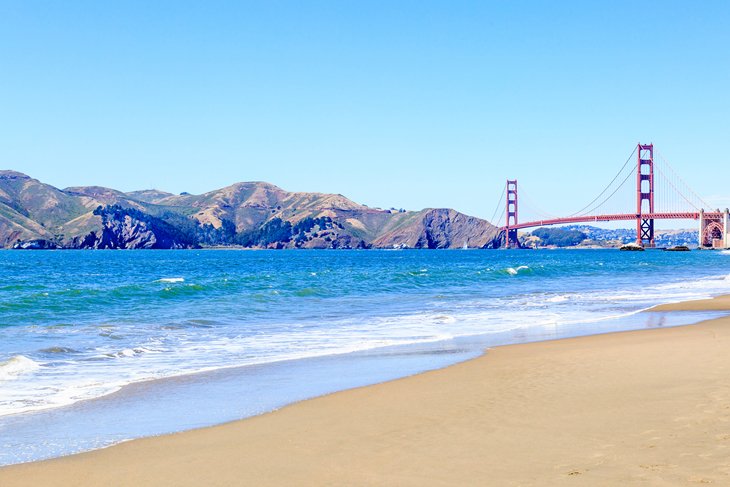 If you're looking for a beach near downtown San Francisco that's easy to get to, Baker Beach is great place to visit. This mile-long beach is part of the Presidio, a former military fort and now a public park and commercial development. The big draw here is that it's right next to the Golden Gate Bridge, offering postcard-like views of the iconic structure. You can also see the Marin Headlands and Lands End.
Beyond the sand, Baker Beach has a picnic area with barbecue grills and picnic tables. This is more of a walking beach – the water is rough and cold with extremely strong currents and not really suitable for swimming or wading. Baker Beach is one of the closest beaches to San Francisco: it's within the city limits and also easily accessible via public transportation.
The Travelodge by Wyndam Presidio San Francisco isn't fancy, but it's within walking distance of the Presidio and puts you in a good location to explore the rest of the city.
6. Centerville Beach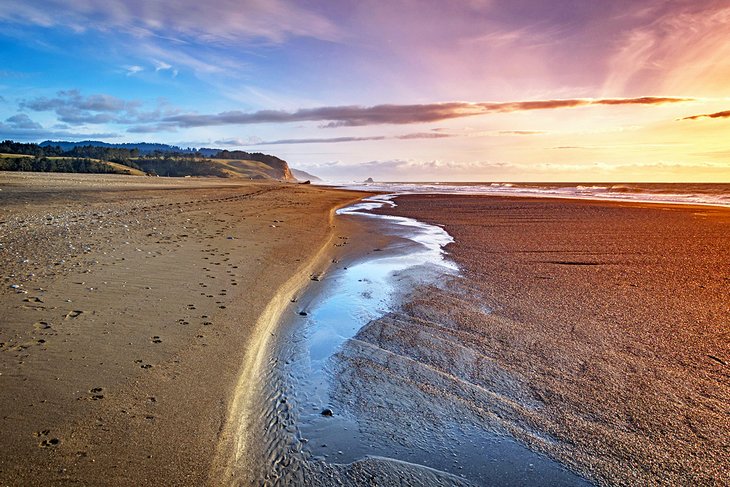 This nine-mile-long, windswept beach is part of what's called the Lost Coast: vast stretches of raw, undeveloped Northern California coastline in both Mendocino and Humboldt Counties.
Centerville Beach is a county park and has tall cliffs with many hiking trails. Both horses and dogs are allowed on the beach, as are vehicles and ATVs. It's a wide, flat beach, but the water is both very cold and very rough, making it not the best beach for water sports.
Centerville Beach is near the charming Victorian town of Ferndale, about a 4.5-hour drive north from San Francisco. The Gingerbread Mansion Inn is a bed-and-breakfast in downtown Ferndale, created in a Victorian mansion.
7. Fort Funston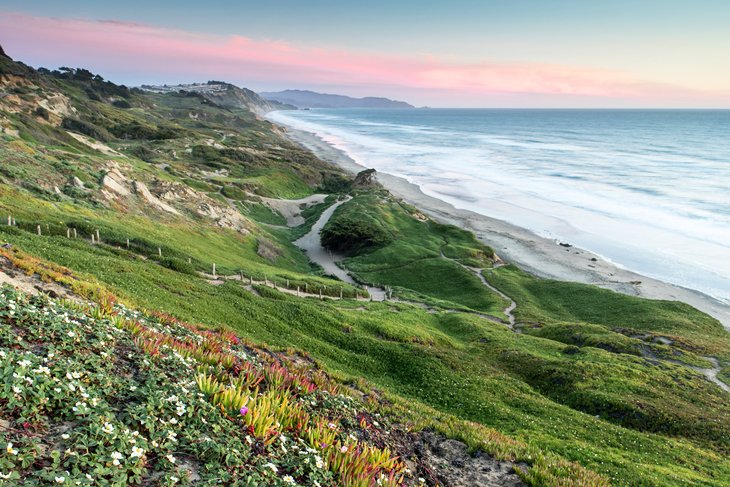 With a name that sounds like an amusement park, Fort Funston is actually part of the massive fortress-like 19th-century defenses that surround San Francisco.
Mainly built in the 19th century but used through the Cold War, the area is now part of the Golden Gate National Recreation Area, a national park. The Fort Funston beach is bordered by steep, 200-foot-tall cliffs, and it's very windy.
The cliffs and the wind make Fort Funston beach one of the most popular places in the Bay Area for hang gliding and parasailing. The surf is rough and not suitable for swimming. It's also a very steep hike to access the beach from the parking area.
8. Stinson Beach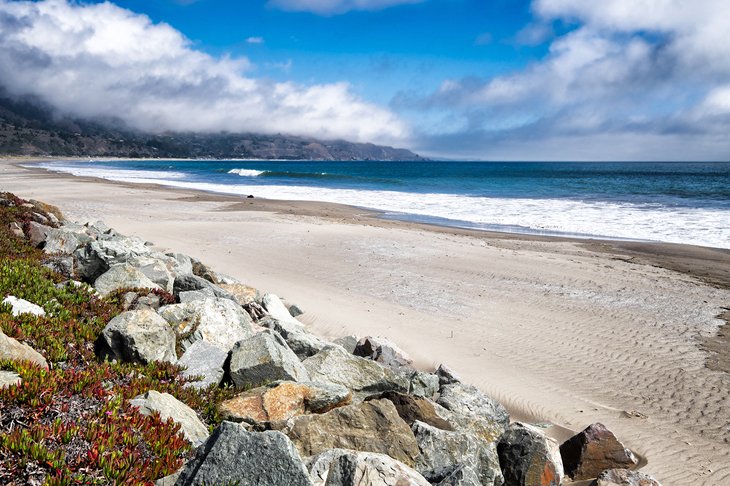 This beach seems to be Marin County's best-kept secret. It's only 35 minutes from downtown San Francisco, yet it offers a true, Northern California, rural beach experience, with no big hotels, no modern beach mansions, just some cool, mid-century residential developments and some great local stores and restaurants.
The white, powdery soft sand is perfect for sunbathing, and the surf here is gentle, making this a great swimming beach. The beach itself is part of the Golden Gate National Recreation Area. When you're done enjoying the beach, Stinson Beach is right next to Mt. Tamalpais State Park and the giant redwoods of Muir Woods National Monument.
9. Bodega Dunes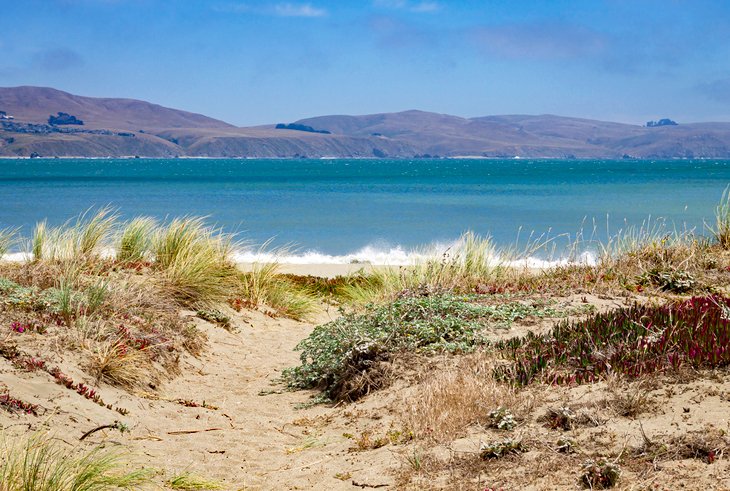 Bodega Dunes is a classic, sandy dune-backed beach on Bodega Bay, sloping gently into the ocean. Bodega Bay is in Sonoma County, about 90 minutes from San Francisco and close to Napa Valley. Hitchcock and film fans will recognize the small town from its role as the setting for the horror classic, The Birds.
As you move away from the shoreline, the wide beach of Bodega Dunes becomes a series of low, grassy dunes, broken up by walkways and the occasional wooden boardwalk.
The Bodega Dunes campground has almost 100 spaces (for tents, campers, or trailers), with hot showers and restrooms. It offers a great, camp-on-the-sand experience. For a much more luxurious beach getaway, the beachfront (well, it sits on a bluff overlooking the beach) Bodega Bay Lodge resort has a popular spa and its own golf course.
10. Monterey State Beach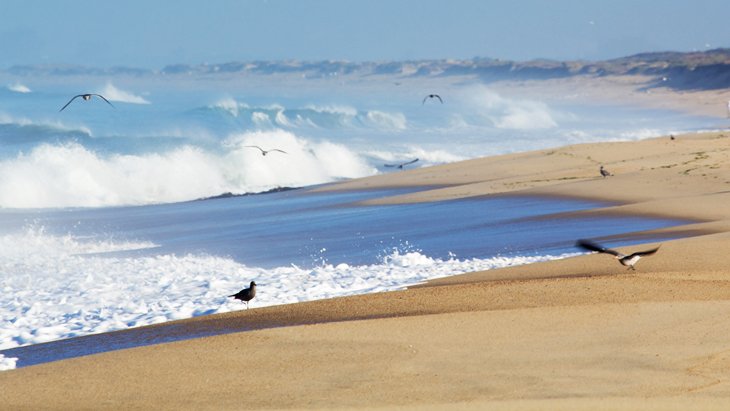 Monterey State Beach is a wide, gently sloping and curving beach directly across the bay (a 15-minute drive) from the popular Cannery Row tourist area of downtown Monterey.
Although the name says Monterey, technically this beach is in a town called Seaside. The water is cold, but the surf is gentle, so it's great for brave swimmers. Monterey State Beach has several areas of restrooms and showers.
The Monterey Tides hotel is right on the sand, and the rooms facing the ocean have spectacular views of the bay. It's an older hotel, but recently renovated and very well managed.
11. Carmel Beach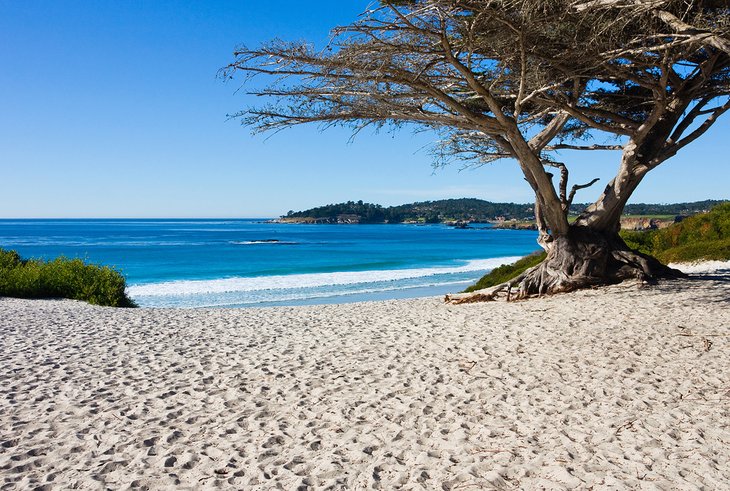 Carmel Beach is the main beach area for the picturesque Northern California town of Carmel-by-the Sea. The small town is a great place to visit, filled with locally owned shops, foodie-friendly restaurants, and art galleries. It's a very picturesque three-hour drive south of San Francisco.
The dog-friendly beach (leashes are technically required but often not used) is a wide, sandy beach with bright white sand. It's popular all day and into the evening, especially with the public wood-burning fire pits. You can light a campfire in the fire pit and enjoy the cool sea air (spring and summer only, 4-10pm.). Propane grills can be used year-round.
Activities include strolling on the beach, playing volleyball on the public courts, and surfing. It's often windy and a popular place for kite flying. The beach is backed with dunes and a line of cypress trees along the bluffs. There's a great walking trail here that runs along the entire area.
The Tickle Pink Inn is a strangely named yet surprisingly upscale, highly-rated, and luxurious boutique hotel in the hills overlooking the sea. Every room has an ocean view and a private furnished balcony.
Accommodation: Where to Stay in Carmel: Best Areas & Hotels
12. Glass Beach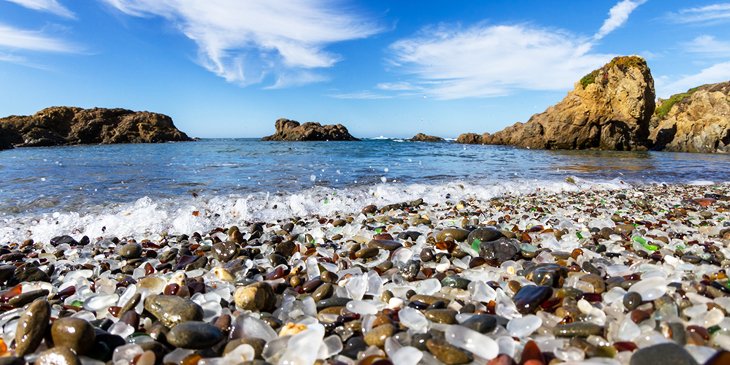 This beautiful and fascinating beach is unique, as it's a former bottle dump. Glass Beach is now a protected state park beach, but centuries of pounding waves broke up the bottles and then smoothed the fragments into small, rounded glass pebbles.
Almost completely covering the sand are marble-sized, deeply-colored glass stones of blue, red, green, and shades of brown. The beach is part of the MacKerricher State Park in Fort Bragg, about 3.5 hours north of San Francisco.
Shoreline Cottages is a retro hotel with individual cottage accommodations in Fort Bragg on Highway 1. Units are cozy and well-furnished, and many come with kitchens.
Frequently Asked Questions
What's the best time to visit the beach in Northern California?
For beach walks and exploration, any time of the year is a good time to visit. For any kind of sunbathing, you'll want to visit during the summer months, especially July and August. The water is always cold, even during summer months, and wetsuits are recommended for surfing and other water sports.
What are the closest beaches to San Francisco?
Ocean Beach and Baker Beach are both within the city limits and easily reached on foot or via public transportation. Ocean Beach runs along the city's western edge and is a popular getaway spot for city dwellers.