10 Best Campgrounds at Yosemite National Park
Yosemite National Park covers a large area, but the most spectacular section of the park is Yosemite Valley. This relatively small portion of the park is open year-round, and home to the most famous attractions, including Yosemite Falls, Half Dome, and El Capitan. If you can secure a campsite at one of the campgrounds in this area, it will save you an incredible amount of driving time.
At the far end of the valley, near Curry Village (formerly Half Dome Village), and not far from Yosemite Village, are three fabulous campgrounds: Lower Pines, Upper Pines, and North Pines. All three of these are clumped together in close proximity to one another.
The only other campground in the valley is the tent-only Camp 4, with a long history as a base for climbers.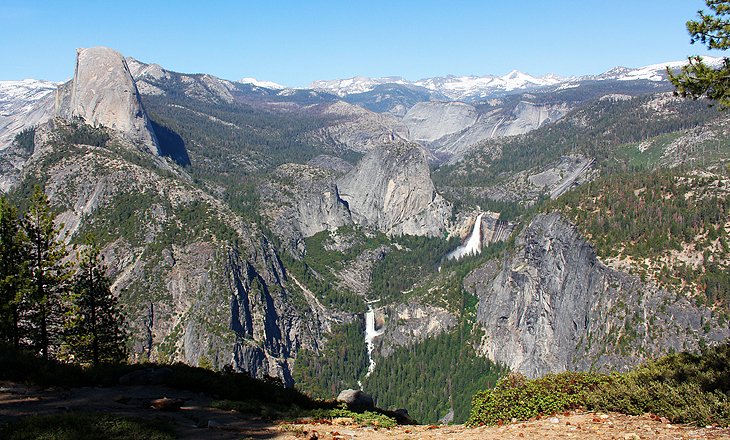 Still within the park, about an hour's drive west of Yosemite Village, but on two different roads, are Wawona Campground and Hodgdon Meadow Campground. A number of small first-come, first-served campgrounds are found along the Tioga Road (open in summer only) and a few other locations around the park.
On the east side of the Tioga Pass is Tuolumne Meadows Campground. From November until May or June, when the Tioga Road is closed, there is no access to the Yosemite Valley from this campground.
For 2022, the park has instituted a test program related to campsite bookings at the North Pines campground. This new lottery system may be rolled out across all campgrounds; check back in very early 2023 to see if this is indeed the case.
For 2022, a reservation will also be required to drive into the park during peak times. If you already have a campground reservation, you do not need to make a drive-in reservation.
For complete details on each camping area see our list of the best campgrounds at Yosemite National Park.
1. North Pines Campground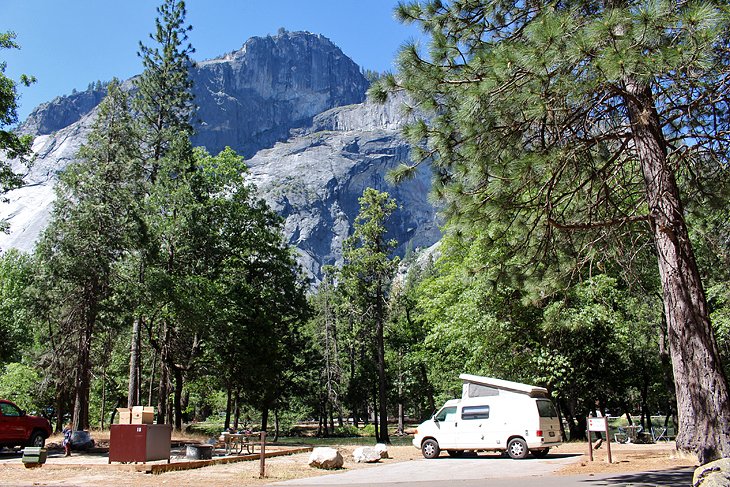 Set amid towering pines, granite cliff walls, and alongside a rushing river, North Pines Campground has a beautiful setting, a fantastic location, and a woodsy feel.
Located at the far end of the Yosemite Valley, near Curry Village, you can walk right from this campground to some nearby hiking trails.
With only 81 sites, most of which are large and well spaced, it is generally quiet, and many sites offer privacy. Riverside sites are very scenic. Tents, RVs up to 40 feet in length, and trailers up to 35 feet are welcome here.
This campground opens in April and closes in early November.
For summer 2022, a test lottery system was put in place for bookings at North Pines between July 21st and September 14. The window ran from January 18th to February 6th. Successful applicants were granted the ability to book one site during a specific access window date and time.
In addition to this, sites are still reservable up to five months in advance and are released in a block on the 15th of the month. It is hard to say how many sites will still remain after those in the lottery have had their pick.
2. Upper Pines Campground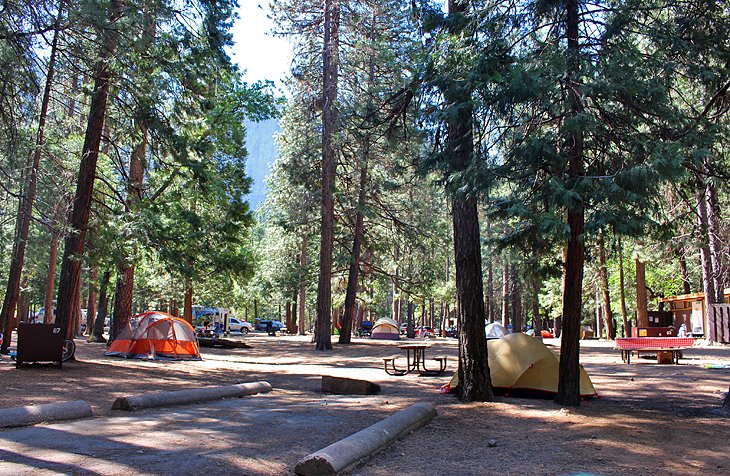 With 238 campsites, Upper Pines Campground is the largest of the three campgrounds in the Yosemite Valley. Divided into a number of individual loops, this doesn't feel like a huge campground, and finding your way around is easy. Clumps of large pines and cedars provide a mix of shade and sun, and in between are views to the surrounding valley walls.
Most sites are quite open and offer little privacy. You can easily walk from here to the start of several trailheads.
Sites are smaller than those at North Pines Campground, and equipment lengths are restricted to 35 feet for RVs and 24 feet for trailers. This campground is open year-round. Site are reservable up to five months in advance and released in a block on the 15th of the month; however, this may change in 2023 as the park moves to a lottery system.
3. Lower Pines Campground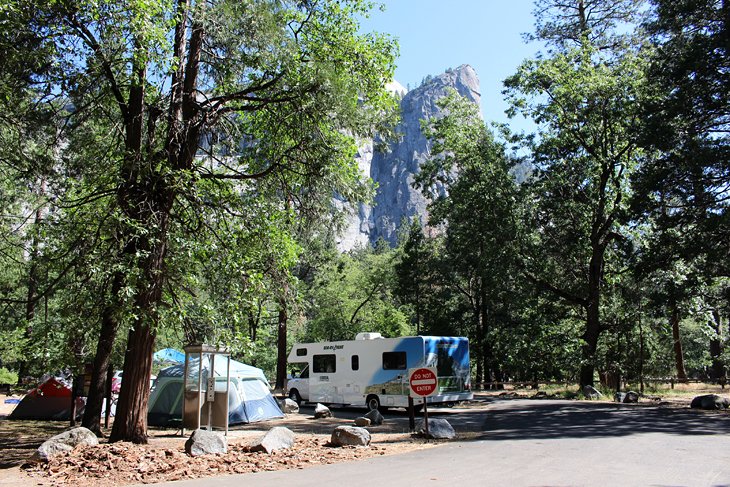 Lower Pines is the smallest of the three campgrounds near Curry Village. With a mix of pines and deciduous trees, this is a very pleasant campground, with views in all directions. Sites in the center are quite open and exposed, with more private and well-treed sites along the edges.
One side of the campground runs along the river. In the spring, the campground is prone to flooding, and sites in this area are sometimes closed due to flooding. If you have reserved a site along this side in May or June on a year when the river is high, your reservation may be cancelled, leaving you scrambling to find a place to stay at the last minute.
This campground has 60 sites and is open from mid April to late October. RVs up to 40 feet in length and trailers up to 35 feet are accepted. You can reserve sites up to five months in advance. Sites are released in a block on the 15th of the month, but as mentioned above, this may change in 2023, as the park moves to a lottery system.
4. Camp 4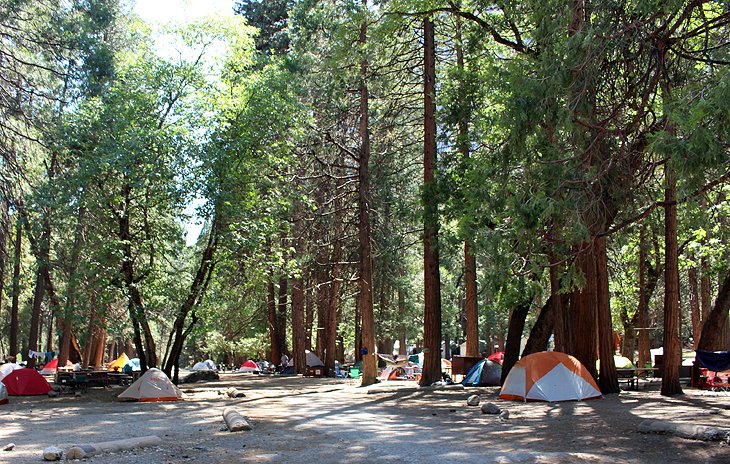 Camp 4 is legendary among rock climbers. In the 1960s and 1970s, famous climbers camped out here throughout the climbing season, including such famous names as Royal Robbins and Warren Harding. The history of this particular campground is so important in the history of rock climbing that the campground is listed on the National Register of Historic Places.
Today, this campground is still closely associated with the climbing culture. Set in the heart of the Yosemite Valley, near Yosemite Falls, this campground has its own unique vibe, and it's not for everyone.
Set among huge pine trees, the 35 tent sites are all walk-in only from the adjacent parking lot, and shared, with six people assigned per campsite.
From mid-May to mid-September, campsites are assigned via an online lottery system one day in advance of your desired night. You will need to pay a $10 fee and register on a per-person basis and camp with whoever is assigned to the six-person campsite with you.
From mid February through to mid-May, the campground operates on a first-come, first-served basis.
Note that if you are here with a group, you may be divided up. Pets are not allowed.
5. Tents and Cabins at Curry Village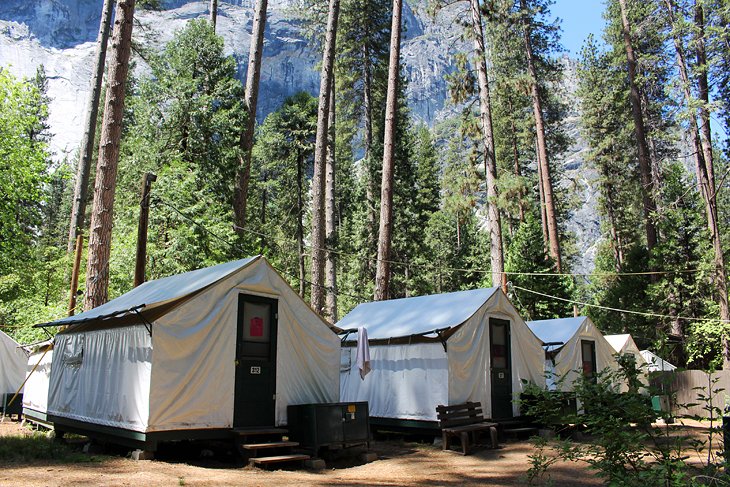 Although it's more expensive than bringing your own equipment and renting a campsite, you can rent canvas tent cabins or small, rustic cabins at Curry Village.
A total of 319 cabins are available. They are closely spaced but are in a great location.
Each tent cabin has a wooden floor, cot-style beds, and light, and some have propane heat available from fall until spring. The tents do not have electrical outlets. The tents are fully outfitted with linens and blankets. Washrooms and showers are just a short walk away, and daily housekeeping is included.
Rustic wooden cabins are outfitted in a similar fashion. Of the 70 available, 56 have running water and bathrooms. All have heat and electrical outlets. For those 14 cabins without bathrooms, showers and washrooms are shared with the nearby tent campers. These cabins also come with daily housekeeping service.
6. Wawona Campground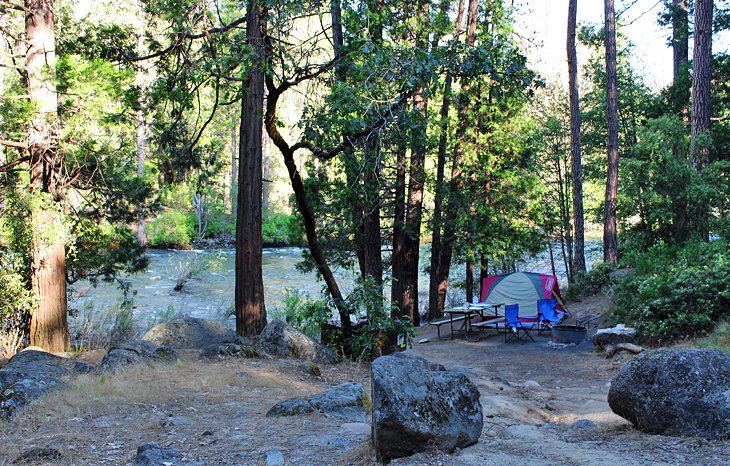 Located near the south entrance along Highway 41, on the road entering the park from the direction of Fresno, Wawona is almost an hour drive from Yosemite Valley, and longer if you run into traffic jams and congestion. However, if you can't secure camping in the valley, this is the next best alternative if you want a campsite you can reserve.
The campground is set alongside the South Fork Merced River, and sites are spread out among pines. The elevation here is around 4,000 feet.
Loop A, located closest to the campground entrance, is fairly open, and Loops B and C offer more privacy and a little nicer setting. Loop A is open all year-round, and Loops B and C are open seasonally from spring until fall.
The campground's 93 sites can accommodate tents, RVs, and trailers up to 35 feet in length.
Reservations are available five months in advance April through September, and sites are released on a block basis on the 15th of each month. Sites are first-come, first-served from October to April.
Nearby attractions include the Mariposa Grove, with a grove of giant sequoias, and the Pioneer Yosemite History Center.
7. Summerdale Campground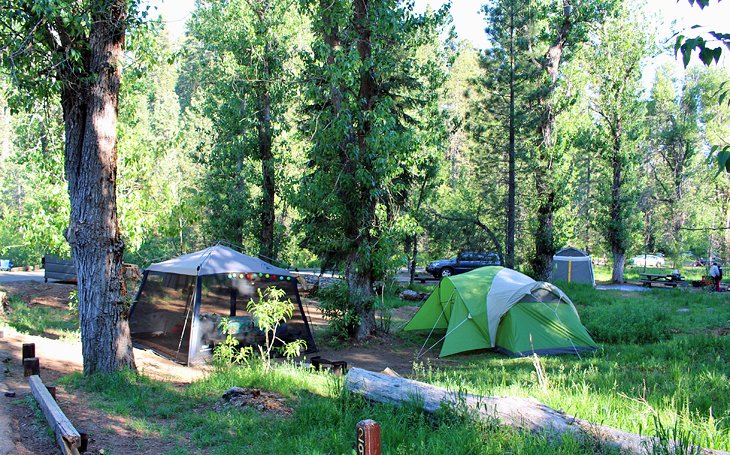 About 1.5 miles outside the south entrance to the park on Highway 41 is the privately run Summerdale Campground. Sites are scattered around a central meadow and set among cottonwoods, cedars, and sugar pines. A river flows along one side of the campground.
The campground offers 30 basic sites and vault toilets, and water is available. Each site has a picnic table and fire ring. Pets are welcome.
Sites are reservable six months in advance on a rolling date basis.
8. Indian Flat RV Park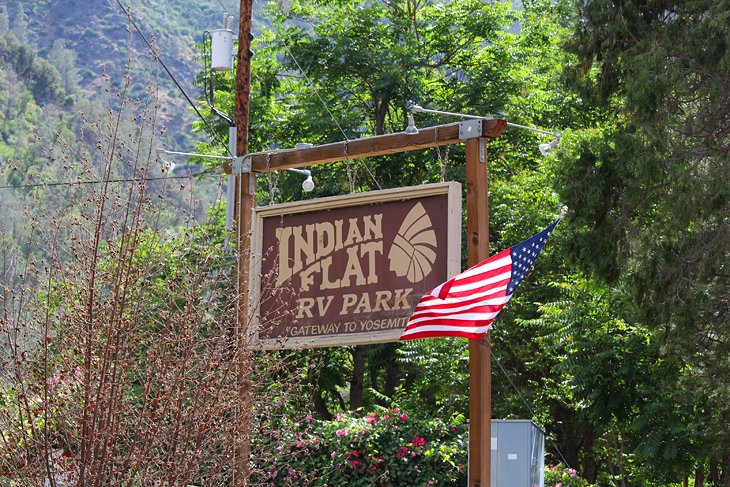 On Highway 140, heading towards Merced, the privately run Indian Flat RV Park is a good option if you can't find a campsite in the park or are looking for more amenities.
The park offers 25 tent and 25 RV sites, some with full hookups, and guests can access the outdoor pool at the neighboring lodge. Large, leafy trees provide plenty of shade and a woodsy atmosphere. Generators are not allowed.
Reservations can be made up to one year in advance and are recommended for the high season.
9. Hodgdon Meadow Campground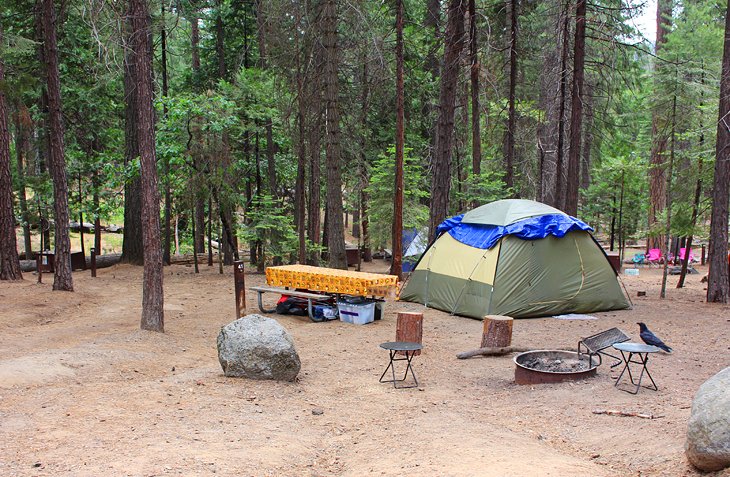 Hodgdon Meadow Campground is a little less than an hour's drive west of the heart of Yosemite Valley, off Highway 120, but still within the park. The main attraction of this campground is its convenience and year-round accessibility.
Unfortunately, this area has been heavily affected by California's prolonged drought, and many trees have been removed. As a result, privacy and shade are lacking at most of the sites.
The 105 sites are fairly small, uneven, and the ground is fine dirt, making this a dusty place to camp. Spots near the entrance are the least desirable. The surrounding area has been fire affected.
Reservations can be made for mid-April to mid-October and can be booked up to five months in advance. Sites are first-come, first-served the rest of the year.
10. Tuolumne Meadows Campground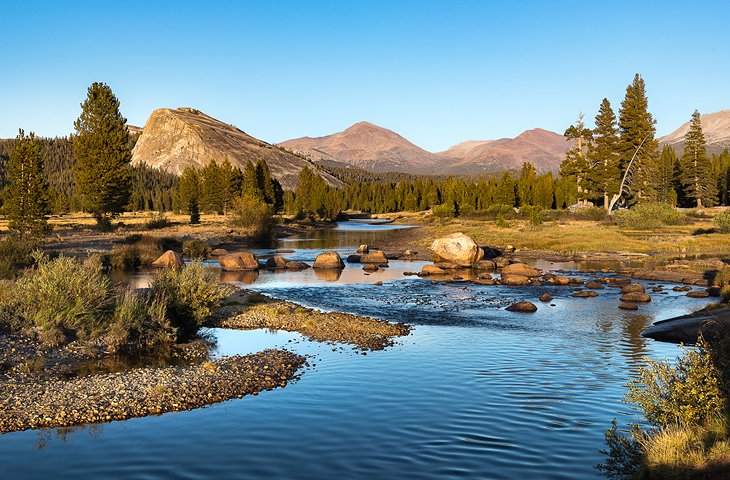 If you are visiting the park in summer and interested in exploring the hikes and sites along the Tioga Road, Tuolumne Meadows Campground is a good choice. The elevation here is 8,600 feet, so even in summer, nights can be very cool.
The Tioga Road is closed in winter, and this campground generally doesn't open until July and closes in September. The campground can accommodate tents, RVs, and trailers up to 35 feet. The 304 sites are a mix of first-come, first-served and reservable. Reservable sites can be booked up to five months in advance, and sites are released on the 15th of each month. The campground has flush toilets and potable water but no hookups.
Map of Campgrounds at Yosemite National Park
Camping Details
Reservations for campgrounds in the park can be made online. The Recreation.gov website has recently been updated. Now it's easier to find and book a site. New features also include codes that show which sites are available by a date range; which sites are available only on a first-come, first-served basis; those that are available via a lottery; and those that are already booked. You can also filter by specific campground features, such as group size, vehicle length, pets allowed, and a number of other specifications.
To try your luck getting a campsite at a first-come, first-served campground, arrive early in the day and have a backup plan.
If you don't have a reservation, you can check in at the Reservation Office in the Curry Village parking lot. It's best to arrive early in the day, preferably before 8 am. The park gives out sites that become available each day due to early checkouts and cancellations. They are all given out on a first-come, first-served basis. If you don't get a site in the morning, you can put your name on a list and return at a designated time around mid-afternoon to see if more have become available. A surprising number of sites do become available each day, but waiting to hear if you've got one is a relatively stressful experience. If you do get a site, you'll need to go through the same process every day that you want to stay, and it may entail moving sites.
North, Upper, and Lower Pines Campgrounds are located at an elevation of 4,000 feet.
All campgrounds in the park, except Camp 4, are pet-friendly.
All campsites in the park come with a bear-resistant food storage locker, and campers are required to use them.
Explore More of California's Outdoors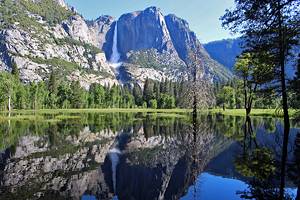 Exploring Yosemite: Once you've secured a campsite, you can focus on activities. Interested in hiking? Check out our detailed article on the best hikes in Yosemite. To make sure you don't miss any of the park's highlights, have a look at our article on the Top Attractions & Things to Do in Yosemite.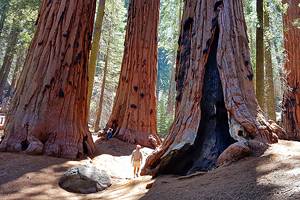 Camping in California: If you are planning on spending more time camping in California, narrow down your choices with our series of feature articles on camping. Camp below the giant trees at Sequoia NP, Kings Canyon NP, and Redwood National and State Parks. To enjoy some water activities, check out the best campgrounds in Lake Tahoe. For something a little hotter, head to the jewel of the desert and camp at Joshua Tree National Park. Each of these offers a completely different experience, with incredible sights and things to do.