11 Best Places to Visit in California in Winter
In television shows and movies, California appears to be a place of endless summer, where denizens enjoy outdoor activities and year-round sunshine. In reality, most of the state (except for Southern California and the desert areas) experiences some kind of winter weather, although this season is much gentler in California than elsewhere in the country.
California is blessed with a mild Mediterranean climate. The winter season brings rain to California's lower elevations and snow in the Sierra Nevada Mountains. Southern California gets less wintertime rain than Northern California. In Palm Springs and other desert areas, the winter rain is negligible.
Visitors can take advantage of the perfect weather in Palm Springs during wintertime or the balmy climate of San Diego and Los Angeles. Other top winter destinations include the ski resorts of Lake Tahoe and Mammoth Lakes. San Francisco in Northern California, along with Napa Valley and the Mendocino region, offer enough cultural attractions to keep you busy during the winter.
Plan a fabulous vacation with our list of the best places to visit in California in winter.
1. Palm Springs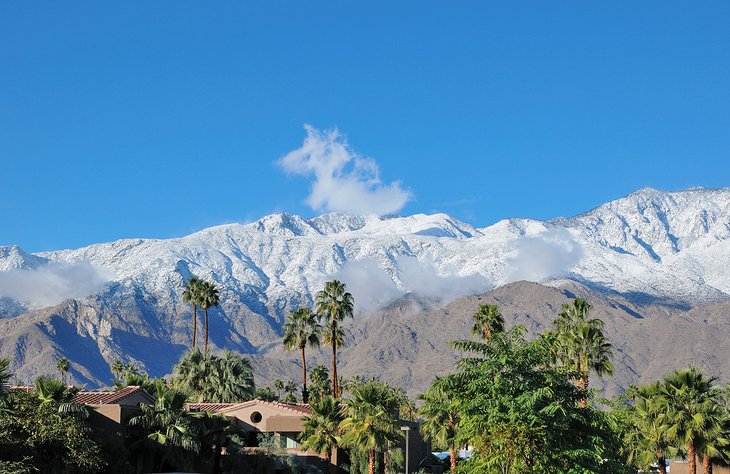 Palm Springs has been a popular wintertime destination for decades. This oasis of fashionable vacationing sprung up in the middle of the Sonoran Desert in the 1920s, when stylish resorts began catering to Hollywood celebrities.
Just a two-hour drive (about 100 miles away) from Los Angeles, Palm Springs is still one of the best places to visit in California. Anyone seeking a sunny getaway will appreciate the beautiful scenery and relaxing ambience.
The spectacular setting features swaying palm trees against a dramatic backdrop of the soaring San Jacinto Mountains. Bright cerulean skies and daytime winter temperatures in the low 70s Fahrenheit make Palm Springs the perfect vacation spot during the months of December, January, and February. Thanks to the desert climate, the sun shines nearly every day of the year (the average is 350 days of sunshine).
Swimming pools and sundecks feature predominately at the top resorts of Palm Springs, along with golf courses, tennis courts, and upscale spas. Other things to do in Palm Springs include hiking, gourmet dining, and shopping.
Wintertime events also draw many visitors. In January, the Palm Springs International Film Festival screens films and documentaries from over 60 different countries. A highlight of the festival is when Hollywood A-listers strut down the red carpet to attend the Film Awards event.
In mid-February, Modernism Week celebrates the city's mid-century modern architecture. This 11-day festival includes home tours, walking tours, film screenings, lectures, nightly parties, and live music.
2. Mammoth Lakes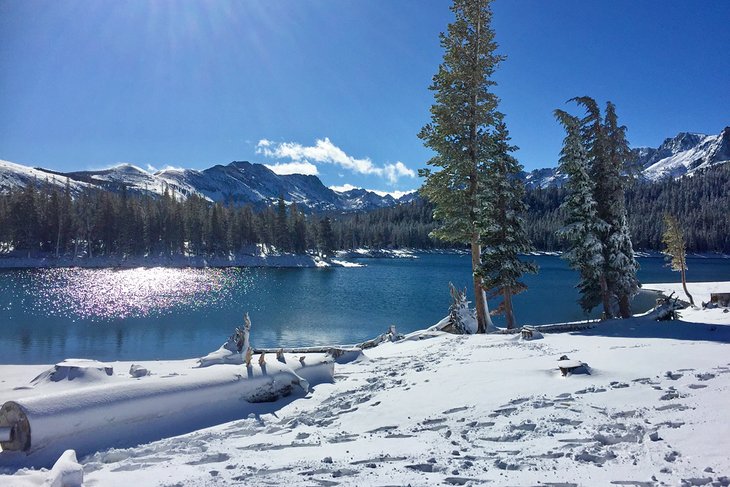 If you love spectacular mountain scenery and downhill skiing, definitely add Mammoth Lakes to your list of places to visit in the winter. Rated high on the list of off-the-beaten-path destinations in California, the Mammoth Lakes area dazzles visitors with its dramatic High Sierra landscapes.
Because of the high elevation, snow arrives early at Mammoth Lakes. The ski season usually begins at the end of November. With its peak at an altitude of 11,000 feet, Mammoth Mountain Ski Area gets around 400 inches of snowfall a year.
Mammoth Mountain Ski Area is one of the best ski resorts in California, thanks to its expansive terrain of over 3,500 acres with 150 trails for alpine skiing. Visitors will also appreciate the wide choice of lodging options and restaurants in the Mammoth Lakes area.
Mammoth Lakes is also famous for its hot springs, which draw many visitors during the wintertime. The Travertine Hot Springs in Bridgeport are natural geothermal pools on Bureau of Land Management property. This recreational hot springs site is open to the public for free. The town of Bishop also has hot springs.
In the historic mining town of Benton on a 1,255-acre family-owned ranch, The Inn at Benton Hot Springs treats guests to bed and breakfast accommodations with access to natural mineral water hot springs. The inn has bungalows, cottages, and camping sites with private hot tubs, supplied by natural mineral water. The Historic Benton Hot Springs non-profit association manages the inn's property, which is protected by a conservation easement.
3. San Diego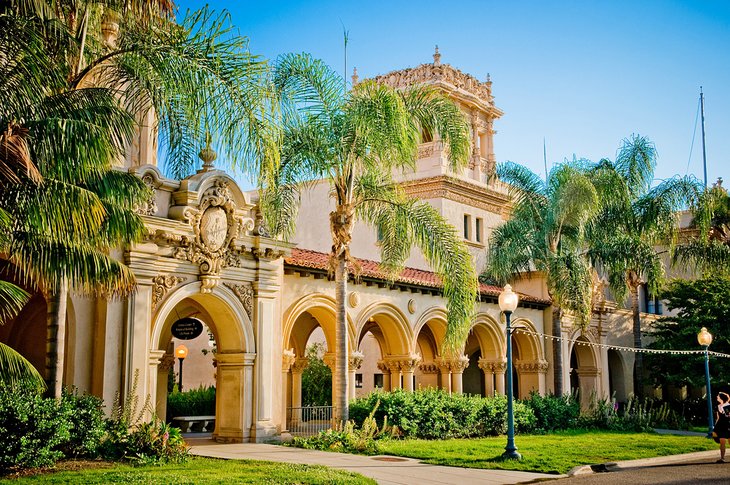 As California's southernmost city, San Diego enjoys balmy weather year-round. The mild winters bring plenty of sunshine and temperate days, with average highs around 66 degrees Fahrenheit. Winter is not warm enough for sunbathing but is ideal for walks along the beach.
Thanks to the sprinkling of wintertime rain, the gardens of San Diego look ravishing during the months of December through February. The 1,200-acre Balboa Park wows visitors with its lovely gardens, hiking trails, and cultural attractions including 17 museums.
Not to be missed is the Mission San Diego de Alcalá, a National Historic Landmark that dates back to 1777. The mission grounds incorporate a tranquil garden that is lovely during the wintertime.
Accommodation: Top-Rated Resorts in the San Diego Area
Read More: Top Things to do in San Diego
4. Lake Tahoe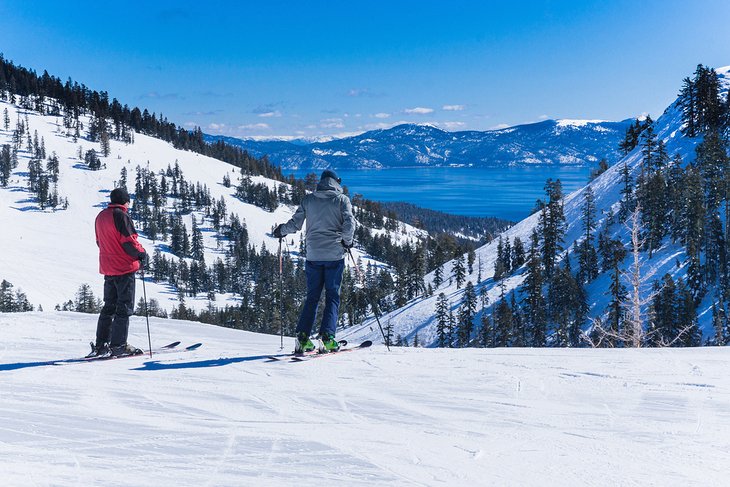 Lake Tahoe invites visitors to step into a winter wonderland as soon as snow begins to fall in November or December. Blankets of powder crown the mountain peaks surrounding Lake Tahoe, with its expanse of deep blue waters glistening under the cool winter sunshine.
Although the Lake Tahoe area gets plenty of snowfall, the climate is relatively mild for an alpine environment. Daily high temperatures from December through February are in the low 40 degrees Fahrenheit. With around 300 days of sunshine a year, Lake Tahoe's winter season offers the chance for many gorgeous bright days.
The top attractions in Lake Tahoe during wintertime include downhill skiing. The Lake Tahoe area has many top ski resorts. Among the most famous world-class resorts are Heavenly, Palisades Tahoe, and Northstar California.
Other things to do in Lake Tahoe during winter include cross-country skiing, sledding, snowshoeing, and sleigh rides.
Accommodation: Best Resorts in Lake Tahoe
5. Los Angeles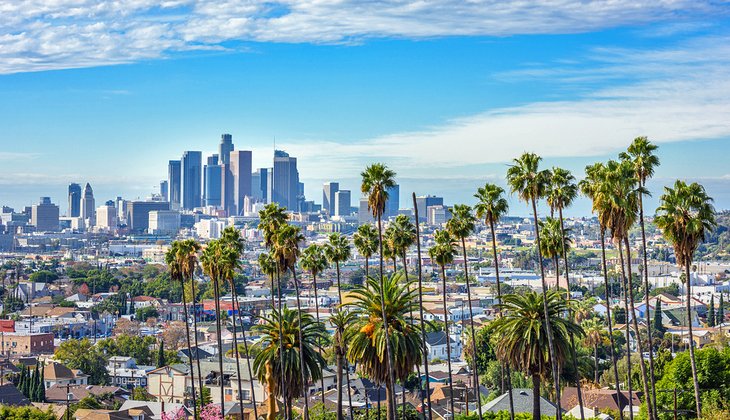 Los Angeles gives travelers the chance to bask in mid-winter sunshine. Like most of Southern California, the rainy season occurs in the fall and winter (typical of a Mediterranean climate). However, it rains much less here than in Northern California.
From December through February, the average daily high temperatures range from the high 60s to low 70s Fahrenheit. The winter months are also the rainiest of the year, but it usually only rains for six or seven days out of the entire month.
Besides the balmy wintertime weather, Los Angeles also delights tourists with its world-class cultural attractions. Visitors can expect to find superb restaurants, fabulous shopping, and excellent art museums in addition to the famous sights of Hollywood.
Beautiful beaches are another draw of visiting Los Angeles. Even during winter, you can enjoy the beaches of Los Angeles. In winter, you can take quiet walks along the shoreline and dine at beachfront restaurants.
Winter is a wonderful time to visit the 130-acre Botanical Gardens at The Huntington near Pasadena (10 miles away from Los Angeles). Visitors can explore 16 themed gardens, such as the Desert Garden, Japanese Garden, and Shakespeare Garden. The Desert Garden features aloes that bloom with dazzling red flowers in wintertime, while the Camellia Garden is in peak bloom in January and February.
6. San Francisco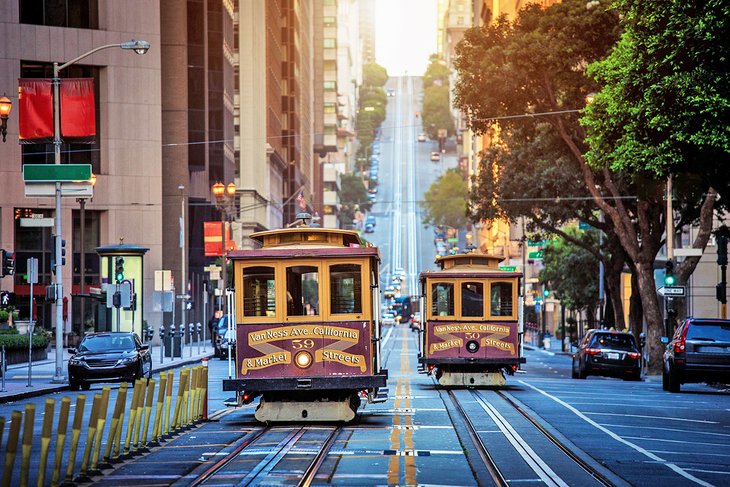 If you don't mind a little rain (or a lot, depending on the year), the winter is a great time to visit San Francisco. This sophisticated city boasts fabulous cultural attractions and things to do such as museums, theaters, gourmet restaurants, and upscale shopping centers.
Winter weather in San Francisco ranges from mild sunny days to heavy rain. In December and January, the average high temperatures are in the high 50s Fahrenheit, and it rains an average of eight days out of the month. In February, it starts to get slightly warmer with the first signs of spring (cherry blossoms) on the way.
On those chilly Northern California winter days, visitors can wander through the art galleries of the SFMOMA (Museum of Modern Art) in downtown San Francisco or the de Young Museum in Golden Gate Park, where magnolias and camellias bloom during wintertime. In a glorious setting overlooking the Golden Gate Bridge and the bay, the Palace of the Legion of Honor presents a fine arts collection along with temporary exhibits.
For those visiting San Francisco with kids, the California Academy of Sciences in Golden Gate Park and the innovative exhibits of the Exploratorium are not to be missed. The Aquarium of the Bay at Pier 39 keeps kids busy discovering colorful underwater scenes. Barking sea lions hang out at the nearby Pier 39 docks, a favorite stop for many youngsters.
During the holiday season, it's fun to go shopping at Union Square in downtown San Francisco. Brimming with festive ambience, the square is decked out with a giant Christmas tree and an ice-skating rink. All the department stores and boutiques around Union Square present marvelous holiday window displays during Christmastime. The upscale designer shops on Maiden Lane and Grant Avenue also feature enchanting holiday windows.
7. Yosemite National Park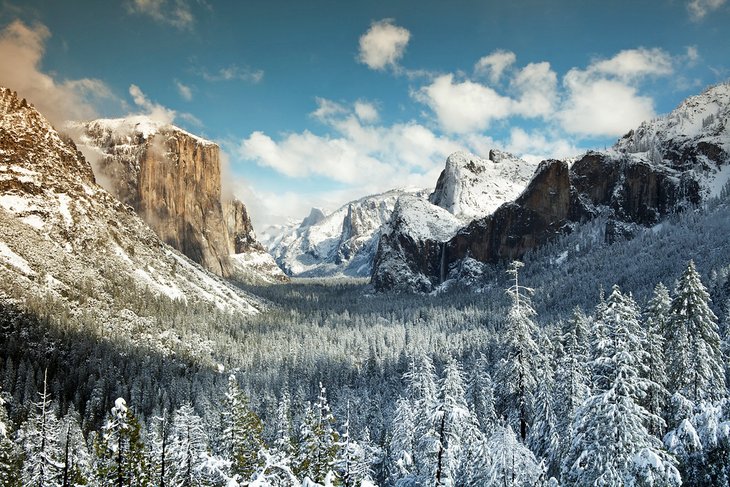 With a dusting of powder snow, the glacier-carved Yosemite Valley is transformed into a magical wintertime scene. This UNESCO World Heritage Site features iconic rock formations like Half Dome and El Capitan, which are snowcapped throughout the winter months.
The winter season is one of the best times to visit Yosemite National Park because it is the least crowded time. This quieter season allows tourists to appreciate the peacefulness and beauty of the natural scenery. However, it can be a challenge to get to Yosemite in wintertime if there are road closures due to snow storms.
Yosemite's historic ski area is accessible from Glacier Point Road. Opened in 1935, Badger Pass Ski Area was the first ski area established in California and is still one of the state's top ski resorts. Badger Pass Ski Area offers opportunities for downhill (alpine), snowboarding, and cross-country skiing, as well as snow tubing and snowshoeing.
During the winter, The Ahwahnee hotel dazzles guests with its magical snowy setting and traditional holiday decorations. Listed on the National Register of Historic Places and classified as a National Historic Landmark, this prestigious 4-star hotel is renowned for its magnificent Art & Crafts architecture featuring wood-beamed ceilings and stone fireplaces.
The Ahwahnee Hotel's elegant chandelier-illuminated dining hall is transformed into a marvelous venue for the annual Bracebridge Dinner to celebrate Christmas. Inspired by 17th-century English feasts, this costumed Christmas pageant features a seven-course menu, candlelit ambience, musical theater entertainment, and classic Christmas carols.
Read More: Top Attractions & Things to Do in Yosemite
8. Napa Valley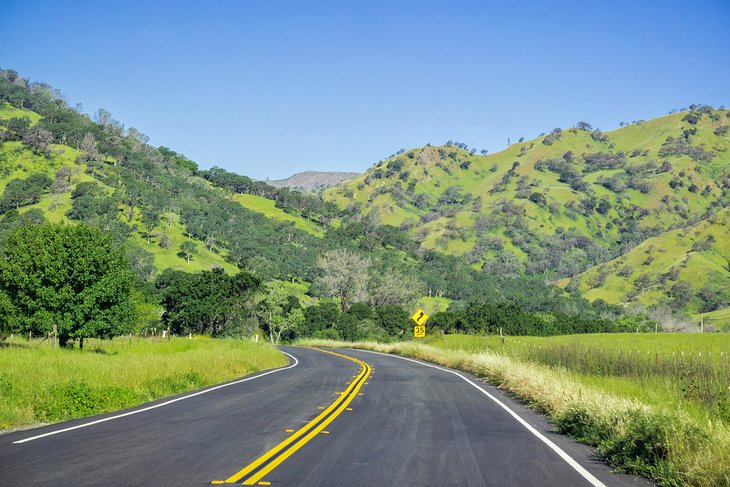 Unwind and pamper yourself in the Napa Valley, home to some of the top resorts in Northern California. This upscale destination ranks high on the list of weekend getaways from San Francisco and also draws visitors from all over the world.
The winter is an ideal time to sample the area's fine dining and spa treatments. You can also take advantage of lower rates at some of the best hotels in Napa as well as the top resorts that charge notoriously high prices in the busy season.
The Napa Valley is home to some of the country's best restaurants. Foodies will appreciate the wide range of dining options, from classic French to trendy modern restaurants. For those who can get a reservation and are willing to pay the price, it's worth dining at The French Laundry in Yountville, which boasts three Michelin stars.
Other renowned restaurants in Yountville include Bouchon, an authentic French bistro, and Bistro Jeanty, a charming restaurant that specializes in home-style French cooking. In the town of Napa, La Toque offers Michelin-starred gastronomic fare, and Brix serves farm-to-table cuisine in a casual dining room or on an outdoor patio (al fresco dining is possible in the winter).
Set on a wooded hillside above the Napa Valley, the Auberge du Soleil is a luxurious 5-star resort hotel with an exclusive spa that is only open to hotel guests. The Restaurant at Auberge du Soleil delights guests with its Michelin-starred seasonal cuisine. The Restaurant's covered outdoor terrace affords panoramic views of the wintertime landscape, which becomes lush and verdant after it rains.
Except for the Auberge du Soleil, most hotel spas in the Napa Valley are open to the public. In the cute little town of Yountville, the B Spa at Bardessono Hotel offers massages, facials, and wellness treatments.
Visitors can also choose from a wide selection of day spa facilities. The luxurious Bella Capelli salon and spa in Napa provides haircuts, hairstyling, skin care, makeup services, and beauty treatments. Also in Napa, the Blue Water Day Spa promises rejuvenating results with its spa packages, facials, and massage therapy.
At the 4-star Solage resort in Calistoga, an idyllic rural setting gives the Spa Solage a tranquil and inviting ambience. Spa services include mud baths and geothermal mineral baths where guests can soak up the healing benefits.
The heated pools feel especially invigorating on cool winter days. Dr. Wilkinson's Backyard Resort & Mineral Springs is a wellness resort in Calistoga that offers massages, hydrotherapy, and mud baths.
In mid-January, the Napa Truffle Festival keeps visitors busy with several days of interesting and enticing events. The festival includes a truffle marketplace, truffle orchard tours, truffle dog demonstrations, cooking demonstrations, and wild mushroom foraging walks. There are also gourmet lunches and dinners featuring special truffle-focused menus. The next Napa Truffle Festival will take place from January 13th to 16th, 2023.
The city of Napa also hosts the Lighted Art Festival from mid-January until mid-March. During this eight-week festival, the buildings of downtown Napa provide the backdrop for innovative light displays. There are also artistic light installations and sculptures placed throughout the city. Visitors can experience this free festival simply by walking around downtown Napa after dark.
The small town of Yountville has two noteworthy wintertime events: the Yountville International Short Film Festival in early February and the Yountville Live music festival in mid-March, which includes live music concerts and gourmet food tastings.
9. Mendocino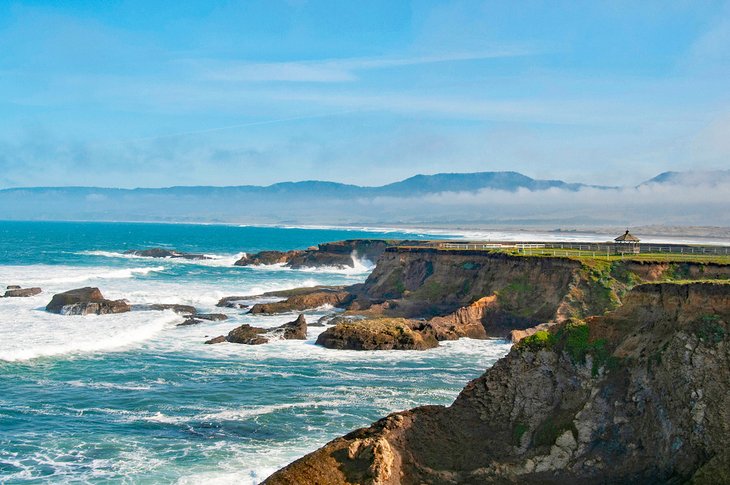 Thanks to the temperate Mediterranean climate, the weather in Mendocino can be as pleasant in winter as it is in summertime. In fact, the winter has the advantage of less coastal fog. As long as it's not raining, you can expect breathtaking blue skies, sweeping sea views, and refreshing ocean breezes.
From December through February, the average daily high temperatures are in the low 50s Fahrenheit, and the temperatures can dip down into the high 40s. Wear good hiking boots, and bundle up for walks through the woods or along the quiet coastal coves.
One of the top things to do in Mendocino is hiking in Van Damme State Park, which features miles of trails through a forested canyon with lush ferns that thrive during wintertime. A 2.5-mile walk along the Fern Canyon Trail leads to a pygmy forest of pine trees and cypresses that grow to less than eight feet in height.
If you'd like to visit a Mendocino beach during wintertime, the one at Jug Handle State Natural Reserve is a good choice. A stunning sandy beach is hidden below cliff sides. This sheltered spot protects from the wind, making the beach an ideal place to sit back and admire the waves on a clear winter day.
Winter is the ideal time to sample the cuisine of Mendocino prepared from local ingredients, including an abundance of wild mushrooms. The winter rains allow the wild mushrooms to flourish in the Mendocino forests. Many local chefs take advantage of this gourmet bounty to prepare delicious dishes.
Some of the best restaurants in Mendocino include Café Beaujolais known for its farm-to-table cuisine made from high-quality local ingredients, the MacCallum House Restaurant that offers seasonal tasting menus, and Trillium Cafe that specializes in contemporary California cuisine as well as classic French dishes.
In addition to hiking and fine dining, whale watching also tops the list of wintertime things to do in Mendocino. Gray whales migrate along the Mendocino Coast from November through April; their spouts and tails can be spotted from the shore. The best places for whale watching are Mendocino Headlands State Park and the historic Point Arena Lighthouse.
The quaint village of Mendocino hosts a Whale Festival the first weekend of March. The towns of Little River and Fort Bragg also host Whale Festivals in March.
Tourists can take a whale-watching boat trip organized by Anchor Charter Boats or the All Aboard Adventures company in Fort Bragg. Marvel over the sight of enormous gray whales swimming not far from the boat. The boat trips are available from mid-December through April, departing from Noyo Harbor.
10. Joshua Tree National Park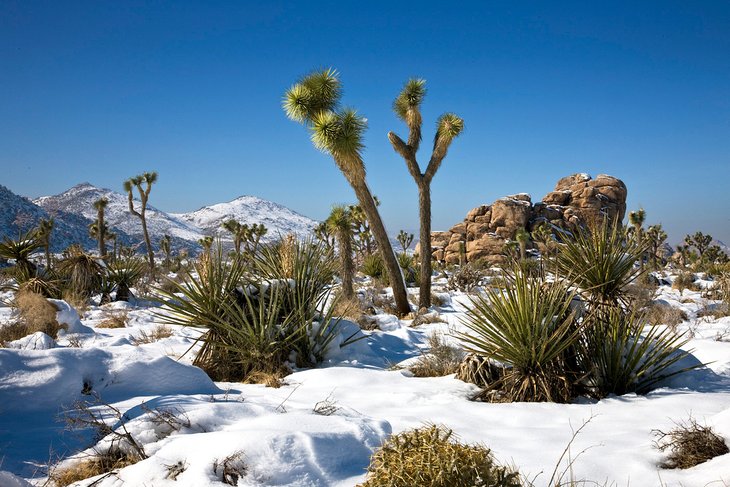 The majestic desert landscape of Joshua Tree National Park is worth a detour from Los Angeles, just a three-hour drive away. Winter is a popular time to visit because the weather is ideal for hiking and rock climbing.
You can even go camping here in wintertime. It's a good idea to reserve a campsite in advance, because the campgrounds fill up during the high season (October through May).
Joshua Tree National Park is famous for its wildflowers, which begin to bloom as early as February in the lower elevations. The best place to check out the colorful blossoms is in Cottonwood Spring.
11. Sonoma County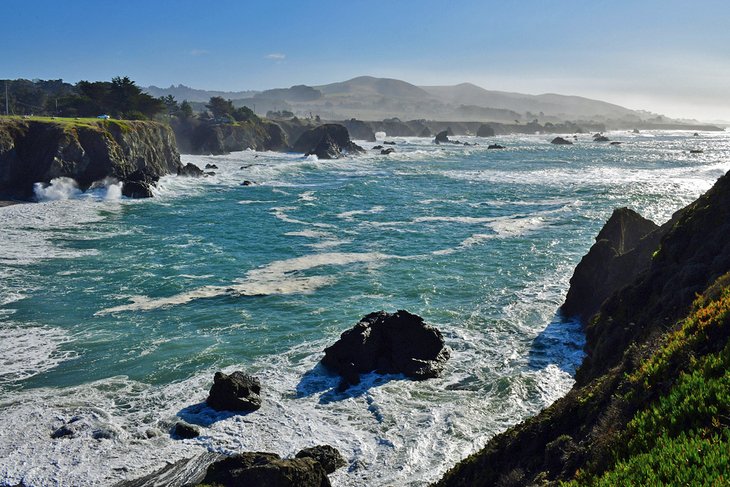 In Northern California's rural Sonoma County, the idyllic fishing village of Bodega Bay is a peaceful place to visit during the wintertime and also offers some interesting events. Bodega Bay hosts a Chowder Day in January. The event includes chowder tastings from local restaurants, whale watching, and a chance to pick up fresh seafood at the waterfront.
In February, the Lake Sonoma Steelhead Festival celebrates the steelhead trout season, with entertaining activities and live music concerts.
Also in February, the town of Cloverdale has a citrus festival that showcases gourmet food products and includes a carnival for kids.
Two film festivals take places in Sonoma County in March: the Sebastopol Documentary Film Festival, which presents documentary films made by independent filmmakers, and the Sonoma International Film Festival, which screens over 90 international films at venues in the town of Sonoma, all within easy walking distance of the historic central plaza.
Map of Places to Visit in California in Winter