San Francisco with Kids: 12 Top Things to Do
San Francisco is known for its stunning scenery and sophisticated sights, like the Golden Gate Bridge, elegant Nob Hill hotels, and ornate Victorian houses. Many of the city's most important landmarks also happen to be located near favorite children's attractions.
On the way to see the Golden Gate Bridge, families can stop in the Presidio National Park to visit the Walt Disney Museum. The city's most popular tourist destination, Fisherman's Wharf, is near the Aquarium of the Bay at Pier 39.
Kid-friendly detours add joy to any travel itinerary. A drive along the Great Highway to Ocean Beach invites a detour to the San Francisco Zoo & Gardens. A scenic stroll down the Embarcadero leads from the Ferry Building to the Exploratorium, where a fantastic world of scientific discovery awaits youngsters, as well as the young at heart.
To keep kids entertained for an entire day, the best place to go is Golden Gate Park, near the famous 1960s hippie neighborhood of Haight-Ashbury. Golden Gate Park stretches out over 1,017-acres and has several kid-friendly spots: the California Academy of Sciences with the Steinhart Aquarium, the Japanese Tea Garden, and Stow Lake for paddle boating.
Plan an itinerary that is fun for everyone with our list of the top things to do in San Francisco with kids.
1. Discover the Natural World at the California Academy of Sciences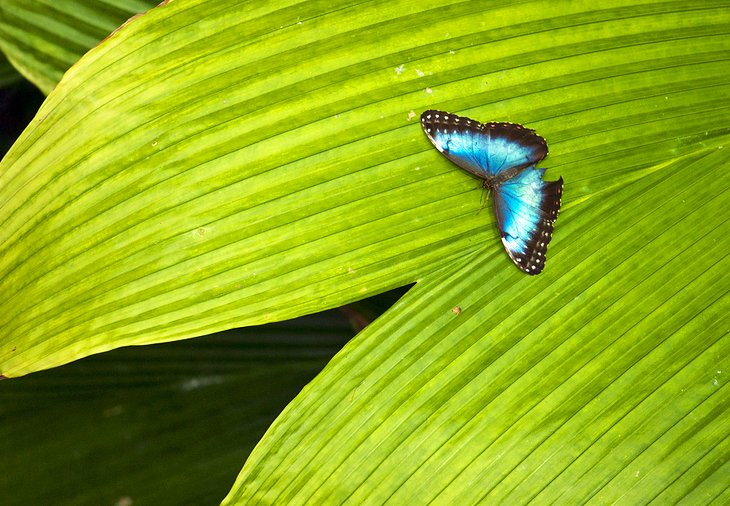 In San Francisco's Golden Gate Park, the Academy of Sciences is a spacious facility with an aquarium, a state-of-the-art planetarium, a natural history museum, and a rainforest. Exhibits feature animals in environments that replicate their natural habitat.
A highlight for children and adults alike, the Steinhart Aquarium mesmerizes kids with its array of colorful species. This spectacular aquarium contains around 40,000 sea creatures, including over 900 different species, many in tanks with real coral reefs.
The four-story Osher Rainforest is a tropical ecosystem with more than 1,600 animals. Children will be delighted to see hundreds of free-flying birds and beautiful butterflies plus dozens of exotic reptiles and amphibians.
The Kimball Natural History Museum teaches kids about evolution and life on Earth, while the Morrison Planetarium explains theories about the universe, as well as discoveries of stars and galaxies.
The academy also has famous residents such as its African penguins and Claude, the white alligator.
Address: 55 Music Concourse Drive, San Francisco, California
Official site: http://www.calacademy.org
2. Spot Amazing Animals at the San Francisco Zoo & Gardens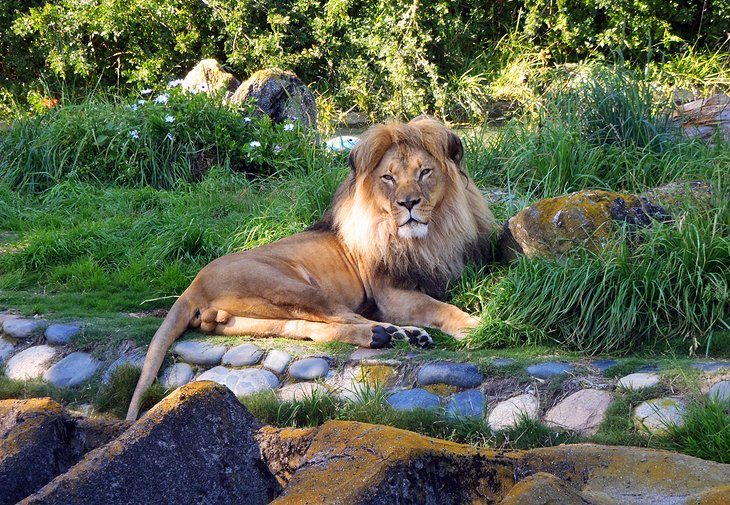 Founded in 1929, this 100-acre zoo is near San Francisco's Ocean Beach. It's home to amazing animals, from rare species of frogs to endangered mammals. Interesting exhibits at the zoo include a three-acre savanna with zebras, giraffes, and ostriches; a gorilla preserve with a family of six gorillas; and a grove of eucalyptus that shelters several adorable koalas.
The South American Tropical Rainforest & Aviary gives visitors a chance to admire the lush and diverse ecosystem of a tropical rainforest. This exhibit comes close to replicating an actual rainforest environment and provides habitat for exotic reptiles, colorful birds, poisonous frogs, and Southern two-toed sloths.
Youngsters will also love the Fisher Family Children's Zoo, a six-acre park within the San Francisco Zoo that includes an insect zoo with engaging interactive activities and a nature trail that encourages children's curiosity about the wildlife and their environment.
Other favorite kid-friendly attractions at the San Francisco Zoo include the charming Little Puffer Miniature Steam Train, built around 1904 and still used for rides around the zoo, and the old-fashioned Dentzel Carousel, which dates to 1921.
Address: Sloat Boulevard at the Great Highway, San Francisco, California
Official site: http://www.sfzoo.org
3. Engage Curious Minds at the Exploratorium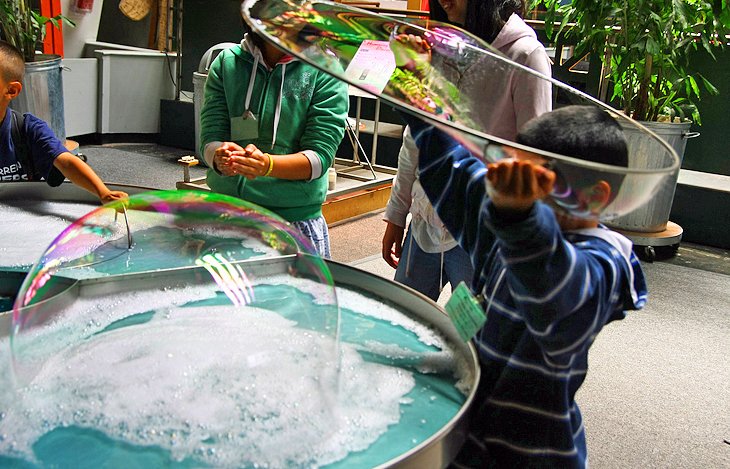 This unique museum displays fascinating exhibits about science, art, and human perception. The museum encourages kids to ask questions that lead to discovery about how the world works, and the amusing exhibits get youngsters excited about learning.
Kids can engage in interactive exhibits and fascinating topics. The Exploratorium also presents art exhibits that are designed to spark the imagination.
Address: Pier 15 (Embarcadero at Green Street), San Francisco, California
Official site: http://www.exploratorium.edu
4. Admire the Sea Life at the Aquarium of the Bay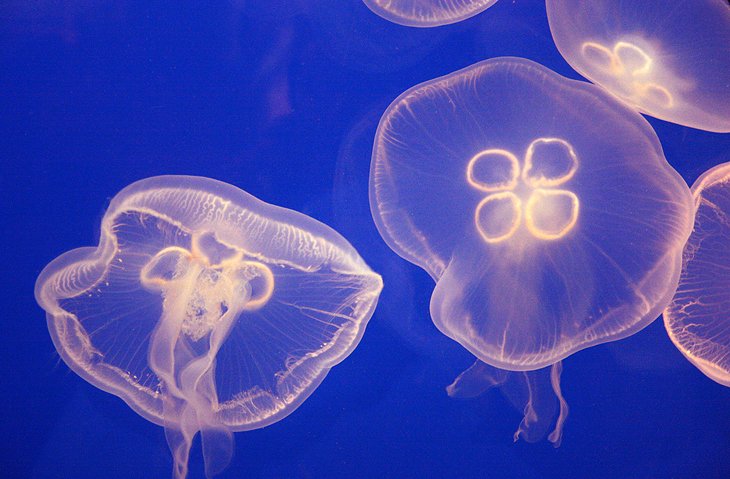 The Aquarium of the Bay is at Pier 39 near Fisherman's Wharf. The aquarium contains more than 20,000 marine animals that are indigenous to San Francisco Bay. Interpretive naturalists help visitors understand the sea life and its distinctive ecosystems.
Kids will be dazzled by the 300-foot-long crystal-clear tunnels offering splendid views of the sea creatures, from jellyfish and anchovies to turtles and octopus.
For a close-up view of sharks, stingrays, and sea stars, kids can head to the Touch the Bay exhibit. A group of playful river otters always thrill the young visitors.
After visiting the Aquarium of the Bay, many tourists head to the Pier 39 docks to watch the sea lions.
Another favorite children's attraction nearby is the San Francisco Carousel, found at the Bay End of Pier 39 at Level One. This exquisitely painted vintage carousel was handcrafted in Italy. The carousel seats represent a whimsical menagerie of animals, including panda bears, rabbits, horses, dolphins, and sea dragons.
Address: Pier 39, Embarcadero at Beach Street, San Francisco, California
Official site: https://www.aquariumofthebay.org
5. Take a Chocolate Factory Tour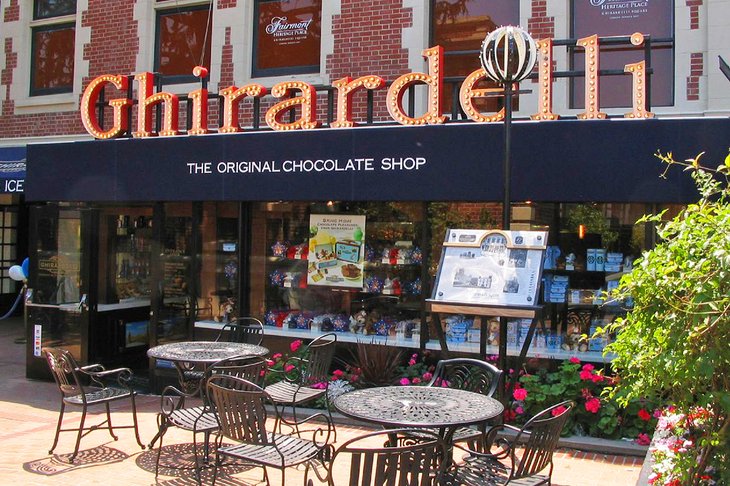 A trip to San Francisco offers a dream-come-true chance for kids to visit a chocolate factory. The city boasts several artisan chocolatiers, as well as small locally owned chocolate factories.
San Francisco's most famous chocolate shop, Ghirardelli Chocolate was founded in 1852 a few years after the Gold Rush and is the oldest continuously operating chocolate maker in the United States. Ghirardelli Chocolate Company continues to make bean-to-bar chocolate, although the San Francisco Ghirardelli Square location is no longer a working chocolate factory.
The Ghirardelli Square location displays some of the original equipment from the historic Ghirardelli Chocolate factory. After sampling the Ghirardelli chocolates and perhaps taking an ice-cream cone to go, families can explore the nearby Aquatic Park, which has a tiny protected beach that's ideal for kids.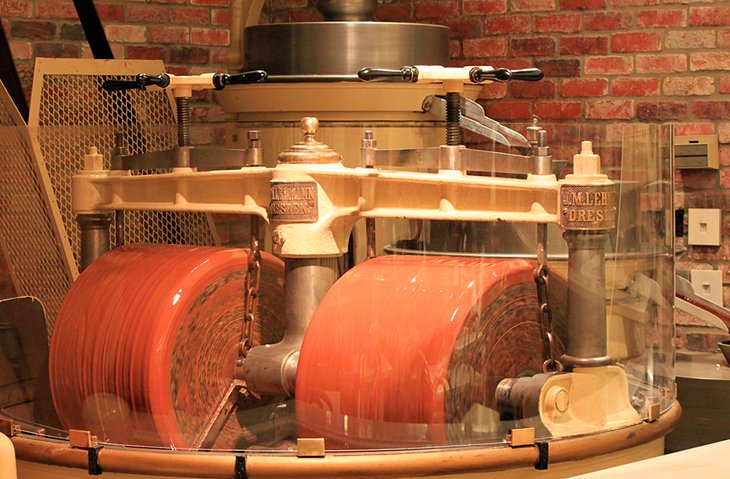 Another San Francisco-based chocolate factory is in the Mission District. Dandelion Chocolate (740 Valencia Street) is an artisan chocolate factory that makes small-batch bean-to-bar chocolate with cacao beans sourced from small farmers all over the world.
Dandelion offers factory tours, which show how their chocolate is produced from start to finish. With immense amounts of liquid chocolate poured from vats into molds to create chocolate bars, it's a marvelous sight to behold. Tours include a sampling of Dandelion's single-origin chocolate.
For parents and kids with sophisticated tastes, an array of artisanal chocolate boutiques awaits discovery. Several renowned chocolatiers create exquisite handmade confections at their small shops in San Francisco.
Favorite artisanal chocolate boutiques in San Francisco include Recchiuti Confections (Ferry Building, Shop #30), XOX Truffles (754 Columbus Avenue), Socola Chocolatier (535 Folsom Street), Kokak Chocolates (3901 18th Street), and the award-winning Feve Artisan Chocolatier (2222 Palou Avenue), which has a chocolate factory attached to its store.
6. Ride a Cable Car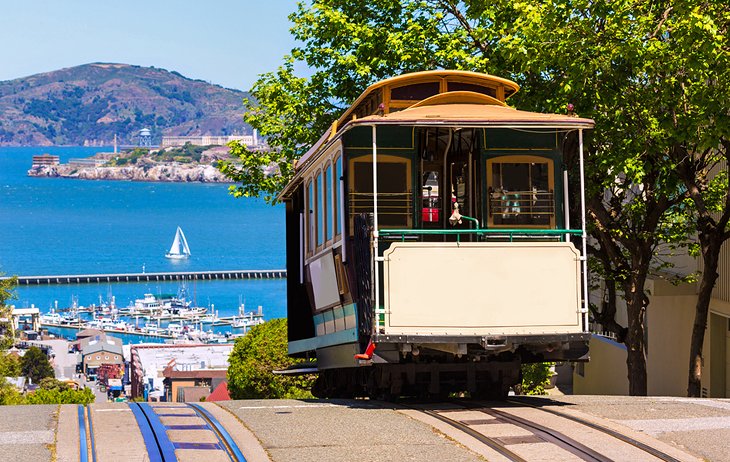 A ride on one of San Francisco's iconic cable cars is an unforgettable experience for most kids. Cable cars offer an exhilarating way to get from one end of San Francisco to another, by traveling in an open-air car through the city's historic neighborhoods.
Both kids and adults are awed by the panoramas of the city's rolling hills and the bay with Alcatraz in the distance. Adding to the fun, cable car conductors ring bells at each stop, and during the steepest portion of the rides, encourage passengers to cheer and scream as if they were on a roller-coaster.
San Francisco's cable cars were created in 1873 by Andrew Hallidie. He saw the need for a new form of transportation on the city's fearsome hills after viewing a horrible incident with a horse-drawn carriage slipping on a damp cobblestone street. To replace horse-drawn carriages, Hallidie designed a cable car railway system that could handle San Francisco's steepest hills.
Three historic cable car lines still operate in San Francisco. Although all of the cable car lines mainly cater to tourists, locals sometimes use the California line, which runs from the Financial District through Chinatown and Nob Hill, ending at Van Ness Avenue.
The Powell-Mason and Powell-Hyde lines begin at the corner of Powell and Market streets. The Powell-Mason line goes up through Nob Hill and down towards Fisherman's Wharf, where it stops at Taylor and Bay streets. The Powell-Hyde line also runs up through Nob Hill but turns to go through Russian Hill before ending at Aquatic Park (Hyde and Beach streets) near Ghirardelli Square.
7. Learn about Science at the Randall Museum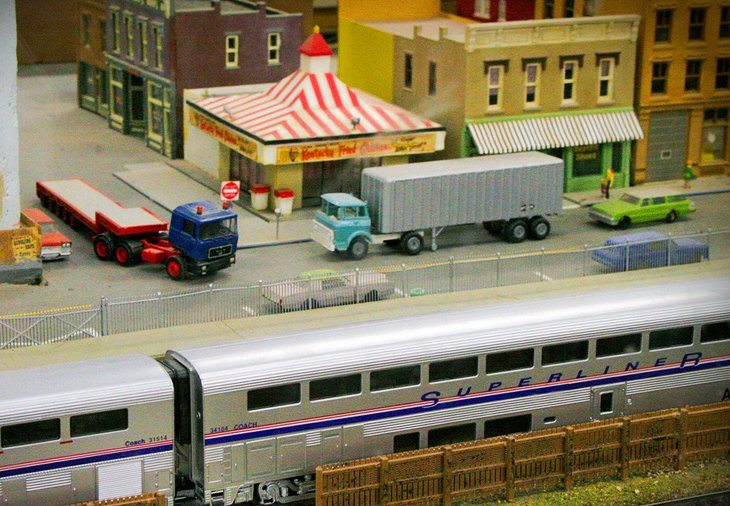 This museum provides science-themed exhibits, environmental education, and arts experiences that promote learning through hands-on activities. Kids can hop aboard a scaled-down model caboose, climb a treehouse, and touch sea stars at the ocean study station.
Convenient for families, the museum has a café that serves snacks, sandwiches, soups, salads, and other healthy meals. The café sources seasonal organic produce from farms within 100 miles of San Francisco.
Address: 199 Museum Way, San Francisco, California
Official site: https://www.randallmuseum.org/
8. Spark the Imagination at the Children's Creativity Museum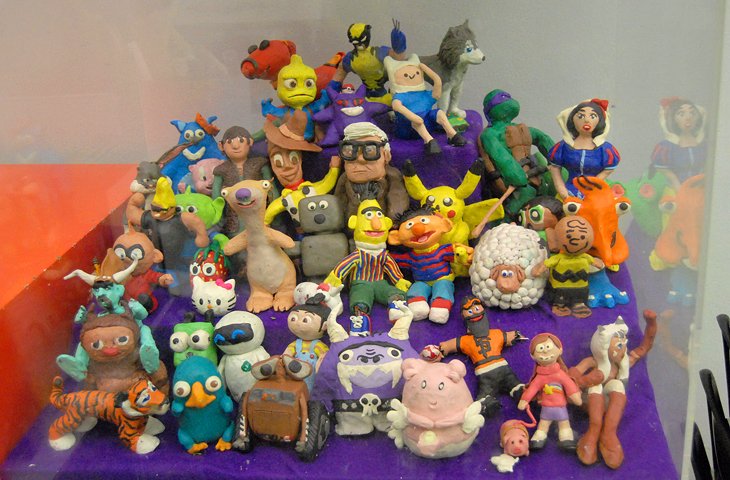 The Children's Creativity Museum celebrates and supports creative expression in children, by offering innovative programs and presentations.
The museum has an Animation Studio, where children can make clay characters for their own stop-motion animated film. For budding rock stars, the Making Music Studio offers the chance to record music performances on DVD.
The Imagination Lab encourages imagination by engaging kids in hands-on interactive activities. The Innovation Lab challenges young learners by requiring the use of critical-thinking skills to create inventions.
Address: 221 Fourth Street, San Francisco, California
Official site: http://creativity.org
9. Visit the Walt Disney Family Museum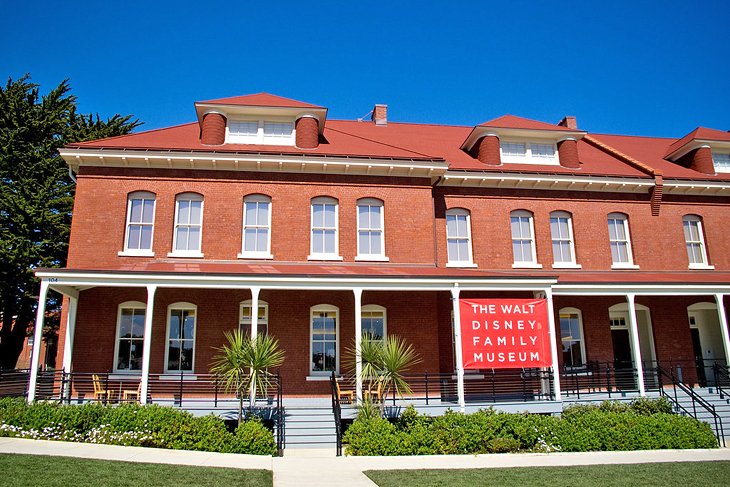 With 40,000 square feet of exhibition space, this museum shares the life story of Walt Disney, from early childhood mementos and drawings to his work as an animator. Other exhibits display original artwork from the Hollywood years (1923 to 1928) such as the first-known drawing of Mickey Mouse.
The museum discusses the highlights of Walt Disney's career, his internationally successful productions of Snow White, Bambi, Pinocchio, and Fantasia. Special temporary exhibits profile other creative artists, like Maurice Sendak and Salvador Dalí.
Address: 104 Montgomery Street in the Presidio, San Francisco, California
Official site: http://www.waltdisney.org
10. Rent a Paddleboat on Stow Lake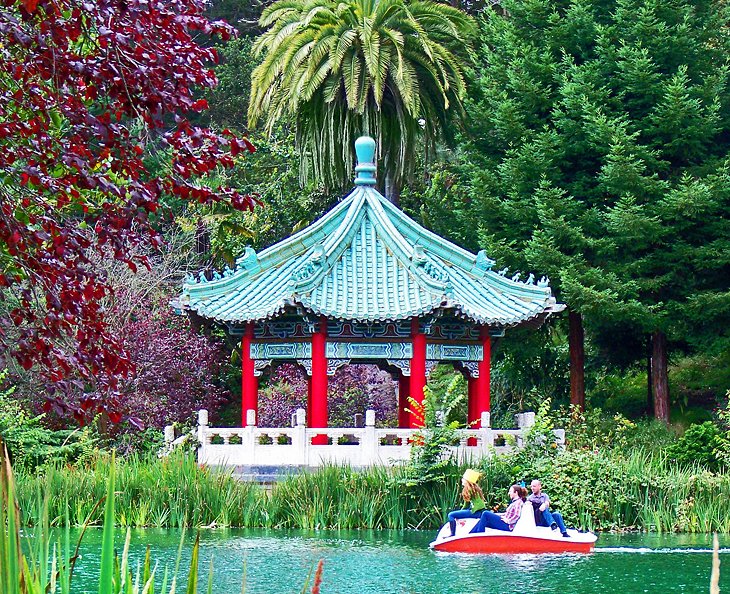 In a wooded area of Golden Gate Park, families with kids can escape to nature and enjoy an old-fashioned outdoor experience. Stow Lake has been a place of family fun times since 1893. The Stow Lake Boathouse provides rentals of paddle boats, pedal boats, and electric boats by the hour.
Also well designed for relaxation, the Stow Lake Boathouse Café serves snacks, sandwiches, and salads in a casual dining area with lovely lake views. The café specializes in local organic food and is known for its pink popcorn.
Address: 50 Stow Lake Drive E, San Francisco, California
Official site: http://stowlakeboathouse.com
11. Meander along the Winding Paths of the Japanese Tea Garden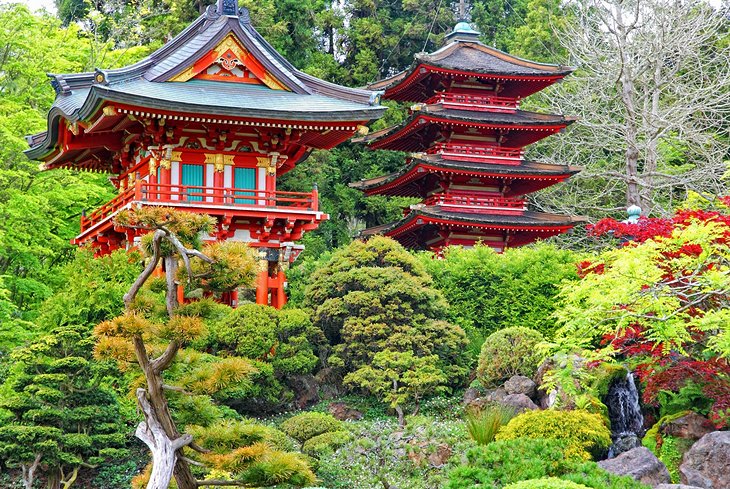 Inside Golden Gate Park, the Japanese Tea Garden is a peaceful retreat in nature. The oldest public Japanese garden in the United States, San Francisco's perfectly landscaped Japanese Tea Garden features traditional Japanese-style elements: an arched bridge, vibrantly decorated pagodas, and stone paths.
Kids can meander along the stepping stones to discover the native Japanese plants. Most children are dazzled by the koi ponds, which are full of bright orange fish gliding through the water.
During springtime (March-April), the garden's cherry blossom trees are in full bloom. Anytime of year, visitors can stop at the charming Tea House overlooking the south-facing koi pond. The Tea House serves guests authentic Japanese refreshments at an irori (Japanese farmhouse) table.
Address: 75 Hagiwara Tea Garden Drive, San Francisco, California
Official site: http://japaneseteagardensf.com
12. Admire Giant Redwood Trees at Muir Woods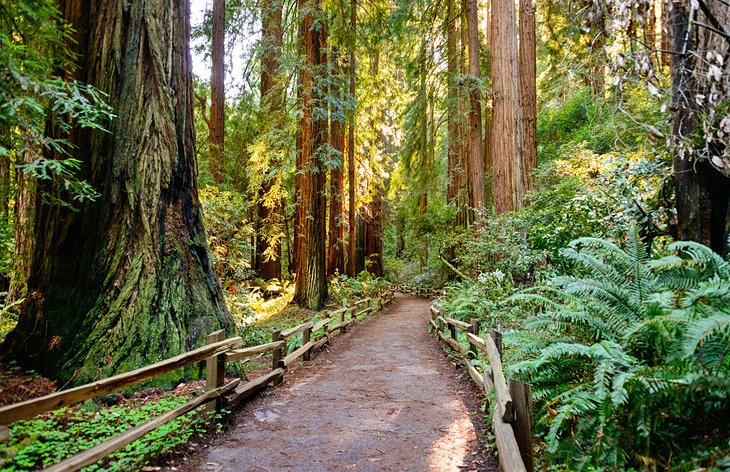 A visit to Muir Woods in the beautiful rolling hills of Marin County gives kids a glimpse of the great outdoors. Muir Woods National Monument is one of the few remaining old-growth redwood forests left in the world. Children marvel at the enormity of these majestic giant, thousand-year-old trees, which soar to over 250-feet tall.
Sunlight barely trickles into this lush shady environment, a place so different from your average city park that it will certainly leave kids with a lasting impression. Parents will appreciate that this nature preserve has an easy walking trail.
Tourist Tip: The Muir Woods National Monument requires visitors to reserve parking or shuttle service in advance and bring a print-out of the parking reservation or shuttle bus ticket. Planning ahead helps ensure entry to the park, as parking and shuttle bus spaces are limited. Tourists should also keep in mind that there is no Wi-Fi or cell phone service at Muir Woods and in this area of Marin County.
For a more convenient option, families can try an organized tour instead. The four-hour Muir Woods and Sausalito Half Day Tour includes round-trip transportation from San Francisco and entry into Muir Woods National Monument (with over one hour of free time to wander through the amazing forest) plus a short visit to the quaint waterfront town of Sausalito.
Official site: https://www.nationalparks.org/explore-parks/muir-woods-national-monument
Map of San Francisco with Kids: Top Things to Do
More Related Articles on PlanetWare.com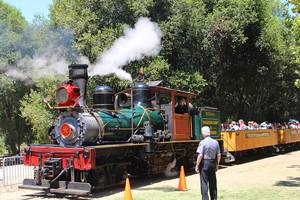 Kid-Friendly Attractions Nearby: Families can also explore nearby cities with kid-friendly attractions. The storybook-theme Fairyland amusement park in Oakland, across the bay from San Francisco, draws families with children around the age range of three to seven years old.
The Beach Boardwalk and the Roaring Camp Railroad makes the beach town of Santa Cruz one of the best places to visit for families with young kids. Half Moon Bay has many things to do that kids love, such as wandering among the pumpkin patches in October and checking out the petting zoo at Lemos Farm.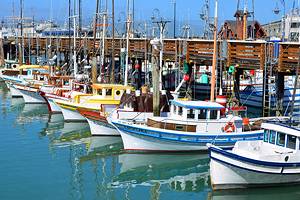 Planning a Family Vacation in San Francisco: Families tend to stay around Fisherman's Wharf, but it's a good idea to learn about the different neighborhoods before deciding where to stay in San Francisco. Visitors are also advised to pack clothes suitable for the local weather, which can be sunny as well as windy and chilly in the summertime, due to the San Francisco fog. Another consideration is that sightseeing in San Francisco requires lots of walking. Good shoes are needed for a San Francisco Walking Tour.