From San Francisco to Lake Tahoe: 4 Best Ways to Get There
Within as little as three or four hours of travel time from San Francisco, a pristine alpine environment awaits in the Sierra Nevada mountains. Lake Tahoe merits the journey. Magnificent snowcapped peaks and aromatic pine trees surround a glimmering expanse of deep-blue waters. The breathtaking scenery and recreational activities, such as spring wildflower hikes, summer boating, and winter skiing, attract visitors year-round.
When deciding how to get to Lake Tahoe, remember that the best choice for you depends on your travel preferences and the seasonal road conditions. For instance, if you're unfamiliar with highway driving in California or you're apprehensive about getting caught in a snow flurry, you may want to opt for a train or bus ride. However, the trade-off is that public transportation takes much longer and limits where you can go in Lake Tahoe.
Start planning your trip from San Francisco to Lake Tahoe with our list of transportation options. We recommend four of the best ways to get to Lake Tahoe, along with the considerations to keep in mind with each option.
1. From San Francisco to Lake Tahoe by Car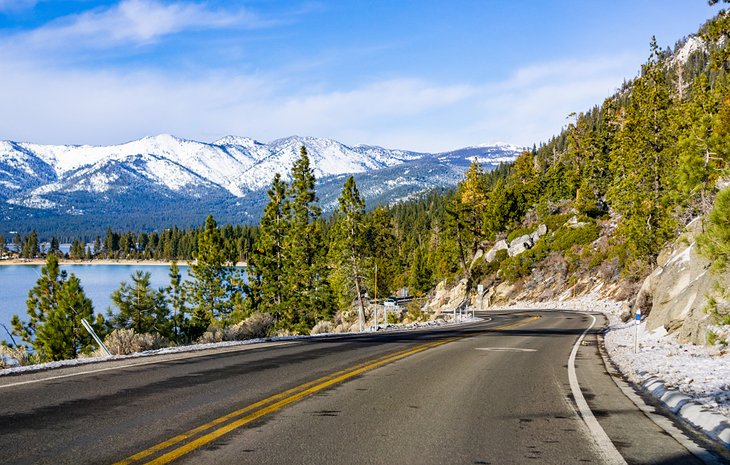 Highlights: Allows you to stop along the way at key attractions and enjoy the sights
In terms of convenience, driving is the best way to get to Lake Tahoe from San Francisco. You can simply rev up your engine and go, without worrying about public transportation schedules and connections.
Also, driving allows you to break up the journey. Sacramento is a good stopping point. The city has many restaurants, shops, and hotels that appeal to travelers.
Once you get to Tahoe, you'll appreciate having a car to explore the area since some attractions are an hour's drive apart, and it takes at least three hours to drive around the entire shoreline of Lake Tahoe.
If you are renting a car in San Francisco, there are several options. Hertz offers rental cars from a location near San Francisco Airport. Budget provides rental cars from a location in downtown San Francisco.
Travel time and driving routes vary, depending on where you are going in Lake Tahoe and traffic conditions. You should expect traffic on weekends, holidays, and in the summertime. Also, on weekends during the ski season, Tahoe's world-class ski resorts draw crowds that can add to road congestion, plus winter storms often slow down traffic or cause road closures.
If you are driving from San Francisco to North Lake Tahoe, you will take Highway I-80 East. Favorite towns in North Lake Tahoe include Truckee (187 miles away), Tahoe City (199 miles away), and Kings Beach (200 miles away).
The drive from San Francisco to Truckee takes about four hours (slightly longer to reach Tahoe City and Kings Beach) with minimal traffic. Without any traffic, it's possible to arrive at Truckee in just over three hours.
Going to most destinations in South Lake Tahoe from San Francisco, you can start out on Highway I-80 East and then connect with US-50 East.
Top attractions of South Lake Tahoe are Emerald Bay (195 miles away) and just 188 miles away Camp Richardson, a historic resort and marina with lodging and camping options. Driving to Emerald Bay usually takes around four hours, but can be as quick as 3.5 hours with no traffic. The drive to Camp Richardson Resort takes slightly less time.
During the snow season, North Lake Tahoe attracts many visitors to several of California's top-rated ski resorts: Northstar (195 miles away), Squaw Valley (just a mile farther than Northstar), and Alpine Meadows (199 miles away).
South Lake Tahoe also boasts some of Lake Tahoe's best ski resorts: Sierra-at-Tahoe (176 miles away), Kirkwood Mountain Resort (185 miles away) with many advanced runs, and Heavenly (190 miles away), which is well worth the journey to experience its expansive ski terrain and gorgeous lake views.
Be prepared during the snow season. From November through April or May, there is always a chance that a snow storm will affect the road conditions. You either need a car with special snow tires, or chains to put on your tires, if it is snowing while you are driving. During snow storms, local service personnel provide assistance with chains (for a fee) at certain points along Tahoe roads.
2. From San Francisco to Lake Tahoe by Bus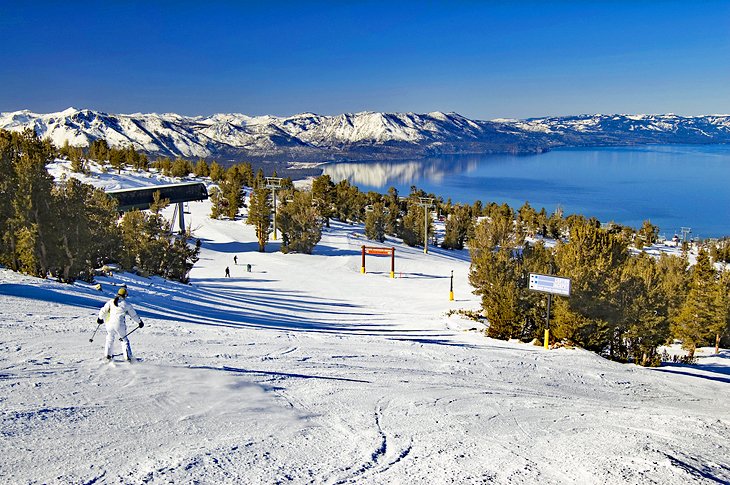 Highlights: Budget-conscious, stress-free travel for skiing or sightseeing adventures
To enjoy a stress-free skiing excursion to Lake Tahoe, take a tip from the locals and hop on a ski bus. Several companies make it possible to go on a skiing day trip by bus. These services cater to San Francisco residents who go up to Tahoe frequently for weekend ski days.
Ski Bus Trips:
Sourced Adventures shuttles skiers to two popular Tahoe ski areas: Boreal Mountain, and the easiest to access resort from San Francisco, Sugar Bowl. The Sourced Adventures ski bus trips include a convenient pickup location and round-trip transportation along with the option to add a lift ticket or ski lesson.
Another option is the Sports Basement ski bus from San Francisco to Squaw Valley and Alpine Meadows, which runs every Saturday and Sunday of the ski season. There is also a Sports Basement ski bus that goes from San Francisco to Northstar every Saturday.
What if you simply want to take the bus to visit Lake Tahoe? The only option is to take a Greyhound bus trip from San Francisco to Truckee, which is about a six-hour ride. Greyhound is an excellent, budget-friendly choice if you don't mind relying on public transportation to get around Lake Tahoe (which can be time-consuming and limits your flexibility).
For those who prefer to take public transportation, Tahoe Truckee Area Regional Transit provides free bus service to Tahoe's North Shore attractions, including Tahoe Vista, Sand Harbor, Kings Beach, Incline Village, Crystal Bay, and Reno. Tahoe Truckee Area Regional Transit also goes to several North Lake Tahoe ski resorts: Squaw Valley, Northstar, and Homewood.
3. From San Francisco to Lake Tahoe by Train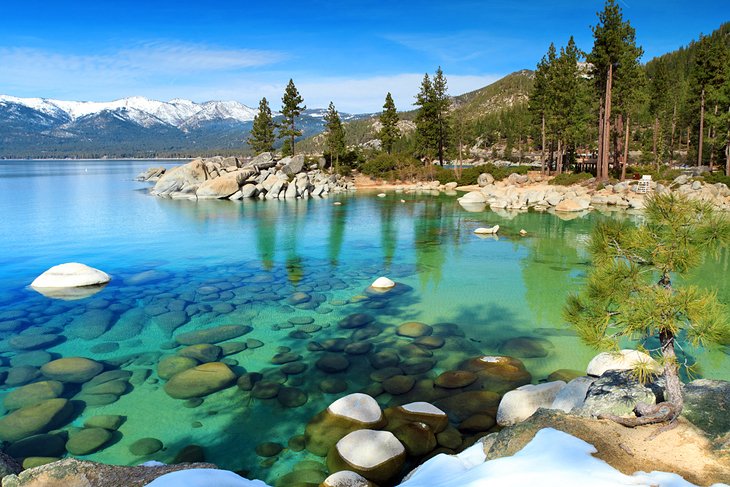 Highlights: Slower-paced and economical service
Train travel to Lake Tahoe area is limited. You can take the train from San Francisco to Truckee, but this option takes some patience because you must coordinate connections on two different train systems.
Here's how to travel from San Francisco to Truckee by train: First, go to any BART station in San Francisco and get a ticket with enough value to go to the Richmond station. If you don't already have a BART ticket or Clipper card, use one of the station's vending machines to purchase a ticket (the fare is about $11 round-trip from San Francisco to Richmond).
Take the BART train from San Francisco to the Richmond station, the last stop on the "Richmond line". (If you do not choose a "Richmond line" BART train from San Francisco, then you must transfer to a "Richmond line" train at the 19th Street/Oakland station). A direct BART train ride from San Francisco to Richmond takes about 35 minutes. The ride takes a bit longer (around 45 minutes) if you have to change trains at 19th Street/Oakland station.
Next take the Amtrak train from Richmond to Truckee on the "California Zephyr" train. To find the Amtrak train, you must exit the BART train at the Richmond station and walk over to the adjoining Amtrak train station (a few steps away). At the Richmond Amtrak station, purchase a ticket for the California Zephyr train to Truckee. The train ride from Richmond to Truckee takes 5 hours and 15 minutes.
One you're in Truckee, you can rely on the Truckee Area Regional Transit bus service. This free bus service provides transportation to the main attractions of North Lake Tahoe.
4. From San Francisco to Lake Tahoe by Plane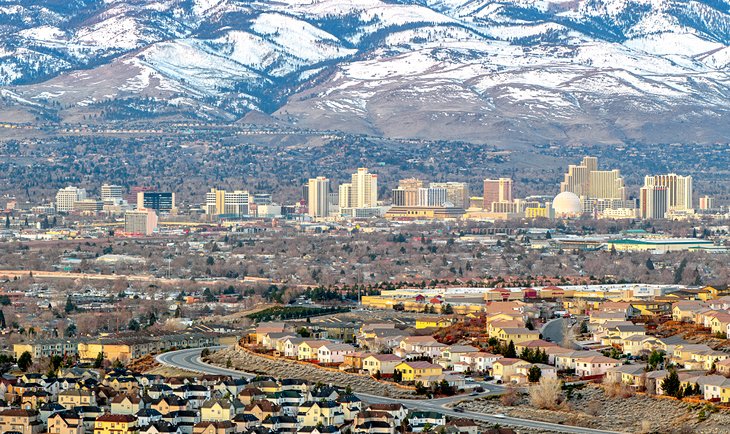 Highlights: Speedy arrival with frequent non-stop flights
The quickest way to travel to the Lake Tahoe area is by plane, however commercial flights only go to Reno (about 40 miles away from Lake Tahoe proper). United Airlines operates several non-stop flights from SFO to Reno every day. The flight takes just over one hour.
From Reno, the best option is to rent a car at the airport. The drive from Reno to Incline Village (the closest destination at Lake Tahoe) takes about 45 minutes. The public transportation system in Reno is not well designed for tourists.
More Related Articles on PlanetWare.com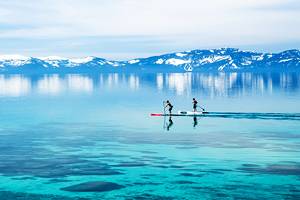 Planning Your Trip to Lake Tahoe: To get the most out of your vacation, read about Lake Tahoe attractions before you go and organize your itinerary. The South Lake Tahoe area has some of Tahoe's best hiking trails for nature lovers of all fitness levels. If you're going skiing, pick one of the Tahoe ski resorts that suits your preferences whether you're seeking gentle slopes or sensational lake views.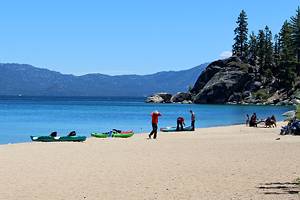 Where to Stay in Lake Tahoe: If you will be staying overnight, check out where to stay in Lake Tahoe and reserve your accommodation in advance. Booking ahead is particularly important if you plan to visit during a busy time, such as summer or ski season. For those who prefer to pitch a tent among the pine trees and snooze under the stars, Lake Tahoe's best campgrounds provide excellent camping facilities.