11 Top-Rated Beaches in the San Francisco Area
Author Lisa Alexander is originally from the San Francisco Bay Area and returns regularly.
Along a dramatic, craggy coastline, the beaches in and around San Francisco have a rugged quality and moody weather better suited to nature walks than sunbathing.
Swimming is out of the question at most beaches due to the unforgiving ocean conditions and dangerous riptides. Instead, you can admire the spectacular vistas, breathe in the salty sea air, and relax while listening to the awe-inspiring sound of crashing waves.
Despite the urban setting, the beaches within the San Francisco city limits are surprisingly unspoiled, with protected sand dunes and windswept cypress pine trees. Ocean Beach is San Francisco's longest stretch of shoreline, while Baker Beach boasts the most stunning views.
Some of the best beaches in the area are outside of San Francisco, but scenic journeys and incomparable coastal hideaways make the effort worthwhile. Nestled in the rolling hills south of the city, Half Moon Bay is one of the most popular day trips from San Francisco. Continuing farther south leads to the pristine Pescadero State Beach and the wide sandy shoreline of San Gregorio State Beach.
North of San Francisco in Marin County is the hidden paradise of Muir Beach and the expansive Stinson Beach, the only destination on the list with a bonafide "beach town."
Discover the wide variety of sandy shores within the city limits and nearby with our list of the top beaches in the San Francisco area.
1. Baker Beach, San Francisco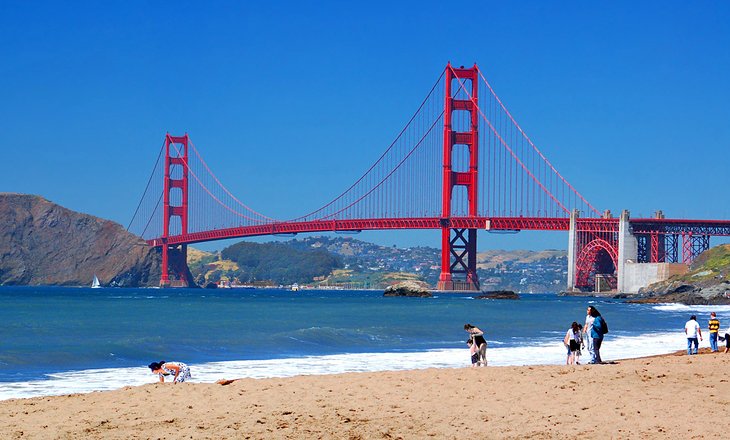 Baker Beach boasts a setting that is unlike any other place in the world. The Golden Gate Bridge and Marin Headlands form a postcard-perfect backdrop for this beach, tucked away behind serpentine-rock cliffs and surrounded by Mediterranean shrubs, native flowers, and a grove of Monterey cypress.
One of the top tourist attractions in San Francisco, Baker Beach can't be beaten for photo ops. Thanks to the sublime scenery, it's easy to take amazing pictures with the beach in the foreground and the Golden Gate Bridge in the background.
This one-mile sandy beach invites scenic strolls along the shoreline. You will be dazzled by the panoramic views and delighted by the breathtaking sunsets.
Interested in getting to know the local inhabitants? Try spotting native wildlife such as harbor porpoises gliding through the surf and California brown pelicans soaring above the shore. Fishing is also possible.
If you're feeling outdoorsy, take a hike on the 1.5-mile section (three miles out and back) of the California Coastal Trail that begins just beyond the Battery Chamberlin, a historic military site. The trail continues alongside the coastal bluffs and ends at the Golden Gate Bridge. This hike takes about one hour (each way) and offers vantage points of the Golden Gate Bridge and the San Francisco Bay.
Safety Precautions: Do not swim or wade in the surf at Baker Beach. The water is not safe for swimming due to rip currents, powerful waves, and sudden undertow. There are no lifeguards at Baker Beach.
Facilities include a large picnic area with BBQ grills. However, this spot (behind the parking lot) is quite far from the beach and does not afford views of the Golden Gate Bridge. Besides the picnic area, the beach has public restrooms, drinking water fountains, and a free parking lot. Arrive early on sunny summer days and weekends, before the parking lot fills up.
Address: Bowley Street and Gibson Road, San Francisco, California
2. Ocean Beach, San Francisco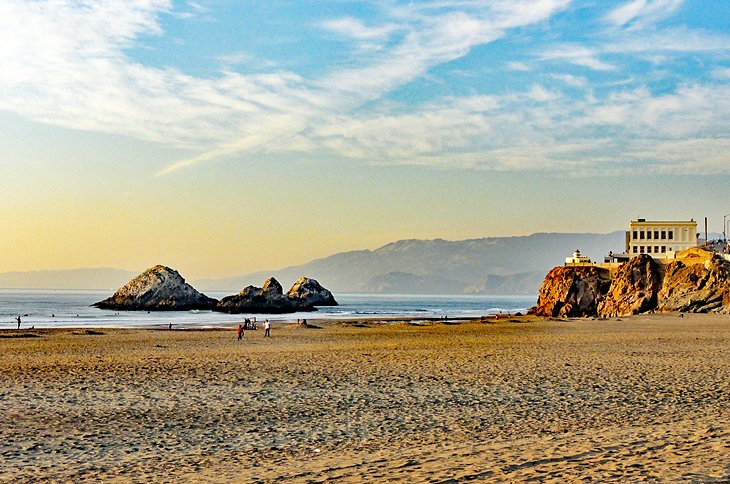 Powerful waves crash along a wide expanse of fine white sand at San Francisco's Ocean Beach. Despite its location next to a busy road, Baker Beach feels wild and pristine. Offshore rocks add to the untamed quality of the scenery.
The shoreline backs up against undulating expanses of sand dunes that are carpeted with low-growing shrubs and ground-hugging succulent plants. During wintertime, the threatened Western Snowy Plover seabirds make their home in the sand dunes (this area of the beach is protected by the National Park Service).
Extending for 3.5 miles, Ocean Beach is the city's longest sandy stretch, so it rarely feels crowded, even though it's very popular. Nearby residents come here to go jogging or walk their dogs. Kids enjoy making sandcastles. On those rare warm nights, locals gather to socialize around bonfires.
Ocean Beach is San Francisco's foggiest and chilliest beach due to its open exposure. On typical days, the mists give way to sunshine around midday for a moment of calm, only to be ruffled by prevailing gusts from the Pacific Ocean in the afternoon or evening.
The brisk weather makes Ocean Beach ideal for an invigorating walk along the promenade. Beach walks are rewarded with vistas of waves breaking against the shore while seagulls soar overhead.
Safety Precautions: Ocean Beach does not have lifeguards. Signs posted at the beach clearly indicate that swimming and wading are prohibited. Swimming is not safe due to the hazardous rip currents and frigid water temperatures. Only experienced surfers should enter the water wearing wetsuits and with the skills to handle the rough ocean swells.
Facilities: Ocean Beach has free parking available at three lots (at Sloat Boulevard, across from the Beach Chalet, and at the northern end of the beach); however, parking spaces are very limited. Alternatively, visitors can park on a residential street in the Sunset neighborhood or take public transportation (recommended). There are also public restrooms near the beach.
Across the street from Ocean Beach (at 1000 Great Highway) is the Beach Chalet, a stylish ocean-view restaurant open for brunch (weekends only), lunch, and dinner. The menu includes classic American dishes, organic salads, and fresh-caught seafood. The restaurant is on the second floor of the Beach Chalet building; on the first floor is a gift shop and a lobby decorated with 1930s Depression-era murals.
Behind the Beach Chalet is a locals' favorite hangout spot, the Park Chalet. This casual restaurant has a dining area in a pleasant atrium overlooking the park, as well as outdoor seating beneath the shady trees. The Park Chalet is open for lunch and dinner every day and for brunch on weekends.
A short detour from Ocean Beach leads to the San Francisco Zoo (Sloat Boulevard at the Great Highway), one of the top San Francisco attractions for kids. Inquisitive children adore the Fisher Family Children's Zoo, a six-acre park within the San Francisco Zoo that features an insect zoo, interactive exhibits, and a nature trail. The zoo's miniature steam train appeals to youngsters, as well as the young-at-heart.
Address: 700-799 Great Hwy, San Francisco, California
3. Stinson Beach, Marin County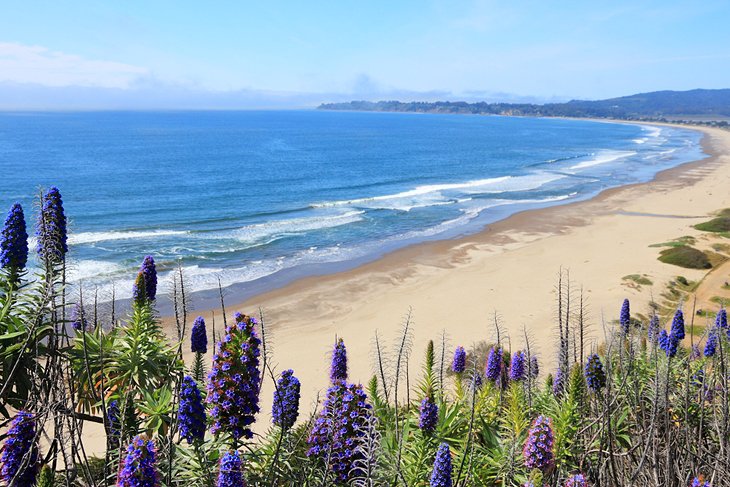 Getting to Stinson Beach is half the fun. After crossing the Golden Gate Bridge, the mountainous Highway One route affords marvelous ocean views from every hairpin turn. Not for the faint of heart, this six-mile drive along a winding two-lane road (from Muir Beach to Stinson Beach) is as challenging as it is exhilarating.
On sunny weekends and summer days, the traffic slows to a turtle pace. Without any congestion, it's possible to get to Stinson Beach from San Francisco (23 miles away) in one hour. With traffic, it can take almost twice as long.
The lengthy journey happily leads to an idyllic coastal setting. Wooded rolling hills enclose Stinson Beach, giving the place a secluded feel. Thanks to its sheltered location within Bolinas Bay, the waters of Stinson Beach are usually safe enough for swimming when lifeguards are on duty (from early July through Labor Day). Be sure to check first that the conditions are safe for swimming.
This sublime white-sand beach stretches for 3.5 miles, ideal for long seaside walks. Other favorite things to do include beach volleyball, surfing, windsurfing, bodyboarding, fishing, and picnicking.
Steps away from the beach, the Parkside Cafe offers gourmet California-style cuisine. From the restaurant's pleasant outdoor patio, you can dine while listening to the sound of the ocean waves. Parkside Cafe also operates two takeaway food stands near the beach: a Snack Bar that serves burgers, fish and chips, tacos, and soft-serve ice cream; and a coffee kiosk that sells espresso and fresh-baked pastries.
Stinson Beach is the only real "beach town" in the San Francisco area. The charming rural community has an offbeat vibe, revealing Marin County's still-intact hippie culture. The town has a grocery store, unique local shops, family-owned restaurants, and a few hotels.
Facilities: Stinson Beach has well-maintained facilities, including a shaded picnic area with tables and barbecue grills, public restrooms, and a large free parking lot. On crowded weekends and summer days, the parking lot can fill up by noon, so it is best to arrive early.
Nearby Attractions: The most-visited tourist attraction in the area is Muir Woods. It's possible to get from Muir Woods to Stinson Beach by foot on one of the best trails in the San Francisco area, the seven-mile Dipsea Trail, an advanced hike with sensational ocean views. Bordering Stinson Beach, Mount Tamalpais State Park offers 60 miles of hiking trails and panoramic views of the coastline.
Address: 3514 Shoreline Hwy, Stinson Beach, California
4. Crissy Field East Beach, San Francisco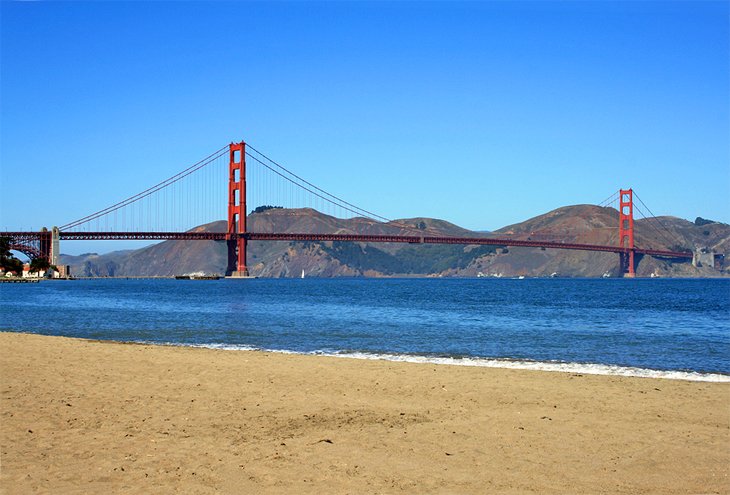 When the weather is sunny, locals flock to Crissy Field East Beach for recreation and relaxation. Windy weather (which is common) brings out windsurfers and kite-boarders, who glide across the waves propelled by their colorful sails. During the week, residents from the Marina neighborhood come here to go jogging, push baby strollers, or walk their dogs.
Visit the Crissy Field East Beach if you're looking for iconic vistas. With the Golden Gate Bridge and San Francisco Bay framing the beach, the scenery is hard to beat. Other highlights are the sandy shoreline and sheltered waters.
Usually, it is safe to wade and swim at Crissy Field East Beach. However, there are no lifeguards at Crissy Field beaches, and "Swim at Your Own Risk" signs are posted.
At the opposite (western) end of Crissy Field past Crissy Field South Beach, the Warming Hut café sells snacks, coffee, hot chocolate, and light meals. Also next to Crissy Field South Beach is the West Bluff picnic area, which offers front-row seats to admire the Golden Gate Bridge.
Crissy Field is a historic army airfield dating to the 1920s that has been converted into a national park that includes the waterfront Golden Gate Promenade walking/biking path. Along the way are amazing views of the Golden Gate Bridge, as well as overlooks onto a tidal wetland preserve, the Crissy Marsh, which is home to 135 bird species.
Crissy Field is well-designed for visitors, with parking lots, public restrooms, and a picnic area in the nearby Little Marina Green.
Nearby attractions include the Golden Gate Bridge, which is just a short drive or walk from Crissy Field. To get to the bridge on foot, you must take the pedestrian Crissy Field Avenue Trail. Also within walking distance from Crissy Field is the Marina district, a picturesque residential neighborhood.
In the Marina neighborhood, Chestnut Street is a trendy spot for boutique shopping and dining at popular restaurants. This street has something for everyone with its wide selection of upscale dining, casual eateries, cafés, and bakeries.
Tips: If you want to avoid the wind, visit Crissy Field East Beach in the morning. The winds tend to pick up around midday. If the wind and fog roll in, head to the Warming Hut to grab a snack and stay warm.
Address: 1199 E Beach, San Francisco, California
5. Aquatic Park Cove, San Francisco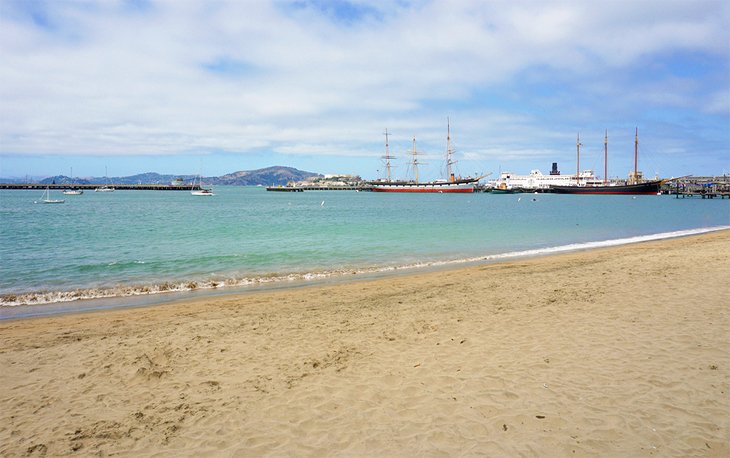 Tourists need only walk a few steps away from Ghirardelli Square to find a tiny beach at Aquatic Park Cove. The narrow sandy stretch is sheltered from waves, so it is safe to swim here. In fact, the cove is so calm that it almost has the feel of a swimming pool.
Aquatic Park Cove is part of the San Francisco Maritime National Historical Park, which has a harbor for Fisherman's Wharf boats and other recreational vessels. From the cove, tourists can see historic ships docked at the nearby Hyde Street Pier. For fabulous views of the Golden Gate Bridge and Alcatraz, tourists can take a walk along Aquatic Park's municipal pier.
Amenities are limited at Aquatic Park Cove, except for benches where you can sit and soak up the views. There are no public restrooms. If driving, you must use metered street parking.
Tip for visiting Aquatic Park Cove: From downtown San Francisco, take the cable car to get here because parking is difficult. The Hyde & Beach cable car stop (the last stop on the Powell/Hyde Cable Car line) is just steps away from the Aquatic Park Cove beach.
Across the street, kitty-corner to the cable car stop, is The Buena Vista café, an atmospheric neighborhood hangout. Decades ago, this spot catered to workers who wandered over from their jobs at the nearby Del Monte fruit cannery. Today, The Buena Vista café serves classic American fare, including local seafood specialties. The Cannery (2801 Leavenworth Street) also has restaurants, boutiques, and an ice-cream shop.
Nearby Attractions: On the same day, plan to visit Ghirardelli Square and Fisherman's Wharf. Both attractions are within easy walking distance. Right behind the beach at Aquatic Park Cove is the Maritime Museum, housed in a converted 1930s bathhouse.
Address: 900 Beach Street, San Francisco, California
6. Muir Beach, Marin County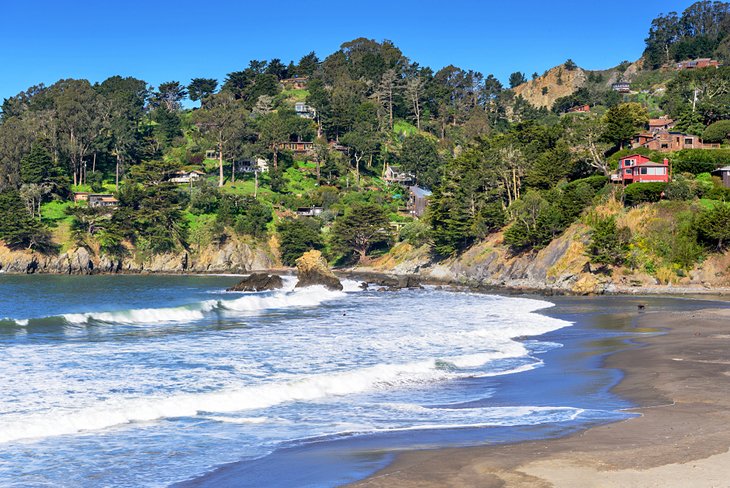 A little slice of seaside paradise is found north of San Francisco in a quiet sheltered cove enclosed by sheer ocean bluffs. To arrive here, you must drive beyond the Golden Gate Bridge into Marin County. Another scenic portion of the drive includes a meandering stretch of Highway One through chaparral-covered hillsides as you approach the Pacific Ocean.
Because of its pastoral setting, Muir Beach appeals to nature lovers and outdoorsy types. The small but wide swatch of sandy shoreline is concealed behind a protected wetland.
The "entrance" to the beach is a 235-foot-long pedestrian-only bridge that leads through a canopy of leafy laurel trees and over a babbling freshwater brook. The recently restored Redwood Creek nature preserve was created to provide habitat for the endangered Coho Salmon, as well as other threatened species such as California red-legged frogs.
If you love unspoiled natural scenery, you will enjoy the picturesque setting and pristine environment of Muir Beach. The refreshing sea air is tinged with scents of seaweed that has washed onto the shore and aromatic sagebrush that grows on the surrounding hillsides.
Besides the scenery, Muir Beach also attracts visitors for outdoor activities, including beach volleyball and hiking. Several nature trails begin at Muir Beach either going inland on a tree-shaded path toward the Zen Center or westward following the coastline.
A challenging nine-mile roundtrip hike begins at Muir Beach and continues along a portion of the California Coastal Trail until reaching the Tennessee Valley, where you catch glimpses of a small beach cove in the distance. The hike follows the steep ocean bluffs, affording awe-inspiring views of Marin's verdant rolling hills and the deep-blue Pacific Ocean along the way.
Safety Precautions: There are no lifeguards at Muir Beach. Swimming and wading in the water are not recommended due to the dangerous undertow and rip currents. If you're hiking along the coastal bluffs, stay away from the cliff edges.
Facilities include public restrooms, a free parking lot, and a picnic area next to the parking lot. To enjoy the beachfront scenery, you may want to carry your picnic provisions down to the beach. This requires lugging your supplies on the walk over the pedestrian footbridge.
Tips: Arrive early on weekends and during summertime. Parking is very limited, and the lot fills up quickly. The small lot is the only place to park, so sometimes this creates a situation where you must idle in the parking lot while waiting for spaces to become available.
Bring your own beach towels as well as food and drinks for picnicking. Except for the Pelican Inn (a short walk away), Muir Beach does not have any snack bars, eateries, or grocery stores nearby.
Nearby Attractions: Muir Woods is a three-mile drive from Muir Beach. The peaceful Green Gulch Farm Zen Center, which hosts meditation classes and dharma talks, is an easy 1.6-mile walk from Muir Beach. Stinson Beach is only six miles away, but the drive is challenging and in traffic can take 30 minutes from Muir Beach.
Address: 200 Pacific Way, Muir Beach, California
7. San Gregorio State Beach, San Mateo County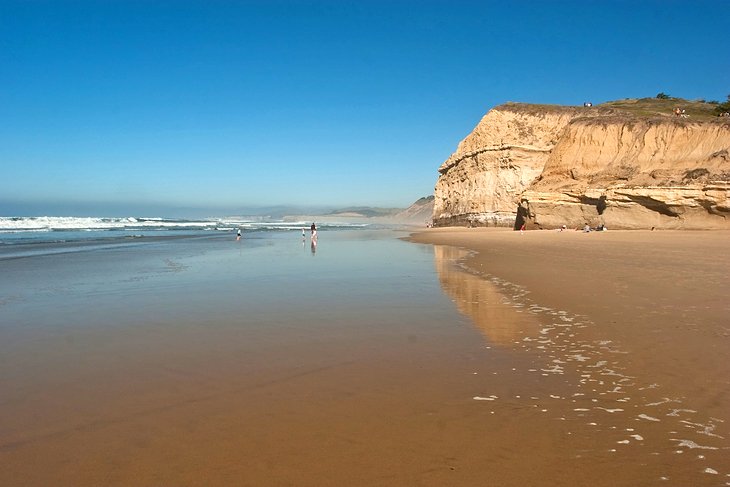 This wild driftwood-strewn beach is prized for its unspoiled natural environment. Grass-covered ocean bluffs and steep sandstone cliffs enclose San Gregorio State Beach, giving it a sheltered feel.
The shoreline is backed by a protected estuary that is home to seabirds and animals. The estuary is a great place for bird-watching.
Facilities include a parking lot (a day-use fee is required) and a picnic area. The site has vaulted (no-flush) toilets.
Safety Precautions: Swimming and wading are not advised due to large "rogue waves," dangerous rip currents, and frigid water. This beach does not have lifeguard surveillance.
San Gregorio State Beach is about a one-hour drive (40 miles south) from San Francisco.
Address: 20063 Cabrillo Hwy S, San Gregorio, California
8. Half Moon Bay State Beach, San Mateo County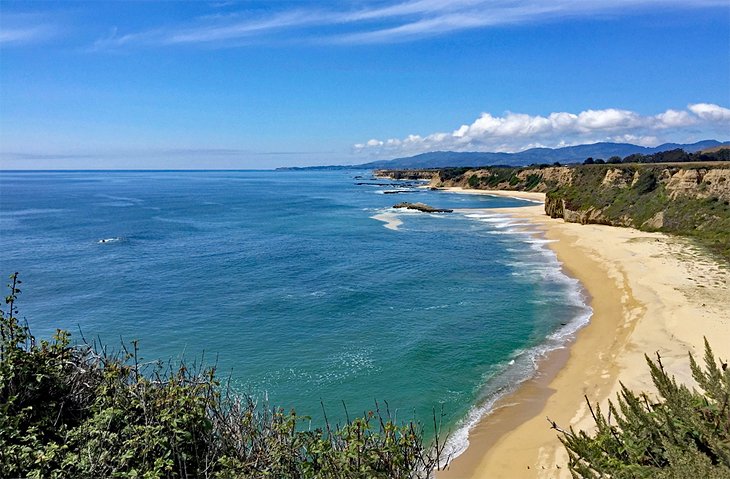 The charming country town of Half Moon Bay nestles in the green rolling hills of the Santa Cruz Mountains. A patchwork of small farms surrounds the east side of the town, while the west side runs alongside a spectacular stretch of Pacific coastline.
Half Moon Bay State Beach includes four miles of sandy beaches, tucked in between rugged ocean bluffs and steep cliffs. Four different beaches comprise Half Moon Bay State Beach: Roosevelt Beach, Dunes Beach, Venice Beach, and Francis Beach.
For those who enjoy scenic walks with ocean views, Half Moon Bay State Beach does not disappoint. The California Coastal Trail traverses the ocean bluffs alongside the beach.
Safety Precautions: Lifeguard surveillance is limited. Swimming and wading are not usually advised due to the extremely cold water and dangerous ocean conditions (large rogue waves and rip currents). When hiking the Coastal Trail, be cautious and stay away from cliff edges.
Facilities at Half Moon Bay State Beach include a parking lot, public restrooms, and picnic areas. Francis Beach and Venice Beach have campgrounds and showers.
Address: 95 Kelly Avenue, Half Moon Bay, California
9. Pescadero State Beach, San Mateo County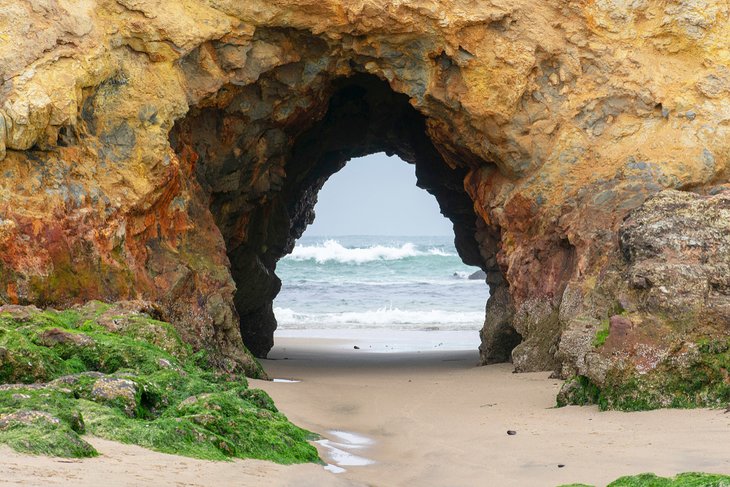 Just a short drive (17 miles) south of Half Moon Bay, the tranquil community of Pescadero draws many visitors to its quaint rural town and superb sandy beach. Tucked in between rocky ocean bluffs, the mile-long shoreline features sandy coves and tide pools.
Across from the beach is the 235-acre Pescadero Marsh Natural Preserve, a fabulous spot for bird-watching. The preserve is home to over 200 bird species, as well as endangered animals such as the California red-legged frog and the San Francisco garter snake.
Four different hiking trails allow visitors to explore the preserve. Another way to discover this exceptional nature site is by taking a two-hour docent-led Pescadero Marsh Walk, offered free of charge on the first Sunday of the month at 10 am and the second Sunday of the month at 1 pm.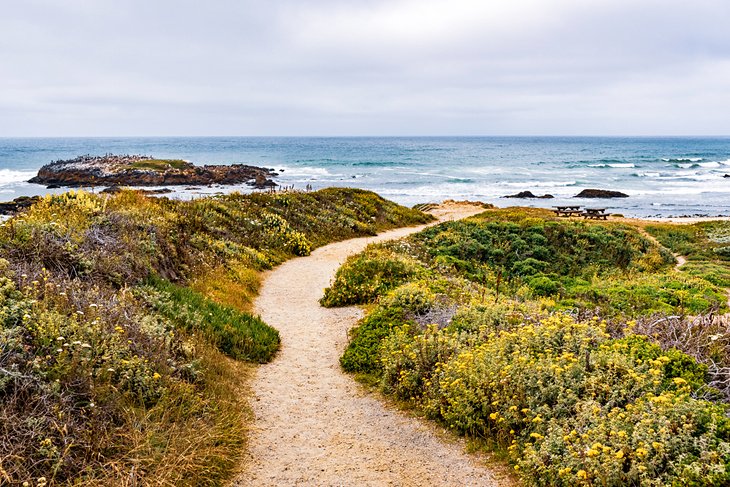 Safety Precautions: Lifeguard surveillance is limited. Swimming and wading are not usually advised due to the extremely cold water and dangerous ocean conditions.
Facilities include paid parking lots and picnic tables. The facilities are quite limited: There is only a single restroom with a vaulted (no-flush) toilet and without running water to wash hands.
Tips: First visit the town of Pescadero (a five-minute drive from the beach) if you want to pick up picnic supplies or grab a bite to eat. The downtown (one block of Stage Road between North Street and Pescadero Creek Road) has a grocery store, small locally owned shops, cafés, and restaurants.
The award-winning Duarte's restaurant in downtown Pescadero is famous for its artichoke soup (prepared from locally grown artichokes), seafood, and Portuguese specialties.
Location: Cabrillo Highway (Rte 1), Pescadero, California
10. Linda Mar Beach, Pacifica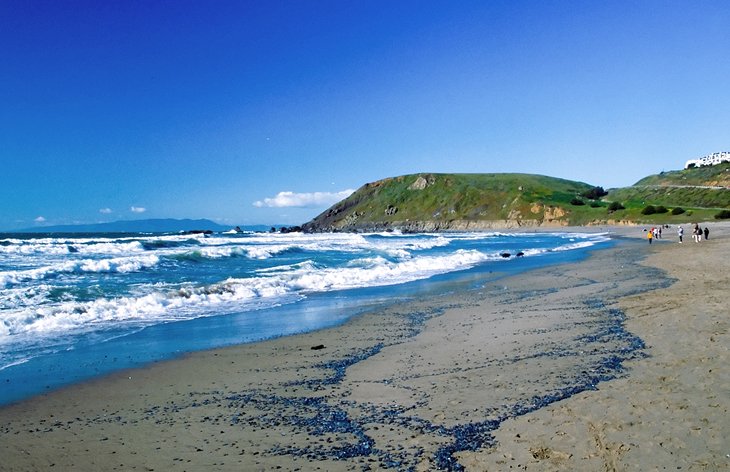 Fitting of its Spanish name, this beautiful long stretch of sandy shoreline is sheltered in a crescent-shaped cove. Surfers love Linda Mar Beach because of its consistent waves. When the conditions are right, kayakers enjoy exploring the cove.
Linda Mar Beach (Pacifica State Beach) is a popular getaway for residents of San Francisco, since this beach in Pacifica is only 15 miles south of "The City." The drive only takes about 20 minutes from San Francisco.
A walking trail leads from the beach up to the top of an ocean bluff, an excellent vantage point to soak up the dramatic coastal views.
Safety Precautions: Lifeguard surveillance is limited. Swimming is not recommended due to dangerous rip currents and poor water quality (contaminants at this location are a health risk). Before kayaking or surfing, always check with a lifeguard or ranger about ocean conditions.
Facilities include a paid parking lot, a water fountain, public restrooms, and outdoor showers. Near the beach is a busy commercial district with many shops, cafés, restaurants, and grocery stores.
Surprisingly, there is a Taco Bell right on the beach, and its outdoor terrace features breathtaking ocean vistas. The terrace also provides a good viewing point to watch the surfers in action.
Address: 5000 CA-1, Pacifica, California
11. Tennessee Beach, Marin County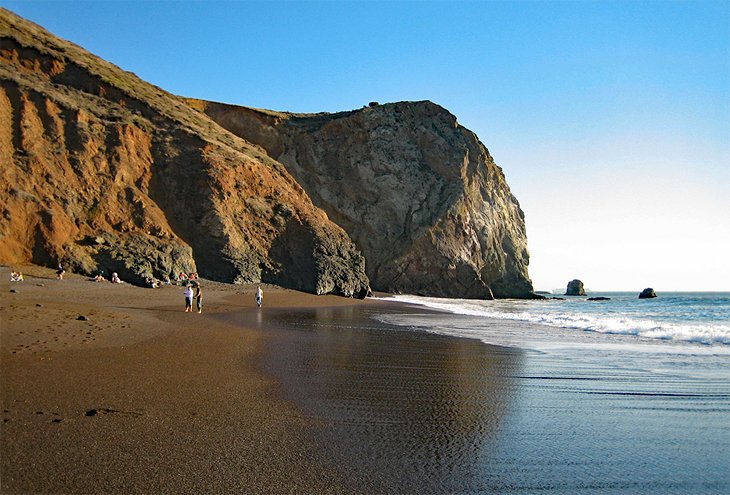 You have to walk almost two miles through the countryside to get to Tennessee Beach, but this scenic jaunt is often the highlight of a visit. The 1.7-mile Tennessee Valley Trail begins at the parking lot and traverses flowering meadows until reaching Tennessee Beach.
During springtime, bright purple lupine, cheerful honey-colored buttercups, and emblematic orange California poppies enliven the landscape. In the summertime, Tennessee Valley's meadows flourish with golden grasses, sagebrush, and blackberries.
Enveloped by sheer rocky cliffs, the secluded Tennessee Beach offers an escape to nature. This soothing coastal hideaway is ideal for picnicking or hiking. Nature trails lead up into the hillsides above Tennessee Valley and connect to other popular hiking trails in the Marin Headlands (including a hike to Muir Beach).
Tennessee Beach is a short drive (six miles) past the Golden Gate Bridge in San Francisco. This pristine natural beach is found within the Golden Gate National Recreation Area of Marin County.
Safety Precautions: Swimming and wading are not safe due to extremely cold water and dangerous rips. Lifeguards do not survey the beach.
Facilities include public restrooms and a free parking lot.
Tips: Be prepared to walk 1.7 miles each way to and from the beach. Bring your own water and food for a picnic. This is a natural beach without any snack bars or eateries nearby. If exploring the cove on Tennessee Beach, make sure to avoid high tides, which can cut off access to the beach.
Address: Tennessee Valley Road, Mill Valley
Map of Beaches in the San Francisco Area
Tips for Your Visit to San Francisco Area Beaches
Check Ocean Safety Conditions: Before going in the water, always read safety information posted at the beach and confirm with a lifeguard that it's safe. At most beaches, swimming and wading are prohibited due to hazardous ocean conditions. Except for Stinson Beach, none of the beaches on this list are regularly surveyed by lifeguards.
Facilities: Public restroom facilities or portable toilet facilities are available at all beaches. However, the facilities are not always well maintained.
Be Prepared with Beach Gear: Be sure to bring blankets, sun umbrellas, and beach chairs. None of the beaches have sun parasols or beach chair rentals.
Pack a Picnic: Keep in mind that amenities are limited at most of the beaches on this list. There are no cafés or snack bars at the beaches in the San Francisco area, with the exception of Stinson Beach. It's a good idea to shop for picnic provisions beforehand, since most of the beaches are not located near a grocery store.
Wear Layers: Take a tip from the locals who always dress in layers, in case of quick changes in the weather. Various microclimates of the San Francisco Bay Area make weather prediction difficult. It can be perfectly sunny in the southern portion of San Francisco at the same time it's completely overcast at the city's oceanfront. Sometimes the weather changes during your drive to the beach.
Expect Overcast Weather: Fog usually covers the San Francisco area beaches in late spring and summer; temperatures can be in the 50s Fahrenheit, with high temperatures in the low-60s Fahrenheit. Sometimes the fog burns off around midday.
Visit in September or October: September and October are the hottest and sunniest months, when San Francisco often experiences Indian summer, with daytime temperatures in the mid-60s to low-70s Fahrenheit. On the occasional days of heat waves during this period, daytime temperatures can reach the 80s and 90s Fahrenheit.
Springtime is Beautiful but Breezy: It's often sunny at the beach during the months of April and May, but it can get very windy. The strong Pacific gusts tend to pick up in the afternoon.
Avoid the Rainy Season: The rainy season is from November to March. Depending on the year, rainfall can be very heavy especially during December, January, and February.
Best Time to Go to the Beach in San Francisco
Tourists are often disappointed when they arrive in San Francisco in July or August only to discover that it can feel colder than wintertime. Damp, drizzly fog shrouds the Northern California coastline in the early mornings from late springtime and through the summer.
San Francisco beaches have average spring and summer daytime temperatures in the high 50s to low 60s (degrees Fahrenheit). The best time to visit San Francisco beaches is in September or October, when the coastal daytime temperatures range from the mid-60s to low-70s.
Even on the days that start out sunny, without a cloud in the sky, at any moment, a blanket of fog can roll in suddenly and mysteriously, creeping over the Santa Cruz Mountains to the south, floating past the Marin Headlands in the north, and seeping through the Golden Gate Bridge, adding a special romance to the scenery.
More Related Articles on PlanetWare.com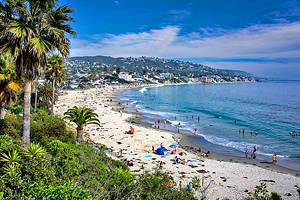 More California Beaches and Beach Towns: Perfect beach weather is rare in San Francisco because of its chilly coastal climate. Sun-worshippers will prefer quintessential California beaches and beach towns, such as Santa Cruz, with its fun-loving seaside resort vibes. On the Central California Coast, some of the must-see day trips from San Luis Obispo are the cute beach towns of Pismo Beach and Avila Beach. Framed by the Santa Ynez Mountains, Santa Barbara offers gorgeous sandy beaches and perfect balmy weather.