From San Francisco to Monterey: 3 Best Ways to Get There
Author Lisa Alexander is originally from the San Francisco Bay Area and returns regularly.
Monterey nestles along an expansive bay, about 100 miles south of San Francisco on California's picturesque Central Coast. Because of its postcard-perfect setting, historic charm, and wide array of tourist attractions, Monterey is one of the most popular day trips from San Francisco. Fortunately, it's also easy to get from San Francisco to Monterey, with a variety of options available for travelers.

We recommend three different ways to get from San Francisco to Monterey, plus the considerations to keep in mind with each transportation option. The best way to get there depends on your vacation itinerary, budget, and other travel preferences.
Start planning your trip from San Francisco to Monterey with our list of transportation options.
1. From San Francisco to Monterey by Car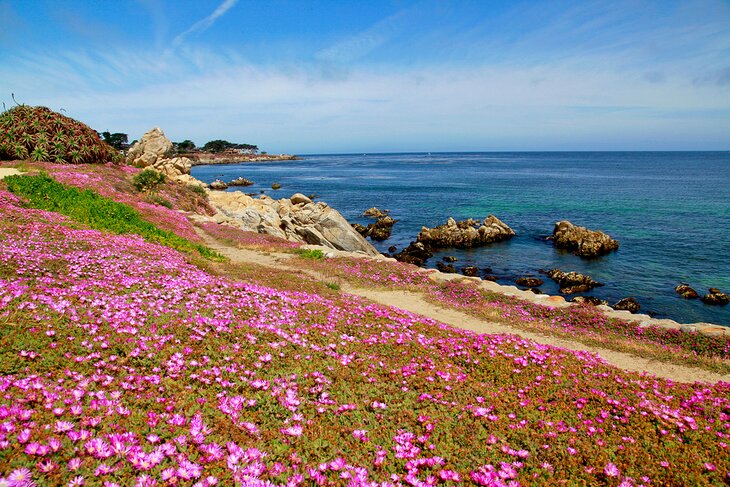 Driving is the best option for travelers who would like explore at their own pace and perhaps stop along the way. Having a car allows for flexibility in trip planning.
Many travelers prefer to enjoy a weekend getaway from San Francisco rather than a day trip, because the drive is quite long for just one day of sightseeing.
The drive from San Francisco to Monterey takes about 2.5 hours on the quickest route, usually the Highway 101 route. This route includes highway roads much of the way, but you may encounter traffic in the San Jose area and, unfortunately, the ride is not scenic until you reach Santa Cruz. The remainder of the drive, from Santa Cruz to Monterey, takes about 50 minutes along Highway One, which follows alongside the coastline and affords stunning views.
Recommended Stops along the Highway 101 Route: If you love classic beach towns, you will want to stop in Santa Cruz on your way to Monterey. The two towns are only 43 miles apart, yet the ambience is completely different. A place for recreation and seaside vacations, Santa Cruz offers fun in the sun at its sandy beaches, historic boardwalk amusement park, and lively downtown.
Two worthwhile detours near Monterey on the Highway 101 route include the Mission San Juan Bautista with its elaborate building complex, gorgeous manicured grounds, and the original Spanish plaza, all of which is designated as a National Historic Landmark, as well as a California State Historic Park. and the town of Salinas, home to the National Steinbeck Center.
When the Highway 101 route has a lot of traffic, the Highway 280 + Highway 17 route from San Francisco to Santa Cruz may be the faster option. This route is much more scenic than Highway 101, as the stretch along Highway 280 runs parallel to the wooded rolling hills of the Santa Cruz Mountains. The portion along Highway 17 winds through a dense redwood forest. From Santa Cruz, the route continues along the spectacular Highway One until Monterey.
Recommended Stops on the Highway 280 + Highway 17 Route: There are two recommended stops: the rustic-chic town of Woodside, which has a Michelin-starred restaurant (The Village Pub), a gourmet grocery store, and other foodie destinations; and the bustling town of Los Gatos, with its charming downtown; mountain views; and great selection of boutiques, cafés, bakeries, and restaurants. Los Gatos is an ideal stopping point, since it is almost exactly halfway between San Francisco and Monterey.
For the most scenic route, take Highway One the entire way. This coastal route takes about 30 minutes longer, but rewards with sweeping ocean views as the road curves around hillsides that overlook the Pacific.
Recommended Stops on Highway One: The Highway One route also offers the possibility to stop in several picturesque seaside towns: Pacifica, a little oceanfront town just 15 miles south of San Francisco; Half Moon Bay; and rural Pescadero, which has a famous restaurant called Duarte's.
Other places to visit along the way include oceanfront Davenport, which boasts some of the area's best beaches; idyllic Capitola, with its colorful waterfront houses, ocean-view restaurants, small sandy beach, and wooden fishing pier; and Santa Cruz, loved by families, surfers, and sun-worshippers for its beach boardwalk, surfing culture, and summer sunshine.
Travelers can pick up a rental car at the San Francisco Airport Rental Car Center or in downtown San Francisco at Alamo, Enterprise, SIXT Rent-a-Car, Avis, Budget, Thrifty, and Hertz car rental agencies.
2. From San Francisco to Monterey by Organized Tour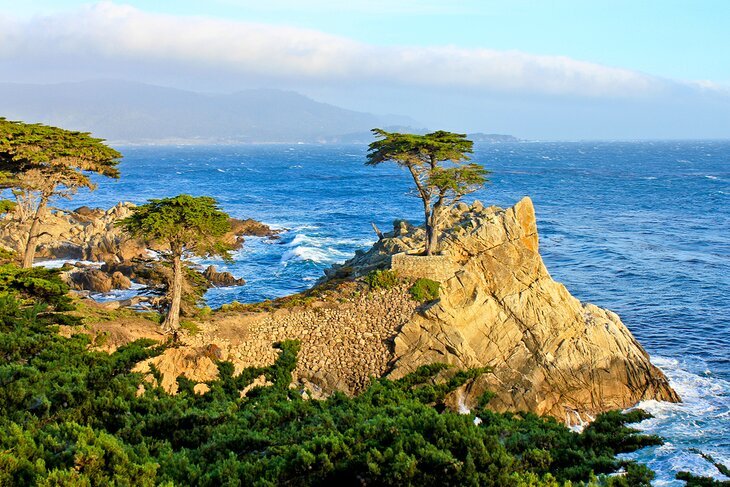 Joining a guided excursion takes the stress out of traveling from San Francisco to Monterey and is the best option for visiting Monterey as a day trip from San Francisco.
The Monterey, Carmel, and 17-Mile Drive Full-Day Tour from San Francisco allows travelers to easily visit Monterey, while leaving the hassle of driving to someone else. This all-day (11-hour) guided tour takes participants on Highway One, the scenic coastal route, from San Francisco to Monterey.
The tour includes free time in Monterey to visit Cannery Row, Old Fisherman's Wharf, and/or the Monterey Bay Aquarium (purchase your tickets in advance), as well as a stop in the charming seaside village of Carmel, reached via the famous 17-Mile Drive. While in Carmel, participants will have a chance to browse the town's art galleries and quaint locally owned boutiques.
3. From San Francisco to Monterey by Train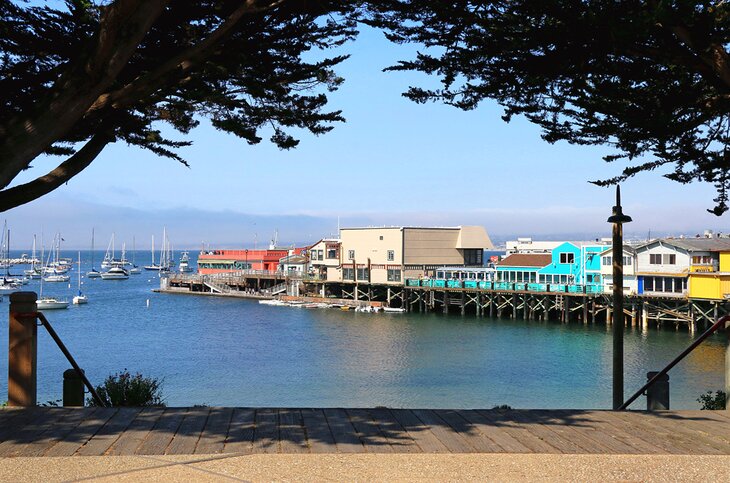 For those who prefer not to drive, and plan to spend at least a few days in Monterey, it makes sense to take the train from San Francisco to Monterey. However, travelers should keep in mind that the multi-leg train journey takes six hours and requires two connections.
During peak travel season, Amtrak provides one route per day from San Francisco, departing at 7am and arriving in Monterey at 1pm. The service departs from San Francisco by bus; connects to a train service in Emeryville, which continues on to Salinas; and finally connects to a bus in Salinas that drops off travelers at Monterey Transit Plaza.
The Monterey Transit Plaza is in downtown Monterey, near many shops and restaurants. From this location, travelers can easily walk to many of Monterey's top attractions. For instance, it's just steps away from the Monterey Museum of Art and only a 10-minute walk to the Monterey State Historic Park. It takes about 30 minutes to walk from downtown Monterey to the Monterey Bay Aquarium, or about 15 minutes by bus.
Where to Stay in Monterey: Those staying overnight in Monterey can choose from hotels in downtown Monterey, such as the four-star Monterey Marriott and the four-star resort property, Portola Hotel & Spa at Monterey Bay.
Tourists also enjoy the hotels near the Monterey Bay Aquarium, in the Monterey waterfront district. One of the top waterfront hotels is the Monterey Plaza Hotel & Spa, which overlooks the crashing waves of Monterey Bay and is steps away from Cannery Row.