10 Best Beaches in Santa Cruz, CA
This quintessential California beach town is a mecca for surfers and sun-worshippers, but also has something for everyone. Families love visiting the famous Santa Cruz Beach Boardwalk, while nature lovers appreciate the area's many unspoiled beaches.
Santa Cruz is a popular place for summertime recreation, from volleyball to boating and hiking. The breathtaking scenery and refreshing sea breezes make this stretch of California's Central Coast especially appealing.
The beaches of the Santa Cruz area represent a variety of coastal environments, all of which have their own special beauty. Along the Monterey Bay are sandy beaches with gentle waves, whereas farther north, the beaches of Davenport are wilder and exposed to the Pacific Ocean. The quaint town of Capitola has a picturesque beach in a sheltered cove.
Whether you enjoy sunbathing, swimming, picnicking, or playing volleyball along the shore, find the best places to visit, with our list of the top beaches in Santa Cruz.
1. Main Beach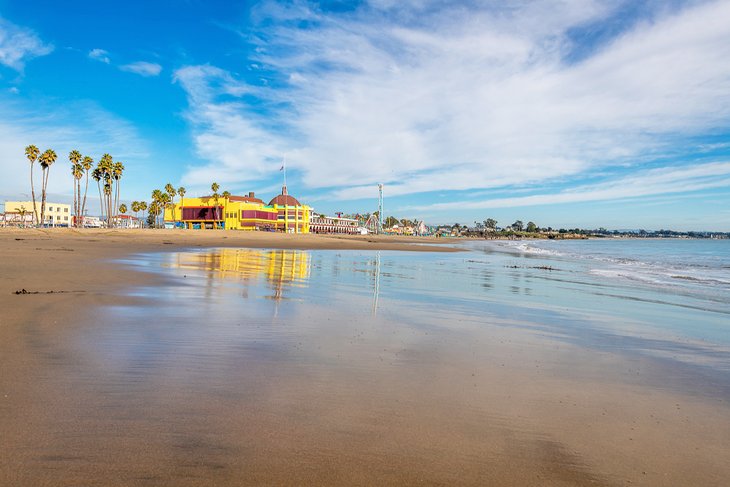 When it comes to fun in the sun, the Main Beach (Boardwalk Beach) of Santa Cruz is a top destination in Central California. This happening spot has many tourist attractions and could easily be mistaken for a SoCal beach, because the waters are noticeably warmer and because of its lively beach culture. On balmy summer days, Main Beach is packed with surfers, volleyball players, and sunbathers.
Since 1907, visitors have flocked to the Santa Cruz Beach Boardwalk amusement park, which is listed as a California Historic Landmark. The Giant Dipper roller-coaster ride and the old-fashioned Looff Carousel are National Historic Landmarks.
Besides its thrilling roller coasters and kiddie rides, the Beach Boardwalk offers all the trappings of a classic seaside amusement park. Snack stands sell favorite boardwalk foods like corn dogs, cheeseburgers, and seafood chowder bread bowls. Visitors can also indulge in special treats such as saltwater taffy, chocolate-dipped bananas, caramel apples, root beer floats, and ice cream in fresh-baked waffle cones.
Visitors also enjoy taking a walk along the Boardwalk's seaside promenade while admiring the beach scene and the outdoor arcade games.
Main Beach is a favorite summertime destination for families. It's a great place for seaside recreation such as body boarding and beach volleyball, because of its consistent gentle waves and wide, sandy shoreline. Those seeking a more leisurely day can focus on sunbathing, relaxation, and picnics (bring a blanket).
During the summer months, lifeguards survey the beach, so it is a safe place for swimming. Beach facilities also include public restrooms.
A short walk from Main Beach is the Santa Cruz Wharf. This historic half-mile-long pier was constructed in 1914 and originally worked in conjunction with a freight warehouse and steamship dock. Today, the pier is lined with restaurants, boutiques, and shops that offer boat and kayak rentals.
For those interested in learning more about marine mammals, the UCSC Seymour Marine Discovery Center leads free guided tours at the Santa Cruz Wharf every Saturday and Sunday at 1pm and 3pm. The tours answer questions about the sea lions that hang out underneath the pier and also delve into topics such as whale migration and ocean ecology.
2. Capitola Beach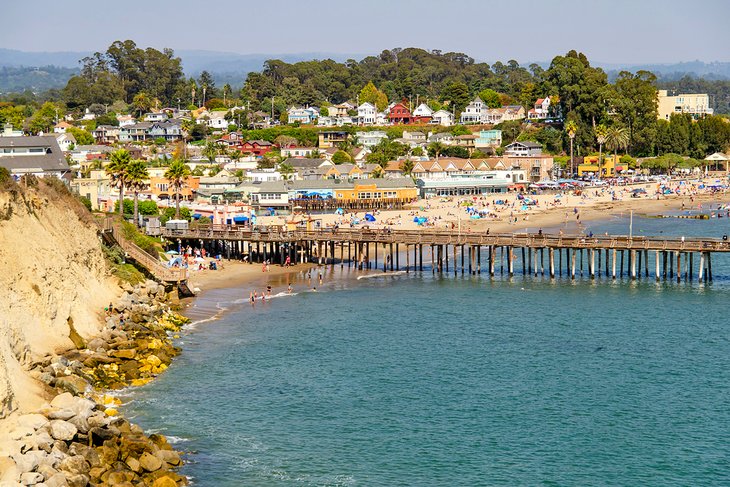 With its colorful houses and picturesque harbor, Capitola exudes the charm of a Mediterranean fishing village. Overlooking the wharf are streets lined with boutiques, cafés, and restaurants. Several of the local dining establishments feature lovely sea views.
Capitola Beach is prized for its idyllic natural surroundings and protected waters. Because the beach is nestled in a small cove, the waves are gentle. It's a good place for beginning surfers. Lifeguards are on duty during the summer months.
Sunbathers appreciate this stretch of sandy shoreline for lounging on beach towels. There are also benches around the beach for those who want to sit back and soak up the scene.
Beach volleyball players can use the courts that are set up in the sand.
The pleasant sidewalks of the town lead to the Capitola Wharf, by way of a scenic stroll. While walking alongside the North Pier, visitors can often see kayakers, paddleboarders, fishing dinghies, and sailboats in the small cove of Monterey Bay. Joining in the outdoor activity, seals, dolphins, and otters frolic in the calm, sheltered waters. From the tip of the North Pier, the outlook onto the expansive Monterey Bay is stunning.
Summertime brings many cultural events to Capitola Beach. A weekly series of live music concerts draws crowds. Outdoor movie screenings are also popular.
The Capitola Beach includes public restrooms and outdoor showers. Shops on the wharf offer fishing bait and rental boats.
A locals' favorite spot for coffee, lunch, and take-out meals is found a short drive from Capitola's downtown area. Gayle's Bakery offers fresh-baked pastries including croissants, danishes, scones, and muffins, as well as coffee drinks from an espresso bar. For those looking to pick up a gourmet picnic lunch, Gayle's has a great selection of delicious sandwiches, such as grilled chicken clubs, mozzarella paninis, and veggie wraps.
3. Manresa State Beach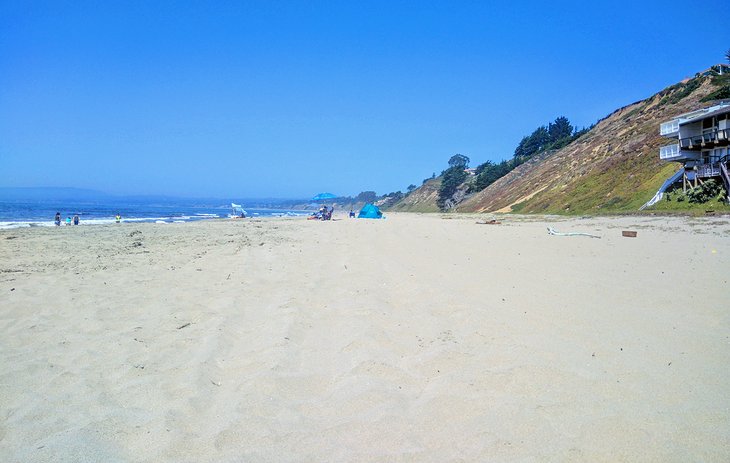 Manresa State Beach is tucked away behind protected parklands and ocean bluffs, with views of the Santa Cruz Mountains to the north and wooded rolling hills to the south. On the coastal prairie above the beach are picnic tables that afford spectacular panoramas.
This beach is prized for its expansive and unspoiled shoreline of fine, pillowy, golden sand. However, the waters are not safe for swimming or surfing due to rip currents, frigid temperatures, and other dangerous ocean conditions. Only extremely experienced surfers should attempt to surf here.
Other things to do at Manresa State Beach are camping, fishing, and birding. Bird-watchers will enjoy spotting species in the coastal scrub, including finches, hummingbirds, sparrows, and towhees. During wintertime, the beach is a nesting ground for western snowy plovers.
Facilities include a picnic area, public restrooms, an outdoor shower, and a wheelchair ramp down to the beach. A wheelchair designed for use on the sand is also available.
4. Four Mile Beach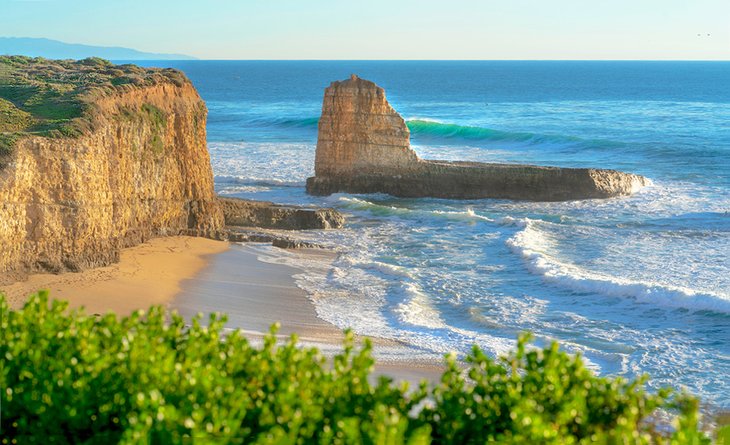 This rugged and unspoiled beach is found within the Wilder Ranch State Park, a nature preserve and recreation area that was originally the pasturelands of a Victorian-era dairy ranch. The park features dramatic wave-cut coastal terraces, lush meadows, freshwater streams, redwood groves, and farmlands.
Four Mile Beach is the largest beach within Wilder Ranch State Park, although the beach is named for its distance (four miles) from Santa Cruz rather than its length.
Like all the beaches at Wilder Ranch State Park, Four Mile Beach has a wild and remote feel. To arrive at the beach requires a hike along the Ohlone Bluff Trail from the parking lot. This oceanfront hiking trail features amazing panoramic views of the coastline and the deep blue Pacific waters.
Surfers in particular appreciate Four Mile Beach for its ocean swells. The beach is known to have large waves during wintertime.
The beach has public restrooms, and parking is free of charge.
5. New Brighton State Beach, Capitola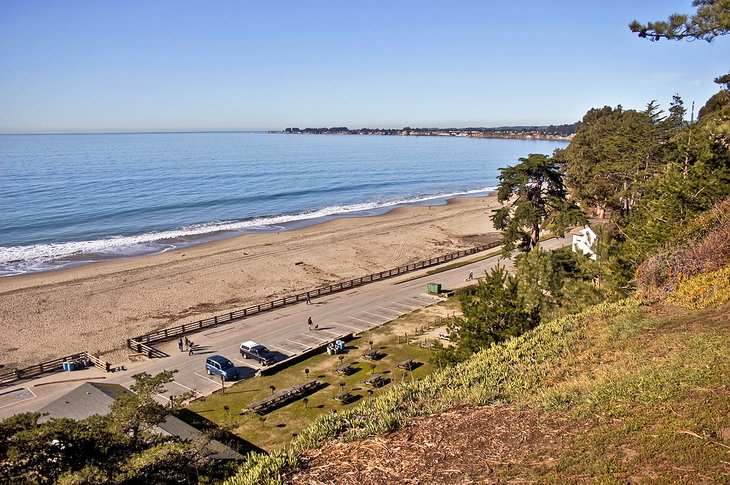 This pristine sandy beach is framed by sandstone cliffs and forested ocean bluffs. In the 1850s, the beach was a popular vacation destination; at that time, it was named after the famous Brighton Beach seaside resort in England.
Today, New Brighton Beach attracts many visitors for fishing, camping, beachcombing, and nature walks. Hikers can admire breathtaking views of Monterey Bay from the hiking trails around New Brighton Beach.
Another highlight of this beach is the Pacific Migrations Visitor Center, which is open during the spring and summer. The center displays exhibits related to nature interpretation and local history.
New Brighton Beach has public restrooms and showers, as well as drinking water fountains.
6. Beaches in Davenport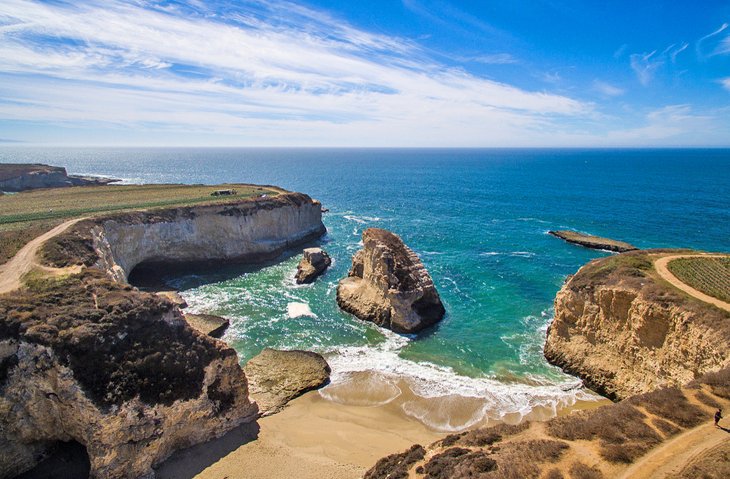 To discover a stretch of stunning unspoiled shoreline, head north of Santa Cruz to Davenport Beach, which is surrounded by farmlands. A patchwork of strawberry and artichoke fields blanket the rolling hills that give way to the Pacific Ocean.
Unlike the beaches of Santa Cruz proper, which are sheltered on the Monterey Bay, the coastline of Davenport is more exposed and wild. Dramatic ocean bluffs frame the shoreline, while the crashing of powerful waves adds to the awe-inspiring natural setting.
Dolphins, porpoises, and sea birds thrive in this pristine environment. During the migration season, whales can be spotted off the coast.
For dramatic scenery, the Davenport Cove Beach does not disappoint. Tucked into tall cliffs, this small cove hides a tiny sandy beach. It's also known as Shark Fin Cove because of a rock that juts out into the mouth of the cove. Some locals say that this rock resembles a shark fin.
Big Creek Beach, which is also called Las Trancas Beach, is a gorgeous, expansive sandy beach nestled below ocean bluffs. This is a natural beach without any facilities.
Davenport beaches are not good for swimming due to the rough waves and dangerous ocean conditions. Instead, they are ideal for nature walks and, during the season, whale watching.
For those in need of refreshments after an invigorating nature walk, the Whale City Bakery (490 Highway One) is highly recommended. This Davenport institution serves hearty meals in a cozy café space or on the outdoor patio. The ocean is close enough to feel the sea breezes from the dining terrace.
7. Seacliff State Beach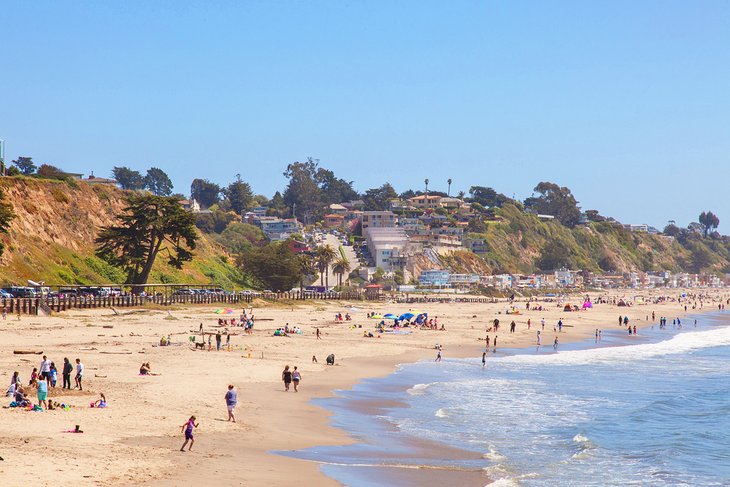 About five miles from Santa Cruz in a sheltered cove, Seacliff State Beach delights visitors with its beautiful expanse of sandy shoreline. Forested ocean bluffs surround the beach and protect against the wind.
The beach has a historic pier that was once part of a busy working port. Today, the pier is used for recreational fishing, although a portion of the pier is in need of repairs.
Another sight stands out at Seacliff State Beach. A WWI-era concrete ship, the S.S. Palo Alto, stands next to the fishing pier. The tanker was never used in the war, and in the 1930s was converted into an amusement center with a restaurant and ballroom. Unfortunately, the ship has not been maintained and is currently closed to the public.
Seacliff State Beach is found in the town of Aptos. Facilities include public restrooms, outdoor showers, parking, a picnic area, and a visitor center. There are also campsites and hiking trails.
8. Natural Bridges State Beach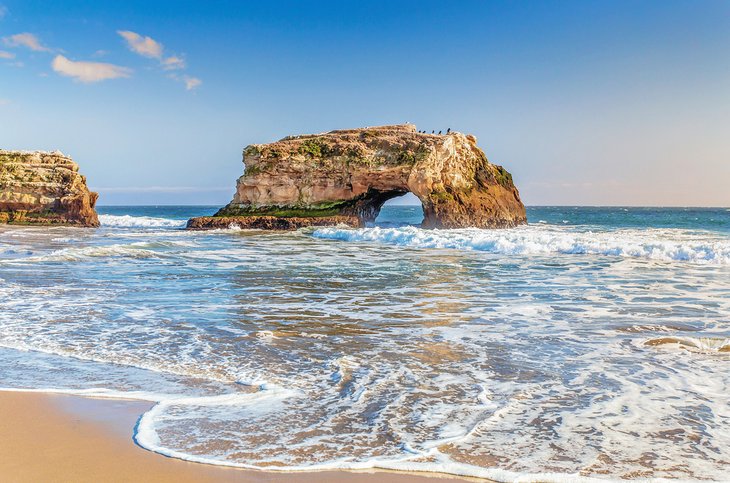 This small, secluded beach amazes visitors with its pristine environment and unique landscape. Coastal grasslands surround the beach, which makes it feel refreshingly untouched. The beach is completely natural, and has no shops or snack bars.
The beach takes its name from the offshore rock formations that appear to be bridges in the ocean. The main draw of visiting this beach is to admire the scenery and appreciate nature.
There are no lifeguards at Natural Bridges State Beach. Swimming and surfing are not recommended due to dangerous rip currents and hazardous ocean conditions.
Although the ocean is off limits, nature lovers can explore the tide pools of Natural Bridges State Beach. A multitude of sea creatures (such as crabs, sea stars, and sea anemones) live in this protected habitat, designated as a State Marine Reserve. It's best to visit the tide pools during low tide.
Natural Bridges State Beach is also home to a Monarch Butterfly Natural Preserve. Situated in a canyon, the preserve's eucalyptus grove provides shelter to thousands of monarch butterflies in the late fall and early winter (usually beginning in mid-October).
Visitors can make use of the free facilities: a picnic area, public restrooms, drinking water fountains, and a visitor center. There are also trails for hiking and cycling.
9. Twin Lakes State Beach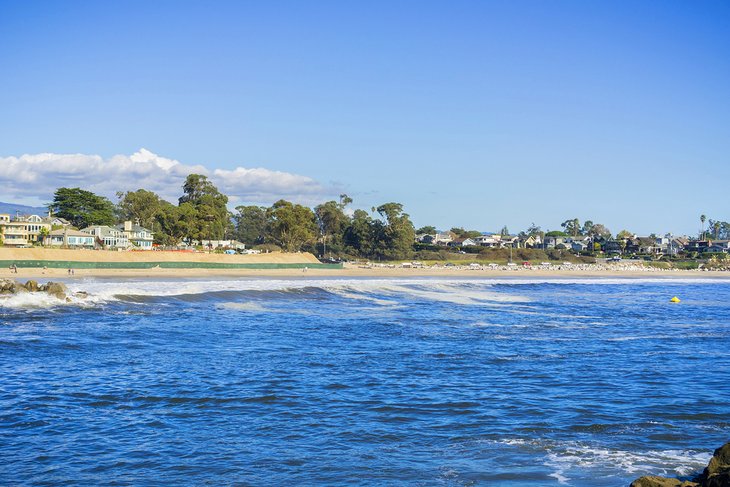 This mile-long stretch of sandy beach is tucked in between the Santa Cruz Harbor and the Schwan Lake Park nature preserve. The beautiful scenery makes Twin Lakes State Beach a pleasant place for relaxation, scenic walks, and bird-watching.
Other favorite things to do at Twin Lakes State Beach include sunbathing, swimming, boogie boarding, surfing, and paddleboarding. It's also a popular spot for picnics.
The beach has excellent facilities: picnic tables, public restrooms, outdoor showers, and limited parking. During summertime, lifeguards are on duty.
10. Rio del Mar State Beach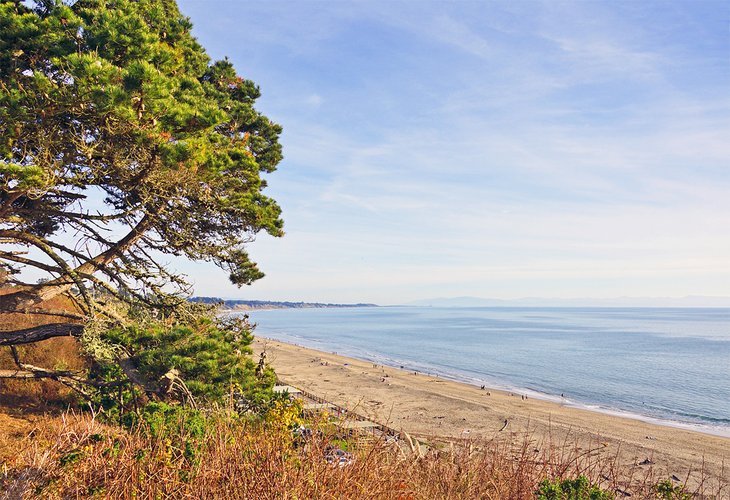 Near Seacliff State Beach in Aptos, Rio del Mar State Beach extends for about a mile beginning at the waterfront on Rio del Mar Boulevard.
This locals' favorite beach is a great place for recreation, including fishing, swimming, whale watching, and birding. Sports enthusiasts can also enjoy other outdoor activities, such as surfing, paddleboarding, boogie boarding, and volleyball.
Facilities include picnic tables, public restrooms, showers, and parking.
Map of Beaches in Santa Cruz, CA
Santa Cruz, CA - Climate Chart
Average minimum and maximum temperatures for Santa Cruz, CA in °C
J
F
M
A
M
J
J
A
S
O
N
D

16

4

17

6

18

6

21

7

22

8

23

10

24

12

24

12

24

11

23

9

18

6

16

4

PlanetWare.com
Average monthly precipitation totals for Santa Cruz, CA in mm.

165

156

121

50

18

5

4

3

10

37

104

107