12 Best Parks in San Jose
San Jose has several beautiful parks to enjoy. Whether you're in search of a park for a birthday party or a place to burn off some energy, there's a public outdoor space within a short drive. And among the many parks in San Jose are a bountiful collection of city, county, and regional parks.
From one of the oldest municipal parks in California to several co-managed county parks throughout the region, San Jose has a surplus of places to enjoy the day. These parklands also cater to a wide range of activities. A few of the most popular things to do in San Jose parks include playground climbing, hiking to a view, or stopping to smell the flowers.
From March through November, nearly every park in San Jose is a great park for picnicking. The nice weather throughout this long season leads to favorable al fresco dining opportunities. And all the best parks have an array of different picnic sites.
Enjoy some time outside with our list of the top parks in San Jose, CA.
1. Municipal Rose Garden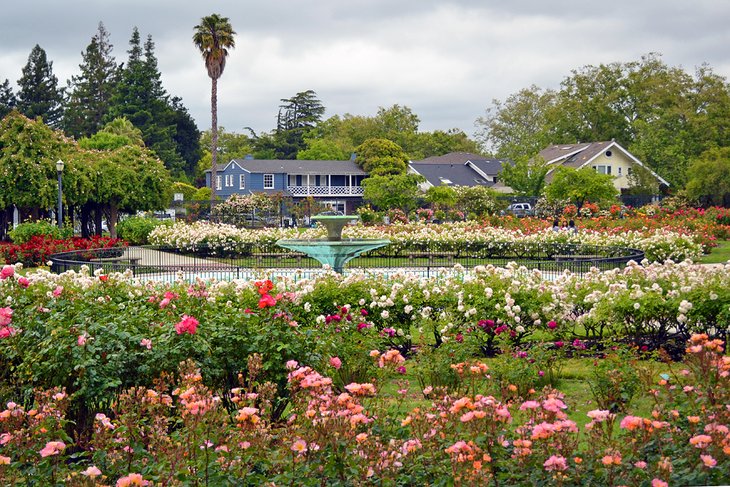 San Jose's Municipal Rose Garden is a signature outdoor space of the city. This blooming attraction is most colorful from late April through May. However, with over 3,500 plantings, something is always in bloom between April and November.
The garden encompasses over five acres lined with rose shrubs and other landscaping, offering plenty of room to spread out the crowds. It's a popular spot for strolling or taking photographs, especially during peak bloom season. Permits are required for commercial photography.
Other park amenities at the Municipal Rose Garden include picnic areas and restrooms. The garden also has a fountain, an arbor, and a rose garden stage, which offers a lovely venue for big celebrations like weddings.
The park is open every day from approximately sunrise to a half-hour after sunset. Parking is available on all streets surrounding the park.
The Rosicrucian Egyptian Museum, another top attraction of San Jose, is less than a block away for a fun add-on adventure. This family-favorite museum features its own unique landscaping and courtyard.
2. Happy Hollow Park & Zoo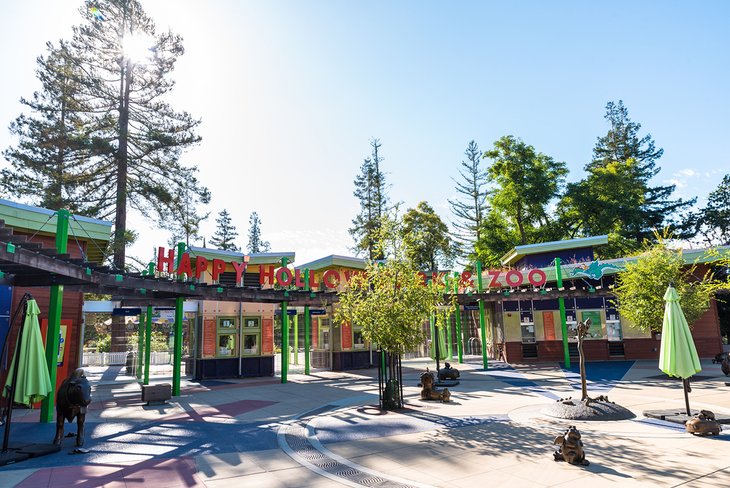 Happy Hollow Park and Zoo encompass 16 acres on the north end of Kelley Park in San Jose. This city parkland and zoo are very popular spots to explore, with several animal activities and other park amenities to take up the day.
The AZA-accredited zoo at Happy Hollow is the main focal point for many visits. Resident animals here include a fox, tortoise, wallaby, and larger animals like jaguars and American alligators. The zoo also hosts several kids' programs for educational opportunities and hands-on discovery.
Happy Hollow is also a popular place to play and explore, as well as seeing the animals. Rides like a carousel and kiddie swings provide endless hours of entertainment. Other attractions include a Dino dig, crooked house, and expansive Redwood Lookout play structure.
Official site: https://happyhollow.org/
3. Los Gatos Creek County Park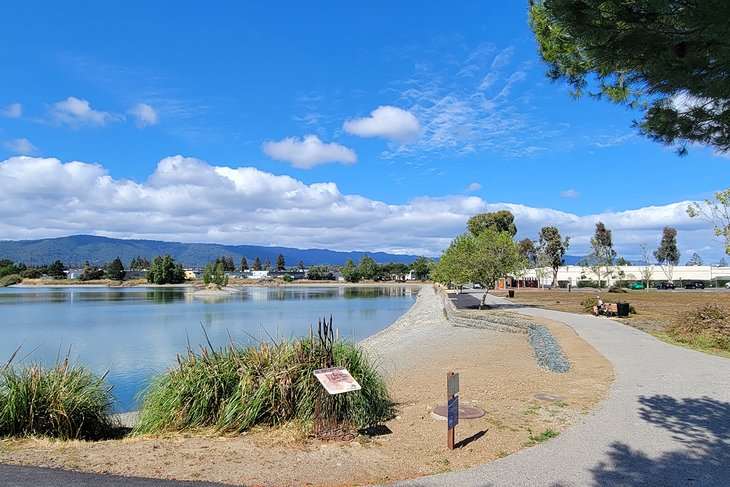 Los Gatos Creek County Park is a popular public space and an excellent jumping-off point for the city-spanning Los Gatos Creek Trail. The park is southwest of downtown in the neighboring city of Campbell, accessible from downtown with a 15-minute drive. San Jose cyclists reach the park with a 3.5-mile bike ride on the Los Gatos Creek Trail, starting from Meridian Street.
An entry fee is required for parking. Next to the large parking lot, visitors have access to an abundance of open space, including five ponds near the entrance gate. No swimming is allowed, but the landscape is easy to appreciate, and fishing is permitted with a valid license.
The paved Los Gatos Creek Trail spans north and south of the park. It's one of San Jose's best urban bike trails and connects several cities and communities along the way. Follow the Los Gatos Creek Trail a little bit south and discover Vasona Lake County Park, with similar open space amenities.
4. Almaden Lake Regional Park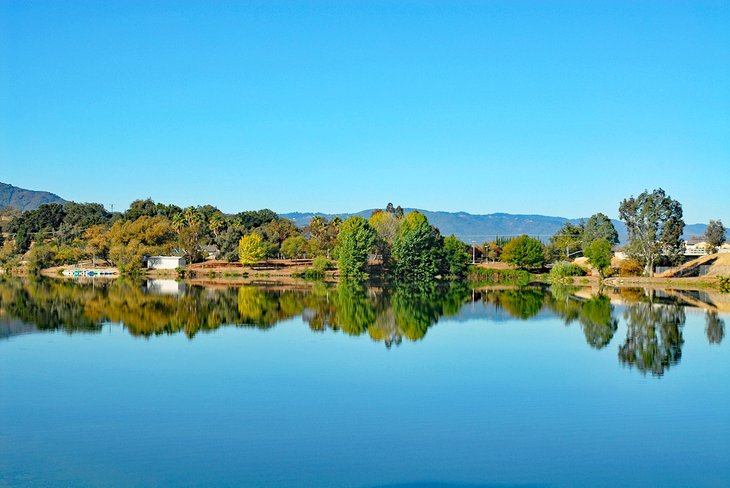 Almaden Lake Regional Park is a popular outdoor space in the southern San Jose city limits. The 65-acre park centers around the lake itself, where fishing is popular throughout the week (permit required). But it's not just angling that makes the park popular.
The park is home to several sports facilities. Basketball courts and volleyball nets get daily use at the park, and the horseshoe pits and bocce ball courts also host frequent games. Visitors need to bring their own sports equipment. All facilities are available on a first-come, first-served basis.
Almaden Lake is also a popular spot for picnicking and enjoying nature. The park has several reservable and non-reservable picnic sites, including group facilities. Many picnic spots overlook the lake, offering a beautiful view across a designated bird sanctuary.
5. Alum Rock Park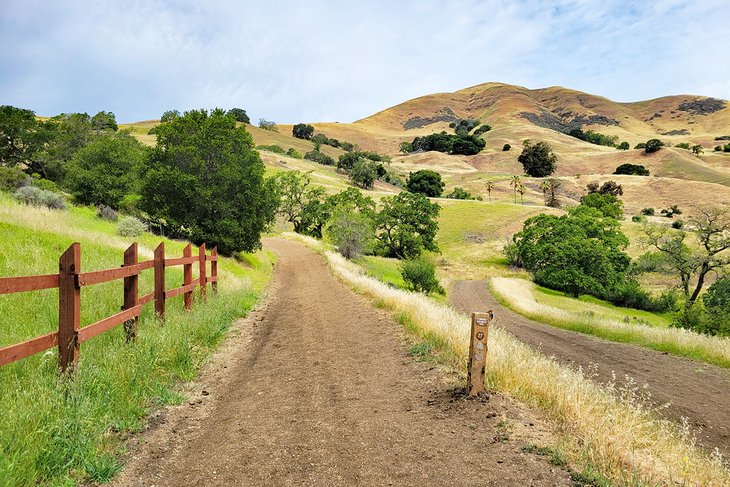 Alum Rock Park is one of California's oldest municipal parks. It encompasses over 700 acres within a canyon on the northeast side of town. It's a popular place for several activities, particularly hiking, with approximately 13 miles of trails. Some of these trails also cater to cyclists and horse riders.
The park is also home to several reservable and non-reservable picnic areas. Other park amenities include open lawn space and children's play areas, and appreciating the natural environment is a top activity, as Upper Pentencia Creek runs through the bottom of the canyon with distinct landscapes on either side.
Eagle Rock Trail at Alum Rock Park, one of San Jose's best hiking trails, is a must-do when visiting. A few different trailheads lead to this famous vantage point, all leading uphill. Make the climb and enjoy one of the best views in the park overlooking Santa Clara Valley.
6. Japanese Friendship Garden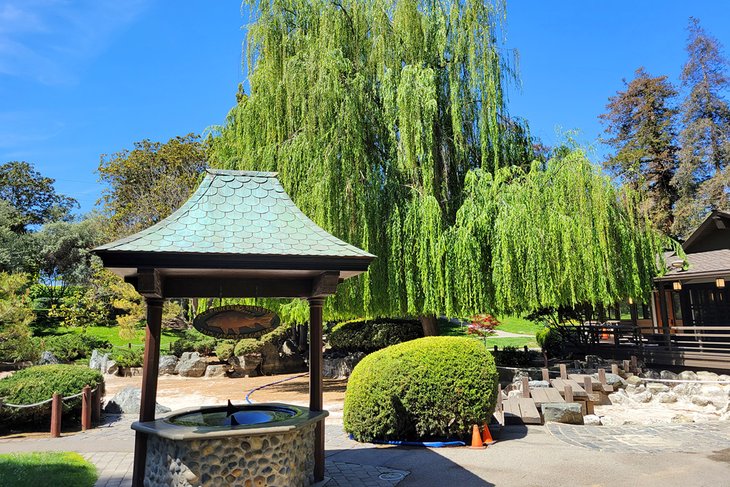 San Jose's Japanese Friendship Garden dates back to 1965 and stands as a symbol of the relationship with Okayama, Japan, San Jose's sister city. It's near the center of town, next to Kelley Park and Happy Hollow Park & Zoo. This central location makes for an easy escape into the garden's tranquil settings.
A few notable pieces of park architecture include Japanese bridges, waterfalls, and a community teahouse. The Japanese garden is a popular spot to bring a camera, though permits are required for commercial photography.
A 2017 flooding of Coyote Creek damaged the Japanese Friendship Garden, including the elaborate Koi Pond. The garden is open as of 2022 and is still beautifully landscaped, though the large koi pond is empty. The park's fish are now kept in a smaller pond on-site until the necessary filtration systems are put in place.
7. Hellyer County park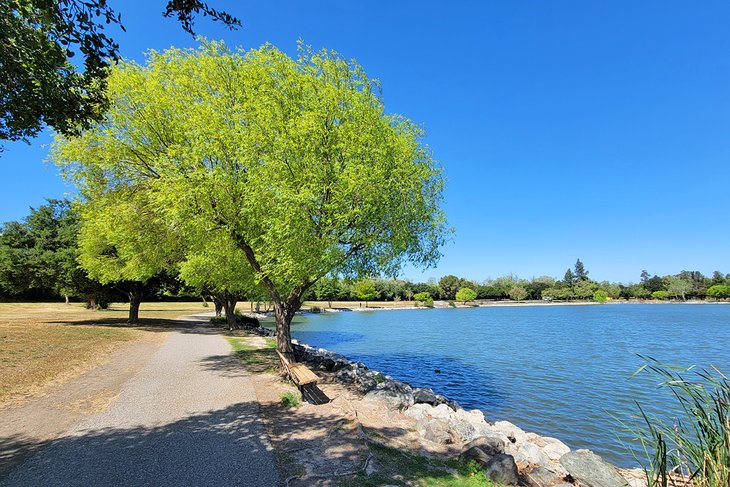 Hellyer County Park is a popular urban park southeast of downtown, accessible off the 101. Coyote Creek and the adjacent Coyote Creek Parkway run right through the middle of the park, offering outlets for adventure in either direction. But the park itself has plenty for a full day of activity.
Much of the park's beauty centers around Cottonwood Lake. Outside of simply seeing this body of water and its many birds that tend to gather, it's also a popular fishing spot throughout the year. Fishing licenses are required for anglers over the age of 16. Other amenities like group picnic areas and sitting benches also surround the lake.
Hellyer County Park is also home to a unique Olympic-sized velodrome. Professional and amateur bicycle races take place on this banked track throughout the year. Other sports at Hellyer include two nine-hole disc golf courses with multiple tee and pin locations.
8. Guadalupe River Park and Gardens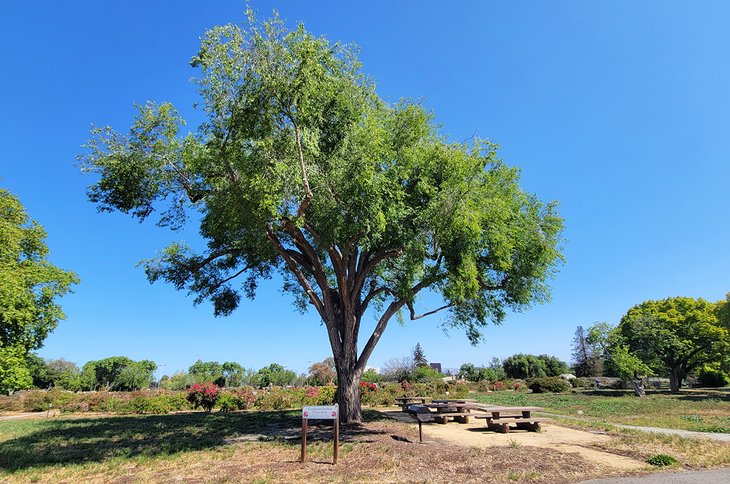 This linear park encompasses approximately three miles of the Guadalupe River, stretching north from downtown and past Little Italy. A lush riparian corridor surrounds the river, and a paved bike trail connects several different features of the park.
North of downtown, Rotary PlayGarden is one of the most popular spots in Guadalupe River Park. This innovative and inclusive park has several adaptive play elements designed for all children, including children with special needs. It's free to enjoy this fenced-in park, and plenty of free parking is available.
Other features of Guadalupe River Park include a Heritage Rose Garden with over 3,700 varieties, farther north of Rotary PlayGarden. And nearest downtown, Guadalupe River Park is often home to significant community events and concerts.
9. Emma Prusch Farm Park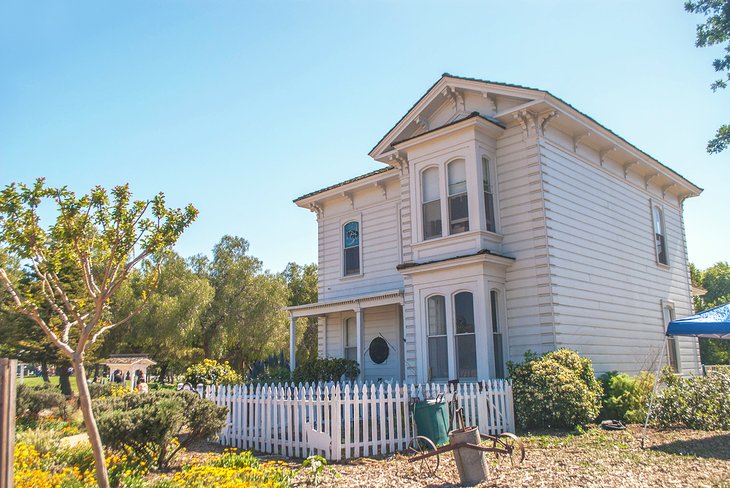 Emma Prusch Farm Park is a unique city park near the center of San Jose. Native San Josean Emma Prusch deeded her dairy farm to the city in 1962 in hopes that it would retain its natural setting. And today, this 47-acre park still has a country feel in the middle of the town.
It's free to visit Emma Prusch Farm Park, including parking. The site has several remnants from its dairy age, including the farmhouse, which serves as the park office. Also on-site is a large livestock barn, sometimes occupied by 4-H farm animals. And an open pasture goat and sheep area is next to the barn.
The park is home to several community engagements like after-school classes and summer camps. And two playgrounds at Emma Prusch also tend to get a lot of adolescent attention. The park also has several designated picnic areas, some available for reservation.
10. Campbell Park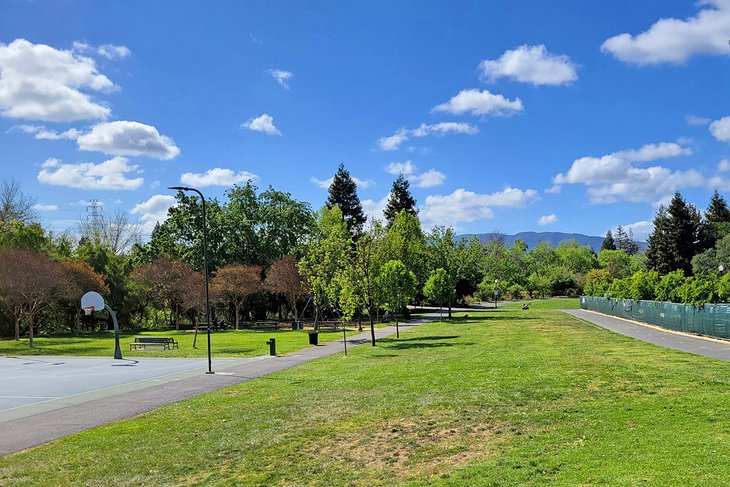 Campbell is a small but popular community park south of downtown, along the banks of Los Gatos Creek. The popular Los Gatos Creek Trail passes through the area, connecting Campbell to other parks and downtown.
It's a nice, clean open space at Campbell Park, surrounded by an otherwise busy part of town. Visitors often take advantage of the park's facilities, including basketball courts, horseshoe pits, and plenty of picnic space. It's also home to a large playground area, popular with children.
Campbell's large, open grassy area is popular for lounging and setting a blanket down. This space is next to the paved Los Gatos Creek Trail, where several walkers, bicyclists, and other pedestrians pass by with frequent volume.
11. Joseph D. Grant County Park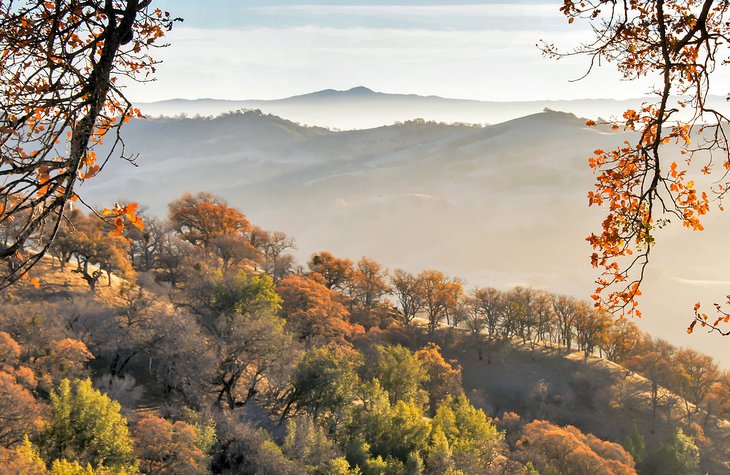 Joseph D. Grant is the largest county park within the Santa Clara County Regional Park system. It spans over 10,000 acres on the east side of Santa Clara Valley. Visitors from downtown San Jose reach this massive open space with an approximately 15-mile drive.
The landscape at Grant Park comprises rolling foothills at the base of Mount Hamilton, part of the Diablo Range. These environs include grasslands, oak trees, and prime habitats for cattle grazing, which still occurs at the park today. The area is also rich with wildlife, particularly birds, but with other sightings like deer and European wild pigs.
Exploring the trails at Grant Park is the most popular activity. Visitors have over 50 miles to choose from, with many of the trails catering to hiking, mountain biking, and horse riding alike. The park is also home to a popular campground, with approximately 40 reservable sites available.
12. Willow Street Frank Bramhall Park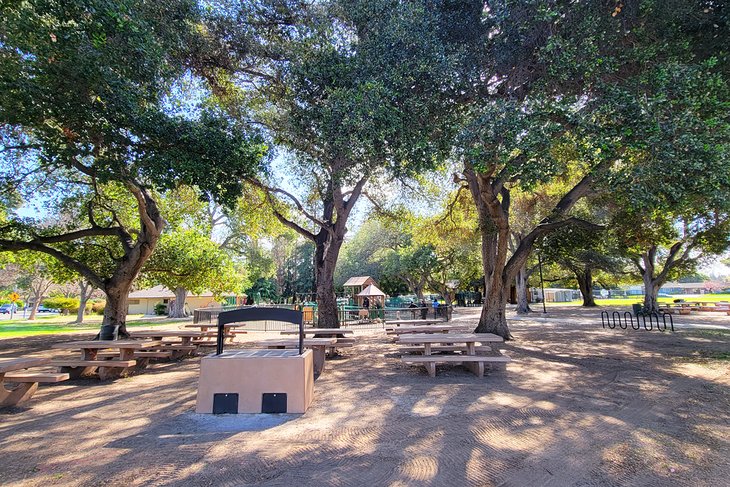 Willow Street Frank Bramhall is a lovely little city park just south of downtown. It's a popular place for several sports activities and enjoying the sunny weather. On-site are two softball fields, two basketball courts, and six tennis courts. These sports facilities are unlit and occasionally occupied by organized leagues.
The park also has several picnic areas available. Some of these al fresco dining sites are first-come, first-served, and others are available by reservation. A playground area sits next to many of the picnic tables, offering a popular spot for playdates and time spent outside with kids.
Map of Parks in San Jose