12 Top-Rated Attractions & Things to Do in Fremont, CA
We may earn a commission from affiliate links ()
A bustling Bay Area city close to Silicon Valley, Fremont combines the rich history of the region with many fun things to do. Mission Peak and the surrounding hillsides add a beautiful backdrop to the city and a challenging set of trails well utilized by the active community. More scenic landscapes can be found at the Don Edwards San Francisco Bay National Wildlife Refuge, near the iconic Dumbarton Bridge, connecting to the tech-savvy city of Palo Alto.
From the recreated Mission San Jose to the railroad history highlighted at the Niles Canyon Railway, the legacy of Fremont is on full display throughout the city. Silent film culture in Fremont is well preserved at the Niles Essanay Silent Film Museum, featuring weekly film screenings. More of the past waits to be discovered at scenic places in Fremont, like the Shinn Historic Gardens and the living-history Ardenwood Historic Farm.
Other family-friendly things to do in Fremont include the activities found at Central Park. Featuring a scenic path circling Lake Elizabeth and numerous picnic spots, this public space attracts tourists and residents (as well as numerous migrating geese.) More outdoor highlights in Fremont entail hiking the trails and landscapes of the surrounding regional parks-including the sunset-worthy Quarry Lakes Regional Recreation Area.
Plan your sightseeing with our list of the top attractions and things to do in Fremont, California.
Note: Some businesses may be temporarily closed due to recent global health and safety issues.
1. Coyote Hills Regional Park
Adjacent to San Francisco Bay and the Don Edwards National Wildlife Refuge, Coyote Hills Regional Park is a popular spot for recreation from Fremont. It encompasses over 1,200 acres of marshland habitat and rolling, grassy hills. Popular things to do at Coyote Hills include hiking, bicycling, bird-watching, and photography. The Coyote Hills Visitor Center is a good first stop when visiting, and special guided tours of the recreated Tuibun Ohlone Village Site are available by reservation.
Address: 8000 Patterson Ranch Road, Fremont, California
Official site: https://www.ebparks.org/parks/coyote_hills/
2. Mission Peak Regional Preserve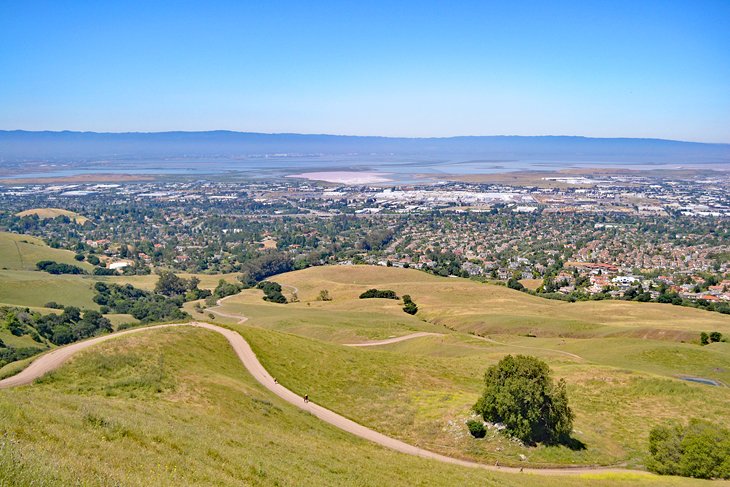 A popular regional preserve east of Fremont encompassing over 3,000 acres, Mission Peak provides a challenging summit hike and mountainous backdrop to the city. Visitors can access summit trailheads from either Ohlone College or a parking area on Stanford Avenue, where parking is scarce. Both trailheads lead to the top of Mission Peak with a challenging three to four-mile hike, usually taking at least five hours to complete a round-trip.
No water sources exist along the trail, and the combination of steep hiking and high temperatures often prove challenging. Early morning starts are nearly mandatory for exploring Mission Peak Regional Preserve in the summer. Offering more fun things to do outside, the terminus of the 29-mile Ohlone Wilderness Trail is at the preserve, connecting via trails to the adjacent Sunol and Ohlone Regional Wilderness areas.
Address: 43600 Mission Boulevard, Fremont, California
Official site: https://www.ebparks.org/parks/mission/default.htm
3. Central Park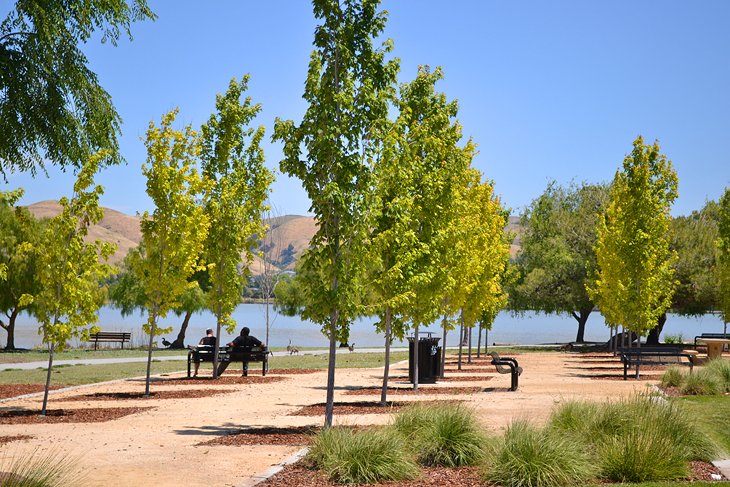 A central spot for outdoor activities in Fremont, this popular city park is centered around the 80-acre Lake Elizabeth. Backdropped by the Mission Peak Hills, a two-mile paved pedestrian trail circumnavigates the entire lake and is lined with great views. Popular for lunch breaks, birthday parties, and family time outside, several park amenities surround the lake, offering plenty of free and fun things to do.
The seasonal Aqua Adventure Water Park within Central Park is a hot spot to visit during the summer, and several picnic areas line the west side of the park. The Central Park Dog Park is popular with pet owners, and the Fremont Skate Park is frequented by adults and kids alike. For those interested in getting on the water, the park features a boat ramp and concessionaire with paddle boat rentals by the hour.
Address: 40000 Paseo Padre Parkway, Fremont, California
4. Alameda Creek Regional Trail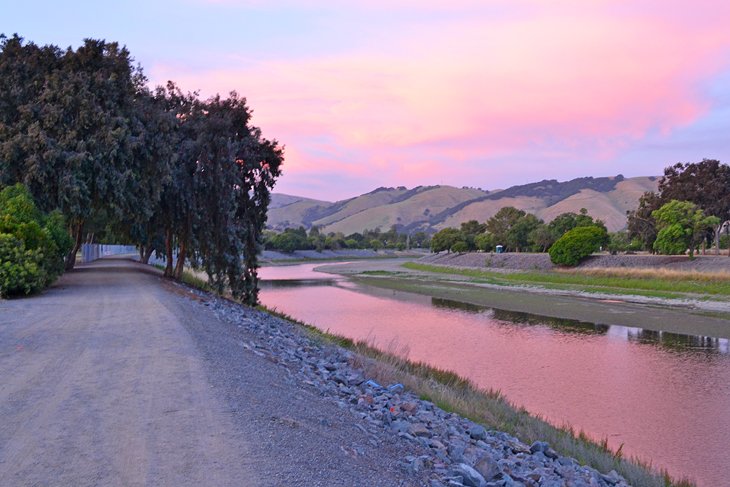 From the mouth of Niles Canyon to the shoreline of Don Edwards National Wildlife Refuge, this 12-mile, paved pedestrian trail connects many of the most scenic areas in Alameda County. Popular with walkers, runners, and cyclists, two trails span both sides of Alameda Creek. The North and South Alameda Creek Trail connect with other great natural spaces in Fremont, including Quarry Lakes Regional Recreation Area and Coyote Hills Regional Park. Day-use-only motor vehicles are not allowed on the trail.
Address: Alameda Creek Trail, Fremont, California
Official site: https://www.ebparks.org/parks/trails/alameda_creek/default.htm
5. Ardenwood Historic Farm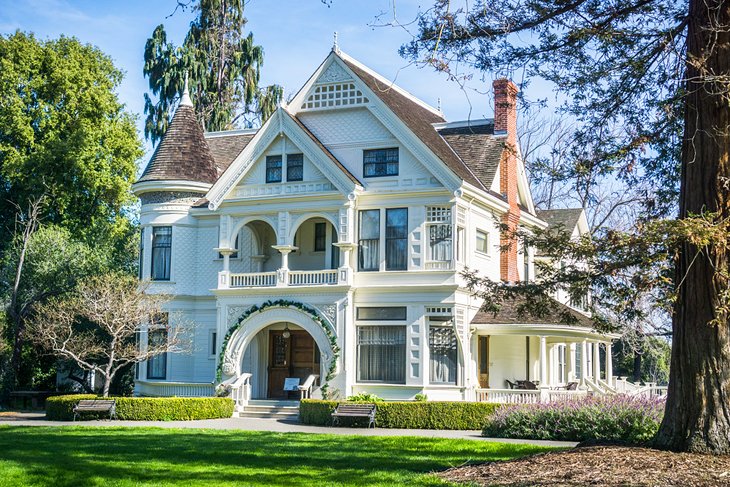 Operated by the East Bay Regional Park District, this living-history farm depicts an 1800s working ranch. The centerpiece attraction of this historical landmark is the Victorian mansion once belonging to the pioneering Patterson family. Garbed in proper 1800s attire, costumed members of the staff guide visitors through this country estate, as well as demonstrate period authentic chores and ways of living.
A Victorian garden is found on the property, as well as friendly farmyard animals. The on-site Farmyard Cafe serves up fresh fare on the weekend. Extra appeal can be found at the on-site Railroad Museum and train rides, and the wildflowers at Ardenwood tend to draw a crowd in the spring, as do migrating butterflies come winter.
Address: 34600 Ardenwood Boulevard, Fremont, California
Official site: https://www.ebparks.org/parks/ardenwood/
6. Old Mission San Jose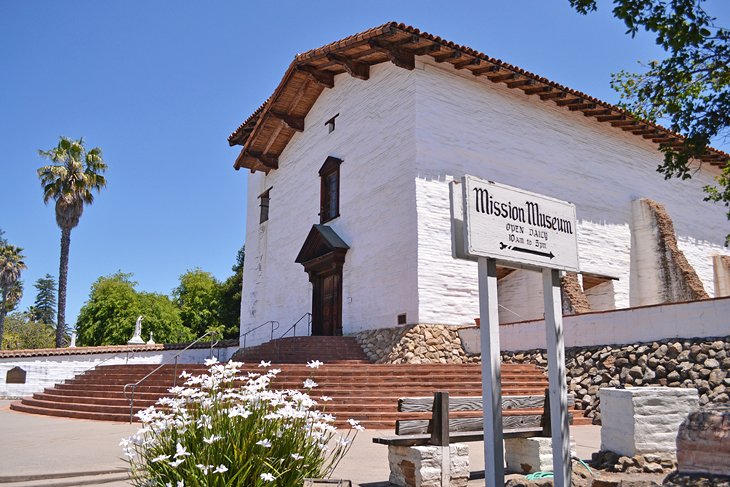 Founded in 1797 by a Franciscan missionary, the Mission San Jose was first constructed on a land inhabited by indigenous Ohlone people. Today, the Mission San Jose offers a family-friendly thing to do, with street parking available. An 1868 earthquake destroyed much of the original church and structures of Mission San Jose, but community efforts in the 1980s reconstructed the Old Mission to appear as it would have during its 1800s heyday.
Thousands of 4th graders visit the Mission San Jose each year as part of a regional education program, and anyone is welcome to come check out the mission and museum any day of the week. For a small price of admission, interested tourists can take a self-guided tour of eight rooms within the mission, filled with artifacts and exhibits. The chapel of Mission San Jose is the most ornate area of this historical landmark and offers weekday mass in the mornings.
Address: 43300 Mission Boulevard, Fremont, California
Official site: http://missionsanjose.org/
7. Quarry Lakes Regional Recreation Area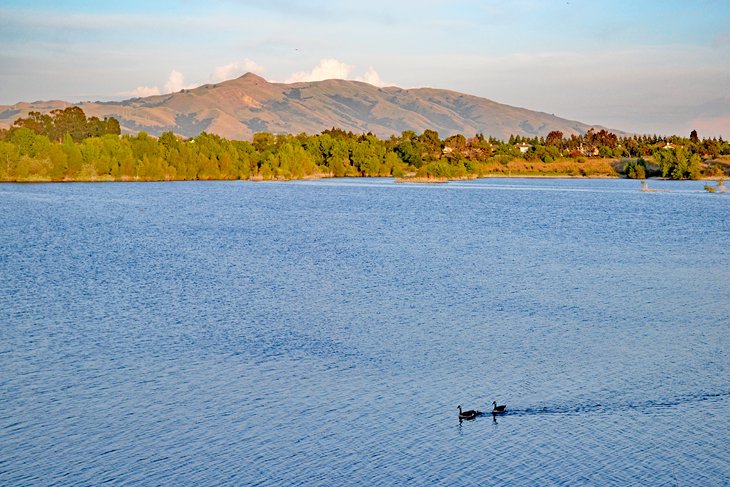 Lined with hiking trails and outdoor things to do, this regional recreation area is centered around a collection of mid-19th-century gravel quarries. Now filled with vital groundwater recharge, recreation is abundant in this scenic public space, including activities like swimming, hiking, and having a picnic by the shore. A free summer activity, swimming is allowed at the designated beach near the park entrance. The roughly six-mile trail that circumnavigates the quarries is a great place to catch the sunset in Fremont.
Address: 2100 Isherwood Way, Fremont, California
Official site: https://www.ebparks.org/parks/quarry_lakes/default.htm
8. Niles Canyon Railway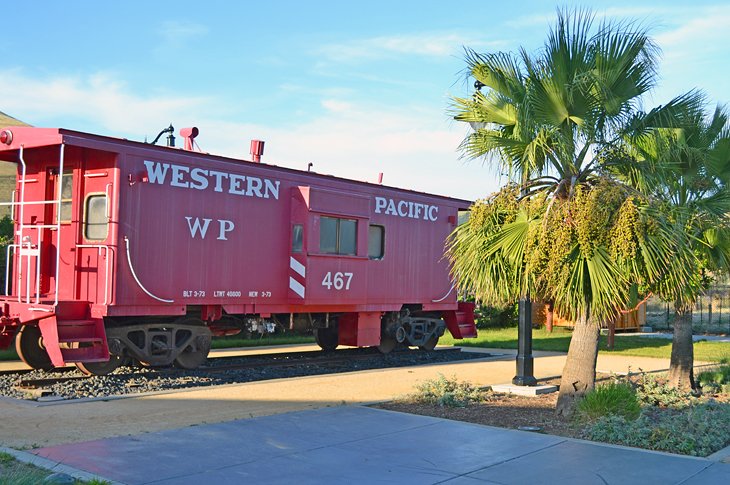 A locomotive living history museum, the Niles Canyon Railway is dedicated to preserving the railroad culture of the Pacific Coast between 1910 and 1960. With a growing collection of train cars, including motorcars, passenger cars, and cabooses, the real appeal of this historic attraction is the actual train rides offered through Niles Canyon and the history of the region.
Guided by costumed characters, a few of the specialty train rides offered by this heritage railway include "Romance on the Rails" and "Moonlight Train Rides." Throughout the month of December, a special "Train of Lights" features an hour-long ride filled with holiday cheer and decorations. Part of the Passport to Adventure program, Niles Canyon Railway is one of nine historical and cultural destinations in Fremont where tourists can collect a special stamp.
Address: 6 Kilkare Road, Sunol, California
Official site: https://www.ncry.org/
9. Niles Essanay Silent Film Museum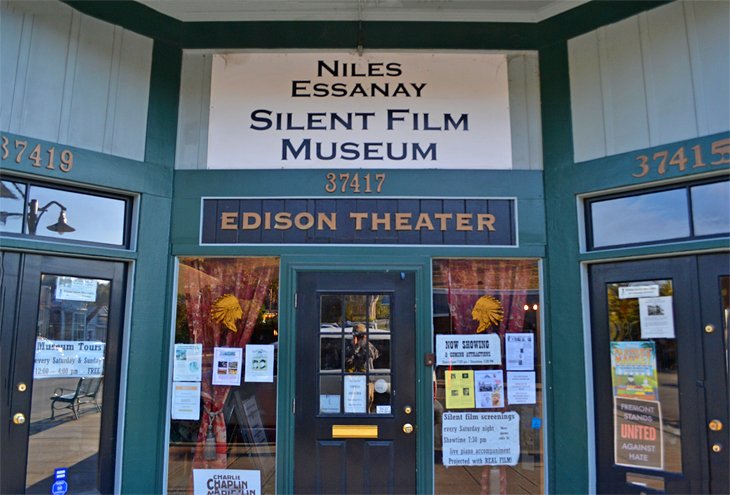 In the historic Niles District of Fremont, this unique museum preserves and presents many artifacts of the silent-film era, including the movies themselves. Offering silent movie screenings most Saturdays with live piano accompaniment, the museum also displays numerous posters, cameras, and authentic memorabilia from the silent-film era. Charlie Chaplin is well represented at the museum, in part because of the movies he filmed in Fremont.
The museum's building is a historic landmark itself, once belonging to the prominent Niles Essanay Studios. Other notable silent film stars represented at the museum include Buster Keaton, Laurel and Hardie, Broncho Billy, and Lillian Gish.
Across the street from the Silent Film Museum, the Niles Canyon Railway and Depot allows tourists to explore another prominent industry of Fremont's past.
Address: 37417 Niles Boulevard, Fremont, California
Official site: http://nilesfilmmuseum.org
10. Don Edwards San Francisco Bay National Wildlife Refuge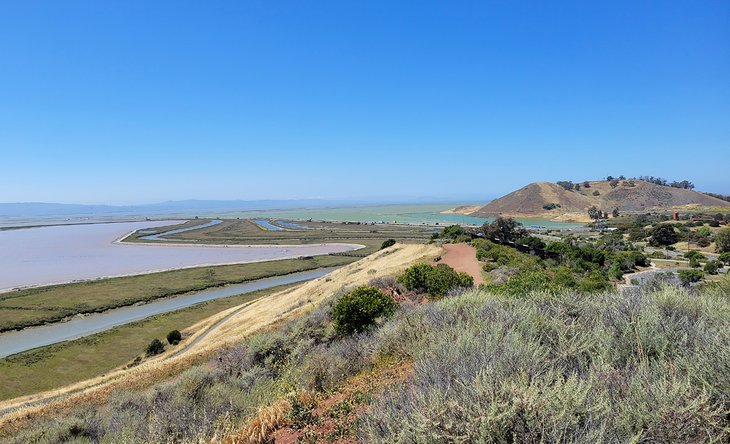 On the southern end of San Francisco Bay, accessed from the iconic Dumbarton Bridge, this urban wildlife refuge encompasses over 30,000 acres of vital natural terrain. A variety of habitats are found within the refuge, primarily including marshes, mudflats, ponds, and vernal pools. Visitors have an opportunity to spot wildlife, including numerous species of migratory birds, and other popular free things to do at the refuge include fishing, photography, and utilizing the 30 miles of trails that span the refuge.
Address: 2 Marshlands Road, Fremont, California
Official site: https://www.fws.gov/refuge/don_edwards_san_francisco_bay/
11. Shinn Historical Park and Arboretum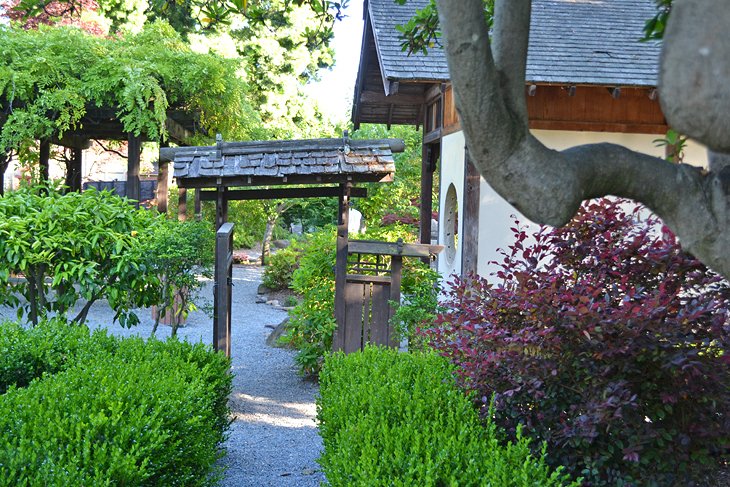 A secret gem of natural space just north of downtown, Shinn Historical Park and Arboretum provides a quick escape into a relaxed environment. Encompassing 4.5 acres bounded by fence line, the gardens at Shinn Historical Park feature a wide variety of plants from around the world. Tours of the 1876 Big House on the property are available twice a month through the Mission Peak Heritage Foundation. The entire park and arboretum can be rented out, with space for up to 200 people.
Address: 1251 Peralta Boulevard, Fremont, California
12. Dumbarton Bridge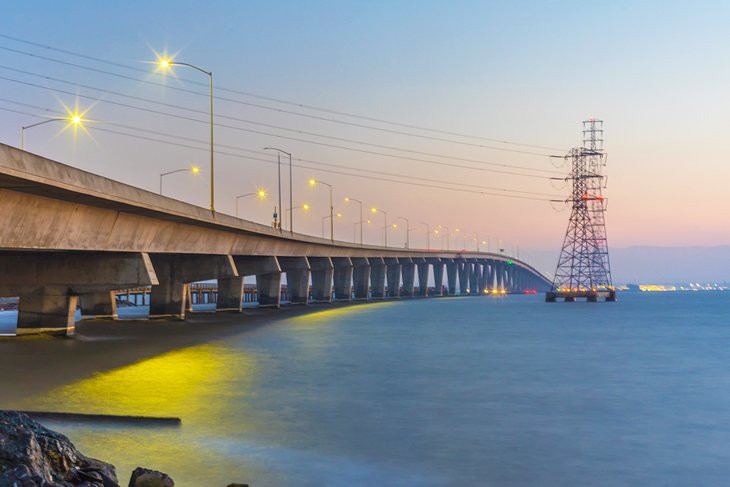 The southernmost bridge crossing San Francisco Bay, the Dumbarton Bridge connects Fremont with the tech-savvy city of Palo Alto, and farther north, San Francisco. A heavily used thoroughfare during rush hour, the bridge also lends access to Coyote Hills Regional Park and the Don Edwards National Wildlife Refuge. It's a true marvel of engineering. Thousands of vehicles cross the bridge every day, and driving across Dumbarton can be a fun experience for tourists coming from outside of the area.
Where to Stay in Fremont, California for Sightseeing
Mid-Range Hotels:
Budget Hotels:
On the south side of town, the Good Nite Inn

Fremont

offers among the best value in the entire Bay Area. What makes the property such a good deal is the cleanliness, comfort, and customer service received for a startlingly low rate. It offers standard rooms with queen or king-sized beds, with complimentary Wi-Fi and basic cable. Guests are also welcome to free coffee and tea in the lobby every morning.
Another great stay with a low overnight rate is available at Days Inn by Wyndham

Fremont

. It's conveniently located south of town, surrounded by several restaurants, with free parking available. The quiet nature of the hotel and neighborhood, plus the affordable overnight rates, make it a popular spot for family travel. Complimentary continental breakfast is offered each morning off the lobby, and coffee makers are in each room. Other hotel amenities include free Wi-Fi and a multilingual cable package.
Also on the south side of town, the Extended Stay America - Fremont - Warm

Springs

is a top spot for extended travel at a discounted price. Every room at this budget-friendly hotel features a fully equipped kitchen with a full-size fridge, stovetop, microwave, and dishes. Every room also features clean and comfortable decor, and the hotel has built an excellent reputation for customer service. Pet-friendly rooms are available.
More Related Articles on PlanetWare.com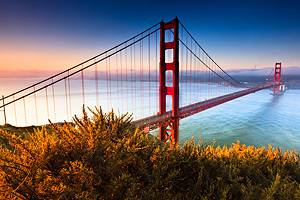 Seeing and Experiencing San Francisco: For a complete San Francisco experience, staying in a San Francisco hotel opens up multiple days of exploring. Our San Francisco hotel guide can help you find the right hotel for your type of travel. For exploring San Francisco with the family or children, our article on San Francisco with kids highlights many attractions that children and parents will both enjoy. To enjoy the beautiful Bay Area, our selection of sights to see on a San Francisco Walking Tour allows for car-free travel.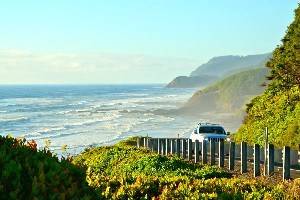 California Road Trip: A state rich with natural attractions, California includes rugged coastlines, high alpine peaks, wild rivers, and more than one active volcano. One of the best ways to cover all the best places to visit on a California vacation is to link together multiple destinations in one visit. Some of the best West Coast road trips span the state of California, connecting state and national parks with vibrant cities. For more unique destinations on the itinerary, our guide to California off-the-beaten path travels to lesser-known gems of the state.