15 Top-Rated Weekend Getaways in the Bay Area, CA
When you're ready for a break and want to get away from San Francisco for the weekend, you have a seemingly endless array of options. Couples may want a romantic getaway near San Francisco, like The Ritz-Carlton, Half Moon Bay with its ocean-view rooms, luxurious spa, and fine dining. Families traveling with children may prefer a resort destination with a wider range of activities, like Lake Tahoe or Yosemite National Park.
You don't have to travel far from San Francisco to feel like you are getting away from it all. Muir Beach in Marin County is only 18 miles from The City (about a 45-minute drive) but gives the impression of a hidden paradise. The landmark Claremont Club & Spa offers a pampering resort experience only 12 miles (a 35-minute drive) from San Francisco.
California's excellent freeway and highway system means many weekend getaways from the Bay Area are no more than a few hours away by car. The historic waterfront town of Monterey and the enchanting seaside village of Carmel are about a three-hour drive down the coast.
Plan an interesting short break, adventurous weekend away, or relaxing escape with our list of the best weekend getaways in the Bay Area.
1. Lake Tahoe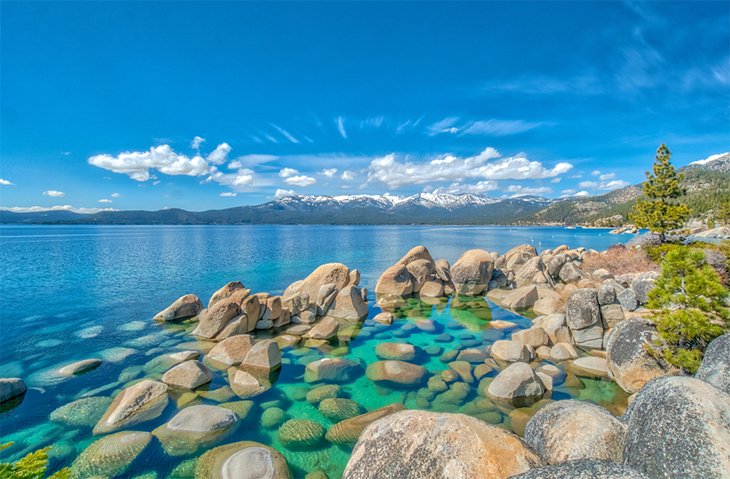 The country's largest alpine lake covers a part of the border between California and Nevada, about 200 miles from the Bay Area. The drive takes only about four hours without traffic.
During wintertime, Lake Tahoe is a snowy wonderland and a world-class ski destination. Several large-scale ski resorts surround Lake Tahoe, and the ski slopes overlook the dazzling expanse of emerald-blue waters.
In the summer, outdoor activities draw many visitors to Lake Tahoe. Families and adventure seekers alike appreciate the wide range of attractions and things to do, from boating and fishing to hiking and mountain biking. Thousands of miles of hiking trails are found in the Lake Tahoe wilderness.
When the weather is warm, visitors flock to Lake Tahoe's beaches for the stunning mountain scenery and wide array of recreational opportunities. During the summer, the lake's snow-melted waters become more temperate (tolerable for swimming in shallow area), and the ripples glisten in the sunshine.
Kings Beach State Recreation Area offers a superb stretch of sandy beach that is ideal for sunbathing, swimming, and boating. The recreation area has excellent amenities, and the nearby town of Kings Beach is brimming with shops, casual eateries, and snack bars. Another favorite lakefront spot is Incline Village, a lively area with an abundance of hotels, boutiques, and restaurants.
2. Stinson Beach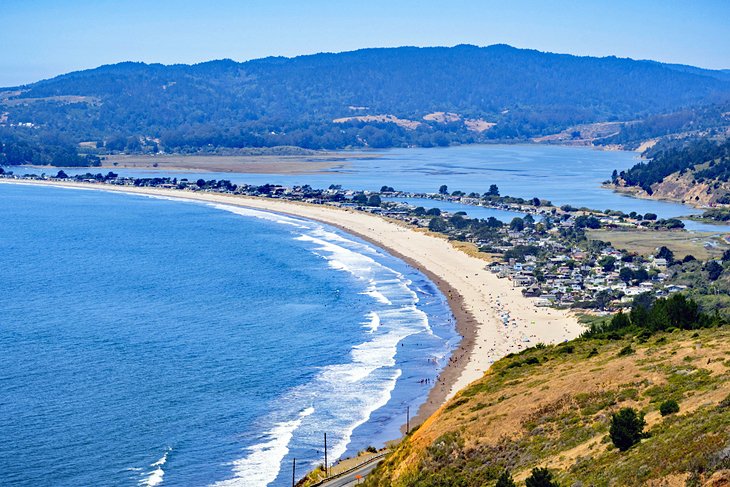 You can't beat Stinson Beach for an old-fashioned easy Bay Area weekend getaway, especially for families. Tucked away behind rolling hills in the Golden Gate National Recreation Area, Stinson Beach is considered one of the best beaches in California. The fine white-sand shoreline extends for miles. It's a great beach for sunbathing and playing volleyball in the summertime, and swimming is possible when the conditions are safe.
Lifeguards survey the beach from July through Labor Day weekend. Winter and spring seasons draw surfers, who practice the sport at their own risk. Facilities at Stinson Beach include public restrooms, showers, a snack bar, and picnic areas with BBQ grills.
The old-school town of Stinson Beach offers an eclectic mix of locally owned shops, cafés, and a small grocery store where tourists can pick up provisions for a day at the beach.
Although Stinson Beach is only 35 minutes from downtown San Francisco, it is refreshingly devoid of modern development. The town just has a few vintage hotels and boutique lodgings.
Travelers should be aware that the drive to Stinson Beach is a difficult winding portion of Highway One, with many hairpin turns, although many people love the coastal views along the way. During summertime, the road sometimes gets clogged with traffic, and the journey takes twice as long.
Another consideration: The parking lot at Stinson Beach often fills up on warm days, especially on weekends during summertime. It's best to arrive well before noon to get a parking spot.
Stinson Beach is located near two other top tourist attractions of Marin County: Mount Tamalpais State Park and the federally protected Muir Woods National Monument, a primeval forest of old-growth redwood trees.
3. Muir Beach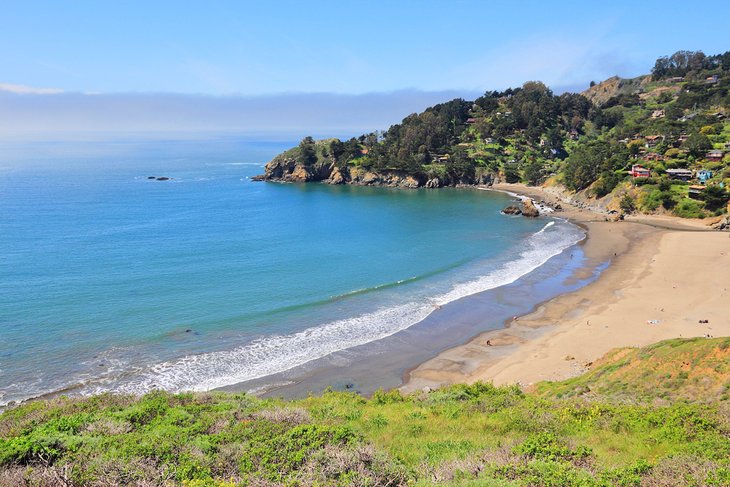 Muir Beach is just 17 miles north of San Francisco but feels like a little hidden paradise far away from everything. Lush forested hillsides and shrub-covered bluffs shelter the small sandy beach, hidden in a sheltered cove.
The area surrounding the beach is protected as a nature preserve (part of the Golden Gate National Recreation Area) and includes a network of hiking trails with breathtaking views of the Pacific Ocean.
Redwood Creek and its tidal lagoon, which flows into Muir Beach, provide habitat for endangered Coho salmon and California red-legged frogs. A recent restoration project has improved the habitat and allowed the native species to thrive. To access the beach, visitors cross a pedestrian bridge that traverses Redwood Creek.
Those who appreciate a quiet setting will prefer Muir Beach to Stinson Beach. The picturesque environment is the focus at this beach, and facilities are limited to public restrooms, a small parking lot, and a few picnic tables near the parking lot. Several fire rings are available on the beach for creating beach bonfires. There are no lifeguards at Muir Beach.
Visitors should arrive early on summer weekends. The parking lot can fill up by around noon during high season, especially when the weather is warm. For picnics at the beach, a good place to pick up provisions on the way is at Good Earth Natural Foods.
For a romantic getaway, the Pelican Inn at Muir Beach is the perfect spot. The hotel offers old-world charm in an idyllic setting. The half-timbered whitewashed building, with its slate roof and leaded windows, channels a 16th-century English country inn. The hotel has cozy guest rooms that feature period decor and a restaurant that serves authentic English pub fare prepared from local ingredients.
Nestled in a coastal valley within walking distance of the Pelican Inn, the Green Gulch Farm is a haven of tranquility. This organic farm and garden is home to the San Francisco Zen Center. Visitors may attend meditation sessions, classes, Dharma talks, and other public events at the center.
Muir Beach is closer to San Francisco than Stinson Beach but is on the same Highway One oceanfront route; however, the drive is not quite as arduous. Muir Beach is just three miles away from the Muir Woods National Monument.
4. Point Reyes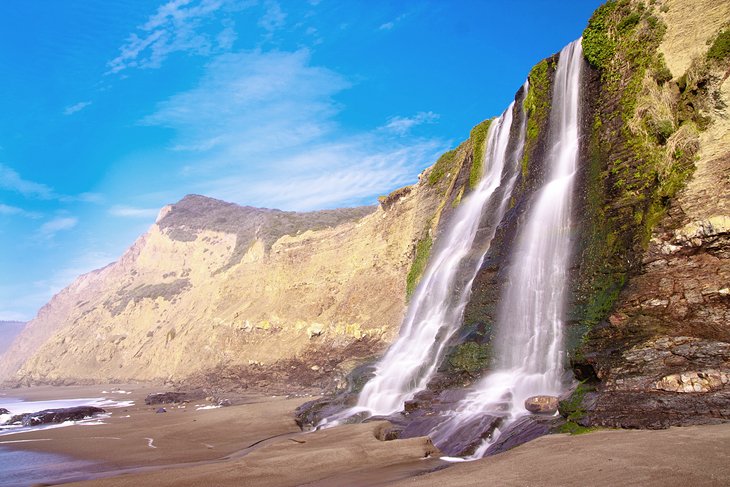 Point Reyes, less than an hour from San Francisco, is another unspoiled Bay Area getaway destination. The entire area is officially known as the Point Reyes National Seashore, a national park that includes the Point Reyes Lighthouse, which dates to 1870.
The Point Reyes Lighthouse is reached via a staircase of over 300 steps. Safety fencing surrounds the steps because they are built alongside an ocean bluff with sheer sides. Visitors can enter the lighthouse to see the historic Fresnel lens and clockwork mechanism.
A highlight of the Point Reyes National Seashore is Point Reyes Beach, also called Great Beach. This 11-mile expanse of pristine coastline is completely free of development.
The national seashore (like a national park) is also home to Drakes Beach, located near the lighthouse. This beach is America's version of England's White Cliffs of Dover with dramatic, sheer, white limestone cliffs towering hundreds of feet above the rough Pacific below.
5. The Claremont Club & Spa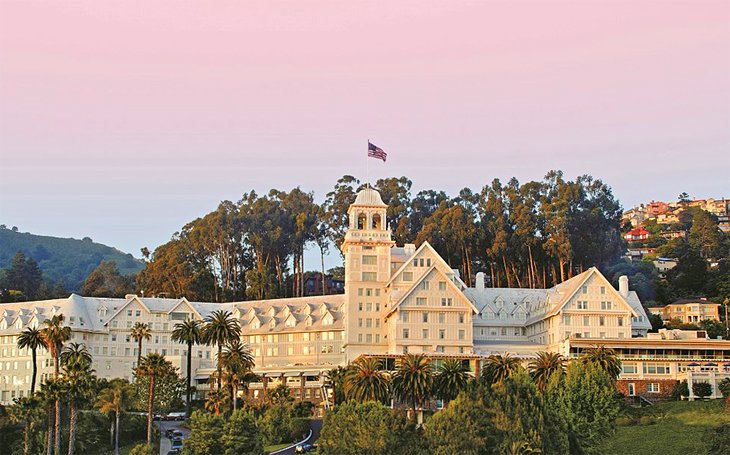 This historic landmark hotel crowns the Oakland hills in the city of Berkeley, just 12 miles away across the Bay Bridge from downtown San Francisco. The Claremont Club & Spa, A Fairmont Hotel has delighted guests ever since it opened in 1915. Aside from being a luxury resort hotel, the Claremont is also a fitness and country club that offers private memberships.
The 22-acre four-star property offers an abundance of recreational opportunities: swimming in one of the three saline pools, playing tennis on one of the 10 courts, and hiking in the Claremont Canyon Regional Preserve.
Many locals visit the Claremont to get a pampering spa treatment at the hotel's renowned spa, without staying overnight. Spa services include massages, facials, bath therapy, and hydrotherapy wellness experiences.
There are several dining options at the Claremont, including Limewood, a gourmet restaurant with superb Bay views; East Bay Provisions, a casual café that serves breakfast pastries, brunch, deli sandwiches, and salads; and Weekend Brunch that offers brunch and poolside meals on the weekends.
6. Monterey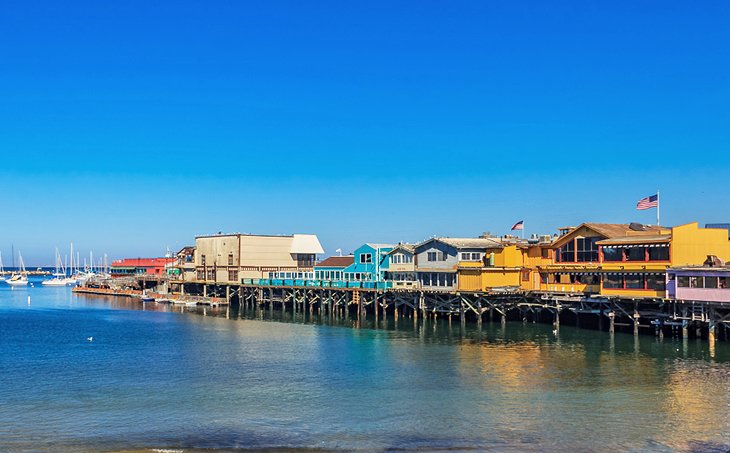 The small seaside town, formerly known for its fishing and fish packing industries, has evolved from the gritty John Steinbeck vision into a fun weekend getaway destination. Monterey is now filled with tourist attractions, and those former fish canneries are now trendy boutiques, art galleries, tourist shops, and restaurants.
It takes about 2.5 hours to drive down from San Francisco, via the very scenic Highway 1 coastal highway. Continuing farther past Monterey toward Carmel-by-the-Sea, travelers can drive along the epic 17-Mile Drive, which hugs the ocean bluffs overlooking Pebble Beach and other scenic spots like Spanish Bay.
Most tourists congregate in the area around Cannery Row and near the Monterey Bay Aquarium, a must-see attraction that showcases the incredibly rich biodiversity of the bay.
For beachfront accommodations, you have to drive around Monterey Bay to Monterey State Beach. The three-star Monterey Tides hotel is steps away from the beach and has wonderful views of Monterey Bay. This chic beachfront hotel appeals to both couples and families.
7. Carmel-by-the-Sea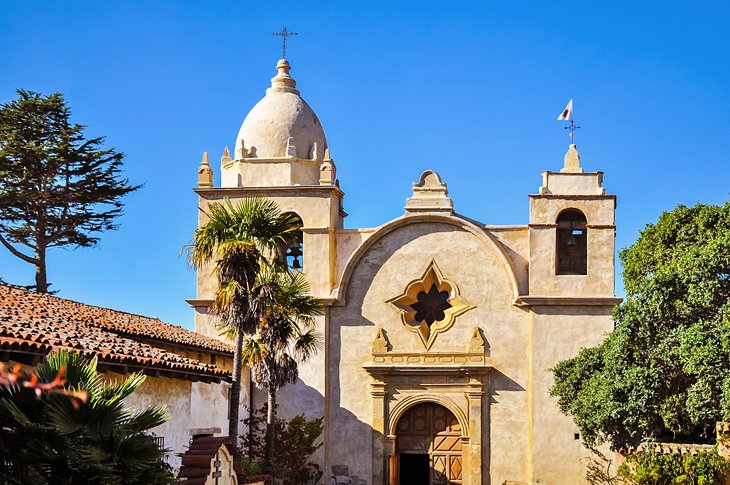 The next city down the coast from Monterey, Carmel is a quaint seaside village known for its top-notch resort amenities: locally owned boutiques, art galleries, luxurious hotels, cute cafés, candy shops, bakeries, and fine-dining restaurants. Shopping is one of the top things to do in Carmel. It's fun to browse the one-of-a-kind shops and discover artisan-made products.
Development is heavily controlled in downtown Carmel. The flower-bedecked and tree-shaded streets are lined with an ensemble of traditional Spanish-style buildings and enchanting storybook cottages that date to the 1920s. The village also has no traffic lights, no parking meters, and no individual address numbers on buildings (each building has a name instead).
The city is officially called Carmel-by-the-Sea and has long been a haven for artists of all types. The city bills itself as being extremely dog-friendly, and canine companions are welcome in most of the city's businesses. Dogs are also welcome, off-leash, at Carmel Beach.
Carmel's sublime sandy beach and stunning sunsets make it the perfect destination for romantic couples' getaways.
8. Lake Berryessa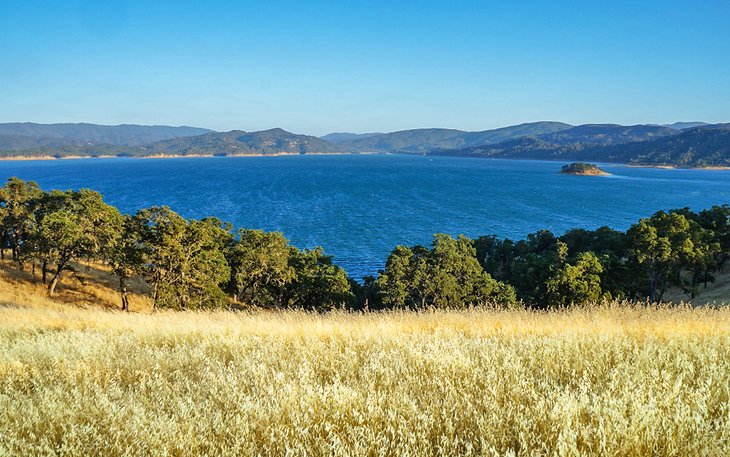 This man-made lake was created in the 1960s with the construction of a large dam that now provides hydroelectric power to several Bay Area cities. The lake, the largest in Napa County, is where San Franciscans come to relax and to play on the water.
Lake Berryessa is very popular with boaters, as well as swimmers and water skiers. The lake is stocked with a wide variety of fish and is a popular getaway destination for anglers.
Surrounding the lake is a vast, 6,000-acre nature reserve, which has hiking trails and other places to explore. The lake is north of San Francisco and it takes about two hours to drive here.
9. Bodega Bay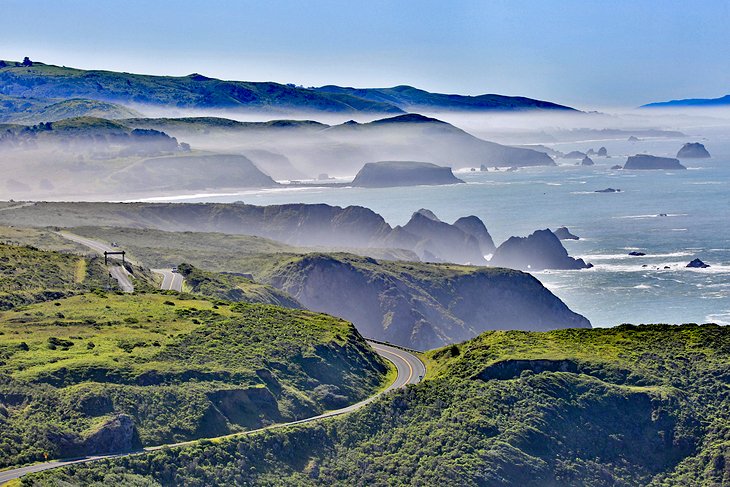 About 90 minutes north of San Francisco in Sonoma County, Bodega Bay is another Bay Area getaway that delights visitors with its wild, rugged stretch of coastline. The large protected bay shelters a sprawling shoreline of fine golden-sand beaches and is a popular spot for kayaking.
The community incorporates a fishing harbor and the quaint village of Bodega Bay. The town caters to tourists with a wide range of accommodations, including upscale hotels like the Inn at the Tides and the Bodega Bay Lodge. There are also affordable options such as the Bodega Coast Inn & Suites.
Movie fans will recognize the town of Bodega Bay from its appearance as the location for the iconic Alfred Hitchcock film The Birds.
The area's history is fascinating. It was occupied by the Russians in the early 19th century before becoming part of Spanish California and later the United States.
10. Sausalito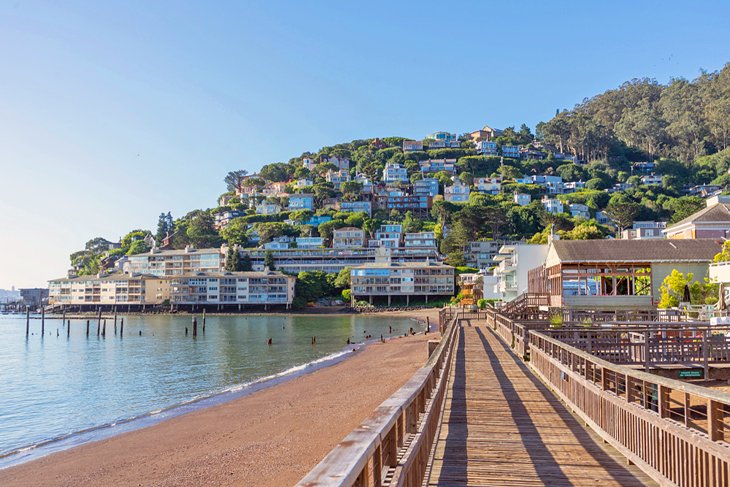 This picture-perfect seaside community nestles along a quiet bay in Marin County, on the other side of the Golden Gate Bridge. It's just a short ferry ride away from San Francisco.
Wooded hillsides enclose the town, and an array of beautiful mansions perch above the bay. Sunny yacht marinas give Sausalito the feel of a Mediterranean coastal resort town and are often captured by local artists in paintings. Tucked away at the waterfront are colorful little houseboats, relics of the town's free-spirited days in the Bohemian 1960s.
Sausalito has an inviting downtown filled with art galleries, boutiques, and restaurants. The most bustling area of the town is found right next to the ferry terminal and continuing from there along Bridgeway, the town's main street, which runs alongside a scenic waterfront path.
Several gourmet restaurants on Bridgeway (or just off this street) feature fabulous bay views, including The Spinnaker and the upscale Italian restaurant Scoma's of Sausalito.
The coastal landscape of the Marin Headlands provides a splendid backdrop for the town of Sausalito. Some of the views of the Golden Gate Bridge, bay, and city from the elevated locations in Sausalito are truly amazing (and very Instagram-worthy).
11. Half Moon Bay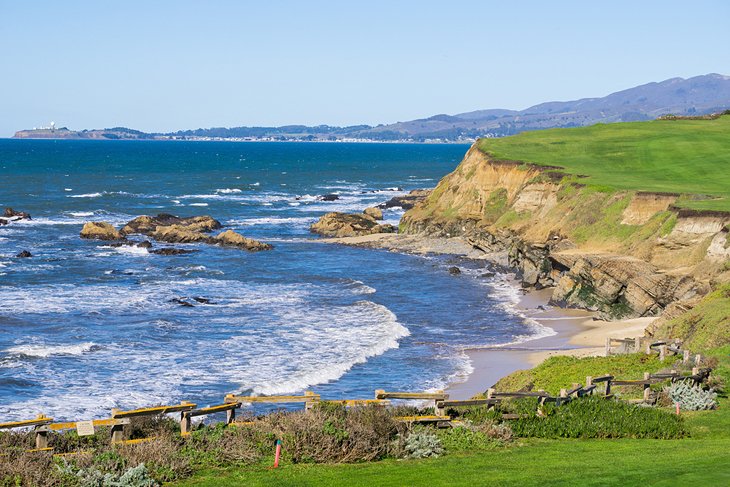 In a secluded coastal setting, The Ritz-Carlton, Half Moon Bay is the perfect Bay Area romantic getaway for couples. This five-star hotel is the only seaside luxury resort in Northern California, and most of the rooms and suites have spectacular ocean views. The resort sits atop a cliff, with a pristine sandy beach only a short walk away.
Amenities at The Ritz-Carlton, Half Moon Bay include a championship golf course, an enormous spa, tennis courts, and fitness center. The hotel also has three excellent restaurants with amazing ocean views.
The charming small country town and its surrounding nature sites offer plenty of tourist appeal. Half Moon Bay is a popular weekend destination for couples, as well as for families with kids, and outdoorsy types. Visitors can take walks along the beach, check out the local farms, and go hiking in the nearby redwood forests.
12. Sonoma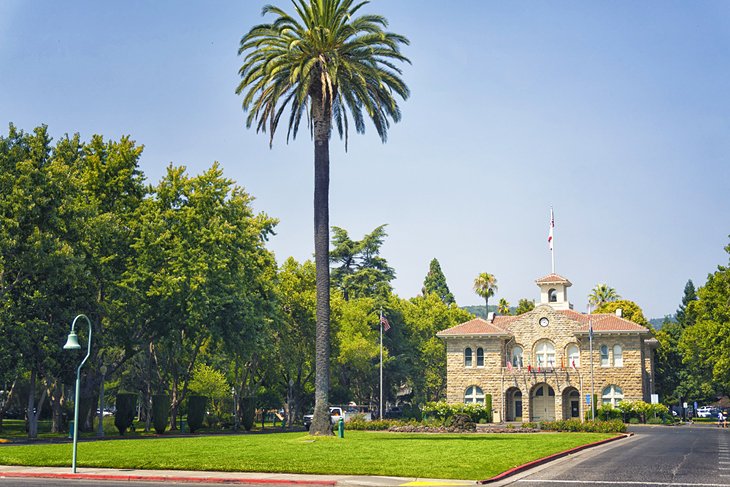 Sonoma County, about an hour's drive from San Francisco, is like a cheaper, more authentic Napa Valley. It's filled with vine-covered fields, and there are many curbside farm stands where you can buy fresh fruits and vegetables. Dairies and other local producers also have roadside shops where you can buy and try fresh cheese, meats, and other foods. The area is also populated with a few luxury resorts and spas.
Outdoor activities include hiking, biking (road and mountain), boating, and fishing. A good place to hike is the Jack London State Historic Park, which aside from having miles of hiking trails, has the former home and the grave of celebrated author Jack London.
Sonoma is both a city and a county, and Sonoma Plaza is the city of Sonoma's 19th-century town center and main street area. Railroad buffs (and kids) will love the Sonoma TrainTown Railroad, a small-gauge steam railroad and train amusement park.
13. Santa Cruz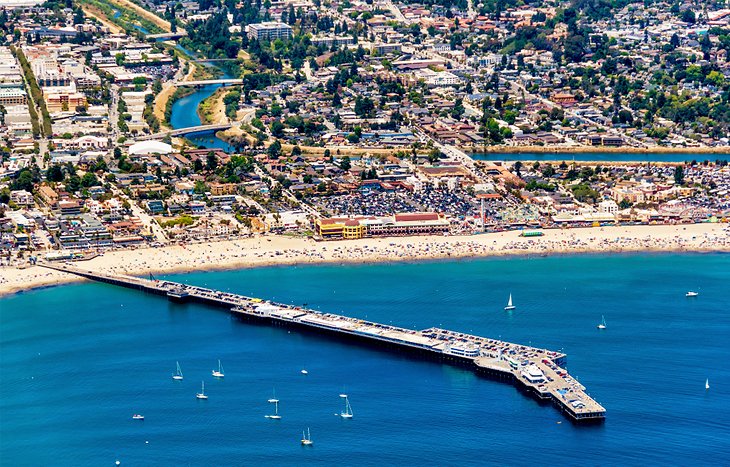 Synonymous with summertime fun in the sun, Santa Cruz boasts one of the best beaches in California, only a short drive (90 minutes) from San Francisco. This classic beach town has a superb beach with an expansive shoreline of soft, golden sand. Sunny weather and a sheltered location in a protected bay, with gentle surf, are other advantages of Santa Cruz Beach.
Next to the beach is the iconic Santa Cruz Beach Boardwalk, an old-school, mile-long wooden boardwalk, lined with shops, carnival games, and next to an amusement park. The Boardwalk opened way back in 1907, and two rides (the Giant Dipper roller coaster and the Looff Carousel) are even National Historic Landmarks.
The ocean in front of the beach is part of the Monterey Bay National Marine Sanctuary and from the beach, you can often see dolphins, otters, sea lions, and whales.
14. Mammoth Lakes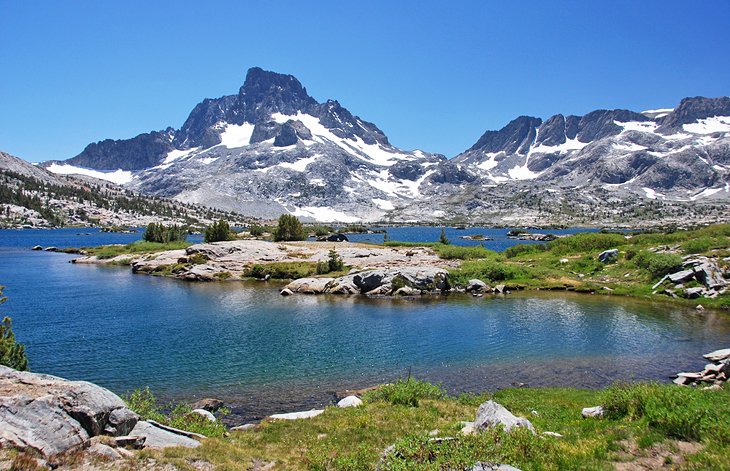 This natural getaway destination is another year-round outdoor area known mainly for its winter sports. It's a beautiful six-hour drive from San Francisco (or a 45-minute flight). The town is in the Sierra Nevada mountains, and Mammoth Mountain is the local mountain and the name of the ski resort. Yosemite National Park is close-by, and nearby Mono Lake, with it's lunar-like landscape, is also something to see.
The elevation is high, and so is the snowpack, sometimes allowing ski areas to stay open well into the summer months.
A visit to the Mammoth area should also include a stop at the nearby Manzanar National Historic Site. This is one of the 10 concentration camps set up by the US government during World War II for people of Japanese descent.
15. Yosemite National Park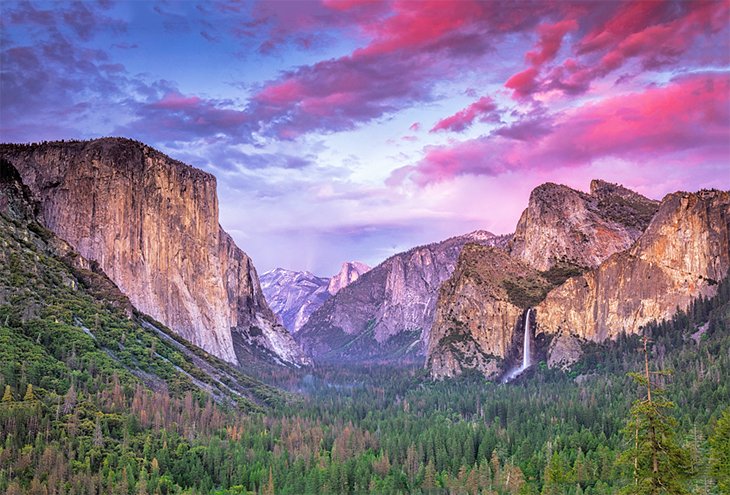 For the ultimate Bay Area weekend getaway, you can leave San Francisco early in the morning and about four hours later, you'll arrive at Yosemite National Park. It's truly a spectacular place, with incredible natural wonders like the 3,000-foot granite walls of El Capitan or the giant granite Half Dome rock. Also be sure to check out Bridalveil Fall, a 600-foot waterfall.
The park is also home to giant sequoia redwood trees. There's a small village in the park with shops and the park's museum and visitor's center. You can also find places to eat and spend the night.
There's a range of activities available, from hiking and camping, to tours by tram. The guided tram tours are available in a two-, four-, or eight-hour (all-day) itinerary and take you all over the park.
Read More: From San Francisco to Yosemite: Best Ways to Get There
More Related Articles on PlanetWare.com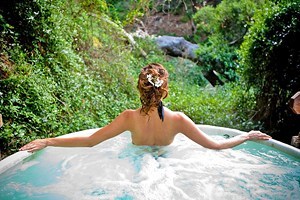 More Getaway Ideas: If you are interested in going further afield or don't mind hopping on a short flight, you can find all kinds of great destinations. Couples should have a look at our article on the Top Romantic Weekend Getaways in California. If it's a beach getaway you are looking for, see our list of the best beaches in Northern California. And for something unique, check out our list of the best hot springs in California.