San Francisco Walking Tour: 10 Top Sights
The beauty of San Francisco is best appreciated from its highest points. The city's 43 rolling hills are sandwiched in between the Pacific Ocean and San Francisco Bay. Many streets are so vertiginous that the sidewalks are actually pedestrian steps (used by locals instead of StairMaster).
The dramatic topography also explains some of San Francisco's most iconic images. Lombard Street owes its famous curves to the road's sheer incline; its red-brick switchbacks make it safer to drive up and down. Cable cars were also designed to tackle the extreme gradients.
This self-guided walking itinerary traverses San Francisco's steepest streets in quaint historic neighborhoods. More of an urban hike, the tour is physically strenuous, but every step of the way is rewarded with marvelous sights: pastel-painted Victorian houses clinging to dizzying hillsides; flowering staircase gardens tucked away on side streets; views of the majestic bridges, and sailboats gliding around the bay in the sunshine.
Tourists can soak up the thrilling panoramas while visiting the most interesting areas of San Francisco on this invigorating trek that takes about four to five hours.
Note: Some businesses may be temporarily closed due to recent global health and safety issues.
1. Chinatown Gates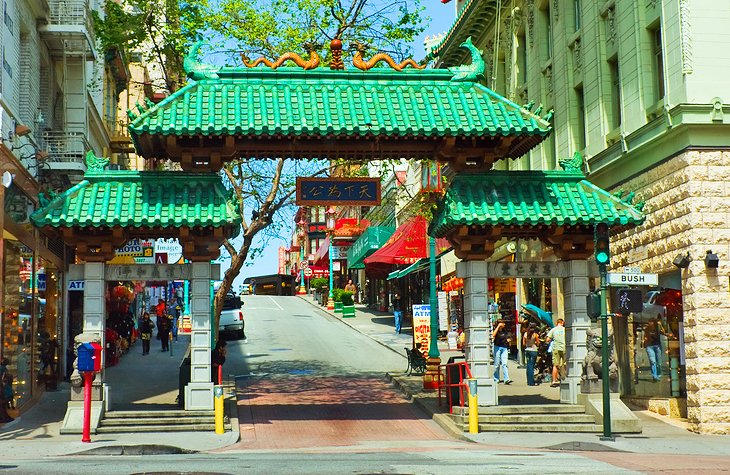 Begin the walking tour at the Dragon's Gate, the official entrance of Chinatown at the intersection of Bush and Grant streets. Built in 1970, the green-tile, pagoda-topped gate features two small dragon statues at each side and presents Chinese script that translates to "Everything under heaven is for the good of all people."
Alternatively, visitors can arrive at San Francisco's Chinatown from any of the bordering neighborhoods: Union Square shopping area at Bush Street, the ritzy residential streets of Nob Hill at Powell Street, Little Italy (North Beach) at Columbus Street, or the bustling financial district at Kearny Street.
2. Chinatown Shops & Authentic Chinese Cuisine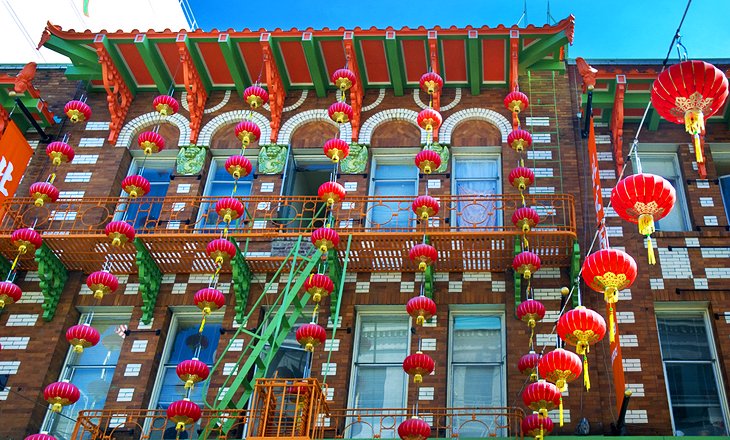 While rambling past the touristy souvenir shops on Grant Avenue, consider the turbulent history of this compact area, the most densely populated section of the city. Dating back to the Gold Rush era, this neighborhood is the oldest Chinatown in the United States and the largest Chinese community outside of Asia.
During the 1800s, Chinese immigrants faced problems of discrimination and overcrowded housing. In 1882, the United States passed the Chinese Exclusion Act, which restricted immigration from China. This xenophobic law stayed in effect until 1942. Yet, the Chinese labor force built much of the city in the 19th century.
Continue on Grant Avenue until Washington Street, make a left, and then right onto the narrow pedestrian street, Ross Alley. The small nondescript building #56 is the Golden Gate Fortune Cookie Factory, where tourists may stop in to watch fortune cookies being made, as well as purchase cookies. This tiny factory has been producing handmade fortune cookies since 1962. Although fortune cookies were invented in San Francisco not China, some historians believe that the inspiration came from 14th-century "moon cakes" used by Chinese soldiers to relay concealed messages.
From Ross Alley, continue one block west and two blocks north to Stockton Street at Broadway, where the sights, sounds, and smells of Chinatown are unveiled. In between Broadway and Columbus Avenue, Stockton Street is lined with grocery shops and markets frequented by locals, many of whom only speak Chinese. Peek inside the stores (photographs are forbidden) to see the exotic Asian fruits and vegetables; fresh seafood; and live fish, turtles, and chickens.
An easier way to experience authentic Chinese cuisine is by dining at one of Chinatown's best restaurants. Just off Stockton Street, the Michelin-recommended Z & Y Restaurant (655 Jackson Street) has a world-renowned chef and serves outstanding Szechuan-style Chinese food. Counted among the restaurant's distinguished guests are the presidents and foreign ministers of the People's Republic of China, as well as former U.S. President, Barack Obama.
3. Jackson Square Historic District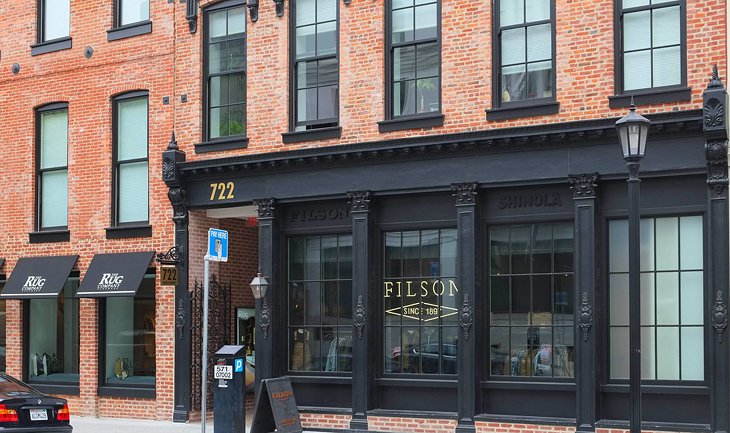 From Stockton Street at Broadway, turn around and head south towards Jackson Street (turn left). Keep walking east on Jackson Street until reaching Montgomery Street to explore the historic Jackson Square area. This district also overlaps with the Barbary Coast Trail that marks Gold-Rush-era sites with bronze sidewalk medallions. Jackson Street boasts distinguished brick buildings from the 1850s and 1860s that survived the 1906 earthquake.
Full of old-world charm, Jackson Street is lined with shady trees and quaint cast-iron street lamps. Many of the buildings house prestigious art galleries, fine antique shops, and interior design boutiques. The area also has several top-rated fine-dining restaurants.
4. Telegraph Hill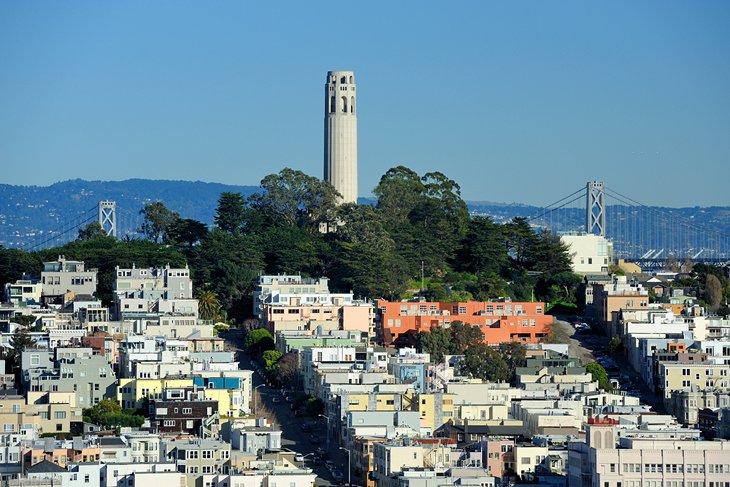 Continue uphill on Montgomery Street to reach Telegraph Hill. At Montgomery and Broadway, turn around to admire the view of the Transamerica Building. The next several blocks feature a sheer incline with staircases along the sidewalk to help pedestrians brave the uphill climb. At Filbert Street, turn left onto Filbert Steps, a beautiful staircase with lush, quiet gardens on either side and splendid homes built into the hillside.
Climb up the staircase of 80 steps and then take another flight of 30 steps that leads to the landing of Coit Tower. One of the city's most emblematic sights, the tower stands on the former site of the telegraph station for which the neighborhood is named.
Surrounding Coit Tower is the Pioneer Park recreation area, nearly five acres of wooded park space with awe-inspiring vistas of the city and the San Francisco Bay. As you wander along the park's trails, take in the breathtaking vistas and listen for the sounds of exotic birds. The legendary flock of parrots, featured in The Wild Parrots of Telegraph Hill documentary film, make their home on these forested slopes.
5. Views from Coit Tower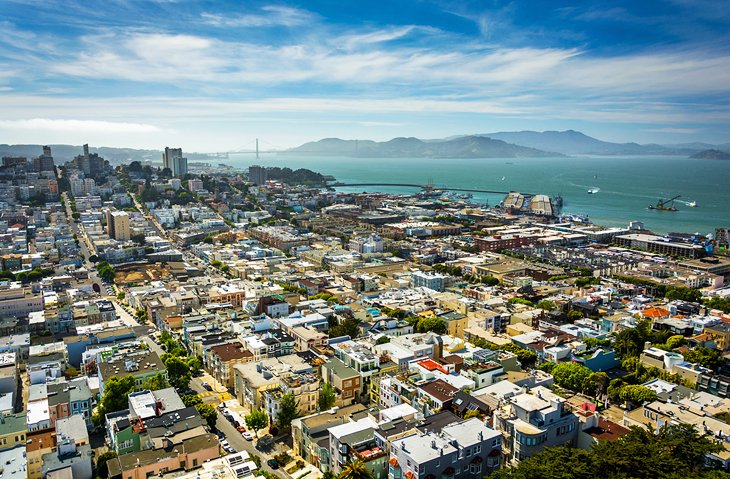 Perched on top of Telegraph Hill, Coit Tower is a beacon in the San Francisco skyline, visible to visitors when taking the ferry from the East Bay or driving across the Bay Bridge, as well as from other points in the city. Built in 1929, the tower was funded by Lillie Hitchcock Coit, a wealthy patron of San Francisco firefighters. Although it's said that the tower's fluted shape resembles the nozzle of a firefighter's hose, the architect did not intend this effect. The openings at the top that appear to be the nozzle's spout are actually windows.
Take the elevator up to Coit Tower's Observation Deck (for an admission price) to admire sweeping views of the bay and downtown San Francisco. The Observation Deck provides 360-degree panoramas, and the vantage points from each window offer a different outlook, such as the Bay Bridge, the Transamerica Building, and the hills of North Beach.
Before or after visiting the Observation Deck, spend some time viewing the murals inside the tower's base. The series of Depression-era murals were painted in 1934 in a thematic style that recalls the work of celebrated artist Diego Rivera. At the time that the murals were painted, the content was considered to be radical because it depicts laborers and farm workers as the central subject.
6. Beatnik Heritage on Columbus Avenue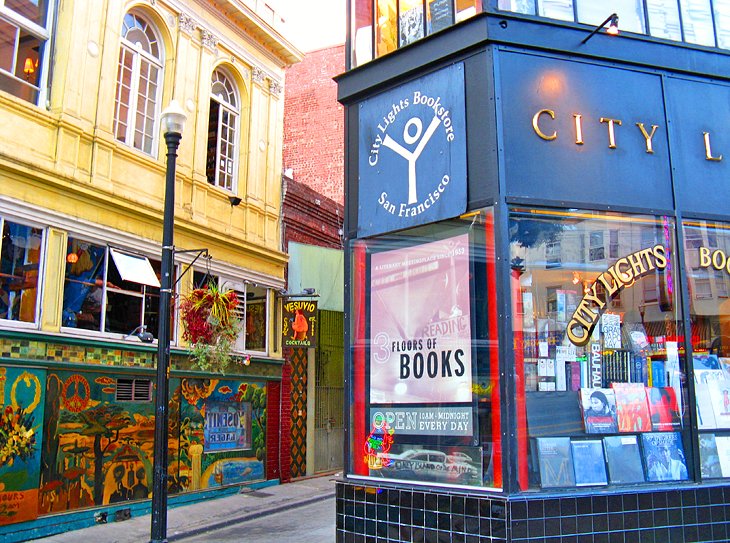 The block of Columbus Avenue between Pacific Avenue and Broadway was the stomping grounds of Beat Poets during the 1950s. This area once buzzed with counter-culture energy and attracted the beatnik literati. Jack Kerouac author of On the Road, one of the most celebrated works of the Beat generation, and Allen Ginsberg, who wrote the non-conformist rant Howl, once read their poetry at City Lights Booksellers & Publishers. Beat poet Lawrence Ferlinghetti founded (and still owns) this legendary bookshop that continues to exude a distinctly bohemian attitude.
After visiting City Lights, saunter down the adjacent Jack Kerouac Alley, a 60-foot-long, cobbled pedestrian thoroughfare with vibrant murals and old-fashioned street lamps. Chinatown begins at the Grant Avenue end of the alley, while the Columbus Avenue end is in the heart of North Beach's historic beatnik neighborhood. Fitting of its location, the alley features sidewalk medallions inscribed with literary quotes by famous writers, such as Jack Kerouac, John Steinbeck, and Maya Angelou.
To learn more about beatnik culture, take a short detour to visit the Beat Museum at 540 Broadway. The museum is dedicated to sharing the idealism of the Beat Generation. Defined by its individualistic spirit, this artistic movement of the 1950s included a collection of poets, writers, thinkers, and artists who were devoted to creativity, tolerance, courage, and compassion. The Beat Museum displays an extensive collection of memorabilia from Beat authors, including letters, photos, original manuscripts, and valuable first editions.
7. North Beach: Little Italy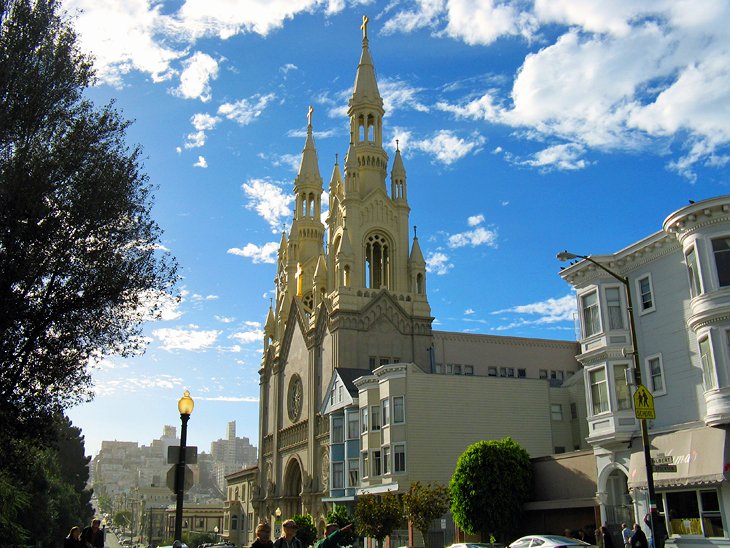 San Francisco's colorful Little Italy dates to the late 1800s. Charming residential homes line this historic neighborhood's steep streets, intersected by the more modern and busy thoroughfares of Columbus Avenue and Broadway. A beach used to border the neighborhood, but the area was developed with landfill, although the name stuck.
North Beach is full of old-school Italian restaurants, with red-checkered tablecloths, that serve enormous servings of pasta, and atmospheric cafés where patrons go to see and be seen and sip on authentic Italian espresso. North Beach is also a fun place to browse boutiques, pop into a gelato shop, or sample treats at an Italian bakery. Columbus Avenue has the highest concentration of restaurants and cafés, and tends to be very touristy, whereas Grant Avenue is a quieter street with restaurants and shops frequented by locals.
Continue this walking tour at Columbus and Broadway, just north of Jack Kerouac Alley. Stop for a snack, coffee, or lunch at one of the bustling cafés. Favorites are Caffe Greco (423 Columbus Avenue) and the Caffe Trieste (601 Vallejo Street, a block from Columbus), a popular locals' hangout. Stella Pastry & Café (446 Columbus Avenue) is the place to go for traditional Italian baked goods, including specialties such as biscotti, cannoli, pasticciotti, and the award-winning Sacripantina Cake.
After the café break, wander along Columbus (heading north) until reaching Washington Square Park. This pleasant, tree-shaded green space is at the heart of North Beach. It's a peaceful spot that is wonderful for sunbathing and picnics or playing volleyball and frisbee.
Overlooking the park is the impressive Saints Peter & Paul Church with its Gothic spires serving as a focal point in North Beach. The graceful edifice of this Roman Catholic Church was completed in 1924. Beside its architectural beauty, the church is renowned for being the location where Marilyn Monroe and Joe DiMaggio took their wedding photos. Today, the church reflects the neighborhood's multicultural character; mass is offered in English, Italian, and Chinese.
8. Russian Hill Staircases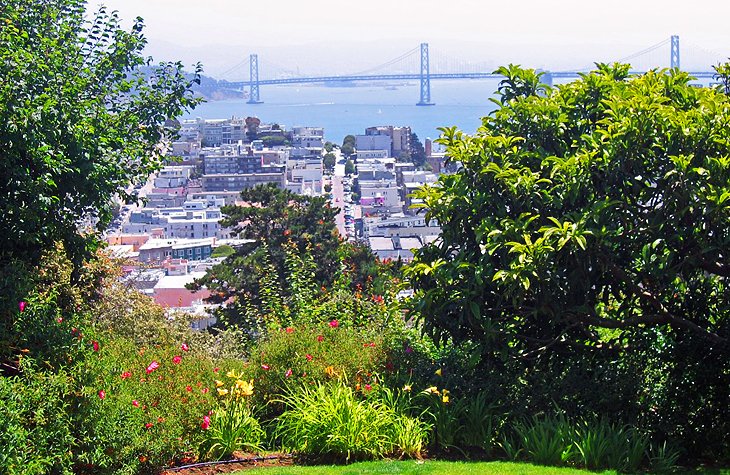 Continue back on Columbus Avenue until Vallejo, turn right and head up into Russian Hill. In the 19th century, the graves of Russian soldiers were located on the hill that is now Vallejo Street, giving the neighborhood its name. As you climb Vallejo Street, you will come across two staircases surrounded by gardens with amazing views.
After crossing Mason Street, the next block of Vallejo surprises visitors with a tiny but delightful Ina Coolbrith Park. Stop to smell the roses, then keep going up one more block on Vallejo and turn right on Jones Street. From the intersection of Jones and Green streets, take in the incredible panorama of the Bay, with Alcatraz in the foreground. Turn left on Green Street, then right on Hyde Street. Stroll three blocks north on Hyde through an elegant residential neighborhood, until reaching Lombard Street.
9. Lombard Street: The Crookedest Road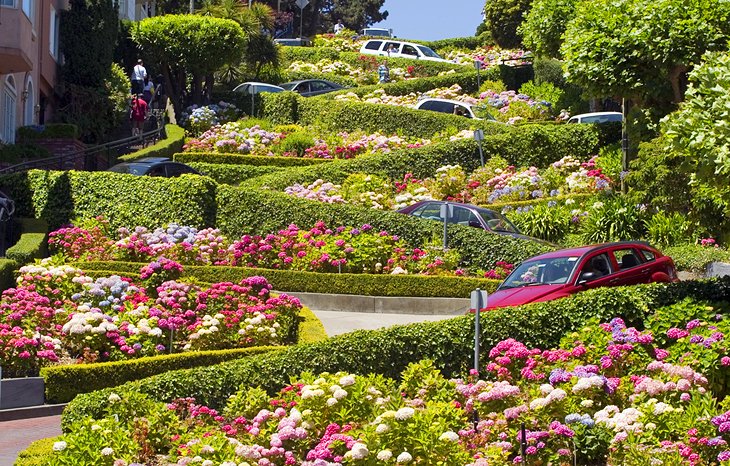 Arrive at one of the most popular tourist attractions in San Francisco, the city's curviest road. From the top of this winding road at Hyde and Lombard is a sensational viewpoint looking back at Coit Tower. The only part of Lombard that appeals to tourists is found between Hyde and Jones Streets. Known as the "Crookedest Street in the World," this portion of Lombard boasts a steep 27-degree angle. The road was paved with switchbacks in the 1920s to make it safer for cars to drive up and down.
The street also has pedestrian staircases on both sides, ideal for a leisurely jaunt with the other groups of tourists you'll likely see here. Flanking the brick-paved winding curves are beautiful homes in Edwardian, faux Tudor, and contemporary architectural styles. Bright geranium-filled flower beds blossom in between the switchbacks, giving the street the look of a garden. From Lombard Street, hop onto a cable car at Hyde Street and enjoy a scenic ride down to Fisherman's Wharf.
10. Fisherman's Wharf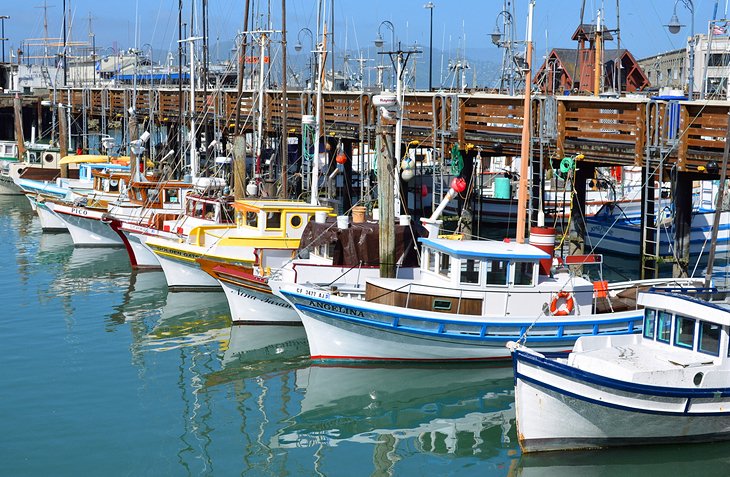 A downhill walk or cable car ride from Hyde at Lombard leads to Fisherman's Wharf. This atmospheric waterfront neighborhood delights visitors with refreshing ocean breezes and stunning seaside scenery, while tempting foodies with fresh sourdough bread, fish and chips, and other seafood specialties.
In the 1800s, the area was a hub for recently immigrated Italian fishermen. Although Fisherman's Wharf still has many commercial fisheries, it's now a major tourist destination (along with the nearby Pier 39) packed with souvenir shops. So it would be easy to overlook the small picturesque wharf at Jefferson Street between Leavenworth and Jones, which was part of the old fishing village that predates the Gold Rush of 1849.
The little boats docked at the wharf are traditional Italian fishing boats called feluccas. Notice that the hulls are painted with the names of Catholic patron saints. Try to imagine the fishermen venturing out into the mist-shrouded bay on these tiny boats. The fishermen were known to sing Italian opera songs while sailing around in the fog.
After taking a stroll along the wharf, stop to sample the sourdough bread at Boudin Bakery, get a bite to eat at a fish shack (a locals' favorite is The Codmother Fish & Chips at 495 Beach Street). One of the most memorable things to do while visiting Fisherman's Wharf is watch the fishermen unload their live catches from the dock, which is just steps away from where it's sold around Jefferson Street.
Fisherman's Wharf encompasses the San Francisco Maritime National Historical Park, a lovely waterfront area with an excellent Maritime Museum. The San Francisco Maritime National Historical Park also includes Aquatic Park, a sheltered cove with gentle waters that are safe for swimming. The 1400-foot pier of Aquatic Park is open to the public for taking strolls and for fishing. The pier is one of the best places to visit in San Francisco for views of the bay and the Fisherman's Wharf neighborhood.
Just one block away from Aquatic Park is the touristy Ghirardelli Square (900 North Point), home to the chocolate factory that has been a San Francisco landmark since 1862. Today this location no longer makes the chocolate but serves as a boutique and ice-cream parlor. In addition to Ghirardelli Chocolate, other enticing restaurants and shops are found at Ghirardelli Square.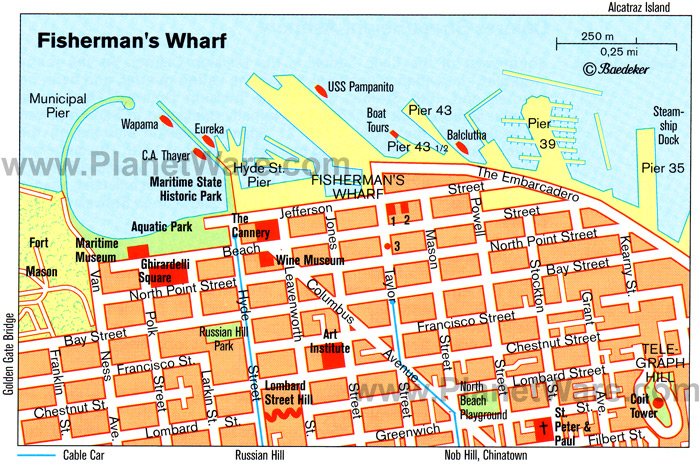 Fisherman's Wharf
Pier 39
Ghirardelli Square
The Cannery
Fort Mason
Maritime Museum

Maritime State Historic Park
USS Pampanito
Art Institute
Telegraph Hill
Coit Tower
Saints Peter & Paul Church
Where to Stay in San Francisco for Sightseeing
Of the charming neighborhoods covered on this walking tour, North Beach and Fisherman's Wharf are the best places to stay overnight. North Beach offers upscale boutique hotels and top-rated restaurants, whereas Fisherman's Wharf is more touristy, so it has a wider selection of accommodations, including larger hotels more suitable for families. But visitors staying in Fisherman's Wharf should beware of restaurants catering only to tourists, as these establishments don't offer the high quality of cuisine found elsewhere in San Francisco. See our article Where to Stay in San Francisco: Best Areas & Hotels for a complete look at areas as well as some of the best hotels by budget and style.
More Related Articles on PlanetWare.com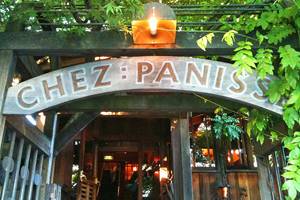 Other Great Walking Cities in the Bay Area: For those who love walkable cities, there are a couple of other fabulous destinations in the San Francisco Bay Area. The lively multicultural city of Oakland has an attractive waterfront at Jack London Square that invites leisurely strolls and dining at its trendy restaurants. Lake Merritt in Oakland is another fantastic place for walking; a scenic, 3.2-mile lakeside path provides a tranquil setting. Nature enthusiasts will enjoy a ramble through the Botanical Gardens or Tilden Park in Berkeley, while the luxuriant Berkeley Rose Garden offers hiking trails that afford spectacular panoramas of the San Francisco Bay.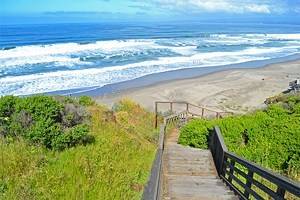 Nearby Hiking Destinations: Gorgeous outdoorsy destinations near San Francisco inspire more walking and hiking. About 30 miles south (a 45-minute drive) of San Francisco is Half Moon Bay, a small oceanfront town in a rural landscape with trails along the coast and in nearby redwood forests. Farther south (about a 90-minute drive) from San Francisco is the fun-loving beach town of Santa Cruz surrounded by magnificent redwood forests. With its unspoiled terrain of beaches, tide pools, ocean bluffs, and wooded hills, Wilder Ranch State Park in Santa Cruz is a top hiking destination renowned for its jaw-dropping coastal views.