14 Top-Rated Attractions & Things to Do in Half Moon Bay
We may earn a commission from affiliate links ()
Sheltered by wooded rolling hills, the cozy seaside community of Half Moon Bay is an unpretentious small town with a friendly attitude. Despite being so close to San Francisco, the town feels much farther away because it's only accessible by a winding two-lane country road.
Often blanketed in misty fog, the hillsides sloping down to the Pacific Ocean are covered with fragrant eucalyptus trees and a patchwork of farms, ranches, and flower nurseries. The seasonal bounty of artichokes, carrots, corn, strawberries, green beans, and pumpkins delight shoppers at the weekly farmers market. Produce stands also line Route 92, the main road into town.
Half Moon Bay is a popular weekend getaway from San Francisco with interesting shops, restaurants, and quaint bed-and-breakfasts, and is not-to-be-missed on a Northern California coastal itinerary.
Beautiful beaches, dramatic nature sites, and awe-inspiring ocean scenery set a glorious backdrop for outdoor activities like hiking, fishing, horseback riding, birding, golfing, and (when the sun is out) sunbathing.
Plan the perfect day trip, weekend getaway, or outdoorsy vacation on this unspoiled stretch of Northern California coast with our list of the top attractions and things to do in Half Moon Bay.
See also: Where to Stay in Half Moon Bay
Note: Some businesses may be temporarily closed due to recent global health and safety issues.
1. Half Moon Bay State Beaches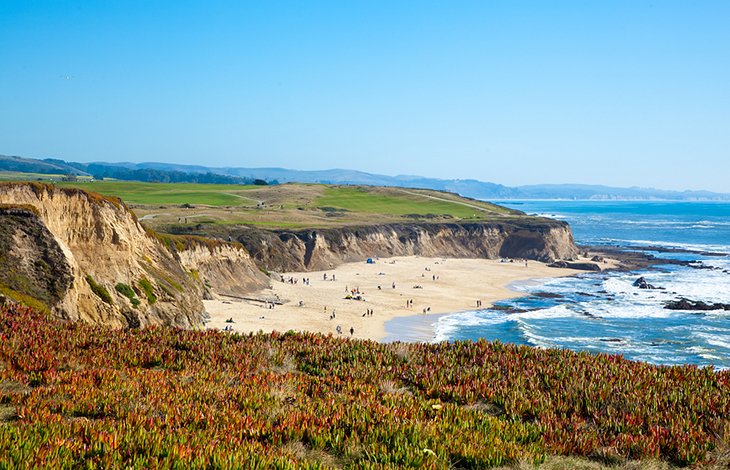 The Half Moon Bay coastline is made up of multiple state beaches, stretching along several miles of wide, sandy coast including Surfers' Beach, Dunes Beach, Venice Beach, and Francis Beach.
Sightseeing and nature appreciation are the most popular activities on these beaches, and tourists should keep in mind that the weather is often quite cold and windy, even during summertime, when thick fog often blocks the sun.
September through early November is the best time for sunbathing and wading, however the Pacific Ocean in Half Moon Bay is too cold to enter without a wetsuit, and the riptides can be dangerous.
Instead of swimming, visitors come here to appreciate the natural beauty and to breathe in the refreshing sea air. Many visitors also enjoy fishing and picnicking at the Half Moon Bay Beaches.
A campground above the beaches offers overnight accommodations; campsite reservations must be made in advance.
2. California Coastal Trail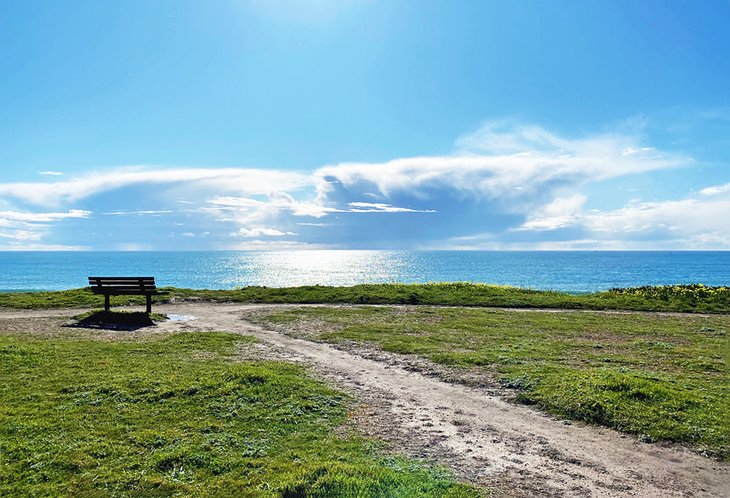 Visitors can enjoy magnificent views of the Pacific Ocean while hiking or cycling the California Coastal Trail. The trail extends along coastal bluffs and above expansive stretches of shoreline.
It traverses pristine coastal habitats, including lush creeks, meadows, wetlands, and cypress groves. During springtime, vibrant wildflowers enliven the scenery, while the sound of chirping songbirds adds to the tranquility.
The five-mile trail begins at Seymour Bridge in Half Moon Bay, continues past Half Moon Bay State Beach and other secluded beaches, and ends at Pillar Point Harbor, which is a great place to visit for a meal.
Most of the California Coastal Trail is an asphalt-paved path that used to be the route for the Ocean Shore Railroad. As a result, it is wheelchair accessible and also a popular place for in-line skating and cyclists, as well as those on foot.
3. Pillar Point Harbor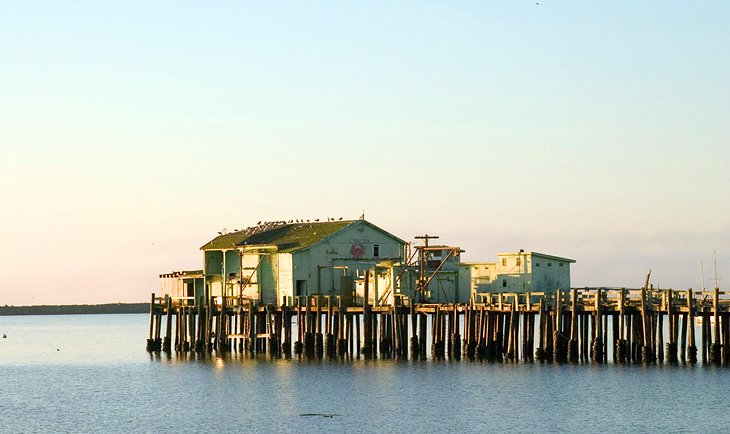 In the neighboring community of Princeton-by-the-Sea, the picturesque Pillar Point Harbor features fishing boats bobbing in its sheltered waters and an old wooden pier jutting out to sea. This harbor is also the departure point for whale-watching tours during whale migration season, as well as sportfishing charter boats.
Several waterfront restaurants offer fabulous bay views and excellent cuisine, especially seafood. Locals' favorite spots include Barbara's Fishtrap, with beachside tables overlooking the fishing harbor, and Sam's Chowder House, a New England-style seafood restaurant that serves fresh fish specialties in an oceanfront dining room or on the outdoor patio.
Pillar Point Harbor overlooks the famous waves of Mavericks Beach, where the legendary annual surfing competition takes place. When the right conditions conspire, Mavericks waves rise to massive peaks reaching 15 to 30 feet in height. Surfers travel from all over the world to meet the challenge of these awesome and powerful waves.
4. Pigeon Point Light Station State Historic Park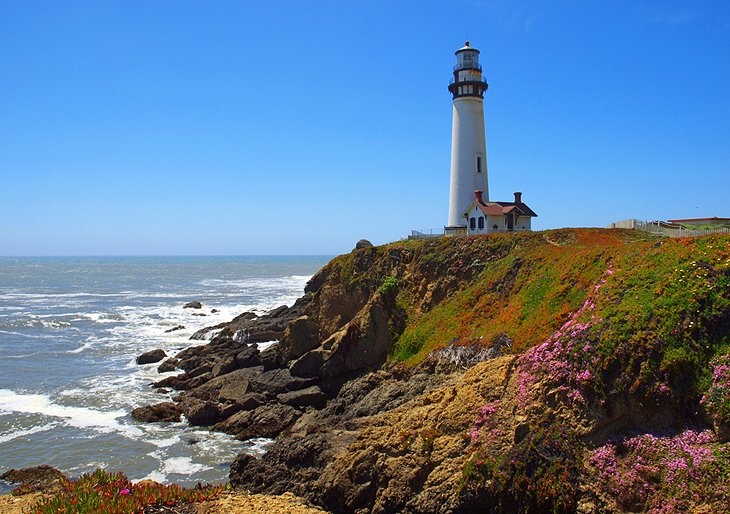 Perpetually covered in dense fog that obscures visibility, this coastal site was in dire need of a lighthouse when the Pigeon Point Lighthouse was built in 1871 after a series of shipwrecks. Standing on a cliff, this 115-foot lighthouse is one of the tallest in the United States.
Pigeon Point Light Station State Historic Park features a visitor center, bookshop, and accommodations. Within the buildings that used to accommodate the light station staff, the HI Pigeon Point Lighthouse Hostel provides dormitory-style accommodations and vacation rental houses.
The coastal areas and rocky reefs around the lighthouse are full of marine life, and this is a great spot for wildlife viewing. Seals regularly swim from the shore beyond the surf, and during whale migration season (December through May), the amazing mammals travel down the Pacific Coast.
Although the lighthouse itself cannot be toured, guided history tours of the grounds are conducted daily each afternoon or by appointment.
Address: 210 Pigeon Point Road, Highway 1, Pescadero, California
Official site: http://www.parks.ca.gov/?page_id=533
5. Dining and Shopping on Main Street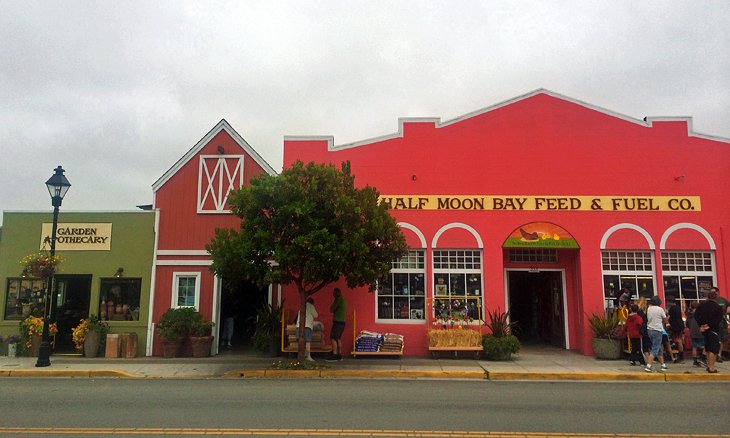 Half Moon Bay is a small country town with a relaxing slow pace. The historic downtown of Half Moon Bay delights visitors with its old-fashioned hotels, quaint bed-and-breakfasts, casual cafés, and gourmet restaurants.
For dining and shopping, Main Street is the place to go. Visitors will enjoy browsing the unique locally owned clothing boutiques, bookstores, home decor shops, and other specialty shops. The Visitor Center on Main Street has excellent resources about the local beaches and hikes.
A popular spot on Main Street for Italian cuisine is Pasta Moon Ristorante. This farm-to-table restaurant has been dedicated to sustainable culinary experiences since its opening over 30 years ago. The restaurant's chefs make use of seasonal ingredients sourced from nearby coastal farms and ranches and from local fishermen.
Just off Main Street on a quiet side street is the Mill Rose Inn, a charming luxury bed-and-breakfast with a delightful English country-style garden. The B&B owner takes advantage of Half Moon Bay's cool, misty climate, which allows an abundance of colorful roses and other flowers to thrive in the garden.
6. Lemos Farm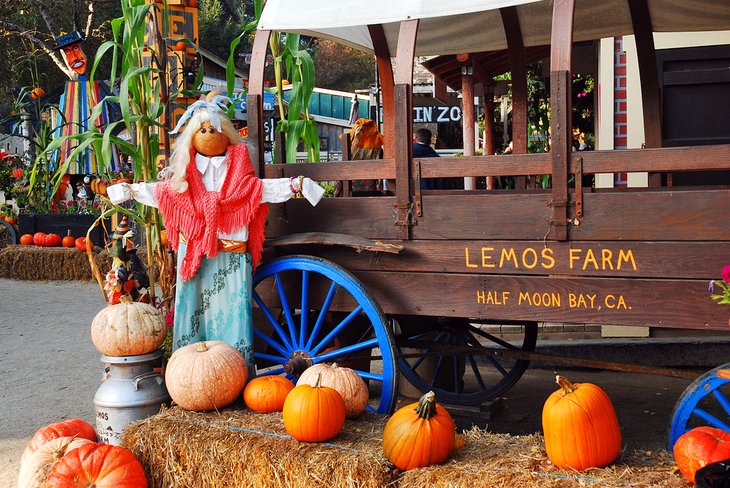 Lemos Farm is a popular tourist attraction for families, especially those with younger kids. It is a fully operational family-run farm with resident pigs, goats, sheep, and bunnies, which kids can meet in the petting zoo. There are also ponies here, each happy to give rides to smaller kiddos.
Other farm activities include a train ride and hay ride, each of which explore other parts of the farm. Interactive attractions include the "Dig Zone," where kids can run their own excavator, and a giant inflatable Barn Slide.
The farm's main crops are seasonal, focusing on pumpkins in the fall and Christmas trees for the holidays. In September and October, kids can also visit the not-too-scary haunted house, a tradition at Lemos Farm since the 1980s.
For an especially unique experience, ages 10 and up can take a "goat yoga" class, striking a pose among a dozen or so baby goats.
Address: 12320 San Mateo Road, Half Moon Bay, California
Official site: www.lemosfarm.com
7. Purisima Creek Redwoods Open Space Preserve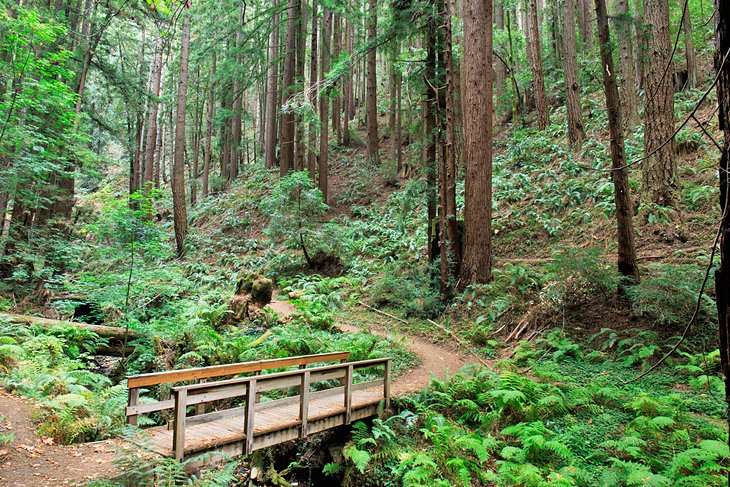 Towering coastal redwood trees are the defining feature of the lush Purisima Creek Redwoods Open Space Preserve. This forest of second-growth trees replaced the original redwoods, which were logged in the 19th century.
The Purisima Creek Trail was first forged as a logging road, running along the rushing creek and crossing it at several points and including a few sections with a grade up to 15 percent. The trees you will see here are over 100 years old. Along the trail, hikers can see the stumps of the ancestral trees. Leafy ferns, wildflowers, and berry bushes also thrive within the forest's shady understory.
At the North Ridge Trailhead on Skyline Drive (Hwy 35), visitors will find the most convenient access to the 4,711-acre Purisima Creek Trail, which traverses the length of the Redwood Open Space Preserve.
From the same entrance, there is access to the shorter Redwood Trail, which has a mostly flat grade and only stretches a quarter of a mile. The Purisima Creek Redwoods Preserve has nearly 25 miles of trails, many of which are suited for experienced hikers.
Official site: www.openspace.org/preserves/purisima-creek-redwoods
8. Half Moon Bay Golf Courses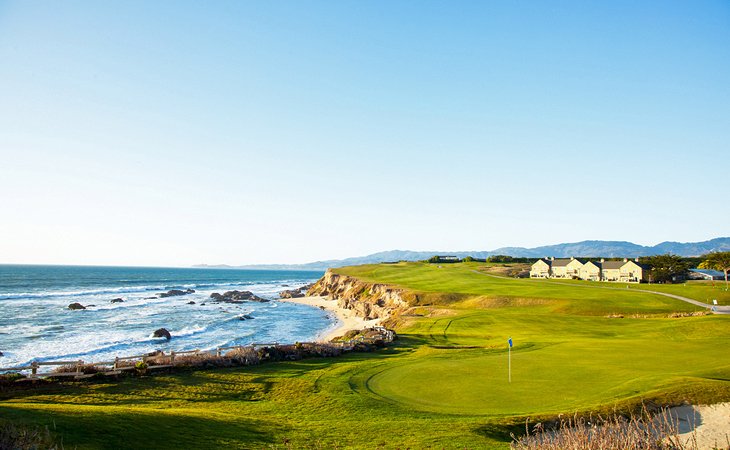 Half Moon Bay has two world-class championship golf courses, both on the Ritz-Carlton resort property. The Old Course was designed in 1973 by Arnold Palmer and Francis Duane. This classic 18-hole course features a parkland links design, cypress trees, and sensational views of the Pacific Ocean.
The course concludes with one of the highest ranked and most dramatic holes in the world, a 405-yard par four on a bluff with stunning ocean vistas. Numerous U.S. Open Qualifiers have been held at the Half Moon Bay Old Course.
Even more challenging, the newer Ocean Course opened in 1997 and was designed by renowned landscape architect Arthur Hills. This classic 18-hole Scottish links-style course is perched high on a rugged bluff overlooking the crashing Pacific Ocean waves. Every hole of this course offers sea views, and the final four holes are considered some of the finest anywhere.
On weekends at sundown, bagpipers play on the course in the Scottish tradition. In 2008, the course hosted the LPGA Samsung Golf Championships.
Official site: www.halfmoonbaygolf.com
9. Pescadero's Farms and Coastal Delights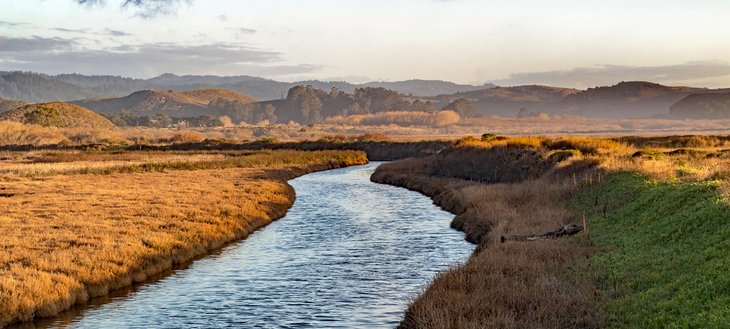 On the way from Half Moon Bay to the quaint rural community of Pescadero, about 17 miles to the south, travelers drive past rolling coastal hills and a patchwork of artichoke, lettuce, and green bean farms. This beautiful stretch of countryside encompasses wooded rolling hills and agricultural lands, as well as marshlands and beaches.
The Pescadero Marsh Natural Preserve is home to diverse wildlife in its wetlands, saltwater ponds, and flowing creeks, including migratory birds and endangered species such as the San Francisco garter snake and the California red-legged frog.
There are four hiking trails within the 235-acre Pescadero Marsh Natural Preserve, as well as opportunities for kayaking. Docents lead nature walks on the first and third Sundays of the month.
Sheltered by rocky cliffs, Pescadero State Beach is a quiet, sandy beach with unspoiled natural scenery and a small picnic area. The beach is two miles from the town of Pescadero, which is east of Highway One on Pescadero Road.
Foodies can visit the Harley Farms Goat Dairy to purchase award-winning cheese and locally produced jams at their shop, or to attend one of the Farm Dinners, special candlelit meals held in the restored Victorian barn. The Harley Farms Goat Dairy also offers farm tours and picnics.
10. Pumpkin Season in October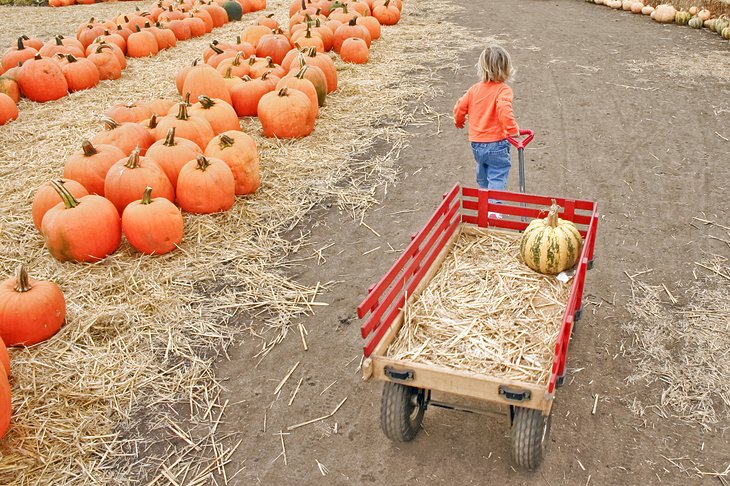 During the pumpkin season in October, traffic into the "World Pumpkin Capital" slows to a crawl as visitors from San Francisco and the South Peninsula make their way into Half Moon Bay on the two-lane road. The rewarding drive offers views of rolling fields dotted with bright orange pumpkin patches, country barns, and scarecrows overlooking the ocean.
Families with small children have fun visiting the farms and picking out the perfect Halloween pumpkins. Several pumpkin farms feature attractions designed for little ones, such as pumpkin carving contests, mazes, pony rides, and petting zoos.
The most anticipated local event, the Half Moon Bay Art & Pumpkin Festival in mid-October, draws big crowds. This lively event on Main Street features attractions such as a parade, arts, crafts, and live music.
Festival highlights are the gigantic pumpkin competitions, with some weighing in at more than 1,000 pounds, and the creative Jack-o-Lanterns and pumpkin sculptures by the "Picasso of pumpkin carvers."
11. Gray Whale Cove Trail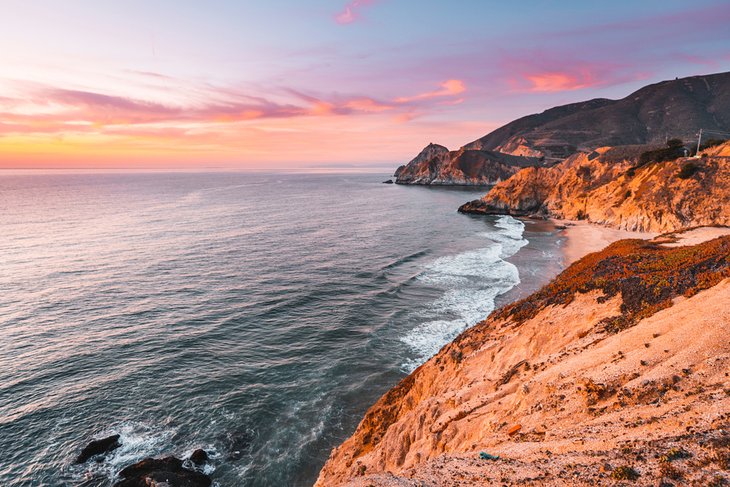 For a breathtaking coastal hike, head to the community of Pacifica (about 10 miles north of Half Moon Bay). A spectacularly scenic trail begins at the Gray Whale Cove State Beach parking lot, which is east of Highway One.
After a slight incline from the parking lot, the trail winds around the hillsides and continues south at a gentle grade (for about one mile) alongside ocean bluffs until reaching Montara State Beach. The trail offers an easy hike with stunning vistas of the shoreline and crashing waves below. Hikers may also spot gray whales during the migration season.
With the San Pedro and Montara mountains in the background and the Pacific Ocean crashing against granite outcrops, the setting is truly inspiring. The trail is lined with typical California coastal vegetation such as sagebrush and coyote bush, but also poison oak, so watch out for its three-pronged reddish-green leaves.
During springtime, this trail is a lovely place to spot colorful wildflowers, including blue Douglas irises, vibrant pink hollyhocks, and bright yellow buttercups. Gray Whale Cove also has a sheltered, sandy beach.
12. Fitzgerald Marine Reserve, Moss Beach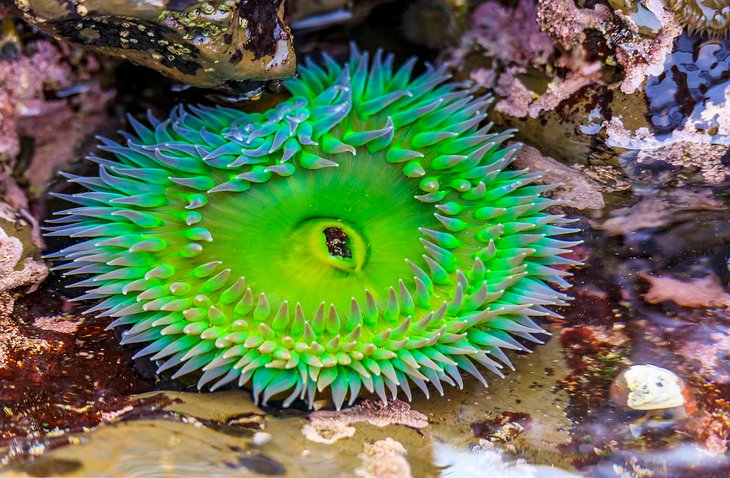 At the Fitzgerald Marine Reserve in Moss Beach, the community neighboring seven miles to the north of Half Moon Bay, visitors can discover the fascinating world of tide pools. During low tide, the saltwater pools are filled with sea creatures like hermit crabs, starfish, and purple shore crabs.
For a scenic walk, take the trail that begins at the sandy cove on the southern end of the reserve and winds through a grove of Monterey cypress trees.
During springtime, it's sometimes possible to spot California gray whales just offshore. In the summer and fall, look out for brown pelicans swooping over the waves.
13. Watch the Elephant Seals at Año Nuevo State Park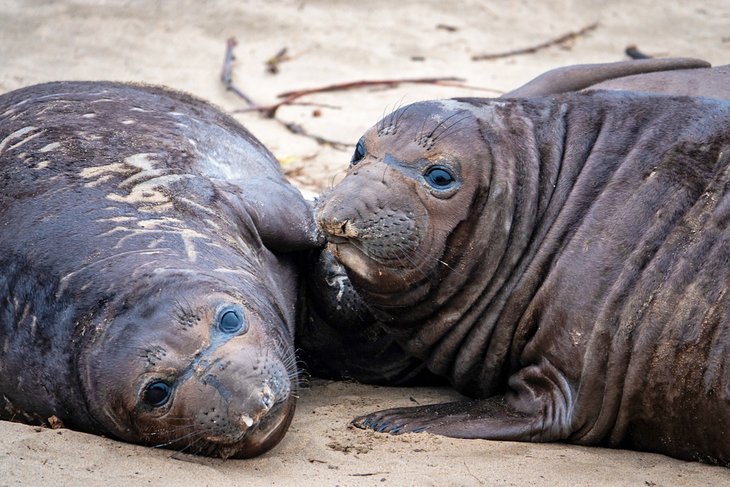 About 27 miles south of Half Moon Bay, the Año Nuevo State Park is a nature reserve featuring wetland marshes, dune fields, coastal scrub, and beaches. Every winter, an incredible event occurs here: Thousands of enormous elephant seals arrive on the shores for breeding season, from December through April.
This is the world's largest mainland breeding colony for the northern elephant seal, and as many as 10,000 seals come to the dunes and beaches of Año Nuevo State Park to breed and give birth to their pups.
Ano Nuevo State Reserve is only open for guided tours from December through April. Reservations are required. The rest of the year, visitor permits are required.
Visitors will be surprised by the size of the bull elephant seals, stretching to 16 feet and weighing an average of three tons each. The bull seals guard the harem of female seals and their babies. Sometimes visitors may even see a mother seal giving birth.
Visitors can also observe "molting" season from April to August. During this time, the seals shed the outer layer of their skin and fur in a four- to six-week process as they rest on the beaches.
14. Burleigh Murray Ranch State Park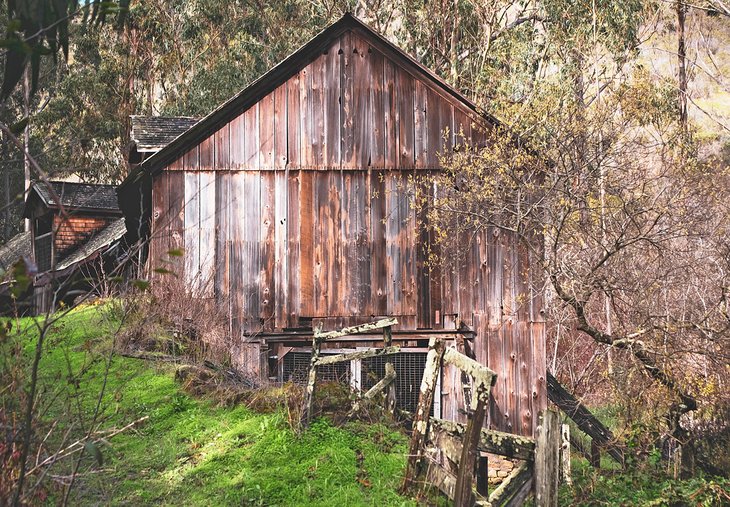 Nestled in a valley about three miles from the Half Moon Bay downtown, Burleigh Murray Ranch State Park delights visitors with its pristine rural landscapes. Expansive chaparral-covered rolling hills and shady eucalyptus groves give the place a peaceful quality.
Within the park is a 1930s bungalow and a run-down historic barn that dates to the late 1800s. There is also a two-mile hiking trail that follows the meandering Mills Creek and continues into a narrow valley and brush-covered open space.
Where to Stay in Half Moon Bay for Sightseeing
Luxury Hotels:
The epitome of luxury, The Ritz-Carlton, Half Moon

Bay

is a five-star oceanfront resort with an upscale spa and two championship golf courses. For those traveling with children, there are on-site kids' activities and babysitting services, so that parents can get out and enjoy a round or two of golf or a game of tennis. Other luxury amenities include indoor and outdoor pools, a concierge service, and fitness center.
English country-style gardens surround the romantic Mill Rose

Inn

bed and breakfast hotel, located in the heart of town just a few blocks from the restaurants and shops. The inn occupies a charming cottage that dates to 1901 and has been lovingly renovated. There are only six guest rooms, allowing staff to devote their full attention to your every need, from spa services to a hearty gourmet breakfast with fresh-squeezed juices and homemade breads.
Another excellent bed-and-breakfast hotel is the Nantucket Whale

Inn

, housed in a renovated Victorian that dates to 1898. This centrally located boutique accommodation merges East Coast and West Coast nautical themes. In addition to beautifully furnished rooms, some with fireplaces and whirlpool tubs, the inn has lovely outdoor space and common areas where evening refreshments are served.
Mid-Range Hotels:
The Beach House at Half Moon

Bay

is an upscale mid-range boutique hotel, with a beachfront location and spectacular ocean views. Spacious suites include fireplaces, refrigerators, and microwaves. Amenities include a well-equipped fitness center and spa, as well as a complimentary continental breakfast and free parking.
Located at the edge of the Ritz property's golf course, Half Moon Bay

Lodge

offers plush accommodations in an excellent location. Amenities include a heated outdoor pool and Jacuzzi, a fitness center with a sauna, golf course views, and an outdoor fireplace.
If you want both the B&B experience and a beachfront lodging, the Oceano Hotel & Spa Half Moon

Bay

is an excellent option located right on Pillar Point Harbor. Each suite has a romantic fireplace and a balcony from which you can enjoy the views of the ocean and gardens. The Oceano also offers a full range of spa services, room service, and concierge.
Budget Hotels:
For a dependable budget-friendly hotel located close to the beach and several restaurants, the Quality

Inn

is a great choice. They offer a free hot breakfast, parking, and WiFi, and rooms are equipped with refrigerators. Family rooms are available, and there is a small fitness center on-site as well.
The Miramar Inn &

Suites

provides excellent value along with top-notch amenities and an ideal location near the Pillar Point Harbor. The spacious guest rooms were recently remodeled and feature refrigerators, as well as air-conditioning. Travelers will also appreciate the 24-hour front desk and fitness center.
More Related Articles on PlanetWare.com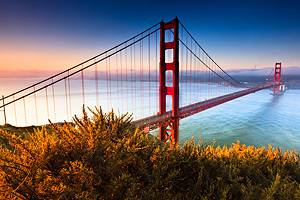 San Francisco Sights: Half Moon Bay is about 45 minutes south of San Francisco, making a day trip into the city and even the surrounding area a great option for tourists. For those staying in San Francisco, there are plenty of things to do with kids, and many of the city's top attractions can be visited on a walking tour.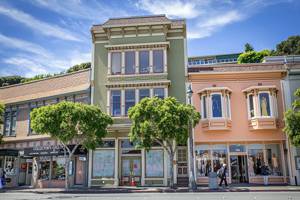 Bay Area Attractions: Across the bay via the Golden Gate Bridge or by ferry past Alcatraz Island, tourists can spend a day exploring the Marin Headlands or poking around the charming town of Sausalito. To the east, tourists can take the Bay Bridge from San Francisco to Oakland, a city known for its ethnic restaurants and lakeside park. Younger travelers will enjoy the nearby college town of Berkeley, which is full of hip hangouts.