14 Top-Rated Attractions & Things to Do in Oakland
Named after the shady oak trees native to this area, Oakland is the smaller city across the San Francisco Bay that has become a hip, up-and-coming destination in its own right.
While Oakland used to be considered a nondescript manufacturing city, nowadays the town has real style, and much of the locally made goods are handcrafted artisanal products. A true melting pot, Oakland is home to a diverse population.
The city's African-American community brought traditional soul food along with a legendary jazz and blues music scene, and immigrants from all over the world have opened Ethiopian, Indian, Italian, Mexican, Thai, and other authentic ethnic restaurants that provide an immense variety of culinary options.
Tourists will enjoy discovering the local eateries and street food, as well as the lively street fairs and summer festivals. Oakland is a mecca for cultural happenings such as music concerts, dance performances, and gourmet food events.
Discover the best places to visit in this vibrant, multicultural city with our list of the top attractions and things to do in Oakland.
1. Lake Merritt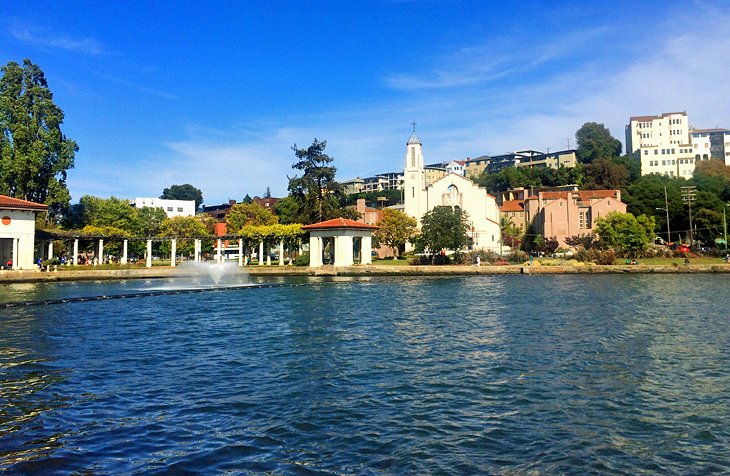 Lake Merritt is an idyllic parkland with expansive lawns, groves of luxuriant trees, and pleasant picnic areas. This lush green space offers an oasis of tranquility in the heart of the city. Locals flock here to relax and socialize.
The Lakeside Park at Lake Merritt features seven acres of beautiful themed gardens, including a Bonsai Garden; the fragrant Sensory Garden, planted with aromatic plants such as lavender, oregano, rosemary, and Grecian bay trees; an Edible Garden that demonstrates how to grow organic vegetables; and a lovely Mediterranean Garden that centers around a historic fountain.
Within Lakeside Park is Children's Fairyland, a storybook-themed attraction that is one of the best places to visit in the area for families with young children.
Surrounding the lake's shoreline within Lakeside Park is a three-mile path for walking and jogging. Other things to do include bird-watching and water sports.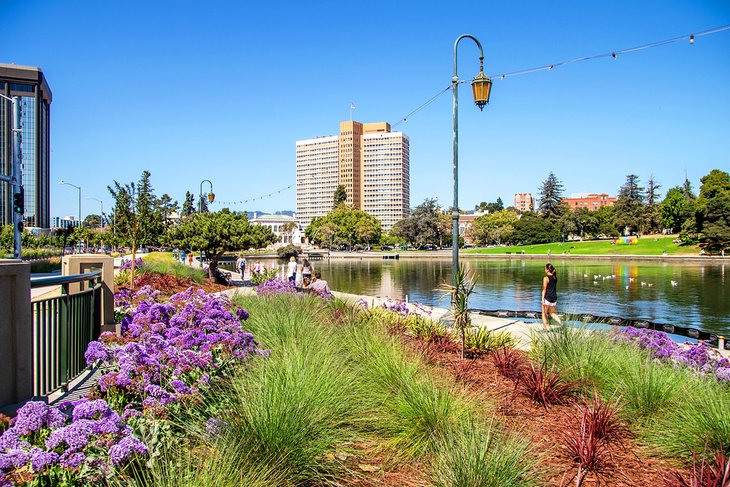 Visitors can rent canoes, kayaks, row boats, or pedal boats by the hour from the Lake Merritt Sailboat House during spring, summer, and fall. It's also possible to take a gondola ride across the lake.
Lakeside Park is also home to a wildlife sanctuary. Because the lake is a tidal lagoon filled with seawater, it attracts a marvelous variety of birdlife such as Canadian geese, pelicans, the snowy egret, and black cormorants. Established in 1870, this is also the oldest designated wildlife refuge in the country.
The last surviving of the beautiful Victorian mansions that graced the banks of Lake Merritt in the late 19th century, the Camron-Stanford House, is open to the public for guided tours on Sundays. Built in 1876, the Camron-Stanford House features elegant period decor. Offering a chance to experience the lifestyle of the Victorian era, the Camron-Stanford House hosts themed tea parties throughout the year. The traditional English afternoon tea is served in a lovely dining room (reservations are required well in advance).
For those seeking a good meal in a pleasant setting, the Lake Chalet restaurant treats guests to delicious California cuisine and delightful outdoor seating with waterfront views. The restaurant also hosts music concerts on the dock during summertime.
2. Jack London Square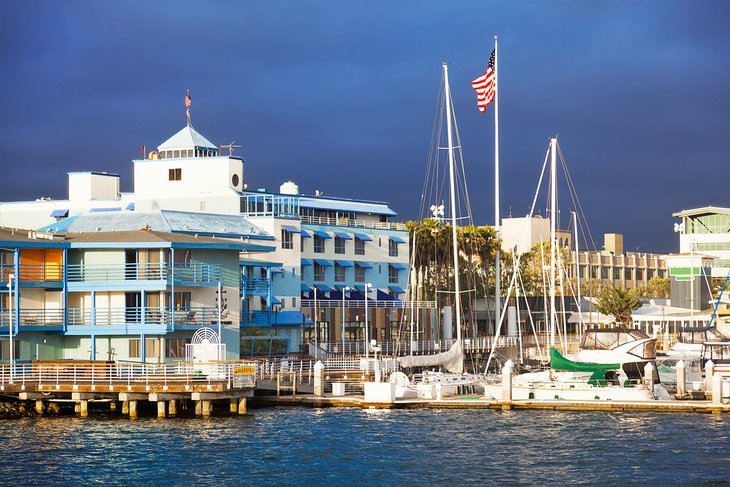 Jack London Square has a lively maritime atmosphere in a waterfront setting on the Oakland estuary. This historic neighborhood was a stomping ground of famous American author Jack London, who worked at the docks of the Oakland port. In the center of the square stands a replica of the log cabin where he lived during a wilderness expedition in Alaska.
Today, Jack London Square boasts a trendy dining scene and a picturesque waterfront trail. The area has many inviting restaurants with pleasant outdoor terraces overlooking the marina.
At the entrance to Jack London Square is the famous soul food restaurant Everett and Jones, known for its authentic Southern-style barbecue meals and live music events.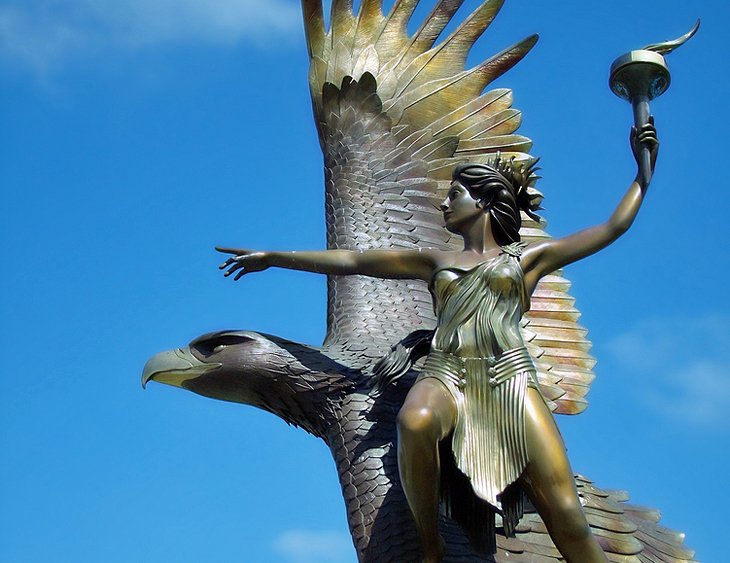 Be sure to see the historic USS Potomac vessel docked at the port (540 Water Street). This was Franklin D. Roosevelt's presidential yacht from 1934 to 1945. Now the USS Potomac offers educational dockside tours, sightseeing tours, romantic sunset cruises, and lunchtime history cruises.
Many local companies also offer kayak tours of this area.
Foodies will love the Jack London Square Farmers' Market, held on Sundays from 9am to 2pm at Broadway and Water streets.
3. Oakland Museum of California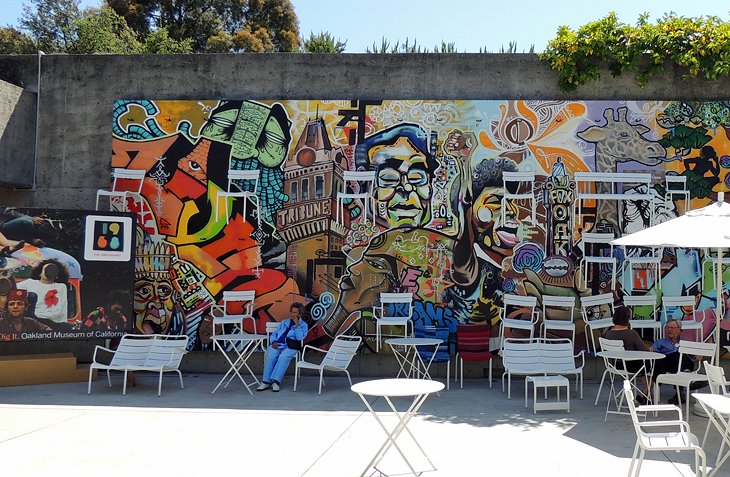 The Oakland Museum unveils the rich heritage and culture of California through its engaging exhibits and extensive permanent collection. The museum's galleries include areas dedicated to the natural sciences, California arts, and history of the state.
This unique museum has a special focus on the Oakland community and often features exhibits related to the city's social justice movements, as well as the history of political activism. Highlights include the ongoing exhibit on Black Power, which provides a look at the city's Black Panther movement and illustrates the progress of Black anti-racist activism; on display is Black Panther Party leader Huey P. Newton's wicker chair.
Every Friday night from 5pm to 9pm, tourists have a chance to combine a museum visit with entertainment while mingling with the local community. The Friday Nights at OMCA event offers late-night admission hours and the chance to grab a meal next to the museum at one of the gourmet food trucks (parked on 10th Street between Oak Street and Fallon Street).
The museum has a garden and a café with an outdoor patio that serves lunch, coffee, snacks, and refreshments.
Address: 1000 Oak Street, Oakland, California
Official site: http://museumca.org
4. Children's Fairyland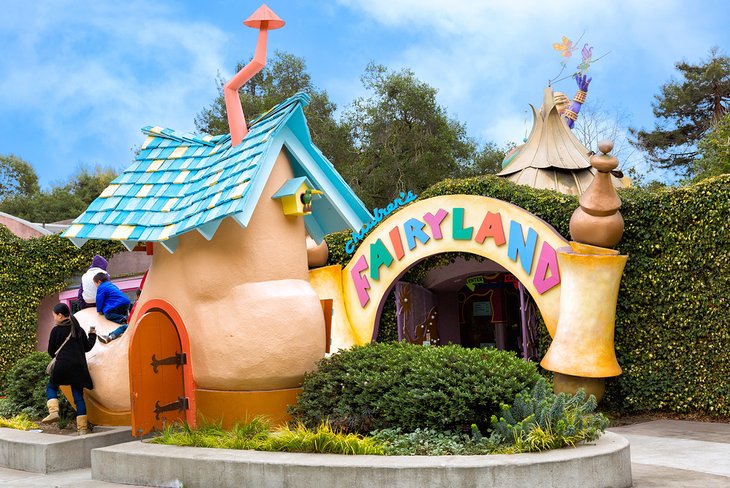 Adjacent to Lake Merritt's Lakeside Park, Children's Fairyland has been entertaining young children since 1950 with a variety of attractions on the theme of classic fairy tales. This whimsical amusement park is known to have inspired Walt Disney.
Fairyland is famous for its Storybook Puppet Theater, the oldest continuously operating puppet theater in the United States. The theater brings puppet dramas to life with charming costumes, colorful sets, and music. The puppets also expose kids to a variety of cultures, utilizing not only classic European hand puppets and marionettes but also Japanese bunraku and Balinese shadow puppets.
There are also an assortment of kiddie rides, a favorite being the Jolly Trolly, a 1954 mini railroad that rides through the park and through a tunnel. Other popular rides include the 1956 Wonder-Go-Round; an Alice in Wonderland-themed carousel; and a mini Ferris wheel called Anansi's Magic Web, named for an African children's tale.
The park features play areas designed as kid-sized storybook sets, where fairy tales come to life and inspire the imagination. Favorite storybook sets include the Alice in Wonderland Tunnel, Peter Rabbit's Garden, and a Jolly Roger Pirate Ship based on the story of Peter Pan.
Address: 699 Bellevue Avenue, Oakland, California
Official site: https://fairyland.org
5. Reinhardt Redwood Regional Park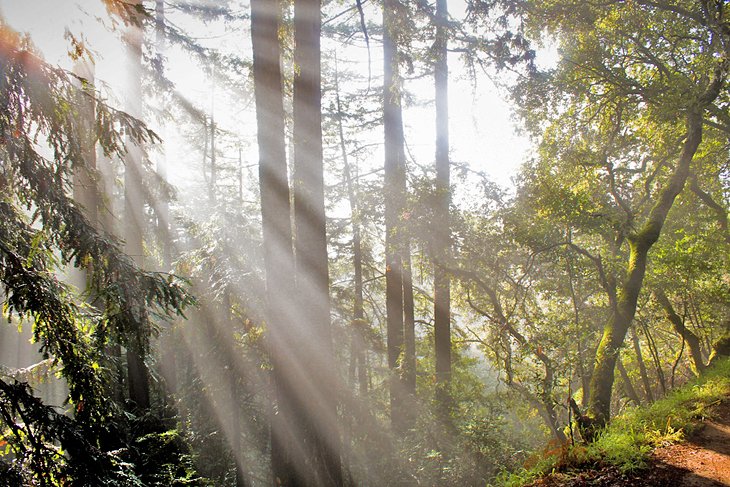 Reinhardt Redwood Regional Park is a second-growth forest on land that was cleared by logging for timber in the mid-1800s. Thanks to the preservation effort of Dr. Aurelia Reinhardt (elected to the park district's first Board of Directors) in the 1930s, the redwood forest was regenerated and opened as a public park in 1939. The park was renamed in 2019 to honor Reinhardt's civil service work.
This pristine redwood forest is just a few miles outside of downtown Oakland, and it's worth taking the drive out here to meditate in the peaceful redwood groves. A network of hiking, cycling, and equestrian trails traverses the park. The well-groomed paths invite visitors to amble through the redwoods, and detailed trail maps are available.
The magnificent scenery and refreshing environment make this park a paradise for relaxation and nature appreciation. Visitors are awed by the grandeur of the giant redwoods and fragrant evergreens. Many of the stately coastal redwood trees (Sequoia sempervirens) soar to 150 feet, providing welcome shade on warm days.
Within the park's 1,833 forested acres are deer, rabbits, and squirrels, as well as rare species like the golden eagle and the Alameda striped racer. Rainbow trout make their way through the park's Redwood Creek on their seasonal migration.
The park has restrooms, water fountains, picnic areas including reservable picnic tables, a children's playground, and sites for overnight camping.
Address: 7867 Redwood Road, Oakland, California
Official site: www.ebparks.org/parks/redwood
6. Oakland Zoo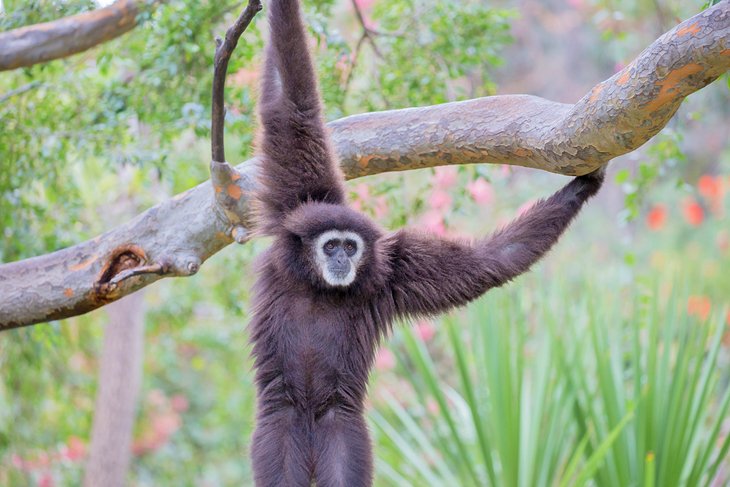 Inside the 490-acre Knowland Park, the Oakland Zoo is home to over 850 native and exotic species residing in natural habitats, including an African savanna, tropical rain forest, and the Australian outback.
For younger visitors and those who love to get up close, the Wayne and Gladys Valley Children's Zoo features an Otter Den and a Lily Pad Pond. Children love watching the animal feedings and also enjoy having the chance to pet friendly goats and sheep.
Park visitors can get a bird's-eye view of the California Trail educational area and its herd of bison on a gondola that travels 650 feet above sea level, or hop on the Sky Ride that glides over the African savanna, home to giraffes, zebras, and elephants.
The gondola ride ends up at the Landing Café, which serves artisanal pizzas, burgers, sandwiches and salads. From the café's outdoor deck, guests can admire sweeping views of the landscape.
The zoo also has a carousel, a train that meanders through the park, a roller coaster, and other rides. In the rides area, visitors can grab snacks and quick meals at the Safari Café.
Address: 9777 Golf Links Road, Oakland, California
Official site: www.oaklandzoo.org
7. Dining & Shopping in Rockridge & Temescal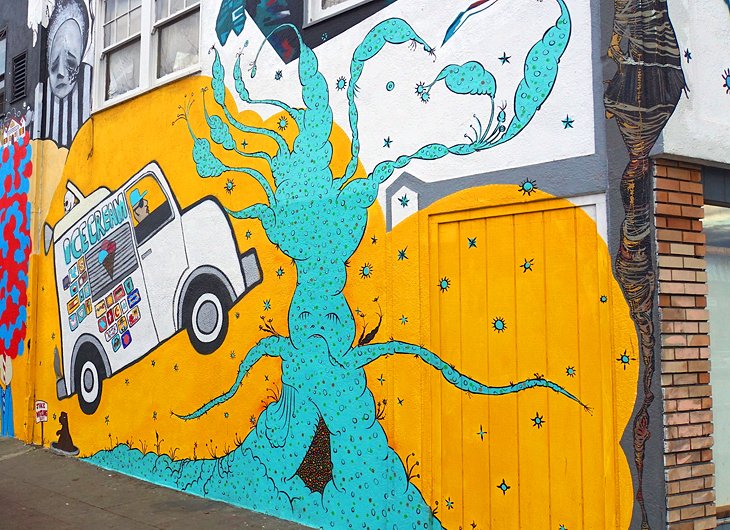 Oakland's trendy Temescal neighborhood caters to a diverse crowd of foodies, hipsters, techies, and young families. This area has a top-notch dining scene that rivals the Gourmet Ghetto in Berkeley.
The main drag of Temescal is Telegraph Avenue, with many excellent ethnic restaurants and pizza places found in the area around 48 Street to 52nd Street. Just off Telegraph Avenue on 49th Street are two charming pedestrian alleyways with locally owned specialty boutiques and artisan shops.
One of the neighborhood's most popular dining options, Pizzaiolo (5008 Telegraph Avenue at 50th Street) specializes in seasonal Italian cuisine and authentic wood-fire oven-baked pizzas.
In the historic horse stables and carriage houses of Temescal Alley (as well as the nearby Alley 49), visitors will now find a favorite ice-cream parlor (Curbside Creamery), stylish clothing stores, boutiques selling handcrafted jewelry, and an old-fashioned barber shop. The Temescal Farmers' Market takes place in Temescal Alley everyday Sunday from 9am to 1pm year-round.
The Rockridge neighborhood has a great selection of restaurants along College Avenue, between Florio Street and Bryant Avenue. This neighborhood is also full of locally owned boutiques, artisan coffee shops, casual American-style cafés, stylish French bistros, and authentic ethnic restaurants.
8. Morcom Rose Garden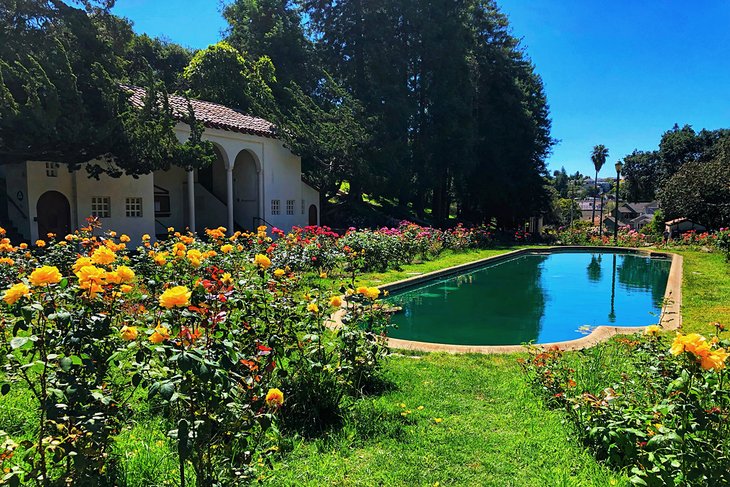 Tucked away in a quiet neighborhood, the city-owned Morcom Rose Garden is an enchanting spot that is planted with thousands of roses in all different colors and varieties. The profusion of blooms makes this garden a favorite local spot for photo ops.
Roses bloom from early May through October. The garden is especially delightful in springtime and early summer. The peak season runs from the end of May until the end of July.
Visitors may take a stroll through the gardens, admiring the landscaping around the stairways and walkways, however on weekends, you may find that some areas are in use; the Oakland Rose Garden is sometimes rented out as a venue for weddings and special events.
Address: 700 Jean Street, Oakland, California
9. Chabot Space & Science Center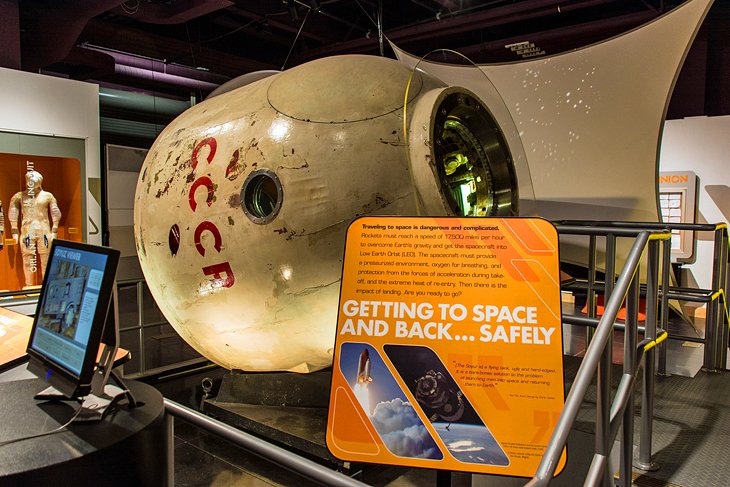 Located within Reinhardt Redwood Regional Park, the state-of-the-art Chabot Space & Science Center presents fascinating exhibits about planet Earth, the solar system, and the galaxies. The Chabot Space & Science Center features interactive labs and research-level telescopes, which give visitors of all ages the chance to learn about the universe.
Exhibits include an exploration of near space, as well as a look at the expansive universe beyond our perception. One of the most thrilling exhibits is an animated real-time representation of the sun, including hot spots and solar flares.
The center's Planetarium has a 70-foot full dome, which presents shows using digital projection for stunning, seamless images, along with top-notch digital sound. Audiences will enjoy an engaging simulated stargazing experience, with the sense of being immersed in the night sky.
At 1,500 feet above sea level, the Observation Deck is well positioned for viewers to admire the cosmos. The deck features three telescopes, including the historic instrument dating to 1883 that was donated by Anthony Chabot (founder of the center).
Address: 10000 Skyline Boulevard, Oakland, California
Official site: https://chabotspace.org/
10. Black History Tours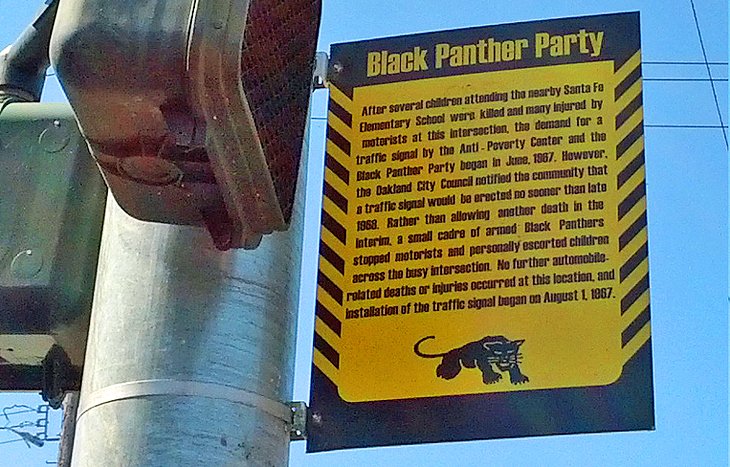 Oakland has long been a center of progressive causes. For anyone who is interested in learning about African-American history and the civil rights movement, the city of Oakland provides an open-air classroom.
The Black Panthers originated in Oakland during the civil rights movement of the '60s and the group's legacy is still seen throughout the city at various landmark sites. Visitors can take a self-guided walking tour to discover the history of the Black Panther Party.
The Black Panther Party of Self Defense was founded in 1966 by Huey P. Newton and Bobby Seale to protect African Americans from police brutality. This social justice organization adopted a Ten-Point Platform with the goal of empowering disenfranchised Blacks, and provided community support such as healthcare, affordable housing, education, and a free breakfast program for children.
The city of Oakland has indicated twelve landmarks. These include the Traffic Signal at the corner of Market & 55th streets, where Black Panthers safely escorted children across the intersection; the "Serve the People" mural on 14th Street at Peralta Street; and Huey Newton's Penthouse on Lakeshore Drive, where Huey P. Newton lived in the '70s.
Included among the landmarks is It's All Good Bakery at 5622 Martin Luther King Jr. Way, location of the original Black Panther Party office. Besides selling delicious cakes, cookies, pies, and fruit cobblers, the bakery displays historic newspaper articles about the Black Panthers.
11. Cultural Events and Festivals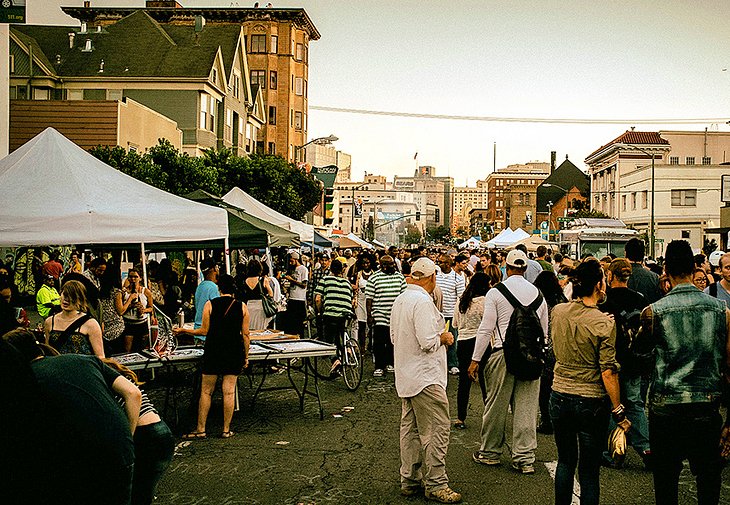 Oakland's vibrant cultural events reflect the city's diversity. From art walks to street food and jazz festivals, there is something for everyone.
A popular monthly event is the Oakland Art Murmur gallery walk, held on the first Friday of every month. More than 30 galleries in West Oakland and Jack London Square participate in Art Murmur by opening to the public from 6pm to 9pm. The event also includes musical entertainment, gourmet food trucks, and local street vendors selling art and artisanal products.
Oakland's biggest festival, Art + Soul Oakland is a two-day festival in August that features a diverse lineup of soul, blues, jazz, and gospel concerts, as well as hip hop music and dance performances. Other highlights of the Art + Soul Festival are the carnival rides, art activities for kids, and artisan vendors' stalls. Foodies will enjoy sampling specialties from a variety of vendors.
Oakland also has many street fairs throughout the year. Many locals head to the Temescal Street Fair, a neighborhood summertime event that includes live music, art, and street food. The LaurelStreet Fair World Music Festival in August celebrates international music, cuisine, art, and dance.
Other events focus on ethnic heritage, diversity, and the local food culture, such as the Chinatown StreetFest in August; the Oakland Pride Parade & Festival in September; the Eat Real Festival in September, which showcases locally sourced, sustainably produced artisan-food products; and the Black Cowboy Parade & Heritage Festival in October, which honors the contribution of African Americans in the West.
12. Temescal Regional Recreation Area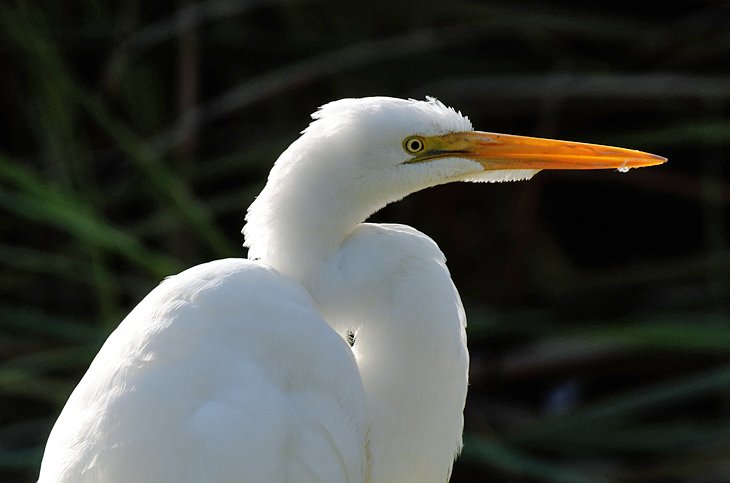 The Temescal Regional Recreation Area lies about three miles outside Oakland's downtown, formerly a reservoir for drinking water. Because of the peaceful scenery, the park draws many locals for outdoor recreation throughout the year.
There is a small beach that is popular for sunbathing during summertime. Swimming is permitted in a designated area of the lake; lifeguards are on duty every day (from 11am until 6pm) beginning Memorial Day until Labor Day.
Anglers enjoy fishing on the lake. Rainbow trout are stocked in the winter, and catfish are stocked in summer. There are also largemouth bass and bluegill fish.
At each side of the lake, picnic areas with grassy lawns offer plenty of space to stretch out, and some of the tables can be reserved ahead of time.
A paved wheelchair-accessible trail runs the length of the park, ideal for a gentle nature walk. Other paved biking paths are available for cyclists, including the East Shore Trail and a path along the park's eastern border.
Overlooking the lake is the historic Temescal Beach House, which is sometimes used for weddings, parties, and other events.
Address: 6500 Broadway, Oakland, California
13. African American Museum and Library at Oakland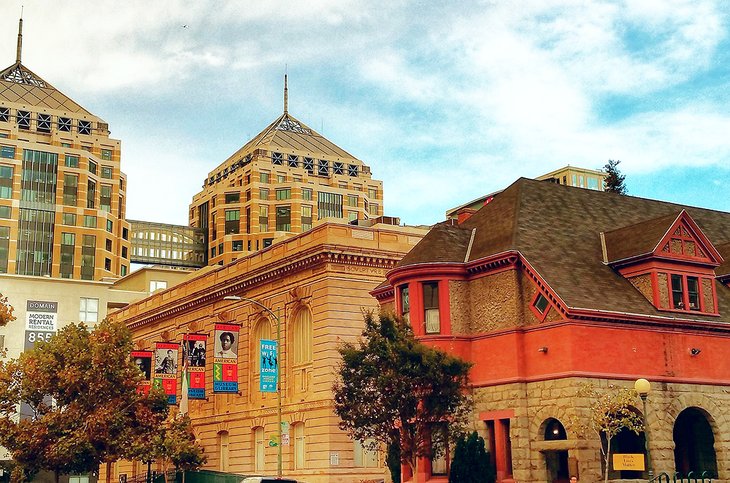 The African American Museum and Library at Oakland is a unique resource devoted to sharing the historical and cultural experiences of African Americans in Northern California and the Bay Area. More than 160 collections document the stories of prominent families and pioneers, as well as the history of churches and social and political organizations.
Designed to serve students and researchers, this reference library boasts a collection of 12,000 volumes about African American history and culture, or works written by African American authors. The Eternal Voices library contains videos that represent over 80 years of African American history in Oakland and the East Bay.
Scholars may use the microfilm collection to research special topics such as African American enslavement and Marcus Garvey's Universal Negro Improvement Association, and key historical figures like W.E.B. Du Bois.
Address: 659 14th Street, Oakland, California
Official site: https://oaklandlibrary.org/aamlo/
14. Dunsmuir-Hellman Historic Estate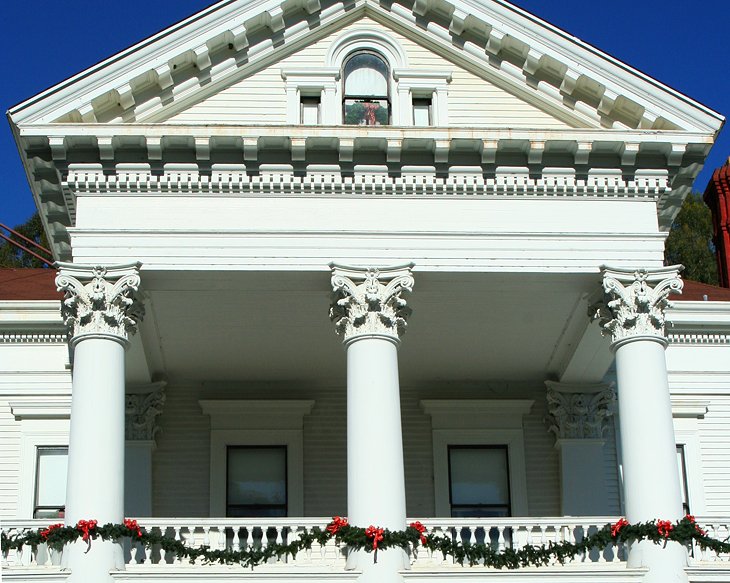 The Dunsmuir-Hellman mansion is nestled in an expansive valley, surrounded by the wooded Oakland Hills. The mansion was built in 1899 for the wealthy coal baron Alexander Dunsmuir. Listed on the National Register of Historic Places, this designated Oakland City Landmark was designed by San Francisco architect J. Eugene Freeman in the turn-of-the-century Neoclassical Revival style.
The mansion features a Tiffany-style dome, 37 rooms, wood-paneled reception halls, and 10 fireplaces. The estate is set on 50 acres of lawns and has a pond, gazebo, and beautiful gardens.
Operated by the city of Oakland's Parks, Recreation & Youth Development department, the Dunsmuir-Hellman Historic Estate is open to the public year-round for visits and guided tours.
The estate also hosts themed events throughout the year, including a Father's Day jazz festival and a variety of special activities during the Christmas holiday season.
Address: 2960 Peralta Oaks Court, Oakland
Map of Attractions & Things to Do in Oakland
Oakland, CA - Climate Chart
Average minimum and maximum temperatures for Oakland, CA in °C
J
F
M
A
M
J
J
A
S
O
N
D

14

7

16

9

17

9

19

11

21

12

22

13

23

14

23

14

24

14

22

13

18

9

14

7

PlanetWare.com
Average monthly precipitation totals for Oakland, CA in mm.

123

109

90

35

15

3

2

3

8

34

80

82
More Related Articles on PlanetWare.com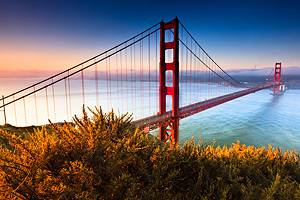 San Francisco and Nearby: Oakland is just across the bay from San Francisco and is connected by the Bay Bridge, which makes it an easy day trip from San Francisco. Oakland is also a good base for visiting many attractions of the Bay Area such as the neighboring college town of Berkeley and laid-back Sausalito.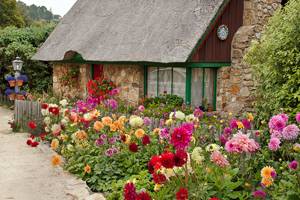 Smaller Cities: Those who prefer to vacation in smaller cities will enjoy the Monterey Bay area, best known for the city of Santa Cruz, which sits on its northern edge. At the opposite side of the bay, is the waterfront town of Monterey, once the capital of Spanish California. Five miles from Monterey is the romantic town of Carmel-by-the-Sea, where tourists will lose themselves in the enchanting old-world atmosphere.