11 Top-Rated Tourist Attractions in Monterey
We may earn a commission from affiliate links ()
The capital of Spanish California from 1770 to 1882, Monterey is a small city with many historical sites and modern attractions.
At one time, Monterey was an important city in the fish canning industry, but that all collapsed with the disappearance of the sardine. Cannery Row, originally the fish packing area, is now a beautiful restored neighborhood, with shops and restaurants.
Also along the waterfront are Fisherman's Wharf and the Monterey Bay Aquarium. Nearby, Point Lobos State Natural Reserve in Carmel and 17-Mile Drive offer some lovely coastal scenery.
Plan your visit with our list of top attractions in Monterey.
See also: Where to Stay in Monterey
Note: Some businesses may be temporarily closed due to recent global health and safety issues.
1. Monterey Bay Aquarium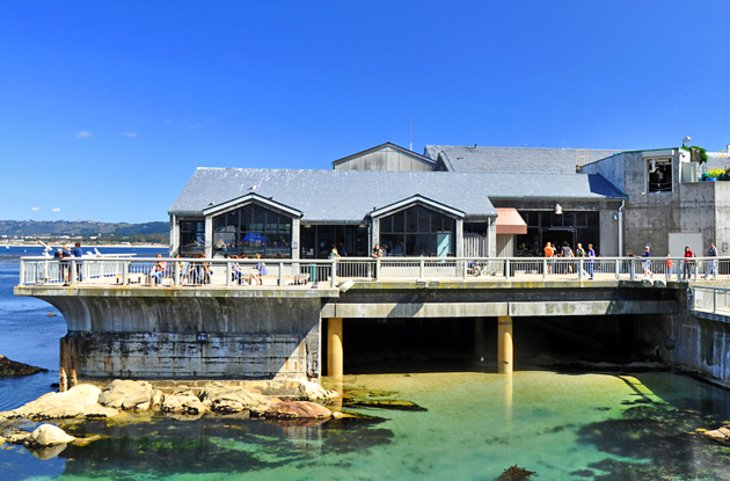 One of the most popular things to do in Monterey is a visit to the always entertaining Monterey Bay Aquarium. Exhibits are engaging and well laid out, and the setting on the water's edge is perfect.
If you time your visit right, you can see some of the daily shows and watch penguin or sea otters being fed by aquarists, or see tuna, sharks, turtles, and other marine life feeding through a huge window at the Open Sea exhibit.
The aquarium focuses on the rich marine life of Monterey Bay, but special exhibits offer insight into other areas. The architecture of the elaborate aquarium complex was adapted from the former Hovden Cannery, which stood here from 1916 to 1980 and was one of the largest of the eighteen in Cannery Row.
Address: 886 Cannery Row, Monterey, California
Official site: http://www.montereybayaquarium.org/
2. 17-Mile Drive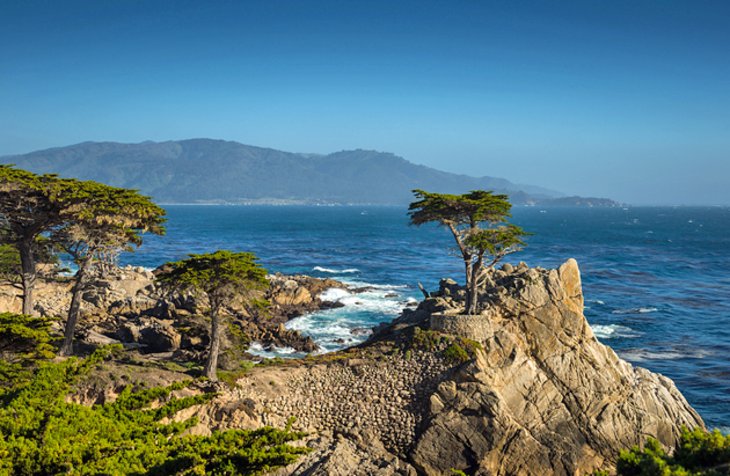 For beautiful scenery and stunning views, 17-Mile Drive is a must if you are in the area. Only a few miles from Monterey, on the south side of the Monterey Peninsula, lies the delightful seaside town of Carmel.
Although there is a much more direct route from Monterey to Carmel, the landscape and many charms of the countryside make it well worth going the long way around on 17-Mile Drive. This route begins at Pacific Grove Gate and runs through the Del Monte Forest, with an abundance of cypress trees and Monterey pines, past picturesque beaches, isolated cliffs, and a number of famous sites.
Of particular note are the beautiful views north and south from Cypress Lookout, the landmark tree known as The Lone Cypress, the famous Pebble Beach Golf Course, and The Lodge at Pebble Beach. At the end of the drive, take some time to explore the town of Carmel.
3. Cannery Row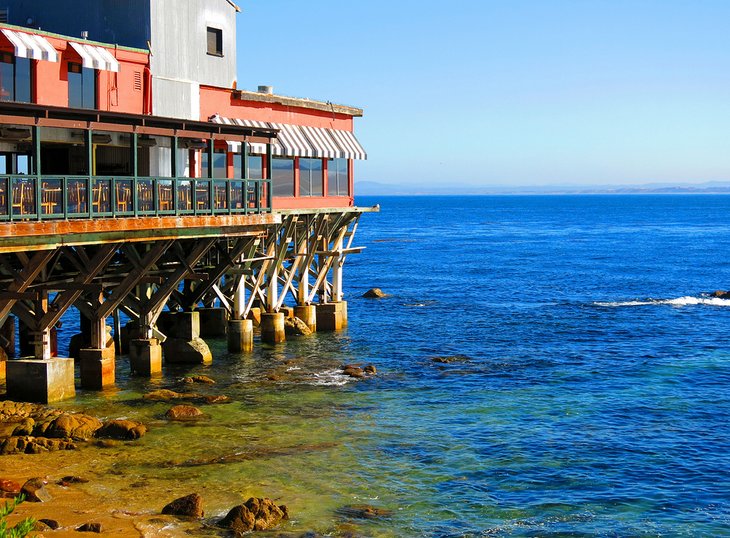 Cannery Row is a waterfront street that originally served as a fish packing area but today is one of Monterey's main tourist areas, with shops, restaurants, and a scenic waterfront.
Cannery Row has evolved over the years from its sketchy origins of warehouses, bordellos, and low-budget hotels to a relatively upmarket row of chain shops, boutiques, and restaurants, and it's a lovely place to stroll.
You can easily combine a visit to Cannery Row with stops at the Monterey Bay Aquarium and Fisherman's Wharf.
Official site: http://www.canneryrow.com/
4. Old Fisherman's Wharf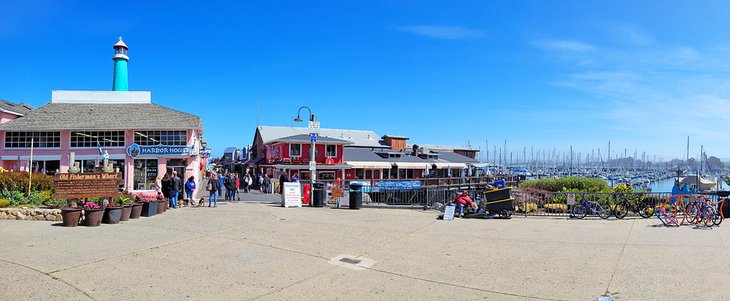 Old Fisherman's Wharf is another popular seaside, tourist-oriented area, not far from Cannery Row, with shops and restaurants. This is a great place for seafood, with some restaurants passing out samples as you walk by.
You can stroll around the oceanfront for views out over the bay and see sea lions sunning themselves. Whale watching excursions, deep-sea fishing charters, and glass bottom boat tours leave from the wharf.
5. Point Lobos State Natural Reserve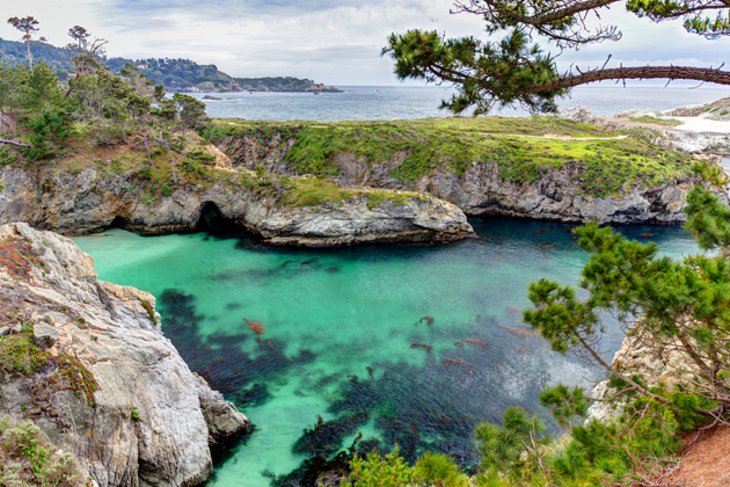 South of Carmel, about 15 minutes from Monterey, is a beautiful stretch of coastline that is encompassed by Point Lobos State Natural Reserve. The reserve is one of the best places to visit for photography, walking, or simply appreciating nature.
The outstanding scenery consists of dramatic granite cliffs and unusual rock formations created by the erosion, as well as headlands, caves, and rock-enclosed ponds. Waves crash on the rocks, while tidal pools reveal small marine life.
A number of interesting hiking trails in the area offer fabulous views over the headlands, ocean, and meadows. If you are lucky, you may spot sea otters; seals; sea lions; and during the winter months, whales.
Point Lobos State Natural Reserve also includes a large section of underwater area, where scuba diving is popular.
6. Wildlife Viewing at Coast Guard Pier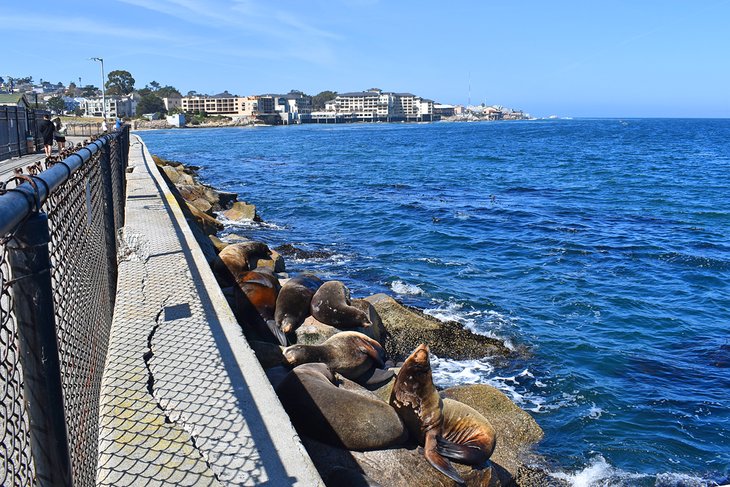 If you are interested in wildlife viewing or photography in the Monterey area, this is the place to come. Located between Old Fisherman's Wharf and Cannery Row, Coast Guard Pier is frequented by large numbers of sea lions, harbor seals, and sea otters, as well as seabirds. You'll be able to hear the seals barking as you approach.
The pier is actually a 1700-foot breakwater built in the 1930s and later covered over with a wharf. Today, it is the home port of the US Coast Guard Cutter Long Island. Fishing is allowed on the north side of the pier.
Apart from a small parking fee, access is free.
7. Monterey State Historic Park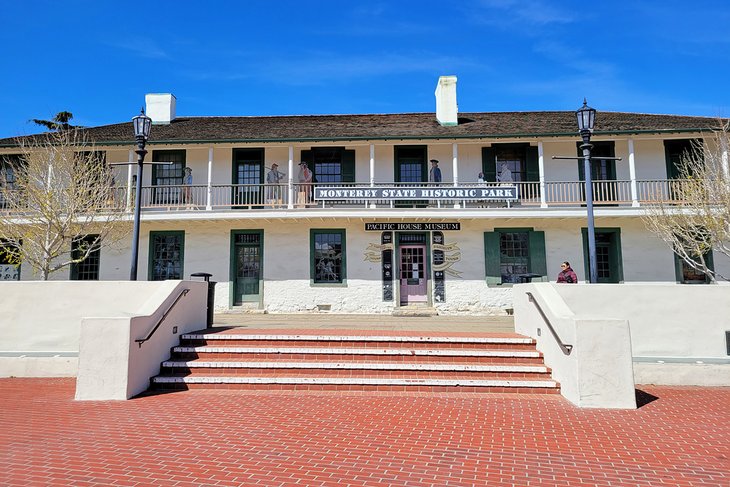 Monterey State Historic Park is located in Old Monterey, which was once the capital of California. The park consists of historic homes and buildings, some of which are adobe, and many date to the early 19th century.
The area is relatively compact, and attractions are linked by following yellow tiles in the sidewalks, making it very easy to explore.
In addition to the stately homes and buildings, the gardens are particularly impressive. These range from stunning rose gardens, to cypress hedges, and an educational herb garden.
From the Custom House Garden, you can see out to Monterey Harbor. Look down while you're walking through the park to see the rare whalebone sidewalk.
Address: 20 Custom House Plaza, Monterey, California
8. Monterey Museum of Art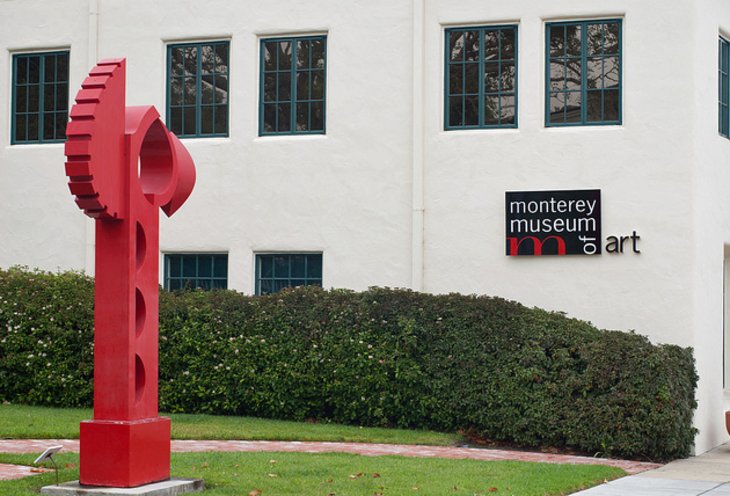 The Monterey Museum of Art has a large focus on California art and artists. There are two separate locations: The Pacific Street location, simply called the Monterey Museum, focuses on photography and contemporary art, with names like Ansel Adams, Armin Hansen, William Ritschel, and Edward Weston to name just a few.
At the second location, the Monterey Museum of Art - La Mirada is housed in a beautiful old mansion surrounded by lush grounds and a lovely rose garden. It displays changing exhibitions.
Official site: http://www.montereyart.org/
9. Dennis the Menace Playground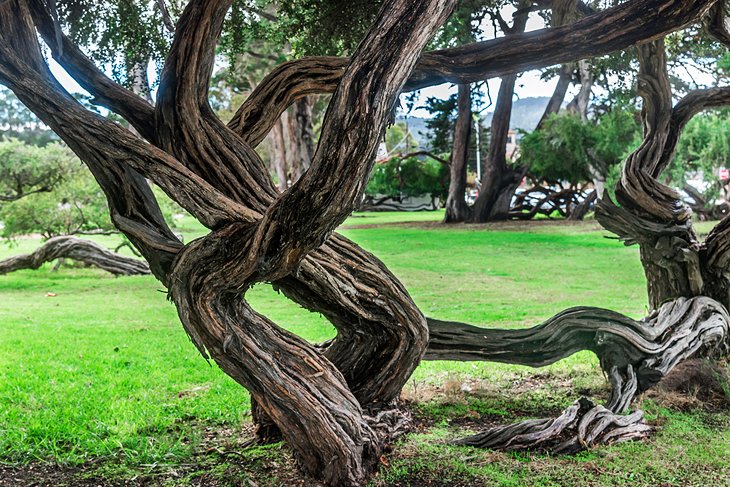 Based upon the comic book character, Dennis the Menace Playground is a locals' favorite when it comes to kids' parks, but it's also a great place to take children if you are visiting Monterey.
The park features slides and other play structures, a maze, and a lion-shaped drinking fountain for children. Mr. Hank Ketchum, the creator of Dennis the Menace, was a Monterey resident and was involved in the creation of the park.
Address: 777 Pearl Street, Monterey
10. Lovers Point Park and Beach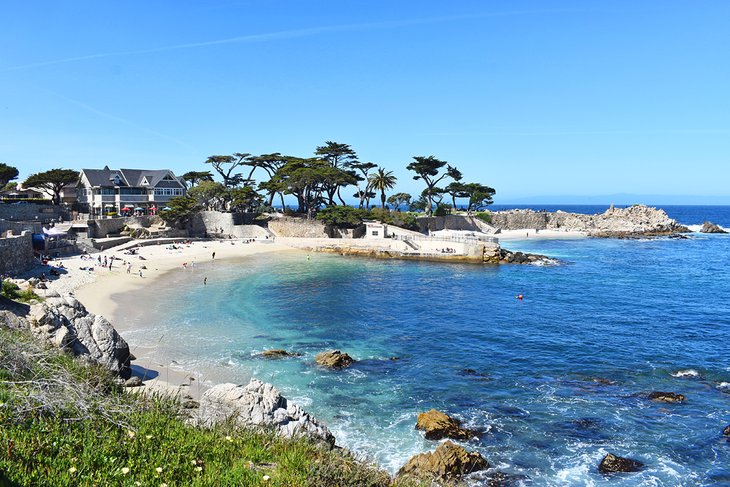 If you are an early riser, Lovers Point Park is one of the best places to watch the sun rise over the Pacific. This 4.4-acre park is a truly beautiful spot and an ideal place to stroll or enjoy a picnic. The park is popular with locals and visitors alike for its wonderful views out over the ocean and across Monterey Bay.
The park is also a convenient place to access the water with your kayak or canoe, scuba gear, or stand up paddleboard.
11. Monterey Bay Coastal Trail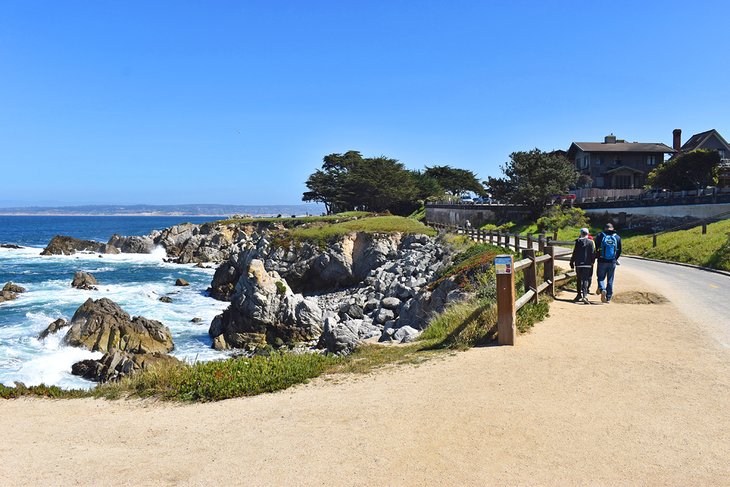 This 18-mile paved path follows the coastline from Castroville to Pacific Grove. You can walk, jog, ride a bike, push a stroller, walk a dog, or zip along on a skateboard.
Benches along the way provide rest spots. Snack bars are ideal for grabbing a quick bite, or you can settle in at one of the restaurants for a leisurely lunch.
The trail offers a pleasant way to make your way around Monterey. Major attractions along the way include Monterey Bay Aquarium, Cannery Row, Old Fisherman's Wharf, and the American Tin Cannery outlet mall.
Where to Stay in Monterey for Sightseeing
We recommend these great hotels in Monterey with easy access to top attractions like Cannery Row and the Monterey Bay Aquarium: