12 Top-Rated Attractions & Things to Do in Big Sur, CA
We may earn a commission from affiliate links ()
A roughly 90-mile rugged coastline in central California, Big Sur is more of an experience than a place to visit. It's where the Santa Lucia Mountains meet the Pacific Ocean, and where headlights beam across breathtaking ocean sunsets as the state-spanning Highway 1 slows with hairpin turns. Attracting travelers with roadside attractions like Keyhole Rock formations and 80-foot waterfalls plummeting into the ocean, every mile of the Big Sur coast is lined with postcard appeal.
An early morning fog often wraps the coast, but it typically burns off by the afternoon to reveal an intricate environment of redwood canyons and 300-foot ocean cliffs. From San Simeon in the south to Carmel-by-the-Sea up north, numerous state parks and public access points line this mountainous region of the coast and offer a wealth of things to do for outdoor enthusiats. Expect to spend the whole day or more to drive the Big Sur coast, with places like Pfeiffer Big Sur and Limekiln State Parks offering hours to explore and some of the best campgrounds in Big Sur.
Heading either north or south, each stop seems more amazing than the last on the Big Sur coast, with areas like Pfeiffer Beach and the Bixby Bridge providing one iconic landscape after another. Alongside the stunning ocean views and adjacent lush wildlands, expect a plethora of wildlife to come into view along the Big Sur coast. Sightings along this wild edge of the continent often include elephant seals, California condors, and the wild tourist pulled over to take pictures.
Plan your travels along this scenic coast with our list of the top things to see and do in Big Sur.
Note: Some businesses may be temporarily closed due to recent global health and safety issues.
1. Pfeiffer Beach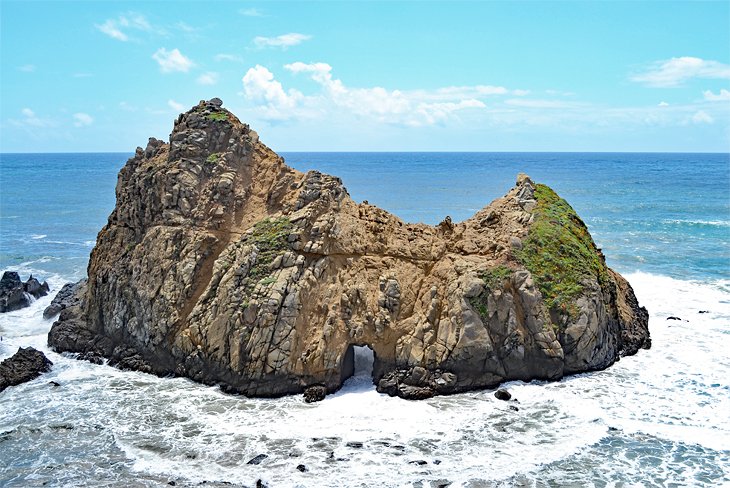 Slightly off the beaten path, the narrow and twisting two-mile road to reach Pfeiffer Beach is just over a mile south from the entrance of Pfeiffer Big Sur State Park. Inaccessible for RVs and trailers, a short trail leads from the parking lot to a breathtaking ocean view unrivaled anywhere else on the coast. With rough waves adding a hypnotic and steady force, backdropped by steep Santa Lucia Mountains, the enormous sea stacks at Pfeiffer Beach cause immediate awe and wonder.
The main attractions of Pfeiffer Beach is Keyhole Rock. Admired and often photographed, this enormous rock formation has a magnificent natural arch that pulses with seawater and sunlight. This is a popular place to see the sunset in Big Sur, but bringing a beach chair and watching the waves at Pfeiffer Beach is fun any time of the day.
Address: Sycamore Canyon Road, Big Sur, California
Official site: https://www.fs.usda.gov/recarea/lpnf/recarea/?recid=10918
2. Bixby Bridge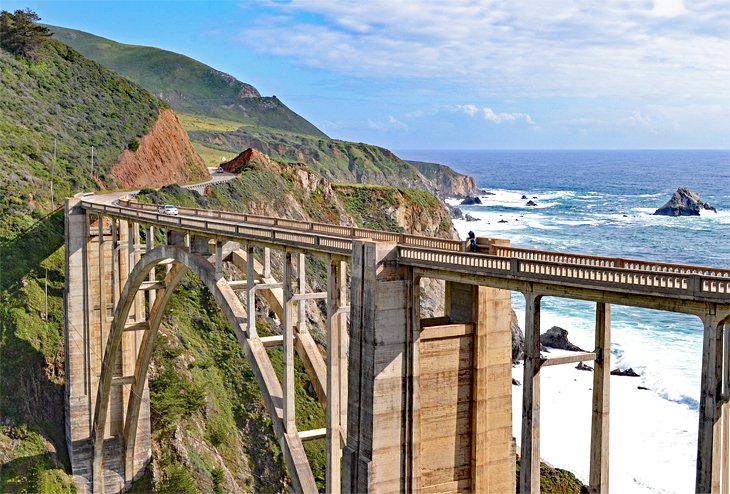 An iconic symbol of the Big Sur coastline, the Bixby Bridge is photographed by tourists from across the world. Also known as the Bixby Canyon Bridge, this modern marvel of engineering was completed in 1932 and remarkably stands 260 feet above Bixby Creek.
Parking can be tight to check out the bridge and pose for a picture, but numerous pulloffs and parking areas line the north side of the bridge. Multiple viewpoints of the bridge can also be accessed, providing plenty of angles for the thousands of cameras pointed at the bridge every weekend.
3. Julia Pfeiffer Burns State Park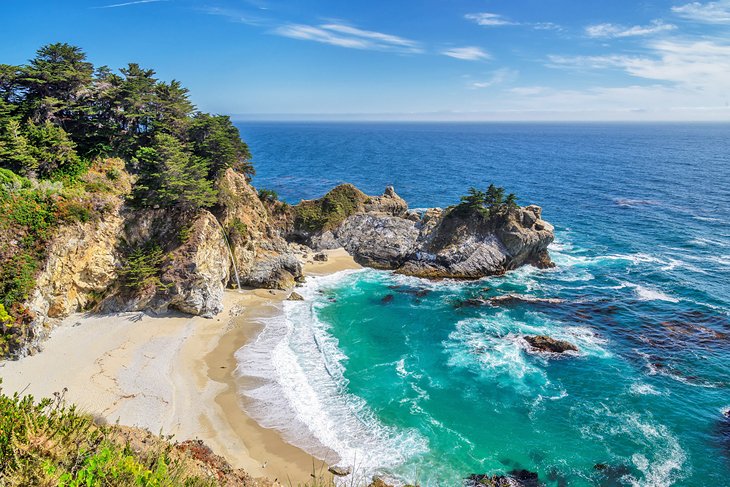 Named after an influential pioneer in Big Sur country, Julia Pfeiffer Burns State Park provides elevated landscapes to explore next to the ocean. Hiking paths like the Ewoldsen Trail navigate a vibrant canyon flourishing with coastal redwoods and Pacific madrone, and the stunning McWay Falls can be seen plummeting over 80 feet into the ocean with a half-mile walk from the parking lot. Natural occurrences like mudslides and wildfires can alter trail conditions within the park.
Address: 52801 California State Route 1, Big Sur, California
Official site: https://www.parks.ca.gov/?page_id=578
4. Pfeiffer Big Sur State Park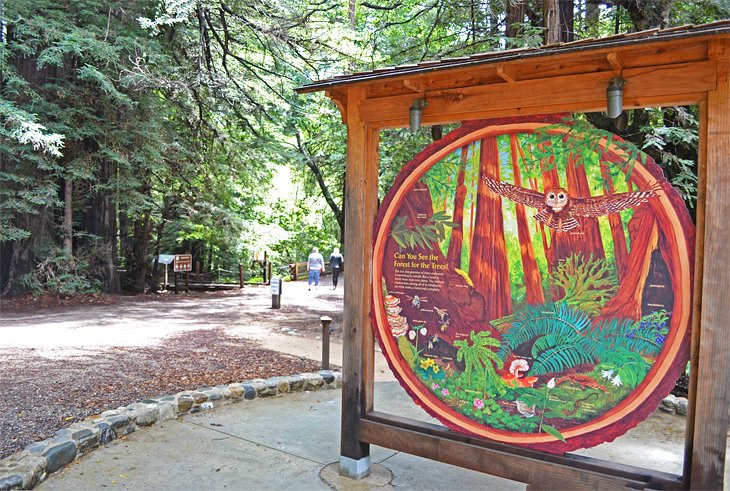 Along the banks of the Big Sur River surrounded by steep Santa Lucia Mountains, Pfeiffer Big Sur State Park is one of the most popular on the coast. Dramatic scenery surrounds every acre of this state park, especially on the trails that follow the Big Sur River and navigate through gigantic redwood groves. One of the best campgrounds of Big Sur, and often booked months in advance, Pfeiffer Big Sur State Park has over 150 campsites that accommodate tents and RVs along the river.
The Big Sur Lodge within the park offers indoor accommodations, as well as light grocery items and unique souvenirs for sale. Wildlife is abundant at Pfeiffer Big Sur, with common sightings including deer, turkeys, a variety of birds, and the occasional bobcat. While the park does provide long-distance views of the ocean, the beach is inaccessible from Pfeiffer Big Sur State Park. Those looking to dip some toes into the ocean should head to the nearby Pfeiffer Beach.
Address: 47231 CA-1, Big Sur, California
Official site: https://www.parks.ca.gov/?page_id=570
5. Point Lobos State Natural Reserve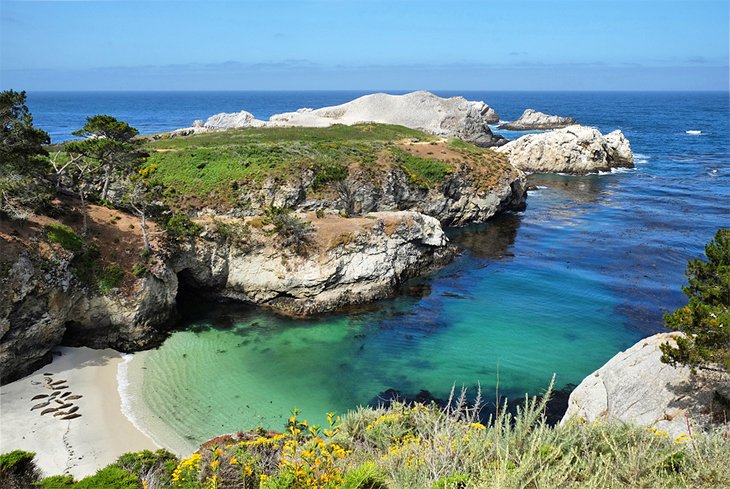 On the north end of the Big Sur coast, Point Lobos is popular with photographers, SCUBA divers, and an abundance of wildlife. Numerous hiking trails navigate the perimeter and interior of this incredibly scenic ocean point, allowing visitors to take in the lush meadows and dramatic coastline of the natural reserve. A renowned SCUBA destination, the protected waters surrounding Point Lobos are a habitat for hundreds of sea creatures.
Other common wildlife at the park includes seabirds, many of which can be seen hanging out at the aptly named Bird Island. Point Lobos was once the site of an 1800s whaling and abalone business, remnants of which can be seen and learned about at Whalers Cove. A crown jewel of the California state park system, Point Lobos encompasses a vast amount of habitat that easily disperses the weekend crowds.
Address: 62 CA-1, Carmel-By-The-Sea, California
Official site: http://www.parks.ca.gov/?page_id=571
6. Ragged Point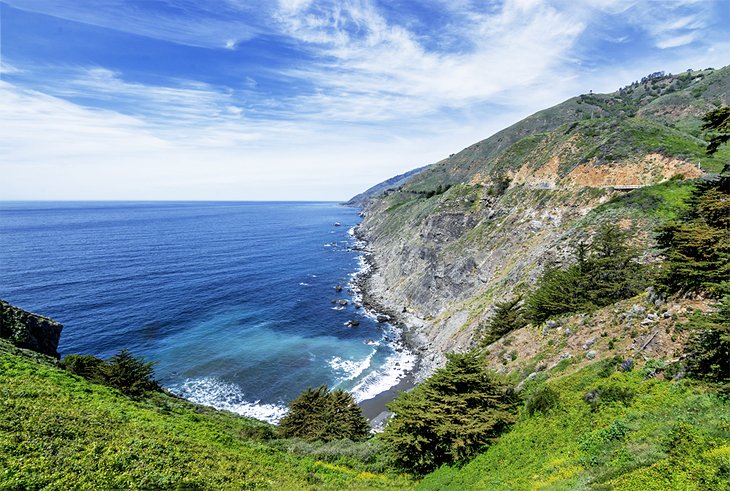 For tourists heading north, Ragged Point is often the first stop when traveling through Big Sur. A great way to experience Ragged Point is pulling over at the Ragged Point Inn and Resort, perched atop a 300-foot cliff, to use the facilities and enjoy the view. Offering a gourmet restaurant, coffee bar, and beautiful places to stay the night, Ragged Point Inn also offers great seascapes and a steep trail that descends to a black-sand beach.
Traveling from San Simeon fifteen miles to the south, tourists also have the chance to glimpse the unique wildlife habitat within the Piedras Blancas State Marine Reserve. Along this protected portion of the coast, a roadside elephant seal rookery provides access and spots to view hundreds of very large, and very loud, elephant seals in their natural habitat. Quickly north of Ragged Point, Salmon Creek Falls is a stunning water feature accessed from the Salmon Creek Trailhead.
Address: 19019 CA-1, Ragged Point, California
7. Limekiln State Park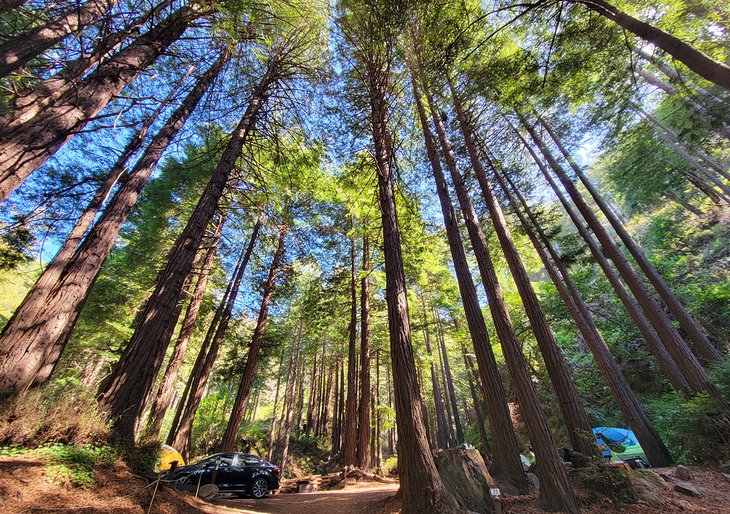 Encompassing redwood forests and the dramatic nature of the Santa Lucia Range running into the ocean, Limekiln State Park highlights much of what makes Big Sur so special. Adjoining the Ventana Wilderness within the Los Padres National Forest, Limekiln State Park has over 700 acres and offers plenty of things to do, with hiking trails, picnic areas, and campsites, as well as three historic lime kilns for which the park is named. Other hiking trails in Limekiln State Park lead to waterfalls, redwood groves, and sweeping coastal views.
Address: 63025 CA-1, Big Sur, California
Official site: https://www.parks.ca.gov/?page_id=577
8. Henry Miller Memorial Library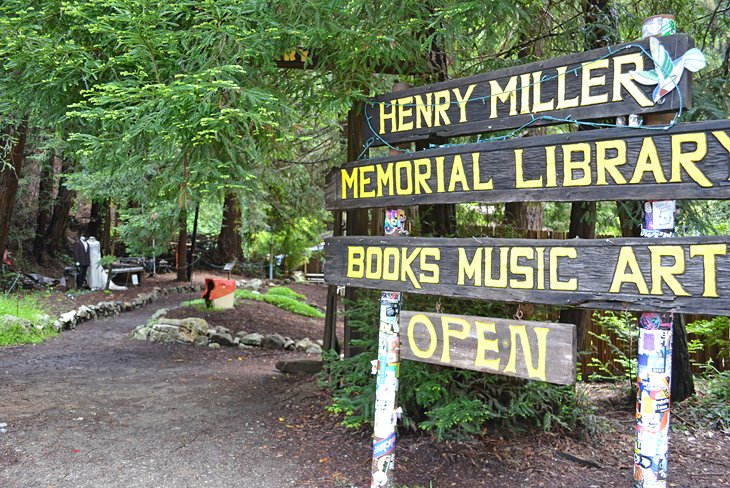 The stark beauty and changing landscape of Big Sur has influenced countless artists over the last century, including writers, poets, musicians, and the scholarly vagabond or two. The non-profit Henry Miller Library centers around the works and persona of the late Big Sur resident and writer, Henry Miller, and showcases the artistic side of Big Sur with rotating artworks, live performances, and shelves of books for sale from local and regional authors.
Not a library in the rent-a-book sense, this unique and self-proclaimed "weird" institution is a place to engage with the culture and creativity of Big Sur. Alongside works of fiction and memoirs, as well as natural guides and regional history publications, the Henry Miller Memorial Library hosts regular live music and community events.
Address: 48603 CA-1, Big Sur, California
Official site: https://henrymiller.org/
9. Garrapata State Park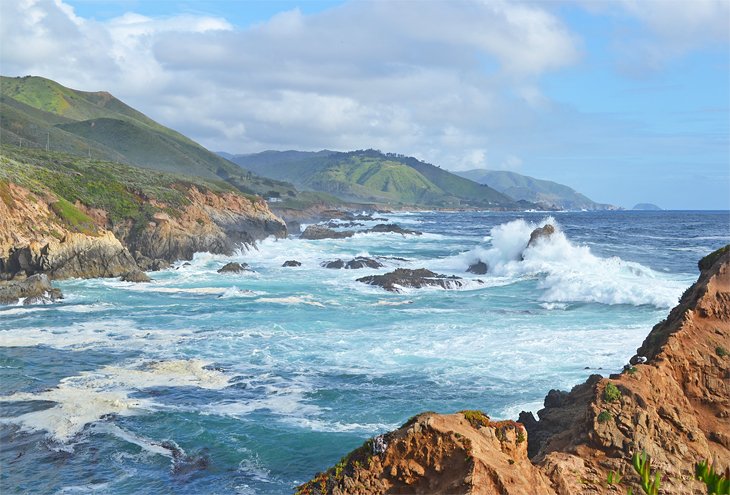 On the north end of the Big Sur coast, Garrapata State Park offers beach access, coastal canyon hiking trails, and outstanding headland views. Accessible via different pullouts on Highway 1, Garrapata Beach is on the south end of the park near mile marker 17 and 18. Farther north, inland hiking trails explore up and down Soberanes Canyon.
The hiking trail that extends onto Soberanes Point is much less crowded relative to other state parks in the area, and provides some of the biggest waves and best views of the Big Sur coast.
Address: 34500 CA-1, Carmel-By-The-Sea, California
Official site: https://www.parks.ca.gov/?page_id=579
10. Partington Cove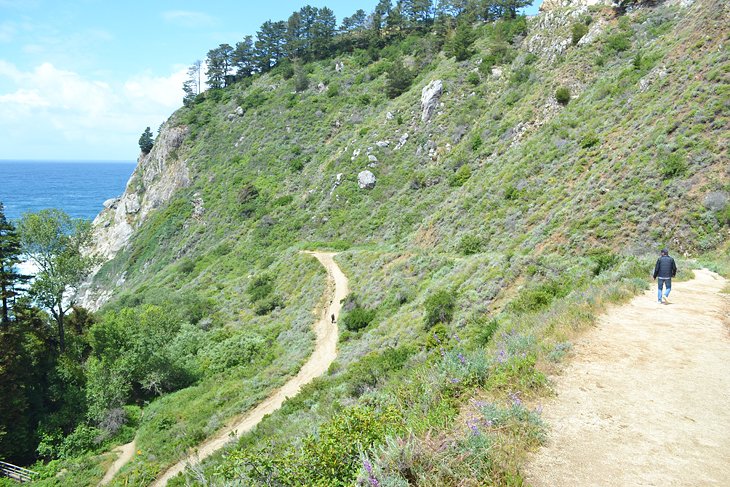 Two miles north of Julia Pfeiffer Burns State Park, Partington Cove offers a coastal canyon route to the ocean. Parking on a large sweeping curve of Highway 1, tourists cross the road towards a large metal gate to hike the winding forest road down to Partington Cove. After a steep mile heading downhill, a historic 60-foot tunnel reveals some of the tanbark history of the cove, with the calm waters appearing shortly after exiting the tunnel.
Address: 51700 CA-1, Big Sur, California
11. Andrew Molera State Park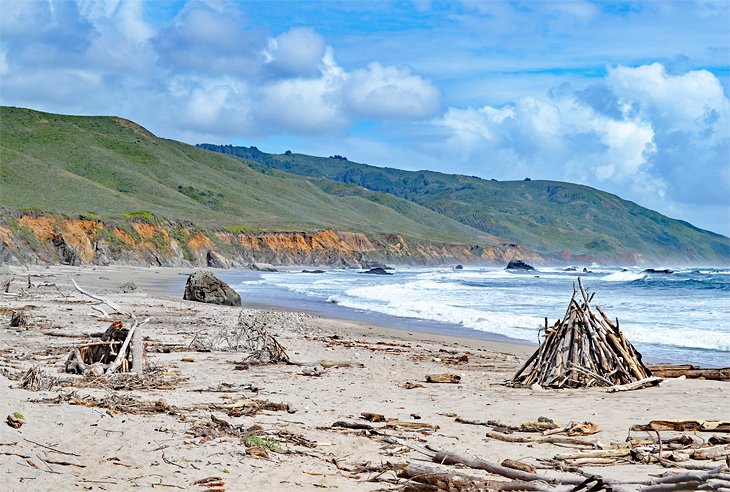 The largest state park on the Big Sur coast, Andrew Molera is also the best for exploring. Miles of hiking trails navigate through a varied terrain of coastal redwoods, high bluffs, and sandy beaches, and with so much to explore it's easy to ditch the crowds, even on summer weekends. The trail to the secluded beach at Andrew Molera is just under a mile, including a Big Sur River crossing, and visitors who make the trek quickly find plenty of beach space to themselves.
Address: 45500 CA-1, Big Sur, California
Official site: https://www.parks.ca.gov/?page_id=582
12. Point Sur State Historic Park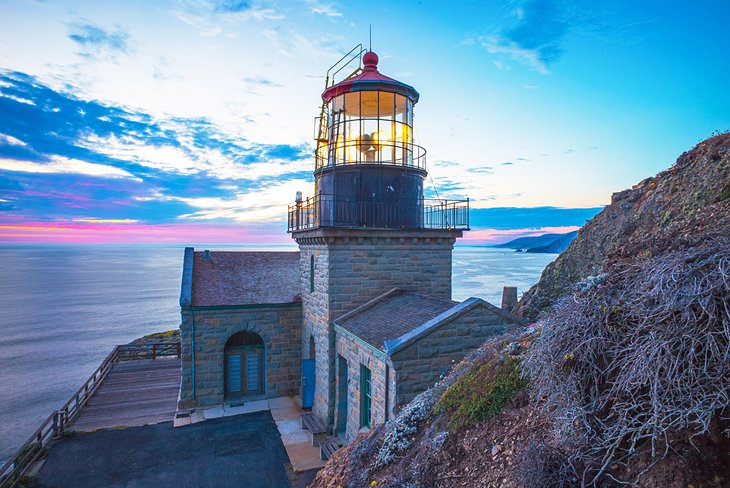 North along the coast from Andrew Molera State Park, and just over 20 miles south of Monterey, Point Sur State Historic Park is centered around the turn-of-the-century Point Sur Lighthouse. In operation since 1889, this historic lighthouse has guided many different types of visitors to the state of California. The only way to see this historic lighthouse up close is through guided tours that take place on weekends throughout the year.
Address: CA-1, Monterey, California
Official site: https://www.parks.ca.gov/?page_id=565
Where to Stay in Big Sur, California for Sightseeing
Luxury Hotels:
To soak in the beauty of Big Sur, consider booking a few nights at the elegant Post Ranch

Inn

. The property features rooms, suites, and house rentals that blend seamlessly into the coastal environment. It's a popular place for couples to rekindle some romance near the ocean. And alongside a great location, three miles south of Pfeiffer Big Sur State Park, this boutique hotel offers several amenities like fine dining and spa services to enjoy without leaving the property.
The Ventana Big Sur, An Alila

Resort

, is a luxe wilderness resort that caters to every aspect of a relaxing vacation. Several of the resort's decadent rooms, suites, and private homes have unique amenities like outdoor showers or hot tubs. And Ventana is much more than just a place to stay. Regularly occurring "Signature Experiences" offered by the resort include yoga classes, meditation workshops, and daily Sunset Hours on the public patio.
Mid-Range Hotels:
The Big Sur River

Inn

is one of the area's oldest hotels, celebrating over 80 years in the region. Today, it's a central tourist spot along the Big Sur River and an iconic stopover for many road trip vacations. Big Sur River Inn offers quaint guest rooms and riverside suites. And all overnight accommodations have a cozy feel surrounded by woodlands. In the immediate vicinity are an adjacent restaurant, general store, and gas station.
At the heart of Pfeiffer Big Sur State Park, the Big Sur

Lodge

is the place to stay for nature lovers. The lodge offers over 60 moderately priced cottage-style guest rooms away from the daily traffic of the park. But when it comes time to explore, brilliant nature is right out the front door. And for dining nearby, the lodge's Homestead Restaurant offers entrees for all three meals of the day.
Budget Hotels:
Budget hotels aren't easy to come by in Big Sur, but the Fernwood

Resort

does offer one of the best values. The resort provides a range of overnight accommodations, including motel rooms, forest cabins, and adventure tents. Standard campsites are also available. A grocery store on the property is a central place for snacks and supplies while visiting, and an on-site grill offers heartier meals. Fernwood is a hopping spot in the summer, with live music events dotting the calendar.
More Related Articles on PlanetWare.com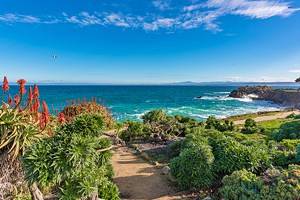 Monterrey to the North: The stunning coast doesn't stop at Big Sur, and immediately to the north cities like Carmel-by-the-Sea have even more postcard attraction and sightseeing opportunities. The neighboring city of Monterey attracts international tourists with world-famous attractions like the Monterey Bay Aquarium and Cannery Row. For a great guide on overnight visits to this luxurious and popular part of the coast, our Where to Stay in Monterey article can help find the right hotel for your type of travels.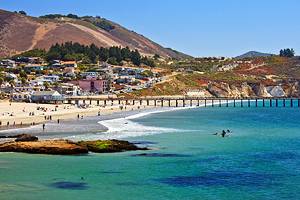 San Luis Obispo County to the South: To the south of Big Sur, the stunning San Luis Obispo County encourages a "SLO" pace of life. The chief city of the county, San Luis Obispo is filled with historic missions, street festivals, and plenty of sunshine. The neighboring city of Morro Bay presents stunning natural features next to the ocean, as does Pismo Beach to the south, where a great hometown charm is served up alongside locally sourced seafood specialities.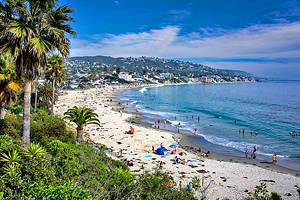 More to Explore in California: While Big Sur might be a crown-jewel of California, there's many more gems to explore. Some of the best West Coast road trips link together stunning natural attractions, including the rugged coast, wild rivers, high-alpine mountains, and a few active volcanoes. If it's more sand and surf you're searching for, the best beaches of California deliver on additional postcard scenes.