12 Top-Rated Attractions & Things to Do in San Jose, CA
We may earn a commission from affiliate links ()
The third largest city in California, San Jose is known as an urban hub of Silicon Valley. It's also well known for its sunny, mild weather, which allows attractions like the Municipal Rose Garden to bud throughout the year. With deep roots in the agricultural industry of years past, San Jose incorporates the old with the new in its bustling downtown district, where historic thoroughfares like San Pedro Square lead to modern cultural outlets like The Tech Interactive science center.
Other fun things to do downtown include visiting the San Jose Museum of Art and spending some downtime at the Plaza de Cesar Chavez. For NHL hockey fans, cheering on the San Jose Sharks at the state-of-the-art SAP Center is another popular activity. The Guadalupe River cuts right through the center of the city, and tourists and residents also tend to enjoy the numerous trails of downtown Guadalupe River Park & Gardens.
More history of the region can be explored on the campus of Santa Clara University in San Jose, founded in 1851, and centered around the 18th-century Mission Santa Clara de Asís. For the rare rainy days in San Jose, tourist attractions like the Winchester Mystery House and Rosicrucian Egyptian Museum provide family-friendly things to do indoors. Numerous public transit routes connect San Jose, the largest city in the Bay Area, to other cultural destinations including Palo Alto and San Francisco.
Discover the best places to visit with our list of the top things to do in San Jose.
Note: Some businesses may be temporarily closed due to recent global health and safety issues.
1. Municipal Rose Garden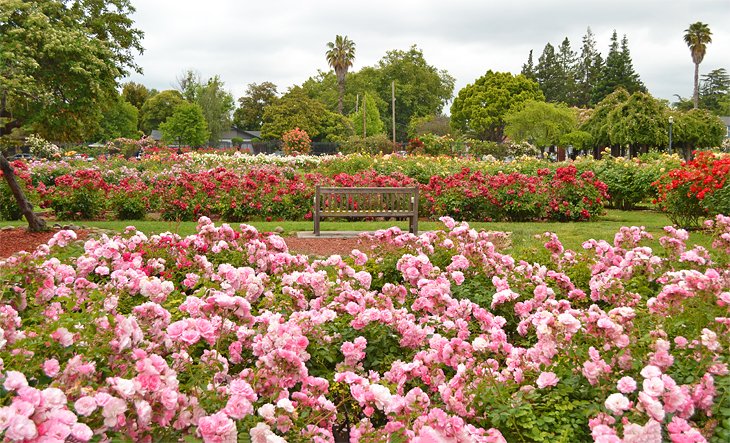 Established in 1927, the Municipal Rose Garden has blossomed to become one of the most visited attractions of the city. Rows and rows of roses define much of this five-acre park in the middle of a lovely city neighborhood, with peak blooming occurring throughout the month of May. Open to the public seven days of the week with free admission, the Municipal Rose Garden is popular for strolling, picnicking, and family photo shoots.
Alongside the thousands of rose shrubs and hundreds of varieties, the Municipal Rose Garden also features a manicured green space and a natural stage surrounded by a pocket of redwood trees–earning another top mention for one of the best places to get married in San Jose.
Address: Dana Avenue & Naglee Avenue, San Jose, California
2. Rosicrucian Egyptian Museum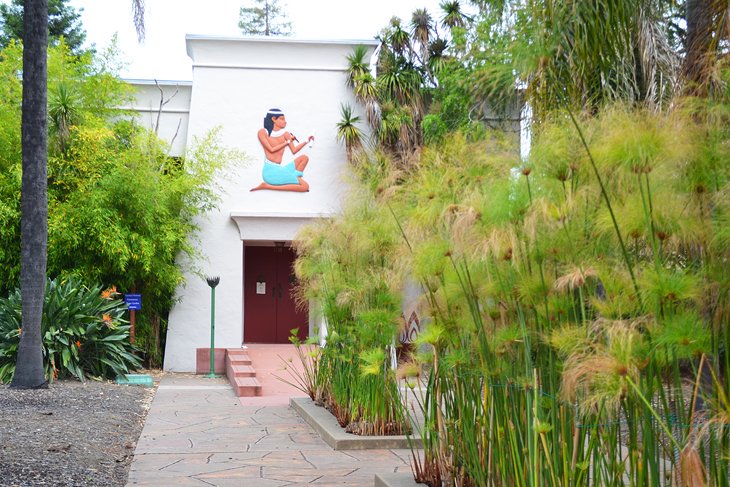 Housing the largest collection of authentic Ancient Egyptian artifacts in western North America, the Rosicrucian Egyptian Museum is popular for day trips and school visits. Spanning Ancient Egyptian daily life to the afterlife, the exhibits at the museum range from uncovered jewelry and housewares to tomb tours and hieroglyph examples. New at the museum, the Alchemy Exhibit is the first of its kind in the United States and features a full-size alchemy lab reproduction.
A short walk from the Municipal Rose Garden, the main museum is the centerpiece of the larger Rosicrucian Park–a lovely landscaped space that highlights the Egyptian-inspired architecture of the museum. Within Rosicrucian Park, other notable attractions include the Rosicrucian Temple and the historic Rosicrucian Planetarium. Tourists can catch scheduled shows at the planetarium, and the museum hosts regular events, workshops, and other special programs including mummification workshops.
Address: 1660 Park Avenue, San Jose, California
Official site: https://egyptianmuseum.org/
3. Downtown San Jose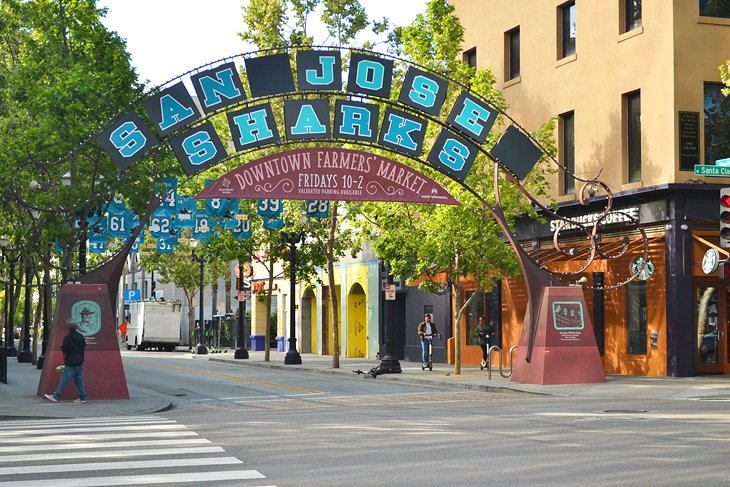 The largest Bay Area city and third largest city in California, the downtown district of San Jose is always buzzing with activity. Blending modern cultural appeal with historic architecture, downtown San Jose is filled with sidewalk cafes, boutique storefronts, and community institutions including The Tech Interactive and the San Jose Museum of Art. The two-acre Plaza de Cesar Chavez is a central green space where attractions stem in every direction.
Within downtown, the pedestrian-only San Pedro Square is one of the most historic parts of the city, as well as one of the trendiest, with outdoor seating, live music, and restaurants throughout. The San Pedro Square Market is a modern public food hall within the Square, encompassing a growing number of eateries. San Pedro Square also hosts a weekly farmers market every Friday throughout the year.
4. Santana Row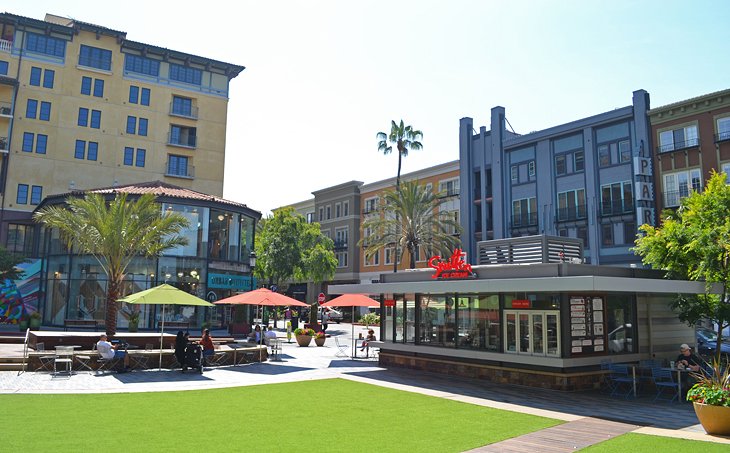 A bustling mix of shopping, dining, and foot traffic, Santana Row is a premier commercial and entertainment district. Within the Mediterranean outdoor shopping plaza, name-brand stores like Kate Spade and Gucci line the pedestrian walkways of Santana Row, next to well-reviewed restaurants purveying everything from fine-dining Italian to casual street tacos. A great central space within Santana Row, Santana Park is a manicured green space with a local ice-cream shop nearby.
Walking through Santana Row offers a pleasurable stroll, especially come evening when streetlights blend with neon signs to make for an inviting ambience. Santana Row offers a free Summer Music Series filled with local lineups, as well as other community celebrations, including free yoga and an end-of-summer Children's Bash. For an upscale place to spend the night, Hotel Valencia is a boutique hotel featuring luxurious rooms and suites overlooking Santana Row.
Address: 377 Santana Row, San Jose, California
5. The Tech Interactive & Plaza de Cesar Chavez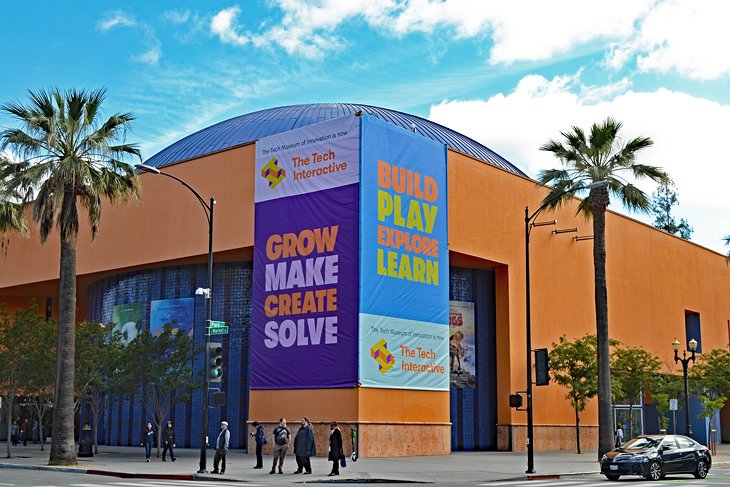 The center attraction of downtown San Jose is Plaza de Cesar Chavez, also known as Cesar Chavez Park. Spanning two colorful acres amid concrete surroundings, the park is a popular place to hang out, with shade-producing trees, park benches, and a general hum of activity. Another reason Cesar Chavez Park is so popular is its proximity to downtown museums.
Across the street from Cesar Chavez Park, The Tech Interactive is one of the most visited downtown museums. Providing interactive exhibits and state-of-the-art galleries focusing on the technology, this family-favorite museum blends education and entertainment with award-winning displays. The Tech Institute also offers a wide range of education programs for adults and children, as well as an IMAX theater playing documentaries and family-friendly blockbuster movies.
Other downtown attractions stemming from Plaza de Cesar Chavez Park include the San Jose Museum of Art and the Cathedral Basilica of St. Joseph. One block from The Tech Interactive, the San Jose Center for the Performing Arts offers other cultural appeal, with regularly occurring Broadway performances and regional productions.
Address: 1 Paseo De San Antonio, San Jose, California
Official site: https://www.sanjose.org/listings/plaza-de-cesar-chavez-cesar-chavez-park
6. Winchester Mystery House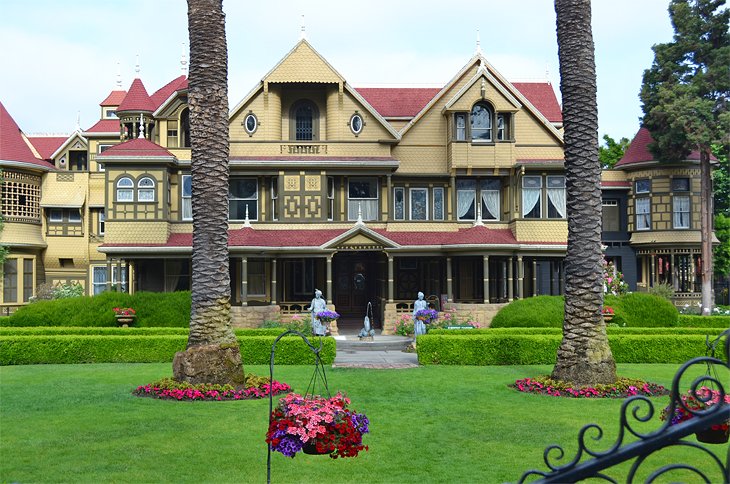 The Winchester Mystery House was the past residence of Sara Winchester, widow of William Winchester, and heiress to the massive Winchester fortune from the production of the Winchester repeating rifle–also known as "the gun that won the West." After the untimely death of her husband and infant child, Sara Winchester moved to San Jose in 1886 and began a near 50-year renovation project on an eight-room farmhouse. Over the course of five decades, Sara Winchester created what is now known as the Winchester Mystery House, hosting thousands of visitors each year.
What makes this popular tourist attraction so mysterious is the renovation choices made by Sara Winchester. Local lore attributes the false stairs, misleading doors, and 160 different rooms as a measure to evade paranormal spirits stemming from her family's past. These theories and more are well touched upon during the guided tours available seven days of the week, which include access to the intricately manicured gardens surrounding the home.
Address: 525 S. Winchester Boulevard, San Jose, California
Official site: https://winchestermysteryhouse.com
7. Happy Hollow Park & Zoo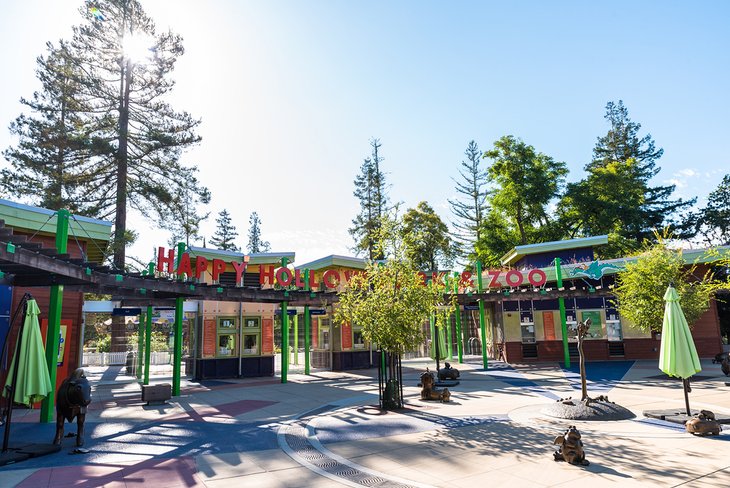 Southeast of downtown, the Happy Hollow Park & Zoo is a 16-acre green space filled with amusement rides, puppet theaters, and a small collection of endangered and rescued animals. The zoo is accredited by the Association of Zoos and Aquariums. Animals range from a giant anteater to a spotted jaguar with many species in between. Special animal encounters happen at the zoo daily, allowing guests to have an interactive experience.
The park surrounding the zoo has numerous amenities and children's play areas. The Crooked House within the park offers a whimsical adventure just outside of the ordinary, and a Dino Dig station allows kids to uncover new areas of interest. Two large play structures at the park are also a big hit with giant, twisty slides and numerous crawlspaces.
Address: 748 Story Road, San Jose, California
Official site: https://happyhollow.org/
8. San Jose Museum of Art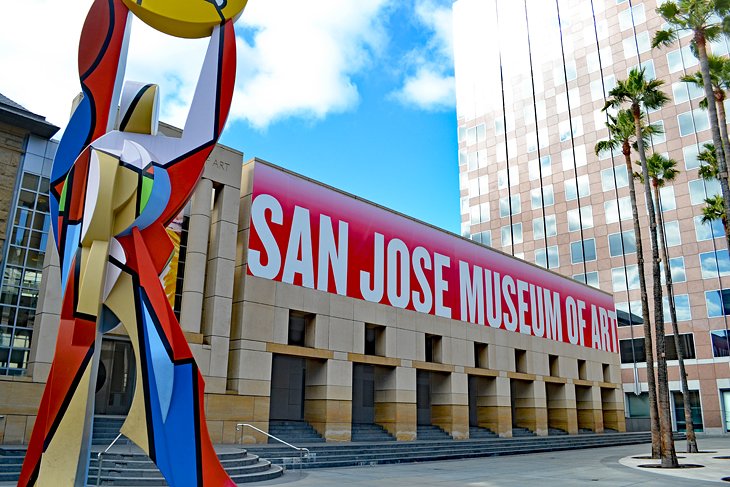 Located in the heart of downtown near the Plaza de Cesar Chavez Park, the San Jose Museum of Art showcases modern and contemporary art. Alongside a permanent collection of 2,500 pieces, this downtown art institution offers something new to see with consistently rotating exhibits. A diverse variety of programs and events occur at the San Jose Museum of Art, including Facebook First Fridays at the beginning of each month, offering free admission with extended nighttime hours and live music.
Neighboring the San Jose Museum of Art, the Cathedral Basilica of St. Joseph is another eye-catching attraction of the neighborhood. Easy to admire from the street, this historic Roman Catholic church dates back well over a century and still today holds prominence on the street. Interested observers are invited to attend any regularly scheduled mass.
Address: 110 S Market Street, San Jose, California
Official site: https://sjmusart.org/
9. Guadalupe River Park & Gardens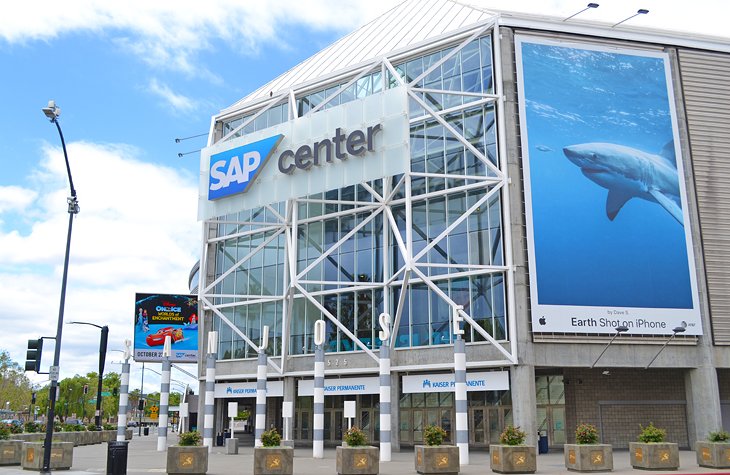 In the center of the city in the downtown district, Guadalupe River Park & Gardens provides a welcome refuge from the surrounding skyline and streets. A three-mile linear park with a bike trail running its length, the park follows the banks of the Guadalupe River and connects many other top attractions of the city. The Children's Discovery Center is on the southern end of the park, as is the SAP Center, home of the San Jose Sharks NHL hockey team.
Address: 438 Coleman Avenue, San Jose, California
Official site: https://www.grpg.org/river-park-gardens/
10. Mission Santa Clara de Asís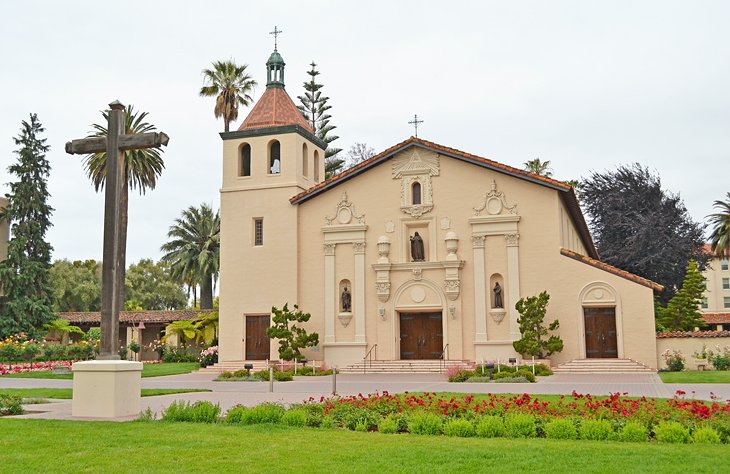 On the campus of Santa Clara University, the Mission Santa Clara de Asís is the centerpiece fixture of this Jesuit university founded in 1851. The history of the Mission stretches back into the 1700s to the first exposure of Spanish explorers to the South Bay Area. The Mission is still a consecrated Roman Catholic church, and interested members of the public are welcome to attend regularly scheduled mass. For more longstanding architectural attraction, the entire Santa Clara University campus is dotted with historic structures.
Address: 500 El Camino Real, Santa Clara, California
Official site: https://www.scu.edu/missionchurch/
11. Los Gatos Creek Trail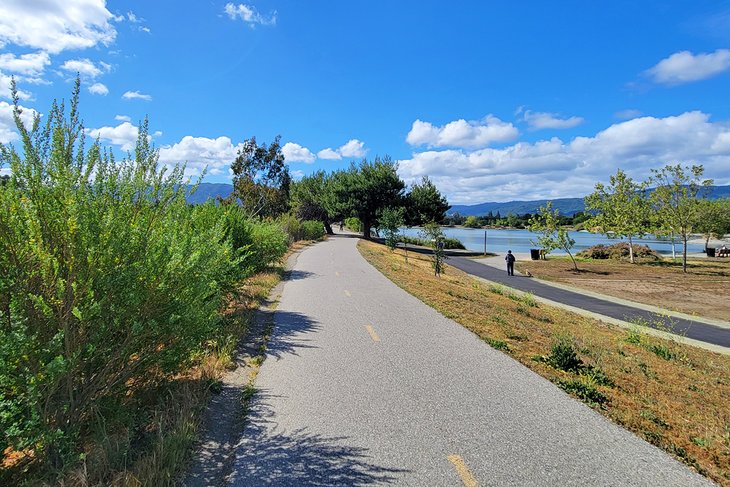 A regional bike trail stretching from San Jose to Los Gatos in the south, the Los Gatos Creek Trail is a popular pathway for bicyclists, joggers, walkers, and anyone who wants to enjoy the creekside environment. Nearly 10 miles in length, the Los Gatos Creek Trail terminates in Downtown San Jose, not far from Guadalupe River Park, where more trails can be found. A popular route on the weekends, the Creek Trail connects numerous regional parks, open space preserves, and other scenic destinations of the city.
12. Japantown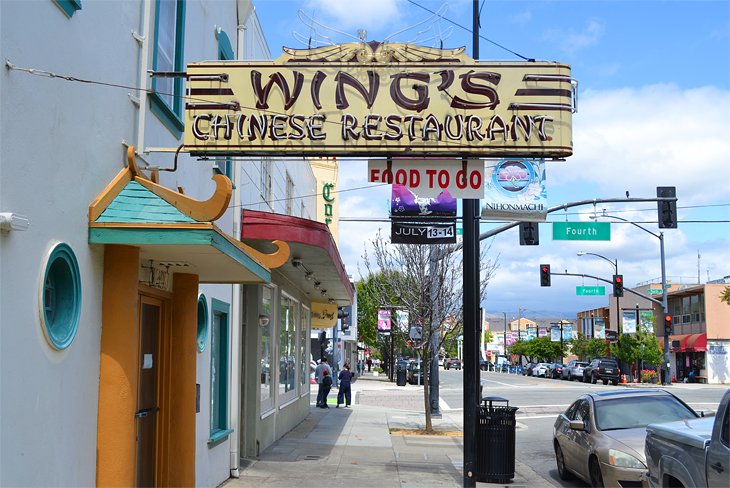 One of few historical Japantowns remaining in the United States, this cultural hot spot stems from over 120 years ago, when the first Japanese immigrants settled in the area. A vibrant mix of restaurants and storefronts comprise Japantown, also known as Jtown, as well as art galleries, fresh markets, and historical monuments. A Sunday farmers market is often a popular event in Jtown, with local vendors selling international produce and aromatic ready-made food items.
Official site: https://www.japantownsanjose.org/
Where to Stay in San Jose, California for Sightseeing
Luxury Hotels:
At the heart of San Jose's entertainment district, Hotel Valencia - Santana

Row

is one of the few places to stay in this hip part of the city. It offers a sophisticated style reminiscent of old-world Spain, especially in the hotel's common spaces, including a decadent outdoor pool and lounge area. Accommodations at the hotel include standard rooms and suites, all equipped with Egyptian linen and elegant decor. Some rooms feature private balconies with courtyard views. Other amenities at the hotel include fine on-site dining, a fitness studio, and a complimentary continental breakfast.
Mid-Range Hotels:
The Homewood Suites by Hilton San Jose Airport-Silicon

Valley

is a popular choice for professional visits in San Jose. This suite-exclusive hotel offers apartment-style rooms complete with a full kitchen. Amenities at the hotel that make it easy to stay connected include a 24/7 business center, free and fast Wi-Fi, and ergonomic workspaces in each room. Ways to unwind after hours include taking laps in the outdoor pool, utilizing the free weights in the fitness room, and relaxing on the soft linens of a king-size bed.
Northeast of downtown, a mile from Levi's Stadium, HYATT House San Jose/Silicon

Valley

is another excellent hotel at a moderate rate. This dependable hotel has over 160 rooms with various styles, all equipped with modern furnishings and amenities like HDTVs and free Wi-Fi. Studios, standard guest rooms, and suites with three beds are available, and some rooms are pet-friendly. The hotel's shared spaces include an outdoor pool area, a stylish lobby, and a breakfast area with customized omelets available.
Two miles west of the Winchester Mystery House and Santana Row, Aloft San Jose

Cupertino

offers contemporary rooms at a moderate rate. The property is oozing with style, especially in common areas like the chic lobby and outdoor pool with cabanas. This style and comfort extends into the rooms at this pet-friendly hotel, with loft-style accommodations available. In-room amenities include coffee makers, dedicated workspaces, and HDTVs with premium movie channels.
Budget Hotels:
For great value in downtown, Extended Stay America - San Jose -

Downtown

is one of the first hotels to check out. Its large suite-style rooms offer more living space and a full kitchen, including an electric stovetop and full-size fridge. The overnight rate is also very affordable and accommodating to long-term visits. Other amenities that make the hotel excellent value include a free grab-and-go breakfast in the morning, complimentary internet access, and a 24/7 laundry facility.
North of downtown, La Quinta Inn & Suites by Wyndham San Jose

Airport

is in a prime location to access all of Silicon Valley. Alongside an affordable rate, the hotel has an excellent reputation for cleanliness and tidy rooms. The hotel also offers several amenities for a convenient stay. Complimentary items with each visit include parking, breakfast, and internet access, and other amenities like the outdoor pool and fitness station offer ways to relax between moments in the room.
For a modern motel with a distinct style, Alura

Inn

offers a comfortable place to sleep and an excellent overnight rate. The rooms have recently been remodeled with stylish decor and comfortable furnishings. Overnight accommodations include standard rooms, suites, and studios with stovetops and full kitchens. Complimentary amenities at the hotel include internet access and parking. Free gourmet coffee is available in the lobby every morning.
More Related Articles on PlanetWare.com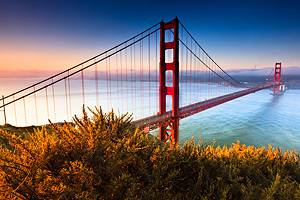 The Beautiful Bay Area: The Bay Area of California is where postcards are made. Encompassing Silicon Valley and tech cities like Palo Alto, the innovation and natural landscape of the Bay Area represents some of the best of California.
For the densest collection of cultural attractions, San Francisco is a bucket-list city with massive appeal. For spending the night in San Francisco, our Where to Stay in San Francisco: Best Areas & Hotels article can help guide you to the right hotel to fit your type of travel.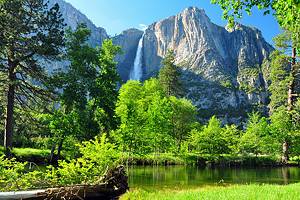 California Road Trip: The immensity of California would take years to explore, with many of the best places to visit in California offering once-in-a-lifetime views and experiences. Many of the best West Coast road trips connect amazing places and beautiful spaces, with some of the best things to do in California.
For a more unique itinerary, our guide to California Off-the-Beaten-Path uncovers mountain lakes, forested scenic areas, and an impressive castle on the mountainside.