16 Top-Rated Day Trips from San Francisco
In an incomparable setting of rolling hills overlooking a sparkling emerald-green bay, San Francisco is close to some of California's most beautiful seaside towns and nature sites. Outside "The City" (as locals refer to San Francisco) are many fantastic destinations within easy reach, from 30-minute rides north or south along the coast to a four-hour drive to Yosemite that's definitely worth the travel time.
Sun worshippers can head south to the fun-loving town of Santa Cruz for a day at the historic Beach Boardwalk amusement park. Romantics will love the seaside resort town of Carmel, with its storybook cottages and gorgeous sandy beach.
Outdoor enthusiasts relish Marin County's hiking trails at Muir Woods, Stinson Beach, and Mount Tamalpais. In Half Moon Bay and Pescadero, the crashing waves of the Pacific Ocean and an idyllic pastoral landscape provide a relaxing escape.
For those seeking culture, the university town of Berkeley offers award-winning theater, gourmet restaurants, and a lively collegiate atmosphere. Among the most unforgettable excursions is the ferry ride from San Francisco to Sausalito, a postcard-perfect waterfront community that resembles a Mediterranean fishing village.
There are so many fabulous places to visit, just a short drive from San Francisco. The only trouble is deciding where to go when you have limited time. Plan your excursions from the city with our list of the top day trips from San Francisco.
1. Yosemite National Park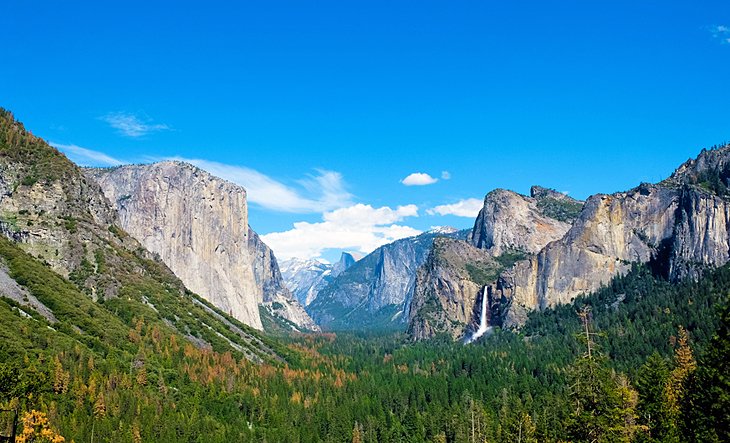 This magnificent corner of the Sierra Nevada Mountains boasts scenery so sublime that it seems impossible nature created the landscape unintentionally.
During the last Ice Age, retreating glaciers carved out granite monoliths with sheer rock walls that encircle the seven-mile-long Yosemite Valley. The awe-inspiring landscape is full of marvelous surprises: 1,000-foot waterfalls, crystalline lakes, flower-blanketed meadows, and old-growth sequoia forests. It's also home to 250 bird species, black bears, coyotes, chipmunks, and endangered bighorn sheep.
The majestic beauty of Yosemite was made famous in the 19th century by landscape painters like Albert Bierstadt, who portrayed the valley as the Eden of the American West. In the 20th century, the renowned photographer Ansel Adams captured Yosemite in vivid images, and naturalist John Muir described this incredible place "where Nature may heal and cheer and give strength to body and soul alike."
With 750 miles of nature trails in six different areas, the UNESCO-listed, 1,200-square-mile Yosemite National Park abounds with opportunities for outdoor activities, especially hiking the spectacular trails.
Other things to do at Yosemite include bird-watching, horseback riding, lake fishing year-round, river fishing from April through November, and skiing in the wintertime.
Those who want to camp can choose from 15 campgrounds (including two backcountry campgrounds). For rock climbers, Yosemite challenges with its epic 3,000- to nearly 5,000-foot ascents on the legendary El Capitan and Half Dome rock faces.
If relaxation is more of a priority than adventure, picnicking and photography allow visitors to soak up the scenery at a slower pace.
Yosemite is nearly 200 miles from San Francisco, and getting there from the city is a long drive (about four hours each way) for a day trip. Many tourists delight in spending a few nights at one of Yosemite's top campgrounds or at cozy rustic-chic accommodations like the Yosemite Valley Lodge and The Ahwahnee hotel.
If you only have one day to visit, it's a good idea to take an organized excursion. One recommended tour is the Yosemite National Park full-day trip that includes transportation to and from San Francisco, as well as a guided tour of Yosemite's top attractions.
2. Seaside Towns of Carmel and Monterey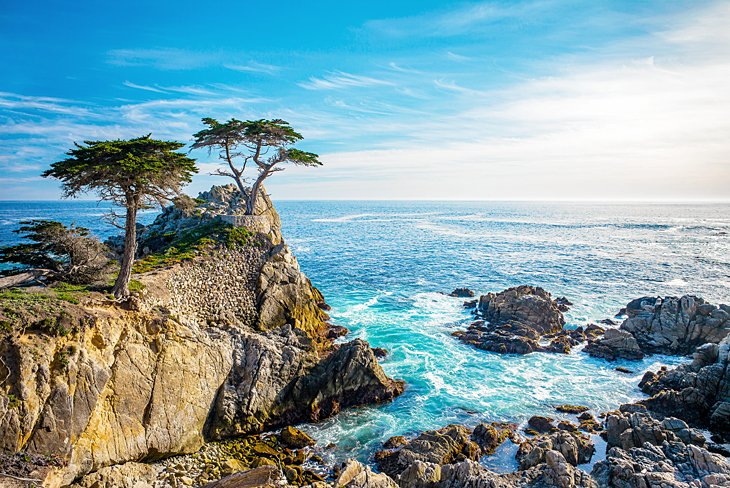 California's Central Coast is known for its beauty. Within easy driving distance from San Francisco, two seaside towns stand out: Carmel and Monterey. Both towns boast pristine natural surroundings and alluring old-world ambience.
Nestled along the stunning Carmel Bay, the seaside village of Carmel (120 miles south of San Francisco) is one of California's most romantic getaway destinations. The secluded Carmel Beach is prized for its pillowy, fine white sand framed by windswept cypress trees.
Carmel offers plenty of tourist appeal and things to do. The town itself is an attraction, because of its fairy-tale cottages, upscale art galleries, cute little boutiques, and fine-dining restaurants. Plus visitors can choose from a wide variety of bed-and-breakfast and luxury hotels.
Less touristy and more urban in feel, the coastal town of Monterey (115 miles south of San Francisco) is famous for its historic Cannery Row. This historic waterfront fish-packing district was the inspiration for the colorful tales in John Steinbeck's novel Cannery Row.
Another of the top places to visit in Monterey is the Monterey Bay Aquarium, especially beloved by kids, who adore seeing the incredible sea life, penguins, and otters.
Not to be missed when visiting Carmel and Monterey is the stretch of California's oceanfront Highway One between the two towns, known as the 17-Mile Drive. This 17-mile portion of the Pacific Coast Highway (California State Route 1) is considered one of the most beautiful drives on the West Coast.
Along the 17-Mile Drive are several glorious viewpoints and must-see nature sites, including the Point Lobos State Natural Reserve, Bird Rock Vista Point, and the iconic Lone Cypress tree. Also on this route are the prestigious Pebble Beach golf courses.
Since there's so much to take in, many tourists appreciate going on a guided tour. One recommendation is a full-day Monterey and Carmel Tour from San Francisco, with stops in Monterey at the Cannery Row and the aquarium. It continues on to Carmel via the 17-Mile Drive.
3. Santa Cruz and the Beach Boardwalk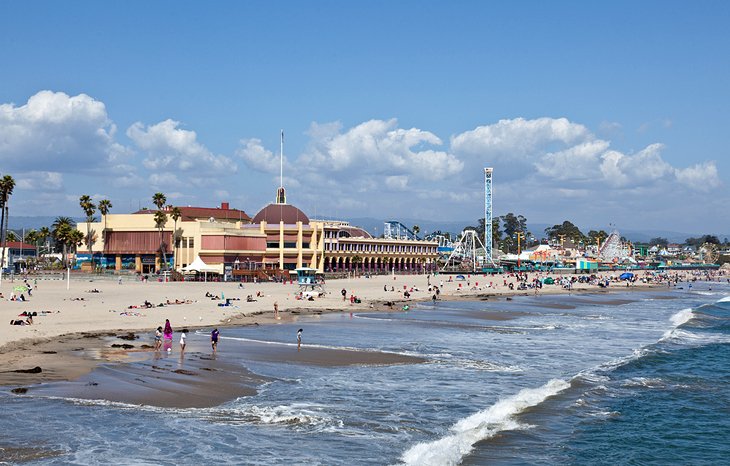 This balmy beach-town playground on the Monterey Bay exudes carefree, fun-in-the-sun vibes. Just 70 miles south (a two-hour drive) of San Francisco, Santa Cruz draws many visitors in summertime to its historic Beach Boardwalk amusement park.
Fronting the Beach Boardwalk is Main Beach (also known as Boardwalk Beach), a wide shoreline with shallow waters ideal for swimming, bodyboarding, and paddleboarding. The Main Beach is also a great place for sunbathing, building sandcastles, and playing beach volleyball.
More remote beaches, like Sunset State Beach and Natural Bridges Beach offer peace and serenity. Surfers head to Cowell Beach, or if they're really experienced, to Manresa Beach, which has impressive swells that only the best wave-riders can handle.
Other top tourist attractions in Santa Cruz include the Santa Cruz Mission, built in the late 18th century by Spanish missionaries; the downtown area for shopping and eating out; and the Santa Cruz Wharf for spotting sea lions, fishing, or dining at a seafood restaurant.
For families with kids, Roaring Camp Railroads train rides offer a thrilling experience. The train rides take passengers through redwood forests in the Santa Cruz Mountains.
Read More: Best Beaches in Santa Cruz
4. Sausalito: Marinas & Scenic Walks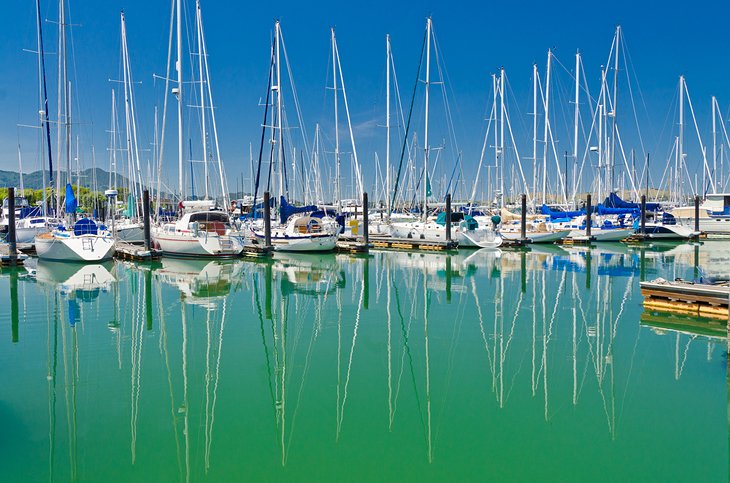 The scenic ferry ride from San Francisco's ferry building is a wonderful way to arrive at the seaside town of Sausalito in Marin County. This 30-minute boat ride has been called one of the most exciting ferry rides in the world. It offers sensational views of Alcatraz, the Golden Gate Bridge, and Angel Island before arriving in the peaceful harbor of Sausalito.
Sheltered from the fog by the rolling hills of the Marin Headlands, Sausalito has pleasant sunny weather and idyllic scenery. In fact, this picturesque waterfront town resembles a fishing village along the Mediterranean Sea.
Visitors will enjoy spending a leisurely afternoon strolling the historic downtown of Sausalito, an inviting place for window shopping and al fresco dining by the marinas. The town's quaint, pastel-painted, Victorian-era buildings are filled with interesting boutiques, art galleries, ice-cream shops, cafés, and restaurants.
Another of Sausalito's highlights is the walking path along Bridgeway, which features views of the yacht-filled marinas and San Francisco skyline. This pedestrian pathway is one of the best places to visit in the SF Bay Area for vistas of the bay and The City.
Accommodation: Where to Stay in Sausalito
5. University Town of Berkeley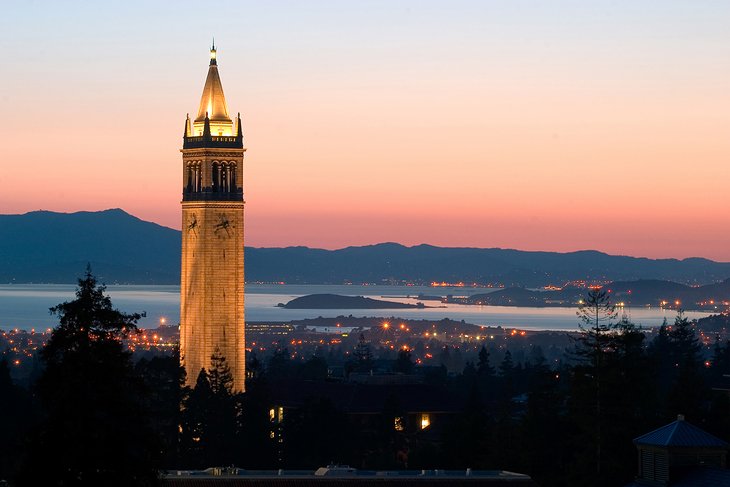 The campus of this celebrated university town is perched on a hilltop with views of the bay and backed by a grove of redwood trees. Adding to the serenity is the babbling Strawberry Creek.
Impressive classical-style buildings house the university's classrooms, libraries, and research centers. The emblematic Sather Tower is one of the world's tallest bell towers and affords amazing views of San Francisco Bay from its observation platform.
Tourists can get a sense of undergrad life at Bancroft Library at the heart of the campus or the bustling Sproul Plaza, where students gather to participate in protests, listen to speakers, and enjoy impromptu performances by street musicians.
To see where students hang out off-campus, head to Telegraph Avenue. This legendary street reveals the legacy of Berkeley's Bohemian counterculture. It's packed with bookshops, quirky shops, and casual eateries serving all kinds of ethnic cuisine and quick bites.
Berkeley is also well known for its culture, theater, and foodie scene. Visitors can watch a Pulitzer-Prize-winning show and then dine in the Gourmet Ghetto, home to the famous Chez Panisse bistro that started the local, organic farm-to-table cuisine movement. Chez Panisse owner Alice Waters is credited with changing food culture in America.
Other top tourist attractions in Berkeley include the Botanical Garden and the Lawrence Hall of Science. For families with kids, Tilden Park is a favorite spot. Children love the small working farm, steam train ride, and old-fashioned merry-go-round.
Accommodation: Where to Stay in Berkeley
6. Muir Woods Hiking Trails and Muir Beach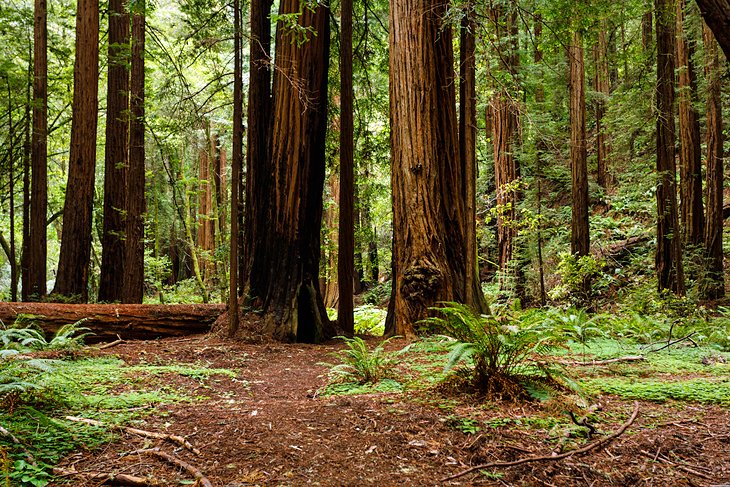 A short drive north (16 miles) of San Francisco is an exceptional nature site, the Muir Woods National Monument. The drive across the Golden Gate Bridge, along Highway 101 and then on winding country roads, takes about 45 minutes.
Muir Woods is one of the last remaining old-growth coastal redwood forests in Northern California and is appreciated for its magnificent scenery. Hikers relish the peaceful and refreshingly shaded trails that meander through fern-fringed creek banks, canopies of giant redwood trees, and groves of fragrant bay laurels.
It's possible to take another three-mile trail from Muir Woods down to the Pacific Ocean at Muir Beach. This sandy beach offers camping sites and picnic areas. Nearby is The Pelican Inn, where you can grab a hearty meal of authentic English country cuisine before taking the hike back to Muir Woods.
Due to the crowds and limited space, Muir Woods National Monument requires that visitors make a reservation in advance for paid parking or for a shuttle bus ride. Many tourists find that it's easier to leave the driving and parking to a tour guide. One recommendation is the Muir Woods and Sausalito Half-Day Tour, which departs from San Francisco.
7. Half Moon Bay's Countryside & Beaches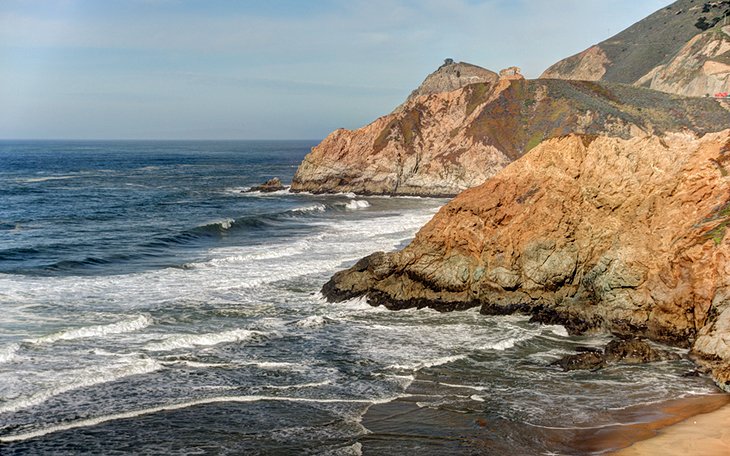 The small rural town of Half Moon Bay nestles along the Pacific Ocean, surrounded by forests and farmlands, just 30 miles south of San Francisco. Although it's close to The City, this coastal community has retained its country ambience. Pumpkin patches, ranches, and vegetable farms cover the hillsides that slope down to the beach.
Spectacular sandy beaches extend for miles along the Half Moon Bay coastline. Many visitors come to take nature walks along the shoreline, while surfers wearing wetsuits brave the frigid waters and powerful waves.
When the conditions are right, surfing competitions are held at Mavericks Beach. Other outdoor activities include hiking, fishing, horseback riding, and bird-watching.
One of the highlights of Half Moon Bay is the historic downtown, which has many locally owned shops and excellent restaurants, as well as casual cafés and eateries. You'll find a wide selection of restaurants, where you can grab a hearty meal after an invigorating walk on the beach or hike along coastal bluffs.
A favorite time of year to visit Half Moon Bay is in October for pumpkin picking and for the Pumpkin Festival in mid-October.
Accommodation: Where to Stay in Half Moon Bay
8. Stinson Beach and Dipsea Trail Hike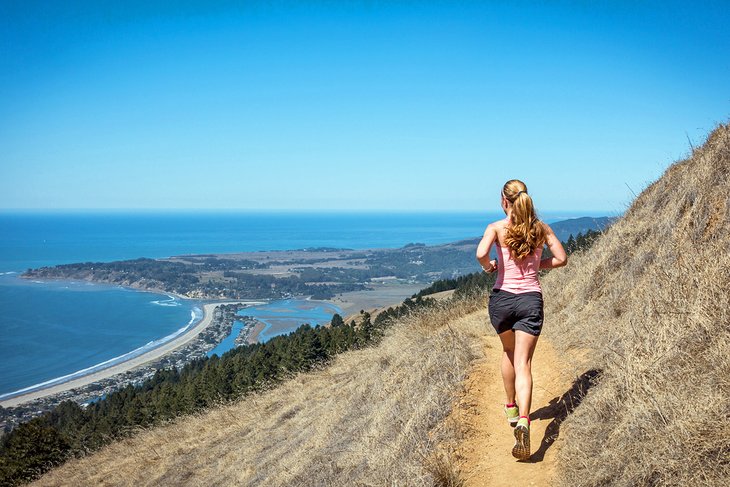 On sunny days, Stinson Beach is a popular day-trip destination in Marin County, 23 miles north of San Francisco (allow at least one hour by car). This dreamy beach community is just six miles north of Muir Beach, although it can take 30 to 45 minutes (in traffic) to get from Muir Beach to Stinson Beach on a winding two-lane road that hugs the coastline and traverses the Steep Ravine Canyon.
The drive requires concentration at the hairpin turns, but it rewards with striking ocean vistas. All the effort feels worth it upon catching sight of the little piece of paradise at Stinson Beach.
Protected by the hillside, the 3.5-mile-long sandy shoreline at Stinson Beach is ideal for sunbathing, jogging, windsurfing, beach volleyball, and picnicking. Swimming is possible, however not always recommended due to dangerous rip currents and frigid waters. Surfers and body boarders ride the waves wearing wetsuits.
From Memorial Day until Labor Day, lifeguards patrol the beach. (Be sure to check with lifeguards about safety before entering the water to swim.) Next to the beach is a shady area with picnic tables and barbecue grills, as well as restrooms and shower facilities.
The town has a grocery store, where visitors can purchase picnic foods. Tourists can also choose from several oceanfront cafés and restaurants that serve casual meals on sunny outdoor patios.
Tip for Travelers: During high season, it's best to begin the drive as early as possible in the morning to avoid traffic and to ensure finding a parking spot at Stinson Beach (the lot fills up quickly on weekends and during summertime.)
For coastal views, the Dipsea Trail is not to be missed. The 10-mile hiking trail begins at Muir Woods National Monument, traverses the forest and rolling hills, then descends a ravine into Stinson Beach, with breathtaking ocean and bay vistas along the way. Alternatively, hikers can start at Stinson Beach (which begins with steep steps and switchbacks) and complete a short portion of the trail.
Hiking Tips: Dress in layers and wear shoes with good traction to avoid slipping on the steps. Portions of the trail are exposed to the strong afternoon sun, so a visor and other sun protection is recommended. Watch out for poison oak that grows on the side of the trail. Bring bottled water and pack lunch for a picnic at Stinson Beach.
9. Filoli Estate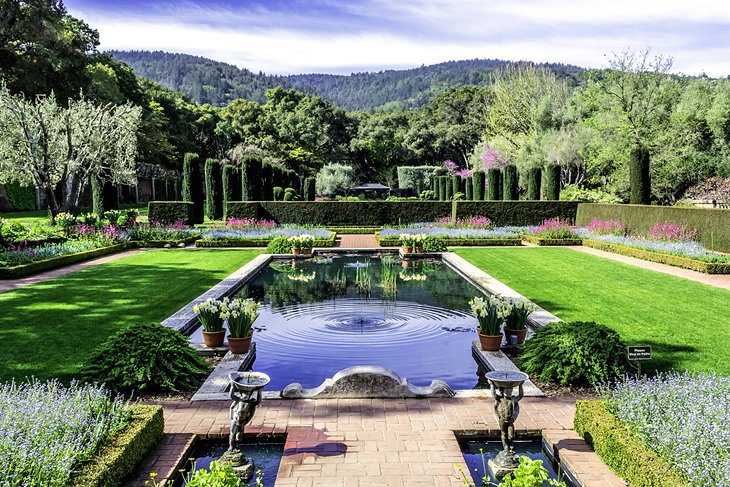 The Filoli Estate is a hidden gem 30 miles south of San Francisco, tucked away in a pastoral landscape with the densely wooded Santa Cruz Mountains as a backdrop. The 654-acre estate is registered by the National Trust for Historic Preservation.
With a grandeur that rivals Europe's finest estates, Filoli boasts gracious architecture, lavish rooms, and splendid grounds that have made it a top choice for film sets. The house was pictured in Dynasty, Heaven Can Wait, and George of the Jungle among other movies.
The elegant Georgian Revival-style manor house was built between 1915 and 1917 for William Bowers Bourn II, owner of Empire Gold Mine in California's Sierra Nevada Mountains. Within the 54,256-square-foot mansion is a noteworthy collection of interior decor, paintings, and antiques.
Filoli is renowned for its 16-acre formal gardens, landscaped in the English Renaissance style with perfectly manicured hedges, terraces, decorative pools, fountains, flower beds, and a rose garden. Pleasant pathways and parterres invite visitors to wander and admire the ever-changing array of seasonal plants and blossoms, from colorful tulips in early spring to vibrant chrysanthemums in autumn.
The Filoli Estate also has a 10-acre orchard, with over 500 fruit trees including heirloom varieties and a 528-acre nature preserve comprised of redwood forest, oak groves, chaparral, a pond, reservoir, creeks, and grasslands.
The Filoli Nature Preserve includes a trail system of 22 hiking paths, only accessible on docent-led hikes, but visitors may take self-guided hikes on the Nature Preserve's one-mile loop Estate Trail.
Address: 86 Canada Road, Woodside, California
Official site: www.filoli.org
10. Mount Tamalpais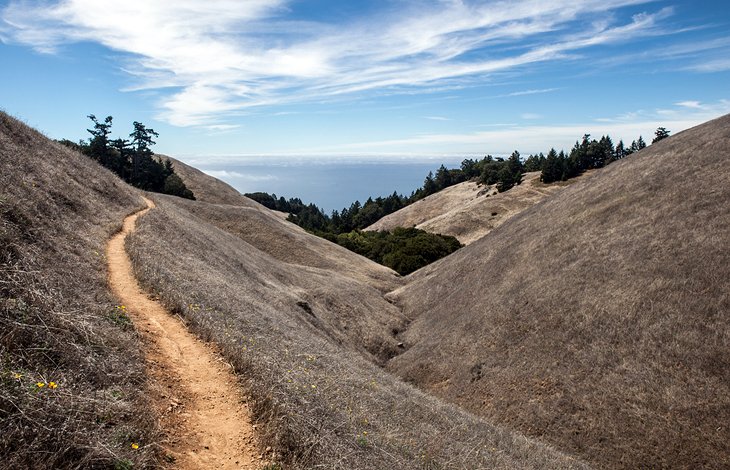 Just 22 miles north of San Francisco, Mount Tamalpais State Park delights nature lovers with a 60-mile network of park trails. The hiking paths meander through refreshing redwood groves and oak woodlands overlooking deep ravines, forested hillsides, and sweeping grasslands.
Those seeking a challenge may hike to the summit at 2,571 feet for breathtaking views. On a clear day, the outlook extends all the way to the Farallon Islands, 25 miles out in the Pacific Ocean, as well as to San Francisco and across the San Francisco Bay to the cities of Berkeley and Oakland.
Mountain bikers can use the multi-use trails, as well as the uphill road leading to the top of Mount Tamalpais for recreational cycling.
Mount Tamalpais is a place of exceptional natural beauty year-round. During the rainy season (October until March), gurgling creeks and rushing waterfalls add to the peaceful environment. From February until May, vibrant wildflowers blossom throughout the park. Whale-watching is possible during the migration season, from November to April.
On warm summer days, many visitors enjoy picnicking in the park's shaded picnic areas. For the views, the East Peak summit picnic area astounds with its 360-degree panoramas.
11. Pescadero Marsh Natural Preserve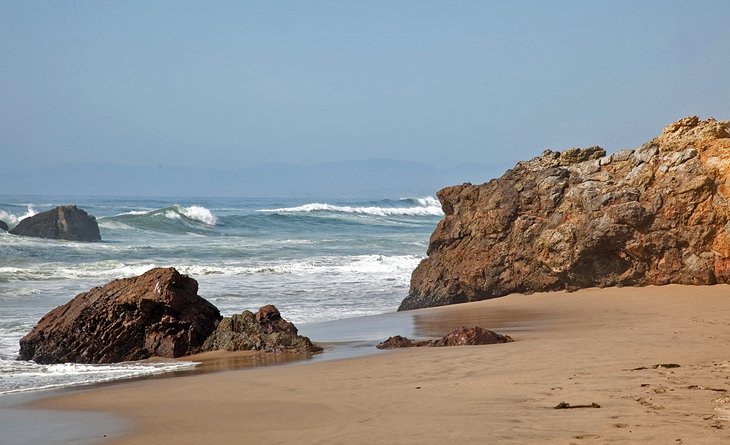 About 15 miles south of Half Moon Bay and 45 miles south of San Francisco, the Pescadero Marsh Natural Preserve allows access to unspoiled nature and superb birdwatching. At the confluence of the Butano Creek and Pescadero Creek, the Pescadero Marsh Natural Preserve is a 235-acre wetland with a tidal estuary and freshwater marsh.
More than 200 species of birds find refuge in the marsh, among them the great blue heron and double-crested cormorants. The Pescadero Marsh is also home to endangered species, such as the California red-legged frog, San Francisco garter snake, steelhead trout, and coho salmon.
Hikers may explore the nature preserve by following one of the four trails. For avid birdwatchers, the Sequoia Audubon Trail, a 2.5-mile round-trip hike, is a good choice. Some visitors bring binoculars for an up-close view of egrets, ducks, herons, and other species.
To learn more about the natural environment and wildlife of the marsh, visitors can join guided walking tours (free of charge) on the first Sunday of the month at 10am and the second Sunday of every month at 1pm, as long as weather permits. The tours include a one-mile walk and take about two hours.
Across the highway from the preserve, accessible by a pedestrian walkway, is Pescadero State Beach. Backed by rocky ocean bluffs, this pristine mile-long sandy beach features coves, tide pools, and areas for fishing. Facilities include picnic tables, parking lots, and restrooms with vault toilets (without running water).
About three miles from the beach, the little country town of Pescadero has a grocery store, small boutiques and a quirky locally owned café. A popular spot in town is Duarte's restaurant, a Pescadero institution famous for its artichoke soup and homemade pies.
12. Angel Island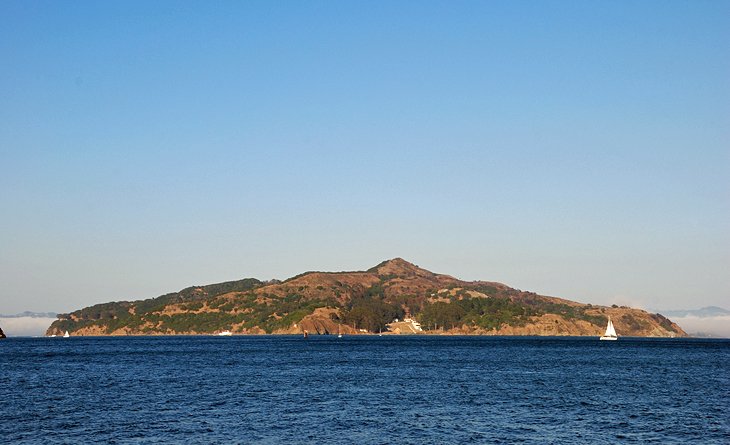 Travelers can get away to a remote, unpopulated island just across the bay from San Francisco. Angel Island is a state park, accessible by taking a 30-minute ferry ride from Pier 41 in San Francisco or a 10-minute ferry ride from the town of Tiburon.
Angel Island State Park opens at 8am and closes at sunset daily. A place of serene seaside beauty, Angel Island has more than 13 miles of scenic hiking trails, ranging from moderate to advanced, as well as nine miles of cycling trails. Visitors may rent bikes once they arrive at the island.
The highest point on Angel Island is Mount Livermore at 788 feet, which rewards hikers with panoramic views of San Francisco and the bay, the Marin Headlands, and Mount Tamalpais.
The island's amenities include a Visitor Center, public restrooms, an outdoor café near the dock, boating slips for day use or overnight, camping sites with toilets, and several picnic areas with tables, barbecue pits, and running water.
Angel Island is known as the "Ellis Island of the West" because around 500,000 immigrants arrived here between 1910 and 1940. Two museums illustrate Angel Island's history as an immigration station: the Detention Barracks Museum (open Wednesday through Sunday) and the Angel Island Immigration Museum (open Saturday and Sunday).
For those who start the day early, it may be possible to also spend time in Tiburon, where the Angel Island ferry departs. (Be sure to keep track of the ferry schedule.) This charming seaside town has picturesque yacht marinas and a quaint downtown area. The lovely Main Street is lined with boutiques, cafés, and restaurants.
On the weekends, locals enjoy having brunch in Tiburon. Most of the waterfront restaurants feature sunny terraces that overlook the San Francisco Bay. If getting around by car, it's also worth visiting the 900-acre Richardson Bay Audubon Center & Sanctuary (open April through September) for bird-watching, and the Tiburon Ridge Trail for hiking and biking.
13. Trione-Annadel State Park in Sonoma County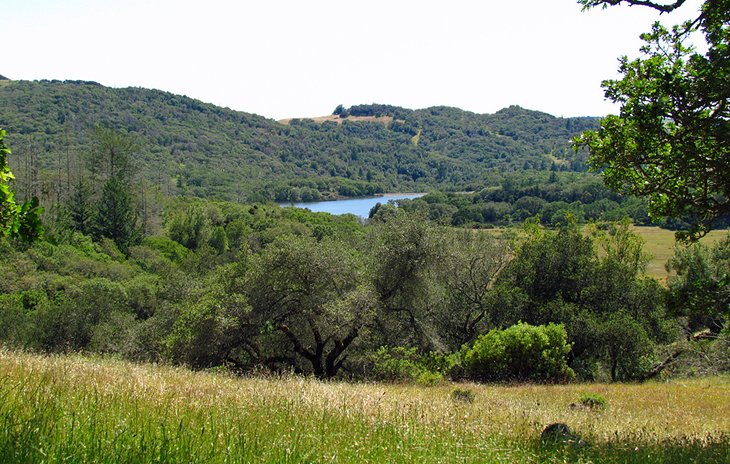 Explore the beautiful landscape of Trione-Annadel State Park, 60 miles north of San Francisco (about a 1.5-hour drive) in Santa Rosa, Sonoma County. The park features several miles of trails for hiking or mountain biking around the gorgeous Lake Ilsanjo.
The park is also known for its fields of vibrant wildflowers that bloom in the springtime. The best time to see the most wildflowers is in April and May, but some flowers can be seen from January until September.
For those who enjoy lake fishing, Trione-Annadel State Park is one of the best places to visit in Sonoma County. Anglers can catch black bass and bluegill fish in Lake Ilsanjo. A California fishing license is required.
14. Huckleberry Botanic Regional Preserve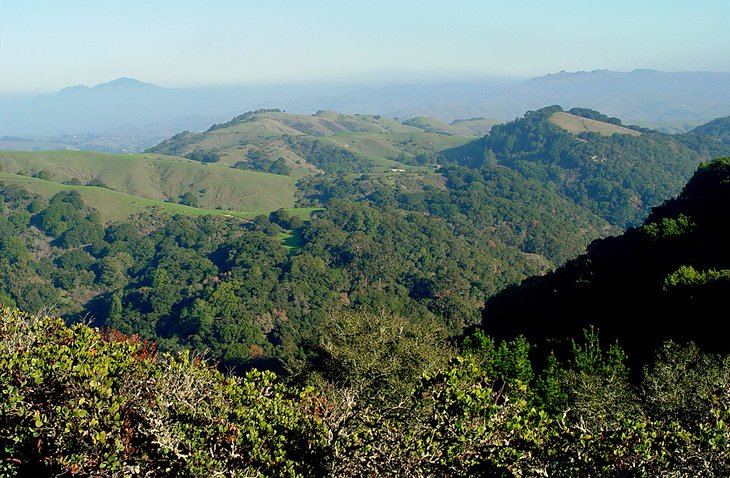 The Huckleberry Botanic Regional Preserve lies just 17 miles from San Francisco across the Bay Bridge in the East Bay. The drive only takes 35 minutes with no traffic, although bridge traffic can easily add an extra 20 to 30 minutes.
Native huckleberry plants thrive within the 241-acre preserve, which offers the ideal soil conditions and cool climate tempered by coastal fog. Within the Huckleberry Botanic Regional Preserve, the Interpretive Loop Trail is a 1.7-mile hiking trail that traverses mostly shaded terrain, including a bay forest.
Tips: Stay on the upper trail for a more moderate walk. Visitors are allowed to pick berries from huckleberry plants along the trail.
15. Woodside and Portola Valley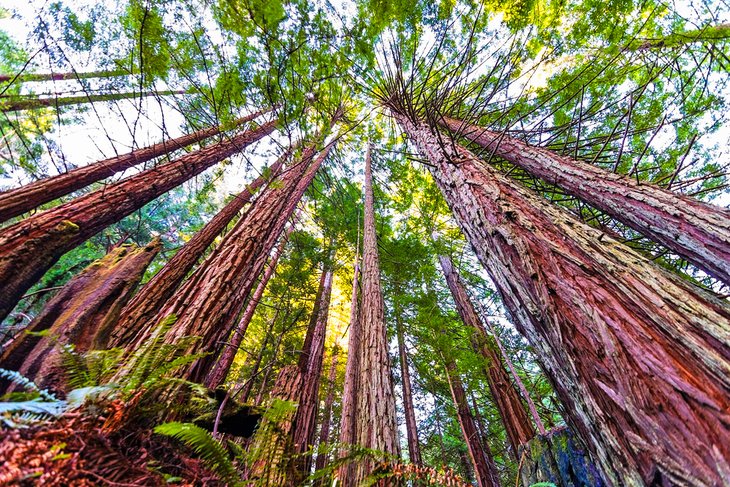 Although Woodside has the look of a Gold Rush-era country town, it is actually a wealthy Silicon Valley residential community and suburb of San Francisco (just 30 miles away). From San Francisco, it's an easy 30-minute drive on Highway 280 past a picturesque stretch of rolling hills and the Crystal Springs Reservoir.
The town itself is quite small but has several notable restaurants, including The Village Pub which boasts a Michelin star; The Little Store Restaurant in a historic roadside stand; and Alice's Restaurant, a famous hikers' and motorcyclists' hangout located deep in the redwood forest that surrounds the center of Woodside.
Another dining destination in Woodside's lush redwood forest, The Mountain House is a cozy family-owned restaurant in a historic cabin. This is a great place to enjoy a meal after hiking at the nearby Purisima Creek Redwoods Open Space Preserve.
Other places to go hiking in Woodside include Wunderlich Park, which features hillside trails that traverse redwood forest, oak groves, and meadows; and Huddart Park, a majestic environment of coastal redwoods and babbling streams.
Neighboring Woodside is Portola Valley, another upscale Silicon Valley suburb that feels like a rural escape. Outdoorsy types will enjoy the hiking opportunities at Windy Hill Preserve and Shady Trail.
For casual dining in Portola Valley, Rossotti's Alpine Inn offers a charming ambience. The Old West-style building has housed a tavern restaurant since 1852 and still treats guests to an inviting ambience and hearty meals. The restaurant features outdoor seating in a tranquil setting next to Los Trancos Creek.
For those who want to extend the day trip and spend the night, luxurious accommodations can be found at Canyon Ranch Woodside, which is considered one of the best all-inclusive resorts in the United States.
16. Los Gatos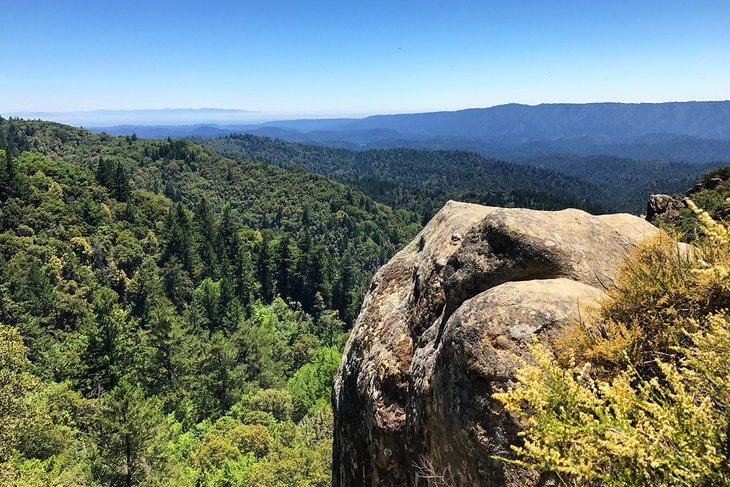 For anyone who likes quaint towns and boutique shopping, Los Gatos is a worthwhile day trip from San Francisco. Centering around Old Town Plaza, the historic downtown is a lovely place to take a relaxing stroll for the afternoon.
The town has the feel of a retreat in the country, thanks to its secluded location tucked away behind the forested Santa Cruz Mountains. As much of an attraction as the town, the spectacular natural surroundings offer inspiring scenery for hiking, horseback riding, and mountain biking.
Just a 10-minute (three-mile) drive from Los Gatos is Bear Creek Redwoods Open Space Preserve, a 1,430-acre redwood forest with meandering creeks and expansive mountain views. Bear Creek Redwoods Open Space Preserve has six miles of hiking and equestrian trails.
Another popular recreation area, Castle Rock State Park (about a 30-minute drive from downtown Los Gatos) is perched on one of the highest ridges in the Santa Cruz Mountains. Castle Rock State Park features 34 miles of trails for hiking, horseback riding, and backpacking. Rock climbers can take on the challenge of the park's rocks and caverns.