20 Best All-Inclusive Resorts in the United States
We may earn a commission from affiliate links ()
Hate being surprised by a whopping hotel bill after you've returned from vacation? Staying at an all-inclusive resort can eliminate that stress. With everything from meals to beverages to activities included in your room rate, America's best all-inclusive resorts ensure your holiday is as relaxing when it's over as it was while you were there.
Whether you're hoping to hit the trails at a dude ranch in Montana; rock climb in Pennsylvania's Pocono Mountains; or rejuvenate your body, mind, and soul in Texas, you won't be sorry you visited these top all-inclusive resorts in the US.
Perfect for families, couples, or singles looking to revamp their health, these comprehensive accommodations offer visitors everything from luxurious upscale rooms to healthy farm-to-table food to guided activities you'll want to do again and again.
What are you waiting for? Plan your perfect vacay with our list of the best all-inclusive resorts in the United States.
1. Miraval Arizona, Arizona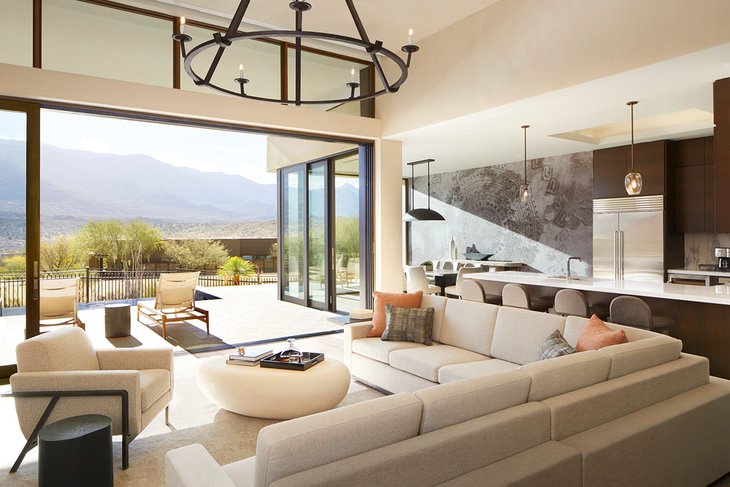 Devoted to promoting relaxation, Miraval has banned digital devices to help guests achieve the mindfulness necessary to truly unwind. The scenery is so beautiful at this top resort in Tucson, that you won't miss them. And there are so many amazing activities (e.g. a ropes challenge course and fitness and photography classes) that you'll never be bored.
You won't go hungry here either! All meals are included with your stay, and there's no limit to how much you can order. So feel free to chow down on two desserts or an extra entrée without guilt – all meals are uber-healthy, featuring fresh and local seasonal foods.
Also included are resort credits to be used on spa services or activities like horseback riding, culinary classes, or private adventures.
Read reviews & check prices: Miraval Arizona
2. Twin Farms, Vermont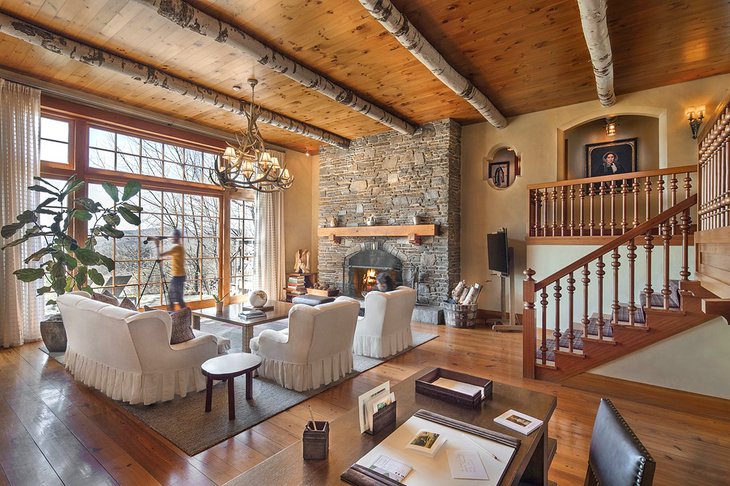 Included with your room (you choose between 20 rooms ranging from a sumptuous suite to a luxurious cottage) are made-to-order breakfasts, lunches, and dinners at a farm-to-table restaurant; an after-dinner treat; s'mores at a bonfire; and canapés.
On-site, you'll find a variety of activities to help you feel relaxed or adventurous, depending on your mood. Swim, bike, fly fish, or kayak in Copper Pond during the warmer months, and ski, sled, or snowshoe when the snow starts to fall. Bring your kids – as long as they're over 14 – to enjoy croquet and bocce ball on the lawn.
Tips aren't included, so expect to pay a gratuity fee upon checkout. And be warned, you're looking at a hefty price tag for all of this "included" luxury.
Read reviews & check prices: Twin Farms
3. Dunton Hot Springs, Colorado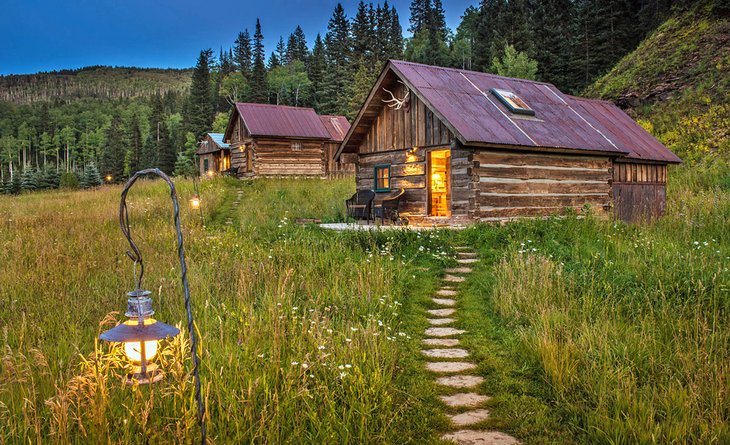 The resort is small, secluded, and whimsical, its hand-built, restored log cabins offering visitors a chance to cozy up in the most resplendent of rustic settings with the most captivating of views. Many cabins include indoor or outdoor hot spring tubs and wood-burning stoves.
Cabin rates include all meals and beverages, as well as access to the area's main attraction: six hot spring pools. Those who choose to add a package (i.e. Mountain Romance) will also receive a half day of privately guided activities, two 75-minute spa treatments, and use of equipment like mountain bikes and cross-country skis.
The Ski & Soak package includes ski passes for two to Telluride.
Read reviews & check prices: Dunton Hot Springs
4. Miraval Austin, Texas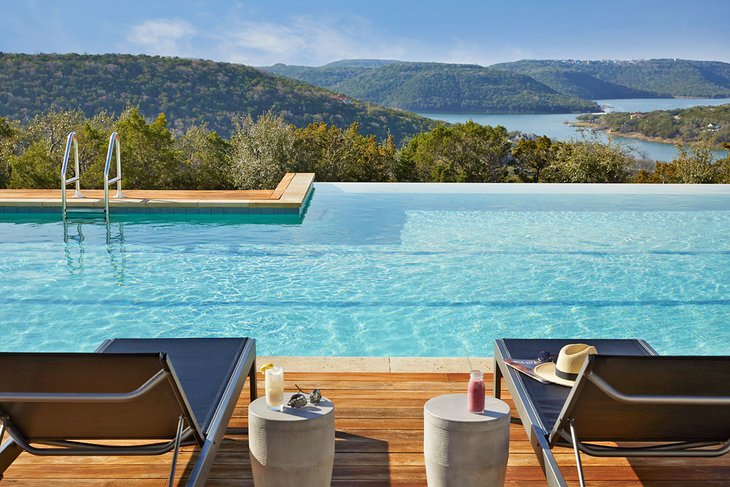 As is the case with Miraval Arizona, you'll have to be willing to unplug from your devices at this uber-relaxing retreat. The goal of your stay is ultimate relaxation and increased mindfulness. Included activities (like Pilates, yoga, hiking, water sports, culinary classes, and horseback riding) are designed to strengthen your body and mind.
Nightly resort credits can be applied to spa services or private activity sessions. All meals (which feature healthy local ingredients) are included, as are unlimited non-alcoholic drinks, smoothies, and snacks. Gratuity is also included in your fee, so no tipping is permitted. A free airport shuttle is also part of the deal.
Read reviews & check prices: Miraval Austin
5. The Clement Palo Alto, California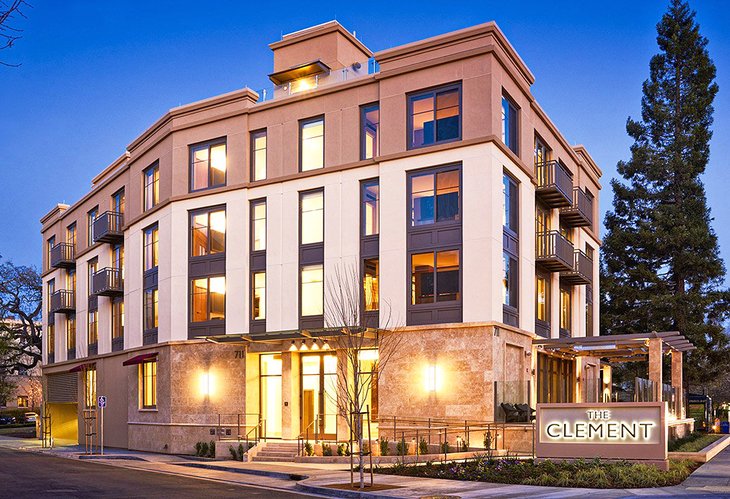 The best part? All food, drinks, and Wi-Fi are included with your stay. Whether you choose to dine in your suite, enjoy a beverage on the terrace, or tuck into a delectable meal in the Dining Room, you won't need to worry about the bill or a tip. Snacks are included, too, so you'll never go hungry.
The only thing you'll dislike about this stellar spot is having to leave.
Read reviews & check prices: The Clement Palo Alto
6. Canyon Ranch Lenox, Massachusetts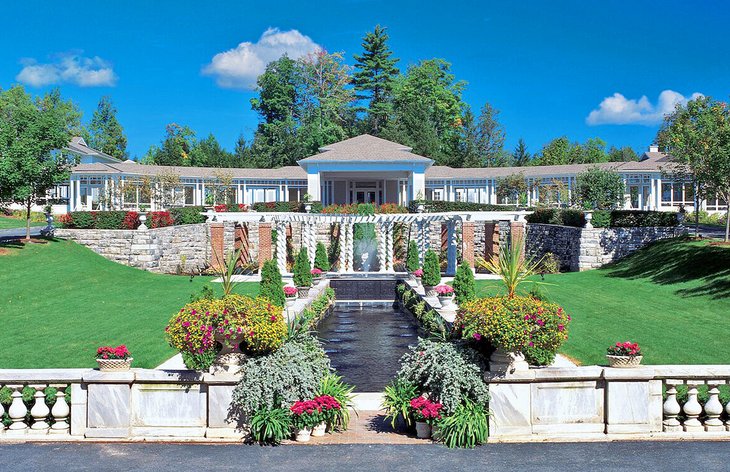 In addition to its spectacular pastoral views, Canyon Ranch offers visitors access to a luxurious spa, wellness programs, and yoga, among other activities. This is the place to visit if you're looking to unwind and revamp your lifestyle. On-site experts in health and nutrition can guide you to becoming a healthier version of yourself.
Planned daily schedules are an option for those who crave a bit more direction (choose one of the six "pathway experiences") or those who prefer to be flexible can book the "just be here" package. Included in your stay are healthy meals and snacks, over 35 activities, access to the spa and fitness facilities, and airport transfers.
Read reviews & check prices: Canyon Ranch Lenox
7. Little Palm Island Resort & Spa, Florida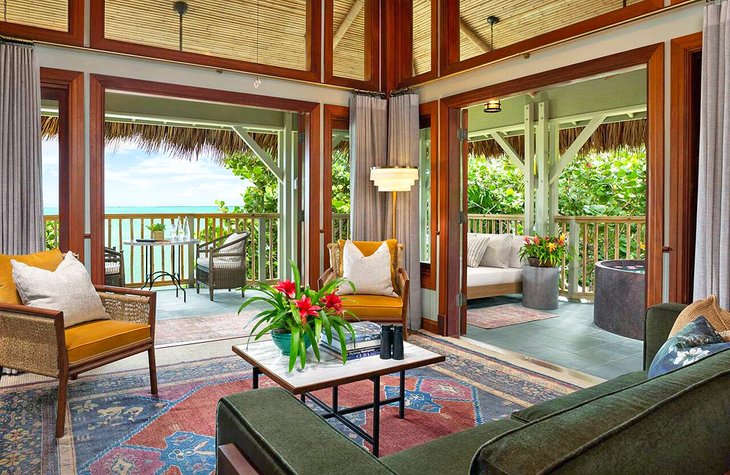 The only way to get here is by seaplane or boat, which means you'll be rubbing elbows with the rich and famous (we're talking A-list celebs and presidents) while curling your toes in the soft, white sand. Your room will be housed in one of 30 thatched bungalows oozing French Polynesian charm. Close your eyes, and you just might think you're there.
You won't find kids at this hotel (no one under 18 is allowed), and you'll be asked to avoid technology during your stay to get the most out of nature's incredible beauty. With so many activities to enjoy (your fee includes access to water sports) and a spa to relax in, you won't even notice you've unplugged. Talk about a recharge!
Stay for at least two nights to purchase the "Culinary Paradise Package," a deal that includes meals. You'll also get a spa credit, which is never a bad thing!
Read reviews & check prices: Little Palm Island Resort & Spa
8. Canyon Ranch Tucson, Arizona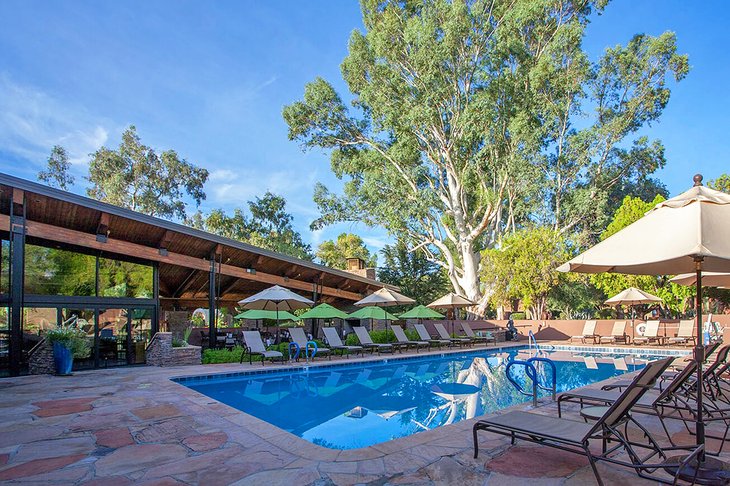 The Life Enhancement Center is a perfect place to help set (and get on the road to achieving) personal goals. If you're hoping to just relax, you can do that, too! Enjoy the fitness center, exercise and cooking classes, spa treatments, and spiritual wellness lessons.
More adventurous types will love the high ropes adventure course, tennis and pickleball courts, the biking and hiking trails, and Golf Performance Center.
As with Canyon Ranch in Massachusetts, the Arizona location offers Pathway program packages for three-, five-, and seven-night stays, as well as a Just Be Here option to help cut back on costs. Each package includes all meals and snacks, a range of activities (35 to be exact), and an allowance to be put towards therapy appointments, spa treatments, and more.
Read reviews & check prices: Canyon Ranch Tuscon
9. Canyon Ranch Woodside, California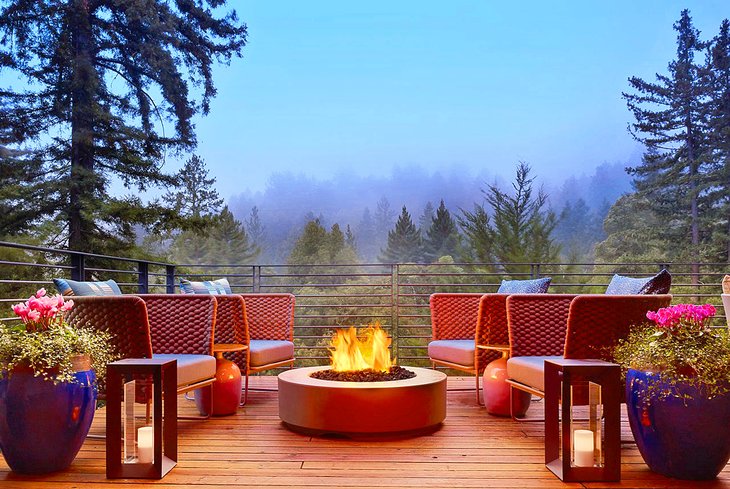 Ever wanted to sleep in a treehouse? Now's your chance to do it in style – in the hills that tower above Silicon Valley. The resort's glass-laden tree houses sit between 35 and 50 feet high, blanketed by the infamous tree canopy. Another option is to stay in one of the resorts' serene retreat rooms, housed in the main lodge.
It's impossible to ignore the overpowering magic of this natural wonderland. Guests are encouraged to immerse themselves in their surroundings, running through the "forest fitness course," wobbling along the ropes course, hiking through the forest, or following the leader on a guided mountain bike ride.
Choose one of the personal discovery packages for extra value on services and/or activities. Or opt for the Just Be Here option for a more flexible stay. No matter what you pick, meals are included, as are snacks and access to the pools and spa.
Read reviews & check prices: Canyon Ranch Woodside
10. Club Med Sandpiper Bay, Florida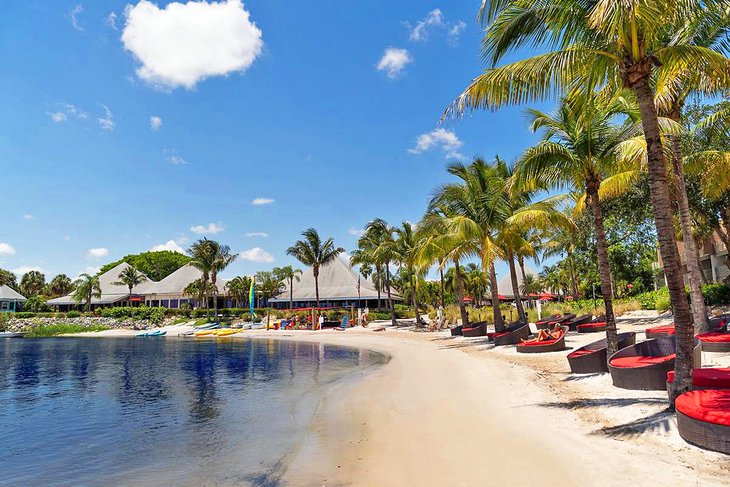 The best parts for parents (other than the awesome all-inclusive deal) are the little extras thrown in to help you unwind. From the adult-only pool to a super fun kids' club they won't want to leave to a rejuvenating spa that will leave you in "ahh," it's easy to have a little "me" time while on vacation in this Florida locale.
Water and land sports are included with your fee (i.e. trapeze, sailing, tennis, and kayaking), as are evening events featuring everything from concerts to dance routines to circus acts. Trust us, no one will whine that they're bored during your stay.
Read reviews & check prices: Club Med Sandpiper Bay
11. Grand Hotel, Mackinac Island, Michigan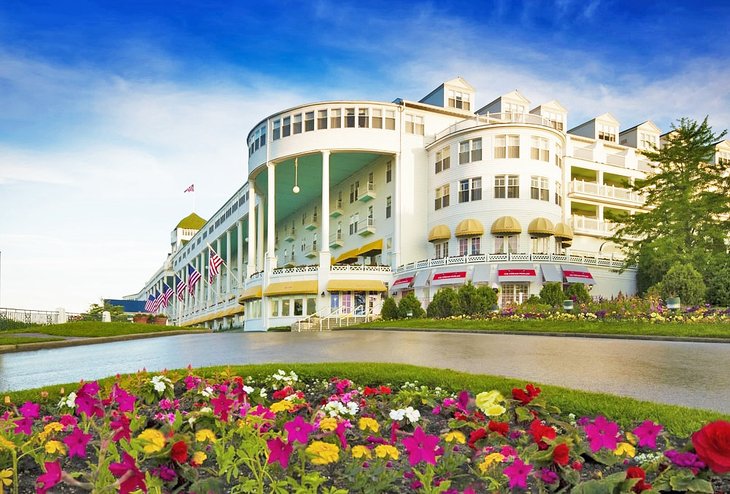 The building itself is a breathtaking nod to the town's storied past. Built in 1886, the gorgeous hotel boasts 397 rooms, all of which are lined with wallpaper and peppered with modern amenities. Each features a lovely island or lake view, and some boast an outdoor tub.
Kids are always welcome, and they'll love the island's fun and charming vibe. Cars aren't permitted, so you can hop on a horse and buggy, or bike your way around. Back at the resort, play lawn games or tennis; enjoy the pool, sauna, or hot tubs; and dine at one of the on-site restaurants.
Packages vary by month and can include everything from breakfast only to all meals, including a buffet lunch. A round of golf and afternoon tea may also be included.
Insider's tip: Family Added Value Days are designed to help families enjoy time together at a discounted rate and include breakfast and dinner.
Read reviews & check prices: Grand Hotel
12. Vista Verde Guest Ranch, Colorado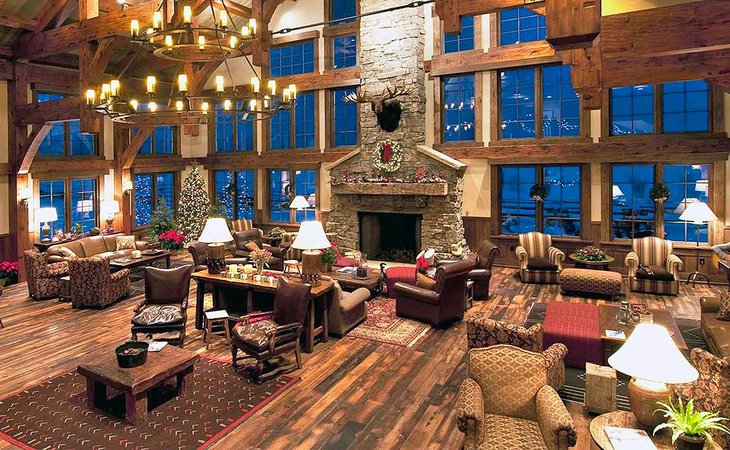 A working cattle ranch set in an idyllic spot outside Steamboat Springs, the resort boasts private log cabins, 500-acres of scenic valley, and a fantastic assortment of outdoor activities. Everything from rafting to skiing to horseback riding (they have their own indoor arena) to rock climbing to fly fishing to cooking lessons to climbing the ropes course is included in your stay.
To further your relaxation, each rustic yet lavish room is devoid of phones, televisions, and Wi-Fi. And all the drinks and snacks in your room are included in your stay. So, too, is every meal.
Read reviews & check prices: Vista Verde Guest Ranch
13. Blackberry Farm, Tennessee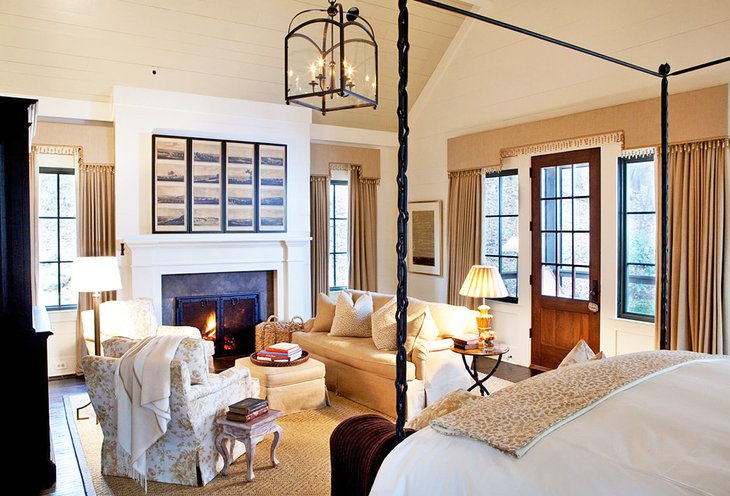 Meet the Master Gardener while you're here (you'll learn about farming in the days of old), tour the property, or sign up for a cooking lesson. Practice archery, take a carriage ride, hike, fly fish, or wake surf on the lake. There are so many activities to choose from. Not all are included with your rate, however.
No matter which room you choose (they boast everything from historic and estate rooms to suites, cottages, and three- to five-bedroom houses), you'll be more than comfy in the plush beds. Included with your stay are all meals and in-room snacks, as well as non-alcoholic drinks and non-guided activities.
Read reviews & check prices: Blackberry Farm
14. Skytop Lodge, Pocono Mountains, Pennsylvania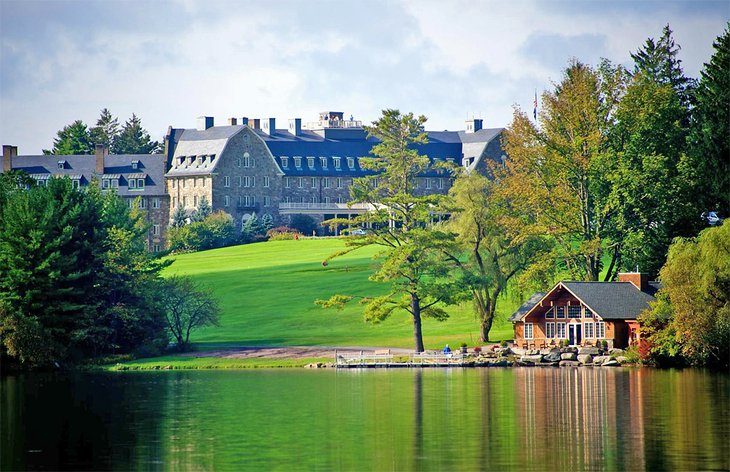 Rooms are comfortable and luxurious, located in the main lodge and inn, as well as standalone cottages spotted throughout the property. Activities include axe throwing, ziplining, rock-climbing, paintball, a treetop adventure course, swimming, fishing, boating, hiking, and in the winter, skating and ice fishing.
Spend time at the spa (not included in your all-inclusive rate) or wander the grounds to help your shoulders relax. Then prepare yourself for an incredible meal (included) at one of the four on-site restaurants, or the family-friendly Market (famous for its ice-cream), or Corner Roast (for a delicious cuppa and pastry).
Read reviews & check prices: Skytop Lodge
15. Lake Austin Spa Resort, Texas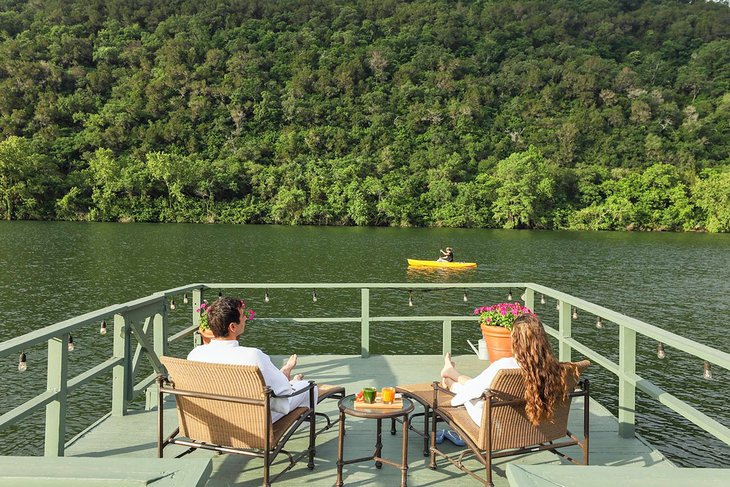 With over 19 acres of secluded lakefront, the water is the area's main attraction. No matter the season, you'll want to spend hours here, kayaking, hydro biking, swimming, or lounging on the beach. You'd be amiss to skip the spa. Though not included (although some packages include credits you can spend here), the treatments are divine.
As for food, expect mouthwateringly good, locally sourced gourmet meals, which you can choose to enjoy in your room or not. Unlimited drinks include smoothies, juices, tea, coffee, and lemonade.
Read reviews & check prices: Lake Austin Spa Resort
16. The Ranch at Rock Creek, Montana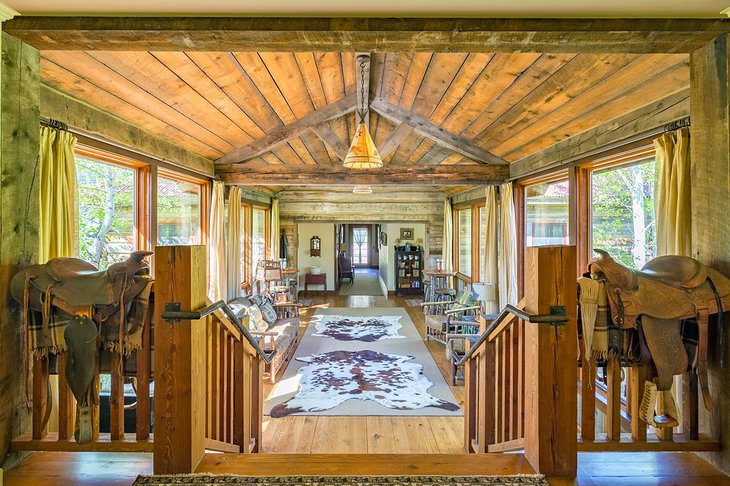 Head into the landscape on a horse, fish the trout stream, or bike along Rock Creek. Hiking, wagon rides, and fly fishing lessons are also popular activities. During winter, take a yoga class, head out for a skate, and take a tour of the herd in the horse barn. It's all included in your stay.
The Granite Spa offers massages in outdoor wagons, among other fab services. They're not included but are worth every penny. Meals are part of the deal, and they feature the most delectable farm-to-table menus.
Looking for a more outdoorsy experience? Choose to stay in one of the canvas-topped glamping cabins, which are set among the wildflower meadows. They boast super cozy beds, fans, and wood-burning stoves to keep you comfortable.
Read reviews & check prices: The Ranch at Rock Creek
17. Ocean Key Resort & Spa, Florida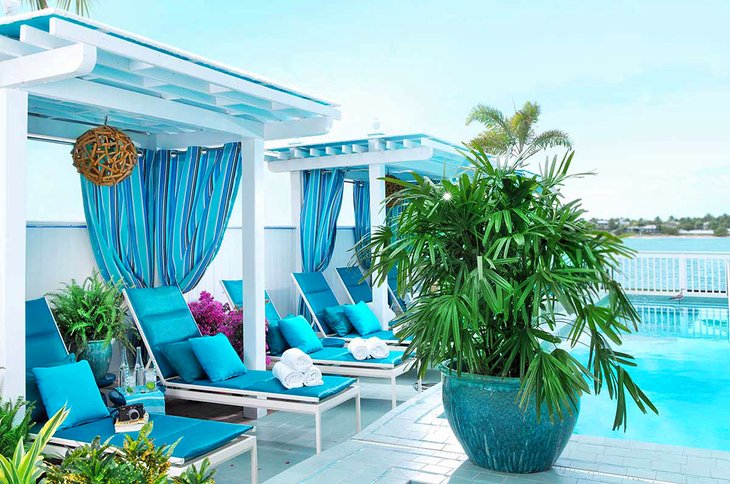 Sunnyside Up includes breakfast for two daily; Romance in Paradise offers a spa credit per room per night, as well as food and beverage credits each day; and Your Backyard Adventures adds multi-day experiences of reef fishing, seaplane rides, and a Jet Ski tour, along with daily breakfast for two and a dinner for two at Hot Tin Roof (a minimum stay of three days is required).
This resort oozes old Florida charm while boasting newer elements like a luxurious spa, a funky pool lounge (complete with chilled towels), valet parking, and an on-site boutique shop.
When it comes time to nosh, enjoy a meal on the Sunset Pier for exceptional water views (you'll be eating right above it, after all), LIQUID Pool Bar & Lounge for tasty treats, and the Hot Tin Roof restaurant overlooking the Key West Harbor (book a table for sunset, you won't regret it).
Read reviews & check prices: Ocean Key Resort & Spa
18. Brooks Lake Lodge and Spa, Wyoming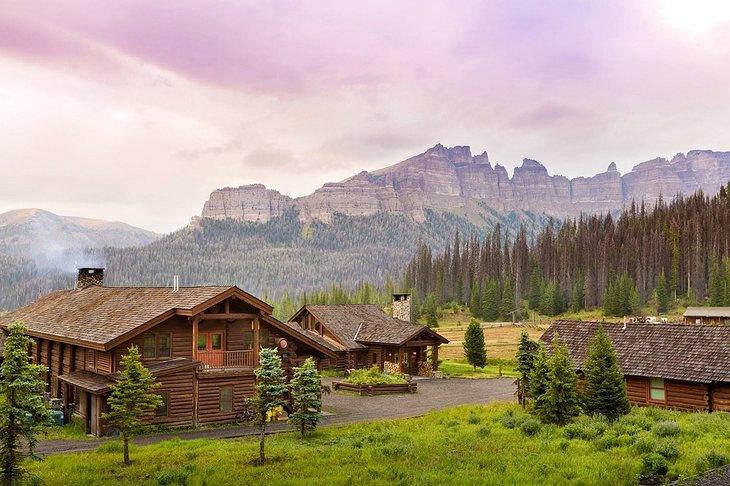 Towering pines, majestic mountain peaks, and rustic wooden cabins make it easy to leave your busy world behind in favor of one that's exciting in a more natural way. No matter the season, you'll find plenty of opportunities to make the most of this idyllic locale: horseback riding, canoeing, hiking, and fly fishing in summer and dog sledding, snowmobiling, cross-country skiing, or ice fishing in winter. Meals and activities are included in your rate.
Prefer to take things at a more relaxed pace? Enjoy a relaxing treatment in the spa; or head back to your private, luxury log cabin (if that's the accommodation you booked) for a nap.
Don't miss out on spending time in the main lodge. Built in 1922 to house travelers on their way to Yellowstone National Park, this iconic beauty is listed on the National Register of Historic Places. Enjoy a cup of tea with a side of cookies, cheese, and fruit in the Tea Room, relax by the grand fireplaces, or grab a bite in the Dining Room.
Read reviews & check prices: Brooks Lake Lodge and Spa
19. The Lodge at Woodloch, Pennsylvania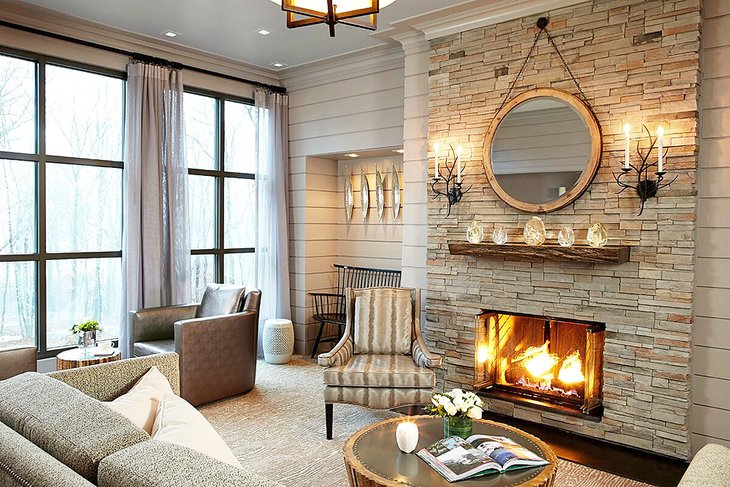 The Lodge at Woodloch is no ordinary all-inclusive resort in the Poconos. A high-end luxury retreat, this 58-room country estate has one main goal: to improve the lives of its guests. Through a variety of activities, intriguing classes and talks, and luxurious amenities (like the private veranda attached to your room), guests can't help but relax, rejuvenate, and reinvent themselves during their stay.
In addition to learning to meditate, breathe, practice yoga, and cook healthy meals, guests can attend classes and talks on topics ranging from art to spirituality to sleep in this secluded escape. You can even head out on a geocaching adventure. All are included in the fee, as is every delicious meal.
Read reviews & check prices: The Lodge at Woodloch
20. Mohonk Mountain House, New York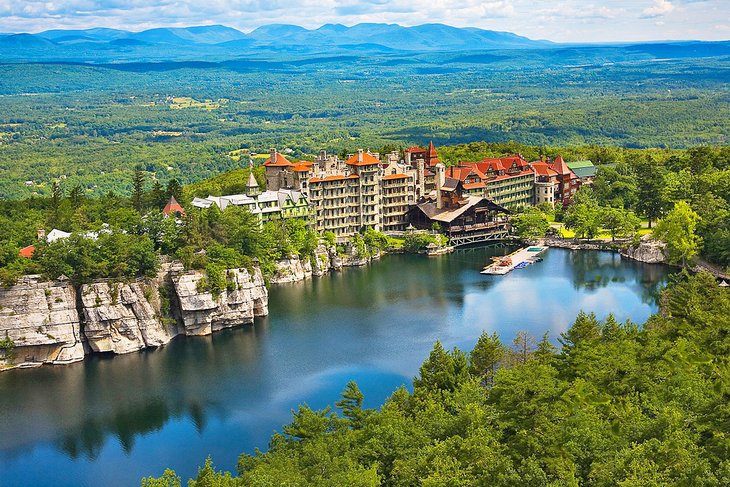 As of late March 2022, this Victorian estate offers an all-inclusive package that boasts three meals, afternoon tea and cookies in the Lake Lounge, yoga, meditation, and fitness classes, as well as lake and winter activities, nine holes of golf, and nightly entertainment.
When you're not ogling the spectacular view from your comfy room, make use of the tennis courts, indoor heated pool (it even has underwater music), more than 85 miles of hiking trails, and easy lake access.
If you're hoping to go horseback riding, partake in a rejuvenating spa treatment, enjoy a private yoga class, or book a babysitter, expect an additional fee. Otherwise, you can rest assured that the bill will look just as you were expecting.
Read reviews & check prices: Mohonk Mountain House
More Related Articles on PlanetWare.com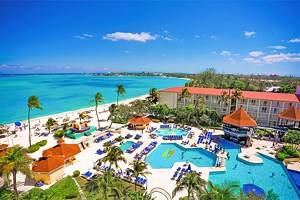 More All-Inclusive Resorts to Consider: Hoping to keep your savings in the bank where they belong? Opt for one of these cheap all-inclusive resorts on your next getaway. Hoping to really live it up? Head to the Caribbean and stay at one of these fab luxury all-inclusive resorts.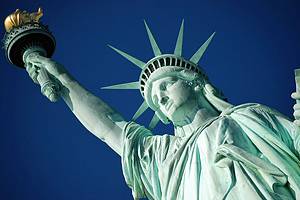 Other Places to Visit in the US: If you're still undecided about where to spend your American vacation, check out these best places to visit in the United States. For more action and culture, you may want to visit one of these top-rated attractions in the USA.