17 Best Free Things to Do in San Francisco
Most travelers have heard about the costs of visiting San Francisco: expensive hotel rooms, exorbitant restaurant meals, and the endless assortment of upscale retail shops that are difficult to resist! But who would want to miss San Francisco's amazing sights just because the city is a bit pricey? That's where our list of the best free things to do comes in handy.
Local residents know that San Francisco's breathtaking scenery, splendid architecture, and wide array of cultural attractions make it a desirable place to live, which in turn drives up demand and prices.
This leaves many tourists wondering how to visit San Francisco without spending a fortune. Some solutions include being smart about where to stay in San Francisco (choosing a hotel within a mid-range or budget category), grabbing meals at food trucks and casual eateries, and taking advantage of our long list of free things to do in San Francisco.
1. Admire Views of the Golden Gate Bridge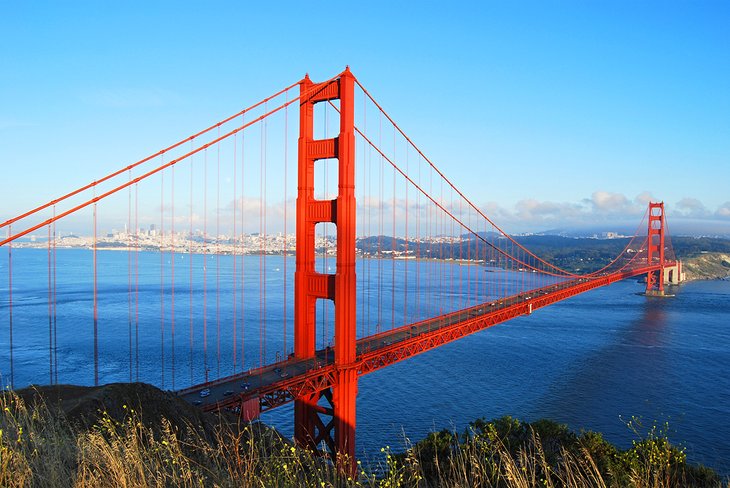 One of the most stunning sights in the USA, the Golden Gate Bridge spans the mighty San Francisco Bay with a sweeping suspension structure. This 1.7-mile-long bridge links San Francisco to the Marin Headlands, and its clearance height (220 feet) above the bay waters allows access to cargo ships and cruise liners.
Visitors will want to spend some sightseeing time admiring the iconic landmark, distinguished by its elegant Art Deco style and vivid "International Orange" color. Two soaring towers connect a double strand of curved cables, creating a geometrically balanced and aesthetically pleasing form.
To experience this magnificent monument up-close, take a walk across the pedestrian path on the East Sidewalk of the bridge (open from 5am until 6:30pm or 8pm depending on the time of year).
Begin your walk at the Welcome Center (open daily from 9am until 6pm), which presents exhibits about the history and construction of the Golden Gate Bridge. San Francisco City Guides also offers free walking tours on Thursdays and Sundays.
Cyclists are allowed to bike across the bridge any time of day on the East Sidewalk or West Sidewalk. Access is open to cyclists 24 hours a day. Bring your own bicycle; there are no bike rentals at the Golden Gate Bridge.
Another essential way to appreciate the Golden Gate Bridge is by viewing the landmark from a distance. The best outlooks are from the Marina Green, the lawns of Crissy Field, and from the Lands End Trail in the Golden Gate National Recreation Area.
Address: Golden Gate Bridge Welcome Center, Golden Gate Bridge Plaza, San Francisco
2. Visit the Legion of Honor Museum in the Late Afternoon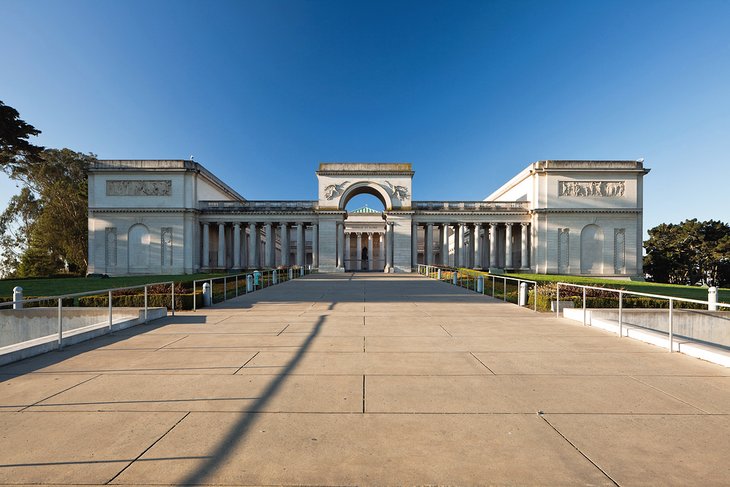 Art lovers may visit the Legion of Honor museum free of charge in the late afternoon from 4:30pm until the museum closes at 5:15pm. The free admission allows access to view the museum's permanent collection exhibits, which display many masterpieces of European art.
Highlights of the permanent collection are an assortment of European paintings from the 14th to 20th centuries; a collection of antiquities from Egypt, Greece, Rome, and the Near East; graphic arts from the 15th century to the present day; decorative arts; photographs since the late 19th century; and over 90 sculptures by Auguste Rodin.
Free organ concerts take place on Saturdays at 4:30pm. The museum is open Tuesday through Sunday from 9:30am until 5:15pm. The museum's gift shop and café with outdoor patio are open to the public free of charge during the museum's opening hours.
The Legion of Honor is San Francisco's most prestigious museum and also the most beautiful, set in Lincoln Park on a hillside overlooking the Golden Gate Bridge.
Address: Legion of Honor, Lincoln Park, 100 34th Avenue, San Francisco
Official site: https://legionofhonor.famsf.org
3. Roller Skate in Golden Gate Park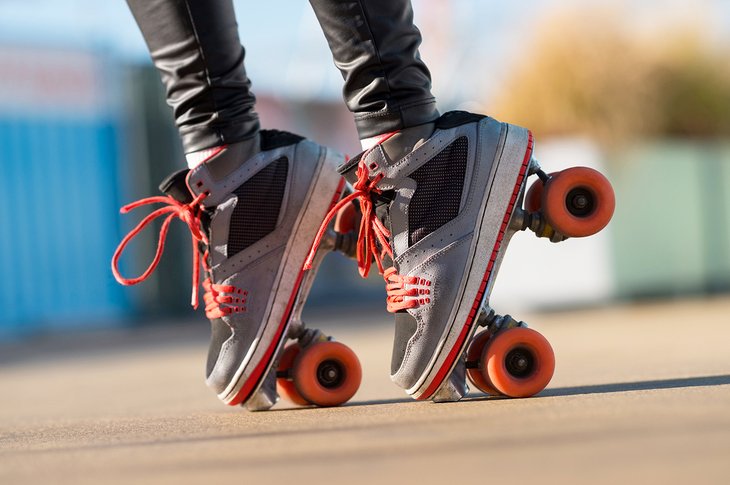 For a quintessential San Francisco experience, take a spin around Golden Gate Park on roller skates.
You'll see the sights of the park while channeling the carefree fun-loving vibes of the 1970s when roller disco was all the rage. During that era, thousands of good-time seekers flocked to Golden Gate Park on Sundays to roll on skates to disco music. The park was closed to car traffic, leaving the skaters to roam free of traffic.
Today, there may not be disco music (unless you bring your own boom box), but the park still has a mostly car-free route designed for skaters, bikers, joggers, and pedestrians. A portion of this route has been closed to street traffic every Sunday since 1967. The car-free route has been expanded from just a section of John F. Kennedy Drive to a complete east-west route that traverses the park. Since 2020, the route has been closed to traffic every day.
The car-free route begins on the east side of the park (entrance at Stanyan Street) and includes John F. Kennedy Drive, Overlook Drive, Middle Drive, and Martin Luther King Jr. Drive, winding up at the west side of the park, which borders the Great Highway next to Ocean Beach, one of the best beaches in San Francisco.
Several spots on the car-free route intersect with street traffic (on John F. Kennedy Drive and on Middle Drive near the Polo Field), but with the majority of the route is closed to vehicle traffic. This allows skaters to feel more relaxed.
While skating along the car-free route, you'll pass by the Conservatory of Flowers, the John McLaren Memorial Rhododendron Dell, and Stow Lake.
The route ends at the Murphy Windmill and near the Beach Chalet, a favorite local restaurant with ocean-view indoor dining. Also nearby, Park Chalet is a more casual restaurant with outdoor garden-terrace tables beneath shady trees or umbrellas and lawn seating in the sunshine.
Bringing the 70s fad to life, the Skatin' Place outdoor rolling skating rink at Golden Gate Park hosts Friday night roller disco events with DJ music and special LED lighting effects. Locals have been coming out to enjoy the scene at Skatin' Place rink for decades. Recently, a revival of interest in San Francisco's roller skating culture has made Skatin' Place more lively than ever.
Read More: Best Parks in San Francisco
4. Take a City Guides Walking Tour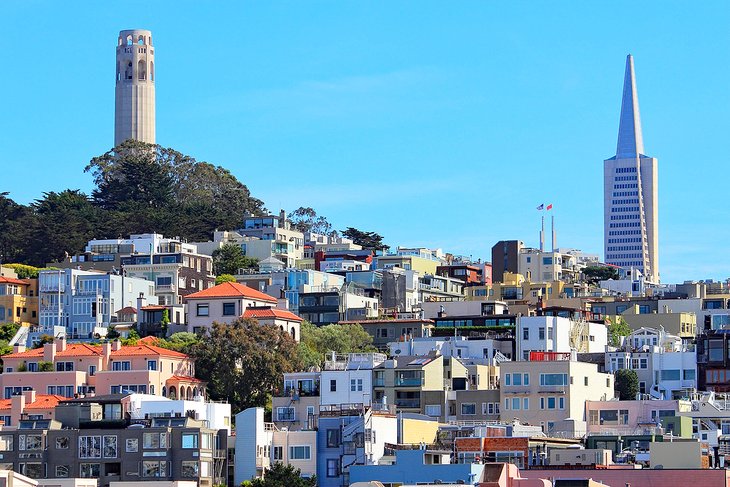 One of the best-kept secrets in San Francisco, City Guides offers free walking tours in various neighborhoods and on different themes. The organization has provided free walking tours for the past 44 years, and continues to delights locals and tourists alike with its informative guided tours of the city's popular places to visit.
Favorite tours offered by City Guides include the Telegraph Hill Stairway Hike, the Mission Dolores Neighborhood walk, Alfred Hitchcock's San Francisco tour, and the Castro: Tales of the Village tour.
Tour guides are volunteers, and the 1.5 to two-hour tours are offered at no cost. However, most participants make a donation in-person or online. It is recommended to register on the company's website in advance, but walk-ups are welcome.
You can also take your own self-guided walking tour through San Francisco. It takes a full day to see several of the famous neighborhoods of San Francisco such as Chinatown, Jackson Square, Telegraph Hill, North Beach, and Fisherman's Wharf.
5. Bring a Picnic Lunch and Relax by Stow Lake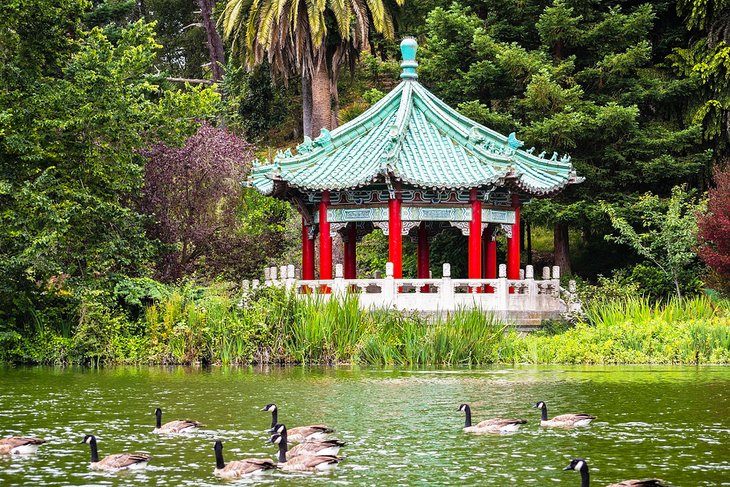 Since 1893, Stow Lake has delighted visitors with its bucolic scenery and recreational opportunities.
Surrounded by a landscaped setting of forest groves and rolling hills, this man-made lake in Golden Gate Park is a wonderful place to visit and spend a leisurely afternoon. On sunny days, locals flock here to take walks and enjoy picnics.
Stow Lake's picnic area includes eight tables and two barbecue grills. You can also find your own spot somewhere beside the lake (bring a blanket). The setting is lovely with its meandering walking paths, shady wooded groves, a waterfall, and bridges around the lake.
A Chinese Pagoda (gifted from the city of Taipei), with green-tile roof and bright red pillars, adds to the ambience of enchantment.
The Stow Lake Boathouse (open daily from 10am until 5pm, or 6pm on weekends) rents out pedal boats. The boathouse also has a café (open daily from 11am until 5pm) that serves coffee, refreshments, ice cream, homemade cookies, fresh-baked croissants and scones, sandwiches, hot dogs, hamburgers, and salads. The café uses local organic ingredients as much as possible.
Address: Stow Lake Boathouse, 50 Stow Lake Drive, San Francisco
6. Smell the Roses in the Garden of Shakespeare's Flowers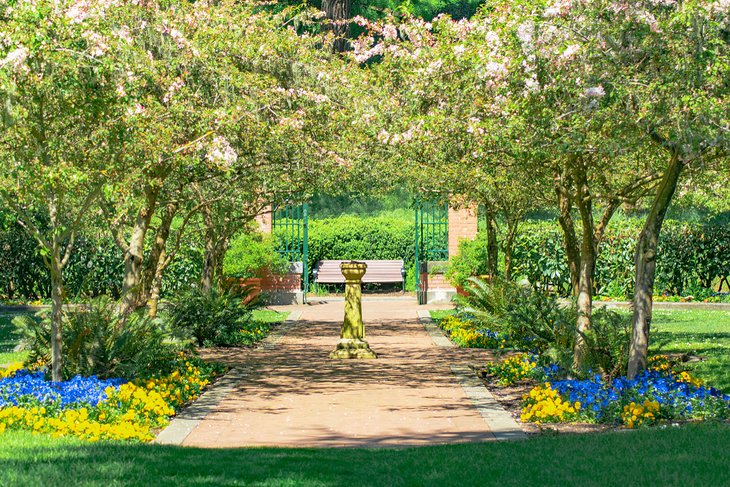 Step into the scene of an English Renaissance garden and transport yourself to the visions of Shakespeare's plays and sonnets. The Garden of Shakespeare's Flowers in Golden Gate Park blooms with the flowers and plants mentioned in the Bard's works.
More than 200 flowers and plants flourish in this romantic formal garden, with its brick pathway and sundial. Bronze plaques are engraved with Shakespeare quotations.
Enclosed by hedges with an iron-gate entrance, the Garden of Shakespeare's Flowers is a popular venue for weddings because of its romantic atmosphere.
Address: 335 Martin Luther King Jr. Drive, San Francisco
7. Hike on the Crosstown Trail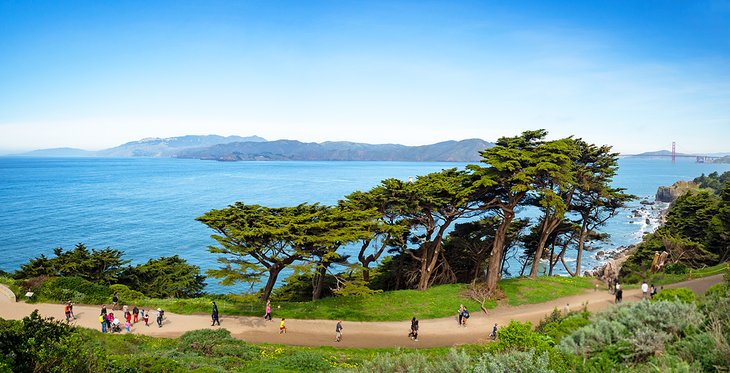 It's possible to embark on a serious adventure without even leaving San Francisco. The Crosstown Trail offers 17 miles of hiking trails that slice diagonally through the city in a northwest direction, beginning at Candlestick Park State Recreation Area and ending up at Lands End overlooking the Pacific Ocean. The trail traverses public parks, protected open space, and community gardens.
If an all-day 17-mile hike is too much for you, then you can try one section of the trail. The trail contains 5-mile, 3-mile, and 2-mile sections.
Highlights for tourists are Park Presidio, Sea Cliff, and Lands End.
Official site: https://crosstowntrail.org
8. Meditate on a Labyrinth Walk at Grace Cathedral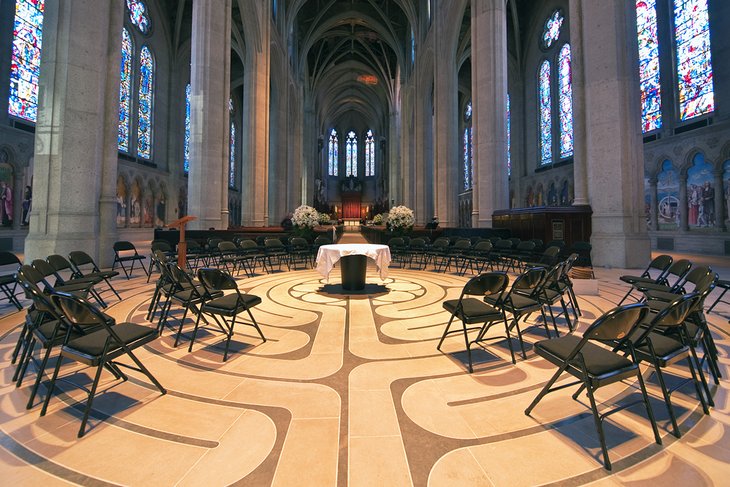 One of San Francisco's most prominent churches, Grace Cathedral is a social hub for the local community. The cathedral offers traditional religious services, as well as yoga classes, music concerts, art exhibits, and other cultural events.
Grace Cathedral started the Modern Labyrinth Movement, which has taken the ancient spiritual practice of labyrinth walks to a new level. The cathedral has two labyrinths (one indoors and one outdoors) that replicate the labyrinth of the 13th-century Cathedral of Chartres in France. Labyrinths have been part of the Christian tradition since the 4th century.
The labyrinths of Grace Cathedral invite spiritual seekers to practice walking meditation. For some, the labyrinths offer a peaceful or mystical experience.
Visitors may use the indoor labyrinth whenever the cathedral is open. The outdoor labyrinth is open 24 hours, daily.
Address: 1100 California Street, San Francisco
Official site: https://gracecathedral.org
9. Visit the Randall Museum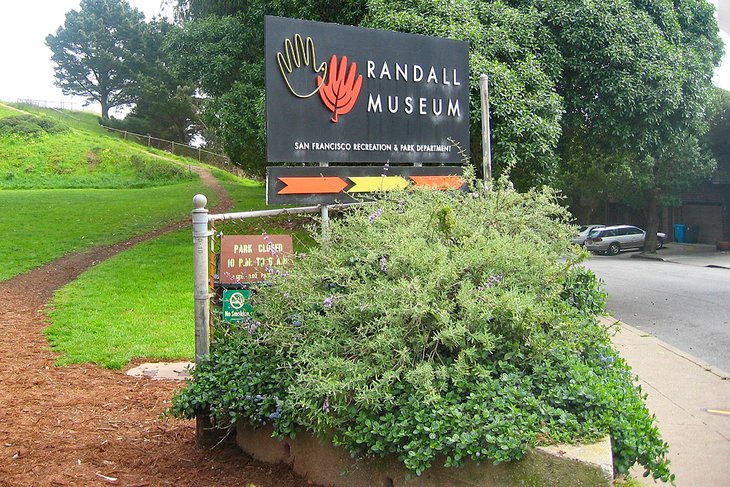 The Randall Museum delights children and adults alike with its innovative exhibits about the natural world.
The Randall Museum is a natural history museum, science museum, and arts center with a wide variety of attractions and things to do. Visitors will find everything from an art studio and ceramics studio to a model railroad and a "tree house" structure for toddlers to climb.
Live Animal Exhibits make this museum an exciting place for children. Kids have a chance to see wildlife native to California, such as the coyote, squirrels, raccoons, the California quail, and the California mouse.
A favorite stop at the Randall Museum is Café Josephine, which offers coffee, snacks, pastries, sandwiches, salads, and soups. The menu includes healthy meals prepared from seasonal organic ingredients that are locally sourced. Sandwiches feature fresh-baked artisanal bread from a renowned local bakery.
The museum is open Tuesday through Saturday, from 10am until 5pm. Admission is always free of charge.
Address: 199 Museum Way, San Francisco
Official site: https://randallmuseum.org
10. Stroll through the Ferry Plaza Farmers Market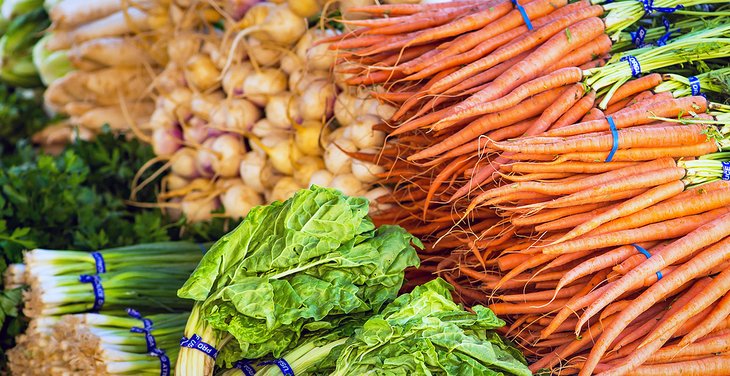 The Ferry Plaza Farmers Market is free of charge, as long as you are not tempted to purchase any of the enticing fresh foods and culinary specialties. It's fun to take a walk through the colorful scene and check out the amazing variety of organic produce from nearby farms.
Thousands of visitors shop at the Ferry Plaza Farmers Market every week. Locals come here to find the very best quality fresh fruits, vegetables, flowers, herbs, meat, eggs, and artisanal culinary specialties (such as cheese and bread).
Besides seasonal farm products, the market also includes gourmet street food. Tourists may want to sample the tacos or wood-fired pizza.
The market is held in front of the Ferry Building on the Embarcadero (bay-front boulevard) on Tuesdays and Thursdays from 10am until 2pm, and on Saturdays from 8am until 2pm.
The larger Saturday market takes up both the plaza in front of the Ferry Building and the patio space behind the Ferry Building that overlooks the San Francisco Bay. On Saturdays, local restaurants have stands that sell hot meals for breakfast and lunch.
11. Climb Beautiful Staircases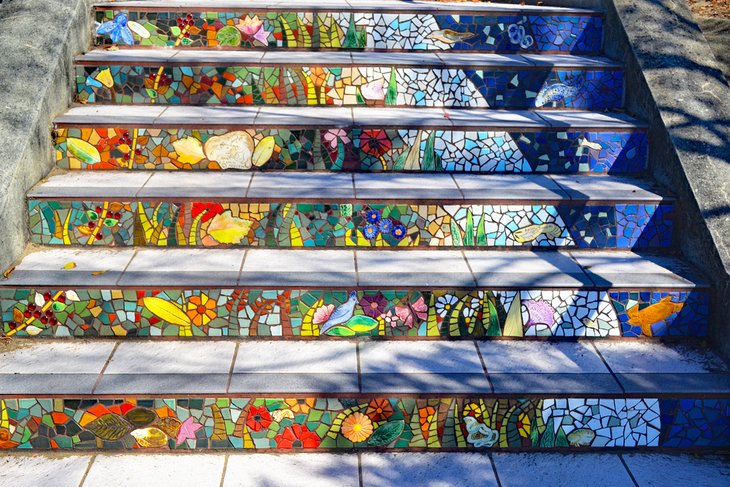 The hilly neighborhoods of San Francisco conceal lovely staircases hidden within the city's steepest streets.
At the edge of Lincoln Park on California Street, the Lincoln Park Steps delight visitors with a colorful vision of Beaux Arts design. This tile mosaic art installation was originally created in the early 1900s and was renovated in a project completed between 2008 and 2015.
The Lyon Street Steps dazzle with European-style elegance and spectacular San Francisco views. This beautiful pedestrian staircase is found in Pacific Heights, a premier neighborhood filled with exquisite old Victorians and other historic mansions.
In the Golden Gate Heights neighborhood, the 16th Avenue Tiled Steps surprise pedestrians with its colorful mosaics. The 163-step staircase is decorated with tile mosaic panels featuring images of animals, fish, seashells, stars, and sun rays.
Splendid city panoramas await at the Vallejo Street Steps in the Russian Hill neighborhood. Nestled among hidden gardens between Taylor and Mason Streets and next to Ina Coolbrith Park, this short pedestrian corridor allows passersby to admire views of Coit Tower, North Beach rooftops, and downtown skyscrapers, as well as the bay and the Bay Bridge in the distance.
The Vallejo Street Steps lead down to North Beach, where you can stop for coffee at an old-school café or enjoy a meal at a traditional Italian restaurant.
12. Listen to Music in the Sigmund Stern Grove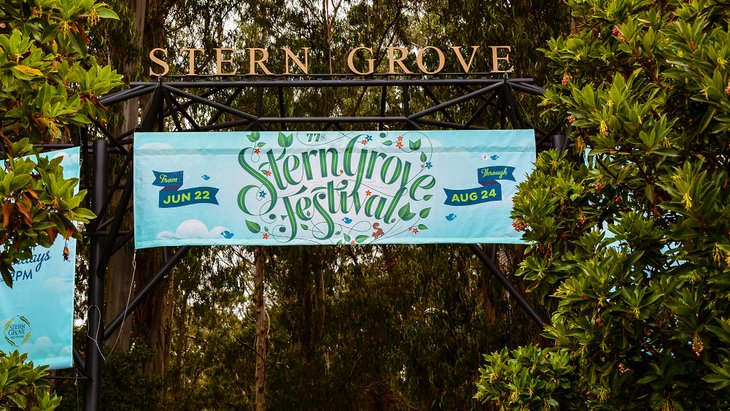 A magical venue for outdoor performances, the Sigmund Stern Grove has hosted free musical entertainment every summer since 1938. This sheltered grove of eucalyptus, redwoods, and fir trees features excellent acoustics, ideal for the live music concerts.
The Stern Grove Festival takes place every Sunday afternoon from mid-June until mid-August. The program line-up includes a wide range of musical genres such as punk, rock, hip-hop, funk, soul, country, and classical. The festival may also include dance and/or theater performances.
Visitors should plan to arrive early to get a good "seat" (spot on the lawn or hillside). For those who are driving, it's best to allow extra time to find street parking and plan to walk a few blocks. Many people bring a picnic lunch or snacks and refreshments to enjoy during the performance.
Address: 19th Avenue and Sloat Boulevard, San Francisco
Official site: https://www.sterngrove.org
13. Attend the Hardly Strictly Bluegrass Festival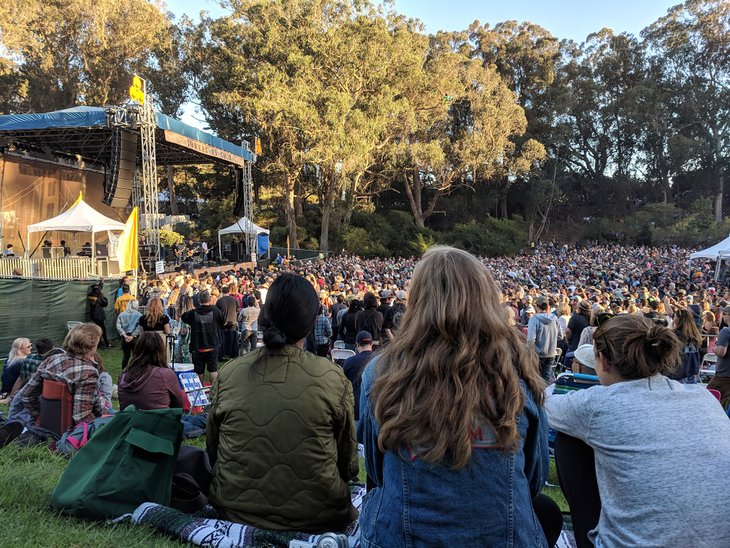 Bluegrass enthusiasts come from far and near to the Hardly Strictly Bluegrass festival in San Francisco every year, at the end of September or in early October. Hardly Strictly Bluegrass presents an extensive lineup of bluegrass concerts by world-renowned musicians, such as Emmylou Harris, Steve Earle, and Mavis Staples.
Considered one of the best bluegrass events in the country, the three-day festival takes place on several stages in Golden Gate Park.
Official site: https://www.hardlystrictlybluegrass.com
14. Sunbathe at Dolores Park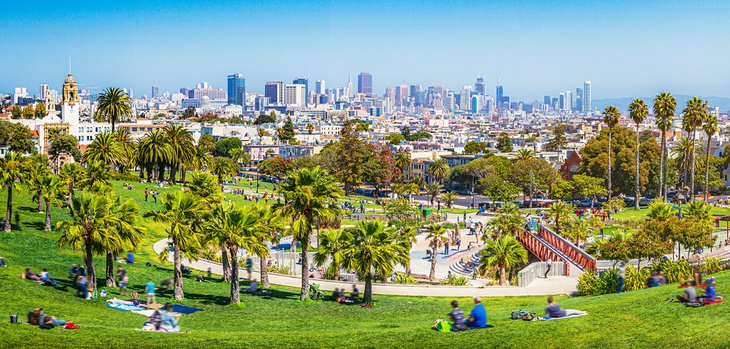 To feel like a local while visiting San Francisco, spend some time hanging out at Dolores Park. Tourists will blend right in with the diverse crowd of sunbathers, picnickers, families with kids, and groups of friends. Simply bring a beach towel or blanket and grab a spot on the grass.
This 16-acre green space in the sunny Mission District neighborhood features expansive lawns, palm trees, and stunning views of downtown San Francisco. Amenities include picnic tables, a children's playground, tennis courts, and restrooms.
15. Watch a Shakespeare Play in the Park
Immerse yourself in culture without spending a dime, by attending the San Francisco Shakespeare Festival. The performances take place in early September at the Jerry Garcia Amphitheater at McLaren Park, in a neighborhood that is definitely off the tourist map.
The mission of the San Francisco Shakespeare Festival is to make Shakespeare plays accessible to everyone. The festival organizers hope to encourage a sense of community among the audiences, while offering a soul-inspiring experience.
Address: 100 John F Shelley Drive, San Francisco, California
Official site: http://www.sfshakes.org
16. Mingle with Art Aficionados at Gallery Openings
The SF First Thursday Art Walk takes place on the first Thursday of the month from 6pm until 10pm at more than 30 different art galleries in San Francisco's Lower Polk and Tenderloin neighborhoods. Each art gallery or artist's studio presents its own selection of art and hosts a reception.
Visitors can view an interactive map online to see where the art gallery openings are located. The galleries hosting receptions are found near each other, which makes it easy to approach the event as a progressive self-guided walk.
17. Enjoy a Free Concert or Film Screening in the Tenderloin
The Tenderloin Museum is dedicated to the history of the Tenderloin neighborhood, home to the legendary Blackhawk Jazz Club. The museum presents free concerts and film screenings throughout the year.
Official site: http://www.tenderloinmuseum.org
Map of Free Things to Do in San Francisco
San Francisco, CA - Climate Chart
Average minimum and maximum temperatures for San Francisco, CA in °C
J
F
M
A
M
J
J
A
S
O
N
D

14

8

16

9

17

9

18

10

18

11

20

12

20

12

21

13

22

13

21

13

18

11

15

8

PlanetWare.com
Average monthly precipitation totals for San Francisco, CA in mm.

120

105

86

32

14

3

1

2

7

30

84

81