From San Francisco to Yosemite: 5 Best Ways to Get There
The UNESCO-listed Yosemite National Park is a place of awe-inspiring natural wonders: a majestic glacier-sculpted valley blanketed in flowering meadows and festooned with rushing waterfalls that plunge from granite cliffs. Every year, the 1,200-square-mile park attracts millions of visitors who come here to go camping, hiking, climbing, or just to admire the scenery.
Many tourists plan to see Yosemite while visiting San Francisco, about 200 miles away. Because Yosemite is one of the most popular tourist destinations in California, several companies offer services to help you get from San Francisco to Yosemite and back. It's also easy to travel from San Francisco to Yosemite by car, and it's feasible to get there by train or bus. Consider the time of year you will be visiting Yosemite because some roads in the park are seasonal.
Start planning your trip to Yosemite with our list of transportation options. We recommend five of the best ways to get from San Francisco to Yosemite, along with the considerations you should keep in mind with each option.
The best way to get to Yosemite really depends on your personal preferences. When deciding how to get from San Francisco to Yosemite, choose the option that suits your travel style, budget, and vacation itinerary.
1. From San Francisco to Yosemite by Organized Tour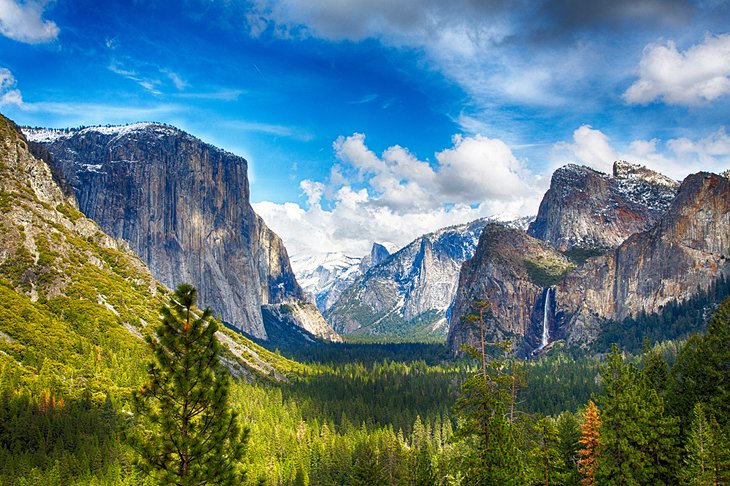 Highlights: Effortless and comprehensive, includes all transportation and admission fees
Yosemite is at least a four-hour drive from San Francisco (and can take longer with traffic), so it is not usually recommended as a day trip. However, organized tours make it possible to visit Yosemite from San Francisco in just one day.
The Yosemite National Park and Giant Sequoias Day Trip allows you to get the most out of your limited time in the Sierra Nevada mountains. This guided tour stops at Gold Rush towns on the way to Yosemite and then covers the highlights of Yosemite National Park, including a hike through Tuolumne Grove and a photo-op at Tunnel View with Half Dome in the background.
Going on this organized tour is much easier than renting a car and driving to Yosemite yourself. Plus, this tour offers the convenience of hotel pickup in addition to interesting commentary shared by a knowledgable guide along the way.
2. From San Francisco to Yosemite by Car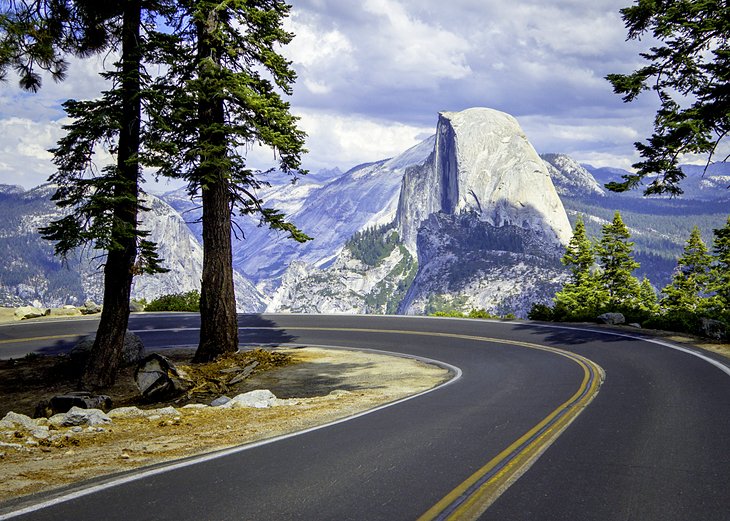 Highlights: Fast and convenient, allows for day-tripping itineraries
For the most flexibility and convenience, renting a car is the way to go. One thing to keep in mind: Because the drive takes a minimum of four hours each way, you should plan to spend at least two or three nights for a leisurely experience and to fully appreciate the place.
If you are renting a car in San Francisco, there are several options. Hertz offers rental cars from a location near San Francisco Airport. Budget provides rental cars from a location in downtown San Francisco.
The fastest route from San Francisco to Yosemite is via Highway 120. The trip starts out on Highway I-580 east to I-205 east and then continues on Highway 120 east until reaching Yosemite National Park.
It's also possible to get to Yosemite by taking Highway 140 east via Merced (instead of Highway 120) after starting out on Highway I-580 east to I-205 east. This route is ideal if you are staying at the Tenaya Lodge, which is accessible by taking Highway 140 to the southern entrance of Yosemite National Park.
Another good place to break up the journey is just over a two-hour drive east of San Francisco in Knights Ferry. Here the Stanislaus River Parks in the Knights Ferry Recreation Area beckon outdoor lovers, hikers, kayaking enthusiasts, and white water rafting thrill seekers. The Knights Ferry Recreation Area is only a slight detour from the Highway 120 route to Yosemite, on a scenic portion of the drive in the Sierra Nevada foothills.
3. From San Francisco to Yosemite by Transfer Service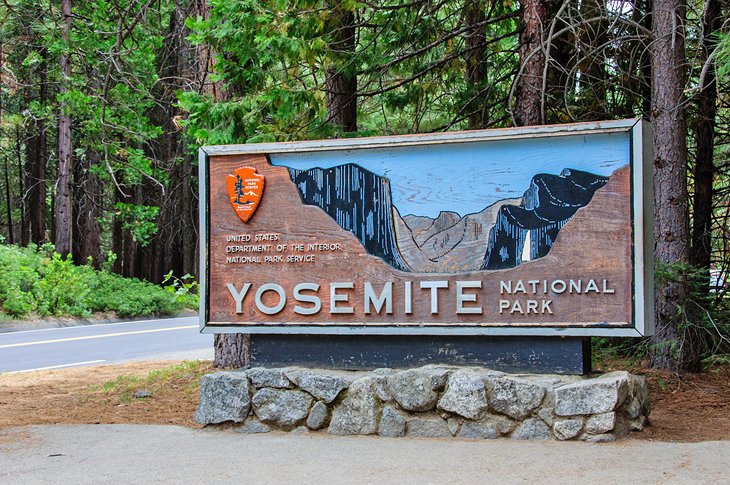 Highlights: Stress-free travel, time for independent sightseeing
If you prefer to leave the driving to someone else yet want to explore Yosemite at your own pace, the Yosemite One Way or Round Trip from San Francisco transfer service is the right choice. We also recommend this service instead of taking public transportation on your own, if you don't want to deal with a complicated, time-consuming journey from San Francisco to Yosemite.
You can choose to depart at either 7am or 1pm. The service takes care of all the travel arrangements for each step of the journey: an organized bus ride from San Francisco to the Amtrak train station in Oakland, a train ride to Merced and then a transfer by motor coach to Yosemite with a drop-off near several popular hotels.
The entire journey is about six hours but is stress-free because the service coordinates everything for you and even includes the Yosemite National Park entrance fee.
4. From San Francisco to Yosemite by Train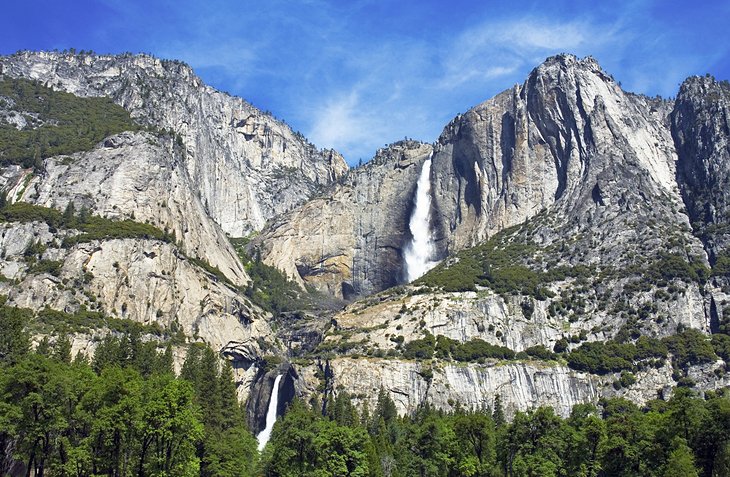 Highlights: Economic tour de force of rail and public transportation
Getting from San Francisco to Yosemite by train requires the willingness to go on a public transportation adventure involving multiple legs of travel: a BART (Bay Area Rapid Transit) train ride, then an Amtrak train trip, and finally a bus ride. From start to finish, you should allow at least six hours for the journey, or more depending on the timing of connections.
Here's how to travel from San Francisco to Yosemite by train: First, go to any BART station in San Francisco. If you don't already have a BART ticket or Clipper card, use one of the station's vending machines to purchase a ticket (the fare is about $11 round-trip from San Francisco to Richmond).
Take the BART train from San Francisco to Richmond station, the last stop on the "Richmond line." (If you do not choose a "Richmond line" BART train from San Francisco, then you must transfer to a "Richmond line" train at the 19th Street/Oakland station). The BART train ride from San Francisco to Richmond takes about 35 minutes.
Exit the BART train at the Richmond station and walk over to the adjoining Amtrak train station (a few steps away). Purchase an Amtrak train ticket to Merced, unless you have already purchased a ticket online.
Next, take the Amtrak train from Richmond to Merced. Board the Amtrak train southbound on the "San Joaquin line" and enjoy the relaxing two-hour-and-40-minute train ride to Merced station.
After exiting Merced station, take the Yosemite Area Regional Transit System (YARTS) Bus to Yosemite National Park. The YARTS Bus makes multiple stops and takes about one hour and 45 minutes to reach the Yosemite Valley Visitor Center.
5. From San Francisco to Yosemite by Bus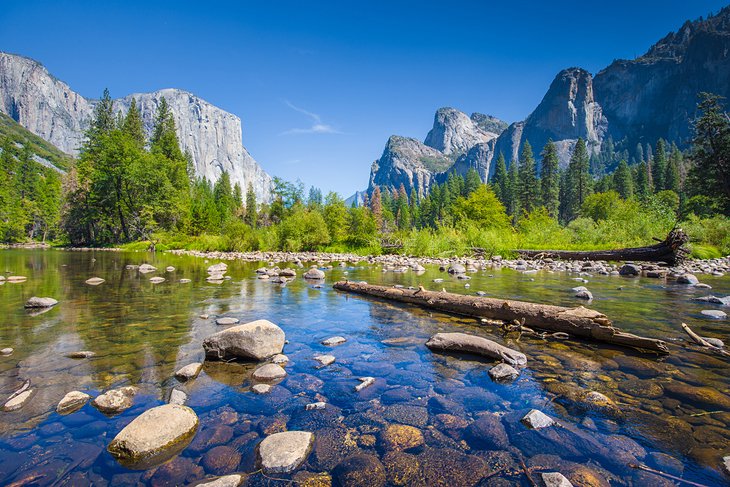 Highlights: Slow-paced and budget-friendly with free shuttle options in Yosemite NP
The Greyhound Bus service from San Francisco to Yosemite appeals to budget-conscious travelers. However, this is the slowest option. The Greyhound bus journey takes over nine hours and includes several stops plus a transfer in Merced. Travelers can choose from stopping at the Yosemite Valley Lodge or the Yosemite Valley Visitor Center.
Yosemite also has a shuttle bus system for tourists to get around the park, free of charge. The Yosemite Valley Shuttle (operating year-round) takes tourists to the park's main attractions and stopping points near all Yosemite National Park hotels, as well as some campsites including Upper Pines Campground and Housekeeping Camp.
The El Capitan Shuttle (operating from mid-June until early October) goes to the Yosemite Valley Visitor Center, El Capitan, and the Four Mile trailhead.
More Related Articles on PlanetWare.com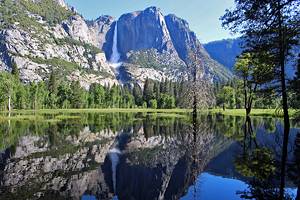 Planning Your Visit to Yosemite: To ensure a fabulous visit to Yosemite National Park, read up about Yosemite's top attractions such as Yosemite Falls, Half Dome, and El Capitan. Learning about Yosemite's incredible landscape before you go only adds to the sense of amazement when seeing the iconic sites in person. You should also decide in advance which Yosemite hikes suit your abilities, before you embark on your adventures.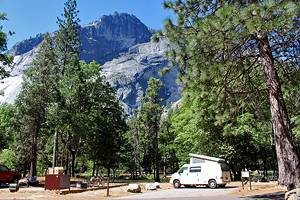 Camping in Yosemite: If you're interested in spending a night under the stars, you can choose from Yosemite's array of excellent campgrounds. Be sure to book your campsite well ahead of your visit.