1-Day, 2-Day & 3-Day San Francisco Itineraries for Travelers
Few cities in the world can match the sublime scenery of San Francisco, with its majestic Golden Gate Bridge and picturesque waterfront setting. The City by the Bay also boasts a captivating history. The multicultural neighborhoods of downtown San Francisco are imbued with Gold Rush lore and colorful immigrant stories.
Visitors should keep in mind San Francisco's unique topography. Packed into seven square miles, San Francisco is a compact and walkable city, best explored on foot (as long as you are in good enough shape to trek up the hills).
Over 40 steep hills set the stage for dramatic postcard-perfect views but also make walking around a challenge. Many of the hills have sidewalk staircases; climbing them feels like a cardio workout.
The following itineraries include several of the most famous hills that are brimming with must-see sights: Nob Hill, Russian Hill, and Telegraph Hill. These itineraries are mainly pedestrian routes, except for the bay cruises, cable car rides, and bus trips. The routes balance uphill grades with more gentle stretches and pleasant places to relax.
On This Page:
ONE-DAY SAN FRANCISCO ITINERARY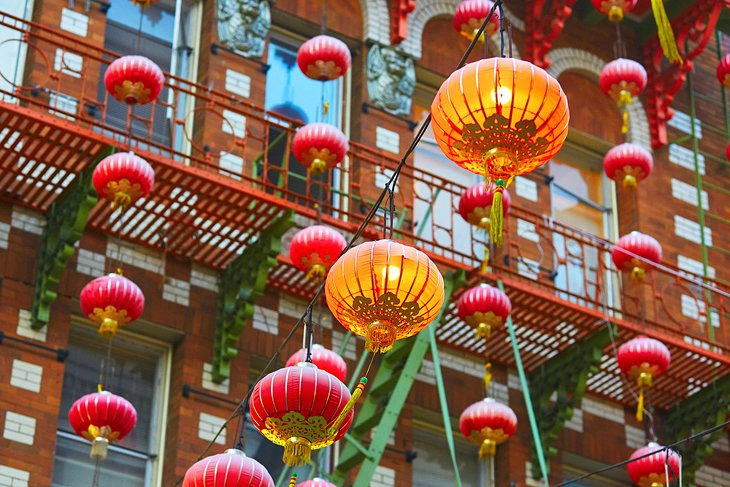 Things to Do in One Day in San Francisco: Begin your tour of San Francisco in the heart of downtown at Union Square. Then browse some of the high-end retail boutiques overlooking the square. Fashionistas flock to Saks Fifth Avenue, Tiffany & Co, Louis Vuitton, and Neiman-Marcus, just to name a few of the designer brands in the Union Square shopping area.
From Post Street in Union Square, walk two blocks to Grant Avenue, where you will be greeted by the green-tile roofed Dragon's Gate, the entrance to Chinatown.
Ramble down Grant Avenue for a few blocks to soak up the ambience. Touristy souvenir shops predominate, but there are also authentic Chinese bakeries, restaurants, and tea shops that cater to the local residents. All along Grant Avenue, the storefronts reveal elements of Chinese architecture, such as roofs with graceful upturned eaves. Several blocks of Grant Avenue are festooned with strings of bright red lanterns.
To experience the less touristy side of Chinatown, turn right on Clay Street and swing by Portsmouth Square, where locals play mahjong and practice tai chi. Then return back to Clay Street and walk until you reach Stockton Street (turn right) to see the Eastern medicine herb shops and Chinese grocery stores that sell exotic food products unfamiliar to most westerners.
Retrace your steps back to Grant Avenue again and consider stopping for lunch. The most acclaimed dining establishment in Chinatown, Z & Y Restaurant (655 Jackson Street at Grant Street) specializes in Szechuan-style Chinese cuisine. This award-winning (Michelin Bib Gourmand) restaurant has served an impressive clientele, including former President Barak Obama and famous Chinese dignitaries.
Continue north on Grant Avenue for two blocks until you reach the intersection of Broadway and Columbus, where North Beach (Little Italy) begins. Pop into the bohemian City Lights bookstore (261 Columbus), once the haunt of famous Beat authors. Jack Kerouac and Allen Ginsberg once read their brilliant and irreverent poems here.
Around the corner from City Lights (turn right on Broadway), The Beat Museum (540 Broadway) displays memorabilia and provides background about the Beat Generation artistic movement. The Beats were spirited free-thinking writers, thinkers, and artists of the 1950s, and their legendary hangout spots (Vesuvio Cafe, Caffe Trieste, Tosca Cafe) are found near the museum.
To discover one of the few remaining old-timers' hangouts in North Beach, walk one block north on Columbus and turn right on Vallejo Street. A fixture in the neighborhood since the 1950s, Caffe Trieste (601 Vallejo) is famous for its strong Italian Roast espresso and convivial setting. From here, take a jaunt along Grant Avenue to browse the locally owned boutiques and artisan dressmakers' shops.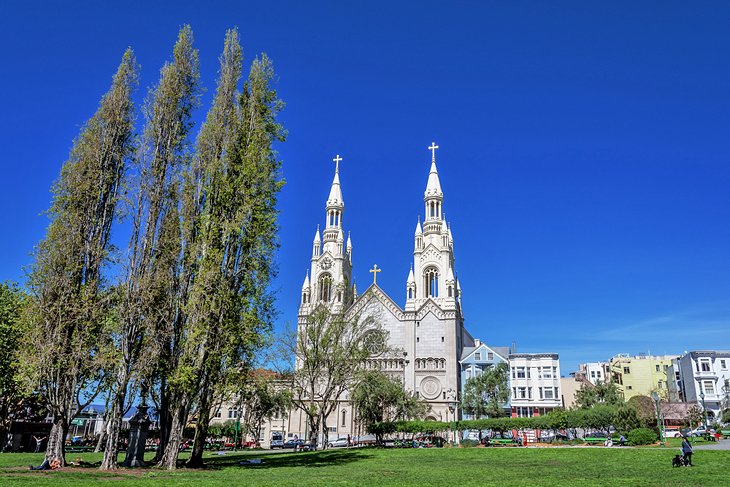 Return to Columbus Avenue and amble down two busy blocks (lined with shops, cafés, and restaurants). Break for a coffee and cannoli at the cozy Stella Pastry & Café (446 Columbus) or take a slight detour to find the European-style Cavalli Café (1441 Stockton).
For a treat on warm days, you can choose from several gelato shops on Columbus Avenue. Then relax in the tree-shaded Washington Square Park, where you can admire the Gothic facade of Saints Peter & Paul Church, the backdrop for Marilyn Monroe and Joe DiMaggio's wedding photos.
If you have time (about two hours) and are in good physical fitness, take a detour to Telegraph Hill after visiting Washington Square Park in North Beach. It's a scenic but challenging hike up to Coit Tower at the highest point of Telegraph Hill. The effort is rewarded with sweeping panoramas.
From Washington Square Park, take a right on Jefferson Street and walk up several steep blocks with pedestrian staircases. Turn left onto Filbert steps and follow staircases through gardens up to Coit Tower. It's worth paying the admission price for the 360-degree views from the Observation Deck. You will be wowed by stunning outlooks of the city's rolling hills, the Bay Bridge, Alcatraz, the Golden Gate Bridge, and the East Bay in the distance. Return to Washington Square Park to continue the walking itinerary.
From Washington Square Park, walk five blocks down Columbus, turn right on Jones Street, and continue three blocks until reaching Fisherman's Wharf. In the 1800s, recently immigrated Italian fisherman plied their trade in the bay while singing opera songs. The traditional Italian boats called feluccas are docked at the wharf at the Hyde Street Pier (turn left on Jefferson to arrive here) revealing the legacy of the old fishing village.
For many first-time visitors, Pier 39 (turn right on Jefferson and walk four blocks) is a must-see attraction. With superb views of the San Francisco Bay, this touristy area is packed with restaurants, casual eateries, and specialty shops.
Animal lovers and families with kids enjoy watching the "Sea Lebrities" of Pier 39. The sea lions camp out year-round on the K-Dock. To learn more about the bay's aquatic animals, check out the Sea Lion Center (Building 203) overlooking the K-Dock at Pier 39.
You can continue to discover the colorful world of marine life at the Aquarium of the Bay. The aquarium contains a variety of habitats for marine animals native to Northern California, from jellyfish to river otters. There are also touch pools, an area for land-dwelling aquatic animals (such as frogs and tortoises), and outdoor decks with views of the Golden Gate Bridge and Alcatraz.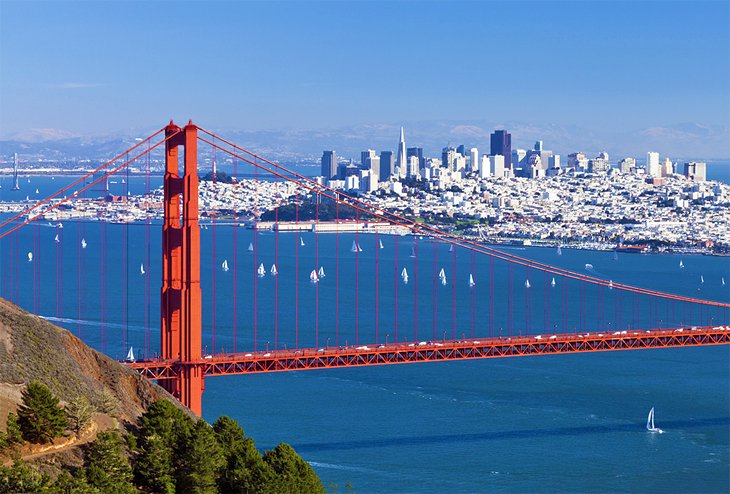 To truly get a feel for the San Francisco Bay, take a Blue & Gold Fleet bay cruise, which departs from Pier 39. The one-hour cruise sails around Alcatraz and under the Golden Gate Bridge, while providing interesting commentary about the landmarks along the way.
Retrace your steps on Jefferson street, heading to Aquatic Park. This sheltered cove has a 1,400-foot pier that offers astounding views of the San Francisco Bay and Fisherman's Wharf cityscape. From here, you can see the iconic sign of the Ghirardelli building, which will be your next stop.
Ghirardelli Square (900 North Point) is a charming area with upscale shops. Tourists make a beeline to the famous Ghirardelli Chocolate Marketplace, which has an ice-cream parlor and chocolate boutique, as well as remnants of its historic chocolate factory.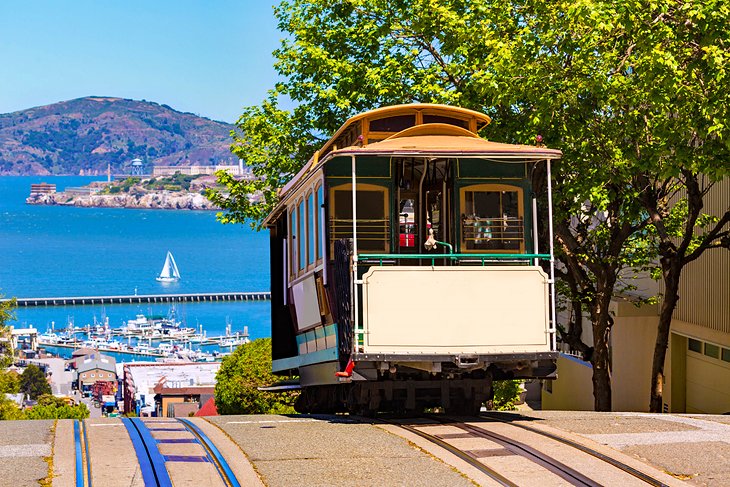 Purchase a cable car ticket at Hyde & Beach cable car stop and settle in for a thrilling ride back to Union Square. The cable-driven cars deliver an experience as exhilarating as any roller coaster. Plus, the views are breathtaking!
Taking a cable car ride allows you to soak up San Francisco history. The first cable car operated on Clay Street in September of 1873. Many of the cable cars that run today are over a hundred years old.
Enjoy the invigorating feel of wind in your hair as you ascend the steep grades. Going downhill is even more exciting, especially as the grip person rings a brass bell, and the conductor slams on the brakes when the cable car needs to stop. This allows passengers to hop on or off at different points.
Getting Around: Please note that this itinerary requires several miles of walking. For those who prefer a less physically demanding mode of getting around, a convenient option is the Big Bus San Francisco Hop-On Hop-Off Bus Tour. This flexible bus tour includes stops at San Francisco's must-see attractions such as Union Square, Fisherman's Wharf, and Pier 39.
About Cable Car Tickets: For the ride from the Hyde & Beach stop, you must purchase your ticket before hopping on the cable car (whereas it's possible to buy a ticket from the conductor if you hop on at one of the other stops).
If you decide to ride the cable car more than once in a day, purchase a 1-Day Visitor Passport. If you plan to take several cable car rides on multiple days, consider a San Francisco CityPASS, which allows unlimited cable car and Muni bus rides during a three-day period.
Where to Eat: The premier Chinese restaurant in Chinatown (and some also say it's the best in the city) is Z & Y Restaurant (655 Jackson). Other excellent options are Far East Café (631 Grant), an elegant Chinese restaurant that opened in 1920; Chong Qing Xiao Mian (915 Kearny), which specializes in spicy noodle dishes; and the Dim Sum Corner (601 Grant), a casual Chinese restaurant that serves dim sum and other classic Chinese dishes.
In North Beach, delicious Italian-American cuisine is found at Original Joe's (601 Union), where tuxedo-clad waiters deliver meals in a historic dining room. Across from Washington Square Park, the upscale Park Tavern (1652 Stockton) offers old-world charm and modern American bistro fare. Tosca Cafe (242 Columbus) occupies a legendary venue in North Beach near City Lights bookshop; the renowned chef delights guests with hearty Italian meals.
For casual dining in North Beach, try the bustling Calzone's Restaurant (430 Columbus), which serves Italian-American cuisine on sidewalk tables or inside. Authentic Italian fare is found at Barbera Pinseria (431 Columbus), a laid-back restaurant that specializes in pinsa (a traditional Roman-style of pizza with a light, crispy crust made from heirloom wheat flour).
On this itinerary, you probably won't have much time for leisurely dining in Fisherman's Wharf, so the best option is The Codmother Fish & Chips (496 Beach). This unassuming little shack prepares fish and chips and fish tacos from top-quality fresh seafood. You can take the food to go or enjoy it on outdoor picnic-style tables.
In the Union Square area, Scala's (432 Powell) offers modern takes on classic French bistro fare and traditional Italian cuisine, prepared from locally sourced seasonal ingredients; Sears Fine Food (439 Powell) is a historic restaurant famous for its Swedish pancakes (serves breakfast, lunch, and dinner); and The Cheesecake Factory in Macy's department store (251 Geary entrance) has a wide-ranging menu of over 200 items.
For specialty gourmet cuisine near Union Square, try Tropisueño (75 Yerba Buena Lane), a trendy Mexican restaurant that serves casual taqueria fare at lunchtime and hearty meals for dinner, or Del Popolo (855 Bush) for Neapolitan-inspired wood-fired pizza.
You may also want to see our guide to the best vegetarian and vegan restaurants in San Francisco for other ideas.
Where to Stay in San Francisco: If you are following this one-day itinerary, the best places to stay are in the Union Square area or the nearby Nob Hill neighborhood. Both of these areas allow you to see all the sights by foot or cable car. The North Beach neighborhood, close to Fisherman's Wharf, appeals to many tourists, but you will need to adjust this itinerary slightly (perhaps begin the day with a cable car ride to Union Square).
Luxury Hotels:
Ideally located on Union Square near the Hyde Powell cable car stop, The Westin St. Francis San Francisco on Union Square opened in 1904 and offers timeless style. Guest rooms blend luxurious touches, like chandeliers, fine bedding, and rain showers, with modern conveniences such as Smart TV systems.
Three blocks up from Union Square, the Fairmont San Francisco on Nob Hill (a fashionable neighborhood) is a San Francisco landmark built at the turn of the 19th century. Delighting guests with its old-world elegance, this posh four-star hotel features an opulent lobby, spacious guest rooms, fabulous views, and excellent dining options.
Mid-Range Hotels:
Another historic hotel on Nob Hill, the four-star InterContinental Mark Hopkins San Francisco is appreciated for its sophisticated ambience and penthouse lounge. The Top of the Mark overlooks the entire city; at nighttime the views are dazzling.
Just one block up from Union Square, the four-star Sir Francis Drake Hotel delivers the romance of a historic San Francisco building in a convenient location. The ornate lobby exudes exquisite old-world style, while the guest rooms are minimalistic and modern.
Budget Hotels:
For a convenient location in the Union Square area, The Grant Hotel is a good choice. The hotel is within walking distance of the Powell Market cable car stop, as well as many shops, restaurants, and cafés. Amenities include 24-hour front desk, cable TV in the guest rooms, and complimentary continental-style breakfast.
In North Beach, only a few blocks from Fisherman's Wharf, the San Remo Hotel offers affordable accommodations in a quaint Victorian-era building. Most of the rooms are tiny and have shared bathrooms, but the hotel offers historic charm, and the location is fantastic for tourists. The country's first Italian restaurant is found within the hotel. Established in 1886, Fior d'Italia is renowned for its northern Italian cuisine.
TWO-DAY SAN FRANCISCO ITINERARY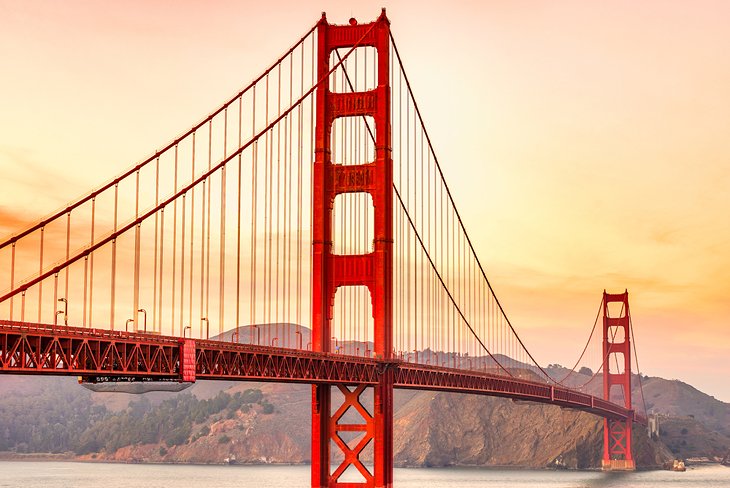 Day 1
Things to Do: If you have two full days in San Francisco, make the most of the first day by going on a six-hour guided tour. The Alcatraz Island and San Francisco Grand City Tour gives you a chance to see many of the city's highlights in a short timeframe. It wouldn't be logistically possible to get to all of these places on your own in one day.
The tour includes two portions: Departing from 478 Post Street in Union Square, the City Tour is a bus tour with stops for photo-ops at the Golden Gate Bridge. You will also see beautiful Victorian houses and visit Chinatown, North Beach, and Fisherman's Wharf. The City Tour wraps up back at Post Street, and transportation (by ferry) is provided to the next portion of the tour on Alcatraz Island.
The next portion of the tour takes you by ferry from Pier 33 to Alcatraz Island, also known as "The Rock," where the infamous prison operated from the 1930s until 1963. On a 45-minute, self-guided audio tour, you'll see the cell blocks where Al Capone and Machine Gun Kelly served time. Outside the prison are marvelous views of the city. You can decide how long to spend on Alcatraz Island and return to Pier 33 by ferry, which leaves every 30 minutes.
From Pier 33, take a short stroll along the Embarcadero, a scenic waterfront path, to Fisherman's Wharf. Consider having dinner at one of the top-rated restaurants in the area. Fisherman's Wharf restaurants are renowned for fresh local seafood and wonderful waterfront views.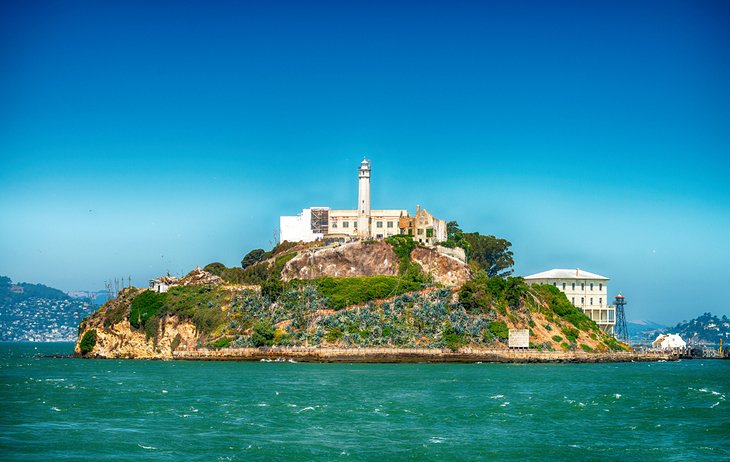 Where to Eat: In the Fisherman's Wharf area, the Buena Vista Cafe (2765 Hyde) is a famous diner-style restaurant next to the cable car stop. The most popular restaurants by the wharf are Alioto's Restaurant (#8 Fisherman's Wharf at Taylor and Jefferson streets), which serves Sicilian cuisine and fresh seafood in a dining room overlooking the Golden Gate Bridge, and Scoma's (1965 Al Scoma Way, Pier 47), which offers "pier to plate" cuisine, including locally caught fish and Italian-American specialties like Cioppino.
Day 2
Things to Do: This morning explore the Ferry Building, a historic landmark (opened in 1898) that serves as a gourmet marketplace. A mecca for foodies, the Ferry Building houses a wide array of locally owned specialty boutiques, such as purveyors of artisanal cheese, chocolates, ice-cream, coffee, and baked goods. There are also casual eateries, and many of the restaurants have outdoor seating overlooking the Bay Bridge.
If you prefer a picnic lunch, the best time to visit is Tuesdays and Thursdays (10am - 2pm) and Saturdays (8am - 2pm), when the Farmers Market is held at the Ferry Plaza. You can choose from a selection of picnic items (bread, cheese, jam, fruit) and street foods like tacos, sandwiches, and pizza. Behind the Ferry Building, bayside benches are perfect for a picnic.
After lunch, escape to a dreamy seaside village north of San Francisco. You'll enjoy a spectacularly scenic 30-minute ferry ride using Golden Gate Ferry service from the Ferry Building to Sausalito. Along the way, you'll sail past Alcatraz, Angel Island, and the Golden Gate Bridge into a calm sheltered harbor.
Spend some time exploring Sausalito, a seaside community that has the feel of a Mediterranean fishing village. Nestled between a wooded hillside and picturesque marinas, the historic Old Town is brimming with boutiques, art galleries, cafés, and restaurants.
From the town center of Sausalito, you can take a stroll along the Southern Boardwalk, a waterfront path that affords incredible views of the San Francisco cityscape across the bay. Be sure you know when to catch your return ferry ride back to San Francisco. Arrive on time, as the ferry does not wait.
Tonight, enjoy dinner in North Beach to sample more local cuisine and soak up the vibrant nightlife. From the Ferry Building, walk north on Embarcadero and turn left on Broadway to reach North Beach (at Columbus Avenue). The area's less touristy restaurants are tucked away on the quieter side streets or located farther away from the bustling hub of Columbus Avenue.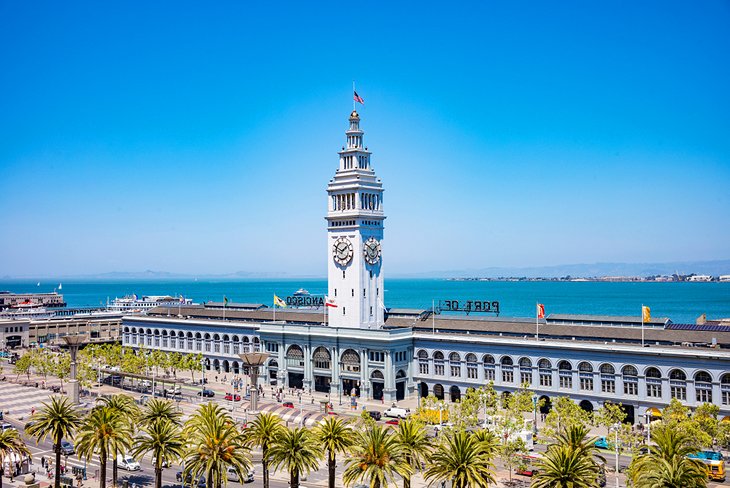 Where to Eat: A few locals' favorites in North Beach are hidden away on Grant Avenue: Cafe Jacqueline (1454 Grant), a charming French restaurant that specializes in soufflés, and Ideale (1309 Grant), a classic Italian trattoria.
Other excellent choices are Sotto Mare (552 Green), which specializes in seafood; Baonecci Ristorante (516 Green) for the cuisine of Lucca in northern Italy; and Firenze by Night (1429 Stockton), an old-school Italian restaurant. If you prefer romantic ambience, Da Flora (701 Columbus) offers elegant candlelit dining and seasonal Italian "slow food," such as house-made meatballs and focaccia bread, braised duck ragu, and handmade ravioli and gnocchi.
THREE-DAY SAN FRANCISCO ITINERARY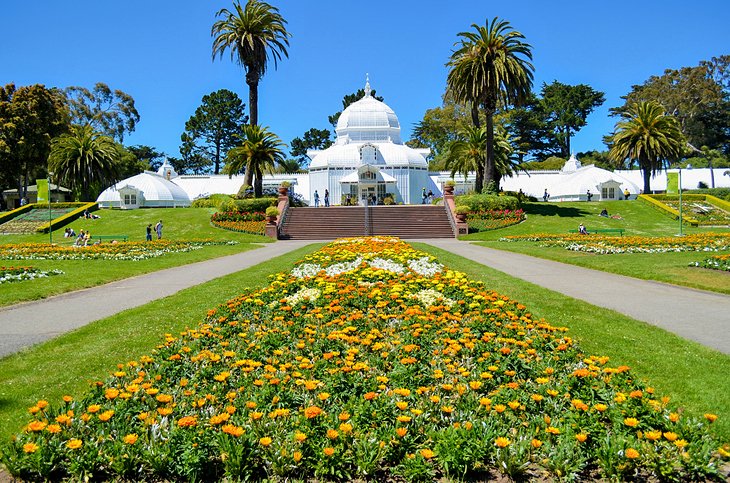 Day 1 & Day 2
For day 1 and day 2, follow the Two-Day Itinerary while keeping in mind that you will return to Golden Gate Park on Day 3, so you will have plenty of time to see many of the park's top attractions.
Day 3
Spend the morning exploring Golden Gate Park (take Muni Bus 5 from Market Street to Sixth Avenue). Within this lush, 1,000-acre green space are gorgeous gardens, 10 lakes, and shady redwood groves.
Must-see attractions at Golden Gate Park include the Victorian-era Conservatory of Flowers, which showcases orchids and other exotic blossoms; the Japanese Tea Garden, with its romantic pond, graceful footbridge, decorative pagodas, and inviting tea house; and the 55-acre San Francisco Botanical Garden, where Mediterranean plants, tropical flowers, magnolias, and camellias flourish.
For a dose of culture, head to the de Young Museum, a fine arts museum in a sleek modern building. To learn about the natural world, visit the rainforest, aquarium, and planetarium at the California Academy of Sciences.
In the space between the de Young Museum and the California Academy of Sciences is the Music Concourse, where free music concerts are held at the Spreckels Temple of Music on Sundays during summertime. This lovely outdoor space features fountains and tidily manicured (pollarded) trees, reminiscent of parks in Paris.
The park also conceals enchanting hidden corners, like the Dahlia Dell (behind the Conservatory of Flowers) and the Garden of Shakespeare's Flowers, where an annual Shakespeare Festival is held, and the Rhododendron Dell near the Music Concourse. On the eastern edge of the park, Hippie Hill was a popular gathering spot in the 1960s. Today, it's an inviting spot for a picnic or just to lounge on the grass.
Next explore the Haight-Ashbury neighborhood, where hippies converged during the Summer of Love in 1967. At the heart of the neighborhood, the intersection of Haight and Ashbury streets is a famous sight, an emblem of the counterculture movement. Over fifty years later, the flower-child influence lives on in this eclectic neighborhood. Haight Street is full of quirky boutiques and hippie-inspired shops that sell tie-dye T-shirts, vintage clothing, and old records.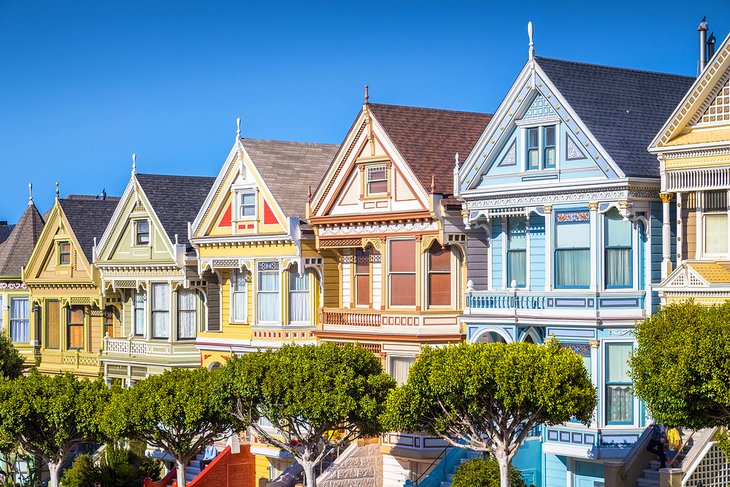 From Haight Street, walk a few blocks to Alamo Square Park at Hayes and Steiner streets. Here, you can admire the "Painted Ladies" (Beautiful Victorian Houses) that stand in a row with the skyscrapers of downtown as a backdrop.
Next, take the bus to Hayes Street at Gough Street. This chic neighborhood called Hayes Valley entices visitors with its boutique shopping and gourmet dining options. It's also close to the War Memorial Opera House (ballet and opera performances), Davies Symphony Hall (orchestra performances), and the SFJAZZ Center. Time your arrival (ideally book tickets ahead) for a cultural performance. Most performances start around 7pm or 8pm.
Last-Minute Ticket Options: The Opera House box office sells last-minute "Rush" tickets and Standing Room tickets (cash only) on the day of the performance. The Davies Symphony box office offers "Rush" tickets on the day of the performance. The SFJAZZ Center box office sells a limited number of tickets on the night of the performance, even for sold-out shows. You may purchase tickets at the SFJAZZ Center box office 90 minutes prior to the performance.
Enjoy a gourmet dinner in Hayes Valley before or after a performance. There are many fine-dining options, as well as trendy casual restaurants.
To return to your hotel, you can take a BART train at the Civic Center station. The walk from Hayes Valley to the BART station only takes about 10 minutes. (However do not walk this route alone at night for safety reasons.)
Getting Around: This itinerary requires Muni bus rides and a BART train ride. It's a good idea to familiarize yourself with the routes and get your tickets in advance.
Where to Eat: Gourmet options abound in Hayes Valley, with several restaurants focused on old-fashioned European cooking. Monsieur Benjamin (451 Gough) draws gourmands who appreciate traditional French bistro cuisine. Foodies also love a Mano (450 Hayes), which offers seasonal Italian cuisine and fresh handmade pasta.
For those who want to sample authentic German cuisine, Suppenküche (525 Laguna) serves simple yet hearty meals in a charming dining room with a convivial Bavarian village-style ambience.
The Michelin-starred Rich Table (199 Gough) offers casual rustic-chic dining with sophisticated menu options. Ideal for a quick meal, Soulva (517 Hayes) is a casual order-at-the-counter restaurant that serves authentic Greek food, specializing in rotisserie meats.
More Related Articles on PlanetWare.com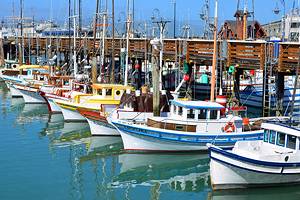 Other Ways to Explore San Francisco: Packed with cultural attractions, San Francisco keeps tourists busy with its pedestrian routes, from staircase walks to historic trails. Families with kids will find plenty of fun things to do. Favorite children's attractions include the Exploratorium, a science-theme museum, the San Francisco Zoo, and two San Francisco-based chocolate factories.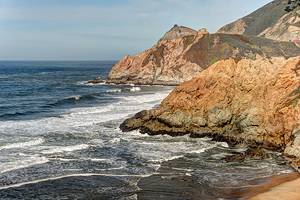 Places to Visit Nearby: Within the rolling hills and unspoiled coastline surrounding San Francisco are many wonderful day-trip destinations. Marin County, especially Muir Beach and Stinson Beach, and the rural oceanfront town of Half Moon Bay appeal to those seeking country charm, as well as places to go hiking.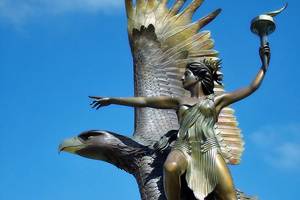 Highlights of the East Bay: Across the bay (just a short BART train ride away), Berkeley delights visitors with its beautiful university campus, bohemian spirit, and gourmet food scene. Also in the East Bay, Oakland is a great place to sample ethnic cuisine and go to a jazz concert or cultural festival.