12 Top Romantic Getaways in California
We may earn a commission from affiliate links ()
Serene, palm-fringed beaches; spectacular sunsets; and the majestic mountain scenery of California provide the perfect backdrop for a romantic getaway or honeymoon. The variety of landscapes offers something for everyone. Along California State Route One, also known as Highway One, are alluring seaside towns, crescent-shaped bays, and quiet coves that appeal to beach lovers. The most breathtaking destination is Big Sur, where sheer cliffs drop off into the Pacific Ocean, offering thrilling vistas.
The lovely beach towns of Carmel and Santa Barbara delight those seeking an upscale resort experience, while Santa Catalina Island delivers the idyllic island ambience yet is easy to reach. Travelers who prefer country charm will enjoy the historic towns of Sonoma and Mendocino counties just a few hours from San Francisco. For outdoorsy couples, the dazzling alpine scenery and cozy, rustic lodges of Lake Tahoe are the perfect choice.
Discover the best places to visit with our list of the top romantic getaways in California.
Note: Some businesses may be temporarily closed due to recent global health and safety issues.
1. The Dramatic Scenery of Big Sur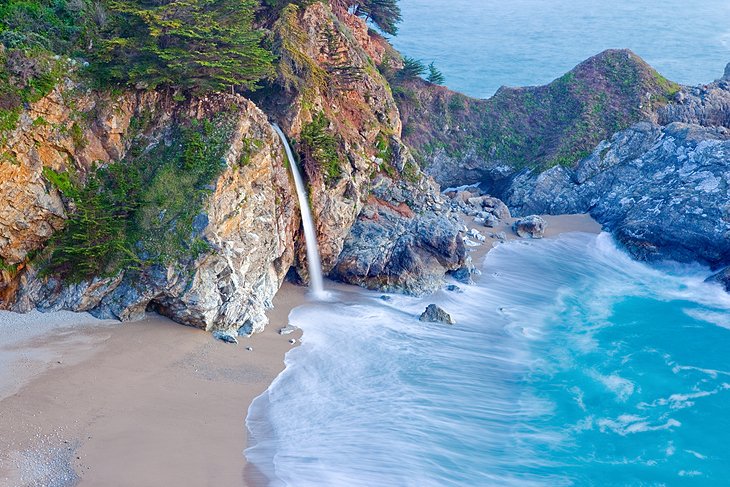 Breathtakingly beautiful, Big Sur is an escape from the rest of the world that rejuvenates the soul. The wild landscape and magnificent ocean views are truly awe-inspiring. Accessible by Highway One's most dramatic cliff-clinging portion of winding two-lane road, this mountainous 90-mile stretch of Northern California coastline feels cut off from civilization (and cell service). Despite the remote location, Big Sur has luxury hotels, gourmet restaurants, and fancy spa resorts, in addition to rustic-chic inns and campsites.
Whether couples choose to rough it or be pampered, the main draw of Big Sur is the natural scenery. Blanketed in lush redwood forests, the Big Sur coastline stands 1,200 feet above the Pacific's deep blue waters. Sheer cliffs plunge into crashing ocean waves, providing splendid vistas.
Below the seaside ridges, secluded beaches are tucked away between coastal bluffs. Big Sur has several state parks with extensive hiking trails through diverse landscapes.
Accommodation: Where to Stay in Big Sur
2. Carmel-by-the Sea: A Quaint and Upscale Seaside Resort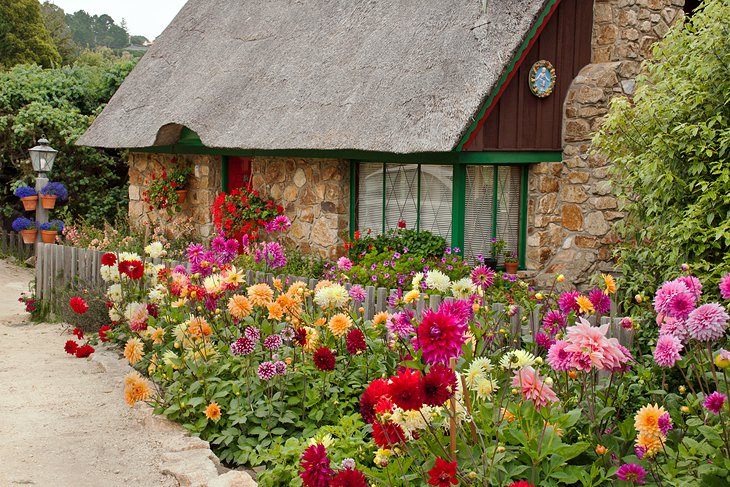 This quaint seaside village is brimming with charm, seen in its storybook cottages, hidden passageways, and one-of-a-kind boutiques. Carmel-by-the-Sea is an upscale resort town with many fine-dining restaurants and art galleries, as well as cultural events throughout the year. Within a 10-minute walk from the town of Carmel is a serene sandy beach, fringed by cypress trees, which is one of Northern California's most beautiful beaches.
A few minutes away via the scenic 17-Mile Drive is the world-renowned Pebble Beach Golf Course, famous for its challenging 18th hole that overlooks an iconic ocean bluff.
Carmel-by-the-Sea is also a perfect starting point to begin an exploration of the Big Sur coastline, which begins about 25 miles to the south. Along the way is Point Lobos, a coastal nature reserve with excellent hiking trails.
Accommodation: Where to Stay in Carmel: Best Areas & Hotels
3. Santa Barbara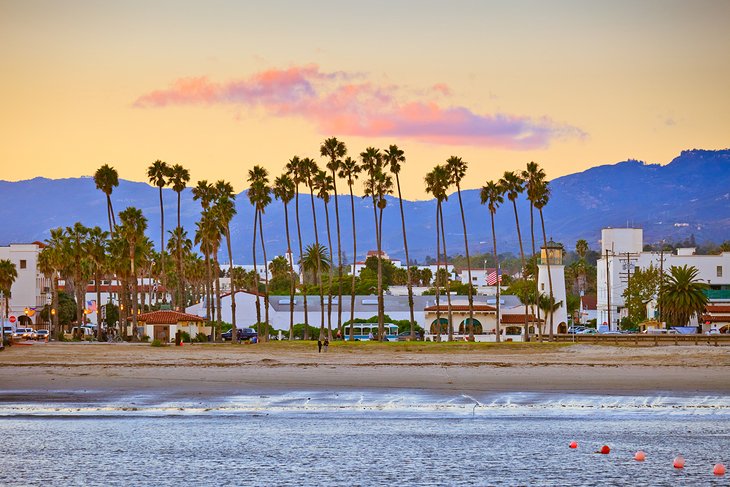 Tucked behind the foothills of the Santa Ynez Mountains along a palm-fringed coastline, Santa Barbara is known as the "American Riviera" because of its Mediterranean seaside scenery and resort-like ambience. This quintessential California destination boasts a historic Spanish Mission and picture-perfect sandy beaches that get plenty of sunshine. Romantics will be awed by the glorious sunsets and the lulling refrain of the Pacific Ocean's crashing waves.
In keeping with the local heritage, the attractive downtown is lined with traditional Spanish-style buildings that house art galleries, boutiques, restaurants, and cafés. Santa Barbara is one of the best places to visit in California, especially for shopping and dining. Other favorite things to do include unwinding at one of the town's sophisticated spas and participating in outdoor activities. The gorgeous natural environment is ideal for biking, sailing, and hiking.
Accommodation: Best Beach Resorts in Santa Barbara
4. The Rolling Hills of Sonoma County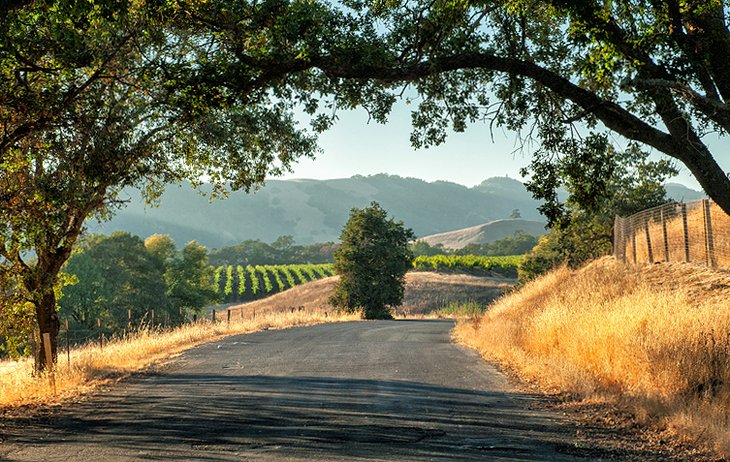 Just an hours' drive north of San Francisco, the rural Sonoma County is a pastoral landscape of rolling, vine-covered hills. Couples come to Sonoma to enjoy the relaxing pace of life and outdoor activities such as hiking, mountain biking, and hot-air balloon rides. It's also a place to indulge in the gourmet local cuisine based on farm-fresh ingredients. The historic town of Sonoma offers top-rated restaurants and inviting boutiques centered around a plaza with a tree-shaded park.
Accommodation: Where to Stay in Sonoma
5. Santa Catalina Island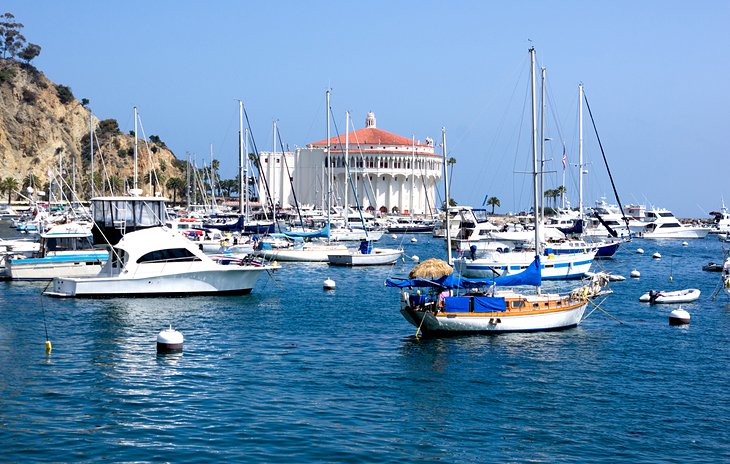 Santa Catalina Island has everything a romantic retreat requires: secluded beaches, picturesque seaside villages, and dreamy island scenery. The island's largest town, Avalon offers the widest choice of accommodations, from handsome historic hotels to modern resorts. Sunbathers will appreciate Avalon's stunning palm-fringed beaches. Outdoor adventure enthusiasts will enjoy snorkeling, swimming, and kayaking at Descanso Beach, which also has a beach club with a waterfront restaurant.
On the western end of the island, Two Harbors has the feeling of an island paradise. Sandwiched between two ports and overlooking peaceful coves, this quiet little village offers a restaurant, general store, pristine beaches, fishing spots, and small boutique hotels. On this side of the island, hiking and camping opportunities abound just outside the village of Two Harbors and in Santa Catalina's backcountry. Santa Catalina Island is about a one-hour ferry ride from Long Beach, San Pedro, or Dana Point.
Accommodation: Where to Stay on Santa Catalina Island
6. Rugged and Unspoiled Mendocino County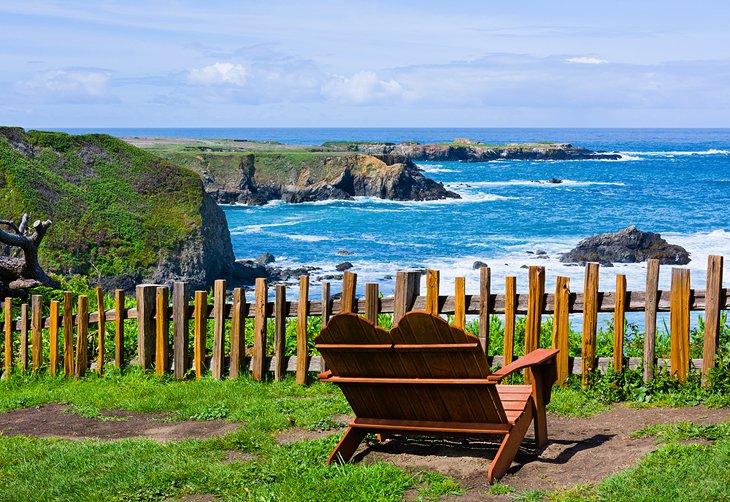 Mendocino County is a peaceful, windswept stretch of craggy coastline in Northern California, where redwood trees flourish and wildlife is abundant. It's also the perfect place for a couples getaway. Visitors will feel rejuvenated by spending time in the pristine environment, breathing in the fresh air, and relaxing at hidden beaches. It's also a place to enjoy camping, hiking, and outdoor sports, like kayaking or canoeing on the Big River Estuary and boating, swimming, or fishing at Lake Mendocino, a 700-acre protected nature reserve.
Although the location is rugged and remote, the town of Mendocino boasts historic hotels, luxury inns, and charming bed-and-breakfasts. This Victorian-era town also has top-notch restaurants, enticing boutiques, and noteworthy art galleries.
The more urban town of Fort Bragg has a working fishing harbor with great seafood restaurants and more affordable accommodations. Gualala is a small community set along the ocean bluffs, backed by redwood forests.
7. The Russian River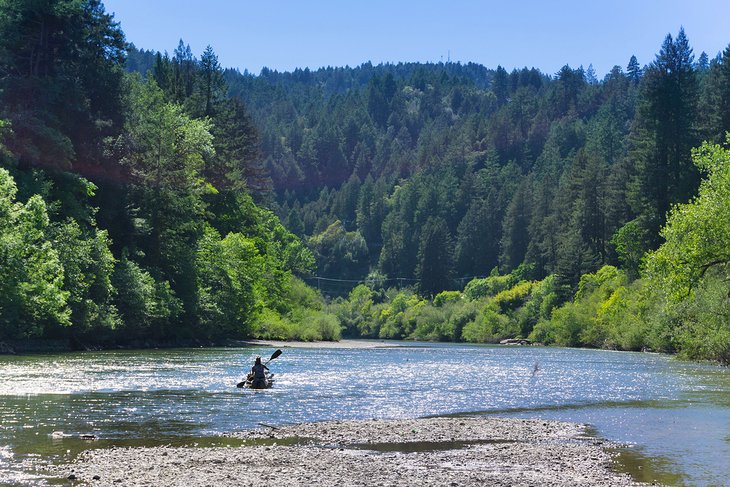 During summertime, the Russian River offers a lively vacation ambience and outdoor activities, such as hiking in the woods; swimming and sunbathing at the riverside beaches; canoeing, kayaking, and fishing on the river; or lazily floating down the river on inner tubes. Anytime of year, the area offers the tranquility of its gently flowing river and towering redwood groves. The laid-back country atmosphere and small historic towns of the Russian River area make it perfect for a relaxing weekend getaway.
Guerneville offers a wide variety of accommodations, from campgrounds and rustic lodges to romantic inns, as well as trendy restaurants and cafés. A tiny hamlet that feels lost in time, Duncan Mills features impeccably maintained Victorian-era buildings (such as an old General Store) that now house art galleries, boutiques, cafés, and restaurants for today's tourists.
Jenner-by-the-Sea is a picturesque village overlooking the Russian River and the Pacific Ocean. For those with high-end taste, Healdsburg has the best choice of luxury hotels and gourmet restaurants.
8. Victorian Village of Ferndale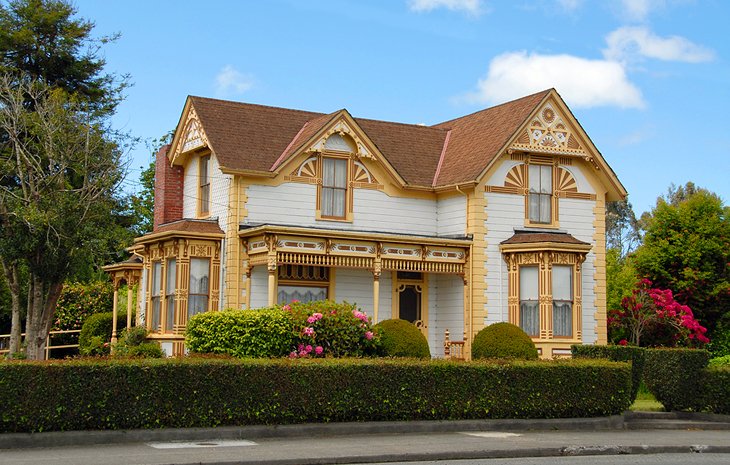 Nestled amid dairy farms in Northern California's Humboldt County and only five miles from the Pacific Ocean, the sleepy village of Ferndale is renowned for its old-fashioned Americana. The town's Main Street is lined with beautifully restored Victorian-era buildings.
Popular things to do here include scenic drives along the Lost Coast, a visit to the Humboldt Botanical Garden, and outdoor activities such as biking, horseback riding, walks on the beach, and hiking in redwood groves.
Ferndale's Victorian-era inns and quaint bed-and-breakfast hotels are perfectly suited for romance. The most luxurious hotel is The Gingerbread Mansion Inn, an elegant High Victorian edifice with an ornate facade and a plush interior featuring period furniture and decor. Adding to the vintage charm, The Gingerbread Mansion Inn serves a gourmet breakfast and afternoon tea.
A noteworthy monument of its time dating to 1890, the Victorian Inn is a boutique hotel with a fine-dining restaurant and authentic furnishings.
The town's noteworthy historic accommodations include California's first bed & breakfast hotel, The Shaw House Inn, a lovely Victorian house surrounded by an acre of tranquil, tree-shaded grounds. Romantics will appreciate the garden's pleasant patio area and fragrant roses, as well as the property's private stretch of coastline.
Built in the 1870s, the Hotel Ivanhoe is one of the oldest hotels in the West. The hotel has a casual restaurant and guest rooms that are well appointed with Victorian antiques.
9. Lake Tahoe in the High Sierra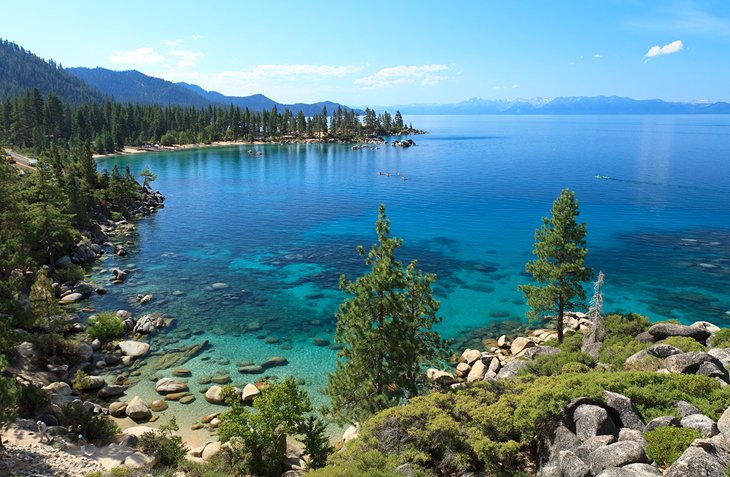 In the Sierra Nevada Mountains at an elevation of more than 6,000 feet, Lake Tahoe awes visitors with its sublime alpine scenery. The crisp, fresh air invigorates the body, and the lake's dazzling deep blue waters speak to the soul. The luxuriant natural environment inspires relaxation, as well as outdoor adventures. Surrounded by snow-capped mountain peaks, Lake Tahoe is equally wonderful in winter for skiing and summer for hiking, biking, camping, boating, and other outdoor activities at the lake.
Whether visiting for a weekend or honeymoon, couples will enjoy Lake Tahoe's fine-dining restaurants, cozy lodges, and rustic-chic inns featuring roaring fires. The lakeside The Ritz-Carlton, Lake Tahoe offers the ultimate in luxurious accommodations, with romantic touches such as private patios and fireplaces in the guest rooms. For a quintessential Tahoe experience, the Postmarc Hotel and Spa Suites channels the style of a traditional alpine lodge while providing modern amenities and convenient lakefront access.
Accommodation: Where to Stay in Lake Tahoe: Best Areas & Hotels
10. Half Moon Bay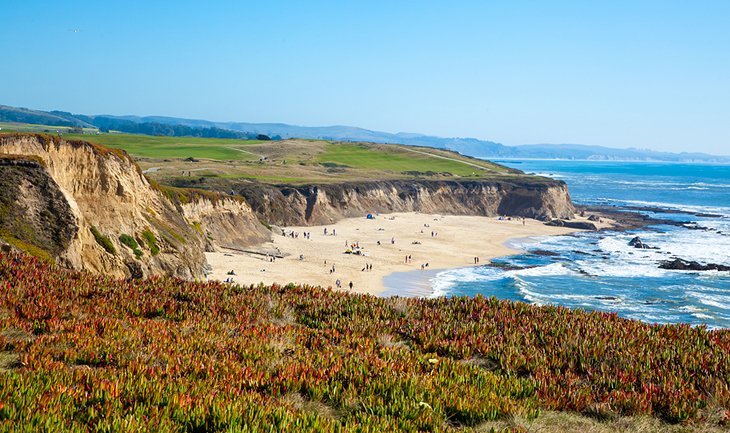 The small town of Half Moon Bay is a slow-paced coastal community surrounded by rolling hills, small farms, and woodlands. Because of its unspoiled sandy beaches and scenic hiking trails, Half Moon Bay is a popular weekend destination for nature lovers and one of the top day trips from San Francisco. Visitors will enjoy walking along the coastline at Half Moon Bay State Beach. Although the weather can be windy and misty, the dramatic scenery is always inspiring.
Half Moon Bay is a laid-back country town with an unpretentious vibe. The Main Street offers cute local boutiques and several bed-and-breakfasts. The most romantic place to stay in Half Moon Bay is the Mill Rose Inn, an exquisite B&B hotel with sumptuous guest rooms featuring floral-print bedding, antiques, and vintage-inspired decor. The inn's English country-style garden blooms with vibrant flowers throughout the year, which makes it a popular wedding venue.
11. Paso Robles: A Rustic-Chic Country Town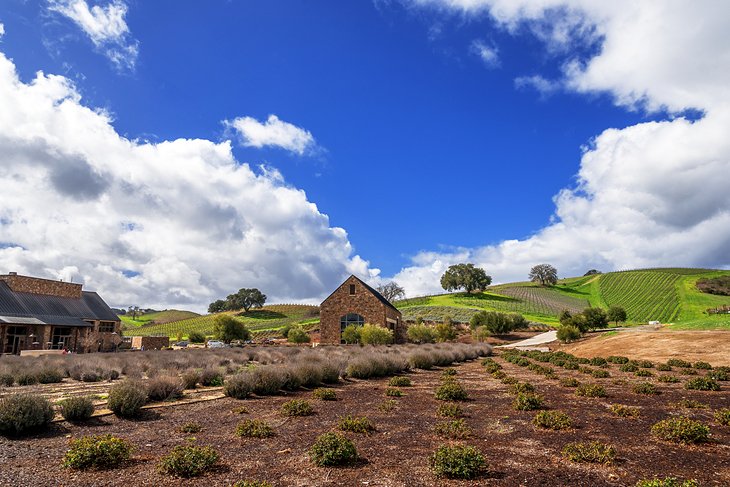 Paso Robles is nestled in the vine-covered hills about 30 miles away from San Luis Obispo on the Central Coast. The historic downtown has a slow pace and old-time ambience, with tree-lined streets and many restaurants featuring outdoor dining. Paso Robles is known for its pampering spas that offer thermal mineral water pools and wellness treatments. There are also many charming bed-and-breakfasts and boutique hotels in the area.
12. Avila Beach Resort Town and Hot Springs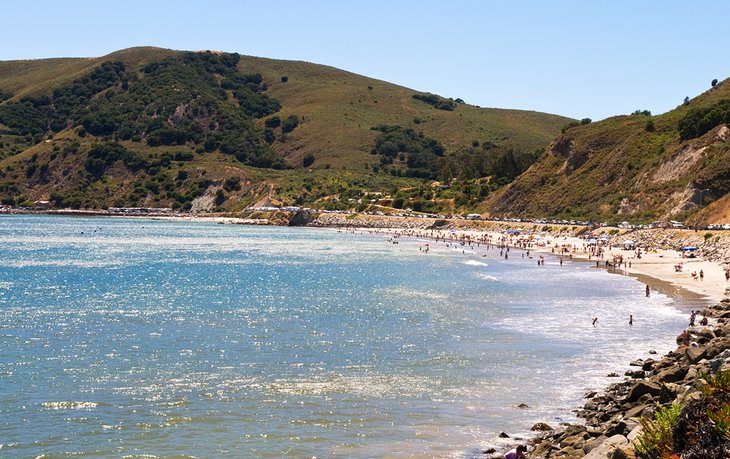 Sheltered by rolling hillsides, this sun-soaked, sandy stretch of shoreline is a gem of the Central California Coast (10 miles south of San Luis Obispo). Avila Beach is a fun-loving beach resort with a spacious boardwalk, perfect for taking leisurely walks and sunset strolls. Several beachfront restaurants have outdoor terraces, allowing guests to dine al fresco while admiring the seaside scenery.
The most romantic place to stay in Avila is the Sycamore Mineral Springs Resort and Spa, a three-star hotel with a spa facility and a top-rated restaurant acclaimed for its seasonal garden cuisine. Set on a verdant wooded property with a hot springs source, the resort is a haven of tranquility designed to promote wellness and relaxation. Guest rooms feature outdoor balconies with private mineral water hot tubs.
More Related Articles on PlanetWare.com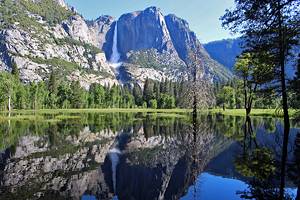 Nature Lovers' Getaways: If your idea of a romantic getaway involves getting out into nature, you may want to consider some of California's parks. Sightseeing through Yosemite National Park, admiring the famous landmarks and waterfalls, or hiking the most scenic trails has its own unique charms. The park also has some outstanding campgrounds, but you'll need to book well in advance. Hiking in Redwoods National and State Parks through a forest of some of the tallest trees on the planet will definitely create memories. Another option, if you feel like roughing it a bit, is camping in Sequoia National Park, or the adjoining Kings Canyon National Park. The ancient giant sequoias and their timeless presence radiate romance!