10 Great Off-the-Beaten-Path & Interesting Places in California
While most of the attention in California goes to the coastal cities or the national parks, some of the best places to visit in California are just a little off the beaten path.
Although very little in California is "undiscovered," these destinations will help you escape the crowds and find hidden gems along the backroads.
You can combine some destinations with more popular tourist areas. For example, if you are traveling in summer when the high elevation roads are passable, you can easily combine Mono Lake and Mammoth Lakes with Yosemite National Park, one of the most visited areas in the state.
Be aware that some of these, particularly those at higher elevations, are seasonal and only accessible in summer.
1. Mammoth Lakes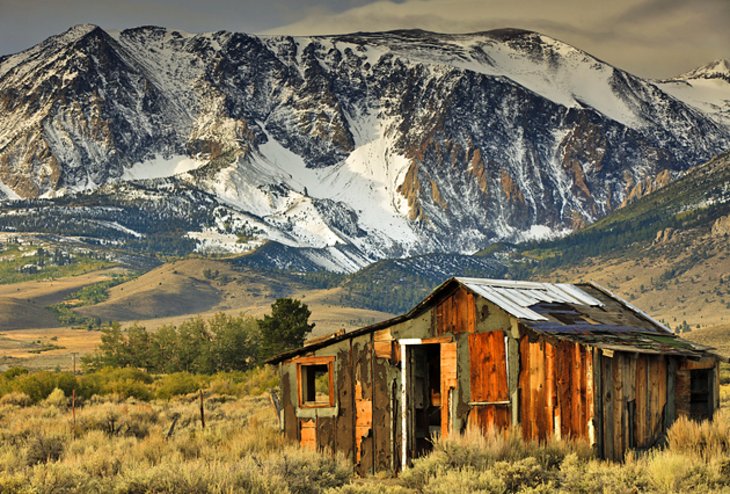 Mammoth Lakes and the surrounding countryside, including Mammoth Mountain at over 12,000 feet, can be enjoyed any time of the year but it is a particularly popular winter destination. It's home to one of the top ski resorts in California.
Skiing is possible from the end of November until June. By taking the cable car (which continues in operation throughout the summer and is reached from Mammoth Lakes village by following the signs for Devils Postpile National Monument) it is possible to enjoy the magnificent panoramic view gained from the summit.
The Devils Postpile is a 65-foot-high vertical rock face formed of basalt columns. Another feature worth seeing is the 98 ft high Rainbow Falls on the San Joaquin River.
Mammoth Lakes is just over 370 miles from Los Angeles and almost 310 miles from San Francisco.
Accommodation: Where to Stay in Mammoth Lakes
2. Mono Basin National Forest Scenic Area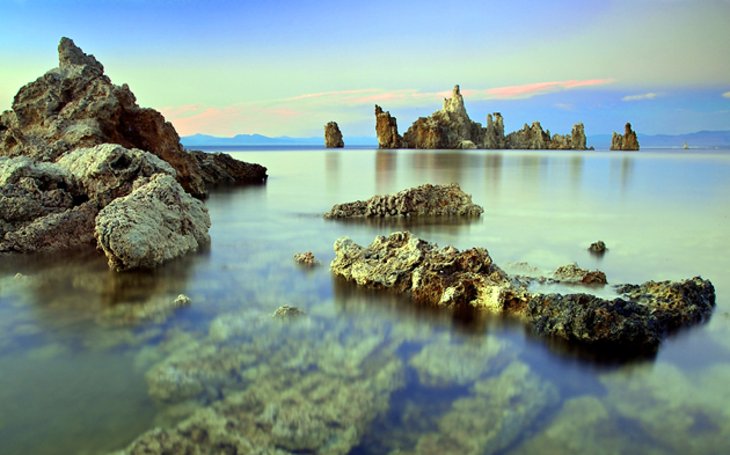 Mono Lake is about 14 miles southeast of the eastern entrance to Yosemite National Park and about the same distance south of Bodie. This salt-water lake, 6,240 feet above sea level, is 13 miles wide and 8 miles long.
Although several rivers flow into Mono Lake, it has no outlets, and is one of the oldest lakes in the world, having been formed perhaps 700,000 years ago.
The lake is known for limestone turrets called tufa towers, most of which are to be found on the south bank. They are formed when the chalky spring water from the bed of the lake mixes with the very alkaline lake water. This forms limestone, and over the course of centuries curiously shaped columns have formed where the springs enter the salt-water.
The lake supports only a few life forms, mainly single-cell algae. These provide food for the saltwater flies and brine shrimp, which in turn are eaten by 70 kinds of migratory birds which reside on Mono Lake in spring and summer.
Official site: https://www.fs.usda.gov/recarea/inyo/recarea/?recid=20620
Accommodation: Where to Stay in Mono Basin National Forest Scenic Area
3. Hearst Castle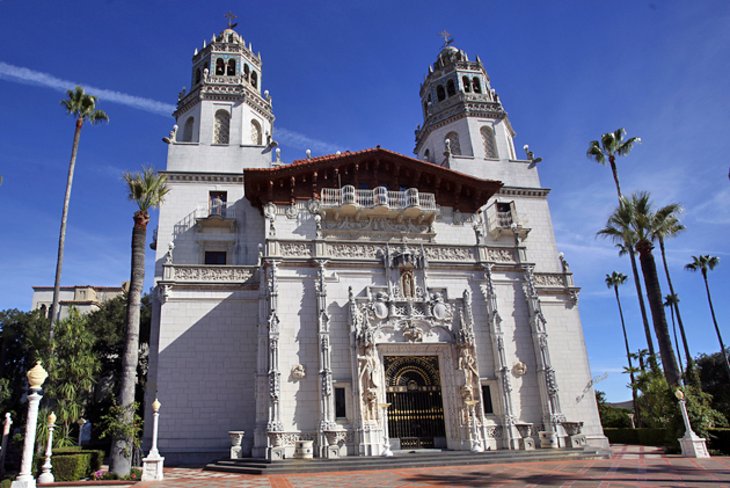 Located in San Simeon is the grand Hearst Castle, built by newspaper king William Randolph Hearst. This huge residence, with hundreds of rooms, houses the art collected by Hearst over his lifetime. The house is a fabulous creation, with unique designs and decor, and beautifully created spaces both indoors and outdoors.
The castle was begun in 1922 and was still not completed when Hearst died in 1955. The guesthouses were the first to be completed, and were later given the names of La Casa del Mar (The House by the Sea), La Casa del Monte (The House on the Hill) and La Casa del Sol (The House of the Sun).
Hearst lived in the first and largest of the three houses until the main house, La Casa Grande, was built. The three guesthouses had a total of 46 rooms, and at the time of Hearst's death the main house had 100 rooms, including 38 bedrooms, 31 bathrooms, 14 living rooms, two libraries, a huge dining room, a cinema, a kitchen, and a large reception hall.
Hearst named the whole place La Cuesta Encantada (The Enchanted Hill). It was surrounded by a garden covering 120 acres with a small zoo. Zebras, mountain goats and Aoudad sheep also grazed on the hill.
Seven years after Hearst's death the family left the castle to the Federal State of California, which erected the Hearst San Simeon State Historical Monument here and has managed it ever since.
Unlike many other historical buildings, the castle and its contents and have been preserved in their original state, giving visitors some insight into the opulent lifestyle of its former occupants. The castle is open to the public for tours.
Official site: https://hearstcastle.org/
Accommodation: Where to Stay near Hearst Castle
4. Bodie State Historic Park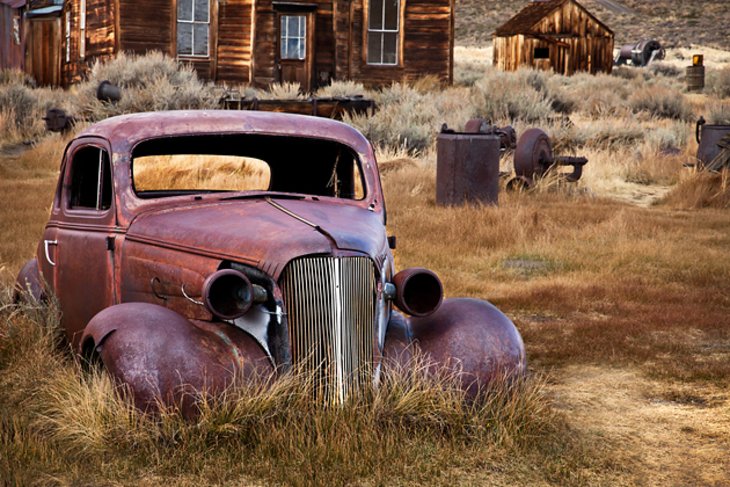 This ghost town, situated 20 miles southeast of Bridgeport once boasted 10,000 gold diggers, who were a particularly corrupt and disreputable bunch.
Until about 1876, large amounts of gold were mined here. The town of Bodie eventually fell into decay once the rush was over. The remaining 170 houses have not been fully restored, but were kept from further decay by the creation of a state park in 1964.
As a result of the efforts to retain the gold digging atmosphere of the previous century, it represents a place of interest unique in California.
Bodie is set at an elevation of over 8300 feet. During the winter months the park is open but the only way to access it is by skis, snowshoes, or snowmobiles. The best time to visit is between April and October.
Official site: http://www.parks.ca.gov/?page_id=509
Accommodation: Where to Stay near Bodie State Historic Park
5. Lassen Volcanic National Park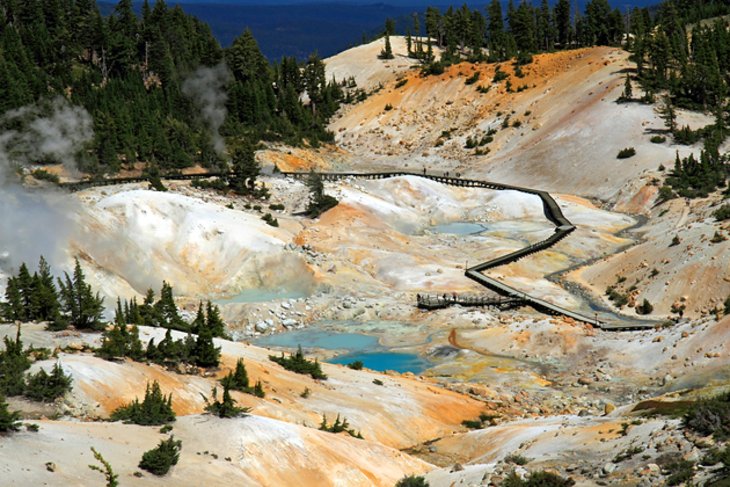 Lassen Volcanic National Park encompasses Lassen Peak (10,457 ft), an active volcano. The landscape here offers a range of unique sights, from the snow-covered peak to hot springs and mud pots, along with lakes and forest. Various hiking trails provide more in depth access to the park.
As the southernmost link in a chain of volcanoes, including Mount Baker, Mount Rainier, Mount Hood, the former Mount Mazama (Crater Lake) and Mount Shasta, Lassen forms the impressive remains of the once higher, but now collapsed Mount Tehama, the cauldron of which has been filled by subsequent eruptions. Mount Lassen became active in May 1914, and continued to erupt sporadically until 1921.
The most extensive and interesting geothermal area within the national park is, without doubt, Bumpass Hell, below Lake Helen and reached by a one mile trail. Wooden boardwalks lead past hot springs, volcanic gas-clouds (fumaroles), and bubbling whitish-gray mud-pots.
Official site: https://www.nps.gov/lavo/index.htm
Accommodation: Where to Stay near Lassen Volcanic National Park
6. Mission San Juan Capistrano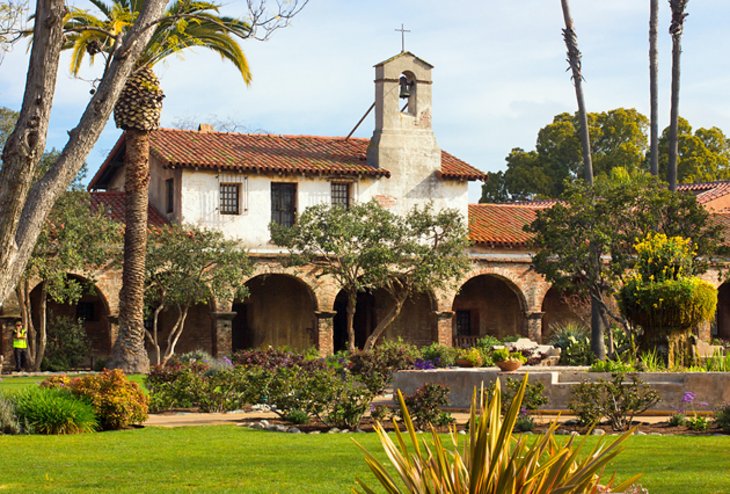 The San Juan Capistrano mission was completed in 1806. Its name goes back to the Franciscan crusading priest John of Capistrano (14th/15th centuries), who was canonized at the end of the 17th century. The church, with its twelve domes, was badly damaged by earthquakes in 1812 and 1918 and, like other buildings forming part of the mission, only partially repaired.
A romantic story says that the swallows which nest in the stonework depart each year on their migration south on October 23rd (the day on which John of Capistrano died in 1456), and return on St Joseph's Day, March 19th.
Address: 26801 Ortega Hwy, San Juan Capistrano
Official site: https://www.missionsjc.com/
Accommodation: Where to Stay near Mission San Juan Capistrano
7. Christ Cathedral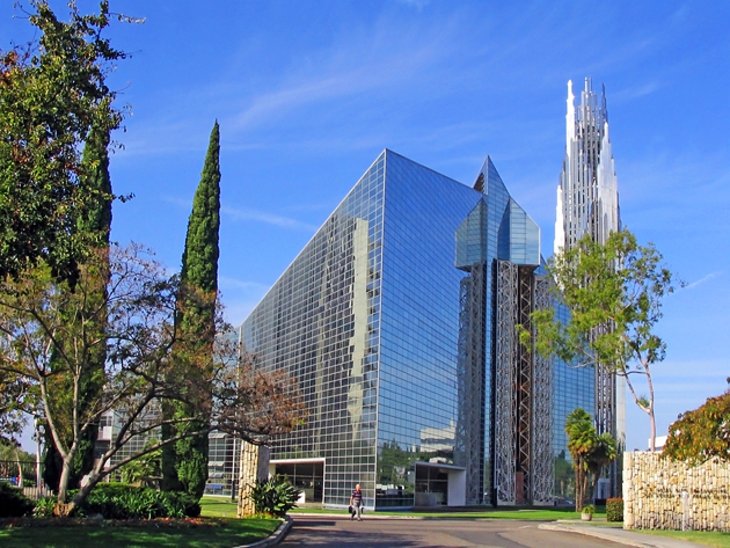 The Crystal Cathedral in Garden Grove was built for televangelist Robert Schuller and his Hour of Power television show, later run by his son Bobby Schuller. Now it is the home of the Catholic Diocese of Orange.
The building has been revitalized with a 77-million-dollar renovation and restoration project completed in 2019. Some of the new updates include a marble altar imported from Italy and a massive blackened steel crucifix with precious gems.
The Crystal Cathedral seats nearly 3,000 and features a 236-foot mirrored steeple. It holds the Hazel Wright Memorial organ, known for being one of the largest instruments in the world.
The 34-acre campus has fountains, pools, and mosaics in a garden setting. The Memorial Gardens is a cemetery for people from all faiths, and from all over the world.
Address: 12141 Lewis Street, Garden Grove
Accommodation: Where to Stay in Garden Grove
8. Carson Mansion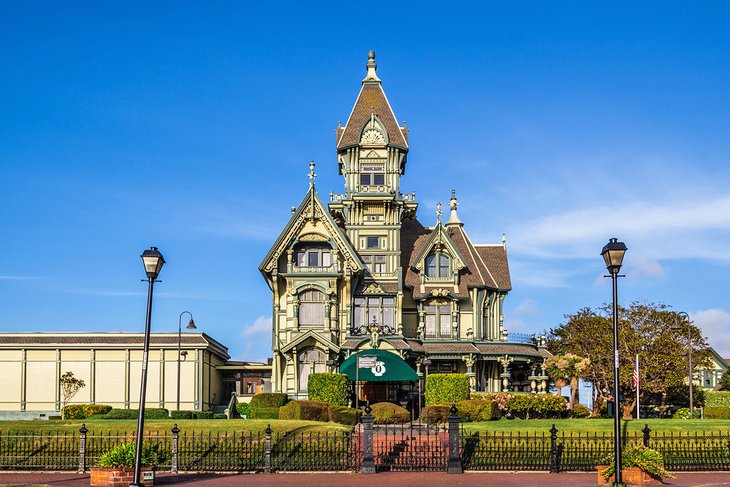 Carson Mansion, dating from 1885, must surely be the most notable building in Eureka.
William Carson, a timber wholesaler and one of the richest citizens of Eureka, had this Victorian house built. It is mainly made of redwood. Numerous pre-fabricated, almost Gothic-looking wood carvings and painted windows, together with its many interlinked sections, give it a unique appearance.
Carson House stands on a raised plot and can be seen from afar when you approach it along Second Street. Today it is the Ingomar Club.
Address: 143 M Street, Eureka
Accommodation: Where to Stay in Eureka
9. Mount Shasta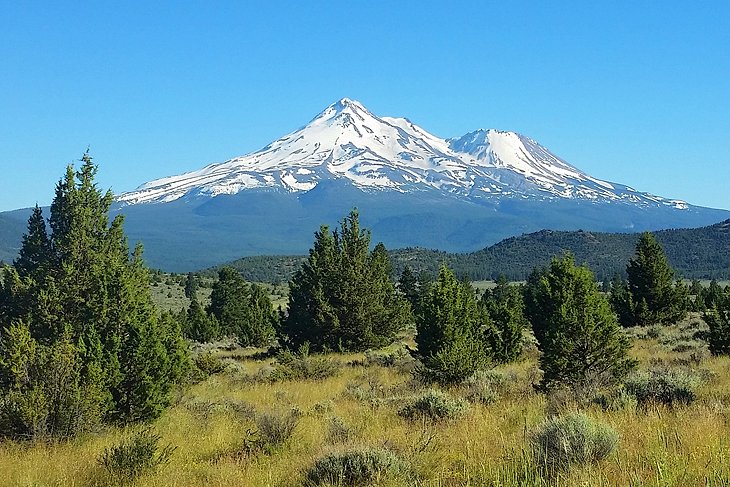 Mount Shasta is a volcanic peak which can be seen far in the distance, towering over the surrounding landscape. The mountain offers opportunities for hiking and other outdoor pursuits.
The Mount Shasta Ski Park is located 10 miles east of Mount Shasta City. This hill has a vertical drop of 1,100 feet. There are also 15 kilometers of cross country trails. For a time the peak was called Shatasia or Sastise. These are variations of the spelling of the name of the Shasta Indians who originally lived there.
A somewhat lower peak stands west of Mount Shasta and bears a similar name, Mount Shastina. Mount Shasta was first climbed in 1854.
Accommodation: Where to Stay near Mount Shasta
10. Point Arena Lighthouse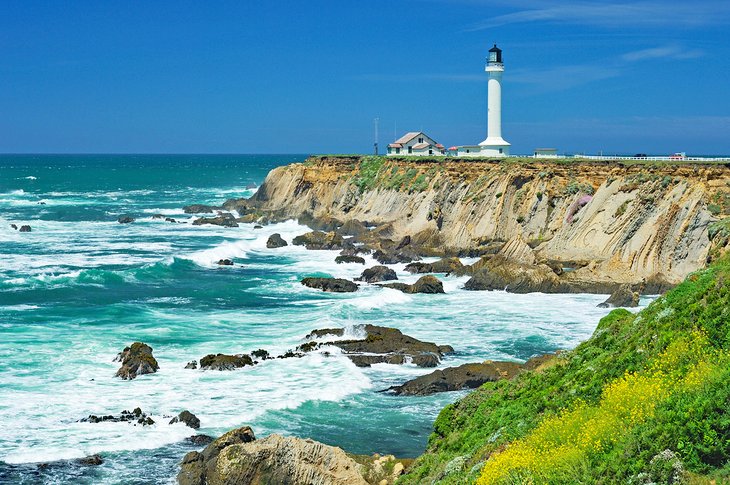 A great destination for a day trip from San Francisco is the Point Arena Lighthouse.
Standing on the edge of a massive sea cliff, the 115-foot lighthouse stands as sentinel to passing ships. For the intrepid explorer, it's an ideal spot to get a bit of exercise, climbing to the top to take in the expansive views.
Time your trip right, and you'll have a good chance of spotting whales during their annual migration. Or, consider coming when a storm is forecast and watch the massive waves crash against the rocks and cliffs.
More Related Articles on PlanetWare.com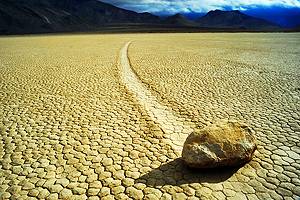 Other Interesting Places in California: Lovers of off-the-beaten-path destinations should also have a look at our articles on the top attractions of California's desert region. This area is home to unique natural wonders like you won't find elsewhere.
Lake Tahoe offers some beautiful scenery and is a great year-round destination. In summer, hit the hiking trails, and in winter enjoy the area's fabulous ski resorts.
If you are entering California through one of the gateway cities, you'll want to be sure to see our articles on things to do in San Francisco and top attractions in Los Angeles.