10 Top-Rated Tourist Attractions at Lake Tahoe
We may earn a commission from affiliate links ()
Lake Tahoe is a place of sublime beauty that inspires awe in even the most jaded of travelers. Mark Twain described the dazzling expanse of shimmering blue waters as "the fairest picture the whole earth affords." Surrounded by pristine pine forests and snowcapped mountain peaks, the lake's brilliant topaz color is attributed to its depth of nearly 1,640 feet, and its crystalline quality comes from the purest source of melted snow.
Lake Tahoe straddles the California and Nevada border, spanning 22 miles from north to south and 12 miles across. It would require at least three hours to drive around the entire lake in good weather conditions. However, plan on much more if you want to stop and see the attractions or hike the trails.
Lake Tahoe is a year-round destination for nature lovers and outdoor adventure enthusiasts. During summertime, some of the most popular things to do include nature walks, hiking, cycling, and water sports. From December through April, Lake Tahoe is a winter wonderland with opportunities for alpine and cross-country skiing, sledding, snowshoeing, and sleigh riding.
Plan your trip with our list of the top attractions in Lake Tahoe.
See also: Where to Stay in Lake Tahoe: Best Areas & Hotels
Note: Some businesses may be temporarily closed due to recent global health and safety issues.
1. Emerald Bay State Park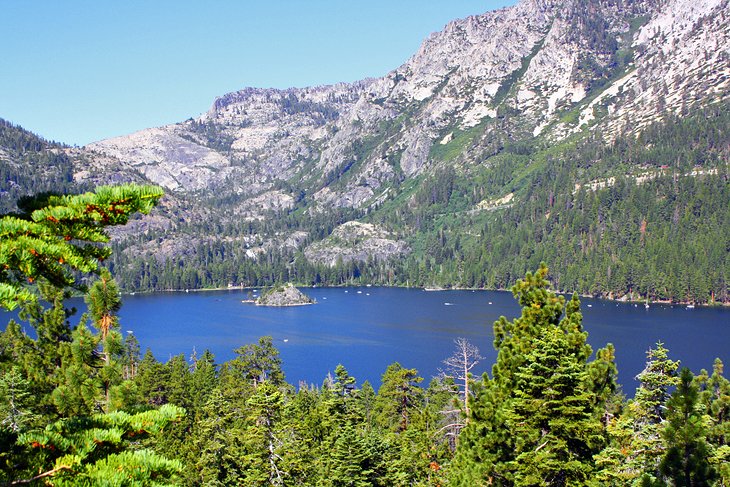 A small sheltered section on the west shore, the Emerald Bay State Park is surrounded by forested hillsides of glacier-carved granite and dotted with a tiny islet at its center. Because the bay is slightly shallower than the rest of Lake Tahoe, the waters take on a striking blue-green color.
On the shores of Emerald Bay is a surprising castle, Vikingsholm, a marvelous example of Scandinavian architecture. Access to Vikingsholm is via a steep one-mile pedestrian trail. Visitors can take a tour of the castle's interior from Memorial Day until Labor Day.
Emerald Bay State Park, a National Natural Landmark, has two campsites: the Boat-In Camp, only accessible by boat or foot, and the Eagle Point Campground, which is steps away from the lake and has a secluded beach. A must-see attraction in the area is Inspiration Point, appreciated for its bird's-eye views of Emerald Bay from 600 feet above, perfect for photo ops.
To learn about other beautiful nature sights in Lake Tahoe and how to capture them with a camera, tourists can sign up for the Lake Tahoe Semi-Private Photography Tour, which takes participants to Lake Tahoe's most photogenic spots including Emerald Bay.
2. Hiking at South Lake Tahoe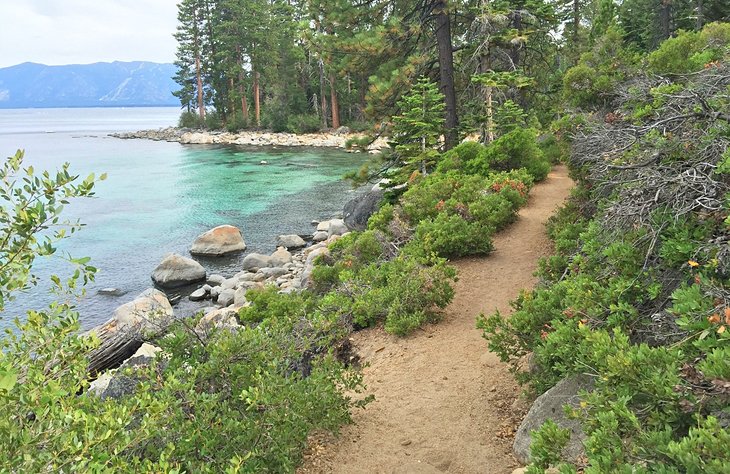 Nature lovers and outdoor enthusiasts appreciate Lake Tahoe for its scenic hiking trails. Some of the best hikes are near South Lake Tahoe, especially the lakeside and lake-view trails, which offer an opportunity to soak up rejuvenating alpine scenery while enjoying an invigorating (or more mild) workout.
Two short hikes are the Cascade Falls Trail, an easy two-mile loop hike from Bayview Campground to Cascade Falls with sensational vistas of Lake Tahoe along the way, and the Fallen Leaf Lake Trail, a gentle jaunt from the Fallen Leaf Campground to a peaceful lake and then a stroll along the lake's shoreline (the complete journey is 2.5 miles round trip).
Along the rugged shoreline of Emerald Bay is a favorite Lake Tahoe hiking trail. The Rubicon Trail is a lakeside walking path that follows the water's edge from D.L. Bliss State Park to Emerald Bay and passes by the Vikingsholm Castle. The trail has a slight incline as it wraps around a ridge above Emerald Bay. This elevated vantage point affords breathtaking panoramic vistas.
3. Alpine Skiing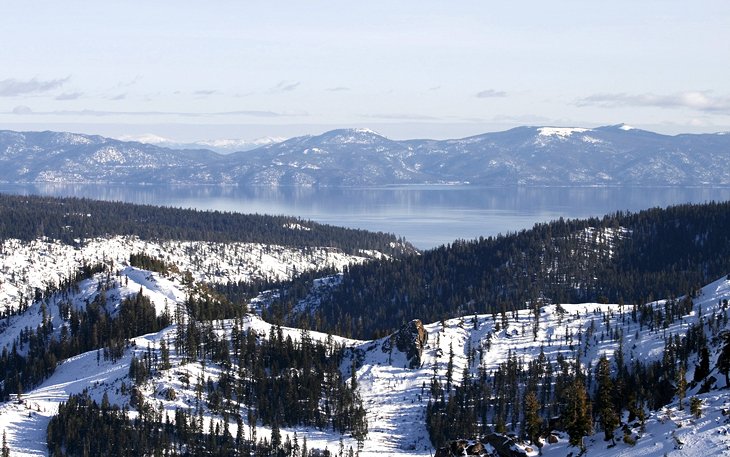 During winter and into the spring, Lake Tahoe is a popular destination for alpine skiing, prized for its extensive terrain, sunshine, and powdery slopes. The area has several world-renowned ski resorts, including Squaw Valley, where the 1960 Winter Olympics were held, and Heavenly, with 4,800 acres of gorgeous ski terrain with stunning views. Even those who don't ski will appreciate the Heavenly Gondola Ride, a glorious 2.4-mile scenic ride that stops at an Observation Deck at 9,123 feet and offers commanding views of Lake Tahoe, Carson Valley, and the Desolation Wilderness.
For those planning a day trip from San Francisco, the closest and most accessible resort is Sugar Bowl, which has runs for all ability levels from beginner to advanced. Intermediate skiers love the runs at Northstar, while the most advanced skiers prefer Kirkwood and Mount Rose for the challenging runs.
4. Lake Tahoe Boat Cruise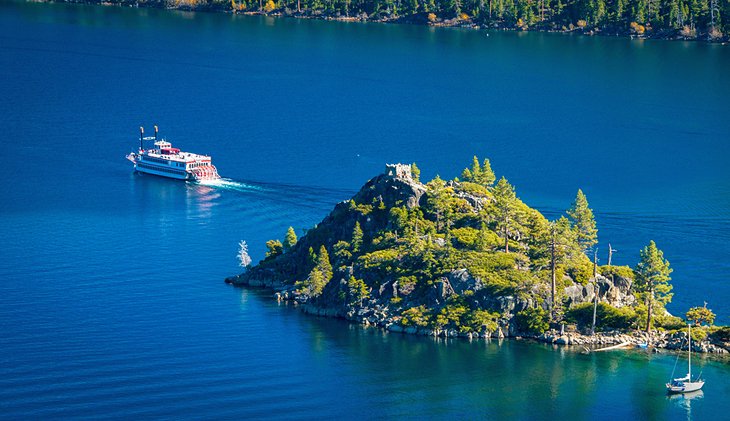 For many visitors, one of the most enjoyable things to do in Lake Tahoe is take a boat cruise through the lake's glistening waters. The boat ride is a relaxing experience as well as a great way to admire the backdrop of refreshing pine forests and snowcapped Sierra Nevada mountain peaks. Local companies offer scenic cruises of Lake Tahoe's North Shore, South Shore, West Shore, or Emerald Bay.
A recommended boat ride is the M.S. Dixie II cruise around Emerald Bay. This sightseeing cruise features up-close views of the waterfalls, Fannette Island, and Vikingsholm Castle with commentary along the way. Lunch and snacks are included.
5. Tallac Historic Site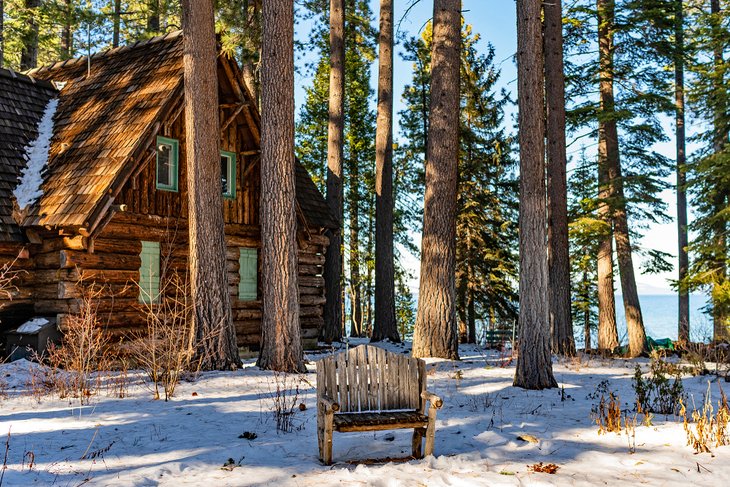 Listed on the National Registry of Historic Places, the Tallac Historic Site includes the Pope, Baldwin, and Valhalla estates. From Memorial Day through September, the entire site is open to the public-visitors may take guided estate walks, building tours, and art demonstrations.
Every year in August, the historic estates host a two-day Gatsby Festival, which draws crowds for elegant Roaring Twenties parties, jazz concerts, and other 1920s theme events that recall the social gatherings during the estates' heyday. For more insight into how Tahoe's wealthy residents lived at the beginning of the 20th century, visitors can take a docent-led tour of the Pope House.
Once a grand summer retreat for San Francisco's upper crust, the Valhalla Estate is a favorite venue for private events and lakefront weddings. Every summer from June through September, the Valhalla Art, Music & Theatre Festival features cultural events and performances at various venues on the estate: the Valhalla Boathouse Theatre (with lake views), the Grand Hall, and on the Grand Lawn overlooking Lake Tahoe. The Baldwin Estate has been converted into the Tallac Museum, which focuses on local history, including exhibits about the native Washoe people. The museum has retained original elements of the house, such as the 1930s-era kitchen.
Less than a mile away from the Tallac Historic Site is the Camp Richardson Historic Resort. This unique recreational site near Emerald Bay has a variety of lodging options including a historic hotel, a beachside inn, cabins, campsites, and RV sites. The property also has a small beach and a well-equipped marina with a general store, restaurant, and places to rent boats. During summer, the resort is a great place for boating, hiking, biking, and relaxing by the lake; during winter, cross-country skiing and sleigh rides are popular activities.
6. Kings Beach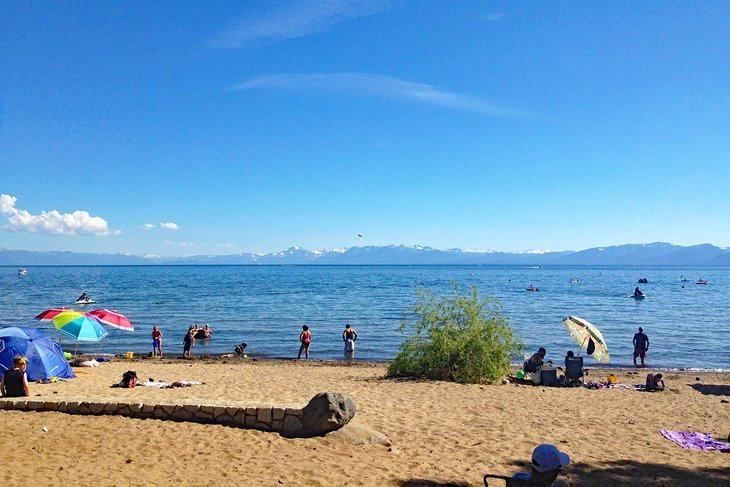 Backed by a forest of Jeffrey pine trees, this sun-drenched sandy beach is an ideal place for lounging, swimming, and boating during summertime. Kings Beach is on the North Shore of Lake Tahoe and enjoys direct sunshine from the early morning until late afternoon.
Well-designed for visitors, the Kings Beach State Recreation Area has plenty of parking, public restrooms, picnic tables in a shaded area, barbecue pits, a playground, and places that rent out kayaks and paddle-boards. Fishing is allowed but requires a license. The town of Kings Beach has many motels, restaurants, casual eateries, trendy retail shops, and street vendors that cater to tourists.
7. Ed Z'berg Sugar Pine Point State Park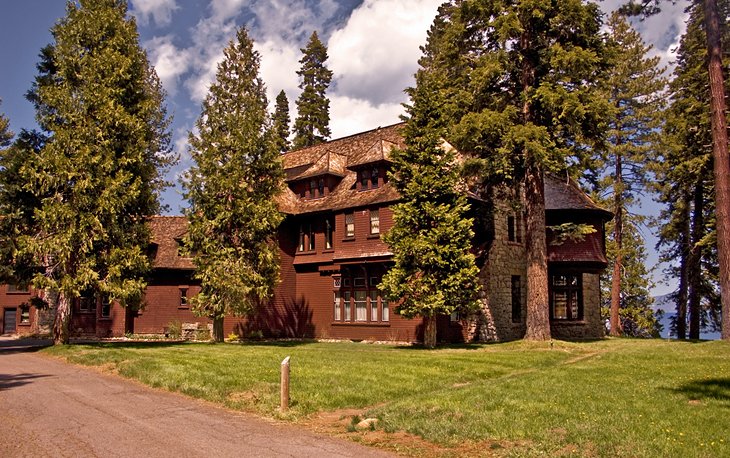 The Ed Z'berg Sugar Pine Point State Park extends along Lake Tahoe for nearly two miles, with densely wooded forests of aspen, fir, pine, and juniper trees. The property was owned by the wealthy financier Isaias W. Hellman and later by his daughter, Florence Hellman Ehrman, from 1897 until 1965.
The family's opulent vacation residence, the Hellman-Ehrman Mansion was completed in 1903. Designed as a summer home, the casual yet elegantly rustic mansion was equipped with the most modern conveniences of the time. The dining rooms feature redwood paneling, and the guest rooms are decorated with Navajo rugs.
The Hellman-Ehrman estate stands in a tranquil pine and cedar grove on 2,000 acres of woodlands at Sugar Pine Point overlooking Lake Tahoe. The grounds include a flower garden with a gazebo, which is often used as a wedding venue. The Hellman-Ehrman Mansion is open to the public for tours from Memorial Day until the end of September. Near the mansion is a Nature Center with interesting exhibits about birds, lake ecology, wildflowers, trees, and other environmental topics.
During summertime, visitors flock to the Ed Z'berg Sugar Pine Point State Park to go hiking around the park's extensive trails. Other warm-weather activities include swimming or sunbathing at the small lakeside beach. Fishing in the park's stream is allowed from mid-July to September. In the winter, cross-country skiers will enjoy exploring the park's 20 kilometers of marked trails.
The park has campsites, picnic areas, and barbecue pits, and the facilities are available for use year-round (although only a limited number of campsites are open in the winter). During wintertime, it is advised to check the weather conditions in advance.
8. D.L. Bliss State Park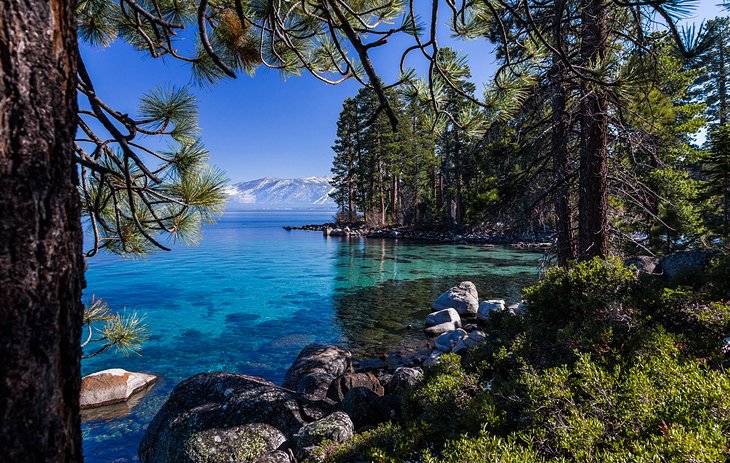 Duane L. Bliss was a lumber baron who made his fortune in banking, logging, and railroads during the late 19th century and early 20th century. In 1929, the Bliss family donated 744 acres of private property to the California State park system.
Today, visitors can soak up the beauty of this public park, with its attractive picnic spots and pleasant lakeside areas. Boasting sweeping views of the lake and expansive sandy shores, Lester Beach and Calawee Cove are among the loveliest beaches in Tahoe. Swimmers enjoy the crystal-clear waters; sunbathers delight in basking under the warm summer rays; and water sports enthusiasts relish the perfect conditions for kayaking, canoeing, and paddle-boarding.
Visitors also come to D.L. Bliss State Park for hiking, especially the Rubicon Trail, which offers sensational views of Lake Tahoe. Other hikes include the Lighthouse Trail, which leads to a historic lighthouse, and the Balancing Rock Nature Trail, featuring the 130-ton granite "Balancing Rock," which marvelously rests on a narrow stone base.
During summertime, D.L. Bliss State Park campground makes available 150 family campsites with restroom facilities and hot showers.
9. Sand Harbor State Park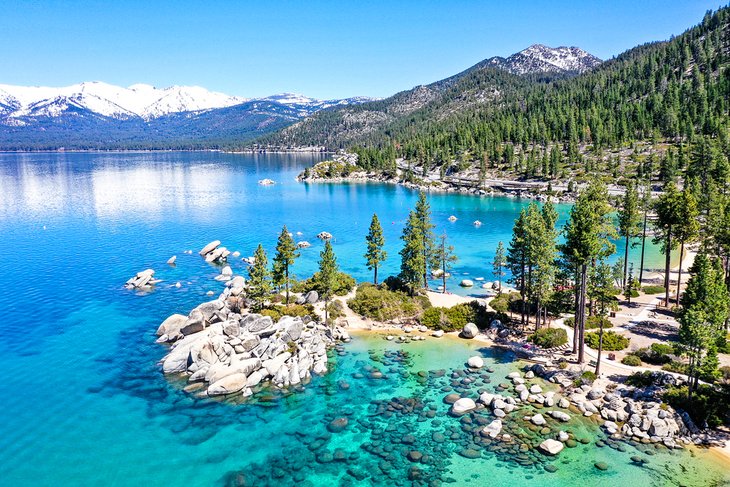 In North Lake Tahoe on the Nevada side, Sand Harbor State Park offers miles of sandy beaches, as well as hidden coves and shady pine forests. The 55-acre park offers opportunities for swimming and scuba diving in the translucent waters of Lake Tahoe. Lifeguards are on duty from Memorial Day through Labor Day. Sailing, kayaking, and boating enthusiasts appreciate the docks at the Boat Launch.
Scenic walks around the park include the Sand Point Nature Trail, a short hike with outstanding views of the lake, and the Sand Harbor to Memorial Point Trail, a half-mile trail with access to secluded beaches and rocky coves. Sand Harbor State Park also has shaded picnic areas under the fragrant Jeffrey pines. Other facilities include a visitor center, gift shop, and casual restaurant.
Literary types should plan to attend the Lake Tahoe Shakespeare Festival (held during July and August). The festival presents a series of performances, highlighting some of Shakespeare's most famous works. Audiences will enjoy the entertaining performances in an exquisite outdoor theater, set amid a grove of towering pine trees. The sublime backdrop of Lake Tahoe and romantic starry night skies add to the special experience.
10. Eagle Rock Hiking Trail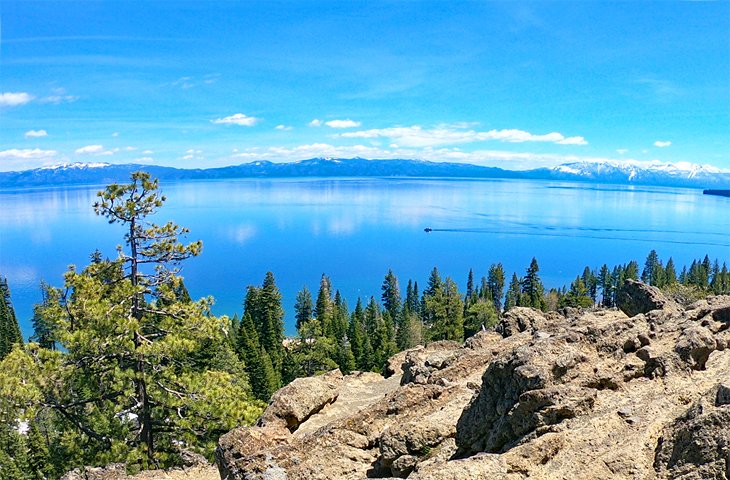 The Eagle Rock Hiking Trail is a spectacular hiking trail on Lake Tahoe's west shore, just four miles away from Tahoe City. Eagle Rock is a dramatic volcanic outcrop, perched at an elevation of more than 6,000 feet, which is a few hundred feet above Lake Tahoe. This short, easy hike is about a half-mile long and can be completed in 20 minutes, however it rewards with magnificent views.
Where to Stay near Lake Tahoe for Sightseeing
We recommend these highly rated hotels and resorts with easy access to the top sites around Lake Tahoe:
More Related Articles on PlanetWare.com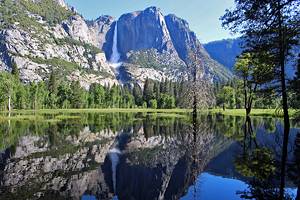 Other Beautiful Places in the Sierra Nevada Mountains: Lake Tahoe is at the heart of the Sierra Nevada mountain range, which stretches from the northernmost tip of California down to Central California and also extends into Nevada. There are many spectacular national parks within the Sierra Nevada mountains, including the gorgeous waterfalls and glacier-carved valley of Yosemite National Park. This UNESCO-listed national park (150 miles from Lake Tahoe, about a three-hour drive) is one of the top attractions in California, and the awe-inspiring snow-covered peak of Mount Shasta (a five-hour drive from Lake Tahoe), offers some of the best hiking trails in California.
Interesting Towns near Lake Tahoe: Just a 45-minute drive from Lake Tahoe in northwestern Nevada is the bustling town of Reno, known for its large resort hotels with a flashy Las Vegas-style ambience. The Sierra Nevada foothills (about an hour's drive) are also worth exploring. From 1849 until the 1850s, this area along the American River was the booming Gold Rush territory. Today, the Gold Country is one of the best places to visit in California; tourists can see the gold mines and discover historic charm in the towns of Nevada City and Grass Valley. Both of these quaint Old Western towns have many art galleries, restaurants, shops, and Victorian-era hotels.