16 Best Waterfalls in California
It should not be a surprise that California has several impressive waterfalls. With high mountain peaks, rushing rivers, and a rugged coastline, water runs in every direction across the state. And from memorable waterfalls in Northern California to a few favorites in Southern California, the entire state has gravity on display.
Head to the Sierra Nevada or the Cascade Mountains for the most spectacular waterfalls. Here, places like Yosemite National Park and Mount Shasta provide guaranteed waterfall sightings.
The best waterfall hikes in California vary in length and accessibility. It requires less than a quarter mile on flat terrain to view some of the easiest waterfalls to visit. In contrast, other elusive waterfalls might require a whole day devoted to hiking.
Find the right waterfall for your next adventure with our list of the best waterfalls in California.
1. Burney Falls, McArthur-Burney Falls Memorial State Park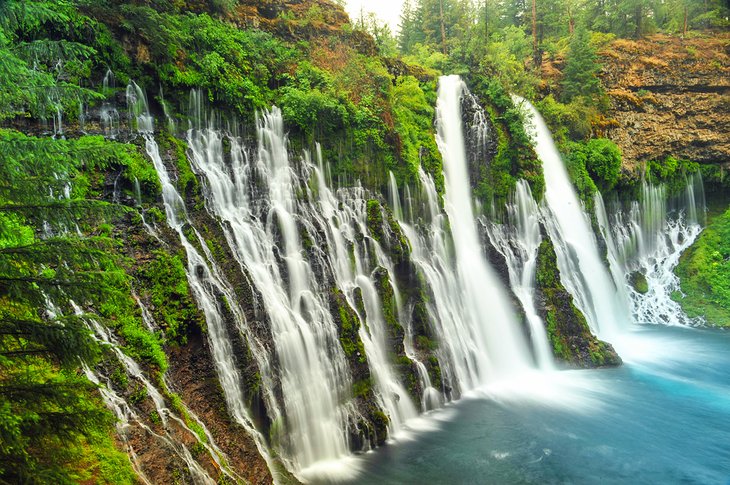 Burney Falls isn't the tallest waterfall in California, but it's arguably one of the most stunning. It's within McArthur-Burney Falls Memorial State Park on the eastern edge of the Cascade Range, approximately a 70-minute drive east of Redding.
The waterfall is one of many stops on the state-spanning Volcanic Legacy Scenic Byway.
A natural spring above the basalt cliff at Burney Falls gives the landscape its thunderous volume. The 129-foot waterfall spans its entire ledge, stirring up rainbow clouds of mist in all directions. It's less than a half-mile hike to the falls, with no severe elevation change.
2. Yosemite Falls, Yosemite Valley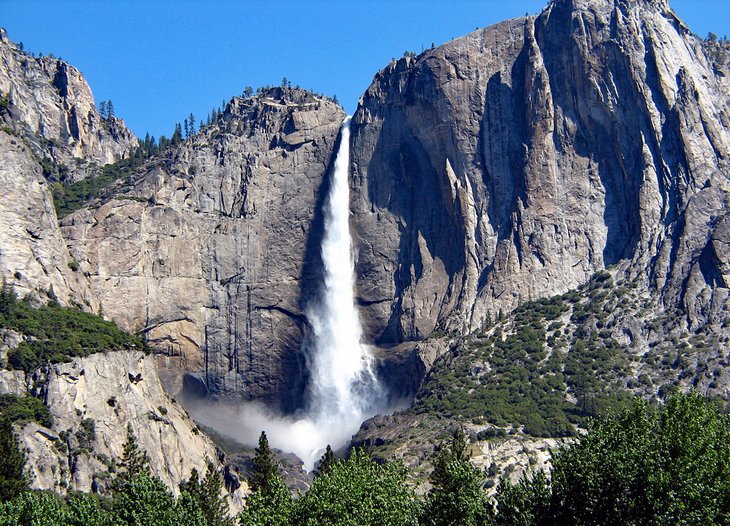 Head to Yosemite National Park in the Sierra Nevada Mountains for one spectacular California waterfall after another. Here, water drops dramatically from iconic granite peaks, leaving quite the impression on anyone who visits.
Many of Yosemite's famous waterfalls are viewable from Yosemite Valley. A few postcard waterfalls seen here include Bridalveil Falls, Sentinel Falls, and Yosemite Falls, one of the tallest in the park, plummeting over 2,425 feet. Visitors interested in a closer look can hike to the top of Yosemite Falls with a challenging 7.2-mile round trip.
Horsetail Falls is also a famous waterfall in Yosemite Valley. Much of its notoriety comes from the rare phenomenon in mid-to-late February when the waterfall appears to glow like lava upon catching the setting sun.
Nearly all waterfalls in the Yosemite Valley run at their peak in the spring.
Read More:
3. McWay Falls, Julia Pfeiffer Burns State Park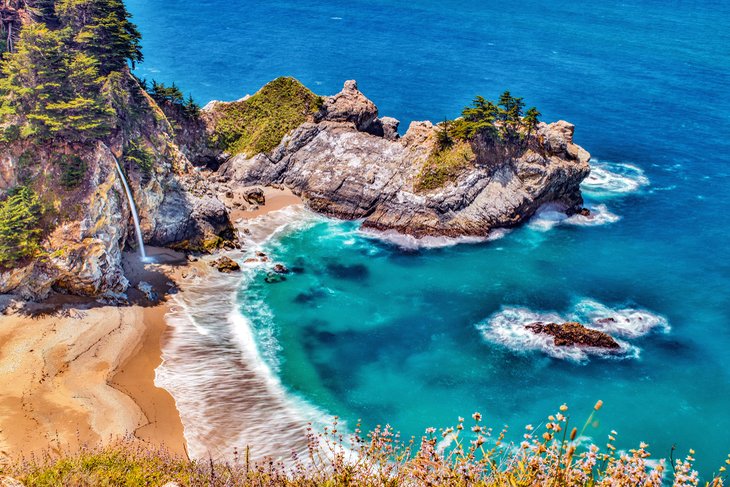 McWay Falls is a stunning waterfall on the Big Sur coastline of Central California. It drops approximately 80 feet from a cliff face and plunges straight into an idyllic cove. And for many, it's an outstanding photo opportunity along a Big Sur road trip.
The short hike to the McWay Falls Overlook is within Julia Pfeiffer Burns State Park, one of California's best state parks. The hike is more of a leisurely stroll, spanning less than a half mile, and paved the entire way. The only way to appreciate McWay Falls is from this elevated lookout, as there is no safe way to reach the beach.
Accommodation: Top-Rated Hotels in Big Sur, CA
Read More: Top-Rated Attractions & Things to Do in Big Sur, CA
4. Rainbow Falls, Devils Postpile National Monument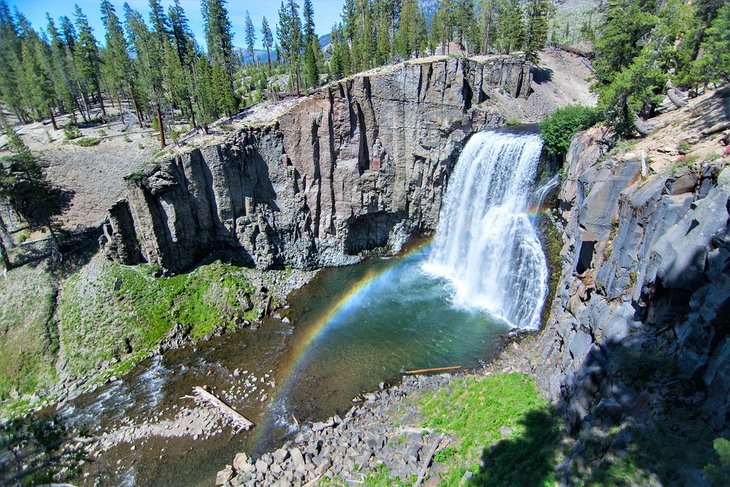 Rainbow Falls is within Devils Postpile National Monument, surrounded by the Sierra Nevada Mountains and Inyo National Forest. This 101-foot plunging waterfall is known for its dazzling display of waterfall mist. This shroud of mist from the San Joaquin River acts as a giant prism, refracting a sunny day into spectral color.
Midday is arguably the best time to see this colorful effect of Rainbow Falls, although it's the hottest time to travel. It's approximately a five-mile round trip to see the falls, starting from the trailhead at the end of Reds Meadow Road. The trail is a moderate grade but very wide-open and prone to hot temperatures.
A mandatory shuttle to reach the Fairy Falls trailhead boards at the Mammoth Mountain Adventure Center during the summer season.
5. Alamere Falls, Point Reyes National Seashore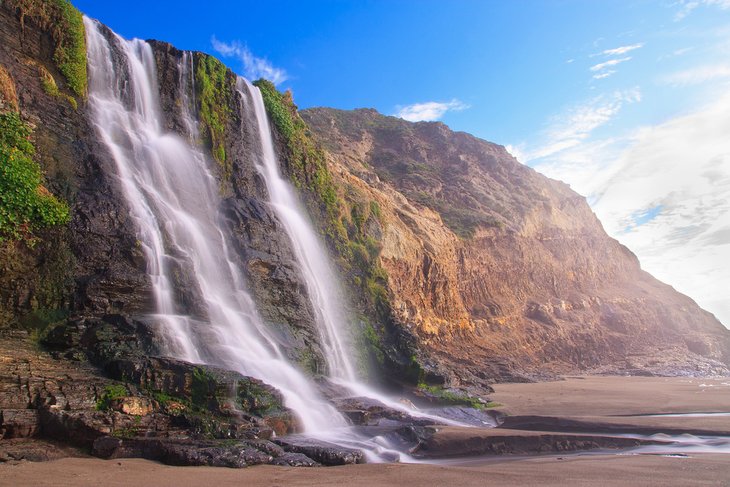 Alamere Falls is a scenic coastal waterfall seen from Wildcat Beach in Point Reyes National Seashore. However, it's not an easy waterfall to reach, with a 13-mile round trip if you're trying to see it in a single day. Alternatively, Point Reyes has a network of backcountry campsites that can split the hike up between a couple of days.
It's imperative to follow the trail guide published by the National Park Service to reach Alamere Falls. A few unsigned and unofficial trails lure visitors to the top of the falls, and several search and rescue missions have had to save people from these crumbly cliffs.
6. McCloud Falls, Shasta-Trinity National Forest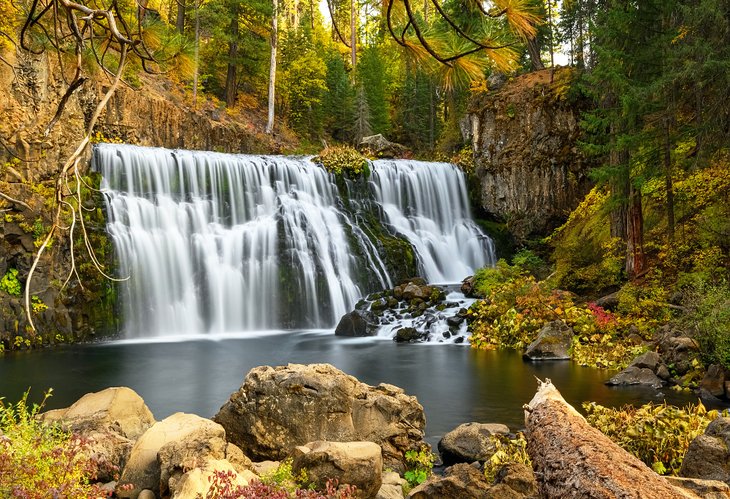 Three stunning waterfalls line the McCloud River in Northern California, within Shasta-Trinity National Forest. All three waterfalls have parking areas and easy turnoffs from the Volcanic Legacy Scenic Byway. This scenic byway connects several other ancient landscapes, including the nearby Burney Falls, a 40-mile drive to the east.
A moderate four-mile hiking trail connects the three waterfalls along the McCloud River. The route from Lower Falls to the Middle Falls is partially paved and runs next to the popular Fowler Campground. The trail leading to the Upper Falls gains elevation quickly and comprises the more challenging portion of the hike.
Read More:
7. Vernal Falls, Yosemite National Park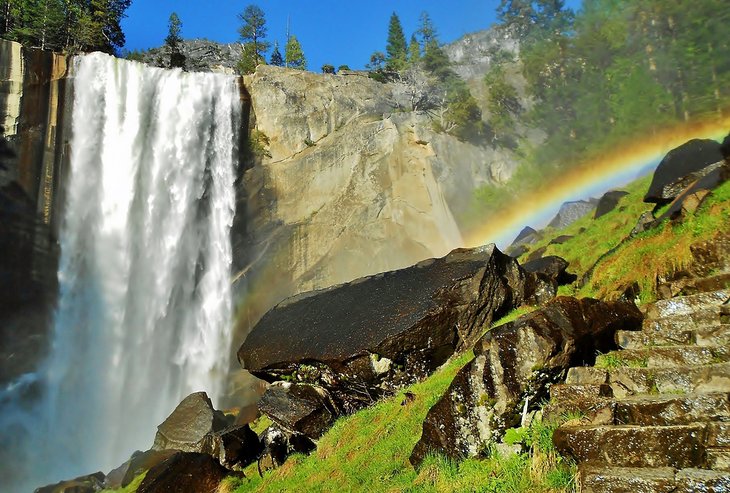 Vernal Falls is another stunning display of gravity in Yosemite National Park. But unlike other notable waterfalls in the park, Vernal is not visible from Yosemite Valley. And a bit of hiking is required to see this powerful 317-foot waterfall, with the most common trailhead departing near the Happy Isles Nature Center.
It's a less-than-a-mile uphill hike to reach a footbridge with an excellent view of the falls. It's a busy trail shared by many park-goers.
The adventure continues from the footbridge for those willing to hike further uphill. The aptly named Mist Trail continues from the footbridge and to the top of Vernal Falls via 600 slippery granite steps.
8. Brandy Creek Falls, Whiskeytown National Recreation Area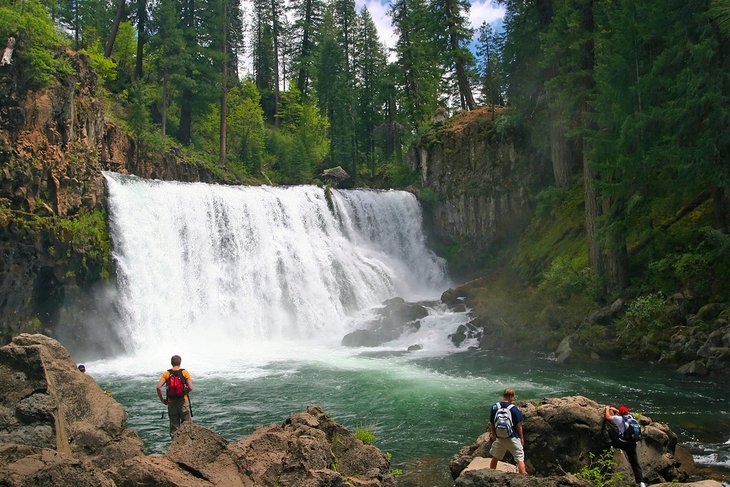 Brandy Creek Falls is one of many notable waterfalls within Whiskeytown National Recreation Area. This popular outdoor playground is approximately 10 miles west of Redding. Brandy Creek stands out thanks to its five falls cascading through a boulder-strewn environment – and often bathed in color during the spring and fall.
It's approximately a three-mile round trip to see Upper Brandy Creek Falls and its five cascades. The route is primarily uphill and strenuous at times, especially closer to the falls.
The 2018 Carr Fire burned 98 percent of the forest within the recreation area. Massive rehabilitation efforts by volunteers and the National Park Service have re-opened many recreation opportunities.
9. Grizzly Falls, Sequoia National Forest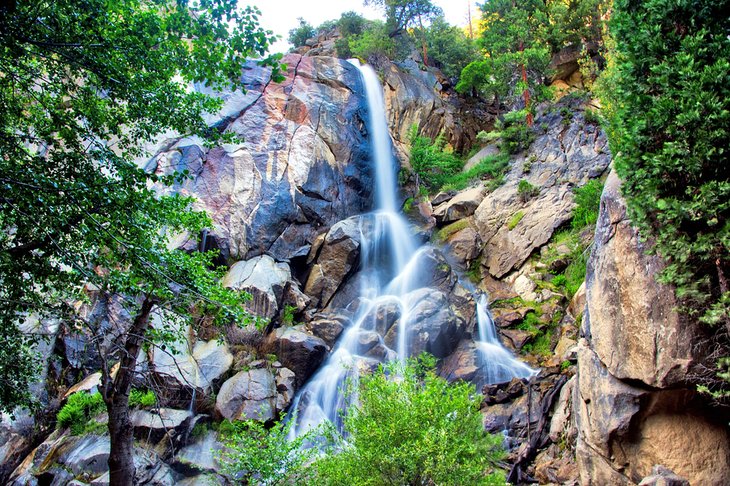 Grizzly Falls is a scenic pitstop along the Kings Canyon Scenic Byway, leading into Kings Canyon National Park. Look for signs for the Grizzly Falls Picnic Area when heading to the park if you don't happen to catch a glimpse of the falls while driving.
It's a quick and easy walk to Grizzly Falls from the picnic area, less than 0.1 of a mile. This easy approach makes the falls a popular family waterfall without having to hike far. The falls themselves are snowmelt dependent, and the best time to visit is early spring when the road opens back up.
The picnic area is also an excellent place for a packed lunch outside. Restrooms are available.
10. Cedar Creek Falls, Cleveland National Forest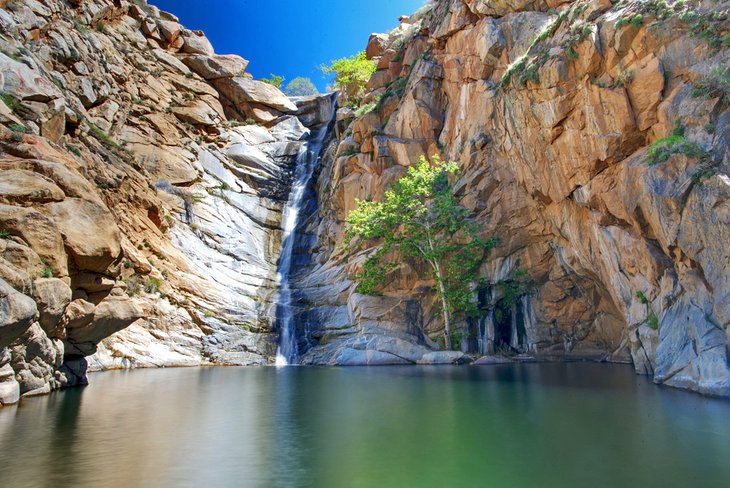 Cedar Creek is arguably San Diego's most famous waterfall destination. The falls are within Cleveland National Forest in the city's eastern foothills, accessible with approximately an hour's drive from downtown. The falls have become such an iconic adventure spot, permits are required to visit.
Alongside a permit, it's also a moderate-to-challenging 6.6-mile round-trip hike to reach the falls. The trail has a 1,000 feet of elevation gain, mainly on the way back up, and travels through highly exposed and hot terrain.
Be prepared for the long and hot hike, though, and enjoy the impressive 80-foot Cedar Creek Falls plunging into a potential swimming pool. The falls typically run dry throughout the summer months, with the most flow during the winter and spring.
11. Lower Eagle Falls, Lake Tahoe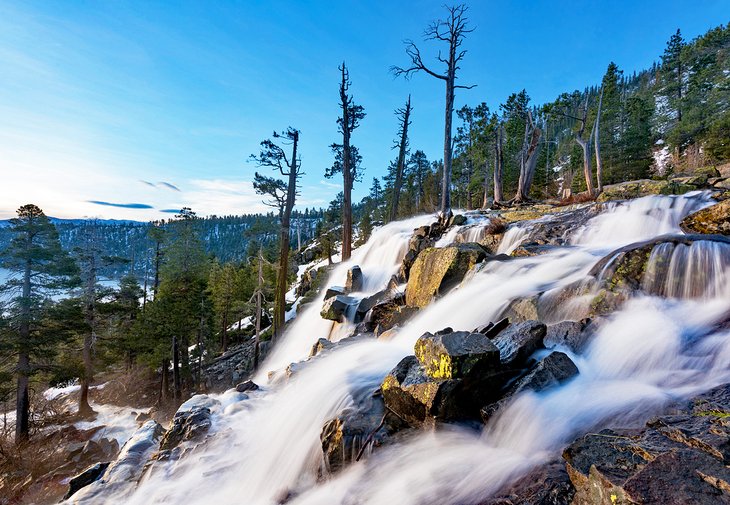 This two-tiered waterfall is within Emerald Bay State Park on the south shore of Lake Tahoe. The state park is one of the most popular places to visit on an already popular lake, and the falls are one of its many gems to admire. The waterfall itself flows right below the highway into Emerald Bay, making it a very accessible waterfall.
Lower Eagle Falls is the easiest waterfall to appreciate. It's accessible with an approximately 0.6-mile round trip hike, with a bit of elevation back to the trailhead. It's one of the most popular hikes near South Lake Tahoe. A more comprehensive view of both falls is accomplished with an approximate three-mile roundtrip. The biggest challenge is often finding a parking spot close to the trailhead.
Read More: Top-Rated Attractions & Things to Do at Lake Tahoe
12. Hedge Creek Falls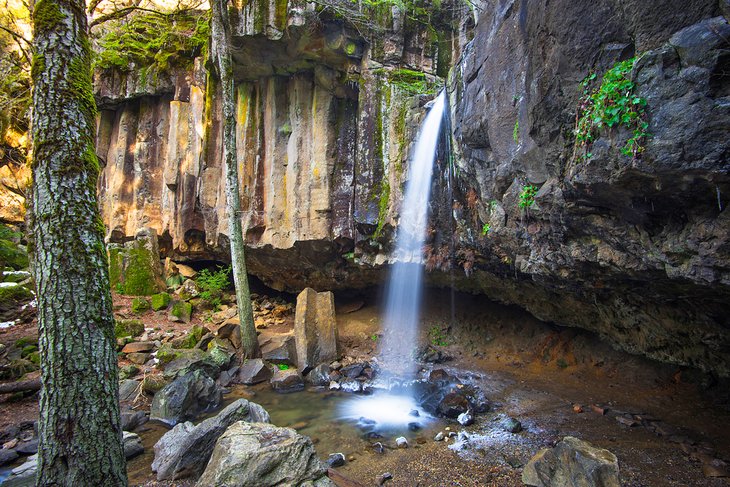 Hedge Creek Falls is a beautiful 35-foot plunging waterfall right off Interstate 5 in Northern California. The falls are approximately two miles north of Dunsmuir. And after a quick pull-off, it's less than a quarter-mile hike to reach Hedge Creek spilling into the Sacramento River.
Hedge Creek is a popular spot thanks to its easy access along a major interstate. Although, passing traffic often zips right on by, so finding a parking spot is generally manageable.
Hedge Creek makes for one of many scenic spots to explore in this region. Other nearby adventure destinations include Castle Crags State Park, the Three Falls of the McCloud River, and the always impressive Mount Shasta a few miles north.
13. Feather Falls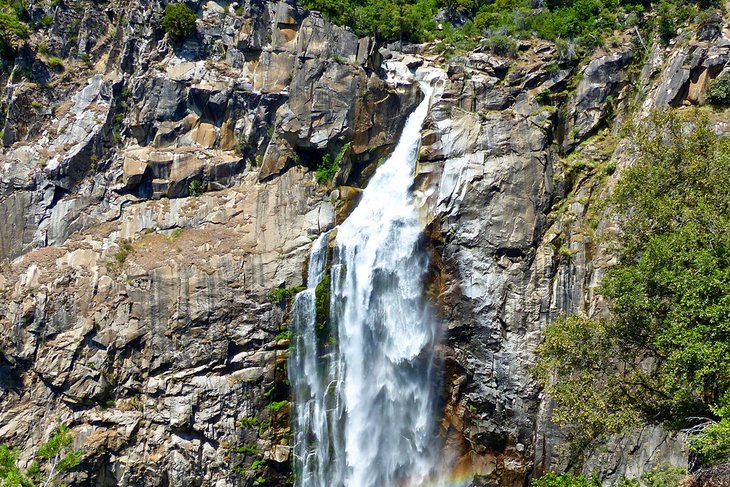 Feather Falls is within Plumas National Forest. And while it's in a remote part of the Sierra Nevada Mountains and requires a 7.5-mile strenuous round trip, it's still one of the most popular waterfalls in Northern California. It's touted as a "Yosemite waterfall without the crowds." And the grandeur of this 410-foot waterfall lives up to that hype.
Hikers have a couple of options on the trail to Feather Falls. After coming to a fork a quarter-mile from the trailhead, the first option is a steeper 3.5 miles to the falls. The second option spans 4.5 miles with a more moderate grade. Hikers choose whichever out-and-back route they prefer.
14. Potem Falls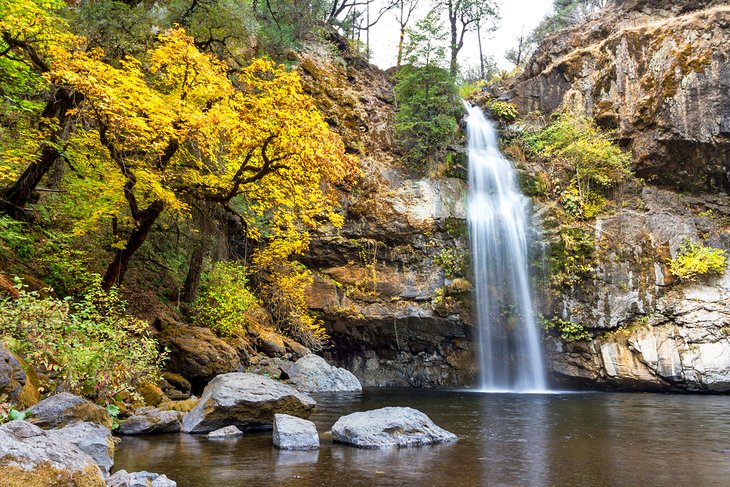 Potem Falls is a stunning and relatively uncrowded waterfall in the Cascade Mountains of Northern California. It's an easy 0.6-mile round trip to see this approximately 70-foot drop in Potem Creek. The real challenge comes from driving to the trailhead.
The waterfall is accessible from Highway 299 from Redding and then a nine-mile drive on the primarily unpaved Fenders Ferry Road. High clearance vehicles with four-wheel drive will have an easier time navigating this forest service road.
Make the drive and enjoy the plunging waterfall and its swimming pool. The waterfall flows heaviest during the winter and spring.
15. Darwin Falls, Death Valley National Park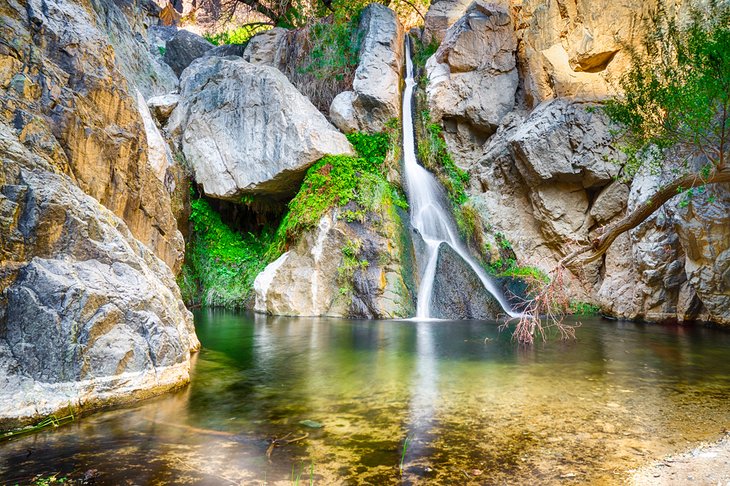 Death Valley doesn't often conjure up waterfall images. And that's what makes the year-round Darwin Falls so unique. This spring-fed waterfall feeds a small oasis in an otherwise unassuming desert landscape, complete with cottonwood and willow trees.
It's a two-mile round trip to reach Darwin Falls, with the entire route navigating an arid desert environment. The trailhead is along an unmarked gravel road approximately 1.2 miles west of Panamint Springs Resort. No swimming is allowed at Darwin Falls, as the water is a drinking source for the same resort.
Read More: Best Places to Visit in Death Valley, CA
16. Escondido Falls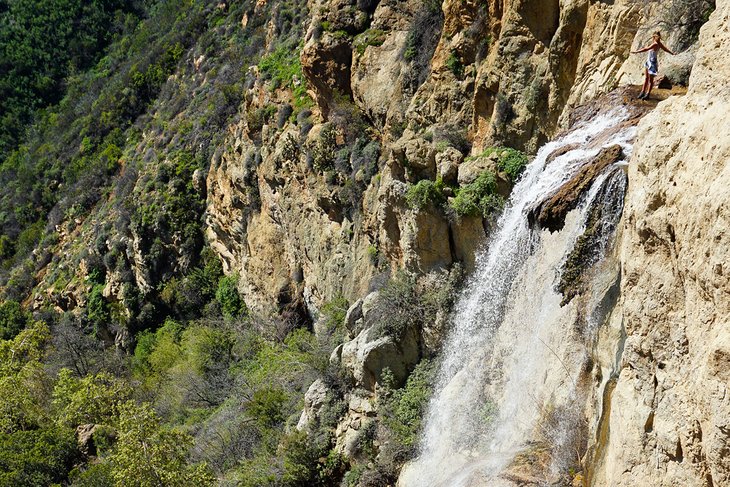 Escondido Falls is a beautiful display of gravity in the Santa Monica Mountains of Malibu. The approximately four-mile round trip hike starts right off the Pacific Coast Highway. The trail begins by navigating the paved Winding Way next to glamorous Malibu mansions. Parking requires a fee.
Escondido Falls is rain-dependent and may not even have a trickle during dry spells. Visit during the spring or winter, though, and there's usually a cascading scene.
Lower Escondido Falls is open to the public. It sits beneath the larger Upper Escondido Falls, flowing on private property. Past users scaled the dangerous vertical terrain to reach the upper falls. However, the public is asked to refrain from this hard-on-the-habitat practice.
Map of Waterfalls in California