19 Best Lakes in the US
We may earn a commission from affiliate links ()
The US is home to thousands of lakes spread across its 50 states, including 12,000 lakes in the state of Minnesota alone, which means there are lake vacations for all styles of traveler. From the largest freshwater lake on the planet, Lake Superior, which borders three states and one Canadian province; to North America's largest alpine lake, stunning Lake Tahoe on the California and Nevada border; to the cleanest lake in the US, Crater Lake in Oregon; America boasts some of the world's most beautiful and record-setting lakes.
Not all lakes were created equal, however, and some truly stand out from others. These are the lakes worth driving or flying to for a vacation. From the cleanest to the prettiest, the natural to the manmade, check out our list of the best lakes in the US.
1. Lake Tahoe, California and Nevada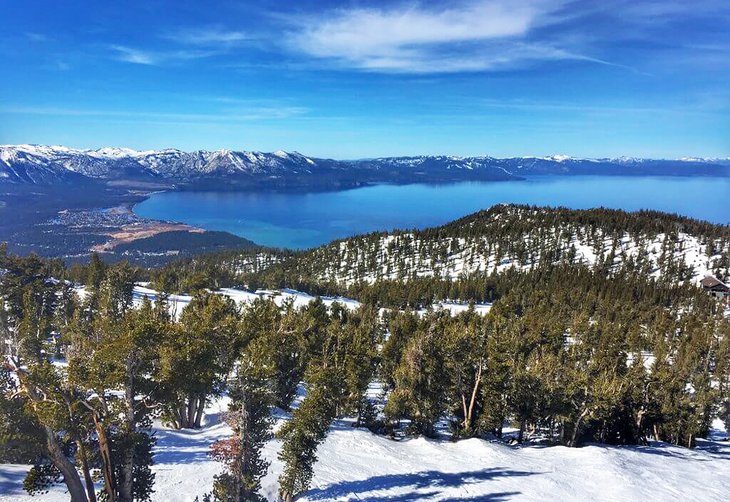 Easily one of the prettiest lakes in the US, Lake Tahoe sits on the state line between California and Nevada and is surrounded by the snowcapped peaks of the Sierra Nevada Mountains. The largest alpine lake in North America, it is the second deepest lake in the US at 1,645 feet. It is also very clear, with visibility more than 70 feet in spots and a gorgeous fusion of blue hues that change with the weather and the portion of the lake.
In summer, Lake Tahoe attracts sunbathers to its shores, although the water stays pretty cold year-round. In winter, there is skiing in the mountains, with panoramic lake views from the runs. On the Nevada side of the lake, there is Lake Tahoe Nevada State Park, which is home to hiking trails and Sand Harbor Beach.
Accommodation: Best Resorts in Lake Tahoe
Read More:
2. Crater Lake, Oregon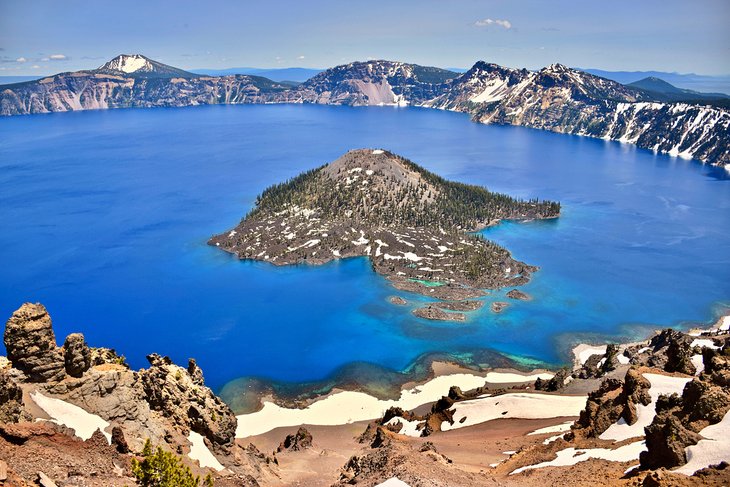 America's deepest lake is found in Oregon. At a depth of 1,943-feet Crater Lake is actually the result of a volcanic eruption around 8,000 years ago that left a caldera that would fill into a lake over the millennia with rain and snowmelt.
Because Crater Lake isn't fed by any streams or rivers, scientists consider it to be the cleanest lake in the US and the entire world. It is also the clearest, with visibility up to 100 feet and sunlight pervading down some 400 feet. As such, Crater Lake has become popular with scuba divers, who like to explore the lava formations and underwater fields of moss.
Fishing is also a top activity on Crater Lake, although the only access for anglers, divers, or any visitor who wants to see the lake from the shoreline is via a 700-vertical-feet descent on the Cleetwood Cove Trail. The only other access is via boat tours that depart from Wizard Island, one of Crater Lake's two islands.
Read More:
3. Lake Powell, Arizona and Utah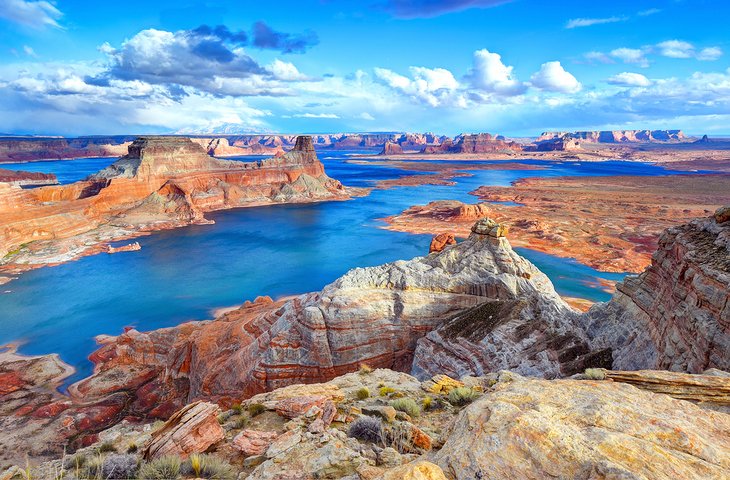 The second-largest reservoir in the US, Lake Powell is a manmade creation. The result of damming the Colorado River at Glen Canyon on the Utah and Arizona border, Lake Powell is another one of the prettiest lakes in America. Here, you'll discover crimson sandstone cliffs dropping into turquoise and emerald-hued water as warm as its colors suggest.
With more than 90 side canyons to explore, this massive lake stretches for some nearly 200 miles from Arizona into Utah and is very popular for a houseboat vacation. You can also explore by paddleboard or kayak.
Don't miss the natural (not manmade) beauty of Rainbow Bridge on the shores of one canyon. It is considered the world's longest natural arch.
Read More: Best Lakes in Utah
4. Lake Michigan, Michigan, Wisconsin, Illinois, and Indiana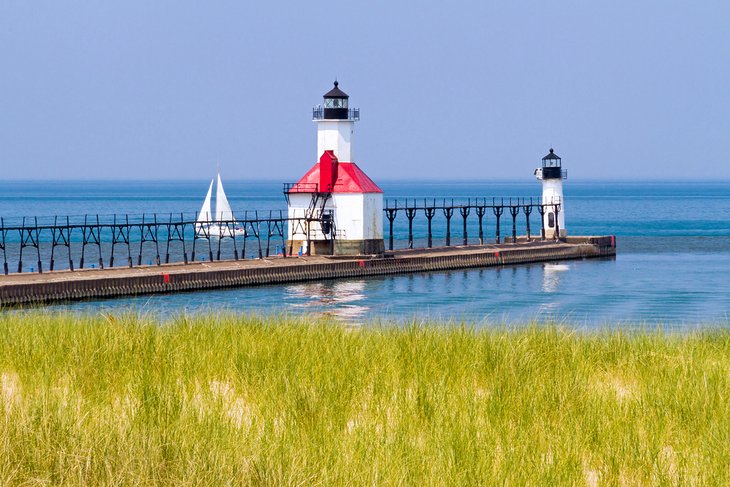 The US and Canada are home to the largest group of interconnected freshwater lakes on the planet by total area and second-largest by total value. Known as the Great Lakes of North America, this group of five lakes contains 21 percent of the world's freshwater by surface area. Located on or near the border with Canada, all the lakes connect to the Atlantic Ocean via the St. Lawrence River.
Lake Michigan is the third largest of the Great Lakes, with a shoreline spanning four states, and the only one of the lakes that does not touch Canada. Chicago is one major city on Lake Michigan. But most people come to play in the portion of the lake that is on Michigan's Lower Peninsula. Here, you'll find top attractions like Sleeping Bear Dunes National Lakeshore, which boasts sand dunes rising some 450 feet.
Read More: Top-Rated Lakes in Michigan
5. Lake of the Ozarks, Missouri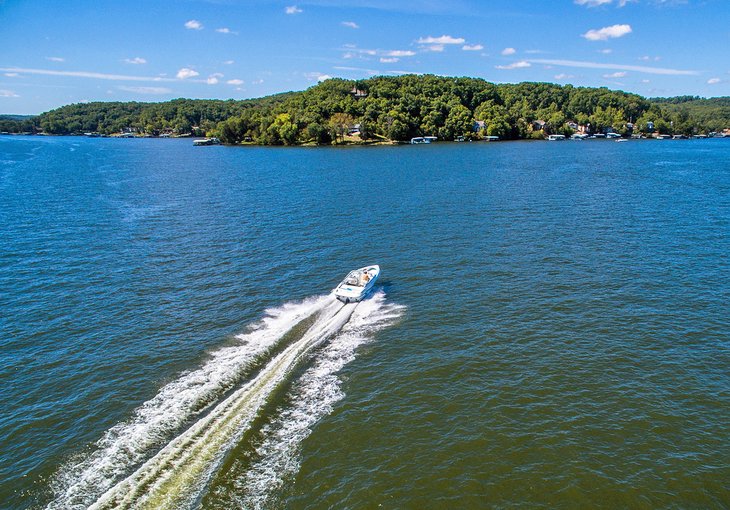 A manmade lake created by impounding the Osage River in central Missouri, Lake of the Ozarks is a popular summer vacation destination. It is known for its boating scene, and speedboats are especially popular here since there are no horsepower or speed restrictions on the lake. There is also good fishing, with bass and catfish the predominant species.
You can also explore the Lake of the Ozarks from the shoreline with hiking and biking trails, as well as lakefront golf courses.
For lodging, check out the Old Kinderhook Resort, Golf Club & Spa. It is most famous for its golf course, but the rooms are also comfortable, and all come with full kitchens.
6. Lake Superior, Michigan, Minnesota, and Wisconsin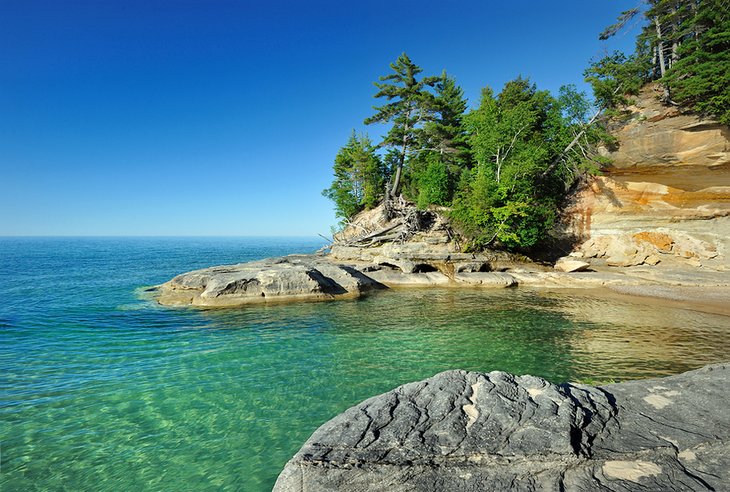 Another of the five great lakes, Lake Superior is the largest freshwater lake by surface area in the entire world, with 2,700 miles of shoreline covering three states: Michigan, Minnesota, and Wisconsin, and crossing over into Canada in Ontario.
This is a great lake for fishing, and you'll find everything from smallmouth bass, northern pike, whitefish, salmon, and trout to walleye and herring among other species here. If you want to set up a fishing charter, the main hub cities are Duluth, Minnesota and Bayfield, Wisconsin.
The scenery along Lake Superior is also easy on the eyes, with towering sandstone cliffs, waterfalls, sea caves, and sandy beaches. You can even surf Lake Superior's North Shore at certain times, as weather conditions can create ocean-like waves.
Read More: Best Lakes in Michigan
7. Lake Havasu, Arizona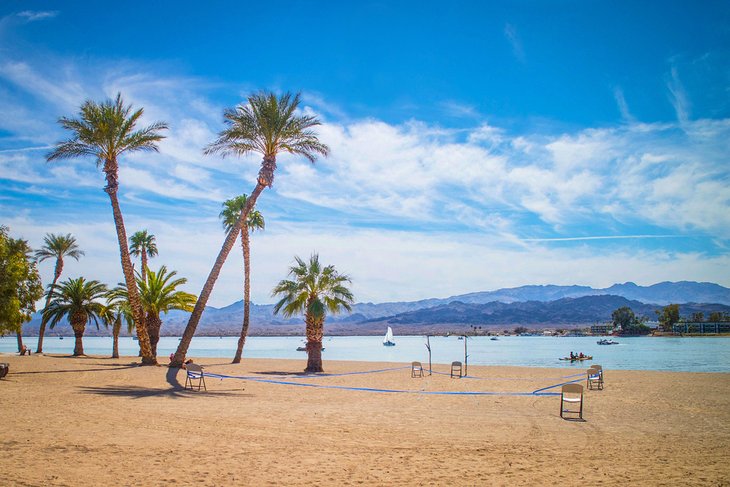 Another one of the best lakes in Arizona and a favorite lake for houseboating is Lake Havasu. Located on the border between Arizona and California, the lake is especially popular with college students who come for spring break celebrations. The water is warm, and there are some gorgeous side canyons, with crystal-clear turquoise water, sandstone cliffs, and waterfalls that you can explore on a stand up paddleboard or kayak.
Lake Havasu City is where to stay if you aren't sleeping on a boat. The city makes a great base for exploring the lake, and is oddly home to the original London Bridge, which was relocated here from England. Spend the night at Heat Hotel. It is right at the base of London Bridge and is a trendy boutique property with a great patio.
8. Lake Winnipesaukee, New Hampshire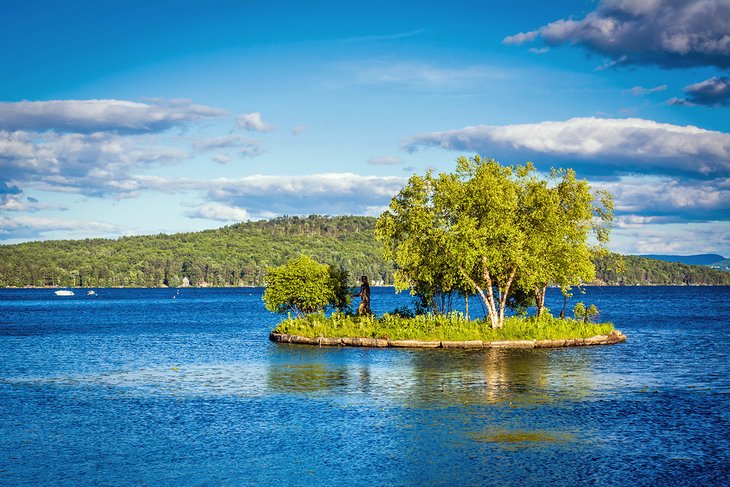 Head to New Hampshire's Lakes Regions at the edge of the White Mountains to see the largest lake in the US. Lake Winnipesaukee is around 21 miles long and varies from one to nine miles in width depending on what part of the shoreline you are at.
There are a number of beaches on Lake Winnipeasaukee and in summer, swimming is popular. Head to Ellacoya State Park for a long, sandy swimming area with changing rooms. There are also campsites here. You can also drive around the entire lake on an 80-mile loop road. The drive takes a while, but it lets you experience all the different regions.
Read More: Best Lakes in New Hampshire
9. Hanging Lake, Colorado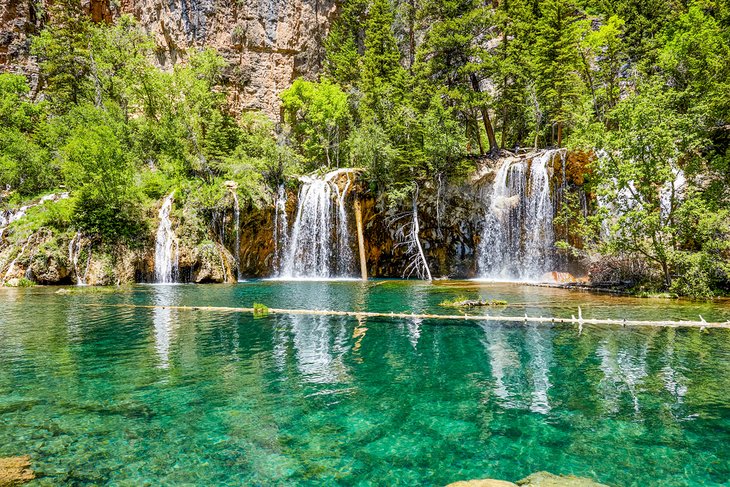 When a major wildfire shut down the interstate for weeks and ravished the forest around it, Colorado residents feared the state's most beautiful lake would never look the same again. But despite the damage to the area surrounding it, Hanging Lake was spared.
Set on the edge of the cliffs in Glenwood Canyon just outside of Glenwood Springs, Hanging Lake is one of the prettiest lakes in the US. The water itself is a stunning deep turquoise that looks like it should be in some tropical destination and not in the Rocky Mountains. And the lake is fed by waterfalls, which just adds to the allure.
To access this gem, you'll need to get a permit to hike the steep 1.2-mile trail (visitors are capped per day to preserve the fragile ecosystem). The trail eventually turns into a boardwalk that was constructed to further protect the lake bed, which was formed by mineral deposits over millions of years.
You can't swim in Hanging Lake, but if you want to get wet, take a short detour on the trail to Sprouting Rock, where you can stand under a waterfall and cool down.
10. Flathead Lake, Montana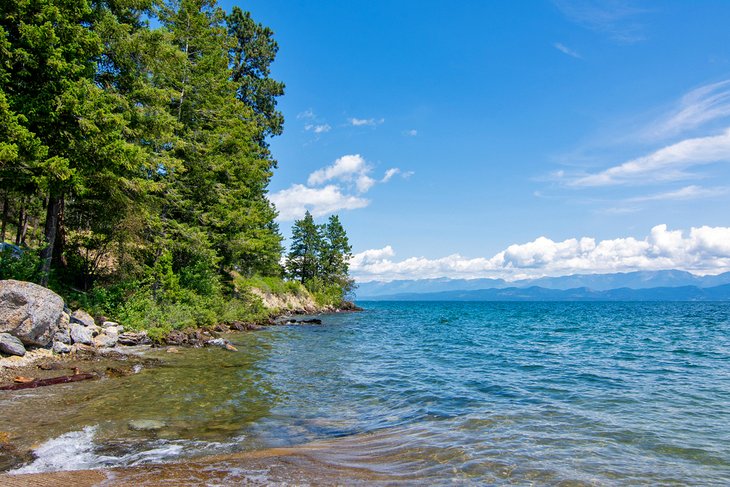 Flathead Lake is the largest freshwater lake west of the Mississippi with more than 185 miles of shoreline. It is located in the northwest corner of Montana between the towns of Polson and Kalispell and not far from Glacier National Park. Because of its location, Flathead Lake is usually most pleasant to visit late spring through early fall, as winters are quite cold.
Flathead Lake is in an area known for its dude ranches, including the all-inclusive Averill's Flathead Lake Lodge. They offer a fun program that includes horseback riding lessons, trail rides, and cookouts.
Read More:
11. Lake Champlain, New York and Vermont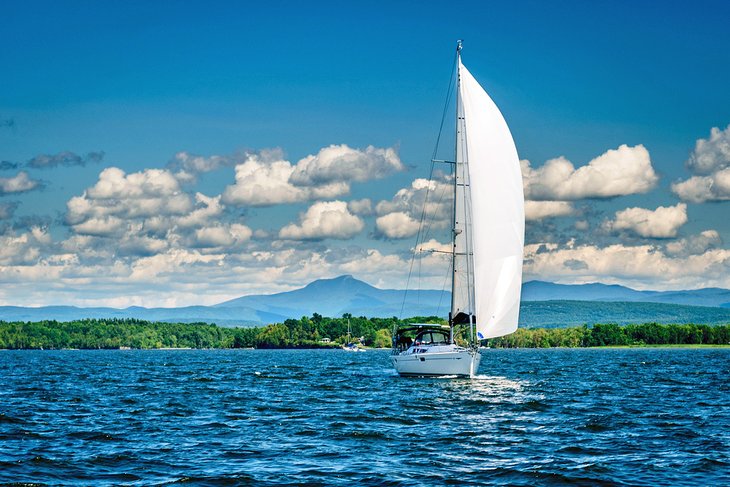 If you want to give the kids a history lesson along with a lake vacation, check out Lake Champlain on the border with New York and Vermont. The lake itself and the land surrounding it played an integral role in three American wars: the French and Indian War, the American Revolution, and the War of 1812. You can learn about the lake's history at the Lake Champlain Maritime Museum on the Vermont side.
If you'd rather just experience the lake itself there are plenty of activities and a number of different state parks with long, sandy beaches. In the winter, you can go ice-skating on Lake Champlain, while in summer fishing is popular.
Read More:
12. Lake Kabetogama, Minnesota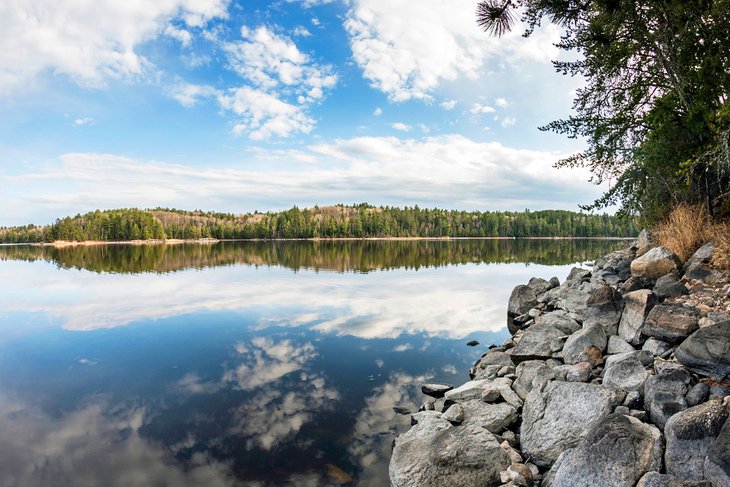 One of Minnesota's 12,000 lakes, gorgeous Lake Kabetogama in the north woods lake country portion of the state is well worth exploring on a wild vacation. A popular way to explore this lake is via canoe or kayak. One of the prettiest lakes in the US, it is part of the waterways comprising Voyageurs National Park, so it is protected and as such is also one of the cleanest lakes in the US.
Plan a multi-night trip that includes camping at one of the two dozen wilderness campsites that can only be accessed by boat. Make sure to check out Lost Bay and the area around Chief Wooden Frog Islands. The area is also home to plenty of wildlife, and you may just pass moose, wolves, and bear along the shores. Otters and bald eagles also call Lake Kabetogama home. There is also great fishing in this lake.
Accommodation: Best Resorts in Minnesota
13. Yellowstone Lake, Wyoming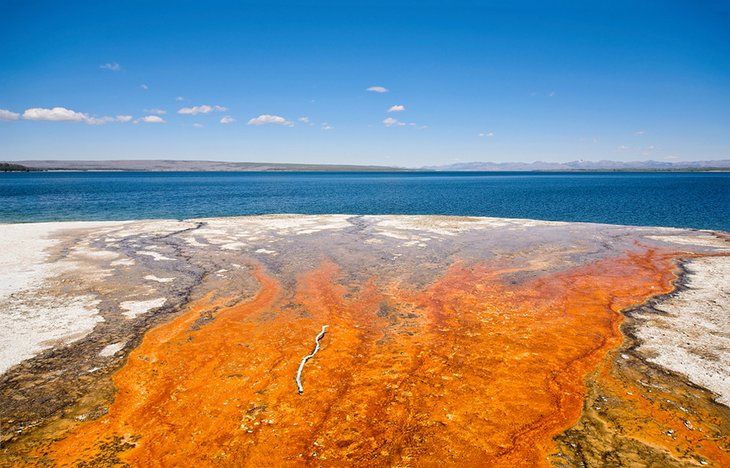 Sitting at an elevation of 7,733 feet in Yellowstone National Park in the northwest corner of Wyoming, Yellowstone Lake is the largest high elevation lake in North America. It is very clear, very deep, and very cold, and stays frozen for about six months per year.
The location in one of America's most popular national parks, means Yellowstone Lake can get crowded in summer. Still, its gorgeous location, surrounded by mountains and near gushing geysers, makes a visit well worth the crowds.
You can stay in the national park. There are a number of lodging and camping options.
14. Echo Lake, New Hampshire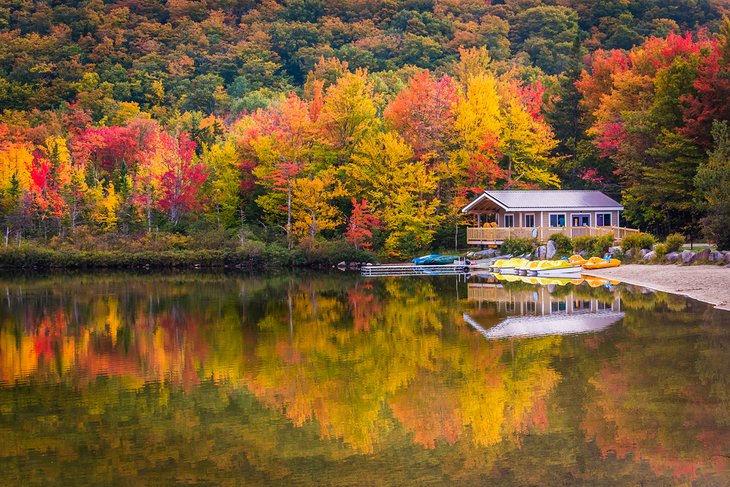 In the White Mountains National Forest in New Hampshire, Echo Lake is another one of the prettiest lakes in the US. It sits in the shadow of Whitehorse Ledge, which reflects down into the clear 16-acre lake.
If you climb, Whitehorse Ledge is a popular spot; so is the nearby cliffs at Cathedral Ledge. If you time your visit to the changing foliage in fall, this is the most beautiful time of all to visit Echo Lake, as the leaves put on a stunning color show. There are also numerous hiking trails in this region.
15. Lake Chelan, Washington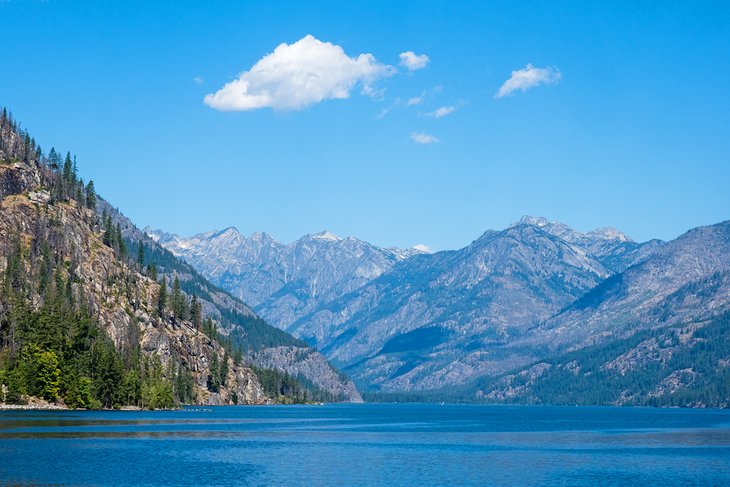 Lake Chelan, in north-central Washington about three hours from Seattle, is a long and skinny lake that is the third deepest in the U.S. It is 52 miles long but only one mile wide at its widest point. Created by glaciers millions of years ago, Lake Chelan is a beautiful body of water that, in the right light, almost resembles the Caribbean with its clear turquoise and aqua hues.
Lake Chelan State Park is a popular vacation destination. Head here if you want to swim off a long sandy shoreline. The entire lake, however, is surrounded by quaint small towns and a number of fantastic resorts catering to all types of travelers.
Read More: Best Lakes in Washington
16. Caddo Lake, Texas & Louisiana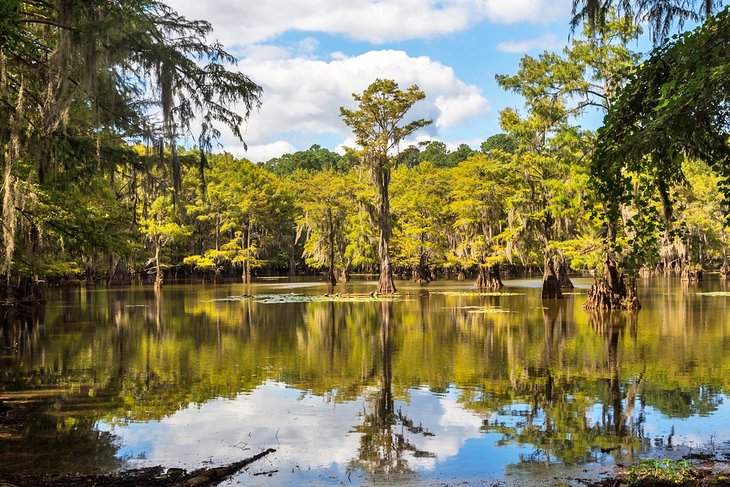 Located on the Texas and Louisiana border, Caddo Lake and surrounding bayou covers 25.400 acres and is 10-feet deep at its deepest point. Head to Caddo Lake State Park to explore this east Texas treasure. Here, you can paddle a canoe, or kayak on 50 miles of trails around the lake and its bayous, sloughs, and ponds. The scenery is beautiful, with Spanish-moss-covered bald cypress trees in the water. Just keep an eye out for alligators!
If you enjoy fishing, the lake is home to more than 70 fish species, and you don't need a fishing license to fish from shore in the state park. There are 46 campsites in the park, and you can also rent one of the historic cabins that vary in size, with the largest sleeping up to six people.
Read More: Best Lakes in Texas
17. Mono Lake, California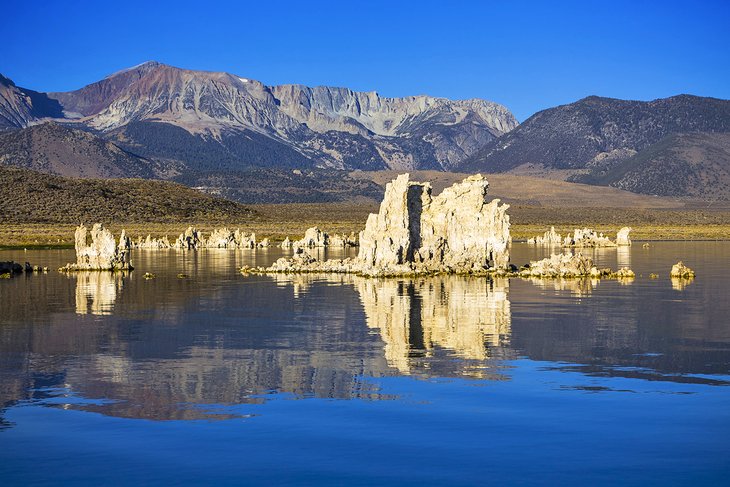 Mono Lake in northern California is just 13 miles east of Yosemite National Park near the town of Lee Vining. The lake is unique in how salty it is – about 2.5 times saltier than the ocean, and also very alkaline. The reason is that Mono Lake is one of the oldest lakes in North America at more than one million years old. It's protected as the Mono Lake Tufa State Natural Reserve.
Covering 65 square miles, Mono Lake has no outlet, so as its freshwater evaporates each year, more and more salts and minerals are left behind. You can swim in Mono Lake, and it will be a very buoyant experience since the water is denser than sea water. Many people swear a soak here can cure pretty much anything.
Other experiences include hiking, photography, boating, and bird-watching. There are between one and two million birds transiting or living here throughout the year.
18. Lake Martin, Alabama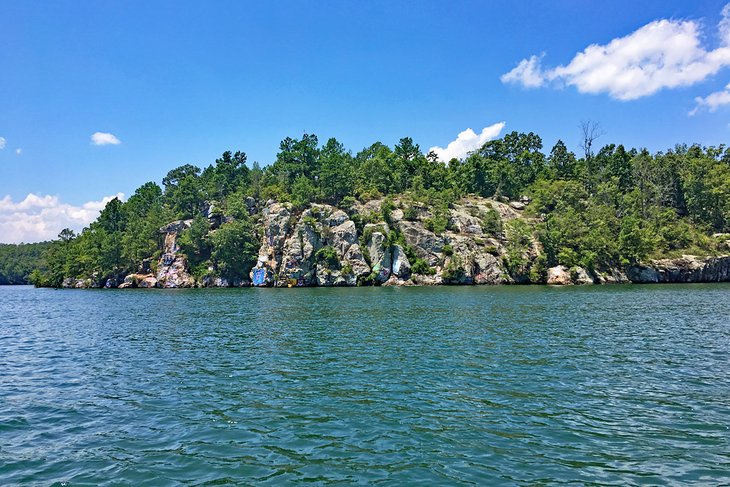 With more than 750 miles of forested shoreline, Lake Martin in Alabama was formed when Martin Dam was constructed on the Tallapoosa River in the 1920s. The 39,000-acre lake is one of the largest man made lakes in the U.S. It is a popular vacation destination and hosts numerous events year-round, including fishing tournaments and a jazz festival in one of its anchor towns, Alexander City.
Chimney Rock is the most recognized landmark on the lake, named because the large rock formation is shaped like a chimney. It is also home to a number of islands, including Goat Island, which can be accessed by boat. It is home to a family of goats. Popular activities here include fishing, boating, camping, hanging on sandy beaches, and dining at waterfront restaurants.
19. Lake Lanier, Georgia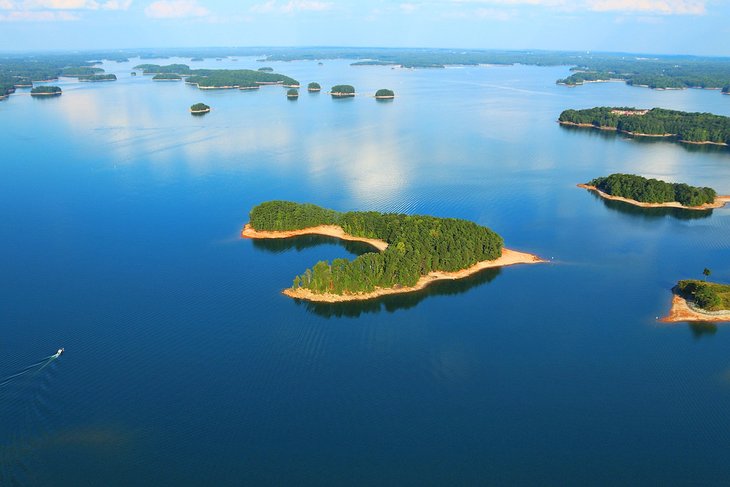 Lake Lanier in northern Georgia was created in 1956, when the Buford Dam was built on the Chattahoochee River. It is also fed by the Chestatee River, and covers an area of almost 58 square miles.
Located just an hour north of Atlanta it is a major playground for city dwellers on summer weekends. There are multiple resorts and restaurants on its shoreline for all styles and budgets of travelers. Entertainment opportunities include relaxing on a sandy beach, swimming, paddling a kayak or SUP, and renting a motor boat for some fun zipping around and making waves. Fishing is also very popular here.