8 Best Lakes in Utah
Authors Michael and Lana Law have visited Utah many times and always enjoy returning to the lakes and natural areas.
For a state located in the high desert, Utah has a surprisingly large number of fantastic lakes. Many of these are reservoir lakes formed by the damming of mountain rivers. The lakes tend to be in spectacular settings, frequently set against mountain backdrops. Each lake has its own look and feel. Some are shallow and warm, others are deep and clear, and one is so salty that you float on its surface.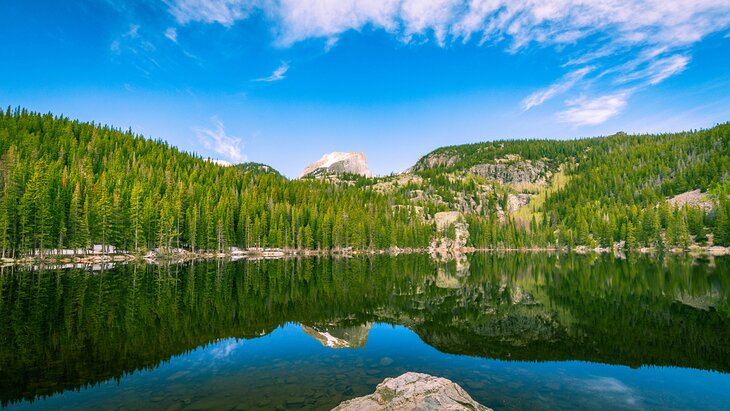 The opportunities for recreation on Utah's lakes are almost as diverse as the lakes themselves. Deep lakes support thriving fisheries, others are more suited for exploring by houseboat, and some are fun places for swimming and wading. Some lakes are near urban centers, and others are in remote areas. No matter what lake or lakes you choose to visit, you will be assured of a memorable experience.
The lakes are busiest in the summer; however, winter is also a great time to visit. Ice fishing and snowmobiling are popular off-season activities at some of the lakes at higher elevations.
Utah's lakes are spread out across the state, and accessing them is easy. All lakes mentioned here are either in state or national parks, where a fee for entry is due. However, this guarantees their protection and maintenance for future generations.
Determine where to go and what to do once you get here with our list of the best lakes in Utah.
1. Sand Hollow Reservoir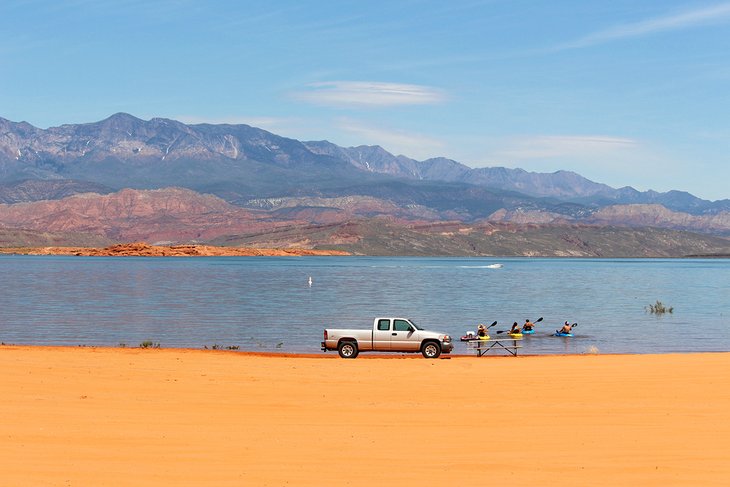 Imagine a lake where red sand meets sparkling blue waters, all set against a backdrop of rolling hills. This place exists in Utah, not far from the fun city of St. George. Sand Hollow Reservoir, located in Sand Hollow State Park, is one of Utah's most popular lakes.
Activities abound here on and off the lake. One of the top things to do at Sand Hollow Reservoir is swim at the massive beach, one of the best beaches in Utah. If you have a 4WD vehicle, just pull off the main roadway; drive down through the sand to near the water's edge; and set up your beach chairs, coolers, and umbrellas. The water is shallow, and with the red sand bottom, heats up wonderfully during Utah's cloudless summer days.
Pleasure boating is the number one thing to do on the lake. Bring your own watercraft or rent one at the concession by the large boat ramp. Waterskiing, tubing, wakeboarding, jet skiing, and just general cruising around in the sun are all popular pursuits out on the water.
Fishing for largemouth bass and bluegill is good, but you may find that the sheer number of boats racing about makes this a challenging place to fish in peace some days. Note that all boats must be decontaminated prior to launching.
Other popular pursuits at this lake are ATV riding in the sand dunes, as well as mountain biking and horseback riding.
This state park has several campgrounds, one located steps from the beach, the other about a mile away closer to the main entrance, and a primitive one farther around the lake. For those that prefer to sleep in a hotel, accommodation options in nearby St. George range from budget right through to ultra-luxury.
2. Bear Lake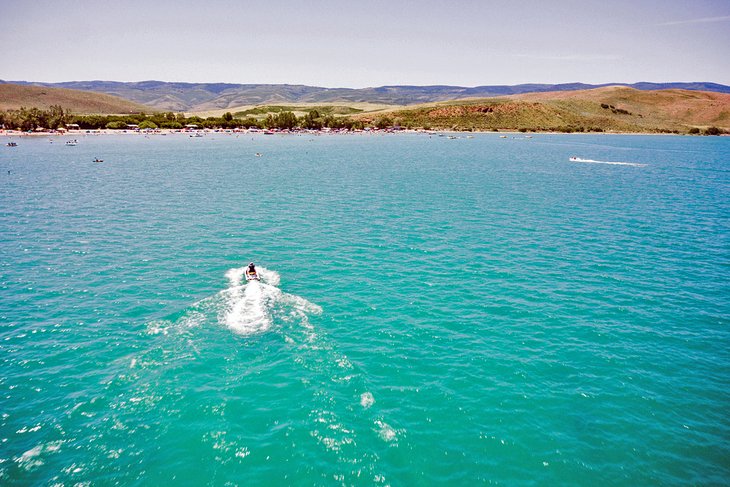 Located in the far northeast of the state, Bear Lake is 20 miles long and eight miles wide, making it the perfect place for almost any activity on the water you can imagine. Due to the suspended minerals in the water, Bear Lake has an incredible turquoise color.
Bear Lake is one of the best places for sailing in Utah. The wide-open spaces with few boats allow for long uninterrupted tacks toward the hills in the distance.
This area has long been a favorite destination for those looking to escape Utah's summer heat. The lake is the home to the longest beach in Utah, Rendezvous Beach. This beach is a summer hotspot attracting big crowds when the weather is fine. Be sure to bring all your water toys, the shallow water is ideal for wading and playing. Anchor your boat just offshore while you take a break from waterskiing, tubing, or wakeboarding.
The lake is surprisingly deep at 205 feet, which makes it a hot spot for fishing. Some of the species you can expect to find here include lake trout, Bonneville cisco, Bonneville whitefish, sculpin, and cutthroat trout. A full-service marina provides moorage and all the supplies any boater could require.
Camping is available at the lake at any one of the seven state-run campgrounds that surround the lake. Away from the lake are two golf courses, ATV trails, horseback riding, and mountain bike riding routes.
If you find yourself at the lake in August, be sure to swing by the Raspberry Festival in nearby Laketown.
3. Lake Powell and Glen Canyon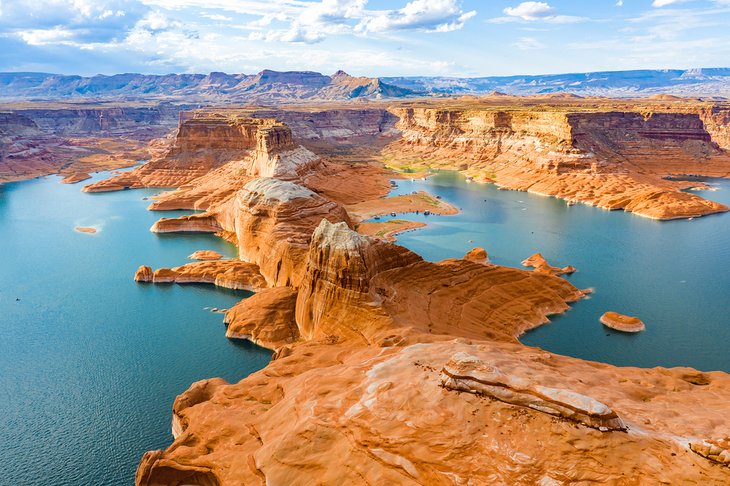 For incredible desert scenery, Lake Powell is hard to beat. Located in the remote southern part of the state near the Arizona border, this immense lake is a boater's playground. Hundreds of miles of navigable waterways twist and turn through the desert, providing an incredible distinction between extreme dryness and water.
Navigating through Lake Powell should be on every boater's bucket list. There's nothing quite like coming around a narrow stretch of the Colorado River to emerge into the fantastical sights of Padre Bay. Here, you'll find placid waters, perfect arcs of sand, and a playground of rock formations just begging to be explored. Park your boat and wander up to see the famous Hamburger Rock, with the lake providing the perfect backdrop.
Beachgoers will appreciate a stop in Warm Creek Bay. Shallow water here frequently gets into the 80-degree Fahrenheit range, making wading and swimming in the shallow waters a wonderful experience.
No boat? No problem, you can also camp along the shoreline of Lake Powell at Wahweap Bay. This wide-open area is mostly level, and you can drive your vehicle and trailer close to the edge of the lake. This is dispersed camping with no spots identified.
Lake Powell can also be accessed at Bullfrog Bay, where you'll find the wonderful Hobie Cat beach. You can drive right to the water's edge and set up your beach gear. A campground is also nearby with a variety of services available.
One of the most popular things to do on Lake Powell is rent a houseboat. These floating lodges have all the creature comforts of home, including showers, bathrooms, full kitchens, and bedrooms. The houseboats can be moored at any location
The fishing is good in Lake Powell. Motor over to a spot where you think the big one is lurking, and you'll have a chance of hooking a smallmouth or largemouth bass, crappie, striped bass, walleye, or bluegill.
Most people find it easiest to access the lake from Wahweap Bay. Accommodation and boat rentals are available here, and it's not far from most major population centers. Other access points include Bullfrog Bay and Hall's Ferry.
4. Great Salt Lake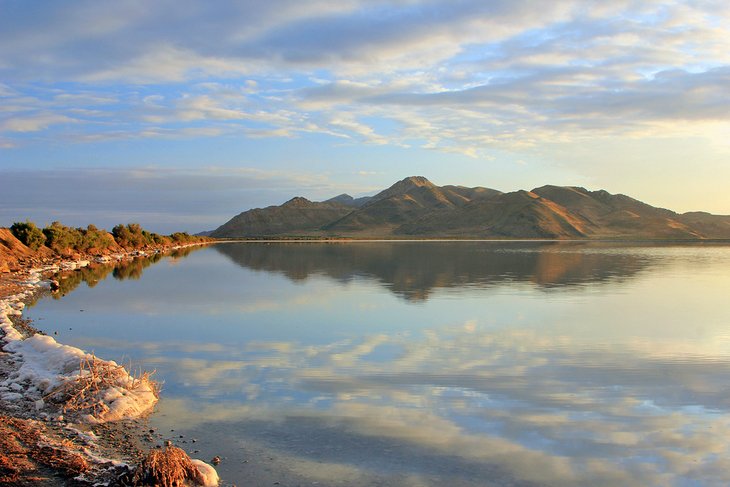 The most well-known lake in Utah is the Great Salt Lake. This scenic lake is located near Salt Lake City and covers an area of 1,700 square miles. The size of the lake varies each year and depends on the amount of water flowing in from the three rivers that supply it, along with the amount of evaporation. However, it's generally thought to be about 70 to 75 miles long and 25 to 28 miles wide.
Although many people don't think about it, the lake can be a fun place to go for a swim. The incredible saltiness of the water causes you to float near the surface. Each time you dive down you literally pop right back up to the surface. Access to the beach area where you can give this a try is at Antelope Island State Park. Here, you'll find a large beach; a concession; a restaurant; and, most importantly, showers to rinse off the salty residue from your swim.
The high level of saltiness may lead you to think that the lake is devoid of life, however, the opposite is true. The Great Salt Lake thrives with aquatic life, the main inhabitant being the tiny brine shrimp. This little crustacean is a key part of the diet of countless birds and as a result, thousands of birds descend on the lake throughout the year. The extensive marshlands along the northern and eastern edges of the lake are also a hot spot for birding due to the critical role they play in supporting migrating birds.
Antelope Island State Park is one of the best spots to access the lake. This state park offers hiking, biking, and camping for intrepid outdoorsy people. The park is also an excellent place for wildlife spotting; species you'll likely see include the animal that the park is named after, antelope, along with bison, bighorn sheep, and mule deer.
The incredible size of the Great Salt Lake makes it a popular location for sailing. Long stretches of open water and steady winds, generally in the morning and evening, make it a unique spot to sail. Note that this is mountain sailing, which means that whatever weather the mountains decide to send down their flanks, you'll be in the middle of it quickly. Be prepared for sudden wind gusts and fast-moving weather systems.
Due to the lake's salinity, it never freezes, so some of the hardiest sailors head out on the water in the depths of winter.
5. Quail Creek Reservoir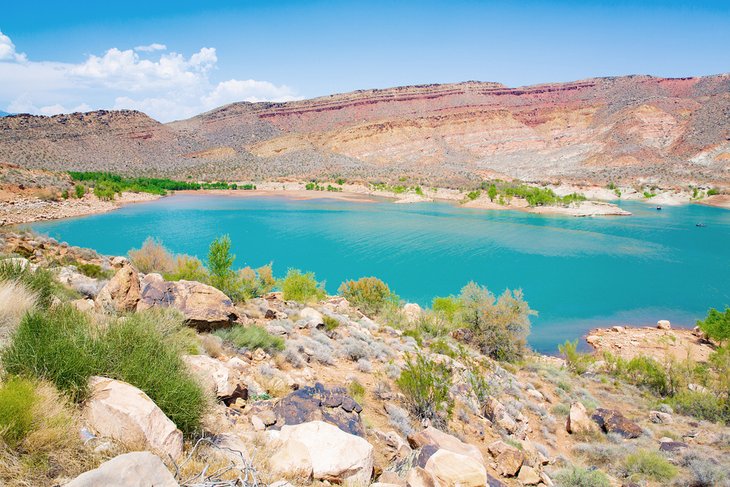 Just up the road from Sand Hollow Reservoir, Quail Creek Reservoir is an oasis of warm, clear waters set in a stunning backdrop of hills. The lake is not actually supposed to be here, if Mother Nature had her way. It was formed through an engineering marvel that sees the Virgin River diverted through a massive pipe and then dammed up across the valley mouth.
As you wade into its warm waters, you can tip your hat to the engineers that created this watery playground in the desert area near St. George. Wonderful beaches with shallow approaches line one side of the lake, and it's here you'll find picnic tables, bbq grills, and a boat launch. The nearby concession rents stand up paddleboards, kayaks, and Jet Skis. They also sell snacks, cold drinks, and ice for your cooler.
Quail Creek Reservoir is an excellent place to wet a line. The fishing here is good owing to the lake's depth, bottoming out at 120 feet. Rainbow trout love this cold water, and if you have a boat equipped with downriggers, it's worth trying to hook one. Other warm water species that hide out in the shallower water include large and smallmouth bass, bluegill, and crappie.
A campground overlooks the water. If you are looking for places to camp near St. George, this is one of the best locations.
6. Jordanelle Reservoir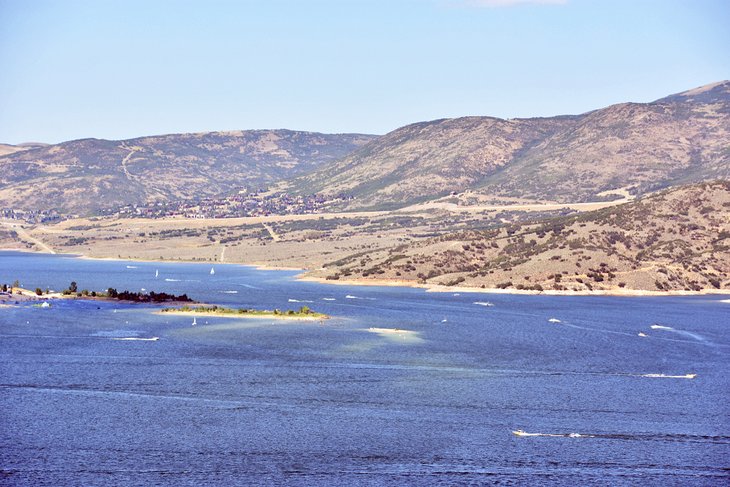 This large reservoir is only an hour away from Salt Lake City, near Park City. The reservoir is well set up for boating, fishing, and other fun water pastimes. The reservoir was home to some of the events of the 2002 Summer Olympics.
Although it's close to the city, the Jordanelle Reservoir is an ideal place to visit for a weekend or longer. Three campgrounds located in the state park are great places to take the family.
The beach area is well set up with a wide pebbly beach, and swim-to structures are moored just offshore. However, be forewarned that the water tends to be cold and rarely ventures above the mid-70s Fahrenheit. Just back from the beach are picnic tables, sun shelters, and restrooms.
Boat launches and rental slips are available at the marina, where you'll find everything marine related, including fuel, pump out station, rentals, and sundry supplies. The reservoir is a great place for pleasure boating and on warm summer weekends, it can be a busy place.
7. Utah Lake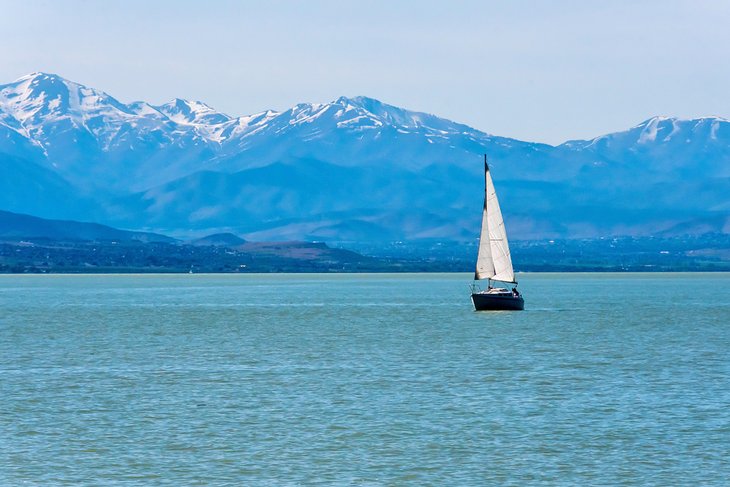 Utah Lake is a large, scenic lake, with a mountainous backdrop. The city of Provo is set just back from the eastern shoreline. In summer, the lake is popular with local inhabitants for its myriad of recreational opportunities. Pleasure boating is the number one pastime here with lots of space to waterski, tube, or wakeboard. If your pace is a bit slower, canoeing and kayaking are popular along the Provo River, which drains into the lake.
8. Deer Creek Reservoir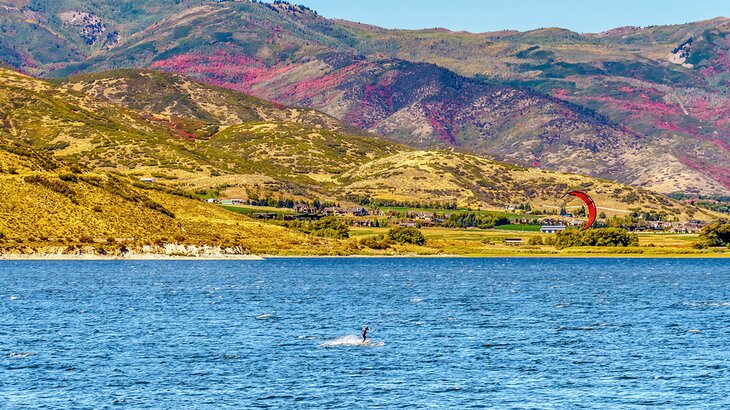 Located in Deer Creek State Park, the Deer Creek Reservoir is a wonderful place to spend an afternoon or a weekend out on the water. Cool, crisp waters are ideal for all kinds of water sports including swimming, sailing, kiteboarding, and fishing.
If you have your own boat, several boat ramps are located around the lake. If you need to rent a boat, the well-equipped Deer Island Resort has a modern fleet of pleasure craft.
Deer Creek Reservoir is a favorite destination for the residents of Salt Lake City, only an hour away. Each summer, they descend on the lake, giving the place a fun and lively atmosphere. The lake is set against the backdrop of Mount Timpanogos and in the spring and early summer, the uppermost peaks will still have snow on them, which as you lay out on the beach seems a bit crazy.
If you are planning to come for the weekend, the state park has two campgrounds, Chokecherry and Great Horned Owl. Reservations are recommended for busy summer weekends.
After your day on the beach, enjoy a fine meal prepared by renowned chef Tamara Stanger while you soak up the views at The Lakehouse restaurant.
Map of Lakes in Utah