9 Best Campgrounds near Capitol Reef National Park
We may earn a commission from affiliate links ()
The colorful cliff walls of Capitol Reef National Park are an inspiring sight, especially if you are approaching from the south and watching them come into view. Most visitors will want to spend at least one night, if not more, exploring this area of Utah.
Camping options around Capitol Reef range from the national park campground to RV parks in the nearby town of Torrey and more remote BLM (Bureau of Land Management) campgrounds in the surrounding area. While the Fruita Campground in Capitol Reef is open year-round, many others are only open seasonally, closing for the cold winter months.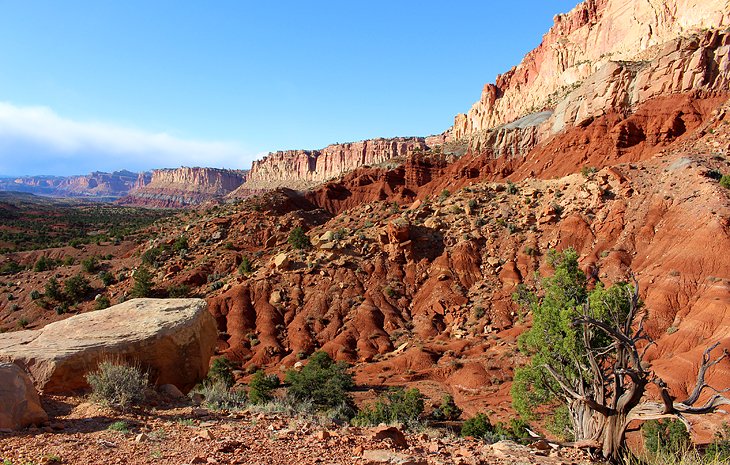 The elevation of Capitol Reef National Park is in the 6,000- to 9,000-feet range, and the nearby town of Torrey is more than 6,800 feet. At these high elevations, overnight lows are usually below freezing from November to late March. The best time for camping at Capitol Reef is late spring through fall. You can find more ideas here for where to stay in the off season.
For a complete look at the camping options, see our list of the best campgrounds near Capitol Reef.
1. Fruita Campground in Capitol Reef National Park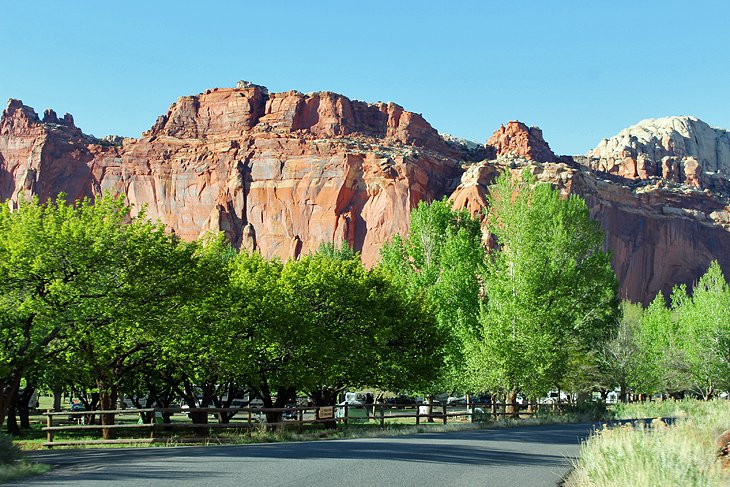 One of the nicest national park campgrounds in Southern Utah, Fruita Campground is set on the edge of an orchard and backed by sheer red rock cliffs. Large, leafy trees scattered around the grounds provide shade and filtered light to the campsites.
The campground accommodates tents and RVs and is conveniently located at the start of the scenic drive through Capitol Reef.
Fruita Campground is open year-round. The 71 campsites, all of which are reservable six months out from March 1st to October 31st, include 64 multi-purpose campsites without hookups and seven walk-in tent sites. Sites are large and have paved parking pads.
Facilities include flush toilets, a nearby RV dump, and water fill station, and all sites, except walk-ins, have a picnic table, fire pit, and grill. Walk-in sites have grills but no fire pits.
2. Wonderland RV Park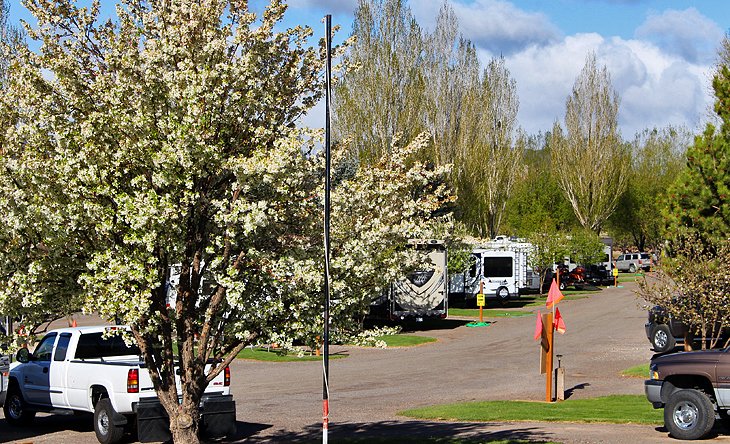 The closest town to Capitol Reef National Park is Torrey, and the most popular RV park in Torrey is the Wonderland RV Park, just 15 minutes from the Capitol Reef Visitor Center.
This campground offers large pull-through sites and full hookups, paved parking pads next to a small patch of grass, showers, restrooms, laundry, and plenty of trees scattered throughout the park. Wonderland also offers areas for tents and rents camping cabins. This park is open from mid-March to early November.
Official site: http://www.capitolreefrvpark.com/
3. Thousand Lakes RV Park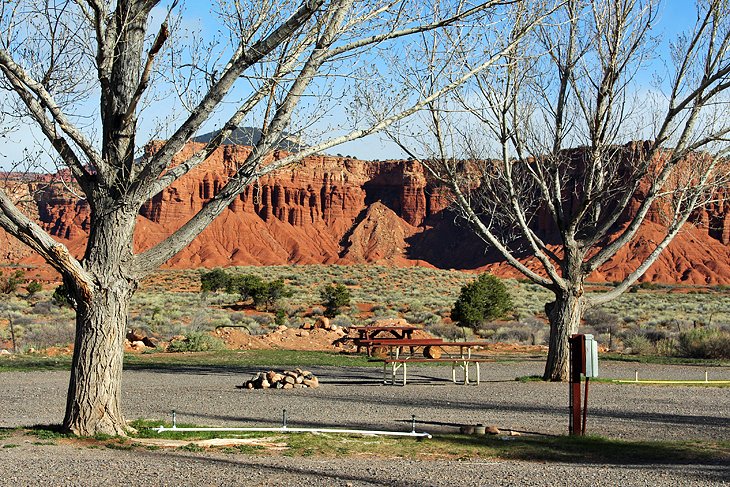 Also in Torrey, but closer to downtown, is the Thousand Lakes RV Park. Here, you'll find beautiful views and similar amenities to Wonderland, although sites here are not paved, and the campground is a bit more rustic.
The property has a pool and more of a homey feel to it, with Western cookout dinners in the evenings and fresh-baked muffins available in the mornings. You can also rent cabins here. This campground is open from April 1 to late October.
Official site: https://www.thousandlakesrvpark.com/
4. Sand Creek RV Park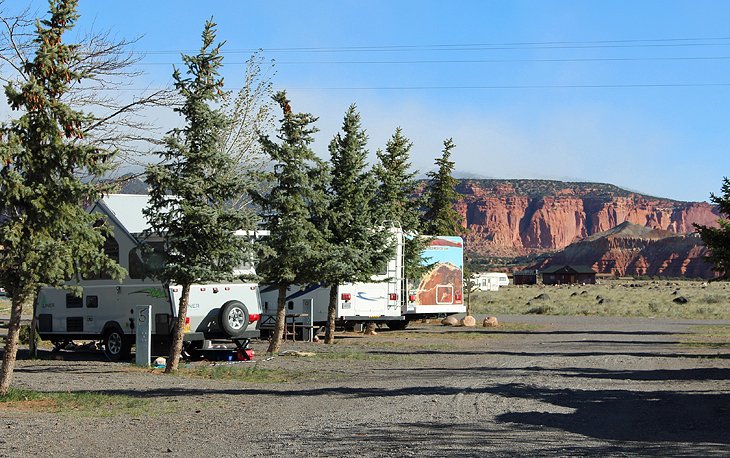 Sand Creek RV Park is located in Torrey, not far from Thousand Lakes RV Park. From the grounds, you look out to the red rock cliffs in the distance. In the morning, the light on the hills is fantastic, and it's a beautiful spot to enjoy your first cup of coffee.
Sites are fairly basic, but the park offers full hookups for RVs and separate areas for tents and tenting groups. They also rent cabins. This campground is open from March 1 to October 31.
5. Pleasant Creek Campground in Dixie National Forest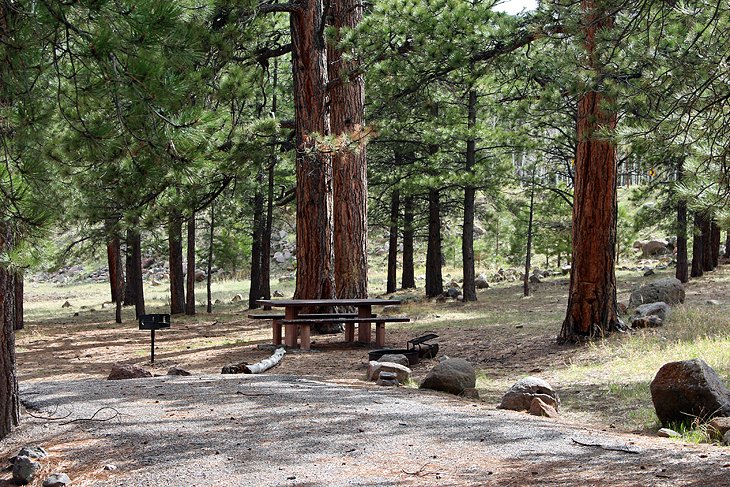 If you prefer a bit more space and a more natural environment, the BLM (Bureau of Land Management) campgrounds in nearby Dixie National Forest offer a great alternative to the RV parks.
Three campgrounds, Pleasant Creek, Oak Creek, and Singletree are all located within a short distance of each other, along Highway 12 (also known as Scenic Byway 12), south of Capitol Reef. This incredible stretch of highway, running from Escalante through Boulder and on to Capitol Reef National Park, is incredibly picturesque and reaches an elevation of around 9,200 feet.
Just 35 minutes from Capitol Reef National Park, Pleasant Creek Campground, off Highway 12 south of the park, is set in a stand of ponderosa pines with a small creek running through the grounds. This can serve as a good base if you also want to explore nearby Grand Staircase- Escalante National Monument.
At an elevation of 8,700 feet, this is a seasonal campground open from mid-May to mid-September. In winter, the area is covered in snow.
The campground has 16 relatively large and well-spaced sites, all of which come with a picnic table, fire pit, and grill. This campground is not suitable for RVs more than 25 feet in length.
Noise from the highway will affect campers closest to the highway, although traffic is typically light at night. Facilities consist of pit toilets.
The campground does not take reservations, all sites are first-come, first-served.
6. Oak Creek Campground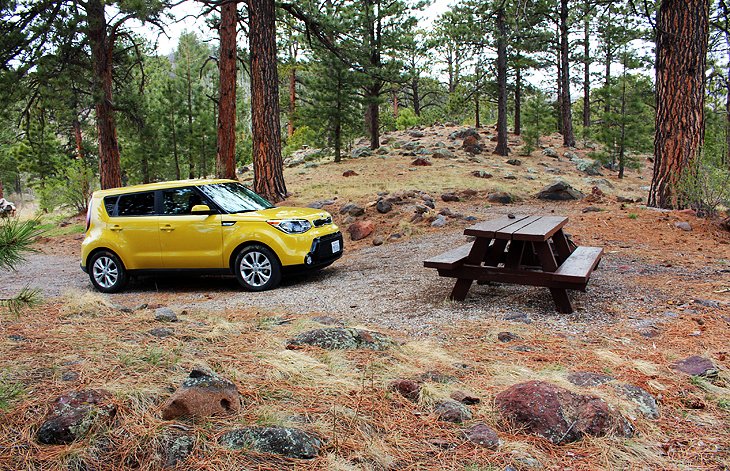 Just up the road from Pleasant Creek Campground, off Highway 12, Oak Creek Campground is another BLM camping area. Here you'll find a similar environment, but it is set a little farther back from the highway and is slightly more secluded.
Huge Ponderosa pines dominate the campground, and pine needles carpet the ground. This campground is a little higher than Pleasant Creek, at 8,900 feet, and is also open mid-May to Mid-September. Nine sites offer space for tents and RVs up to 20 feet. Facilities here are limited to pit toilets.
7. Singletree Campground, Dixie National Forest
Singletree Campground is located in the same vicinity as Oak Creek and Pleasant Creek Campgrounds but at a slightly lower elevation (8,600 feet) and a little closer to Capitol Reef. With 31 tent and RV sites, this is the largest of these three campgrounds.
As with the others, it offers no hookups or drinking water and only pit toilets along with a dump station.
The campground is open from mid-May to mid-September. Of the 31 sites, 13 are reservable at least four days in advance.
8. Sunglow Campground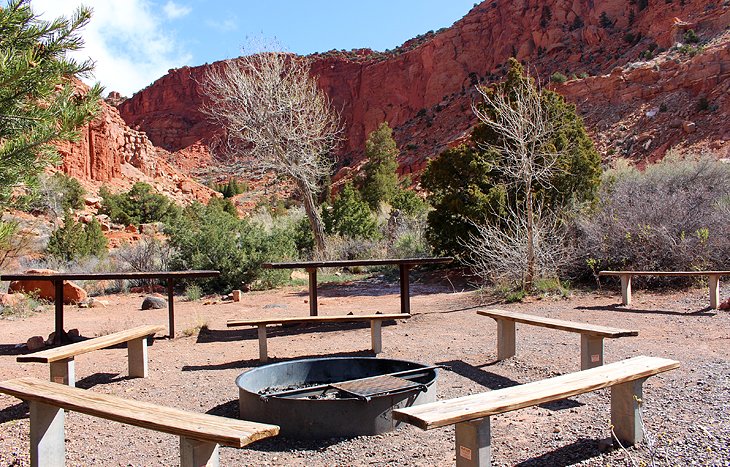 Just 30 minutes west of Capitol Reef, Sunglow Campground (BLM - Bureau of Land Management) offers a quiet, off-the-beaten-path camping experience in a beautiful setting. Unlike the pine-covered alpine surroundings of the BLM campgrounds along Highway 12, Sunglow is located in a desert landscape.
Tucked in among the red rock cliffs of a box canyon, this campground offers extremely private sites, with pinon pines, junipers, cottonwoods, and plenty of low bushes to block off surrounding campsites.
This seven-site campground is open year-round. Two standard sites and one group site are reservable, the rest are first-come, first-served. The elevation here is 7,200 feet, meaning temperatures are generally cool from fall until spring.
Sunglow is located west of Capitol Reef National Park, about one mile down a paved road, off Highway 24, near the town of Bicknell.
9. Cowboy Homestead Guest Cabins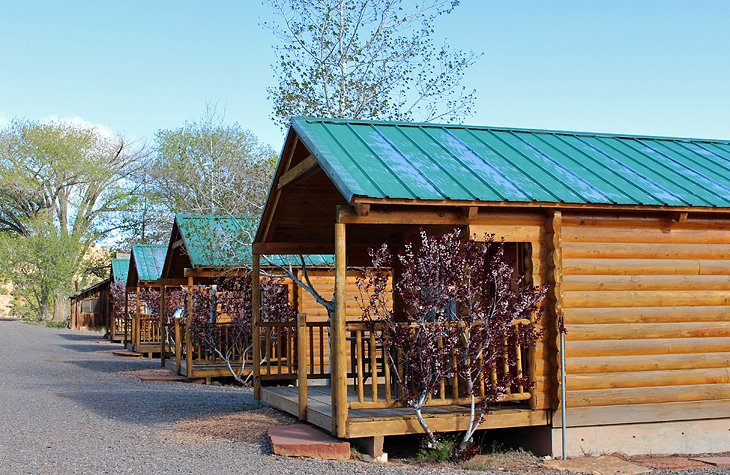 If you are looking for an alternative to camping but still want to maintain the feel of a camping trip, you might want to consider renting a rustic cabin. Cowboy Homestead Guest Cabins is located less than 20 minutes from Capitol Reef National Park, off Highway 12 in a rural area.
The pine interior of the one- and two-bedroom cabins offer all the comforts of home, including kitchenettes, queen beds, full-baths, TVs, Wi-Fi, patios, and barbecues. Views look over pasture land to the surrounding mountains.
Where to Stay near Capitol Reef NP when Campgrounds are Closed or Full
Many of the campgrounds are only open seasonally, and not all campers are prepared to brave some of the cold winter temperatures. If you can't find a camping spot or decide you would like the warmth of a hotel for a night or two, several good options are available in the nearby town of Torrey, just minutes from Capitol Reef.
Luxury Hotels: The Capitol Reef

Resort

, just 10 minutes from the park, offers elegant cabins and rooms with fantastic views, as well as luxury Conestoga Wagons, or if you're up for the experience, teepees. You can truly find whatever experience you're looking for at this resort, although it may be more upper-end than you imagined. The property also offers a heated outdoor pool and hot tub, dining, and a variety of excursions and adventures.
Mid-Range Hotels: A popular mid-range option, Austin's Chuckwagon

Motel

offers rooms and cabins and has a perfect setup for families. The property is conveniently located in Torrey, close to restaurants, and is only 15 minutes from Capitol Reef. Also located in Torrey, the Red Sands

Hotel

offers comfortable, quiet rooms; an indoor pool; and complimentary breakfast. The Broken Spur

Inn

is another good choice, offering basic rooms with a fridge and microwave, but the property is closed from mid-November to March 1.
Budget Hotels: Reasonably priced hotels are hard to come by in Torrey. However, the Days

Inn

, offering basic rooms, a heated indoor pool, and free continental breakfast, is usually your best bet in this category.
More Great Places for Camping & Hiking in Utah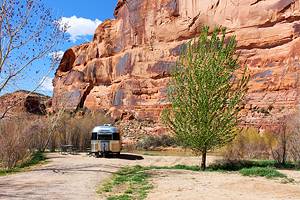 Camping in Utah: You can find great places to camp throughout the state at any time of year. One of the great outdoor adventure areas in Utah is Moab. You can find everything from hiking and mountain biking to ATVing and skydiving. If you want to stay in this area, you'll find some great camping around Moab in Canyonlands and Arches National Park. To the southwest of here, camping at Zion National Park is a highlight, and nearby, camping at Bryce Canyon National Park can be a nice escape from the summertime heat.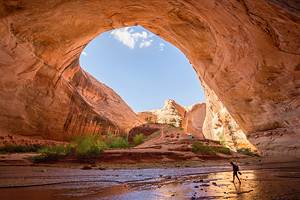 Hiking in Utah: Hikers looking to find some of the best trails in Utah should see our article on the top hikes in Utah. One of the greatest areas for hitting the trails is Zion National Park, but the best hikes in Bryce Canyon National Park are a close second. If you are heading over towards Moab, be sure to see our guide to the best hikes and walks in Arches National Park.