11 Top-Rated Attractions & Things to Do in St. George, Utah
St. George is a lovely, modern city, and well positioned in Southern Utah. Its latitude and elevation allow for a favorable climate, with relatively warm winters compared to the rest of Utah. Many people use St. George as a base or a starting point for trips to nearby parks, most notably Zion National Park, less than an hour away. The city is also within easy striking distance of some fabulous mountain biking trails, particularly at nearby Hurricane. But St. George has some interesting attractions worth exploring within the city limits. Families will find interesting parks and children's activities, especially during the summer months. The city's Mormon influence can be seen in the monuments and historical buildings. And, in the surrounding area, you can see glimpses of the city's natural and cultural history, from dinosaur tracks to petroglyphs. For ideas on what to see and do, have a look through our list of top attractions in St. George.
1. St. George Utah Temple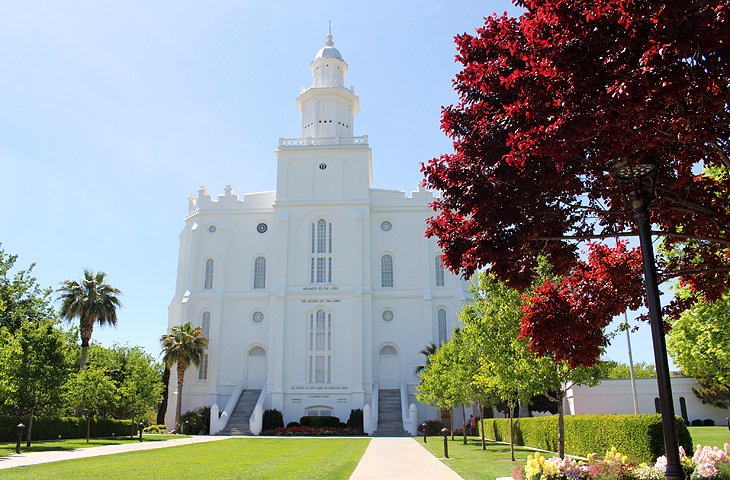 Occupying a complete city block, this impressive and imposing building is a must-see in St. George. The temple is 175 feet high and more than 110,000 square feet inside. Work was begun on the temple in 1872 and finished five years later. Only members of the Mormon faith are permitted in the temple, however, there is an on-site visitor center open to the general public. The grounds of the temple are open and feature many mature and beautiful trees and flowering plants, which are particularly beautiful in spring.
Address: 250 E 400 S, St. George, Utah
2. Pioneer Park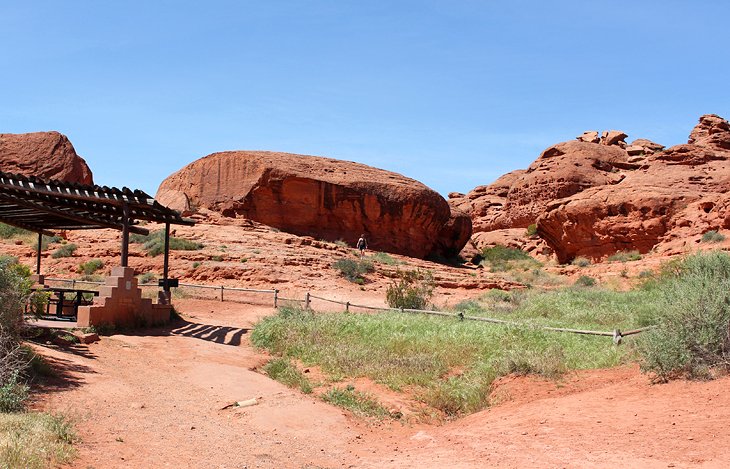 Perched high above downtown St. George, Pioneer Park is a fun place to spend an afternoon. An ideal family outing, many people come here to enjoy a picnic or barbecue in the sheltered picnic areas. The park covers 52 acres, much of which is dominated by red rock landscape. Walking trails wind through the boulders and across flat areas and numerous slot canyons, which can be safely and easily explored by those of all ages. Other interesting places to visit are a historical pioneer cabin and Boy Scout Cave. For those looking for great city views and a bit of solitude, it's easy to find scenic areas and lookouts not far from the parking lot.
3. Hiking Trails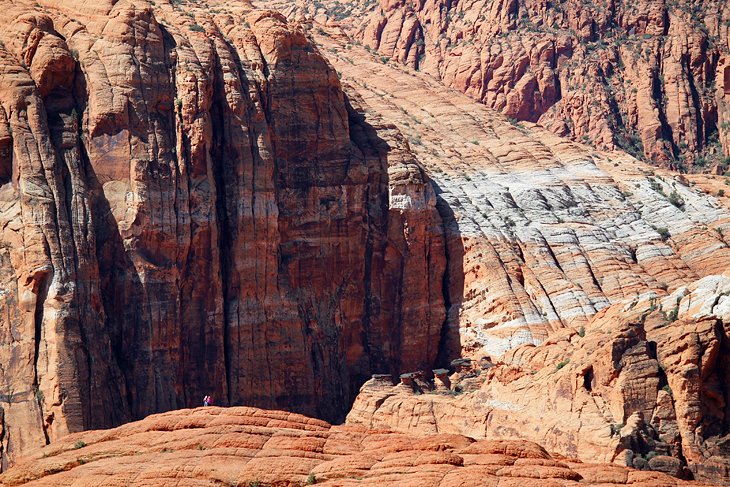 Most visitors to St. George only think about nearby Zion National Park when it comes to hiking, but in and around St. George, you can find all kinds of great hiking trails without the crowds. One of Utah's great undiscovered treasures is nearby Snow Canyon State Park. Located just 20 minutes from St. George, this park offers a full range of geological wonders, from lava tubes to red cliffs and petrified dunes. You'll find an assortment of amazing trails offering spectacular views over the canyons and volcanic landscapes, or winding through a slot canyon. Other wonderful areas for hiking can be found at nearby Sand Hollow State Park and right in the city at Pioneer Park. Also worth exploring are the trails in the Red Cliffs Recreation Area, a wide-open area with options for hikers and horseback riders. For a complete look at hikes in the area, see our article on the best hikes near St. George.
4. Sand Hollow State Park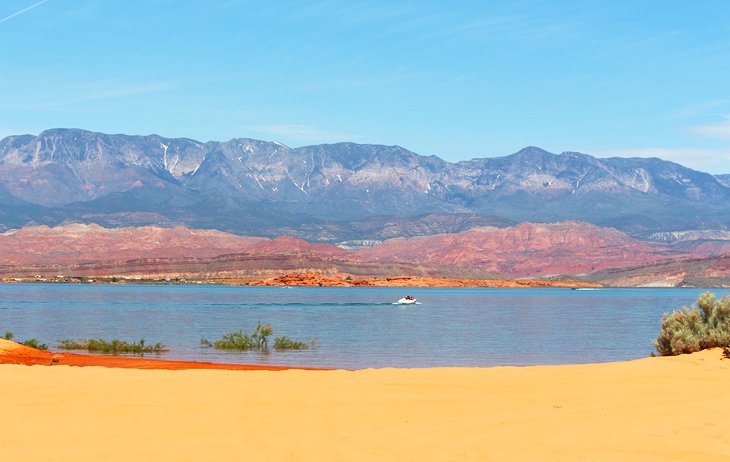 Sand Hollow State Park, encompassing the Sand Hollow Reservoir, is one of the largest and most popular state parks in Utah. The landscape here is unlike anything else you'll find in Utah. Giant sand dunes drift down to the crystal-clear water, forming a beautiful orange-hued beach. In the distance, snow-capped mountains round out the scene. The park covers 20,000 acres and offers all kinds of recreational opportunities. One of the most popular activities is driving through the dunes in off-road vehicles. Boating and sailing are also incredibly popular, and many people come to simply lounge on the huge beach. Other options include hiking, mountain biking, and horseback riding. Camping is available in two formal campgrounds with full or partial hookups. There is also a primitive camping area with no facilities. This is one of the best places to camp near St. George, which is only a 20-minute drive away.
Official Site: https://stateparks.utah.gov/parks/sand-hollow/
5. Brigham Young Winter House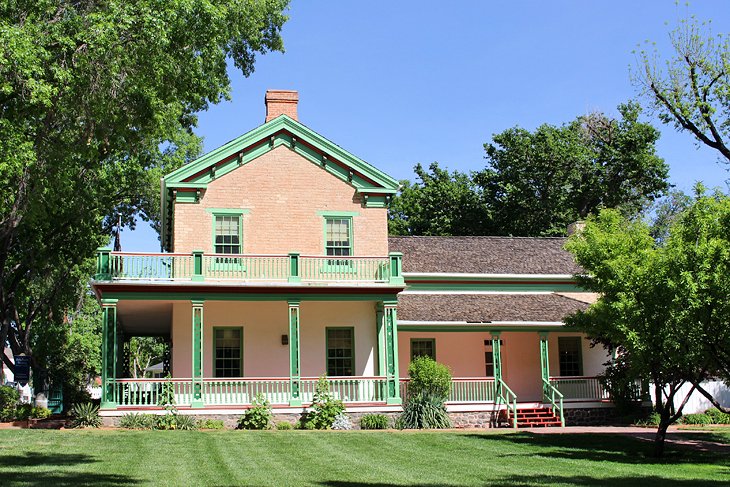 The Brigham Young Winter House is a perfectly preserved home used from 1873 to 1876 by the President of the Mormon Church. He came to St. George to ease his arthritis, which was aggravated by the cold winters in Salt Lake City, and also to supervise the building of the St. George Chapel and Tabernacle. Inside the home, you will find original furniture used and built by Brigham Young along with other period pieces from the late 19th century. Admission is free, and the guided tours are informative and interactive, offering insight into the lifestyle of this man and the way of life during this time period.
Address: 67 West 200 North, St. George, Utah
Official site: https://www.lds.org/locations/brigham-young-winter-home?lang=eng&_r=1
6. St. George Children's Museum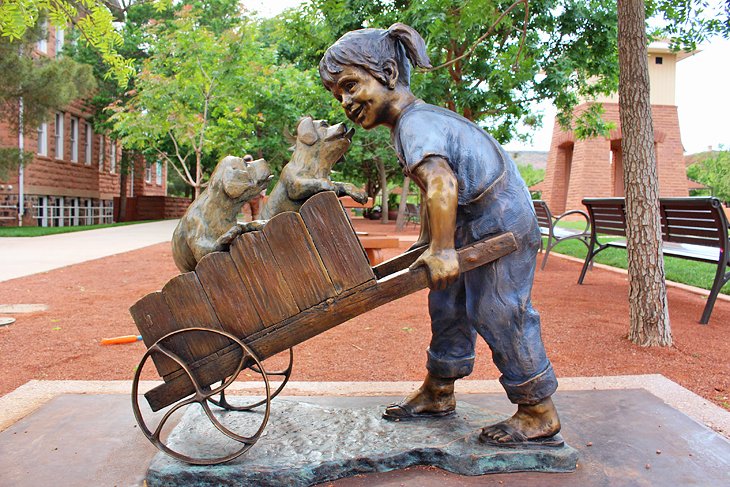 The Children's Museum is housed in a historic building where you'll find 12 rooms full of interactive and fun exhibits for young children. Exhibits vary but include areas like a music room with all kinds of instruments to try, a farm room where you can milk a model cow, and even a room recreating the Oval Office. In summer, a visit to the St. George Children's Museum can be combined with an afternoon at the splash pad next door at Town Square Park for a full day of fun. Admission is free on the first Thursday of each month.
Address: 86 South Main Street, St. George, Utah
Official site: https://www.sgchildrensmuseum.org/
7. Town Square Park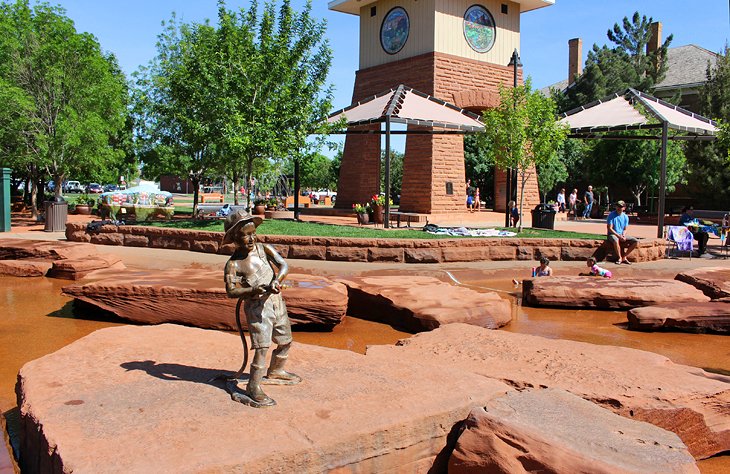 If you are traveling with young children and are looking for a fun, free way to pass an afternoon, Town Square Park is just the spot. Here, you will find an immense splash pad, a lazy river, and a variety of other water features sure to provide endless hours of entertainment on a hot sunny day. If your little ones tire of the water, there is also a historic carousel they can ride for a small fee. The park is surrounded by some of St. George's most historical and beautifully restored buildings, including the Tabernacle. The park offers free Wi-Fi and has electrical outlets for those needing to connect.
Address: 175 East 200 North, St. George, Utah
8. Red Hills Desert Garden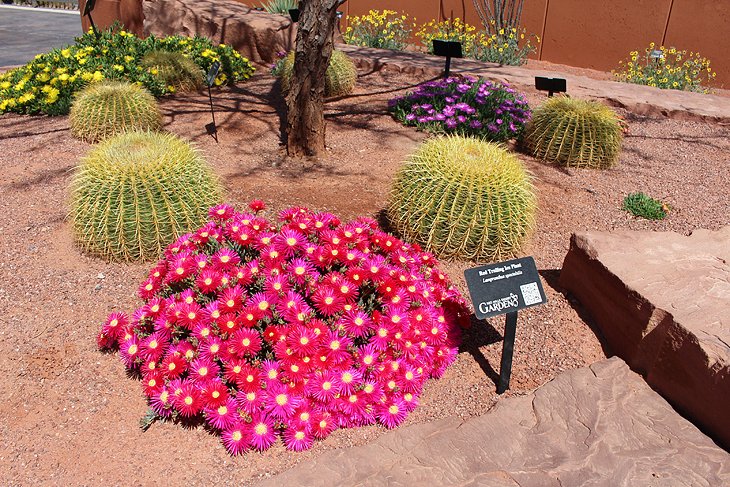 Red Hills Desert Garden is a spectacular garden showcasing the flora of the surrounding countryside. The garden is filled with more than 5,000 plants, some so brightly colored, they almost seem to glow against the backdrop of the red soil and rocks. Plant descriptions are displayed on metal stakes placed along a walkway winding through the garden and crossing over a slow-moving stream containing endangered native fish species. You can also see 200-million-year-old dinosaur tracks and a replica slot canyon. The garden is located off Red Hills Parkway to the right of Pioneer Park. If you have time, you can combine a visit here with a stop at Pioneer Park.
Address: 375 E. Red Hills Parkway, St. George, Utah
9. Kayenta Art Village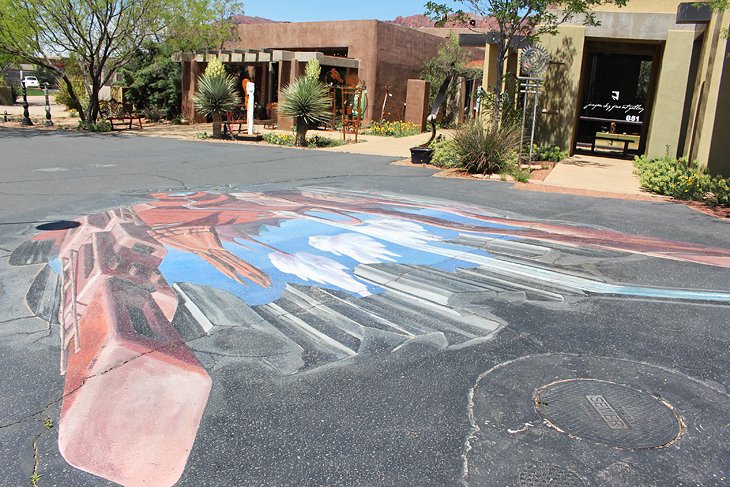 A short drive from St. George will bring you to the scattering of homes in Kayenta and the Kayenta Art Village. Here, you will find art galleries, a spa, studios, and an outdoor café. The area where the shops are is pedestrian-only and is a nice area to wander through for a morning or afternoon. The village is a pleasant spot to look for unique items and grab a light lunch or coffee on the covered patio.
Official site: http://www.kayentautah.com/the-community/kayenta-art-village/
10. Little Black Mountain Petroglyphs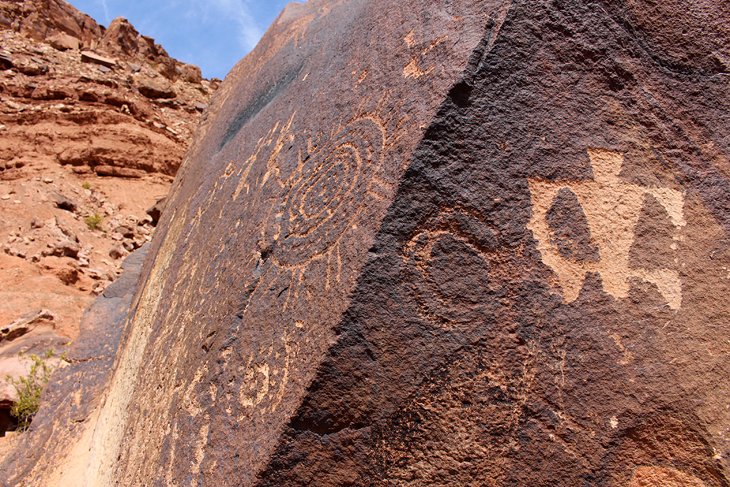 If you are up for an outing into the desert, the Little Black Mountain Petroglyphs offers an interesting and fun destination. A short walking trail leads around huge boulders revealing well-defined petroglyphs. While the drive out here takes some navigating, once here, the site is easy to access, and the carvings are right at the side of the trail. The site is located south of St. George, off East River Road. Once East River Road turns into a dirt road, you will continue on, following sign posts, for about 3.5 miles to the site. ATV trails intersect with the main dirt road, so be sure to stay on the main road.
11. St. George Dinosaur Discovery Site at Johnson Farm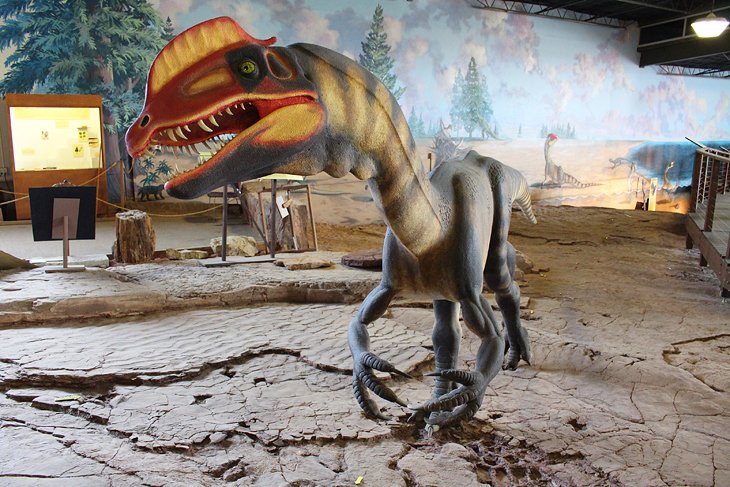 Dinosaurs once roamed this area of Utah and at the Dinosaur Discovery Site, you can see exactly where they walked. Thousands of fossilized dinosaur tracks have been found here, at the site of an Early Jurassic Lake. The site contains a large collection of tracks from various creatures from this period, including the swim trails of fish and the tracks of insects. In the exhibition center, you can see life-size representations of the dinosaurs that made the tracks, along with murals of their environment.
Address: 2180 East Riverside Drive, St. George, Utah
Official site: https://www.utahdinosaurs.com/
Where to Stay in St. George
Luxury and Mid-Range Hotels: Handy to Snow Canyon State Park, The Inn at Entrada is a luxurious hotel complete with spa services to soothe away any sore muscles from your daily expedition. Near Pioneer Park, the Inn on the Cliff has a large outdoor pool and rooms with stunning views out over St. George and beyond. A good mid-range option is the Best Western Plus Abbey Inn. This is a large hotel with an outdoor pool. It's located close to major access roads and is near the Hungry Bear Restaurant, a local favorite. Located farther south is the popular and pet-friendly, La Quinta Inn & Suites.
Budget Hotels: An independently owned and operated property is the Chalet Motel. Rooms have recently been renovated, and units with three beds are available, making it handy for families. If you are traveling with a pet, both the St. George Inn and Suites and the Comfort Inn Saint George North are good options. A free breakfast is included with the room rates, and both hotels have outdoor pools.
More Related Articles on PlanetWare.com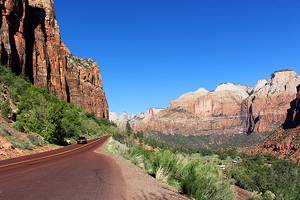 Exploring nearby Zion National Park: Just an hour up the road from St. George is Zion National Park, one of the most popular parks in the United States. If you are visiting the park, be sure to see our article on the top things to do in Zion National Park. Hikers will find Zion has some of the most spectacular hiking in the Southwest. For a look at the best trails, don't miss our list of the top hikes in Zion NP. Campers and RVers will also want to check out our piece on the best campgrounds around Zion National Park.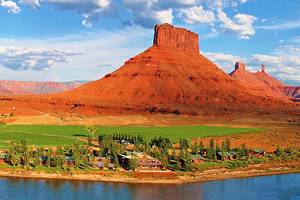 Exploring the Best of Utah: Southern Utah is nothing less than spectacular. For a look at where to go and what to see, read our article on the top attractions and best places to visit in Utah. Outdoor enthusiasts should check out our list of the best national and state parks in Utah. Visitors frequently hear about and see ads for the "Mighty 5," referring to the big five national parks, but the state also has some incredible state parks you won't want to miss. Hikers can look to our top-rated hiking trails in Utah article for inspiration. And if you are simply looking for a great place to relax and enjoy a getaway, be sure to have a read through our top resort picks in Utah.