18 Top-Rated Things to Do in Moab, UT
Moab is a playground for hikers, bikers, climbers, campers, and anyone into water sports, ATVs, four-wheel driving, or general sightseeing. You don't have to be an adrenaline junkie to enjoy Moab, but if you are, you won't be disappointed.
The scenery in this part of Utah is beyond imagination, with canyons, arches, the Colorado River, and slickrock dominating the landscape.
The number of things to do around Moab are boundless and intriguing for all ages. If you are just passing through and have limited time, take advantage of some of the incredible sightseeing opportunities. But if you have a few days or more, plan on some outdoor activities and epic adventures.
For a more detailed look at the options, see our list of the best things to do in Moab.
1. Hike to Delicate Arch in Arches National Park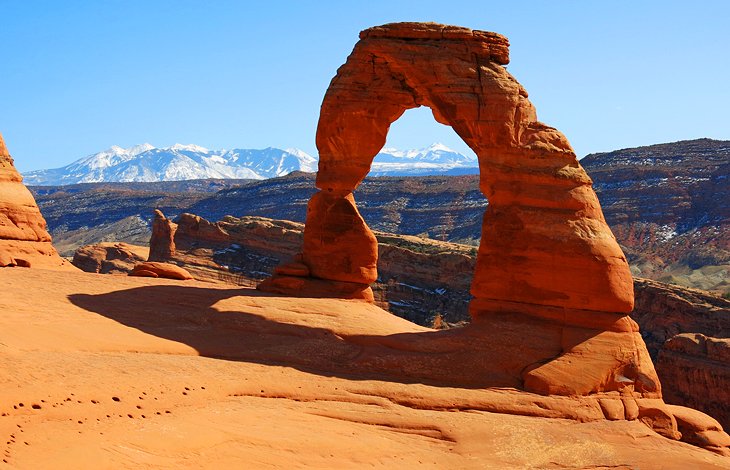 One of the most famous sites near Moab is Delicate Arch in Arches National Park. The park itself is spectacular, but if you only have time for one hike, make it the hike out to this spectacular, free-standing arch. If you don't have time for a hike, you can still catch a distant view of the arch from a lookout area below, but it does not give you the same sense of awe that comes with standing at the base of the arch.
This is a three-mile round-trip, out-and-back hike, with a gradual ascent to the arch. Most of the hike is over rock and in full sun, so unless you are here on a cool day, it's best to avoid doing this hike midday, and be sure to bring water.
You have to hike right to the end of the trail to see the arch, which comes into view as you round a curve. The best time to see and photograph Delicate Arch is in the late afternoon, when the sun turns the rocks a glowing orange color.
Late afternoon and early evening hikes are a popular thing to do in Arches National Park, and the parking lot tends to fill up during the high season with hikers looking to catch the sunset.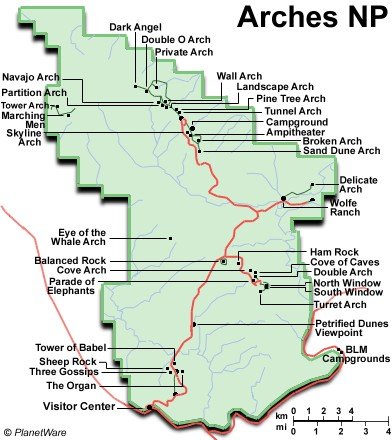 2. Bike the Slickrock Trail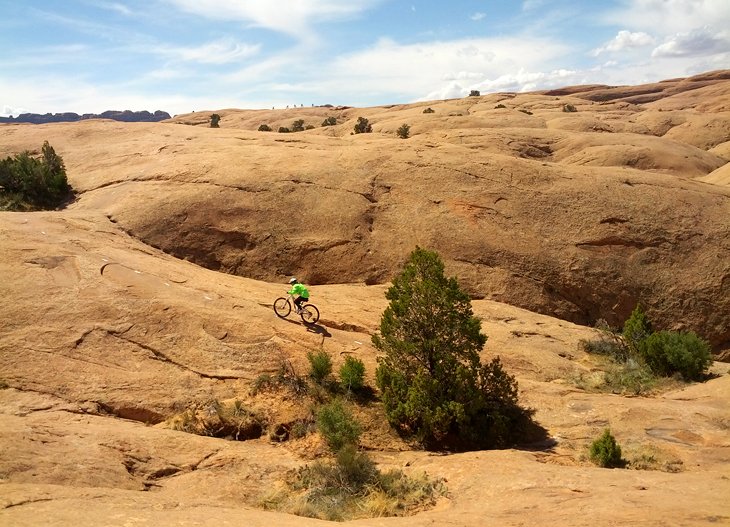 Moab is a popular destination for mountain bikers, and the Slickrock Trail is one of the reasons why. If you're a mountain biker, you've likely heard of this trail.
The Slickrock Trail is a workout and suited to advanced mountain bikers, but despite this, everyone seems to do it, regardless of ability. Intermediate mountain bikers will find it totally doable, with some walking involved on more difficult areas.
People who have not been on a bike in years also attempt this trail and can be heard in the evenings recounting their harrowing experiences, with shell-shocked looks on their faces. This is not a recommended course of action. It takes much longer to complete if you are less experienced because it will involve more time spent walking than biking, and there are equally enjoyable and less challenging trails in the area.
The full Slickrock Trail is 12 miles, but there is a three-mile test loop, which includes a portion of the main trail. This is a good place to test your skills and determine if you want to tackle the whole loop. For some people, the test loop is the best part, with fun sections and a good ride without the commitment of a longer trail.
This Slickrock Trail is a true cardio workout, with plenty of heart-pounding climbs and steep descents.
3. Explore Canyonlands, Island in the Sky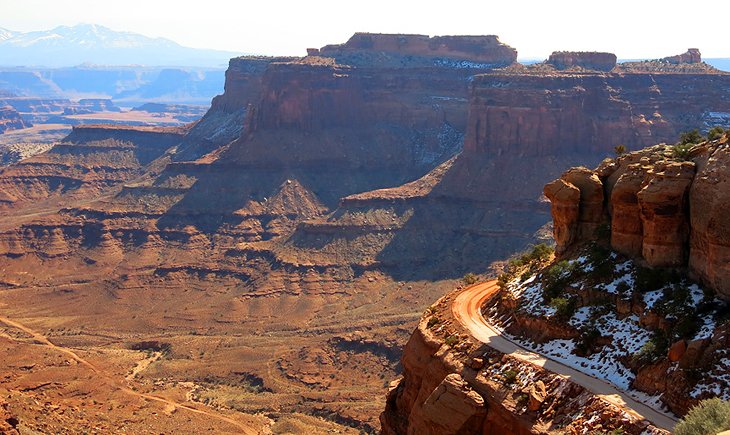 The Island in the Sky Section of Canyonlands is north of Moab, beyond Arches National Park. This park is spectacular, with views that easily rival the Grand Canyon. It's one of the best places to visit in the Moab area. Stop at the visitor center to get information on the park and learn about the geology and then head off to see the overlooks.
If you have time for only one walk, make sure it is the Mesa Arch trail. This short loop trail leads out to Mesa Arch, one of the most photographed arches in Utah. This incredible arch frames the carved landscape, with a sheer drop off the backside of the arch. The ground is flat up to the arch, and the drop-off is not visible until you are up close, so be careful as you approach if you have children.
4. See the View from Dead Horse Point State Park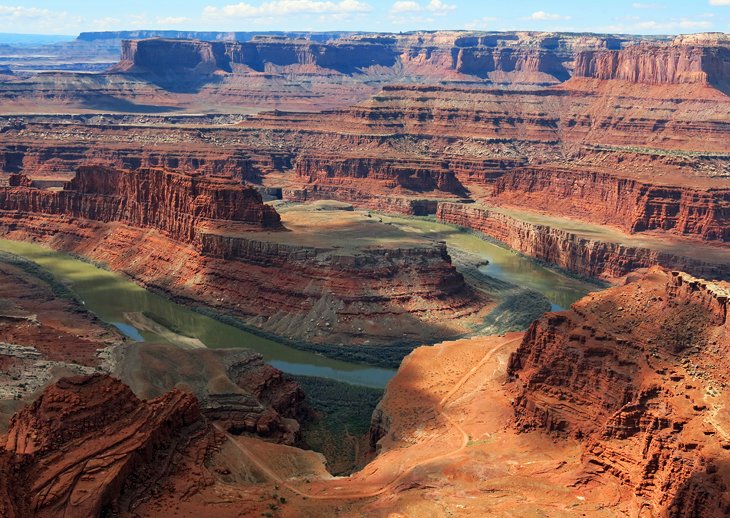 Dead Horse Point State Park is off the road that leads up to Canyonlands National Park and offers a spectacular view over a huge bend in the Colorado River, 2,000 feet below. It may be tempting to skip this lesser known park after seeing other lookouts but that would be a mistake. Not only is the view here incredible, it's a little different than the others in the area, with the Colorado River so close.
It also offers a good look at the Potash Road that runs along the edge of another cliff far below as well as a glimpse of Thelma and Louise Point, below and to the left. If you have driven this road, the bird's eye view from Dead Horse Point State Park will give you a new perspective.
5. Hike or 4WD in the Needles Division of Canyonlands National Park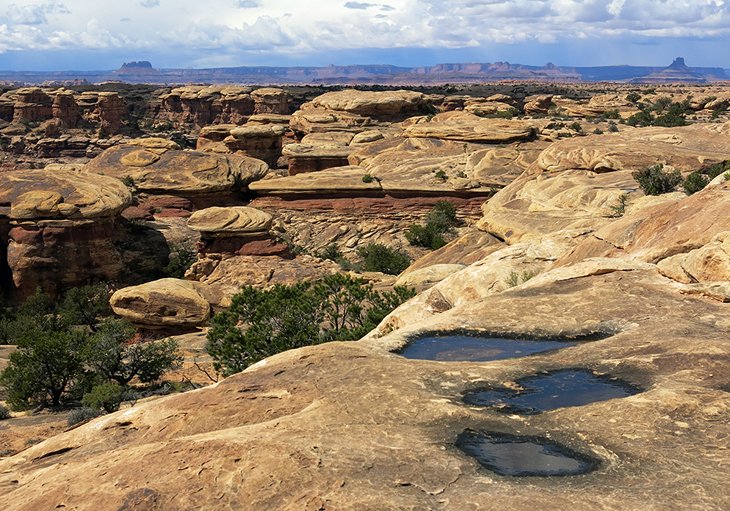 The Needles Division of Canyonlands National Park is south of Moab and feels much more remote than the Island in the Sky section. The drive into this section of the park is incredibly scenic and part of the attraction of this area.
The Needles is not known for the grand overlooks like you find at the Island in the Sky Section, but the landscape here is outstanding, with some great hiking and serious 4WD roads to explore. The majority of the hikes here are minimum half-day or full-day hikes, with few options for people looking for short nature walks.
One of the main highlights for general sightseeing or a short hike is Pothole Point, a moonscape setting with potholes in the rocks that fill with water after rains. Even if there is no water in the potholes this is still a spectacular area. A short hike takes you out into the potholes, and there are picnic shelters in the vicinity.
Nearby is the Slickrock Foot Trail, which is slightly more demanding but still an easy and scenic path with extensive views.
One of the best 4WD roads is the Colorado River Overlook, which leaves from the Needles Visitor Center and is very demanding. Check with staff to see about conditions of the road before venturing out, and be aware that you may not make it all the way to the Overlook.
Elephant Hill is reached by a dirt road and is another of the park's highlights.
Camping is available in the park on a first-come first-served basis at Squaw Flat, which has 26 campsites.
On the paved road leading into The Needles is Newspaper Rock, with a densely packed area of petroglyphs on the face of a rock wall. There is a pullout area, and it is definitely worth stopping to see.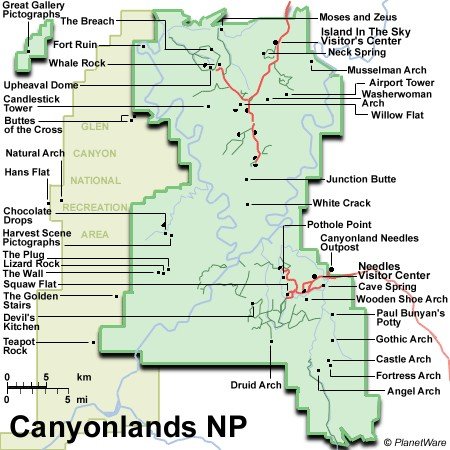 6. Drive the Potash Road to Thelma & Louise Point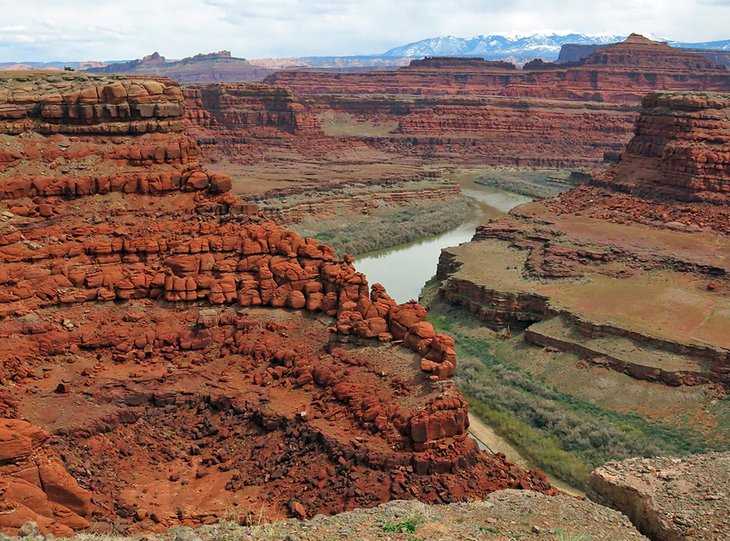 The Potash Road is a rugged, dirt road, but passable for most vehicles. It runs through some dramatic rock scenery with views out over the Colorado.
The road (Highway 279) begins about four miles north of Moab, heading west off Highway 191. About five miles from the start of this route, you can see petroglyphs, and a little further on are some dinosaur tracks, but some of the most stunning views are much further on, beyond Intrepid Potash, where the paved road turns to gravel and becomes Highway 142.
This leads to what is commonly referred to as Thelma and Louise Point, the location for the final scene in the American movie Thelma and Louise. In this scene, a convertible is driven off the edge of a cliff, portrayed in the movie as being the Grand Canyon, but the filming actually took place at this location in Utah.
The area is not well sign-posted. A few miles before the point is a very small sign indicating it is a few miles to Thelma and Louise Point, but it's easy to miss, so you should keep an eye out as you drive along. At the actual location is a flat gravel parking area and no guard rails or security barriers.
The view is incredible, but even if you miss the actual point, there are other pullouts along here that also lookout over the same scenery and they are all equally spectacular.
One of the unique aspects of this road is its position on the edge of a plateau high above the Colorado River but far below the cliff on the opposite side of the road. At one point along the drive, the Dead Horse Point State Park lookout is visible in the distance high above. The road continues on to Canyonlands National Park, but if you are not up for driving the hair-raising, cliff-hugging switchbacks of Shafer Trail Road (See #10 below), you should turn around and head back by the same route. There is absolutely nothing out here, so make sure you have plenty of gas, a spare tire, a camera, and anything else you might want for a day's outing.
7. Bike or Walk at Bartlett Wash
Bartlett Wash is an amazing wonderland of slickrock that is often free of people. Most mountain bikers looking to ride slickrock head to the famous Slickrock Trail, but this landscape is much different than that area, with swirling layers of smooth, porous rock.
This spot is about the scenery rather than riding, which is why it is also of interest to hikers and photographers. Rather than being a trail, this is more of an area, with wide-open expanses, where you can choose your own walking route or spend time playing on your bike or testing your skills in the hills.
From the parking area, follow the trail until it veers right and comes to a steep but short incline of rock. At the top of this ascent is a small area of distinctive slickrock, but continue on beyond this rocky area across a sand trail until you come to a huge expanse of slickrock. From here, the possibilities are limitless.
The area extends along a wide ridge out to a point and around the back side. For specific bike routes in this area, check with one of the local bike shops in Moab.
8. Explore the Rugged Backroads in a 4WD Vehicle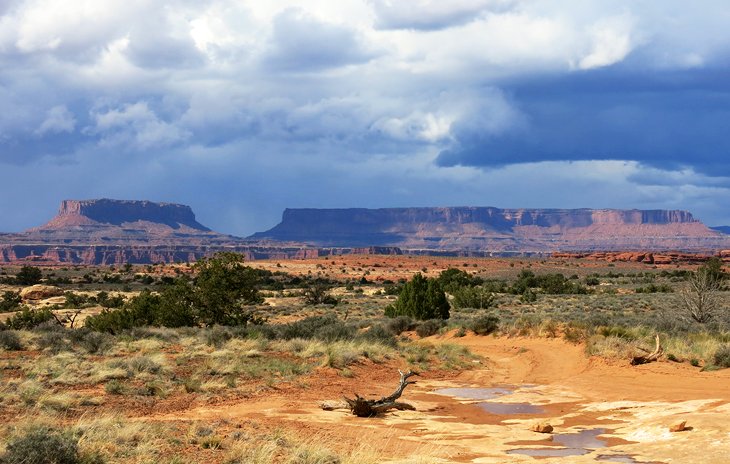 There are all kinds of 4WD options around Moab, with an extensive system of backroads both in and outside the parks. Be aware that many of these roads are designed for high-clearance vehicles with true off-road capabilities.
What this means is that your AWD SUV will likely not be suitable unless it looks like a true Jeep Grand Cherokee or Rubicon. You'll find yourself partway down the 4WD trail having a great time until you come to a steep climb over rocks and ledges. You can try and tackle these extreme sections but be warned that when you get stuck or damage the undercarriage of your SUV, it's a long walk back to the visitor center. Mobile phone coverage is spotty. Extractions are very expensive.
Some of the roads take you to very remote areas and are multi-day excursions. Campgrounds are spread around the backcountry roads and in many cases reservable through the park system.
Canyonlands National Park is home to some of the best 4WD roads in Utah. If you are serious about a 4WD experience and looking to get well off the beaten path, inquire about The Maze area at Canyonlands National Park. This is not an area you want to head into unprepared, so be sure to check in with park staff first to see about conditions, reserving campsites, and to determine if this is an area you want to tackle.
If you are looking to get out in your 4WD truck or SUV for a few hours or a day of fun, there are many possibilities: The Potash Road out to Thelma and Louise Point and beyond is a good option. For a cliffside, nail-biting experience, try the Shafer Trail Road, beginning from Canyonlands, Island in the Sky division, and join up with the Potash Road.
In The Needles district of Canyonlands National Park there are a number of opportunities, but the Colorado River Overlook is an incredibly scenic, 7.2-mile one-way road that requires some serious 4WD work. Keep in mind, all of these roads are dependent upon conditions at the time.
If all of this sounds a little daunting, you can sign up for a 2.5-hour Hell's Revenge 4X4 Off-Roading Tour from Moab. The name pretty well says it all.
9. Drive an ATV on the Slickrock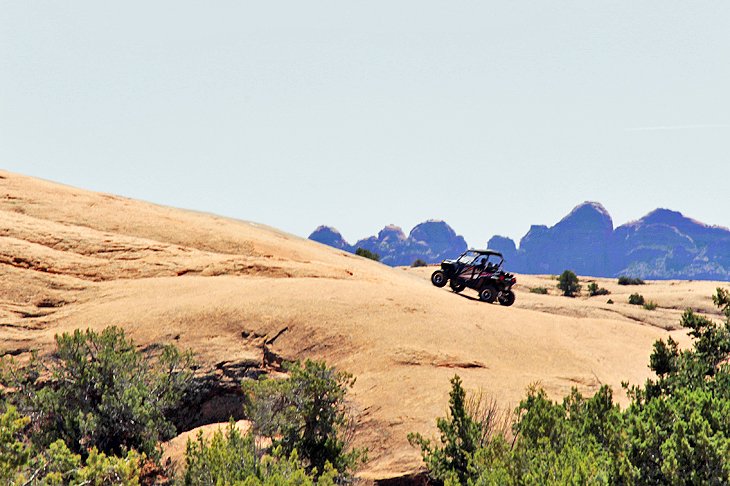 Taking an ATV out on the slickrock is another favorite activity in this area. Rentals are readily available in Moab and there are some great places to ride. If you are not up for hiking or mountain biking through the slickrock, an ATV is a fun way to get out and explore the scenery while the vehicle does all the hard work!
One of the top places for this type of experience is in the Sand Flats Recreation Area, but local rental shops will point you in the right direction.
10. Drive the Shafer Trail Road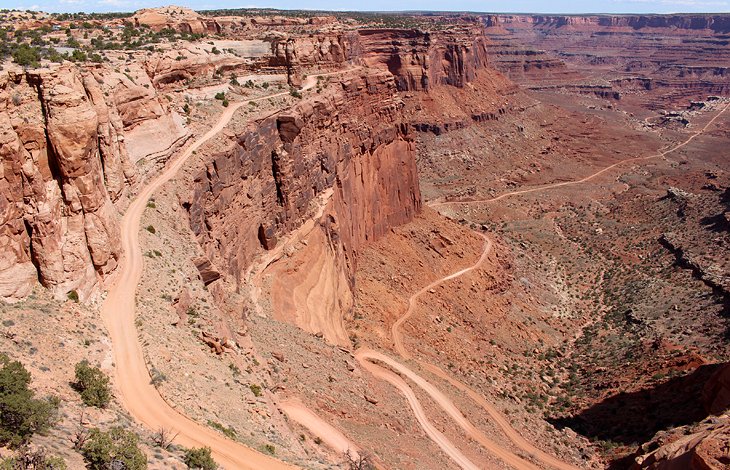 The cliff-hugging, dirt-and-gravel Shafer Trail Road (Shafer Canyon Road) is a famous, fear-inducing drive that may not appeal to everyone. You can see the dramatic switchbacks from the Shafer Canyon Overlook in Canyonlands National Park, Island in the Sky division, just beyond the visitor center.
It's a good idea to have a look at it before attempting this road. After seeing it, you may change your mind. The Shafer Road joins up with the White Rim Road and the Potash Road. If you are going back to Moab via this route, the Potash Road joins up with Highway 191, just north of Moab.
11. Discover the Sand Flats Recreation Area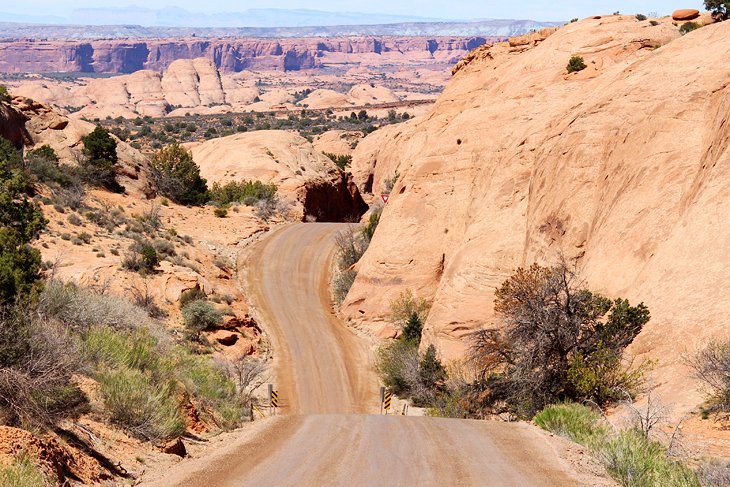 The Sand Flats Recreation Area is Moab's backyard playground, with irresistible slickrock hills just perfect for mountain biking, dirt biking, and off-roading adventures of all kinds. This is also a great area for camping, with multiple campgrounds tucked between the rolling rocks.
This recreation area is home to the famous Slickrock Biking Trail and Porcupine Rim Trail, as well as just under 40 miles of jeep trails. Many people who come here to bike the Slickrock Trail never venture beyond the trailhead parking area, but there is much more beyond the trail.
12. Raft, Kayak, or Canoe on the Colorado River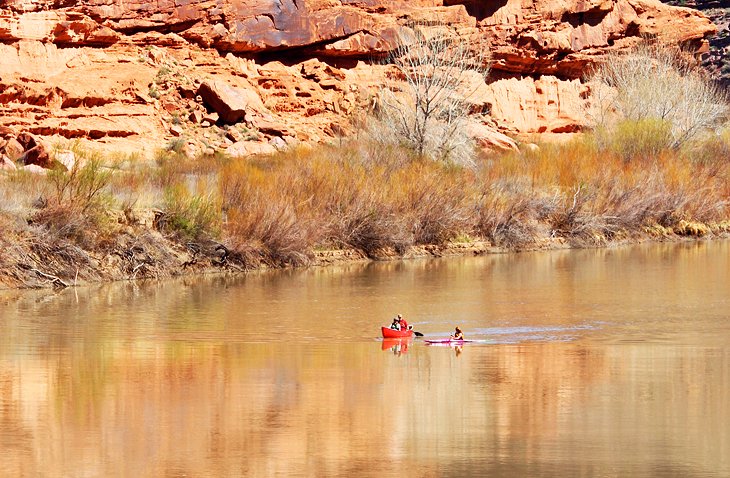 At the north end of Moab, the mighty Colorado River flows peacefully by. Surrounded by the beautiful red rock canyons and sheer cliff walls that line the banks, this is a lovely section of river for kayaking, canoeing, and stand up paddleboarding. If you are looking for more adventure, river rafting trips and jet boating excursions are offered by local operators in town.
One of the more popular tour options is the Fish Towers Half-Day Rafting Day Trip. This is a pretty relaxing and scenic trip, with a little action on the Class II and III rapids.
Rafting trips can range from a half day to 2.5 days, and jet boating trips are generally three-hour day trips, sunset rides, or night show tours. The river provides a cool, welcome relief from the hot and dry desert surroundings.
River access is easy with frequent areas to put in off Highway 128 east out of Moab, and there is a takeout point at the Colorado River Bridge on the edge of Moab. West of this bridge, access points to the river are very limited.
13. Gaze Out from the Needles Overlook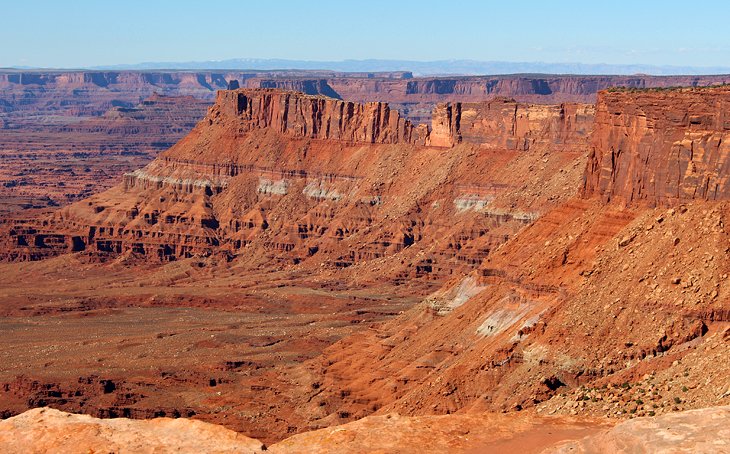 The Needles Overlook offers a stunning viewpoint that rivals any of the other overlooks in the Moab area. One of the main differences is the solitude you can find here. This overlook is much less visited and, depending on when you visit, you may even have the place all to yourself.
Views from the overlook extend out in three directions, and the late-day sun striking the canyon walls is an incredible sight.
The Needles Overlook is reached via a road off Highway 191, about 30 miles south of Moab, well before the road that leads out to The Needles District. The paved road out to the Overlook is about 22 miles. Approximately 15 miles up this road, a dirt road splits off to the right, leading out to the Anticline Overlook, where there is another jaw-dropping view if you have time for a side trip.
14. Run down a Sand Dune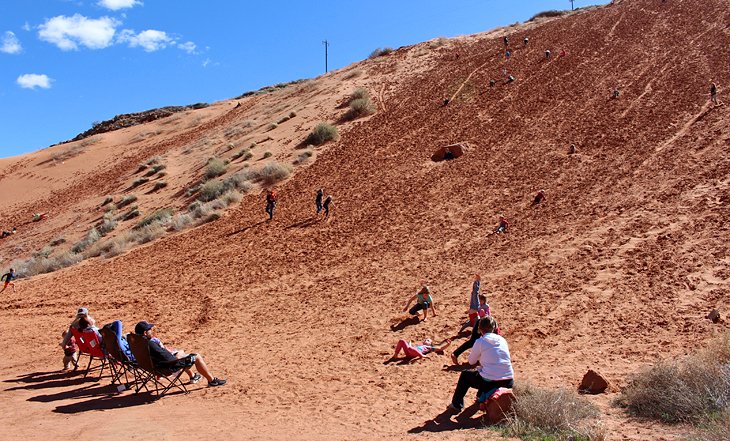 One of Moab's more unique and free attractions is the huge sand dune just off Highway 191. Just north of town, almost directly across from the entrance to Arches National Park, is a hillside patch of sand that is almost always busy with kids and adults.
This attraction that seems to provide no end of fun for kids who climb up the hill and run or roll down the hill and then do it all over again. Parents gather at the bottom to watch the activity and soak up the sun.
15. See Petroglyphs at Newspaper Rock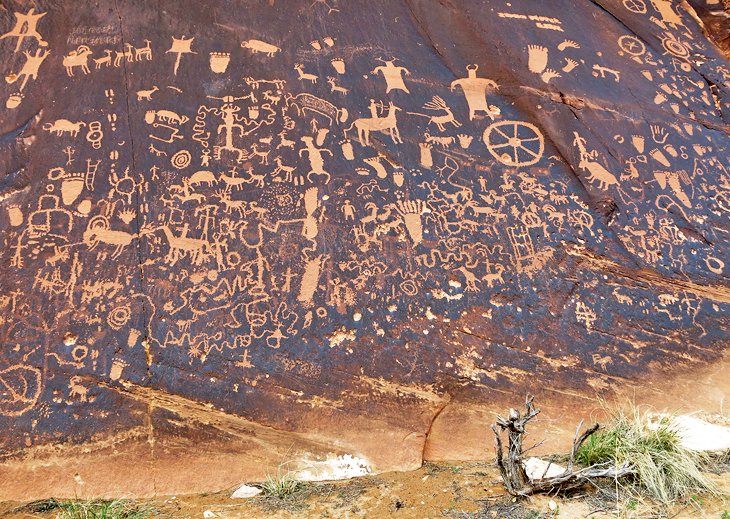 Newspaper Rock is a wall of densely packed petroglyphs that grace the side of a rock face, protected by a small, overhanging rock outcrop. The images reveal animals, shapes, and human forms, all jammed onto this one area of the rock wall.
Newspaper Rock is on the road into The Needles district of Canyonlands National Park, south of Moab, about 12 miles off US 191. If you are interested in petroglyphs and driving through this area, it is worth the detour to see this site. If you are heading into the park along this route, stopping for at least a quick look is a must.
16. Go Camping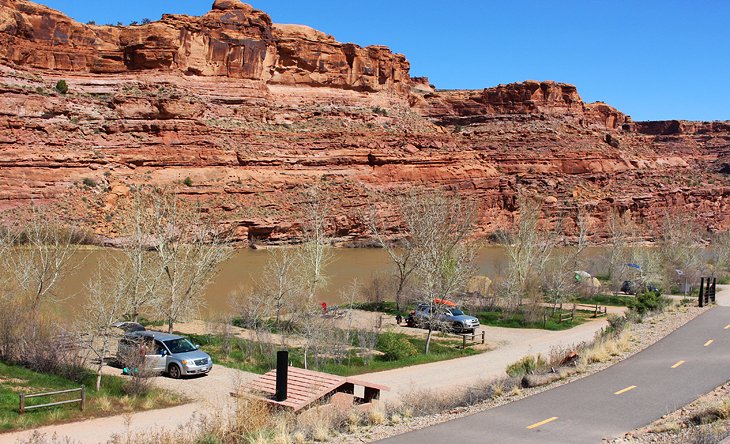 There are some incredible camping areas around Moab, both inside and outside the national parks. Some of these can be found in Moab, along the Colorado River, or in recreation areas scattered around the town.
There's nothing quite like waking up and having your coffee at your campsite along the Colorado River or in amongst towering rock formations.
For more detailed information on both tent and RV camping see our complete article on the best campgrounds near Moab. In the spring season, especially near Easter or during the Colorado school break, be sure to reserve well in advance or you'll be out of luck.
17. Wilson Arch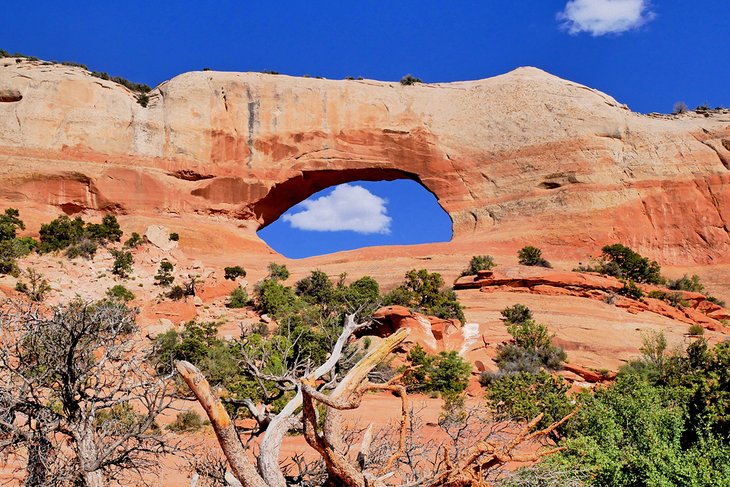 Looking for a warm-up arch prior to visiting the national park? As you drive northwards to Moab from Monticello, look to your right and upwards off Highway 191 just before the Highway 46 La Sal turnoff to find a good one.
You'll be amazed at what you see: a giant arch that is mere steps from the highway, and the best part is that it's 100 percent free. The Bureau of Land Management has done a good job of creating an easy pull off that frames the 91-foot-long arch perfectly against the blue Utah sky. To learn more about how this Entrada Sandstone arch formed, read the informative signs nearby.
A short hiking trail takes you right up and underneath the arch, where you'll find a relatively flat area perfect for a picnic.
18. Corona Arch Hike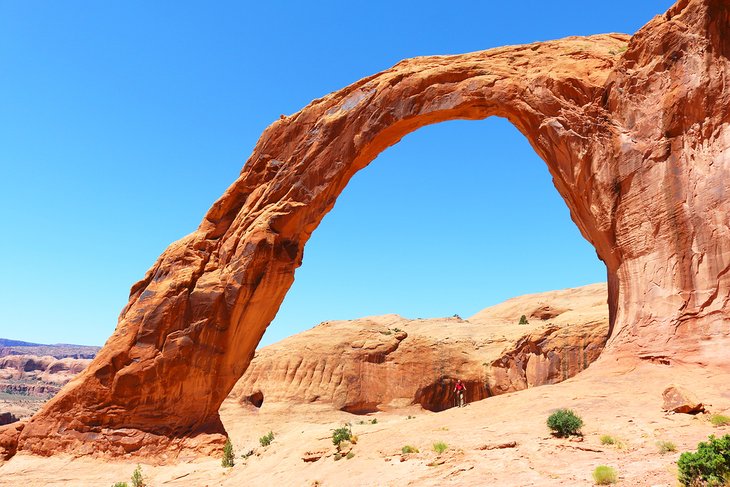 If Arches National Park is full, too busy, or expensive for you, consider visiting Corona Arch. A bit of a local's secret destination, this arch is absolutely stunning and just as good, if not better, than what you'll see in the park.
The setting of the arch is spectacular, as it's perched on the side of a hill, and the valley floor is visible in the area beyond. Nearby is the beautiful Bowtie Arch, so you get two arches for your hiking dollar.
The trail is three miles round trip, with a bit of elevation and a couple of steep sections that, fortunately, have chains and a ladder to make it easier. Much of the hike is on smooth slickrock, with a bit of gravel at the start. Bring lots of water – no shade is available, except under the arch, of course!
The trail head is located 10 miles down UT-279 (Potash Road) on the right side.
Frequently Asked Questions
When is the best time to visit Moab?
Average minimum and maximum temperatures for Moab, UT in °C
J
F
M
A
M
J
J
A
S
O
N
D

6

-7

12

-3

18

2

23

6

29

10

35

14

38

18

37

17

32

12

24

5

14

-1

8

-6

PlanetWare.com
Average monthly precipitation totals for Moab, UT in mm.

17

13

23

25

21

9

23

21

19

32

20

16
Average minimum and maximum temperatures for Moab, UT in °F
J
F
M
A
M
J
J
A
S
O
N
D

43

20

53

26

64

35

73

42

84

50

95

58

101

64

98

63

89

53

75

41

57

30

46

21

PlanetWare.com
Average monthly precipitation totals for Moab, UT in inches.

0.7

0.5

0.9

1.0

0.8

0.4

0.9

0.8

0.8

1.3

0.8

0.6
The short answer is spring and fall. In spring (March to May), you'll generally find warm days and cold nights. In March, the average high is 60 degrees Fahrenheit, and the average low is 32 degrees Fahrenheit. If it's windy, and it often is at this time of year, it can feel quite cold. In April, it warms up to an average of 72 degrees Fahrenheit and a low of 40 degrees Fahrenheit.
Fall is probably the best time to visit Moab. It's less busy than the spring, when Easter and school breaks bring the crowds and costs soar. Temperatures in September are much warmer, with daytime highs of 87 degrees Fahrenheit and lows of 52 degrees Fahrenheit.
October may be the best month of all. The daytime temperatures are a very pleasant 73 degrees Fahrenheit with lows of 39 degrees Fahrenheit. The added advantage of the fall is you'll get to see the aspen and oak trees in the autumn colors.
The one thing that is important to take into consideration is the wind. Moab can be a very windy place at times. Combine this with cool temperatures, and it can feel surprisingly cold - especially if you are camping or RV'ing.
Finally, remember that Moab is in the high desert, and the weather is changeable no matter the season - be prepared for anything.