9 Best Beaches in Utah
Authors Michael and Lana Law have enjoyed numerous trips to Utah for camping, hiking, skiing, and to enjoy the beaches.
Beaches and Utah is not a word combination that immediately comes to mind for most people, but perhaps it should. Utah has some great beaches and interesting lakes, perfect for relaxing on a hot summer afternoon.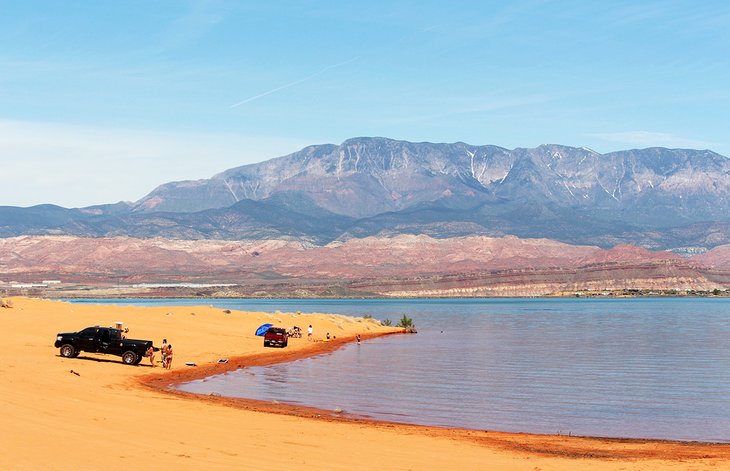 Float on the surface of the super-salty waters of the Great Salt Lake, spread your beach towel on the red sands at Sand Hollow State Park, or discover your own private beach back in the remote canyons of Lake Powell. All these places exist, and getting to them requires only an adventurous spirit.
The only thing Utah beaches tend to lack is shade. The beaches are generally out in the open, with little or no vegetation around, so plan ahead and be sure to bring your umbrella. Utah's best beaches are either in state or national parks, so be prepared to pay a fee to access the sites.
If you are in the state between spring and fall, you may want to plan some time at Utah's best beaches.
1. Sand Hollow State Park Beach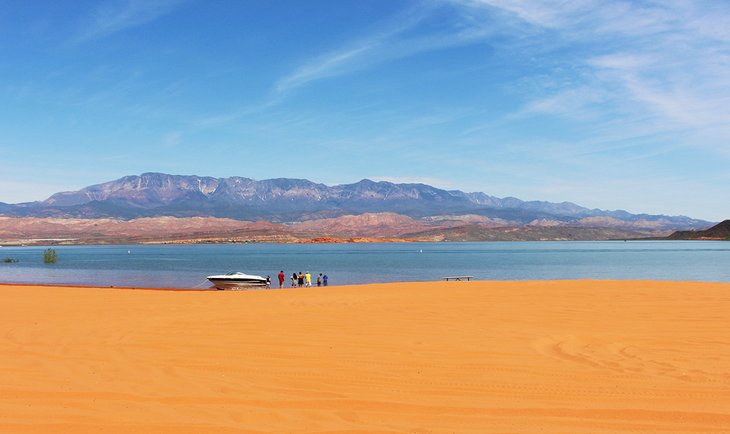 Just outside of St. George is the wonderful Sand Hollow State Park. This reservoir lake is one of the most popular recreation areas in Utah. The waters of this lake are ideal for boating, swimming, stand up paddle boarding, and sailing.
Sand Hollow has an extensive beach or reddish-orange sand. A few trees provide a bit of shade in a few spots, but for the most part, the area is wide-open. In some areas, you can drive your vehicle (4WD only) to the water's edge and set up with all your gear. The water is warm and clear and perfect for wading, swimming, and lazing about on an air mattress or other water toys. Sit back in your beach chair and watch the action on the lake with the mountains off in the distance.
Just offshore, boats zip around towing water skiers, tubes, and wakeboarders trying their latest jumps and tricks. Jet Skis buzz all over the lake. If you have your own boat, a large boat ramp is available by the main parking area.
If you want to get out on the water but don't have your own equipment, boats, Jet Skis, kayaks, and stand up paddleboards are all available for rent at the concession stand. An interesting paddle is to Sand Hollow Island, where you'll see red rock formations along the shoreline.
If you are looking to spend a night or longer, two great campgrounds are available in the park.
2. Bear Lake State Park Beach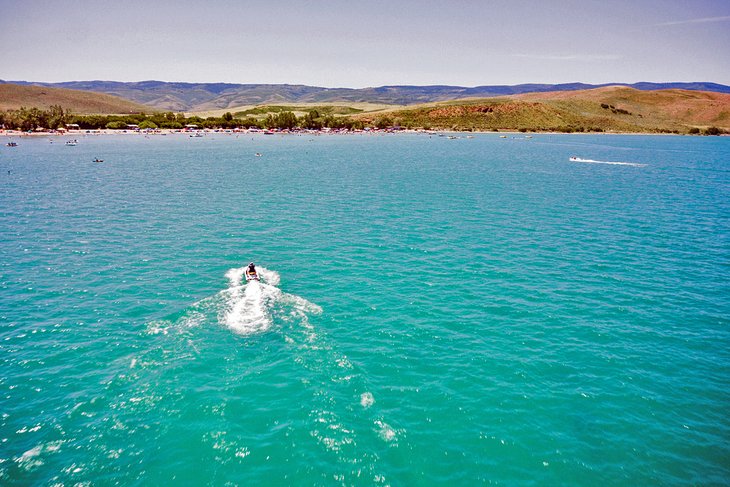 This massive lake is one of the top destinations for beachgoers in Utah. It measures 20 miles long and varies in width but is generally thought of as being eight miles across on average. The lake is a surprisingly deep 208 feet. The park is set at an elevation of nearly 6,000 feet, so the water can be quite cold, especially early in the season.
Miles of beaches line the shore of Bear Lake State Park, and finding your own patch of sand is never an issue. Parking is just back from the water, so bring all the gear you think you'll need, as you won't need to carry it far.
Rendezvous Beach is the most popular beach area. The beach is narrow, but stretches for a good distance, with some shade trees in behind. Hot summer weekends create a carnival-type atmosphere, with kids splashing in the water while barbecues give off tantalizing aromas.
Cisco Beach is on the eastern side of the lake. It's less busy and does not have the soft sand of Rendezvous Beach. It drops off quite sharply here and is not recommended for those who are not strong swimmers.
A large marina operates on the lake and provides full services to boaters.
3. Antelope Island State Park: Bridger Bay Beach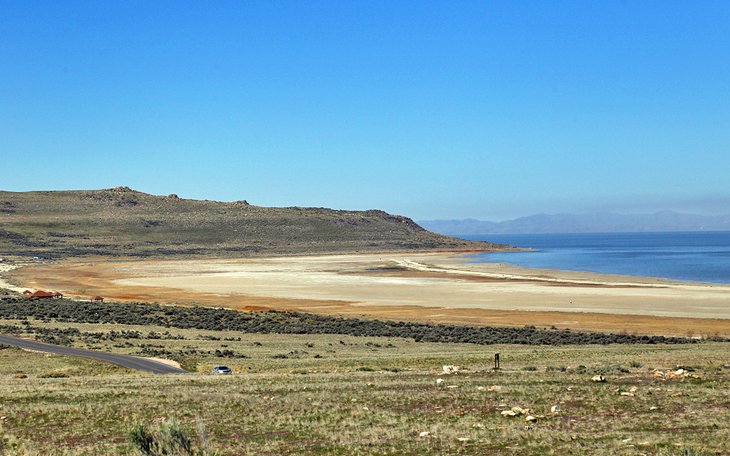 You don't need to travel to the Dead Sea to experience the extreme buoyancy of saltwater; just head 40 miles north of Salt Lake City to Bridger Bay Beach in Antelope Island State Park. The beach is one of the few spots where you can safely and easily swim in the Great Salt Lake. Access to the water is via a metal ramp and then either a long or short walk across the sandy shoreline depending on the water level of the lake.
The water is warm and shallow and ideal for wading. To get an idea of the buoyancy, just lay down in the water. You'll need to wade out quite a way to accomplish this task. You'll want to wash off the saltwater after your dip and fortunately, showers (fee charged) are available near the parking area. If you've packed a lunch, you'll find picnic tables under sunshades nearby. A restaurant is also located here, with a covered patio and great views of the beach.
Camping for tents and RVs (no hookups) is also available in the park, and reservations are available online. One thing about Bridger Bay Beach to be aware of is that small gnat-like insects tend to be prolific in the summer and can be annoying along the waterline. Access to the beach is free, but a fee is charged to enter the state park.
4. Lake Powell: Warm Creek Bay, Padre Bay, and Bullfrog Bay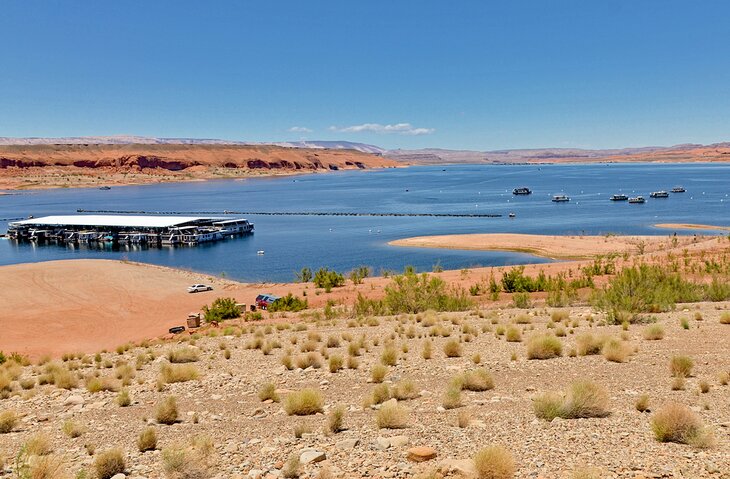 The granddaddy of all Utah lakes, Lake Powell is home to countless beaches just waiting to be discovered. The only trick to finding some of them is that you need a boat. Bring your own or consider renting a houseboat, one of the most enjoyable ways to fully experience the lake.
Once you are out on the water, you'll have 196 miles of water to explore. Beaches on the lake are a mix of sandy shorelines and smooth sandstone rocks extending into the water. The water in Lake Powell warms up dramatically in the summer, and water temperatures around 80 degrees Fahrenheit are common.
One of the most popular beaches on Lake Powell is Warm Creek Bay. This massive bay is home to shallow, sandy water, full of protective coves. It's easily reachable via the Castle Rock Cut when the lake levels are above a certain minimum. Warm Creek bay is ideal for waterskiing, swimming, and all kinds of motorized water sports. The sandy shorelines are perfect for wading and lounging.
A bit farther on, and more spectacular, is Padre Bay. Incredible red rock buttes rise from the shoreline in the distance, while in the foreground, smooth rocks and sandy beaches beckon you to stay a while. This is true desert wilderness and well worth the effort to get to.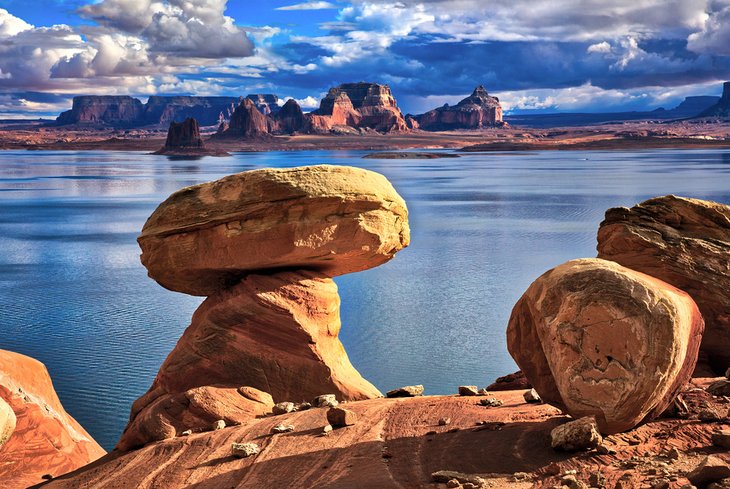 Small coves hold arcs of sand backed by flat rocks. Take a dip in the clear waters and lay out on the warm, smooth sandstone rocks to dry off in the sun like a lizard. Up from the lake are hikes to bizarre rock formations, including the famous Hamburger Rock.
Access to Lake Powell is from the Wahweap area, just over the border in Arizona. Here, you'll find a massive boat launch and a marina providing everything boaters will need. Down the road just a bit further is Page, AZ, where you can arrange and hire houseboats. Page also has a good assortment of hotels and motels if you need overnight accommodation.
One of the few areas to access a beach on Lake Powell by car is at Bullfrog Bay. Although the scenery here is not nearly as impressive as at Warm Creek and Padre Bay, the fact that you can drive right down to the water's edge at Hobie Cat Beach makes up for it. The water is warm and shallow here and ideal for swimming.
Note that if you intend to launch at Bullfrog Bay, it's a long boat ride to Warm Creek and Padre Bay.
Water levels on Lake Powell have decreased dramatically in the past few years. Many of the boat launches are now closed or are in the process of being lowered. At the time of writing only the Wahweap and Bullfrog launches were operating. Be sure to check the park's website for the latest status.
5. Quail Creek State Park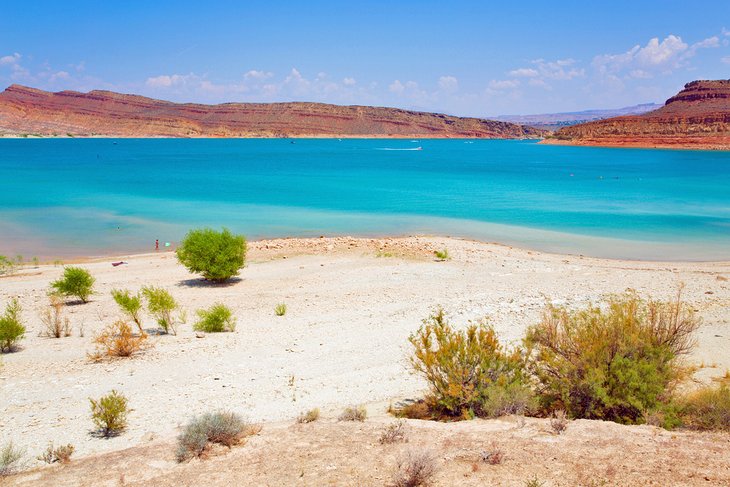 Also located near St. George is Quail Creek State Park. This narrow reservoir lake has cold, clear water in a pleasant valley setting. Reddish sand extends into the lake, and it's here you can set up for a perfect beach day. The view across the lake to the red, tan, and brown cliffs is sublime.
The size of the beach can vary throughout the season as the water levels rise and fall in the reservoir. Just back from the beach are covered picnic tables, washrooms, and changerooms. Extensive parking is available, and it's a short walk from your car to the water's edge.
The lake is ideal for boating, and owing to its depth of 120 feet, it's a hot spot for fishing. Boat ramps are available, and although the lake is relatively small, it's an excellent place to go waterskiing, tubing, or wakeboarding.
Stand up paddleboards, kayaks, water carpets, and Jet Skis are available for rent through the on-site concession. If you are unsure how to use a stand up paddleboard, instructors are available, as is stand up paddleboard yoga.
A pleasant campground is located near the beach; sites can be reserved in advance.
6. Huntington State Park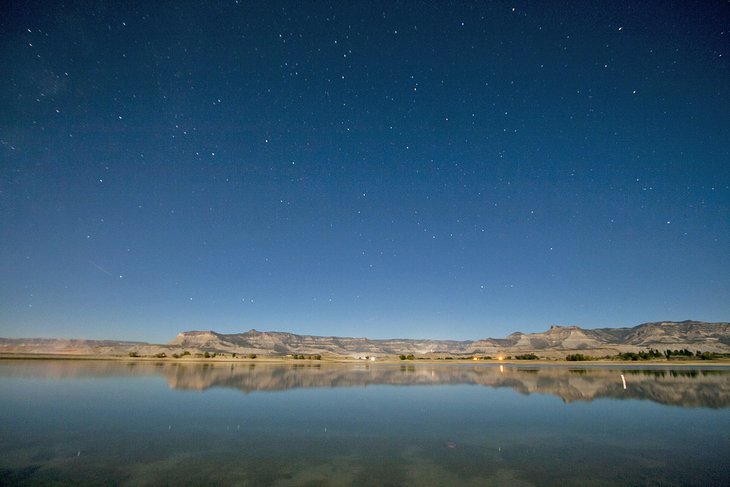 This small park near the town of Huntington has one of the nicest beaches in the surrounding area. Set along the southeast shoreline of the lake, the sandy expanse is wide and flat. The water is shallow for a fair distance out, so it's a good spot for floating or playing a game of water football.
Just back from the beach are trees and a large grassy area perfect for a game of Frisbee or soccer. The water here gets very warm, and a pleasant afternoon can be had floating in the shallows. The beach is a good place for a short walk; the point at the northern end offers 180-degree views.
Near the beach are sheltered picnic tables along with restrooms and showers. A campground is located in Huntington State Park just back from the beach and has 22 sites.
7. Jordanelle Reservoir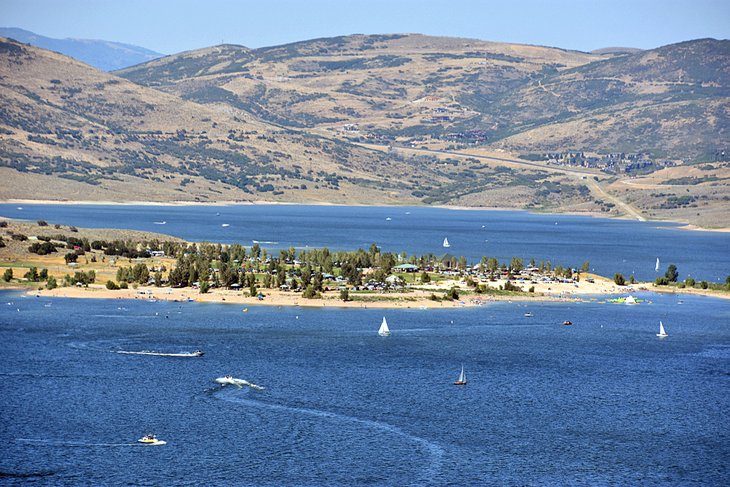 Only an hour from Salt Lake City is the Jordanelle Reservoir. The beaches here are extensive, and just offshore is all kinds of floating fun at the Aqua Zone. This floating fun palace is full of all kinds of structures and walkways and will provide endless hours of enjoyment for your kids.
If you love to walk the beach, you are in the right spot; you'll be able to walk along the water's edge until your legs wear out. Off the beach are cabanas with picnic tables and charcoal grills. A children's playground is also available.
The Jordanelle Reservoir is located near Park City and at an altitude of 6,188 feet, so the water can be quite cold, even on the hottest summer day. Boating is popular here, and excellent launch facilities are available.
8. Yuba Lake State Park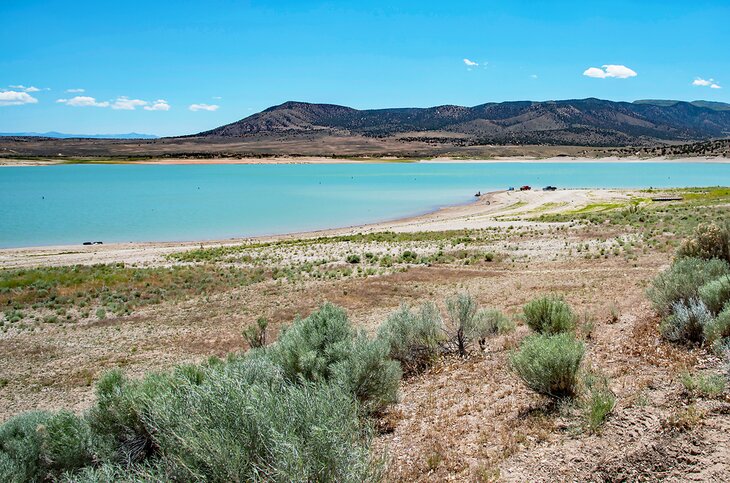 An easy day trip just a couple of hours south of Salt Lake City is Yuba Lake State Park. This reservoir has long been a summer favorite for its clear waters and sandy shores. In addition to the water-based activities, kids of all ages will love playing in the sand dunes.
The best beach in the park, complete with soft golden sand, is located by the North Beaches camping area. Pack all your water toys, beach chairs, and umbrellas, and hitch up the boat trailer, the lake is perfect for waterskiing, fishing, and kiteboarding.
The park has several campgrounds available, so if you've got the gear, make the trip to Yuba Lake a weekend getaway from Salt Lake City. If you forget anything, a park concession called The Docks at Yuba Lake has most things any camper will require, also on-site is a restaurant and watercraft rental service.
9. Utah Lake State Park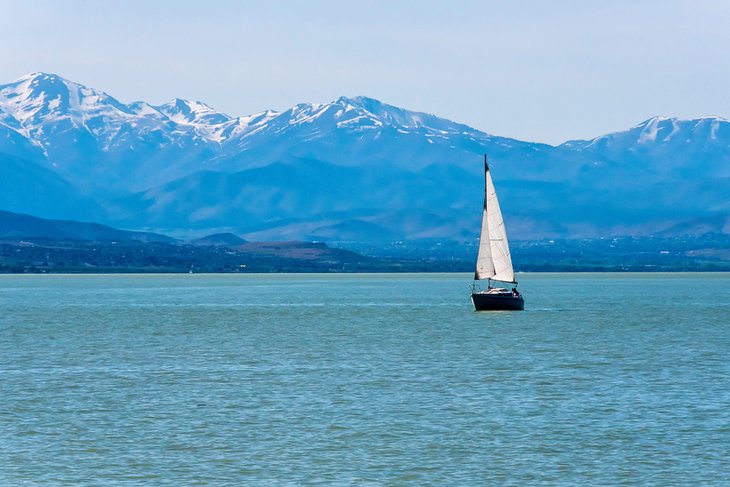 Located right beside Provo is Utah Lake and Utah Lake State Park. This large lake, the result of damming the Provo River, is an oasis in a desert-like area. The lake warms up pleasantly each summer and is a great place to cool off on those hot summer days.
The main beach is located at the outer marina. It's a pleasant spot, with soft sand and great views of the towering mountains across the lake. Be sure to check the water levels before heading to this spot, as the lake depth can vary dramatically and alter the beach from a sandy expanse to mudflats.