14 Top-Rated Hiking Trails in Utah
Utah is home to some of the most stunning terrain in the United States, and a number of the highlights are only accessible to those who are willing to lace up their hiking boots and hit the trails.
Mountains, deserts, forests, and canyons dominate the landscape, which has been sculpted over the centuries by volcanoes, rivers, glaciers, and earthquakes, leaving behind an amazingly diverse environment.
Many of the state's wonders are protected by national and state parks and are open to exploration along countless miles of hiking trails. From the clifftops to the valley floors, you'll find outstanding views, waterfalls, signs of the area's human history, and remnants of another age captured in petrified form, as you explore Utah's best hiking trails.
1. Delicate Arch, Arches National Park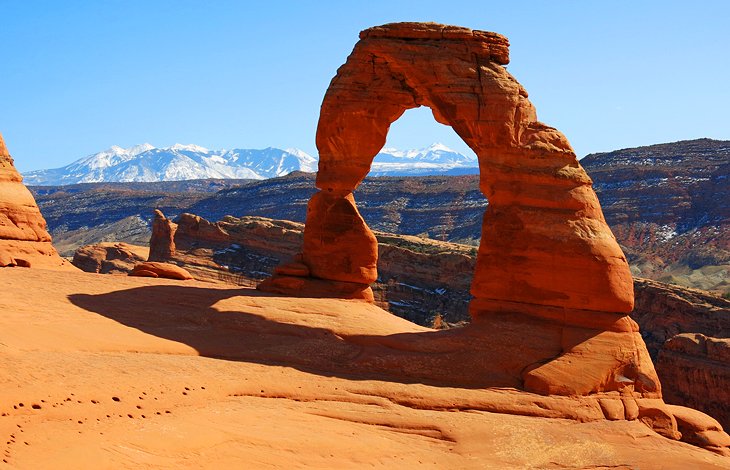 One of the most famous and photographed sites in Utah is Delicate Arch, shown on the state license plates. This freestanding iconic arch is unique among the more than 2,000 arches in the park. Rising up from a smooth stone ledge and framing distant mountains on the horizon, the setting here is spectacular.
Located in Arches National Park near the town of Moab, this outstanding natural monument can only be reached on a three-mile round-trip hike.
The route runs up a gradual rise across open slickrock and is in full sun almost the entire way. As you approach the arch, the trail narrows and follows a ledge around a rock outcrop, and after you turn the final corner, the stunning arch comes into view.
2. The Narrows, Zion National Park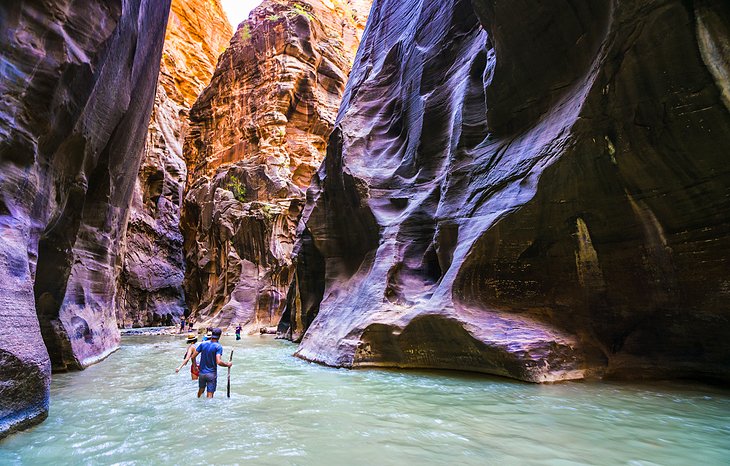 In a park that is famous for its outstanding hiking trails, The Narrows is one of the most celebrated hikes in Zion National Park. A wet trek up the Virgin River leads through the park's signature feature; a huge slot canyon, known as The Narrows.
Hikers literally walk along the river, up the canyon, which in areas is too narrow to have any dry banks. Twisting and curving canyon walls extend up from the river in a dramatic fashion.
You can hike from the bottom up The Narrows as far you choose, but many hikers make the 9.4-mile round-trip journey to Big Spring. This is as far as you can go without a permit. Of course, you can always turn around before this point if you want a shorter hike.
With a permit, it's also possible to do a 16-mile hike from the top down, beginning at Chamberlain's Ranch, but the number of permits is limited, and this is a big undertaking. Plan on 12 hours hiking.
Since this is a river hike, it is also seasonal, opening after the water level moderates following the spring runoff.
Read More: Best Campgrounds near Zion National Park
3. Queen's Garden/Navajo Loop Trail, Bryce Canyon National Park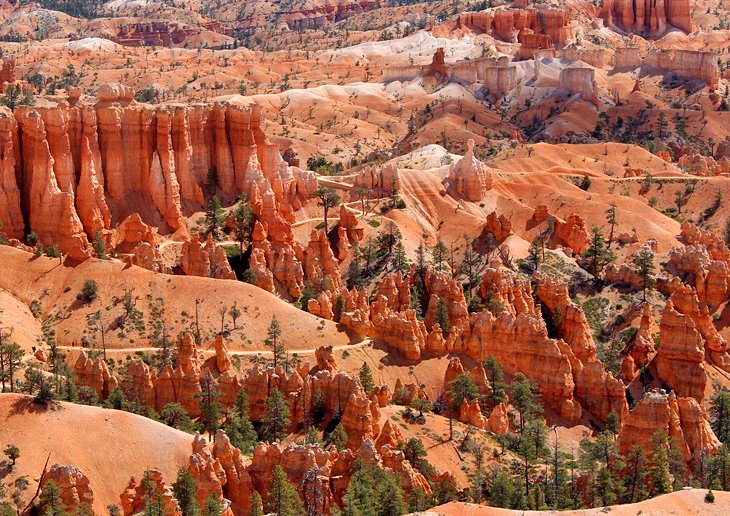 The Queen's Garden/Navajo Loop Trail is one of the most popular hikes in Bryce Canyon National Park, taking hikers into a world of multihued hoodoos and snaking ridges dotted with pine trees.
The hike, which connects the Queen's Garden and Navajo trails, descends from one of the most scenic lookouts, Sunrise Point, into the park's main highlight, the Bryce Canyon Amphitheater.
This 2.9-mile loop trail follows a hard-packed path running along winding hill crests at the base of towering hoodoos, to the canyon floor, and back up. The ascent takes you up a steep slope, moderated by a series of switchbacks.
If you want to avoid the grind up the switchbacks and opt for a shorter hike, the Queen's Garden trail is a shorter and easier out-and-back hike that takes in some of the main features on the loop trail.
4. Angel's Landing, Zion National Park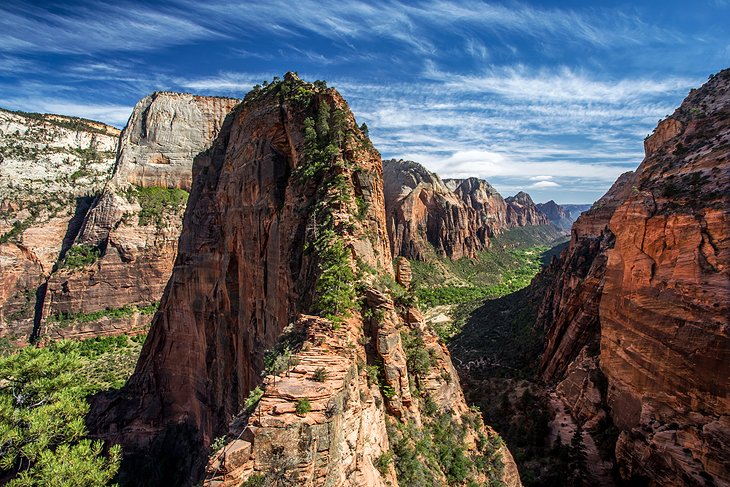 Like The Narrows, Angel's Landing is an iconic hiking trail in Zion National Park, but with huge drop-offs and narrow ledges, it's not for everyone. For those fearless souls who are not afraid of heights, this is a bucket-list hike.
After a cardio-inducing grind up a series of human engineered switchbacks known as Walter's Wiggles, the trail leads across the ridge of a narrow fin, with sheer cliff walls on either side. Chains, serving as handrails for grasping rather than protective barriers, guide hikers along the trail in some areas.
Although outstanding views can be had from all along this trail, the view from the lookout of Angel's Landing is the pinnacle, with a vista out over Zion Canyon like none other in this part of the park.
The total distance for this hike is just under 5.5 miles, and the elevation gain is slightly less than 1,500 feet.
Note that a permit system is now in place for the Angel's Landing Trail. Be sure to apply for one well in advance of your intended date of arrival. Permits are issued via a lottery system, four times a year in January, April, July, & October. A daily lottery for open spots still remaining is available one day before your intended hike. Chances of success in the high season are very low.
5. Chesler Park Loop/Joint Trail, Canyonlands National Park, Needles District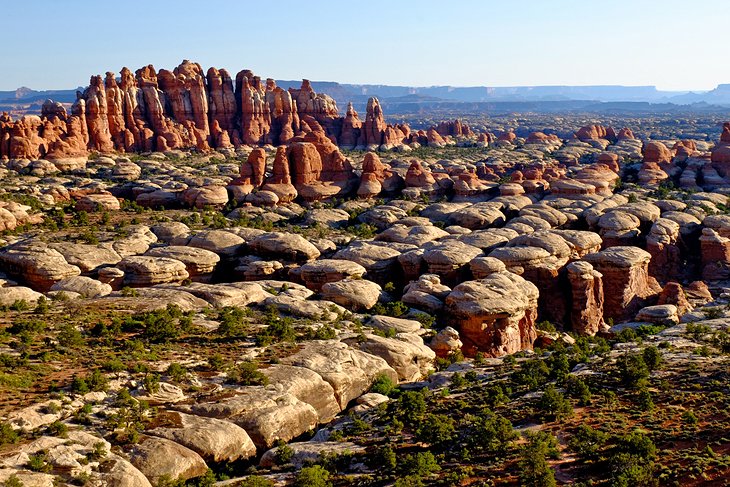 One of the most impressive but least promoted hikes in Canyonlands National Park is the 11-mile Chesler Park Loop and Joint Trail.
This hike offers a diverse mix of landscapes, including towering, fire-red stone spires; shorter red-stone pedestals capped with white mushroom-shaped tops; slickrock; and open areas that offer a glimpse of the local vegetation. Huge boulders in some areas create narrow passageways and tunnels.
Chesler Park is in the Needles District, south of the more popular Island in the Sky District, about an hour-and-a-half drive south of Moab. Since this area sees far fewer tourists than the Island in the Sky District, trails are rarely busy, and hikes like this one have a distinctly remote feel.
6. Mesa Arch, Canyonlands National Park, Island in the Sky District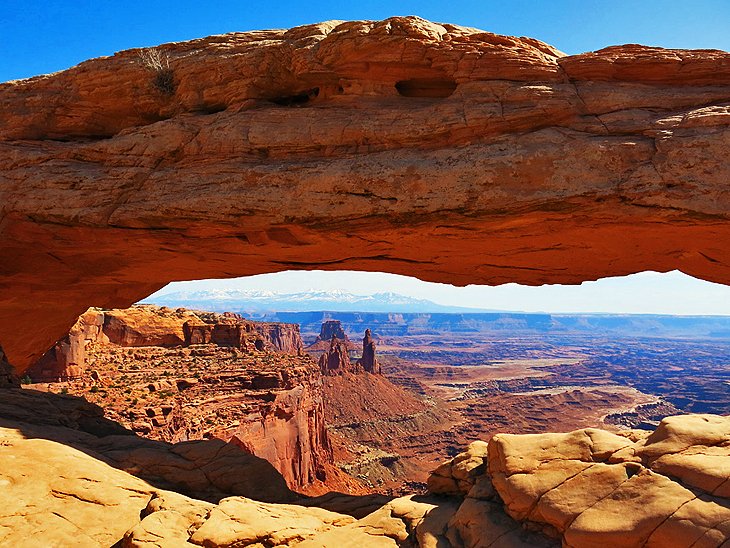 Canyonlands National Park has a variety of interesting and scenic hikes for all levels of hikers, but one of the most famous and photographed sites in the park is Mesa Arch.
The Mesa Arch hike is more of a walk and ranks highly because of this one point of interest along the trail, rather than for the quality of the hike. The half-mile path leads out over level ground and descends slightly as you approach the arch.
The landscape is deceptive, making the 500-foot drop-off on the back side of the arch difficult to gauge until you are right at the base of the arch. Mesa Arch stands over Buck Canyon and frames the cliff walls, stone spires, and carved landscape in the distance.
Many photographs show the underside of the arch lit in an orange glow. This is the morning sun reflecting off the stone, and you need to be here at sunrise to capture this show. This fact isn't a secret. If you are here at sunrise, expect a crowd.
The afternoon light illuminates the landscape in the distance and is equally beautiful and still photogenic. If you just want to see this sight and aren't specifically interested in photographing the sunrise, don't bother coming here at dawn.
7. Fairyland Loop, Bryce Canyon National Park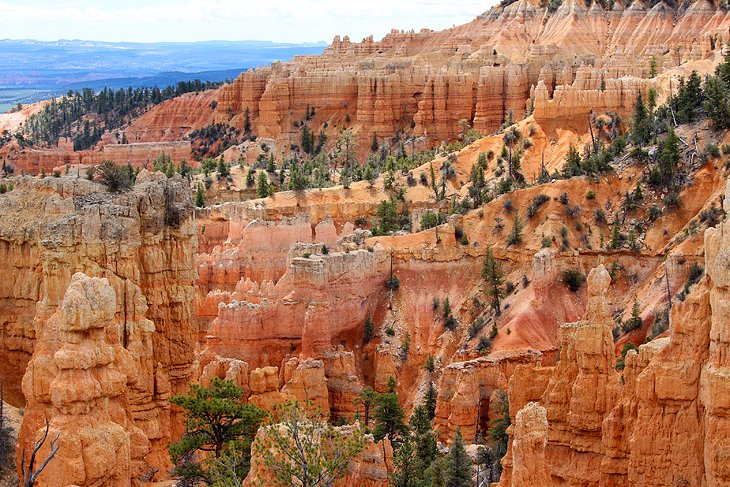 Another incredible hiking trail at Bryce Canyon National Park, Fairyland Loop offers a longer alternative to the Queen's Garden/Navajo Loop.
This eight-mile hike follows ridges and canyons as it winds through a myriad of towering hoodoos that glow in hues of orange, cream, and pink. Some of the other highlights on the Fairyland Loop are the colorful China Wall, and if you choose to add on a quick spur to Tower Bridge, another dramatic rock formation resembling a huge castle gate.
This trail is much less crowded than the popular Queen's Garden/Navajo Loop.
8. Hidden Pinyon/Petrified Dunes/Butterfly/Lava Flow Combination Hike, Snow Canyon State Park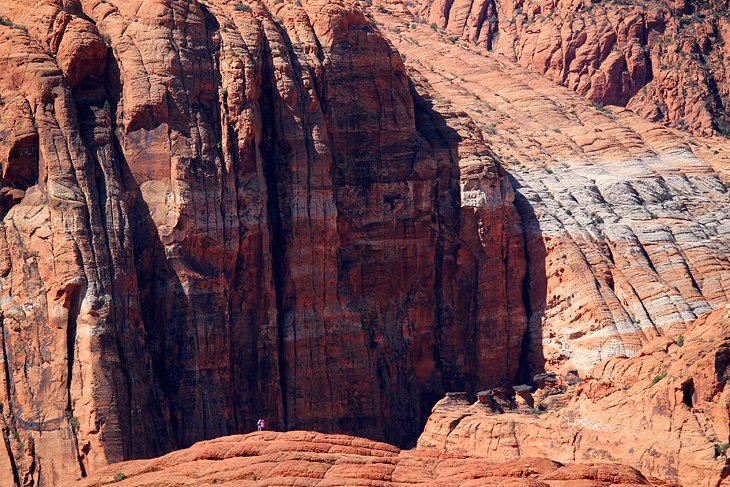 Snow Canyon State Park is one of Utah's undiscovered treasures. A dramatic landscape, with a mixture of interesting sites all tightly packed into one small area, makes this a great stop for hikers.
While there are several interesting hikes that could easily be done on their own, the best hikes are close enough together to combine into one half-day hike. This combination trail hits the highlights of each hike, from waves of Navajo sandstone and petrified sand dunes to incredible overlooks and past lava tubes and fields of crumbling black lava.
Snow Canyon State Park is one of the hot spots for hiking near St. George, just 20 minutes away.
Read More: Best Campgrounds near St. George
9. Lower Calf Creek Falls, Grand Staircase-Escalante National Monument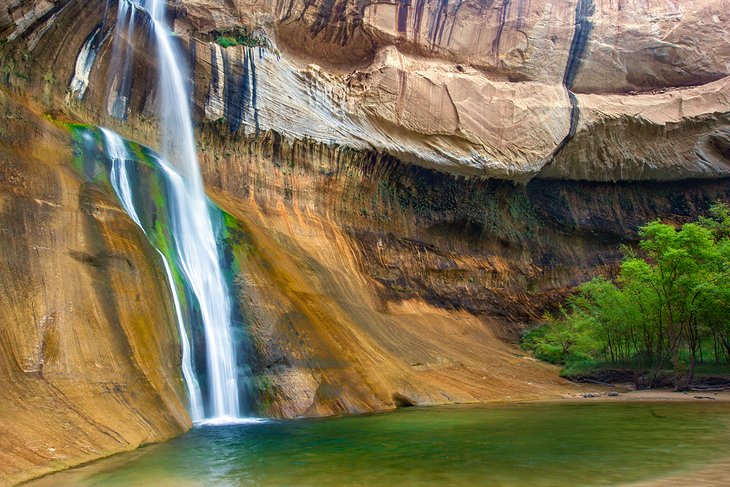 One of the most photographed sites in Grand Staircase-Escalante National Monument is of Lower Calf Creek Falls, tumbling 130 feet off the ridge of a sandstone cliff. The hike to the falls is just under six miles round-trip, on a relatively easy trail.
At the base of this beautiful waterfall in the desert is an inviting pool of clear water that is irresistible on hot days. This can be a very hot hike, especially during the summer months.
The trailhead is located off Highway 12, between Escalante and Boulder, at the Calf Creek Campground. This is a BLM (Bureau of Land Management) campground with a few primitive sites.
10. Dead Horse Point Rim Trail, Dead Horse Point State Park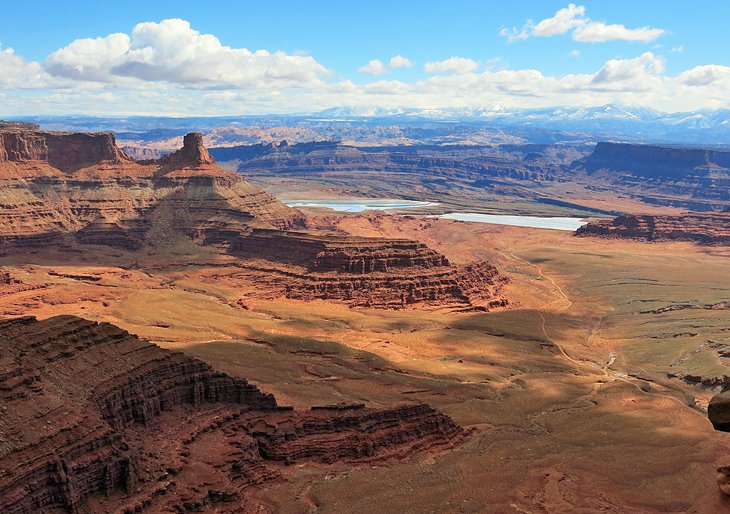 Dead Horse Point State Park is home to some of the most spectacular overlooks in Utah, including the stunning view from Dead Horse Point over the Colorado River.
The park maintains a number of short hikes that can be easily connected for a hike up to seven miles in length.
From the visitor center, the East Rim Trail follows the canyon rim around to Basin Overlook and beyond to Dead Horse Point. Further on from here, the trail joins with the West Rim Trail and heads out to Meander Overlook, Shafer Canyon Overlook, and Rim Overlook. From here, you can continue on to Bighorn Overlook or shave off some distance by heading directly back to the visitor center for a loop of about five miles.
11. Coyote Gulch, Escalante Grand-Staircase National Monument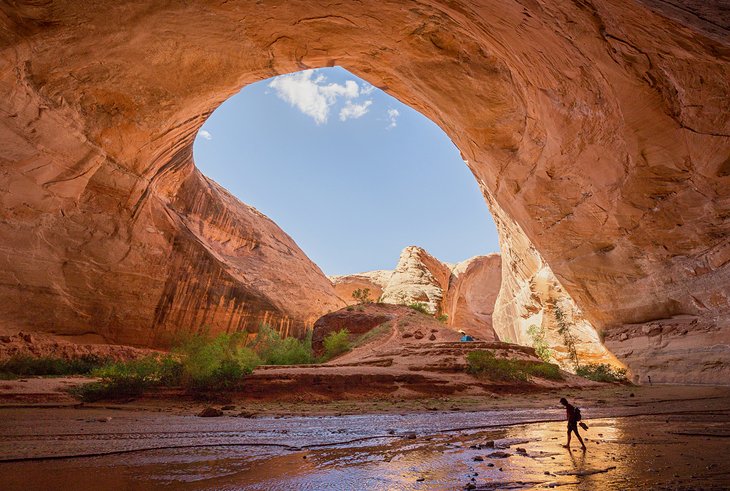 Coyote Gulch, in Escalante Grand-Staircase National Monument, is a bit off the beaten path but popular nonetheless. This entertaining hike, accessible from several trailheads, leads past waterfalls, streams, arches, Indian ruins and pictographs, and Navajo Sandstone glowing in shades of orange in the morning and late day sun.
Depending on where you choose to start your hike, whether or not you plant a shuttle car at another trailhead, and how far you plan on going, this can be a single day or multi-day hike. Hiking in this area requires some advance planning.
12. Fiery Furnace, Arches National Park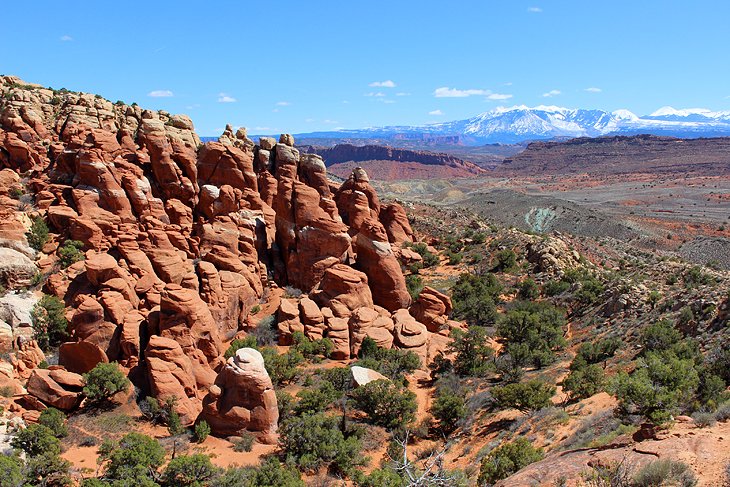 Arches National Park offers much more than just stone arches, and exploring the park on foot reveals a multitude of different sites. One area of the park that can really only be truly appreciated on a hike, is Fiery Furnace.
A forest of massive red-stone fins creates a maze for hikers, who must navigate around these stone walls. Many hikers miss this hike because it requires obtaining a permit and some advance planning.
Due to the complexity of the area and the risk of getting lost, hikers must either sign up for a ranger-led hike, which should be booked in advance, or watch a park video on the area in order to do it alone. The number of permits issued is limited.
If you can't get a permit for this hike and you've already done the Delicate Arch trail, head over to the Park Avenue hike for an impressive walk through a valley of stone skyscrapers.
13. Corona Arch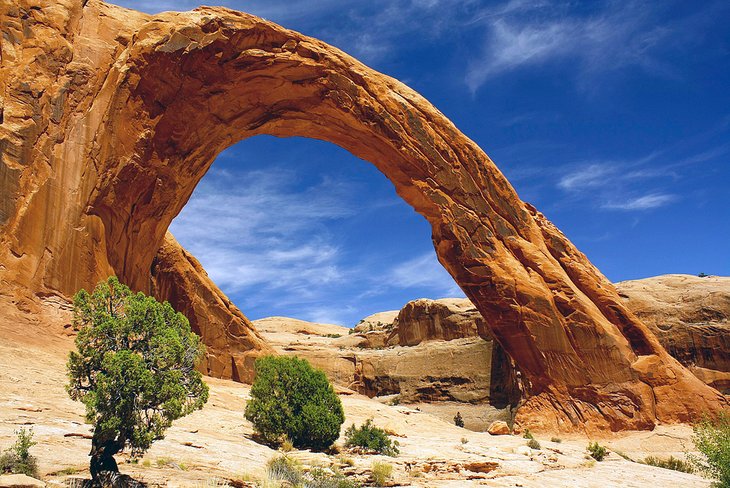 The area around Moab is full of hikes both in and outside of the national and state parks. If you want to save money and avoid the fees to enter the park, give the Corona Arch trail a try. This trail is only three miles, and if you are traveling with your dog, it's welcome on the trail.
As a bonus on the Corona Arch trail, you'll also be able to see two other interesting arches: Pinto Arch and Bowtie Arch.
Once you get to Corona Arch, let the photos begin! It's an impressive sight, with a span of 140 feet and a height of 105 feet, and the valley below provides a stunning backdrop. The trail is easy and traverses sand, gravel, and slickrock. A small ladder and a long cable help you past any tricky spots. Those that are afraid of heights might have issues with the cable section, but that said, most people can make it.
As with most trails in Utah, except slot canyons, you won't find any shade along this route. Be sure to bring enough water and start early (or quite late) in the day.
The trail is easily located off UT279 at a well-signposted parking area.
14. Kanarra Falls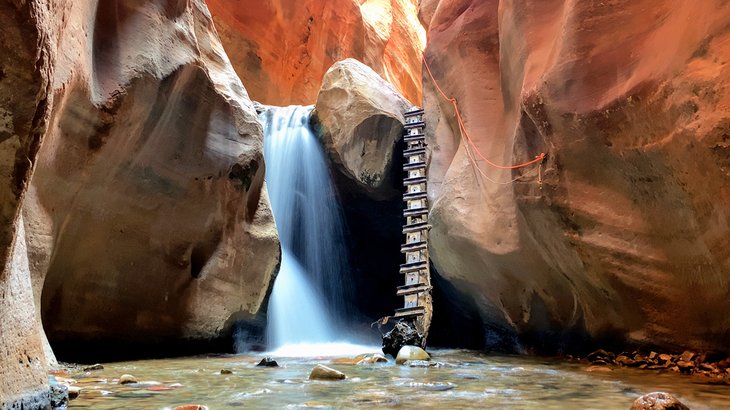 If you've done the walk up The Narrows in Zion and crave a bit more wet canyon hiking to narrow slot canyon style topography, or you don't want to fight the crowds at Zion to do a hike of this kind, give Kanarra Falls a go. This is an easy trail by slot canyoneering standards and generally considered family-friendly, ages eight and up.
This lesser-known hike located near St. George, is both spectacular and fun, complete with narrow sections, towering canyon walls, and several beautiful waterfalls. At one point, you'll need to ascend a 20-foot aluminum ladder, which is actually quite a bit higher than it may appear. Beyond this point, about halfway to the next waterfall, is a delightful open area perfect for a picnic.
The water temperature ranges from 40 to 49 degrees Fahrenheit, so be prepared for chilly feet! Flip flops are not an option; wear only hiking boots or sturdy water shoes designed for this type of adventure.
Due to demand, a permit system is now in place that limits the number of hikers on the trail to 150/day. Permits are available online, along with current trail conditions.
Where to Stay near the Parks: Towns & Hotels
More Utah Outdoor Articles on PlanetWare.com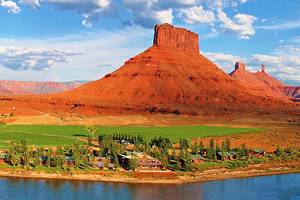 Explore More of Utah: If you are looking for a great place to stay on your trip to Utah, have a read through our list of the best resorts in Utah. For a more in-depth look at Utah's hot spots, see our articles on the top-rated attractions in Utah and the best parks in Utah. Campers should check out our information on the best campgrounds around Moab, as well as Capitol Reef, Bryce Canyon, and Zion National Parks.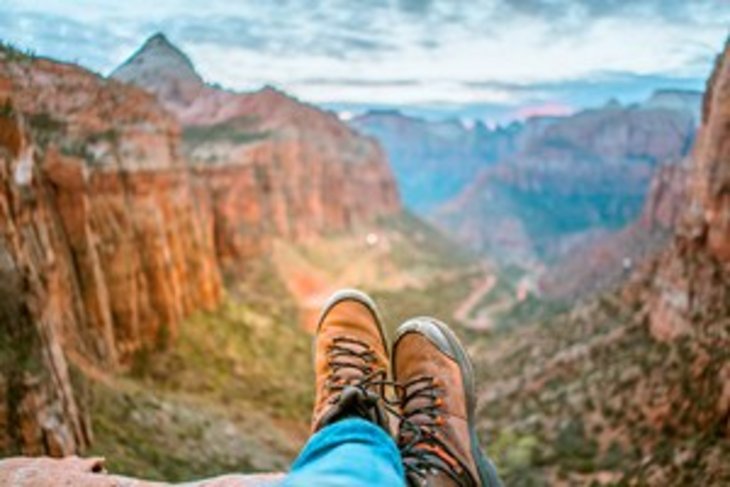 If you are visiting Utah in winter and interested in hitting the slopes, be sure to check out our article on the best ski resorts in Utah.