12 Top-Rated Hikes near St. George, UT
Located in the far southwestern corner of Utah, St. George is a gateway to some of the state's most incredible terrain, especially when it comes to hiking. Many of the best hikes around St. George are found in the nearby Snow Canyon State Park. This little gem has all the punch of a national park without all the people.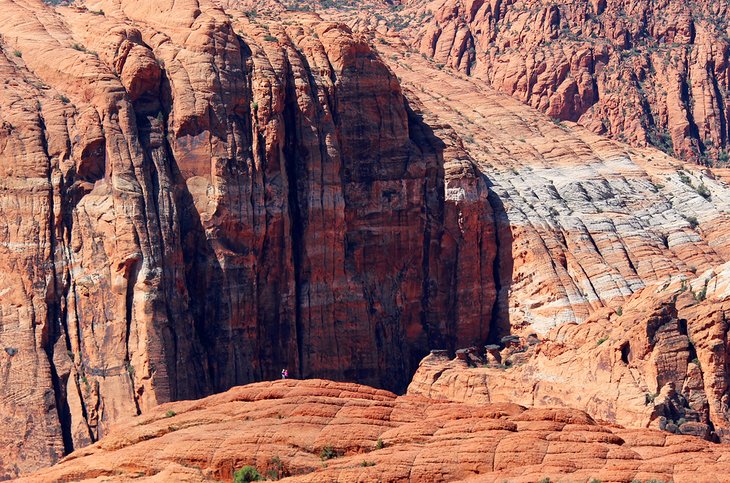 Snow Canyon is hardly known by tourists from out of state, but it's a favorite with locals. Hikes in this incredibly scenic park offer a variety of sights and experiences, from lava tubes to slot canyons. Trails here are generally short, but many of them interlink and are easy to combine to form longer trails.
The Santa Clara River Reserve is another popular area for hiking and mountain biking but relatively unheard of outside of St. George and the surrounding towns.
Also worth investigating are hiking opportunities in Red Cliffs Recreation Area. If you have time for a longer day trip, just over an hour away are the hiking trails of Zion National Park.
The area has hundreds of hikes to choose from, but here is a list of the very best hikes near St. George.
1. Petrified Dunes Trail, Snow Canyon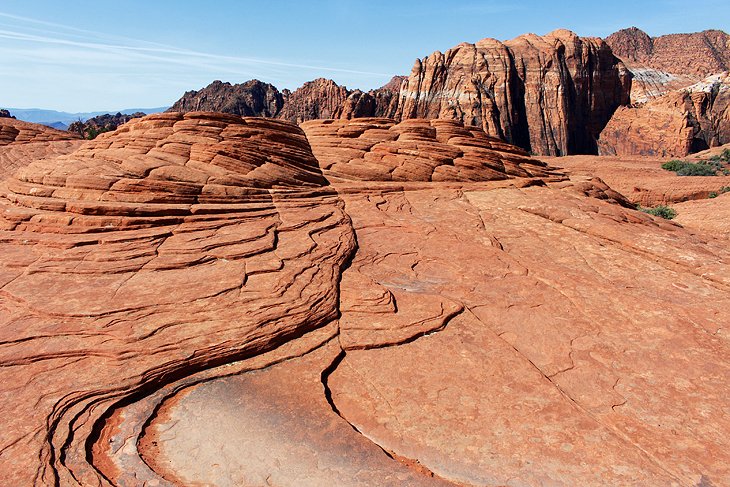 Petrified Dunes Trail is arguably the most enjoyable hike in the St. George area, and one that is popular with all ages and abilities. Wide-open rolling rock hills covered with curving ridges stretch out in all directions, just begging to be explored. The trail is not really defined for much of the route, just a field of wavy petrified sand dunes that come with a sense of freedom.
Kids can run up and down the hillsides and along gently sloping ridges. Views across the valley to the sheer cliff walls and mountains are outstanding. Photographers will find no end of inspiration, with curving lines; beehive shaped mountains; and, if recent rains have left water in some of the pools, circular ponds to capture reflections.
The total distance for this hike is 1.2 miles for the return trip, but you may find you don't do the entire hike, or you may end up walking much further to gain different vantage points along the way.
2. Lava Flow Trail, Snow Canyon
Lava Flow, a 2.5-mile return trail, is one of the most interesting hikes in the St. George area. The trail begins across a lava field left from an ancient eruption that occurred to the north of here. The crumbling black carpet of sharp rock is lightly covered with grasses and other small vegetation. Gaping holes in the ground are the mouths of lava tubes, some of which you can walk down into for deeper exploration.
About halfway through the hike, a short spur leads to the Lava Flow Overlook. This is a quick hike up a rock mound, offering incredible views over the lava field behind you and the canyon stretching out in front. Don't miss this overlook. Beyond here, you can continue on to where the trail dead ends at the West Canyon Road, and then return on the same route.
3. Butterfly to Lava Flow Overlook, Snow Canyon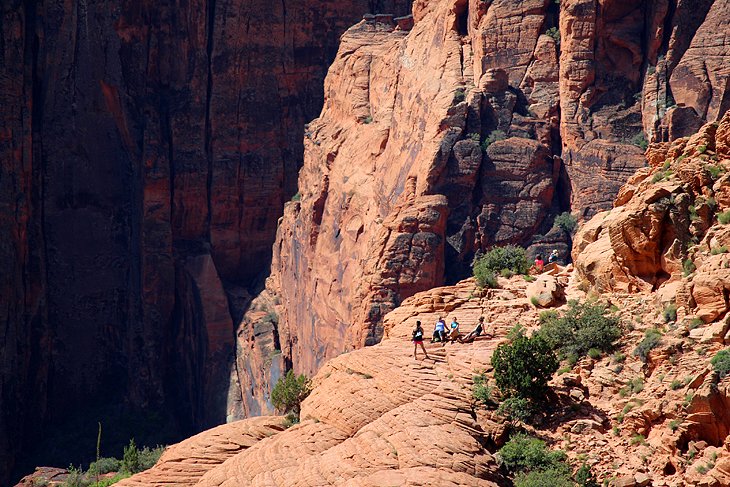 Butterfly Trail is an easy two-mile out-and-back trail, beginning from the same parking area as the Petrified Dunes hike. The trail is named for a split boulder along that trail that resembles a butterfly, but few people know this, and the feature is often overlooked. Look for it about halfway through the hike when you come to the end of the boulder ridge and are about to head across the open field.
The highlight of this hike, and the reason many people choose to hike this short trail, is the Lava Flow Overlook, accessed by a spur at the end of the trail, leading off to the left. Views from the overlook are spectacular.
You can then return via the same path, or veer right at the end and take the Lava Flow trail, which will mean you need to walk along the highway from Lava Flow parking lot to Petrified Dunes parking lot.
4. Johnson Canyon, Snow Canyon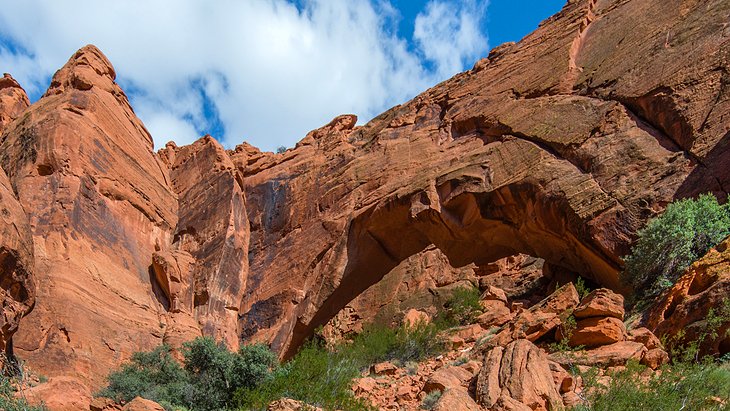 Johnson Canyon is a popular hiking trail, but it is closed between mid-March and mid-September. If you are visiting in season, it's definitely worth doing.
This is an easy two-mile hike across a lava field to a canyon, but the highlight is a 200-foot red rock arch. The arch can be seen on the right side of the canyon as you are walking in. This is an out-and-back hike, and the parking lot is the first one you come to at the south end of the park.
5. Hidden Pinyon, Snow Canyon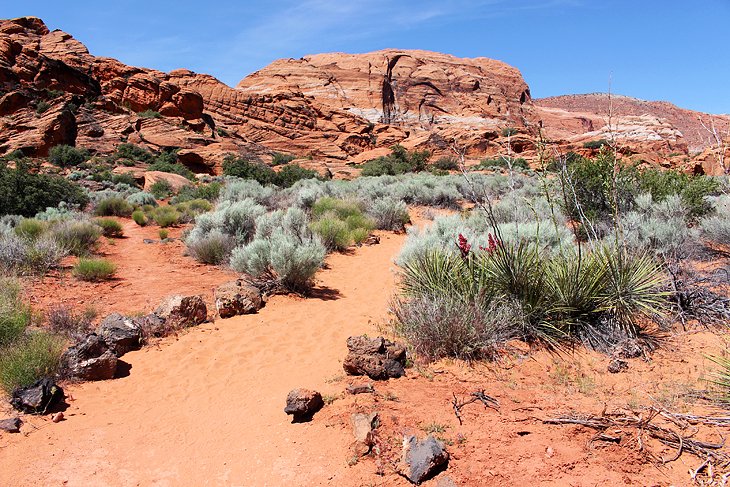 This pleasant 1.5-mile trail offers a mix of interesting rock formations and adds an educational component, with information on the vegetation in the area.
At the start of the trail is a box, where you can pick up a pamphlet. Numbered signposts along the path correspond with the numbers in the pamphlet, offering descriptions and information on the plants and sites along the trail.
Even if you choose not to read along, this scenic path is well worth doing. Heading in a clockwise direction, the trail winds through some fallen boulders and behind a rock ridge, opening onto an area with waves of petrified dunes. Beyond here, the trail enters a field of red sand covered in sand sage and other plants, and eventually joins up with the paved Whiptail Trail taking you back to the parking lot.
6. Whiptail Trail, Snow Canyon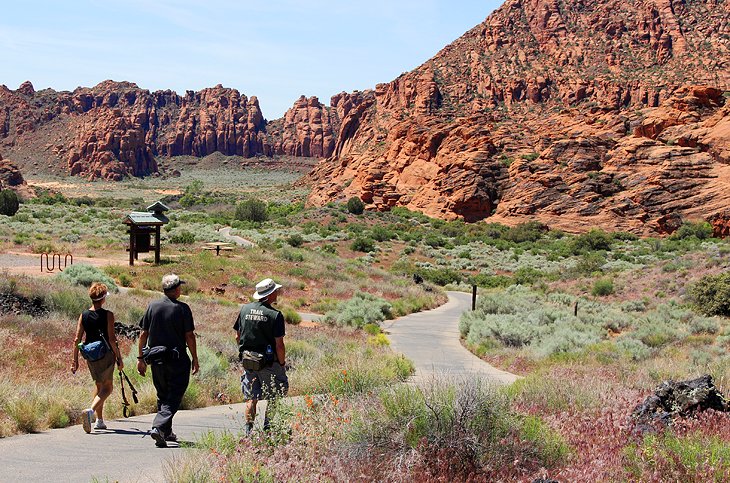 The beauty of the Whiptail Trail is that it is accessible to everyone. A wide paved trail, it can accommodate wheelchairs and strollers, and unlike the rest of the hikes in the park, dogs and horses are welcome on this trail. It's also a great place for a morning jog or bike ride.
Whiptail runs along a three-mile stretch of the park, from the south entrance to the Petrified Dunes parking lot, and offers views out to several of Snow Canyon's most popular hikes.
You can join the trail at several parking areas, so you can make this as long or as short of an excursion as you like. Out and back, from end to end, this is a six-mile trail.
7. Jenny's Canyon, Snow Canyon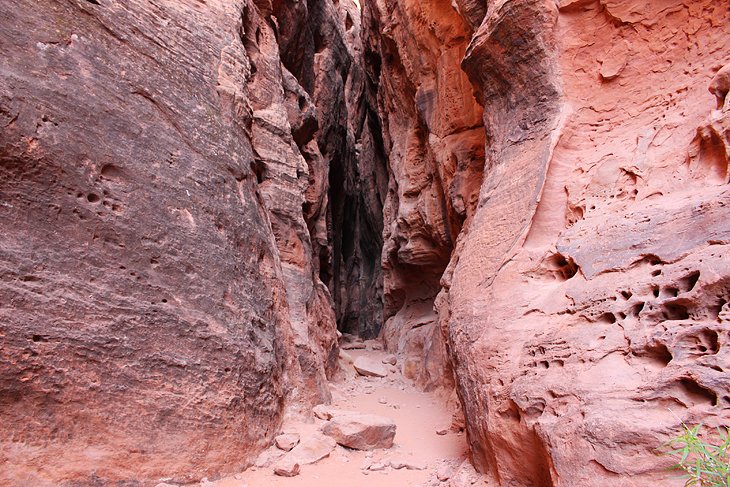 Jenny's Canyon is a short out-and-back hike to a narrow slot canyon and a nearby overlook. The hike takes only about 20 minutes, but if you've never seen a slot canyon, this is the perfect opportunity.
The trailhead is located at the south end of the park, not far from the entrance. It begins by heading out over a flat area and quickly approaches a rock wall. To the left, you can see the narrow opening to the slot canyon, and if you walk in a short distance, you'll find a plaque.
The canyon continues on a short distance and then comes to an abrupt end, at which point you turn around and exit by the same route you entered. To the right of the slot canyon, a short trail climbs up over rock stairs and a quick switchback to a lookout. From here, you can see the sand dunes on the opposite side of the road and views to the east.
8. Cove Wash Trails, Santa Clara River Reserve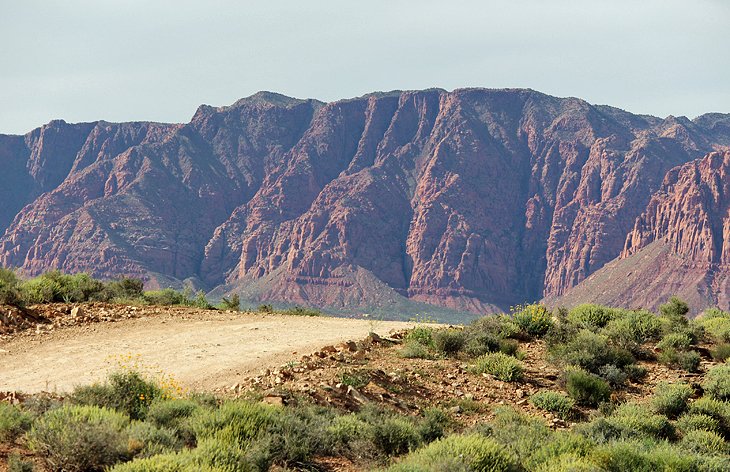 The Cove Wash Trails at the Santa Clara River Reserve are multi-purpose trails and a favorite with trail runners, mountain bikers, and local hikers. At the parking area, which is off a dirt road, a map shows the interconnecting paths.
Trails are rated in terms of difficulty for mountain bikers but this also serves as a good indicator for hikers.
As you approach the drive to the Cove Wash Trailhead, you may be thinking that this doesn't look like much of an area for hiking, but continue on and you won't be disappointed. The views out the back side of the parking area reveal a beautiful mix of rolling hills and mountains.
The trails head out across flat terrain and then offer options to walk along a ridge or descend into the valley below. In the spring, the wildflowers can be spectacular.
The Cove Wash Trailhead is located in Santa Clara and is a little tricky to find. Heading north on West Sunset Boulevard, turn left on Gates Lane, just before the Jacob Hamblin Home. This street begins as a paved road and then curves right, but you need to keep going straight onto the dirt road in front of you. The road climbs up a hill at the start. Further along this dirt road, a sign indicates the way to Cove Wash Trailhead.
9. Yellow Knolls Trail, Red Cliffs Recreation Area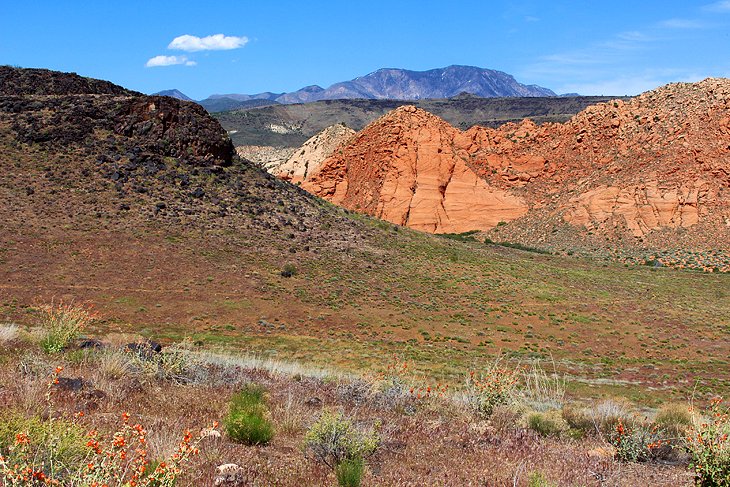 As the name suggests, the main attractions of this hike are the rolling yellow rock hills, but the entire hike is pleasant. Located in the Red Cliffs Desert Reserve just north of St. George, this is a 3.8-mile out-and-back hike.
From the parking area, the trail heads out across a field that is covered with wildflowers in spring, towards a red rock mountain. Just a hint of yellow can be seen in behind.
The trail descends into a valley and curves around this first mountain, taking you out onto the yellow stone, where you can explore the open rock landscape. This is the highlight of the hike, but the trail continues on, ascending to a high point for a view over the surrounding hills and rock formations.
Yellow Knolls Trailhead is in the Red Cliffs Desert Reserve, to the north of St. George, off Cottonwood Road. If you want a quick view of the trail and terrain before you set off hiking, you can drive past the trailhead to a viewpoint further along this road.
10. Hiking in Pioneer Park, St. George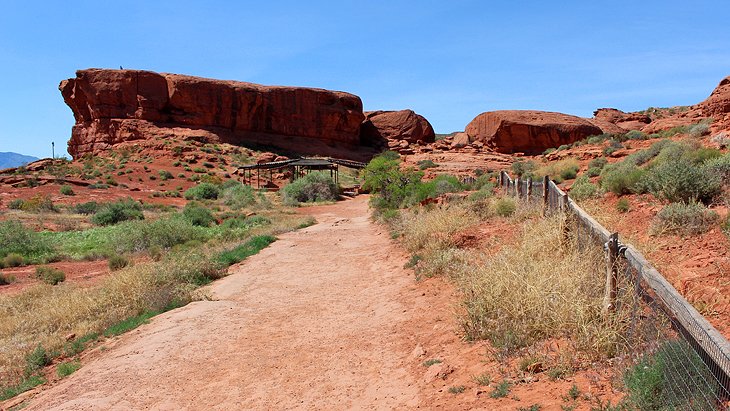 If you don't have time to head out to one of the nearby state parks or surrounding suburbs to explore trails, you can find good hiking right in St. George at Pioneer Park. This 52-acre urban park is one of the top attractions in St. George. It overlooks the city and is the perfect place to escape the sights and sounds of St. George for an hour or two.
Although the park is just a five-minute drive from downtown St. George, you feel like you are in the desert or on a canyon hike. You can walk among red rock boulders, explore a slot canyon, and enjoy a picnic at the shade-covered tables near the start.
Access to the park is off Red Hills Parkway.
11. Scout Cave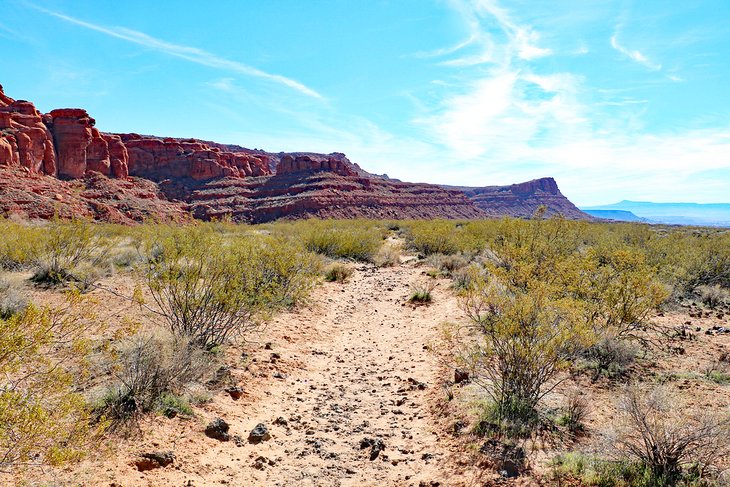 The Scout Cave hike is fast becoming one of the more popular hikes around St. George — and for good reason. The hike is not overly demanding in elevation gain and at 3.6 miles return, it's suitable for most people if they are in at least halfway decent shape.
The Scout Cave trail shares the same trailhead as the Johnson Canyon Trail — just remember to split off from that trail at the appropriate point, which is, fortunately, well signposted. You'll cross a variety of terrain, including lava fields, a sandy wash, and rocky sections. The cave is right at the end of the hike, and the view from here down the valley is incredible.
12. The Bowl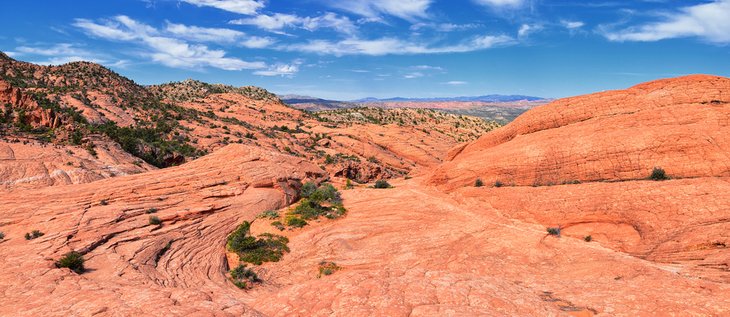 For a slightly bizarre hike that's not too long and a whole lot of fun, consider giving the bowl a go. The prize at the end is a 50-foot-deep sandstone bowl, not unlike a toilet bowl, that you can climb down into.
Along the way, your route will take you primarily over sandstone slickrock, a bit of sand here and there, with a few rocky sections. A bit of elevation near the end will get your heart rate up, but all in all this two-mile return hike is not difficult.
Map of Hikes near St. George, UT
Frequently Asked Questions
What is the best time to hike in St. George, Utah?
Average minimum and maximum temperatures for Saint George, UT in °C
J
F
M
A
M
J
J
A
S
O
N
D

13

-2

17

1

21

4

25

8

31

13

37

17

39

21

38

20

34

16

27

8

18

2

13

-2

PlanetWare.com
Average monthly precipitation totals for Saint George, UT in mm.

33

28

31

13

10

6

14

19

16

19

20

15

Average monthly snowfall totals for Saint George, UT in cm.

4

1

0

0

0

0

0

0

0

0

0

3
Average minimum and maximum temperatures for Saint George, UT in °F
J
F
M
A
M
J
J
A
S
O
N
D

55

29

62

33

69

39

77

46

87

55

98

63

103

70

100

68

93

60

81

47

65

35

55

29

PlanetWare.com
Average monthly precipitation totals for Saint George, UT in inches.

1.3

1.1

1.2

0.5

0.4

0.2

0.6

0.8

0.6

0.7

0.8

0.6

Average monthly snowfall totals for Saint George, UT in inches.

1.5

0.3

0

0

0

0

0

0

0

0.1

0.1

1.0
St. George has a pleasant climate that allows for hiking almost year-round. You'll find cool, sunny days in the winter months and almost perfect conditions in the spring and fall. Summer months can be unbearably hot, but it's still possible to hike, just head out in the very early morning. Keep in mind, many of the trails are totally exposed and offer little to no shade.
Where else can I hike near St. George?
If you have time to explore beyond St. George, you'll find some of the best hikes in Utah are not that far away. As mentioned, Zion has some incredible hiking trails, including Angel's Landing and The Narrows.
A couple of hours away is Bryce National Park. The trails here wind their way through a wonderland of hoodoos and spires jutting up from a natural amphitheater. Check out our article featuring the best hikes in Bryce Canyon National Park for detailed information.