15 Best Free Things to Do in Las Vegas, NV
Las Vegas may be the glitz and glamour capital of the world, but aside from $777 hamburgers and $25,000-a-night hotel suites, there are a lot of fun, free things to do.
Some of the Strip's big resorts have free things to do, like visiting the Bellagio Conservatory and Botanical Gardens or watching circus performers at Circus Circus. The Marjorie Barrick Museum of Art at UNLV is a free modern art museum, or you can watch new artists creating at The Art Factory, an art colony in DTLV (Downtown Las Vegas). Perhaps you want to explore Las Vegas' agricultural past with a visit to the Gilcrease Orchard and a ride in a tractor-pulled wagon.
If you want to hike and explore the area's canyons and natural geology, skip Red Rock Canyon (which has an admission charge) and visit the adjacent Calico Basin, with a similar landscape and free entry and parking. You can even visit Hoover Dam for free by parking in one of the far lots on the Arizona side, skipping the guided tour, and walking across the dam and the Memorial Bridge for some amazing views.
Plan your high-fun, no-budget adventures with our list of the best free things to do in Las Vegas.
1. The Fremont Street Experience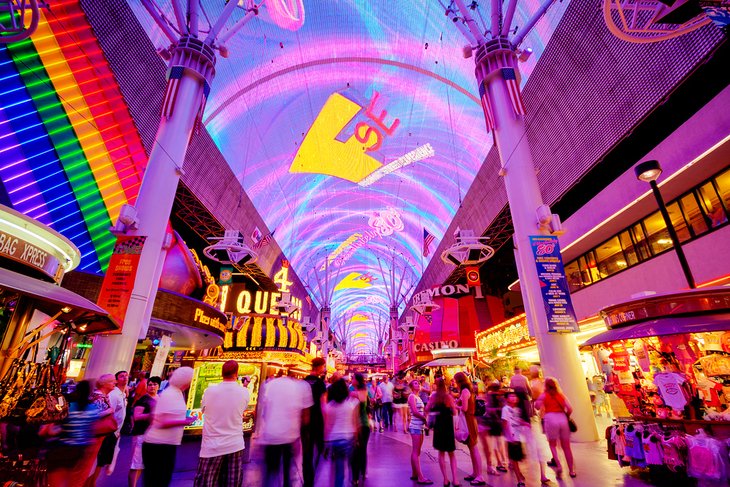 The Fremont Street Experience has transformed a formerly run-down, five-block section of historic Downtown Las Vegas (DTLV) into an amazing pedestrian-only entertainment zone, topped by the world's largest video screen. The Viva Vision screen is 1,375 feet long by 90 feet wide, and it's suspended 90 feet above the street below. Every night, Viva Vision puts on audiovisual shows with almost 50 million LED lights and a booming 600,000-watt sound system.
Programming runs 24 hours a day, and the six- to seven-minute featured shows happen on the hour throughout the evening (the last show is at 1am.). Shows feature huge music stars like Shakira, Imagine Dragons, The Killers, and more, with performance videos and music videos played on the Viva Vision screen.
Aside from the free light and video shows, the Fremont Street Experience has three stages and an extensive schedule of free live music. Their free Downtown Rocks concert series always features some cool retro acts from the 80s and 90s (Starship, Molly Hatchet, Stone Temple Pilots, etc.)
2. Fountains of Bellagio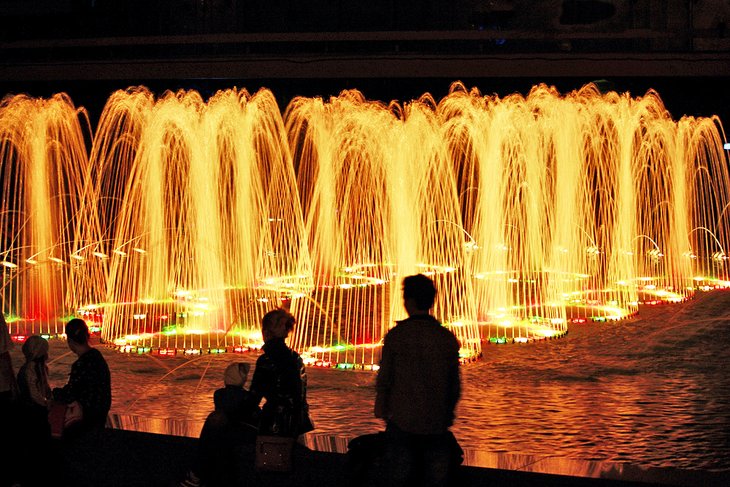 More than just a water show, the Fountains of Bellagio are a true aquatic extravaganza. This free show happens every 15 or 30 minutes (depending on the time of day), every afternoon and night in the middle of the Bellagio resort's large lake.
You will see more than 1,000 individual, computer-controlled fountains, spread out over 1,000 feet. As the music plays, and the light show works its magic across the lake, spouting water, the fountains sway to the music and shoot water almost 500 feet into the air.
You can line up on the sidewalk on the Strip against the fence in front of the Bellagio for a good view. The trick is to wait until the end of a show (they are four minutes long), allow the crowd to leave, then claim your spot. If it's before 8pm, you will have to wait 30 minutes until the next show, after 8pm, you will only have to wait 15 minutes until the next one.
At the south end of the lake, there's an escalator at the sidewalk that takes you to a covered walkway. This is an excellent, somewhat-secret vantage point to watch the free show, although you do get a side view, not a front view.
3. Visit Hoover Dam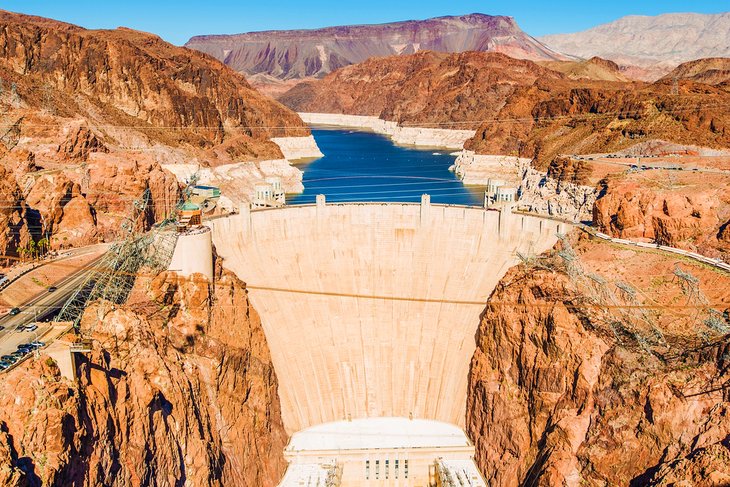 Skip the expensive guided Hoover Dam tours and spend your time admiring this amazing piece of almost 90-year-old engineering from a few different angles.
First, head to the Mike O'Callaghan-Pat Tillman Memorial Bridge, which is right in front of the dam. The bridge, which is the highest concrete arch bridge in the world, was built so traffic would no longer have to drive across the top of the dam. There is a free parking area near the bridge (arrive early, as it fills up quickly) and you can then walk across the bridge on a free walkway, giving you amazing vistas of Hoover Dam.
Get back in your car and drive to one of the free upper parking lots on the Arizona side. Keep in mind, it's about a three-quarter-mile walk back to the dam (for those with accessibility issues, parking is complimentary in the parking garage right next to the dam). Walk across the top of the dam itself, so you can get some close-up views of the structure and of Lake Mead on the other side.
4. Marjorie Barrick Museum of Art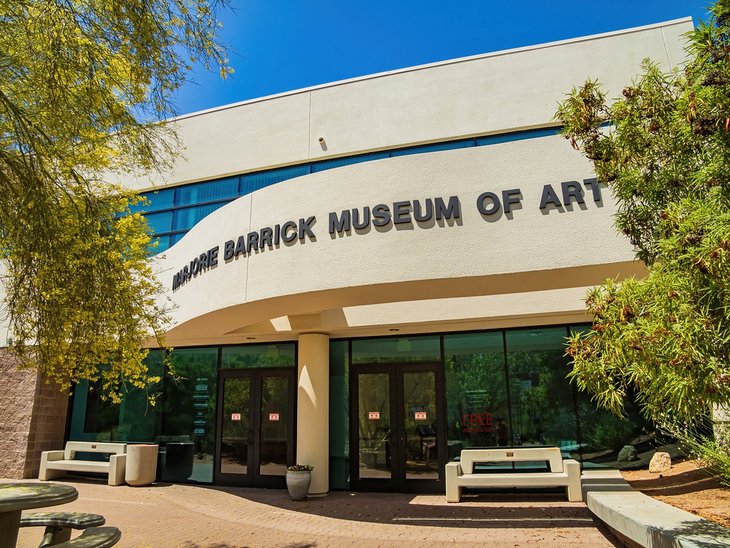 The Marjorie Barrick Museum of Art at the University of Nevada, Las Vegas is a free art museum and gallery located right on the UNLV campus. The history of the Barrick Museum of Art is quite fascinating, it started in the late 1960s as a space museum connected with Nevada's Space Research Institute, filled with exhibits about space travel and moon rocks. Over the years, it evolved into an art museum and now focuses on underserved artists and neglected communities.
They are committed to showcasing work from often overlooked communities, including BIPOC and LGBTQIA+ people. At the same time, they seek to break down barriers for visitors, looking to welcome those same underserved communities to visit the museum and become art lovers.
The free museum has four different gallery areas, with changing artist-centric or themed exhibitions shown in each. It's open Tuesday through Saturday from 10am to 5pm and is closed on all state and federal holidays.
Check the museum's website for programming, as their popular workshops and lectures are also free.
Address: 4505 S. Maryland Parkway, Las Vegas, Nevada
Official site: unlv.edu/barrickmuseum
5. Explore Bellagio Conservatory & Botanical Gardens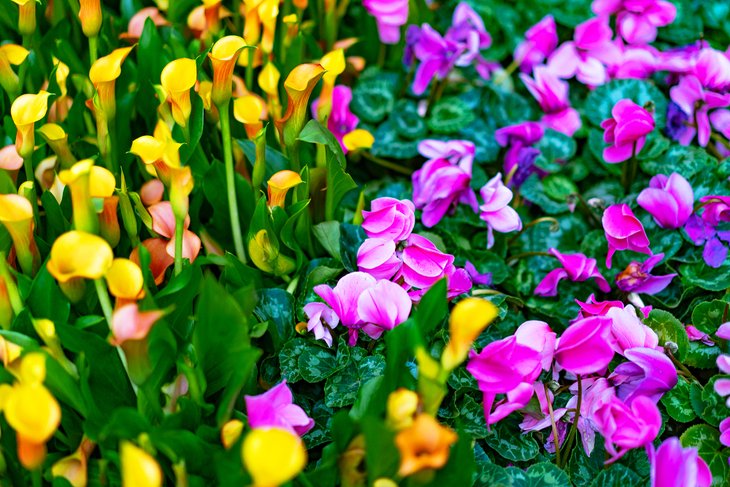 Just beyond the lobby of Bellagio Las Vegas, the Bellagio Conservatory rises over 50 feet into the air. Built with a verdigris metal frame and glass panels that let in the sunshine, the Conservatory is home to the Bellagio Botanical Gardens, a 14,000-square-foot green oasis right on the Strip.
The garden is an entire world of plants, flowers, animals, insects, and water features, the theme of which changes seasonally. Just walking into the garden, you have the urge to breathe in deeply. The whole atmosphere is very natural and a wonderful antidote to the artificiality of Las Vegas. The free tourist attraction is a treat for multiple senses, as the beautiful sights are accompanied by the smells and sounds of plants, birds, insects, flowers, and nature itself.
The garden season starts in late January with the Lunar New Year, and the designs, selection of plants displayed, and the style reflect this Asian celebration.
Spring means new life and cherry blossoms, along with a lot of color. The fall brings orange, brown and gold themes typical of a New England autumn, and then, after Thanksgiving, they always go all out on a winter wonderland holiday display to end the year.
For each season, the team of over 100 gardeners are able to totally transform the space, which includes plants, forest, and jungle sections, and water features like streams and ponds. It's a very immersive place to visit, as you have plants, trees, and flowers under your feet, all around you, and over your head.
6. Play in a Container Park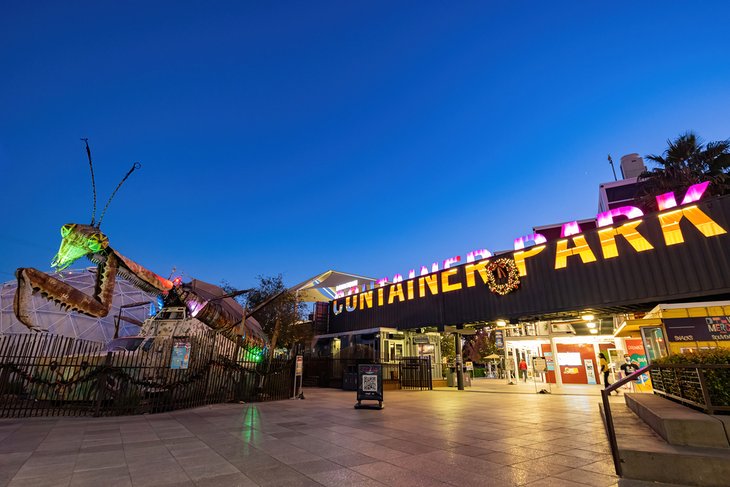 Another cool thing to do in the newly revived downtown Las Vegas area is visit the Downtown Container Park at Fremont and South 7th. It's a large outdoor play area, performance space, and shopping mall, built mainly from renewable metal shipping containers.
The Container Park has several stages presenting a series of free musical and other performances throughout the day and evening. Other free entertainment includes outdoor movies, magic shows, and group experiences. There is a big lawn area, with lounge chairs and free games like giant checkers and giant LEGO blocks.
Aside from unique dining and shopping, the Downtown Container Park has a free, interactive play area for adults and kids. The highlight is the massive Treehouse, with its 33-foot curving slide, obstacle courses, and a NEOS electronic play system. NEOS is like a giant physical video game, where the playground equipment has electronic sensors, so it interacts with the players and with each other.
And if all that wasn't enough, join the daily free drum circle at sunset, where the beat of multiple drums helps awaken a giant, 40-foot-tall metal Transformer-like praying mantis, The Mantis. As The Mantis rises and awakens, it shoots fire six stories into the air, speaks multiple languages, and plays music through a 4,000-watt surround sound system.
Address: 707 South Fremont Street, Las Vegas, Nevada
Official site: downtowncontainerpark.com
7. The Arts Factory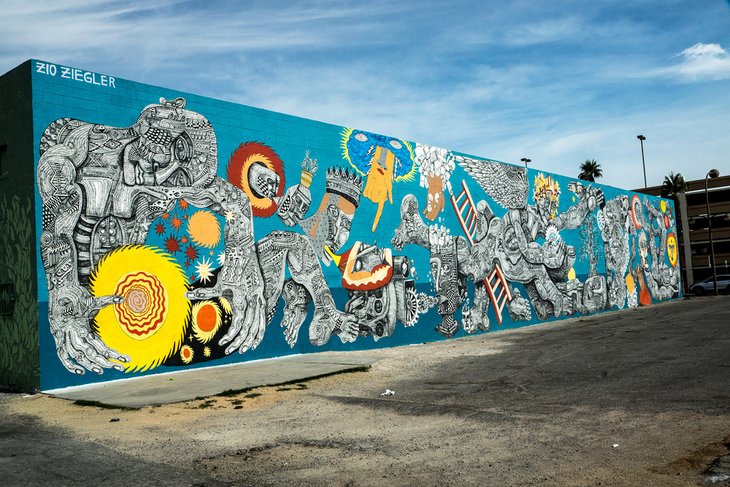 Far (culturally not geographically) from the glitz of the Vegas Strip, there is another Las Vegas, where people live in lofts and create art. A key part of DTLV, The Arts Factory is a space that has become a hub for this thriving urban art scene. There is no admission charge, and the Arts Factory has dozens of in-house makers and artists, most of whom work on-site. You can check out all the individual studios and meet the artists as they create.
If you're in Las Vegas on the first Friday of any month, you need to experience First Friday, the downtown area's free local art, music, and food festival. The monthly free festival celebrates Las Vegas' musicians, artists, and makers. It's a very fun experience, and there are always free food samples available.
If you're visiting Las Vegas on the first Thursday of the month (6pm to 9pm), check out Preview Thursday, where all the galleries in DTLV welcome visitors and showcase new works and new exhibitions.
Address: 107 E. Charleston Blvd., Las Vegas, Nevada
Official site: theartsfactorylv.com
8. Check Out the Alternate Reality of AREA15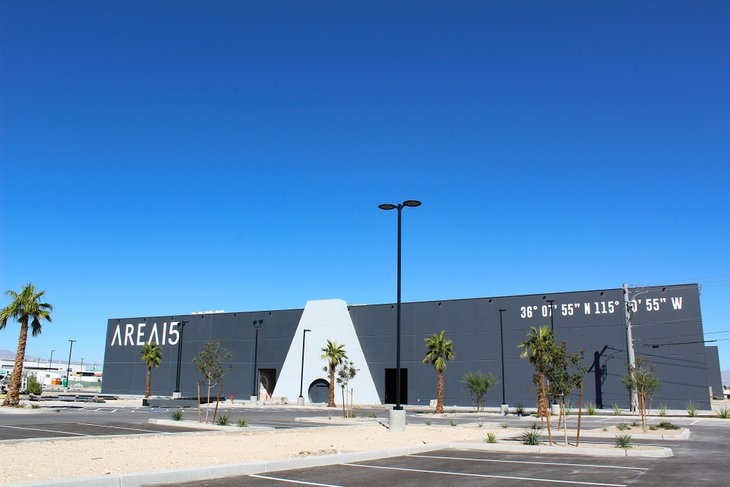 A Vegas version of Nevada's Area 51 top secret alien research center, AREA15 is a whole series of alternate realities. Housed in a giant warehouse, this combination art gallery, performance space, amusement park, and virtual reality arcade is free to enter.
The attractions, rides, and virtual reality experiences do cost money, but you can explore the theatrically lit and created spaces, check out all the art installations and alternate realities, and watch other players' virtual experiences on giant screens, all for free.
You need to reserve your AREA15 free entry pass online or on their app. From Sunday through Thursday, it's all ages until 10pm, and guests 21 and over after that. On Friday and Saturday nights, it's all ages until 10pm and then 21 and over after that (with an admission charge). Parking is free.
Address: 3215 South Rancho Drive, Las Vegas, Nevada
9. View Seven Magic Mountains in the Desert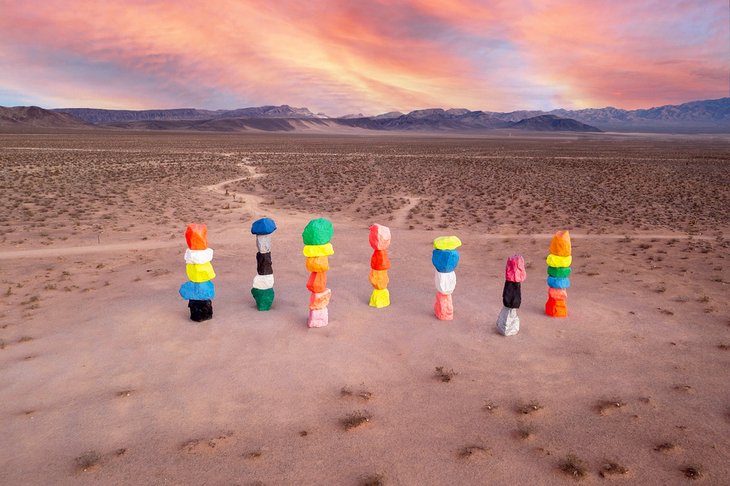 About 20 miles from the Strip, just off Las Vegas Blvd, you can find seven towers of brightly colored, stacked giant boulders, each one soaring more than 30 feet high from the desert floor. Seven Magic Mountains is a large-scale, site-specific public art installation created to express the human presence in the desert.
Very popular for IG and TikTok posts, the art installation was created by Swiss artist Ugo Rondinone. The fluorescently bright DayGlo-colored boulders are an extreme contrast to the muted tans and golden browns of the Mojave desert, yet there is something special and appropriate about them. There is signage at the site that tells you about the installation, and you can call a special phone number to hear a mobile audio guide that leads you around the artwork.
If you're driving to Las Vegas from California, the art installation is off the 15 freeway, south of Las Vegas in Jean, after Primm. You can stop on your way to Vegas or on your way back to LA. It's free to visit, always open, and parking is also free.
10. Ride a Free Tram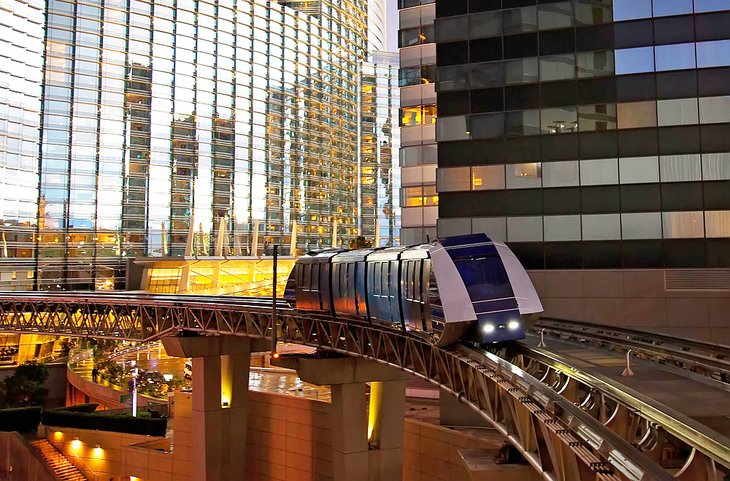 Las Vegas has a monorail system, which costs money to ride, but there is also a free tram. The ARIA Express Tram connects five of the city's mega resorts, but you can also use it to get from place to place on the Strip, for free. Use it to get to attractions and things to do around those resorts or to dine or shop there.
The free tram connects the Bellagio (fountains and botanical gardens), the Vdara Hotel & Spa at Aria (CityCenter), the Park MGM Las Vegas (T-Mobile Arena, MGM Grand Garden Arena), the Shops at Crystals (a great luxury mall), and ARIA.
Like the monorail, the ARIA Express Tram operates on a raised track system, so there are no traffic delays. The tram operates every day, from 8am to 9pm and until 2am on weekends and special events.
11. Hike in Calico Basin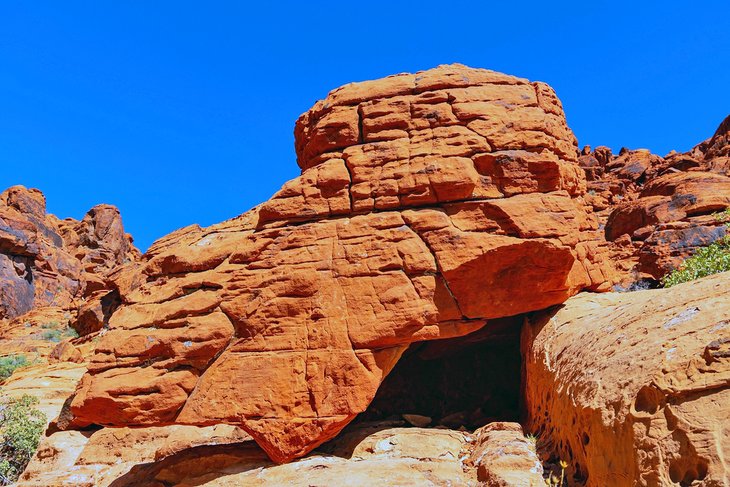 Las Vegas' famous Red Rock Canyon is a very popular place to hike, camp, and explore nature. The problem is they charge an entrance fee, even if you get dropped off. Calico Basin is part of the same conservation area and has similar geologic features, but it's free to park there and free to explore.
There are many hiking trails in the Calico Basin area, and they include all kinds of terrain, including canyons and huge boulders. You get all the massive and beautiful rock formations and geology as Red Rock Canyon, all for free.
Calico Basin has trails for hikers of all skill levels and even has a boardwalk trail for beginners. The Calico Basin area is right off State Route 159, about two miles before the main entrance to Red Rock Canyon.
12. Watch Mermaids Swim in an Aquarium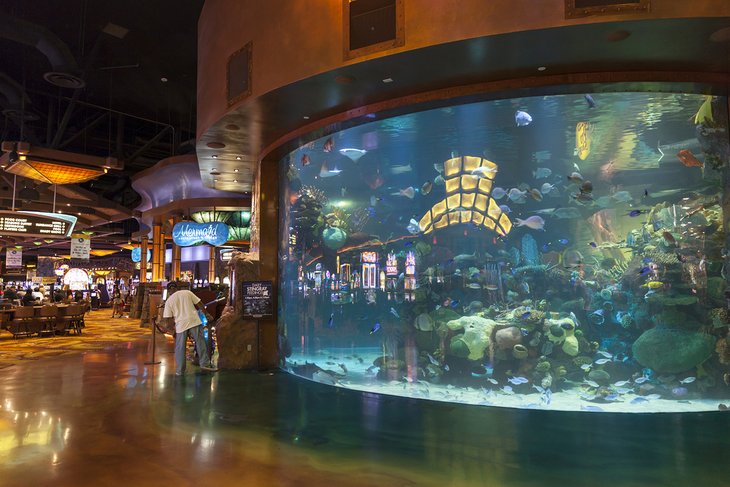 The Silverton Hotel at the far south end of the Strip has an enormous 117,000-gallon aquarium filled with tropical fish and aquatic wildlife. Beyond the fish, it's home to a rare school of mermaids. The mermaids (professional swimmers in costume) do free underwater performances from noon until 8pm from Thursday through Saturday, and from 10:30am to 6:45pm Sunday.
This family-friendly, free thing to do in Vegas is a 24-hour attraction, so you can even visit in the middle of the night and watch the fish. They do two fish feedings a day, 1:30pm and 3:30pm, and these are very popular times to visit.
Then after you spend time here, head into the massive Bass Pro Shops located on-site at Silverton, with more free aquariums to check out. Here, you will find an 18,000-gallon koi pond feature designed to replicate Red Red Canyon's iconic rock formations. There are three more aquariums filled with gamefish like trout, catfish, carp, and bass, along with a flowing river with ducks, turtles, bluegills, and sturgeon.
13. Enjoy the World's Largest Permanent Circus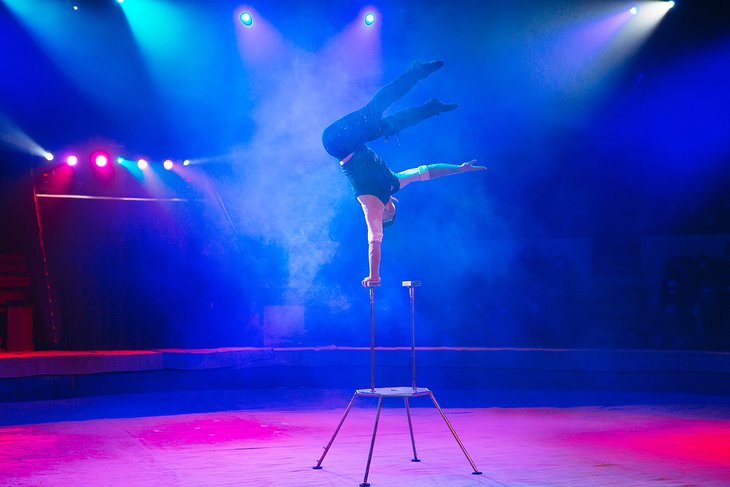 When it opened in 1968, Circus Circus was the first Las Vegas hotel to really cater to families with children. As the name implies, the resort has a circus theme and constant, free live circus performances. It's easy to spot on the Strip, as it's topped with a giant red-and-white striped circus tent.
All day and into the night, very talented circus performers from around the world do their acts on the hotel's Midway stage. Acrobats and aerialists perform overhead, and clowns are always running around the audience causing trouble and laughs.
The free circus performances start at 1:30pm weekdays and at 11:30am on weekends. They run all day, with the last show at 7:30pm on weeknights and 10:30pm on weekends.
14. Tour a Car Collection at Danny Koker's Count's Kustoms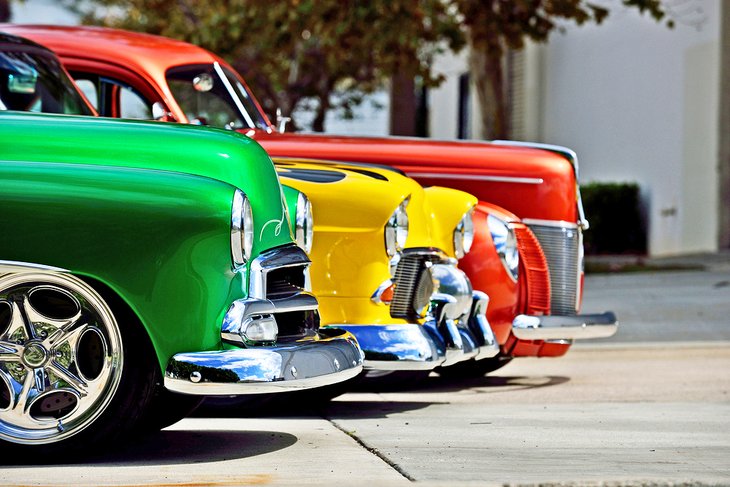 Featured on the popular History Channel TV series Counting Cars, Danny Koker's Count's Kustoms shop builds some amazing customized hot rods and motorcycle choppers. The huge showroom and car museum are free to visit, and they're filled with cars and bikes being built for customers, as well as Koker's personal collection of custom hot rods, exotic cars, choppers, and more.
You get to see all the cars the shop builds and works on, and they're also a classic car dealer, so there's always a lot of interesting exotic and antique vehicles (more than 50) as well.
This is an interactive museum, and the Count's Kustoms crew are always on hand to answer questions. The shop tour is free, and it's open seven days a week, from 10am to 4pm.
Address: 2714 S. Highland Drive, Las Vegas, Nevada
Official site: countskustoms.com
15. Take a Wagon Ride through Gilcrease Orchard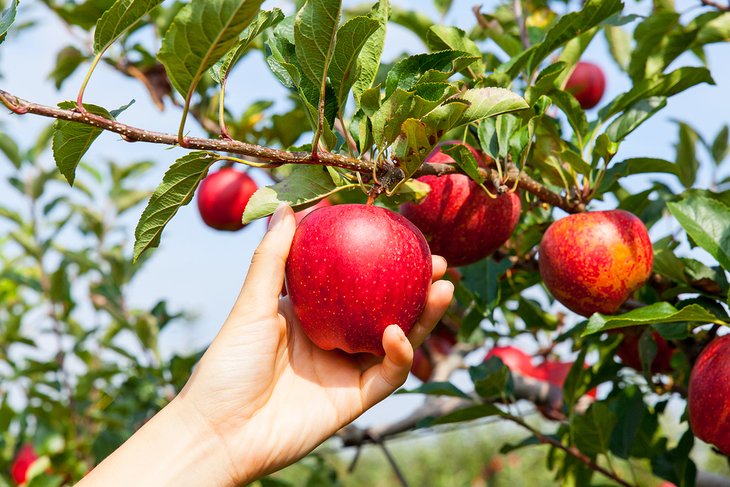 Step away from the current Las Vegas of glittering resorts and digital signs into the rural past, when the then small Nevada town was known more for farming than for gambling.
The Gilcrease Orchard (formerly Ranch) came long before the casinos. It was started over 100 years ago on a plot of land that included artesian springs. In the 1970s, the ranch started focusing on growing apples and soon started a self-pick and pay policy. Today, it's the only remaining family ranchland in Las Vegas and now belongs to a foundation created by the family to preserve it for perpetuity.
A visit to the orchard is free, and it's a fun thing to do with the kids. While you're here, you can take a free ride in a tractor-pulled wagon to get a view of the entire orchard. And although they sell the fruit you can pick by the pound, some free sampling is allowed.
The orchard is open for public picking on Tuesdays, Thursdays, and Saturdays, from 7am to 10 am. Around Halloween, the orchard has a pumpkin patch and charges for the wagon rides, similarly during the holidays they sell Christmas trees and also charge for the wagon rides.
Address: 7800 N. Tenaya Way, Las Vegas, Nevada
Official site: thegilcreaseorchard.org
Map of Free Things to Do in Las Vegas, NV