From Las Vegas to Zion National Park: 4 Best Ways to Get There
Zion National Park is a relatively small (224 square miles) national park in Southern Utah. The compact size means you can explore a lot of the park in a day. The highlight of the park is Zion Canyon, a deep canyon carved by a river, similar to the Grand Canyon. Zion Canyon is 15 miles long with sheer walls in places almost 2,500 feet tall.
Less than a three-hour drive from Las Vegas, the sheer natural wonder of Zion National Park makes for a long but great day trip. Once you arrive, it's easy to get around, as the Zion and Springdale shuttles serve the small town adjacent to the park (Springdale) and all the areas inside the park. The free shuttles usually run every day March through November, weekends in February, and every day the last week in December. When the shuttles are running, private vehicles are not permitted to enter the park.
Zion is close to Bryce Canyon National Park (about 90 minutes away), and many people visit both parks when they are in the area.
If you leave Vegas by 7am, you'll be at the park gate by 10am and can spend the whole day here. Then you can head back to Vegas to arrive in time for dinner. You'll find several options available for getting from Las Vegas to Zion National Park, from driving yourself, right through to a helicopter adventure.
1. From Las Vegas to Zion National Park by Car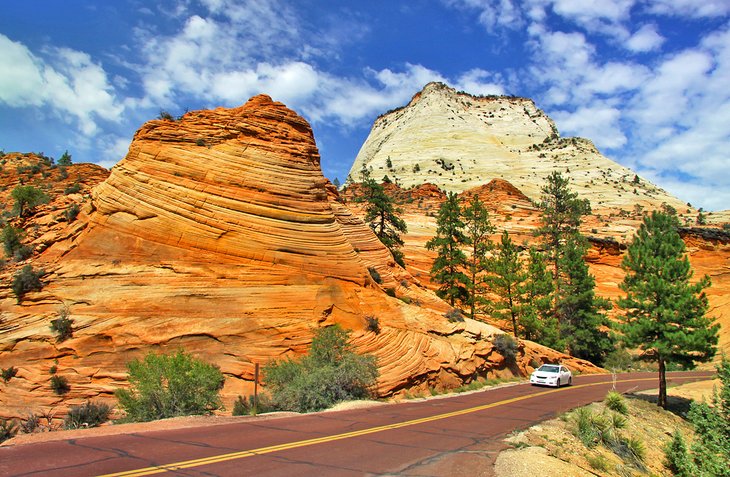 Highlights: Quick and uncomplicated drive with diverse scenery
Another way to get from Las Vegas to Zion is to jump in a car and drive. It's about 160 miles, and the drive usually takes between two and three hours. Start the trip by getting on I-15 heading north out of Las Vegas. After traveling for about 55 miles, you'll come to the Valley of Fire State Park, which is worth a stop and drive-through. The Valley of Fire Scenic Byway is a 10-mile road that goes through the park, offering many view stops along the way.
Get back on I-15, and about 100 miles outside Las Vegas, you'll go through the Virgin River Gorge. With soaring cliffs on either side, it's a nice break from the barren desert scenery. Next stop is St. George, Utah, where you'll take exit 16 to UT-9, which is a 30-mile road leading to the Zion National Park entrance. Zion Canyon Scenic Drive is the main tourist route through the park, allowing you to visit all the must-see locations. It's closed to private vehicles during the summer, and visitors must use the free shuttles.
Once at the park, you don't need your car, you can make use of the park's Zion shuttle inside the park and the Springdale Shuttle to get you around the local area.
You can also rent a car in Las Vegas for the drive to Zion. If convenient, consider renting from an off-airport location, as they can be cheaper than getting your rental car at the airport.
2. From Las Vegas to Zion National Park by Tour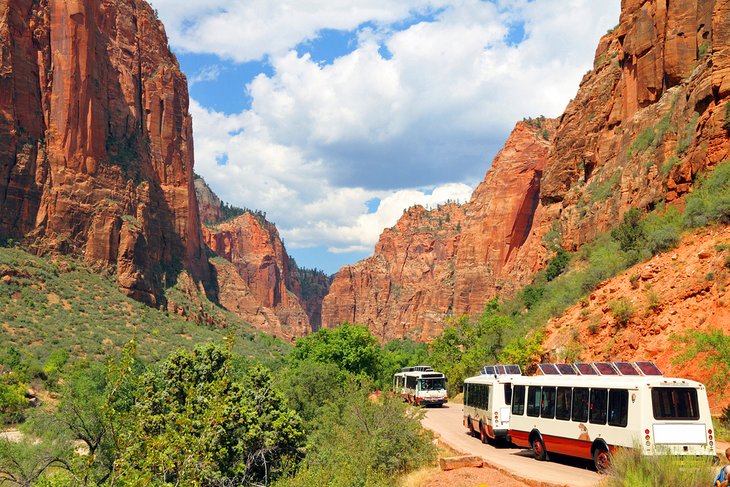 Highlights: Full-day guided tour with time for independent exploration. Transportation and park fees included
The easiest way to visit Zion National Park from Las Vegas is to do a tour and leave the driving to someone else. Zion National Park Small Group Tour with 6 Hours Explore Time makes it easy to visit the park and to also learn about the area on the way. They pick you up at Bally's, Excalibur, or Treasure Island, provide snacks, water, and a picnic lunch, as well as Zion park admission. You get six hours to enjoy the park, then they drive you back to any one of those three hotels that evening. At Zion, you can hike around and make use of the park's free shuttle service, which serves all the popular viewpoints and areas.
You'll get to see the Virgin River Gorge outside the park and the incredible sandstone cliffs inside. The guide will give you an itinerary to explore popular destinations in the park on your own including Emerald Pools, Riverside Walk, and Weeping Rock.
Another good tour from Las Vegas is one that takes you to two national parks in Utah: Zion National Park and Bryce Canyon National Park. The Bryce Canyon and Zion National Parks Small-Group Tour from Las Vegas takes care of all the details and allows you to focus on enjoying both Bryce Canyon National Park and Zion National Park. Limited to 14 people, the tour provides a more personal, intimate experience than the larger group tours.
The full-day tour, done in a luxury SUV or mini-bus, starts with a pickup at your hotel in Las Vegas at 6am, followed by a drive to Zion National Park. The drive takes about three hours, and a continental to-go breakfast is served en-route. You spend an hour exploring Zion on a guided drive, and you get some time at the park's visitor center.
Next, it's on to Bryce Canyon National Park, which is about two hours away. You stop for a picnic lunch and then spend a few hours exploring Bryce Canyon and visiting the main viewpoints. After Bryce Canyon, it's a four-hour-drive back to your Las Vegas hotel, where you'll arrive around 9pm.
3. From Las Vegas to Zion National Park by Bus or Shuttle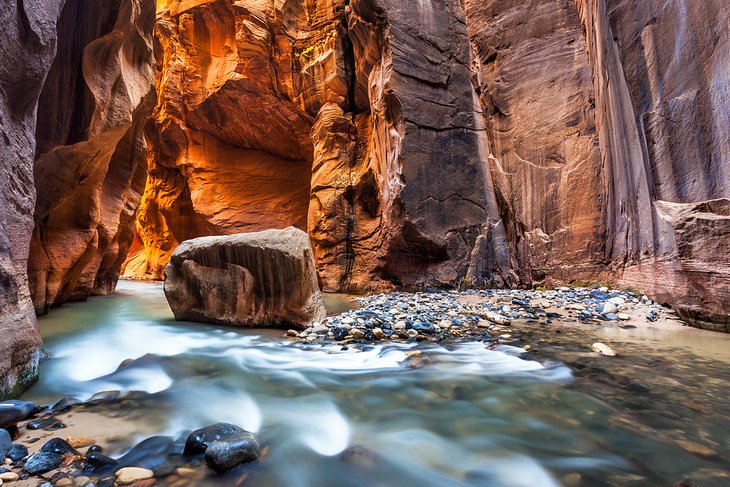 Highlights: Comfortable convenience with numerous rest stops
There are several bus options to get you from Vegas to Zion National Park. National Park Express is a private bus company that provides bus service connecting many national parks and tourist destinations in Arizona, Utah, Nevada, and California. The buses make frequent rest stops and have restrooms onboard. They also have free Wi-Fi and charging outlets at every seat.
You can also take the Greyhound bus from Las Vegas to Zion. You would buy a ticket from Vegas to St. George, Utah, the closest stop to the park. Once you're in St.George, the St. George Shuttle will take you to the Zion visitor center. The St. George Shuttles between St. George and Zion run four times a day, and the trip takes an hour. Once at Zion, you can use the free Zion and Springdale shuttles to get around the park and adjacent town.
Another way to get from Vegas to Zion is to take the St. George Shuttle, which leaves from LAS (Las Vegas Airport). The journey takes about five hours, as it makes several pickup/rest stops along the way.
4. From Las Vegas to Zion National Park by Helicopter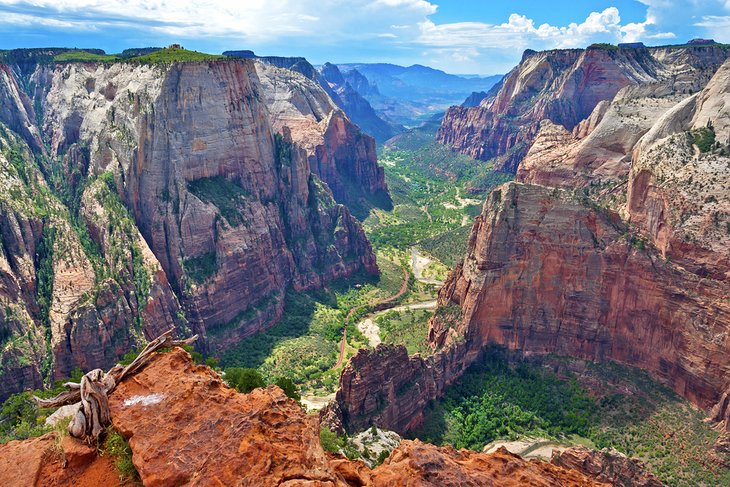 Highlights: Aerial tours with breathtaking scenic attractions
It's possible to fly to Zion from Las Vegas to do a helicopter tour using any one of the Vegas-based heli companies. The flight would be a custom charter, as most of the companies do mainly Grand Canyon flights. Typically these are visits by air; you do not land and get out, you fly to the park, pass over important scenic areas, then fly back to Las Vegas.
Based in Utah, Bryce Canyon Airlines offers air tours of Zion National Park, flying from their base in the small town of Bryce Canyon City. Most tours, which are done by helicopter or private plane, also include a visit to Bryce Canyon. The company can pick you up in Las Vegas and drop you back off there as well.
Frequently Asked Questions
What should I do in Zion National Park?
The best thing to do when you get to Zion is to get a map from the park office and then hop on the shuttle bus that takes visitors through Zion Canyon. Plan out your stops before you get on. This is a scenic ride but you'll want to get off a few times to make the most of your day.
Hiking trails in Zion offer some of the best ways to see the landscape and hiking is one of the most popular activities in the park. Along the bus route are several good hiking trails of various lengths. Some of these are just short walks to waterfalls and are good options for families. If you want a little more adventure, there are some much mores serious hikes in the park.
If you have your own car, the options expand. You can drive to some of the high points and see other areas of the park. For a complete look, see our guide to the best things to see and do in Zion National Park.