From Las Vegas to Bryce Canyon National Park: 4 Best Ways to Get There
Located in Southern Utah, Bryce Canyon National Park is a visually spectacular place to visit. The park is known for its huge geological formations, giant columns of rock called hoodoos. The colors here are amazing: red rocks, pink cliffs, and seemingly endless views of an otherworldly landscape. Unlike the Grand Canyon, Bryce Canyon isn't really a single canyon, it's a series of natural bowls carved into the edge of a high plateau by erosion. Those bowls are filled with the multi-colored spires or pinnacles known as hoodoos.
Bryce Canyon National Park is an easy trip from Las Vegas. If you are up for a long day, you can even do this as a day trip. If you leave Vegas early, about 5am, you'll be at the park by 10am and can spend the whole day here. Then you can head back to Vegas to arrive in time for a late dinner. You can drive yourself, drive a rental car, do a guided tour from Las Vegas, or visit the park from above on a helicopter adventure.
There are a few options to get from Las Vegas to Bryce Canyon: it's less than 300 miles away, and the drive will take between four and five hours. Once you're here, a car isn't always necessary, as the Bryce Canyon Shuttle is a free service that operates throughout the park and immediate area outside the park. The service, which operates from April through mid-October, runs every day from 8am to 6pm (8am to 8pm in the summer).
1. From Las Vegas to Bryce Canyon National Park by Car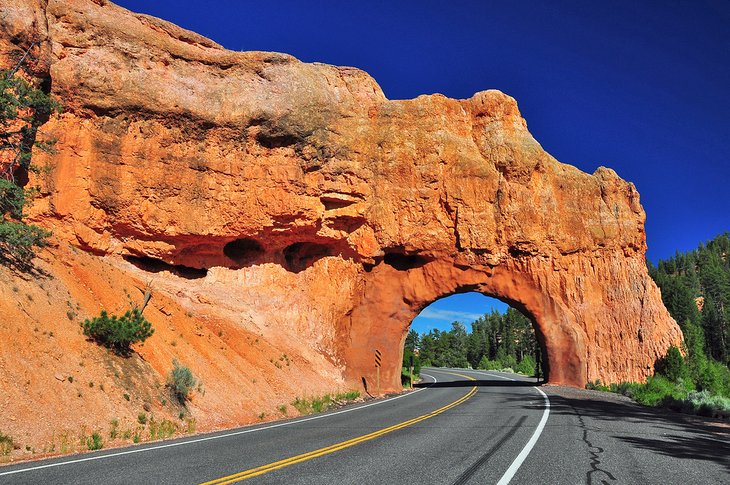 Highlights: Self-paced drive with scenic views
A drive from Las Vegas to Bryce Canyon National Park is about 265 miles and will take about four hours. Most of the drive is on the big I-15 interstate. Take the I-15 north from Las Vegas into Utah until exit 95, where you get onto UT-20 eastbound. Drive another hour to UT-63 south, which leads right to the park entrance. It's possible to drive into and around the park, or you can park your car and use the free shuttle service (free with paid park admission).
You may encounter some snow on the Utah roads if you make the drive during wintertime (December through February). The area around Bryce Canyon is on a high plateau, several thousand feet above sea level, and gets snow. The roads are well-maintained, but it's a good idea to have a car equipped for winter driving (FWD, AWD, all-season tires, etc.) and a driver prepared for driving in snow. It's not necessary to have chains or a 4WD vehicle.
A rental car is a great way to get to Bryce Canyon from Las Vegas. Rental cars are available at the Las Vegas airport, or consider using an off-site (non-airport) rental car location in or around Las Vegas, as the rates may be cheaper. Some companies will pick up car rental customers at no charge. Even if you have to take an Uber or Lyft to the rental car office, it still may be cheaper than an airport rental.
2. From Las Vegas to Bryce Canyon National Park by Tour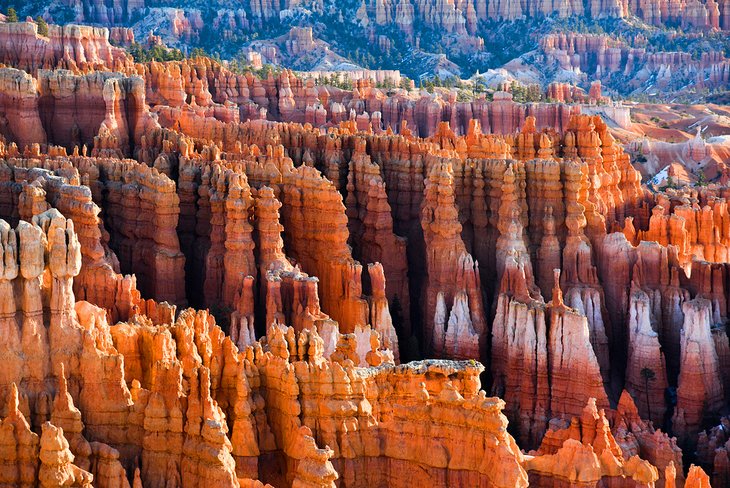 Highlights: A full-day tour of two parks, including transportation, park fees, and light refreshments
This tour involves a stunning scenic drive through Zion National Park and a stop at the visitor center. It then continues on to Bryce Canyon National Park where you can walk along the rim and gaze out at the hoodoos lining the amphitheatre.
An easy way to experience Bryce Canyon National Park from Las Vegas is to do a guided tour, which allows you to see two parks in one day. The Bryce Canyon and Zion National Parks Day Trip from Las Vegas allows you to spend a full day exploring both parks. The tour includes round-trip transportation from all major Las Vegas resorts and entrance fees to the parks.
This tour is approximately 13 hours. Bottled water and granola bars are provided.
3. From Las Vegas to Bryce Canyon National Park by Bus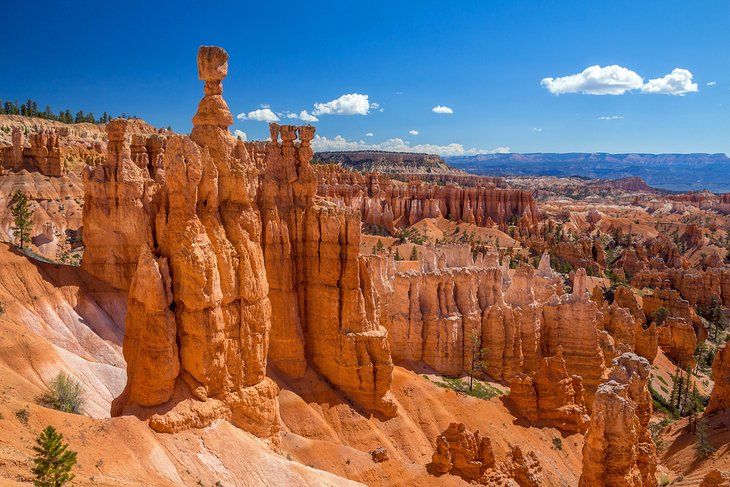 Highlights: Budget-friendly convenience, option to visit other stops en route
The best option to get from Las Vegas to Bryce Canyon National Park by bus is to use the National Park Express bus. This private company operates shuttle bus service connecting many national parks and tourist destinations in Arizona, Utah, Nevada, and California. The buses have free Wi-Fi and charging outlets at every seat. National Park Express bus offers a full-day, semi-guided trip to both Bryce Canyon and Zion Canyon with pickup from your Las Vegas hotel.
You can also take the Greyhound bus (most of the way) from Las Vegas to Bryce Canyon. You would buy a ticket from Vegas to either Cedar City, Utah or Parowan, Utah, the closest stops to the park. Parowan is closer to the park entrance, but it's a small town with few services. Cedar City is farther from the park, but it's easier to secure transportation here. Either city will still leave you about 90 minutes from the park entrance, so you'll need to make arrangements for a taxi or call a Lyft or Uber. As this is an isolated area with few riders, Lyft and Uber can be expensive. Once at the park, you don't need a car and can use the free shuttle service to get around.
4. From Las Vegas to Bryce Canyon National Park by Helicopter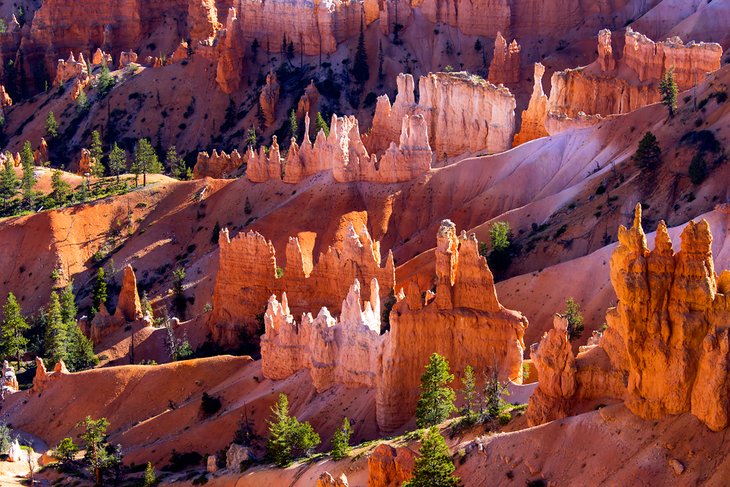 Highlights: Charter flights that offer convenience and spectacular aerial photography opportunities
It's possible to get from Las Vegas to Bryce Canyon National Park by helicopter. There are a few helicopter companies that operate in Las Vegas, and while they don't offer regular flights to Bryce Canyon (like they do to the Grand Canyon), they will do a charter flight for you. Most flights would include visits to both Bryce and Zion Canyons, as they are relatively close to each other.
Bryce Canyon Airlines, based at the historic Ruby's Inn in Bryce Canyon City, Utah, offers a range of sightseeing flights by both helicopter and small plane to Bryce Canyon. All the flights are narrated and specially planned for great photography. For an extra charge, you could arrange Las Vegas pickup and drop-off with the tiny airline.