10 Best Campgrounds & RV Resorts near Las Vegas
Camping around Las Vegas ranges from pitching a tent under the stars in the open desert to RV camping under a neon sign within the city limits. Both have their advantages, and the choices are plentiful.
Within a 30-minute drive of Las Vegas, you can find wonderful campgrounds in outstanding natural surroundings. And if you're willing to travel an hour outside the city, your options open up even further. RVers coming to Las Vegas to experience the city can find quality RV parks within a short drive of the Strip and downtown Las Vegas.
Summer temperatures around the city can soar, with daytime highs in the 100 degree Fahrenheit range. In winter, nights in the desert can be cool. The best time for camping around Las Vegas is generally in the spring and fall, which is also the high season.
Many of the state parks and national parks have first-come, first-served campsites along with reservations (state parks only), but RV parks should generally be booked in advance. Most campgrounds, including the national parks, have Wi-Fi available.
Figure out where you want to camp with our list of the best campgrounds near Las Vegas.
See also: Where to Stay if Campgrounds are Full or the Weather is Bad
1. Boulder Beach Campground at Lake Mead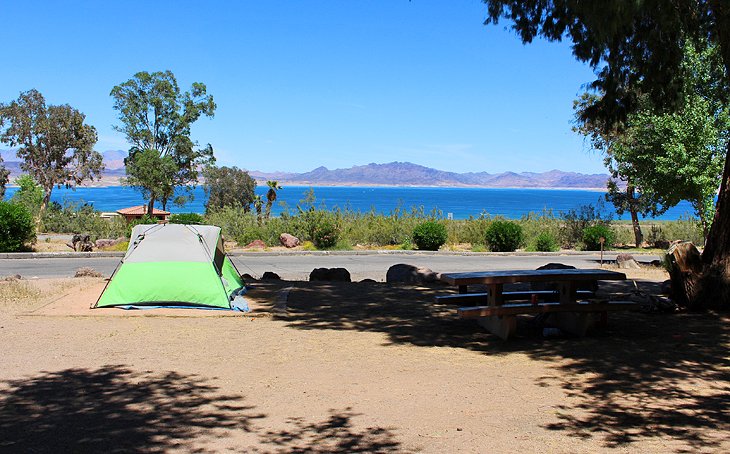 On a warm day there is no better place for camping around Las Vegas than at Boulder Beach. The pebble and rock beach, which attracts hordes of people here on sunny days and warm weekends, is just a 15-minute walk or short drive from this national park campground. It's far enough away that you won't be bothered by the noise but close enough for easy access.
The campground looks out over the deep blue water of Lake Mead to the distant mountains on the opposite shore. Huge trees dominate the grounds, providing shade and filtered light to the campsites and attracting birds. From a distance, the campground looks like an oasis in the desert.
The campground has 148 sites, all of which are first-come, first-served. Facilities consist of flush toilets, and there are no hookups and no showers.
Official site: https://www.nps.gov/lake/index.htm
2. Lake Mead RV Village at Boulder Beach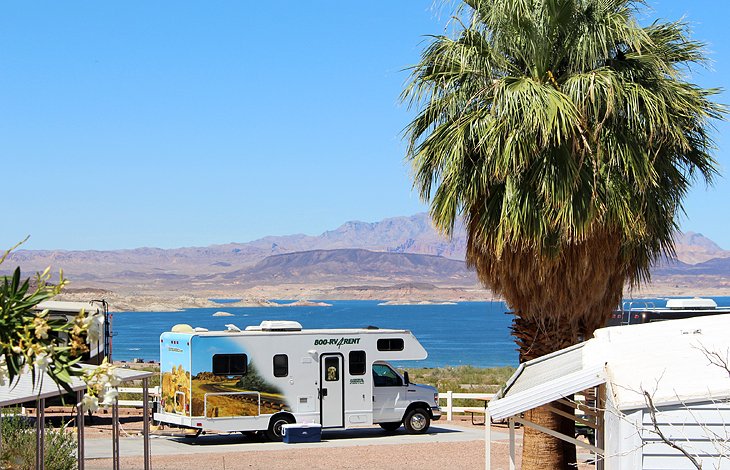 Next to the national park campground is the Boulder Beach RV Park. This privately owned RV park is located within the Lake Mead National Recreation Area. The RV Park is set on a gently sloping hillside, with huge palm trees scattered around the grounds and unobstructed views over Lake Mead. You can walk to the beach in about 20 minutes.
This RV park offers 115 RV-only sites with full hookups. Facilities include showers, laundry, Wi-Fi, an on-site store, and recreation areas.
Official site: http://www.lakemeadrvvillage.com/
3. Red Rock Canyon Campground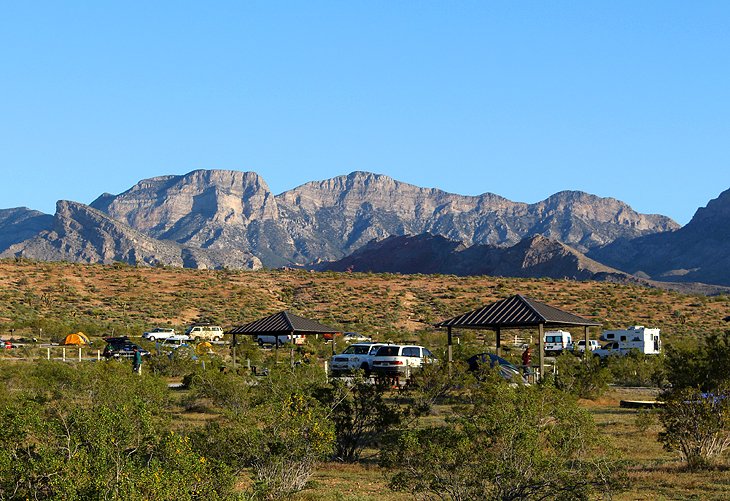 Just 30 minutes from the Las Vegas Strip, and five minutes from the western edge of the city, Red Rock Canyon Campground is the closest wilderness style campground to Las Vegas. And although you have all the conveniences of the big city at your doorstep, this campground offers no hint of city life.
Set off on its own in the desert, just two miles from the main entrance to Red Rock Canyon National Conservation Area, the feeling here is remote and rugged.
Surrounded by mountains and hills, the campsites are well spaced and have scenic views in every direction. If you don't want to camp right in the city but would like to be near enough to enjoy Las Vegas, you can't beat Red Rock Canyon.
This is a BLM (Bureau of Land Management) campground, and the 53 sites are reservable six months out on a rolling date basis. It's closed for the summer, from late May to the start of September.
Facilities include vault toilets only, and there are no hookups or dump station.
If you don't have a reservation in peak season, generally spring, you will most likely not get a spot, especially on weekends.
Read More: Best Hikes in Red Rock Canyon National Conservation Area
4. Oasis Las Vegas RV Resort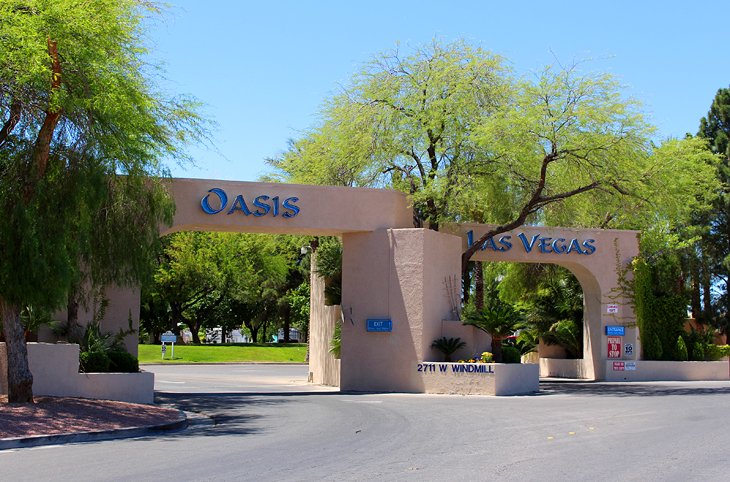 The Oasis Las Vegas RV Resort is a well maintained facility right in Las Vegas, just south of the Las Vegas Strip. The grounds are like an oasis, with large trees and grass, and palm trees surrounding a lovely pool.
This is a huge facility with 700 sites, including pull-through sites, sites for big rigs, paved sites, full hookups, and a security gate at the check-in area.
Recreational facilities include a family pool, adult pool, hot tub, exercise room, games areas, and a rec hall. Also on-site are a snack bar, grocery store, ATM machine, restaurant, laundry, and more. This is like a small town designed for RVers.
Official site: http://www.oasislasvegasrvresort.com/
5. Las Vegas KOA at Sam's Town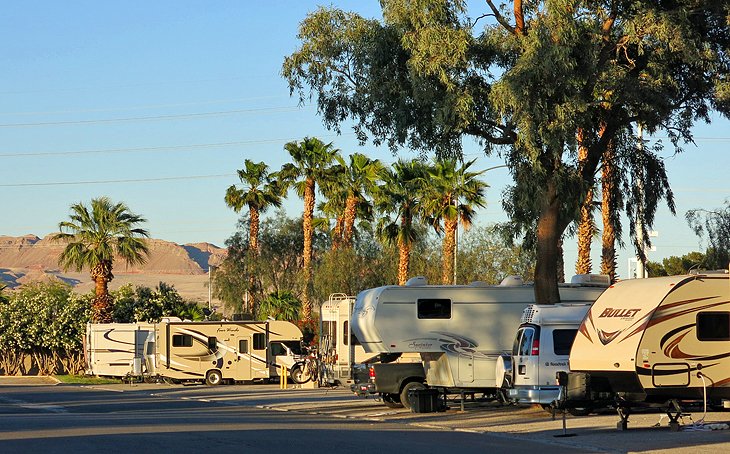 Located in Las Vegas, about 15 minutes northeast of the Las Vegas Strip, and along what's often called the "Boulder Strip," this RV park makes a convenient base in the city.
The park has 482 sites, and accommodation options include pull-through sites, big rig access, full hookups, a small pool, and showers. You can purchase Wi-Fi at your site for a daily fee. The park has a north and south section; the largest section is the south portion.
In the area surrounding the Las Vegas KOA are all kinds of restaurants and other retail outlets. Fun things to do in the evening include catching a movie at the 18-screen theater, or trying a game of bowling at the nearby bowling lanes.
Official site: http://koa.com/campgrounds/las-vegas/
6. Valley of Fire State Park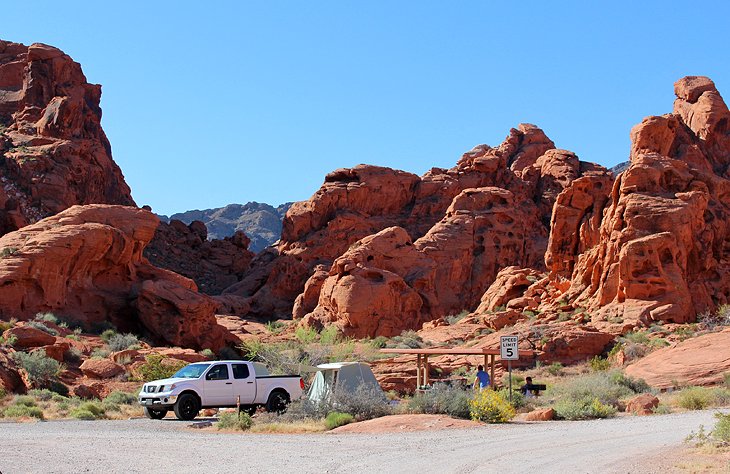 Although Valley of Fire State Park is an hour from Las Vegas, the drive is worth it because the camping here is outstanding. Set around huge red rock formations, the setting is reminiscent of camping at Joshua Tree National Park in California. The hiking trails in this park are some of the most scenic in Nevada.
The park has two campgrounds, both of which are first-come, first-served. The main campground, open year-round, is Atlatl Rock Campground, with 44 sites, 22 of which are for RV sites with water and electrical hookups. Three walk-in only tent sites are well positioned and very private. Facilities include flush toilets and showers.
Nearby, Arch Rock Campground is equally, if not more, beautiful than Atlatl, but has only 29 sites, pit toilets, no showers, and is not suitable for large RVs. This section may not be open depending on the season.
Official site: http://parks.nv.gov/parks/valley-of-fire
7. Las Vegas Bay Campground at Lake Mead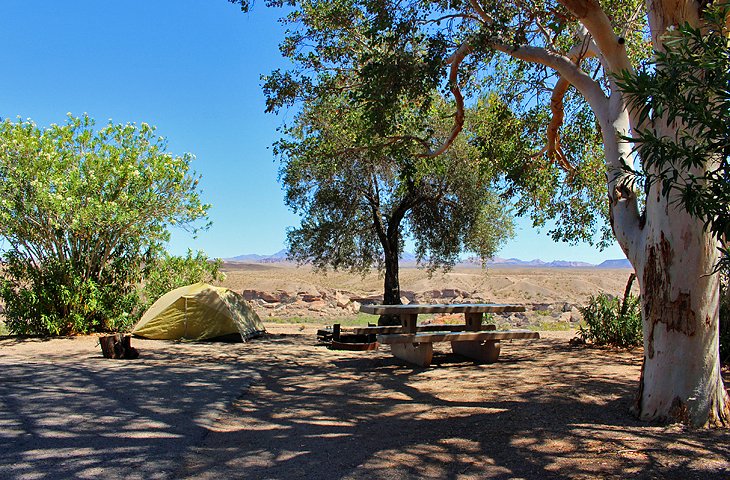 This beautifully manicured national park campground is scenic and particularly lovely in spring, when the flowering trees are in bloom. Huge eucalyptus trees provide shade, and many of the campsites have views across the valley to the distant mountains.
The campground does not have views of Lake Mead, but does look out over Las Vegas Creek, which winds its way through the dry landscape, far below the campground.
The property has 85 first-come, first-served sites, and is open all year to tents and RVs, with a 30-day limit on stays. Facilities include flush toilets and showers.
Official site: https://www.nps.gov/lake/planyourvisit/campgrounds.htm
8. Callville Bay Campground, Lake Mead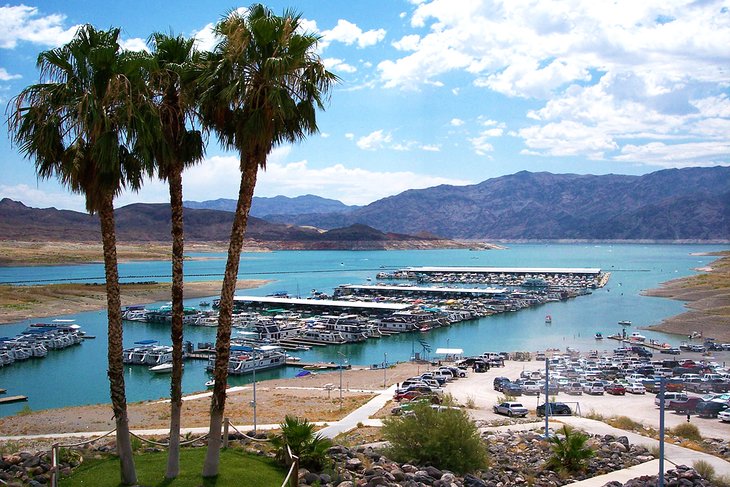 Located about 50 minutes from the Las Vegas Strip, Callville Bay is a good option as a place to set up camp. This is a smaller campground, but it has a lot going for it. When you aren't off exploring Las Vegas, one of the options is to hike the 2.7-mile-long Callville Summit Trail. At the top, you'll be rewarded with incredible views of Lake Mead and other peaks in the distance, including Fortification Hill and the River Mountains.
If you've had enough of self catering, just wander over to Callville Bay RV Park, where you'll find a restaurant, lounge, and café offering a variety of dining choices. Forgot something for the trip? A camper's store is available at the RV park as well.
If renting a houseboat and exploring all the hidden coves on Lake Mead has been on your to-do list, rentals are available at the marina.
Sites are reservable in advance.
Official site: https://www.nps.gov/lake/planyourvisit/campgrounds.htm
9. Echo Bay Campground, Lake Mead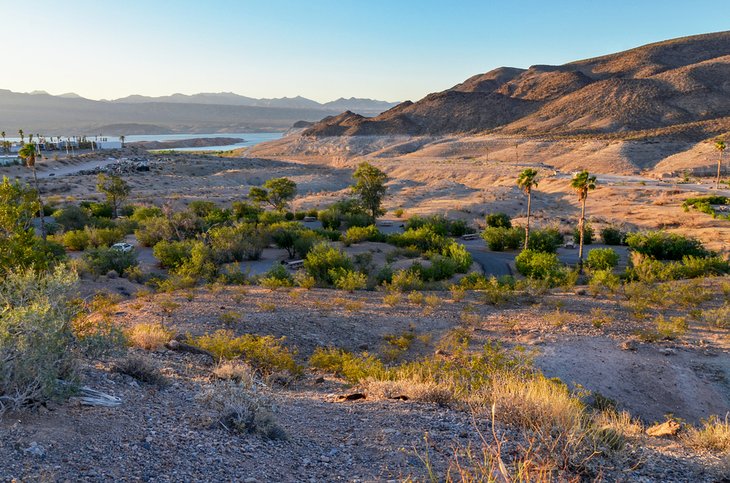 A bit farther along than Callville is Echo Bay. Located 75 minutes from Las Vegas, this is a very small campground set quite a way back from the water. It's a pretty quiet spot, with only 37 sites and no hookups, so be prepared for boondocking if you are RV'ing. The sites are generally shady, with small trees and scrubs providing shade and a modicum of privacy.
Near the campground are a number of interesting sights, including the St. Thomas ghost town and two historic springs. Valley of Fire State Park is just up the road and is well worth a visit.
Official site: https://www.nps.gov/lake/planyourvisit/campgrounds.htm
10. McWilliams Campground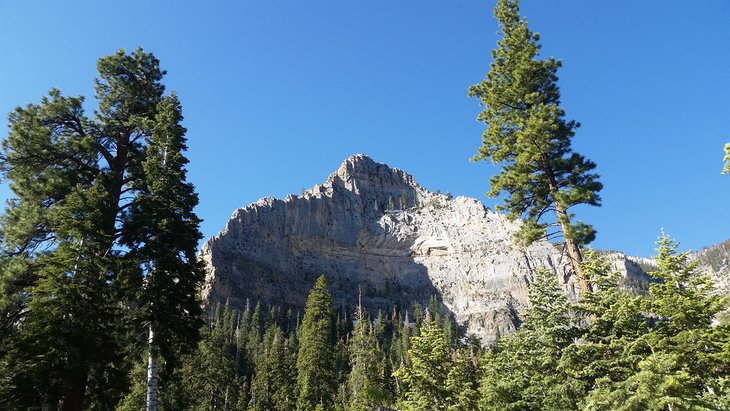 McWilliams Campground is located in the highlands on the flanks of 12,000-foot Mount Charleston. The campground was completely renovated and updated just a few years ago and now features updated washrooms, tent pads, and other infrastructure.
Situated at an elevation of 8,600 feet and set among towering ponderosa and white pine trees, this is an ideal place to camp in the spring, summer, and fall. Seventy-five sites are available to accommodate tents and RVs. Reservations are available on a six month rolling basis.
It takes about 55 minutes to drive from here to the heart of The Strip.
The 6.2-mile Bristlecone hiking trail leaves near the campground, and two other great hiking trails, Mary Jane Falls and Big Falls, are about 25 minutes away.
Where to Stay if Campgrounds are Full or the Weather is Bad
One of the things that can easily throw a wrench into your camping plans, particularly if you are tent camping, are heavy winds, which tend to crop up from time to time around Las Vegas. Even on sunny days, you can sometimes see winds of 50 to 80 miles per hour, and this can wreak havoc on tents.
If you want to temporarily abandon your camping plans, you can find reasonably priced accommodation in Las Vegas. Prices vary greatly depending on whether or not major conventions or events are taking place in the city during your stay.
Mid-Range Hotels:
The Mirage

Hotel

is one of the large resorts right on the Las Vegas Strip, and it's hard to miss with an erupting volcano that blows up every evening on the half hour. You can usually find good prices here, and the hotel has a variety of room types, from standard rooms to three-bedroom villas.
With a great location on the Strip, New York - New York

Hotel

is a fun place and also frequently offers good deals.
If you want to step up a level and treat yourself, The Palazzo at the Venetian

Resort

offers spacious suites and luxury amenities, but is also usually quite affordable.
Budget Hotels:
For budget hotels, your best option is to avoid the Las Vegas Strip and find a hotel 10 to 15 minutes away.
One of the best budget hotels, which also has a little character, is the Main Street Station

Hotel

, near the downtown Fremont Street area. This economical train-themed hotel offers comfortable and spacious rooms.
If you really want to be on the Strip, try the trendy LINQ

Hotel

, with smaller rooms but a prime location near the Ferris wheel on the LINQ.
More Campgrounds in the Southwest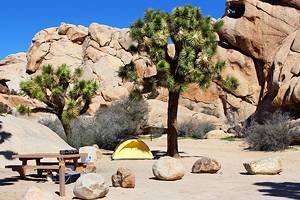 Nearby Camping in California: One of the most beautiful parks and camping areas in the Southwest is Joshua Tree National Park, just 3.5 hours from Las Vegas. Set up beside bizarre rock formations and Joshua trees.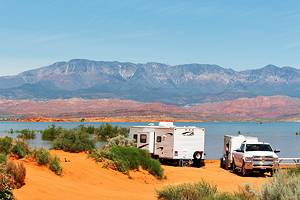 Camping in Utah: For travelers heading into Utah, have a look at our articles on campgrounds around St. George or nearby Zion National Park. In the high country, see our articles on camping in Bryce Canyon National Park and Capitol Reef National Park. In Northern Utah, you can find great spaces to pitch a tent or park your RV in the campgrounds around Moab, including nearby Canyonlands and Arches National Parks.