11 Top-Rated Hiking Trails near Las Vegas, NV
Hiking may not be the first thing that pops to mind when you think of Las Vegas, but within an hour of the city, you can find some unexpected and extraordinary landscapes, with outstanding hiking trails. Due to the extreme summer heat, the trails are best tackled during the cooler winter months.
To the west of the city, just 10 minutes from the outskirts of Las Vegas, Red Rock Canyon National Conservation Area allows access to a full range of trails that lead through a colorful world of rolling red rock hills and dramatic canyons.
North of Las Vegas, about one hour away, Valley of Fire State Park is one of Nevada's less discovered treasures, with short but rewarding trails to interesting rock formations, petroglyphs, petrified logs, and other unique sites.
You can also find some worthwhile trails around Lake Mead and in the mountains to the west of Vegas, on Mount Charleston. Even within Las Vegas are a number of trails and wetland areas where you can see wildlife and enjoy a bit of nature.
Discover new areas with our list of the best hiking trails near Las Vegas.
1. Fire Wave, Valley of Fire State Park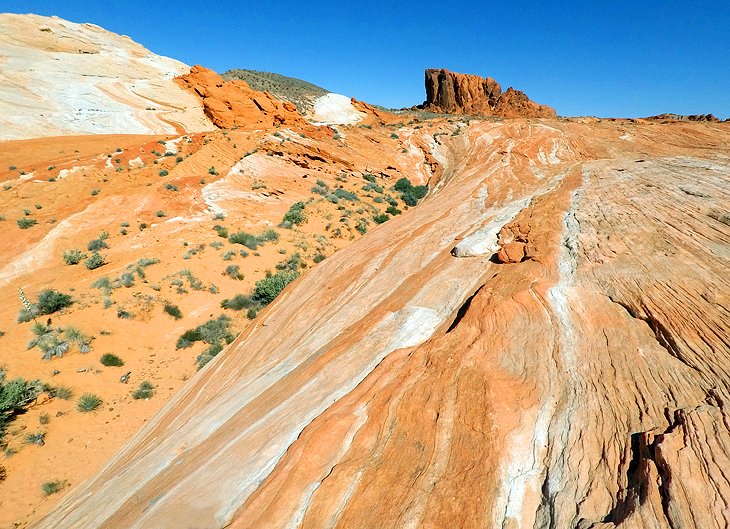 Valley of Fire State Park is one of Nevada's premier hiking destinations, and one of the most interesting hikes in the park is Fire Wave. This 1.2-mile out-and-back hike takes you into some outstanding scenery, with open expanses of undulating, ribbed sandstone and colorful stone hills.
Since it's almost impossible for curious hikers to stick strictly to the trail, you'll likely end up hiking a greater distance, with side trips to explore the inviting stone hills. If you are a photographer, plan on allowing extra time for photo stops.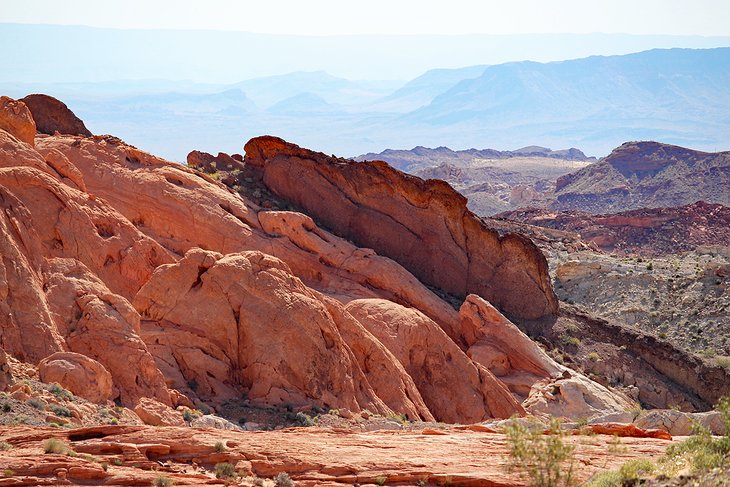 The trail begins over soft sand and curves around a huge orange fin, before it eventually opens up into waves of streaked, rolling stone. Views stretch out in the distance to hills in an array of colors that range from yellow and burnt orange to shades of green and turquoise.
Since there is no shade on this hike, it's best to get an early start and avoid the midday sun.
2. Calico Tank, Red Rock Canyon National Conservation Area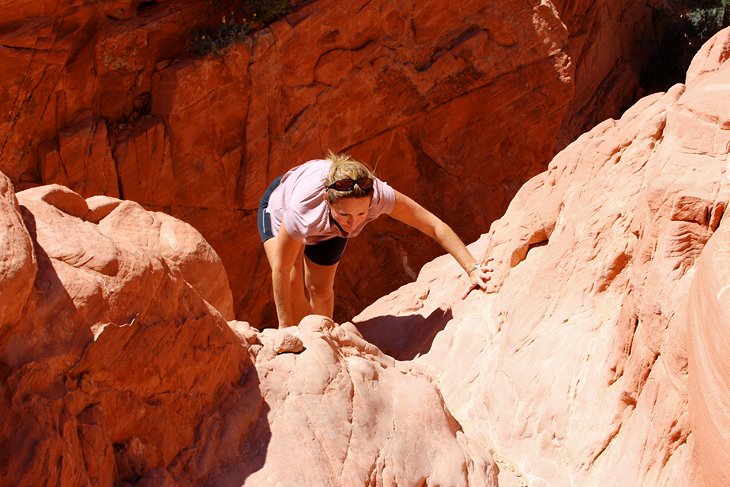 One of the most popular hikes in Red Rock Canyon National Conservation Area, Calico Tank is a short but semi-challenging hike up a canyon to a natural water catchment, known as Calico Tank. This 2.2-mile out-and-back trail takes you over red rocks and up stone stairs, at times requiring the use of hands and feet to climb over ridges.
The canyon does not have huge walls but offers a steady flow of ever-changing scenery as you make your way up. The return trip is equally, if not more, scenic as you walk back down, and views stretch beyond the entrance to the canyon, out over the desert to the mountains in the distance.
3. White Domes, Valley of Fire State Park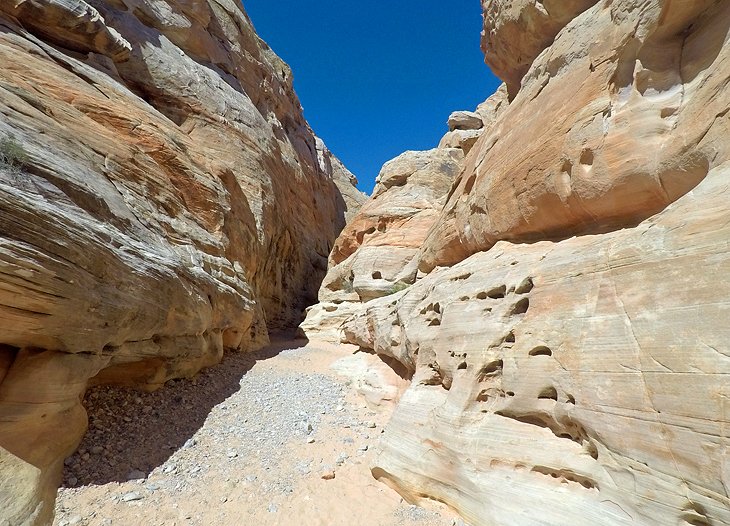 The most unique feature on the White Domes hike is a slot canyon, but the scenery on the entire hike is spectacular.
The trail starts out on sand but quickly descends over a series of stone stairs, into a small area surrounded by rolling stone hills, boulders, and huge rock fins. This setting has also been used repeatedly in movies, TV shows, and ads.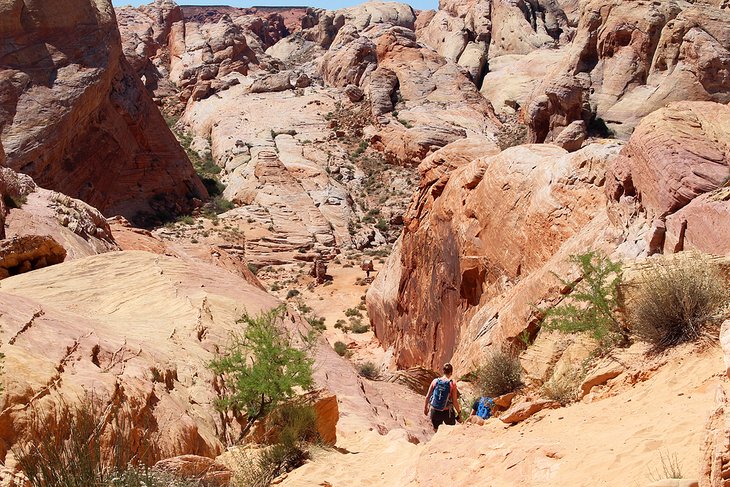 Continuing on, the trail enters a narrow slot canyon, with twisting walls and some temporary shade. On the backside of the canyon, the trail opens into a desert landscape, with views over red rock ridges and distant mountains.
Near the end of the hike, on the edge of the parking lot, is a large fin with a very gradual approach, perfect for walking up a short distance.
4. Ice Box Canyon, Red Rock Canyon National Conservation Area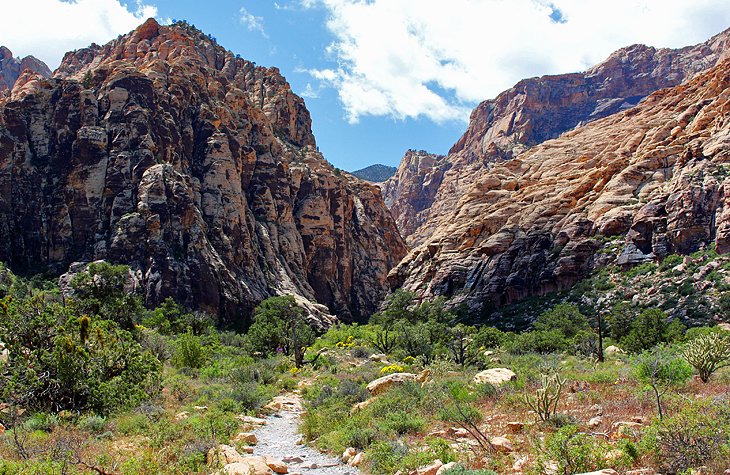 Ice Box Canyon offers a different perspective than other hikes in Red Rock Canyon. This is a true box canyon, dead-ending at a huge canyon wall, and it is not dominated by red rocks. The canyon floor is, by desert standards, quite lush, with trees and shrubs, and the sheer canyon walls soar above you on both sides.
Ice Box Canyon is a 2.6-mile out-and-back hike along the canyon floor, so it does not have a great deal of elevation gain. However, as you get deeper into the canyon, you'll need to make your way over and around huge boulders, which can be challenging at times.
If you have time for two hikes in this conservation area, Ice Box Canyon and Calico Tank are good options, with each hike revealing completely different scenery.
5. Calico Hills, Red Rock Canyon National Conservation Area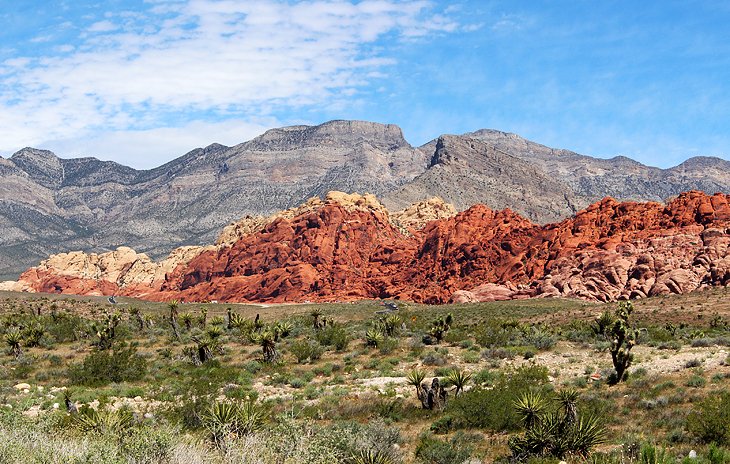 From Las Vegas, you can see the red stone formations of Red Rock Canyon on the hillside to the west of the city. These are the Calico Hills, the park's signature feature.
Hikers can access the main section of this outstanding area along a hiking trail that runs beside and through the hills and can be reached from a variety of parking lots near the Visitor Center, along the park's scenic drive. Depending on where you decide to start and finish, this can be anywhere from a two-mile to six-mile hike.
6. Lake Mead Railway Trail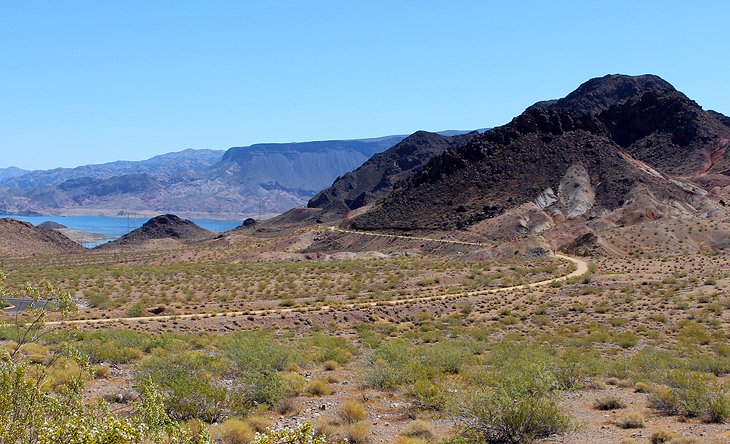 The Lake Mead Railway Trail is historic, interesting, easy, and accessible to anyone, making it an extremely popular hike. The old rail trail runs along the hillside overlooking Lake Mead and leads through five tunnels, which for most people are the highlights.
This is an out-and-back hike with a round-trip distance of 7.5 miles. You can access it from either end, but if you don't want to do the entire trail, the best option for the quickest access to a tunnel is to begin from near the Alan Bible Visitor Center, near Boulder City, off Highway 93.
This center and the trailhead are outside the park and the fee area. From this access point, it is only about one mile to the first tunnel.
Recent improvements have been made to the trail, making it firm enough to be wheelchair accessible.
If you'd like to be well positioned to do more of the hiking trails in this area, consider staying at one of the Lake Mead State campgrounds.
7. Arizona Hot Springs Trail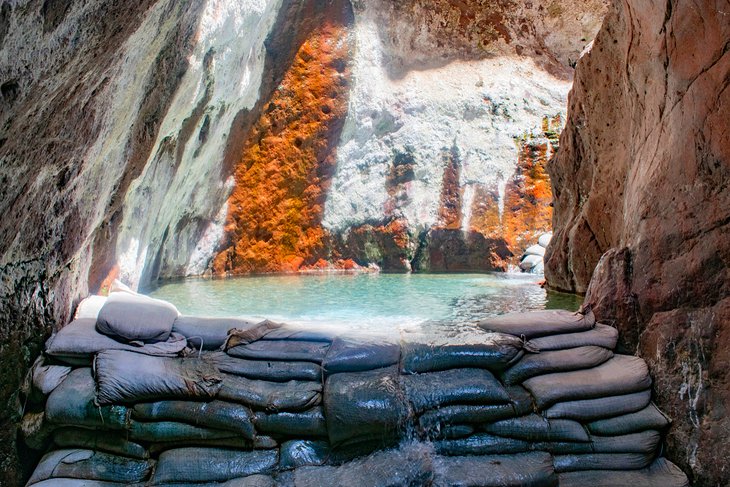 Like hot springs and a bit of slot canyon hiking? Well, you'll definitely want to check out the Arizona Hot Springs Trail. One of the more unique trails around Las Vegas, this moderately difficult trail has a bit of everything and a fun reward at the end.
The trail is 5.1 miles round trip and involves a significant amount of elevation loss (750 feet) and gain, as you basically walk down and back up from the Colorado River. You'll follow a narrow slot canyon most of the way, and at certain times of the year, water will be flowing along the canyon floor.
Near the end of the trail, you'll come across a ladder leading to the Arizona Hot Springs. The water is generally somewhere between 111 and 120 degrees Fahrenheit.
If you don't want to go back up the same way you came down, a loop hike can be created by taking the White Rock Canyon Trail.
The Arizona Hot Springs Trail is closed in the summer, from May 15th to September 30th. As of the time of writing, the ladder down to the pools had been damaged and removed for repair.
8. Mount Charleston Hiking Trails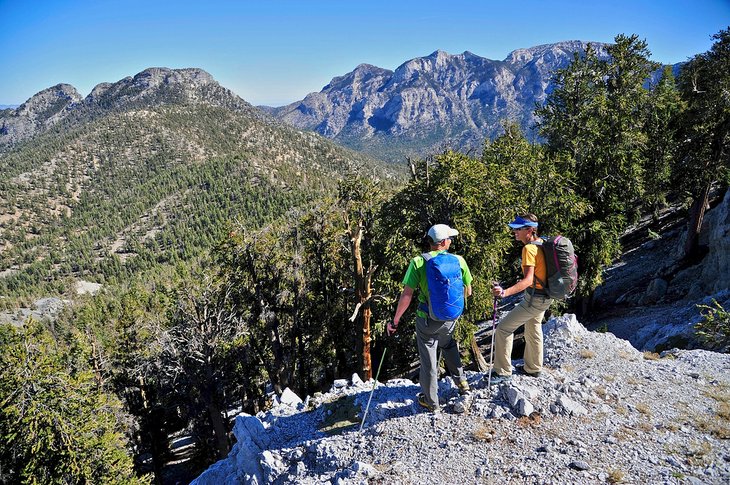 If you find yourself in Las Vegas in the summer and feel like escaping your air-conditioned hotel room, consider a hike in the Mount Charleston area.
Although the mountain soars to nearly 12,000 feet, the trails on its flanks are around 8,600 feet high. The elevation ensures cooler temperatures and a refreshing treat in the summer, when areas lower down are too hot for hiking.
Several trails offer a variety of options, but two of the most popular trails are Mary Jane Falls and Big Falls.
Mary Jane Falls is an easy 2.5-mile out-and-back hike, with plenty of interesting sights along the way. The trail runs through a forest area of ponderosa pines and aspen to a canyon. As the trail winds its way up the canyon, you gain views of spectacular Big Falls and eventually come to Mary Jane Falls. Both of these are year-round waterfalls.
The Big Falls hike is a slightly more challenging 3.5-mile out-and-back hike to this 100-foot waterfall. This trail requires a little bit of work negotiating around and over boulders, but the payoff is worth it. This is one of the most impressive falls in the entire area, particularly in the spring when the snow is melting and the falls are roaring.
9. Petroglyph Trail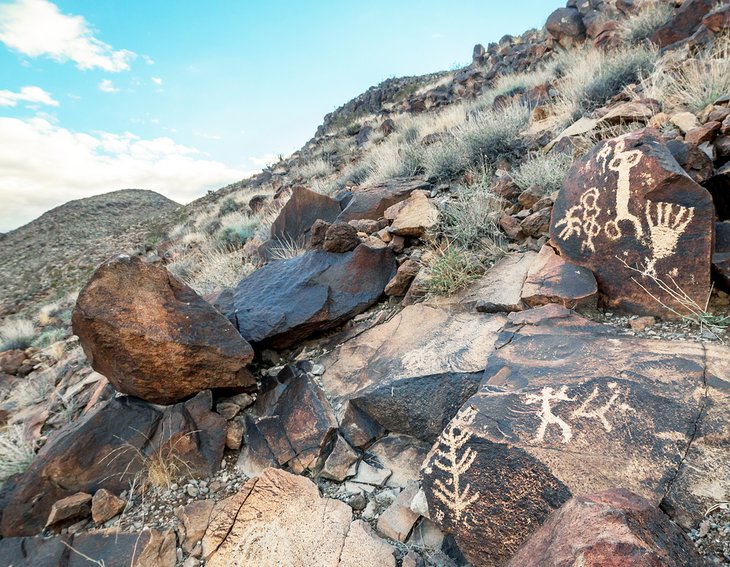 For a bit of history consider taking the Petroglyph Trail in Sloan National Conservation Area. A 4.4-mile hiking trail takes you to over 300 fascinating petroglyphs etched on boulders scattered on the hillside.
The trail is not difficult, although the elevation gain is about 500 feet and, in some cases, a bit of easy scrambling is required.
The ideal time to do this hike is in the spring, when the desert wildflowers are in bloom and the ground comes to life with color.
The trailhead, called Trail 100 (Petroglyph Trail), is located in Sloan Canyon National Conservation Area, just south of the city. There is no charge to use the area, however all visitors must check in at the Sloan Canyon Visitor Contact Station prior to hiking.
10. Golden Canyon, Gower Gulch, & Badlands Loop Hikes in Death Valley National Park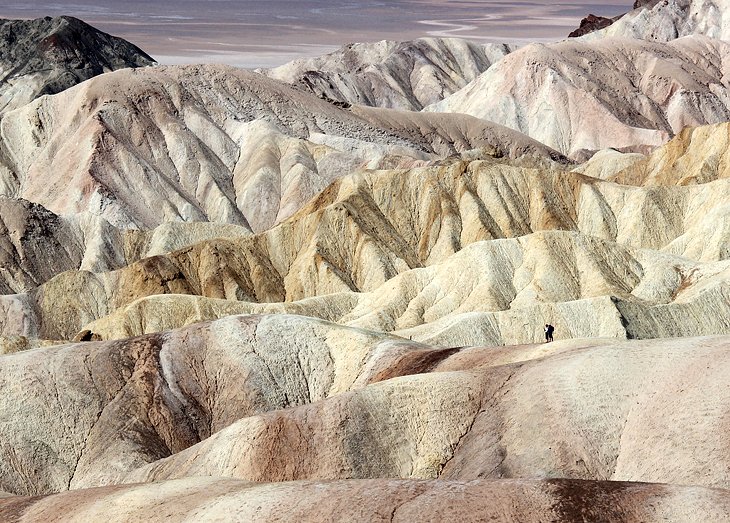 If you have time to make the journey to Death Valley National Park, the Golden Canyon, Gower Gulch, and Badlands Loops are a wonderful place for a day hike through some outstanding and unique terrain.
Waves of golden ridges and canyons create a maze-like landscape as the trail weaves its way along hillsides, over crests, and down into valleys. Some of this drama can be seen from the overlook at Zabriskie Point.
Some of the best trails in this area are the Badlands Loop, Golden Canyon and Red Cathedral, and Gower Gulch Loop. Each of these takes between 1.5 and 2.5 hours to complete. If you want to do a large hike, you can combine them and hike what is generally called the Complete Circuit, for a 7.8-mile hike. You can start at Zabriskie Point or Golden Canyon.
11. Clark County Wetlands Park Nature Preserve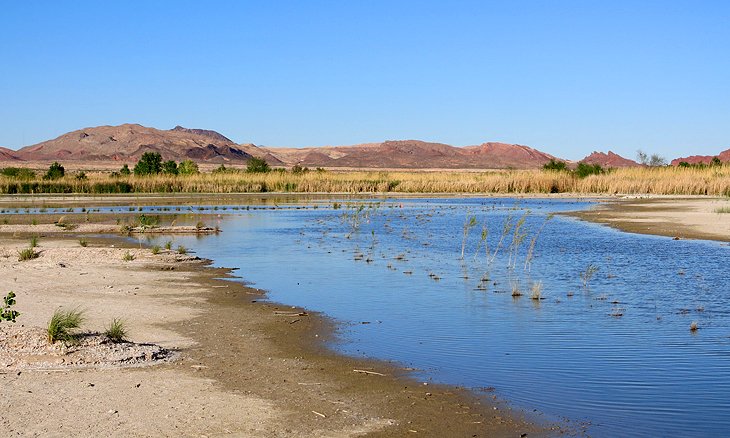 If you don't want to leave Las Vegas or are not up for a remote hike, the Nature Park Trails in southeast Las Vegas are a great alternative and offer plenty of opportunity for spotting wildlife.
This oasis in the city is focused around wetlands. Tall grasses surround shallow bodies of water where wading birds and other waterfowl can often be seen, as well as turtles and occasionally beaver. On the trails, it's very common to see quail and rabbits.
The park has numerous walking trails, some of which are open to dogs and bikes, and several access points. Many of the most popular trails begin from the Nature Preserve, on Wetlands Park Lane, where the Nature Center is located. Another popular area, nearby, is the Duck Creek Trailhead.
Map of Hiking Trails near Las Vegas, NV
Las Vegas, NV - Climate Chart
Average minimum and maximum temperatures for Las Vegas, NV in °C
J
F
M
A
M
J
J
A
S
O
N
D

14

3

17

5

21

8

26

12

31

17

37

22

40

26

39

25

34

21

27

14

19

7

14

3

PlanetWare.com
Average monthly precipitation totals for Las Vegas, NV in mm.

15

18

15

4

6

2

11

11

8

6

8

10

Average monthly snowfall totals for Las Vegas, NV in cm.

2

0

0

0

0

0

0

0

0

0

0

0
Average minimum and maximum temperatures for Las Vegas, NV in °F
J
F
M
A
M
J
J
A
S
O
N
D

57

37

63

41

69

47

78

54

88

63

99

72

104

78

102

77

94

69

81

57

66

44

57

37

PlanetWare.com
Average monthly precipitation totals for Las Vegas, NV in inches.

0.6

0.7

0.6

0.2

0.2

0.1

0.4

0.5

0.3

0.2

0.3

0.4

Average monthly snowfall totals for Las Vegas, NV in inches.

0.8

0.1

0

0

0

0

0

0

0

0

0.1

0.1
More Related Outdoor Articles on PlanetWare.com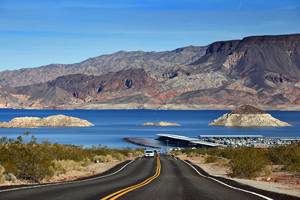 Hiking is just one way to enjoy the areas around Las Vegas. If you want to give the legs a break and do a scenic drive or visit nearby attractions, see our pieces on the best day trips from Las Vegas and top-rated tourist attractions in Nevada.