From Las Vegas to Antelope Canyon: 4 Best Ways to Get There
Located in the Arizona desert, a bit northeast of the Grand Canyon near the Utah border, Antelope Canyon is a spectacular slot canyon natural wonder and a great place to visit in Arizona. Antelope Canyon is about a five-hour drive from Las Vegas, so if you leave Vegas very early in the morning, you can do it as a day trip and still make it back for a late dinner.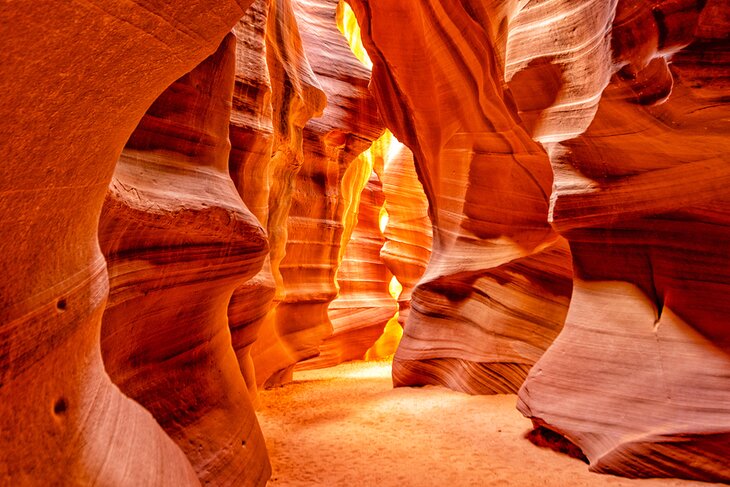 Reservations: Antelope Canyon is on the lands of the Navajo Nation and can only be visited with an official guide as part of a group or private tour. Advance reservations are highly recommended, as they limit the number of visitors each day. There are five separate sections of the canyon each of which can be visited. Lower Antelope Canyon can be visited without advance reservations; just drive up to the entrance off Highway 98, and you will be assigned a guide (based on availability).
Ways to Travel: One of the best ways to get from Las Vegas to Antelope Canyon (and to see it) is to take a guided tour. Other ways include taking a FlixBus to Page, Arizona, about 10 minutes from the canyon, or flying to Page on Contour Airlines, which has a daily flight from PHX.
Time Change: When going from Las Vegas to Antelope Canyon, keep in mind there is a one-hour time change involved, as you are crossing time zones. Nevada is in the Pacific Time Zone, and Arizona is in the Mountain Time Zone and also does not observe Daylight Savings Time. The time in Antelope Canyon is an hour later than the time in Las Vegas.
Plan your adventure from Las Vegas to Antelope Canyon with our list of the best ways to get there.
1. From Las Vegas to Antelope Canyon by Car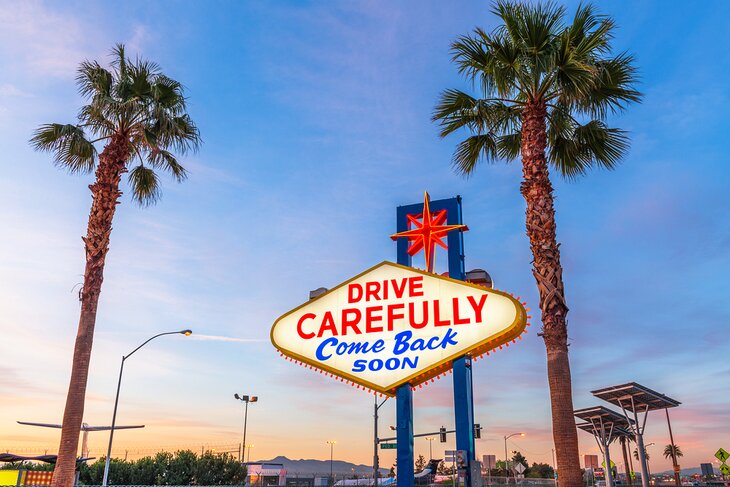 The drive to Antelope Canyon from Las Vegas takes about five hours and is mainly done on interstate and limited-access highways. The area does not normally get snow, but black ice can be an issue during the winter on cold nights and mornings.
There can also be large wildlife along the route (and on the highway) so driving during the daylight is best.
You may want to rent a car in Las Vegas for the drive to Antelope Canyon. All the major car rental companies have locations at the airport (LAS), and many have additional locations at big Strip resorts in Las Vegas and throughout the city.
Enterprise Rent-A-Car offers a free pickup service for people renting from non-airport locations. They will pick you up at your hotel and bring you to the Enterprise office to rent and pick up your rental car.
For something a little more exciting than your normal, boring rental car, consider Sixt car rental, which has a location at LAS. They offer a wider selection of premium and luxury vehicles than other car rental companies, from BMW and Mercedes-Benz to Audi.
2. From Las Vegas to Antelope Canyon by Tour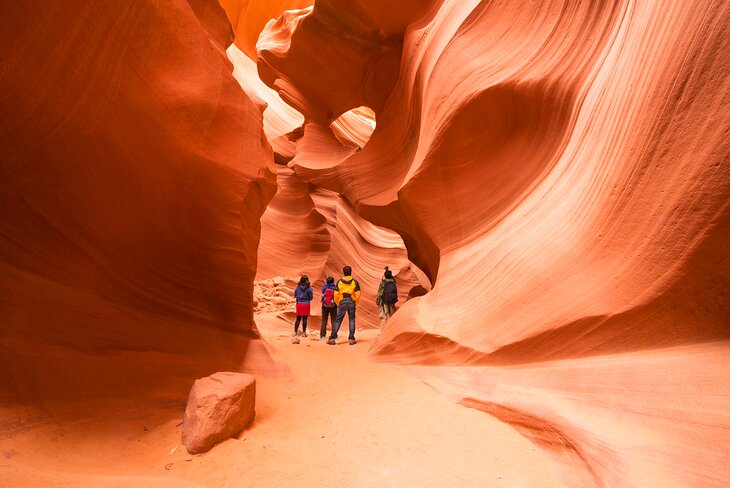 One of the best and easiest ways to visit Antelope Canyon from Las Vegas is to do a guided tour. Leave the hassle and driving to someone else and just sit back and enjoy the incredible scenery.
The Antelope Canyon and Horseshoe Bend Tour from Vegas with lunch takes you from your Las Vegas hotel to Antelope Canyon in Arizona along with a stop at one of the Grand Canyon's most scenic points, the incredible Horseshoe Bend.
After stopping at Horseshoe Bend, where the Colorado River and the Grand Canyon form a giant U-shaped bend, you continue on to Antelope Canyon. At Antelope Canyon, you'll do a guided walk through two different slot canyons, as well as having some time to explore on your own. The tour includes bottled water, snacks, and round-trip motor coach transportation. You leave Las Vegas at 5am and return back to Las Vegas at 8pm the same day.
3. From Las Vegas to Antelope Canyon by Bus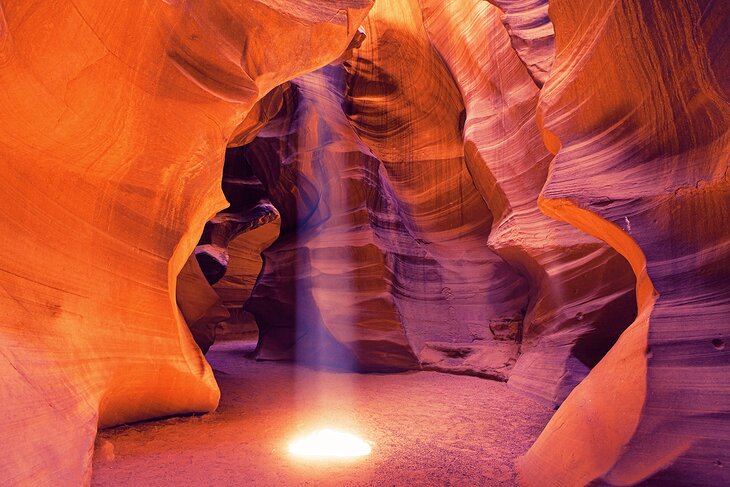 FlixBus sells tickets for one daily bus on the Las Vegas to Page route. The trip takes about six hours and departs from the Treasure Island resort on the Strip in Las Vegas. In Page (also referred to as Lake Powell), the bus drops off and picks up in the Subway parking lot at 813 State Highway 89A. Buses normally include free Wi-Fi and have a restroom onboard.
In Page, to get to Antelope Canyon, you can take a taxi, which needs to be called in advance (Buggy Taxi: 928-645-6664). Many canyon tours will pick you up at the bus drop-off location. Lyft and Uber may be available, but there are not many rideshare cars in the area and this is not a reliable transportation method.
Greyhound does not service Page, Arizona, which is the closest city to Antelope Canyon.
4. From Las Vegas to Antelope Canyon by Plane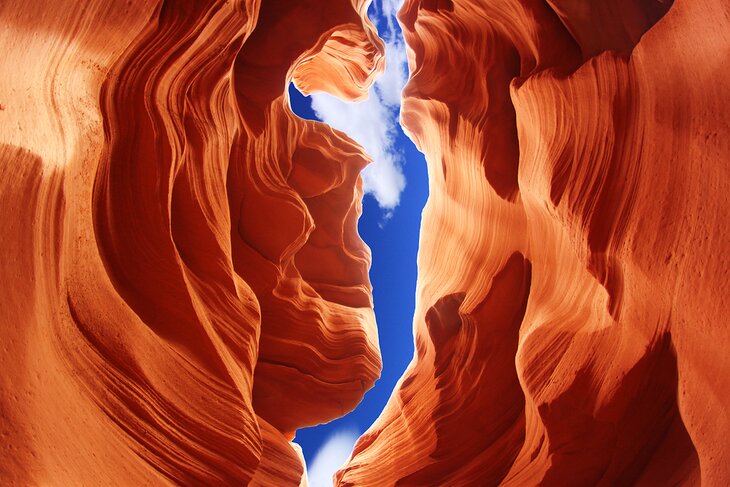 It is possible to fly from Las Vegas to Antelope Canyon. You would fly into the tiny Page Municipal Airport (PGA), which is the closest airport.
Contour Airlines offers non-stop small jet service from Phoenix and has interline connectivity with American Airlines, so you can book everything through American.
To fly from Las Vegas to Antelope Canyon, you would fly from LAS to PHX then take the Contour flight to Page. If you took the very early morning American Airlines flight from Las Vegas to Phoenix and connected with the noon Contour flight from Phoenix to Page, total travel time is about 5.5 hours, including a 3.5-hour layover in Phoenix.
Page Municipal Airport (PGA) is about a 10-minute drive from Antelope Canyon. You can take a taxi, which needs to be arranged in advance (Buggy Taxi: 928-645-6664). You could also rent a car, as there is an Avis car rental location at PGA.