13 Best Things to Do in Kingman, AZ
Kingman, Arizona retains an authentic small-town vibe but is packed with history and things to see and do. The city has always been a key part of the railroads, a stopping point for all west and eastbound steam-powered trains to fill with water. You can learn about and see this history at the Kingman Railroad Museum and Locomotive Park.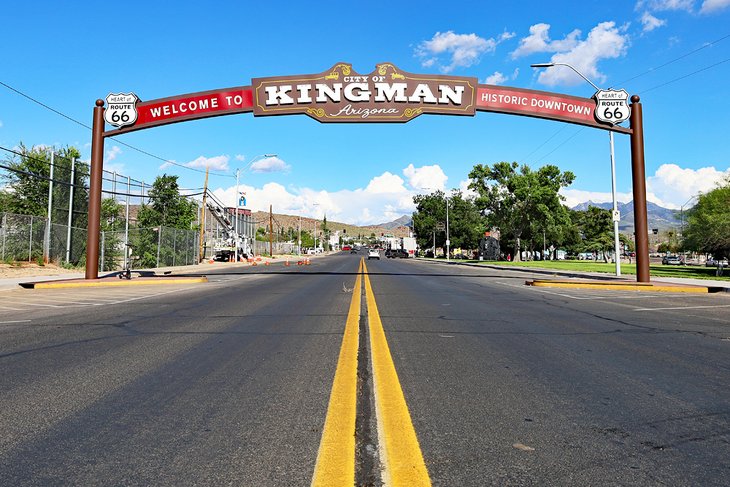 It's a very walkable city, and the majority of the best things to do in Kingman are all within walking distance in the historic downtown area. The Route 66 Museum, the Mohave Museum of History and Art, the Kingman Railway Museum, and the Bonelli House are all within a block or two of each other.
Explore the beautiful Kingman scenery with a visit up into the mountains and pine trees found at Hualapai Mountain Park, or take a trail ride on a guided horseback tour with Desert Wonder Tours.
For more sightseeing ideas, read our list of the best things to do in Kingman, AZ.
1. Snap a Photo at the Arizona Route 66 Museum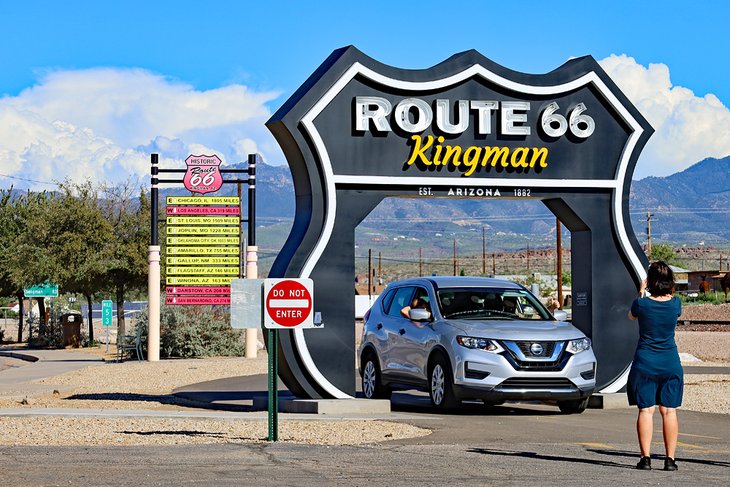 Before the interstate highway system and I-40, Route 66, known as "The Mother Road," was the main and only way to drive across the country. Any town or city on its route was automatically a tourist destination since every car and truck driving cross-country had to go through it.
Kingman felt both the boom and bust of being on Route 66, and this history is chronicled at the Arizona Route 66 Museum.
Outside the museum, there's a giant, drive-through version of the iconic black and white Route 66 sign. Cars line up to be able to drive through and stop under the sign to take pics. The Arizona Route 66 Museum is inside Kingman's Powerhouse Visitor's Center, on the second floor.
The city has a "one fee for all three" program for its most popular museums. A single ticket grants you access to the Route 66 Museum; the Mohave Museum; and the Bonelli House, a restored house from 1915.
Address: 120 West Andy Devine Avenue, Kingman
2. Explore Kingman's History at the Kingman Visitor Center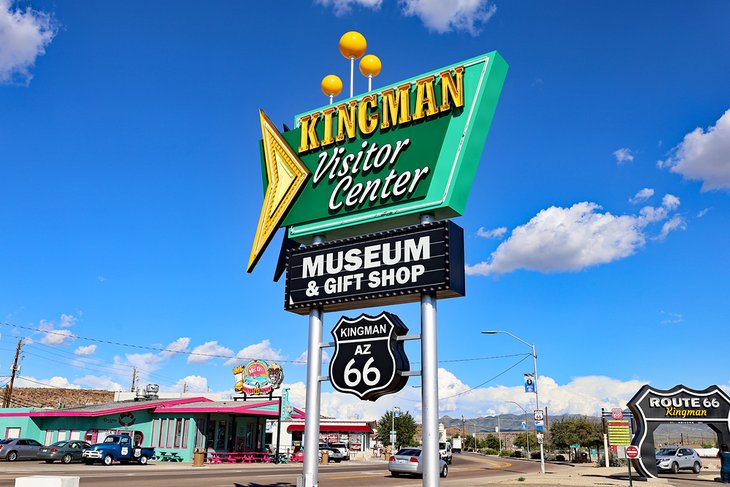 Housed in the city's massive vintage 1908 power plant powerhouse building, the center is a great example of adaptive re-use of a historic structure. The huge open space of the former electricity generating plant, the largest steam generating plant in the western US at the time, makes a great space for a visitor center and museum, with exhibits and displays including full-size automobiles.
Essentially made obsolete by the creation of Hoover Dam, the building sat vacant for years until a local group raised money to renovate it, and reopened it as the Kingman Visitor Center in the 1990s.
The visitor center can provide all kinds of helpful information, so you can better know what to do and what to see while you're in town. They also have detailed information on local attractions, tours, and events and can also help with lodging and camping information.
3. Visit the Mohave Museum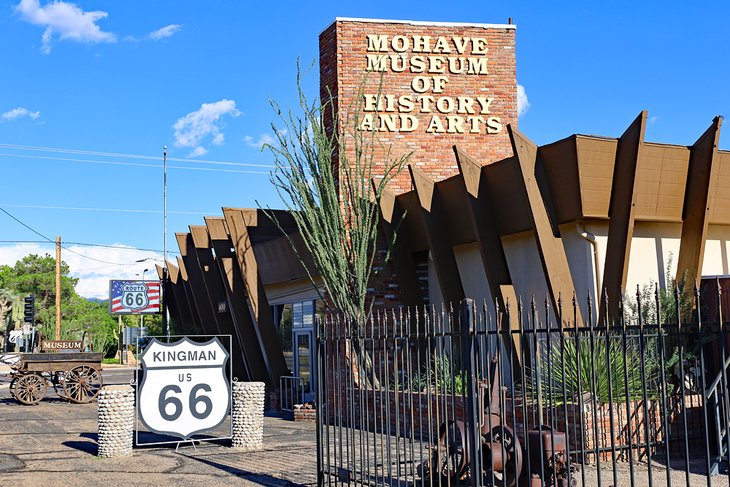 A must-see stop for Kingman visitors, the Mohave (named for Mohave County not the Mojave People) Museum of History and Arts looks at the city's unique pioneer past.
There is a hall of Presidents with paintings of all the Presidents and First Ladies. You can see a series of exhibitions that show the growth of the region and how mining for (and transporting) gold, silver, and copper helped the area grow and develop.
The more trains that ran through Kingman and the more traffic on Route 66, the more the city grew. When I-40 bypassed Route 66, and trains converted to diesel and no longer needed to stop for water, that growth stopped. The museum also has memorabilia from Hollywood cowboy actor Andy Devine, a favorite son of the city who grew up in Kingman and whose parents owned the iconic Hotel Beale.
The Mohave Museum of History and Arts is a part of the "one fee for all three" program. One ticket grants you access to the Mohave Museum, the Route 66 Museum, and the Bonelli House.
Address: 400 West Beale Street, Kingman
4. Attend a Concert at Metcalfe Park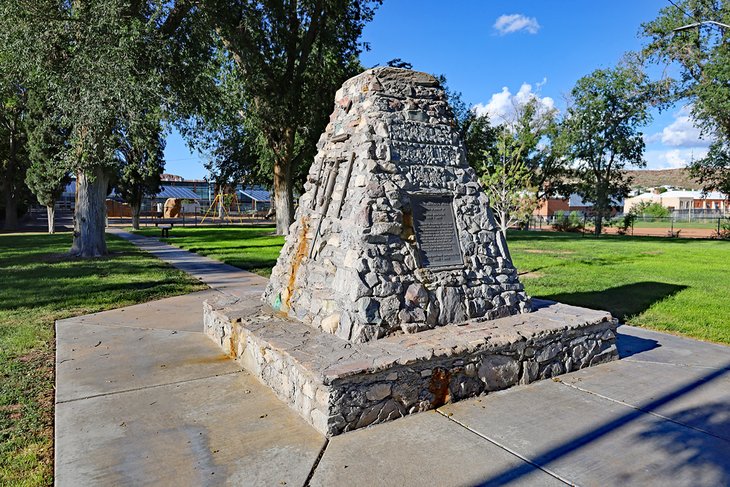 This historic downtown Kingman park is a favorite shady picnic spot with lots of covered areas, barbecue grills, and picnic tables for eating.
It's where the city hosts a lot of festivals and annual events, including the Mother's Day Art Festival, Mohave Pride Fest, and the musical Sounds of Kingman Concerts in the Park. The somewhat monthly free concert series features local artists who perform on the park's covered stage. Concertgoers are invited to bring lawn chairs, blankets, and coolers of their favorite food and drinks.
Aside from the activities, there's an interpretive monument to Metcalfe Park's namesake (and donor of the land), local businessman and politician Charles Metcalfe, as well as two newly installed rock climbing walls in the children's play area.
Address: 315 West Beale at Grandview, Kingman, Arizona
5. Explore Hualapai Mountain Park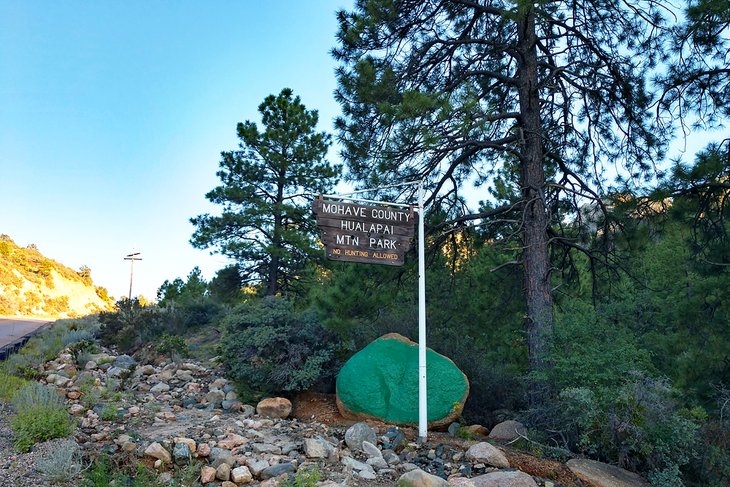 The first thing you notice as you drive into the mountains to visit Hualapai Mountain Park is the change in temperature. When it's 100-degrees-Fahrenheit-plus in Kingman, you'll instantly enjoy the 20- to 30-degree drop in temperature, especially as you get higher in elevation.
The entrance to the park is about 5,000 feet above sea level, and elevations rise to almost 8,500 feet. Breathe in deeply, as the second thing you notice are the giant pine trees and the wonderful piney nature smell in the air. All this is less than 30 minutes away from downtown Kingman.
The 2,300-acre park has 10 miles of well-designed and well-maintained trails, used by hikers, bikers, and horses. There are activities like disc golf and a children's play zone. The park gets snow, and is a popular place for Kingman residents (especially kids) to come and play in the snow.
Overnight camping is available in a rustic stone cabin; reservations can be made online. You can also dry camp in a vehicle (year-round) or camp in an RV (June through October only).
Hualapai Mountain Park is open from sunrise to sunset, and there is a $10-per-vehicle entry fee with additional fees for camping.
6. Take a Horseback Ride with Desert Wonder Tours
Locally owned Desert Wonder Tours presents a range of local half- and full-day tours that allow you to explore the region around Kingman.
Desert Wonder Tours' Horseback Riding through Joshua Tree Forest/Buffalo Tour includes lunch with the Singing Cowboy. It's a fun, unique Western experience that starts at the Grand Canyon Ranch, which is in a Joshua Tree forest. You'll take a gentle, hour-long trail ride passing by a herd of buffalo. The ride ends at a rustic ranch restaurant, where you have lunch (included with the tour) while being serenaded by a singing cowboy.
Other tours include adventures to the Grand Canyon and a walk on the glass Skywalk 4,000 feet above the canyon floor, an adventure to a wild animal safari park, and a trip to Lake Havasu to play on the beach and see London Bridge.
Official site: www.desertwondertours.com
7. Kingman Railroad Museum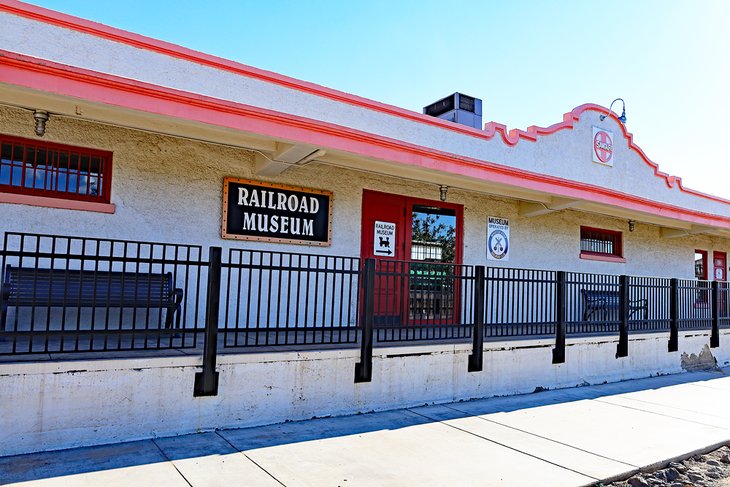 Another place to discover the city's rich railroad history, the Kingman Railroad Museum is housed within a vintage 1906 train depot. There are displays and exhibits that tell and show Kingman's long history as a key depot between the east and west coast of the country during the 19th and early 20th century. It's staffed by train enthusiast volunteers and former railroad employees who just love trains.
Aside from the historical exhibits and signage, the museum is home to a vast model railroad, with O, HO, and N-gauge trains and accessories.
Old and new come together, as the museum shares the building with the current Amtrak train waiting room and is on the main train line. The museum has lots of windows, and you can watch modern passenger and freight trains roll by as you tour the exhibits.
Address: 402 East Andy Devine Avenue, Kingman, Arizona
8. See a Huge Alien Head at Giganticus Headicus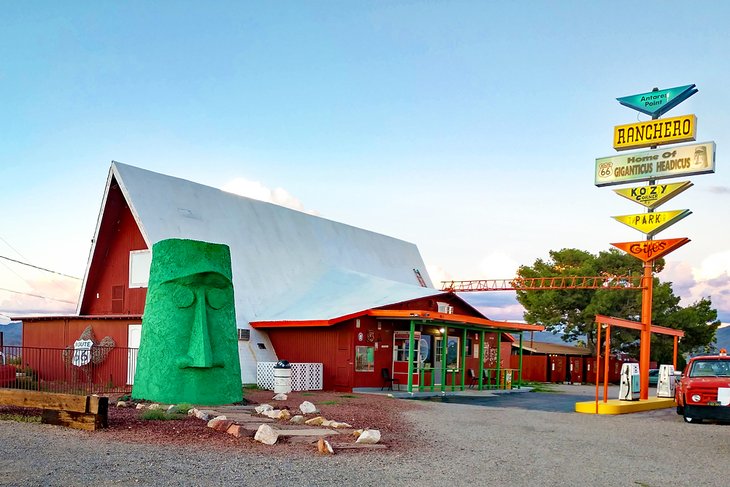 This modern roadside attraction, a 14-foot-tall green Tiki-style head, sits next to what was Route 66. Now a rural highway, the iconic American road used to be a very busy thoroughfare, dotted with weird roadside attractions designed to get you to stop and buy stuff.
A local artist built the head in 2003, with metal and wood framing covered in concrete. It was a tribute to roadside attractions and to the statues on Easter Island. For a time, there was a gas station, visitor center, and gift shop at the site (the gift shop is open daily).
There is an old gas station here, with antique gas pumps and a few old cars, so it's a fun place to visit and take pics. There are also large metal sculptures on a ridge and on a pile of old cars, which create beautiful silhouettes against the setting sun.
Address: 9855 AZ-66, Kingman, Arizona
9. Step Back in Time at the Bonelli House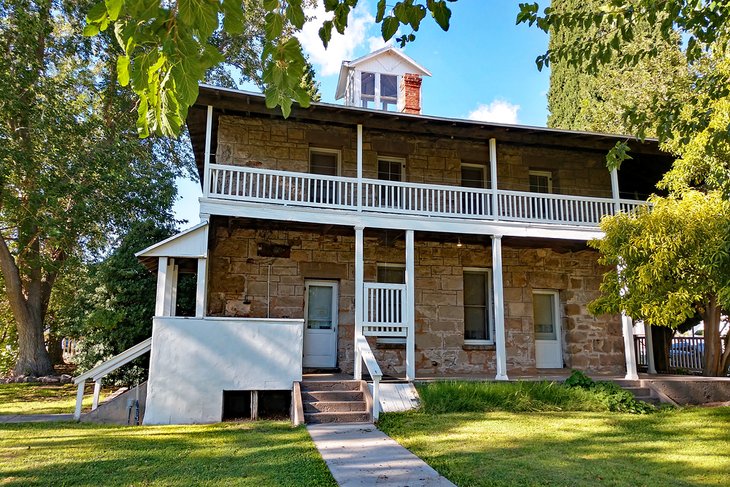 The Bonelli House, owned by the City of Kingman, shows how a typical (successful) family lived in the early part of the 20th century. The house was built in 1915 and has been restored to reflect the design and style of the time. Generations of the Bonelli family lived in the house until the 1970s, when it was donated to the city.
Everything in the house is vintage 1900 to 1950. Some of the items have been donated by the Bonelli family. It's fascinating to see the technology of the time, including the coal-fired heater. The house was rare for the time, with indoor plumbing and hot and cold running water. In 1915, most houses in Kingman still had outhouses and brought in well-pumped water.
Docents lead 30-minute guided tours of the house Tuesday through Friday from 11am to 3pm with the last tour at 2:30.
The Bonelli House is part of the "one fee for all three" program; one ticket grants you access to the Mohave Museum, the Route 66 Museum, and the house.
Address: 430 East Spring Street, Kingman, Arizona
10. Visit Lewis Kingman Park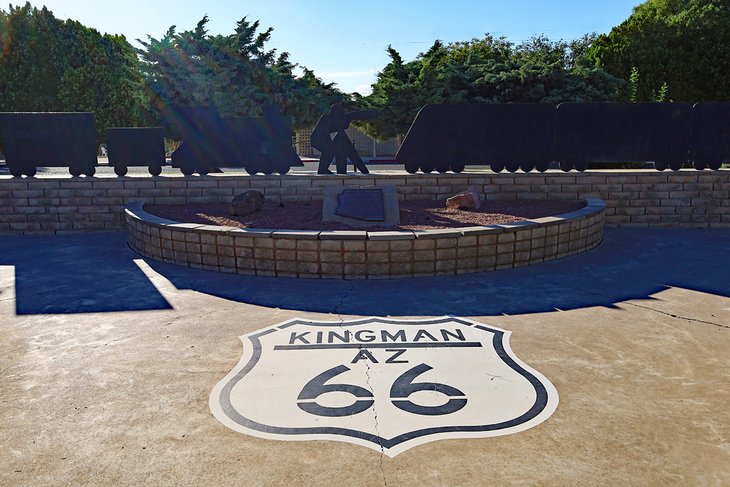 Lewis Kingman Park, on Route 66 at the edge of the downtown area, is named for the city's founder. Lewis Kingman was an engineer who worked for the legendary Atchison, Topeka, and Santa Fe railroad. He was a civil engineer who designed thousands of miles of the complicated railroad track networks throughout Northern Arizona, Southern California, and Southern Nevada.
The nine-acre park has a lot of green space, with picnic areas, restrooms, and a cool interpretive display about Kingman – both the man and the city.
Dog lovers should know there is an off-leash dog park here, with separate sections for small and large dogs. The dog park is grass with a lot of trees and shady areas, so you can visit even during the summer.
Address: 2201 East Andy Devine Avenue, Kingman, Arizona
11. Spend Time at Alpacas of the Southwest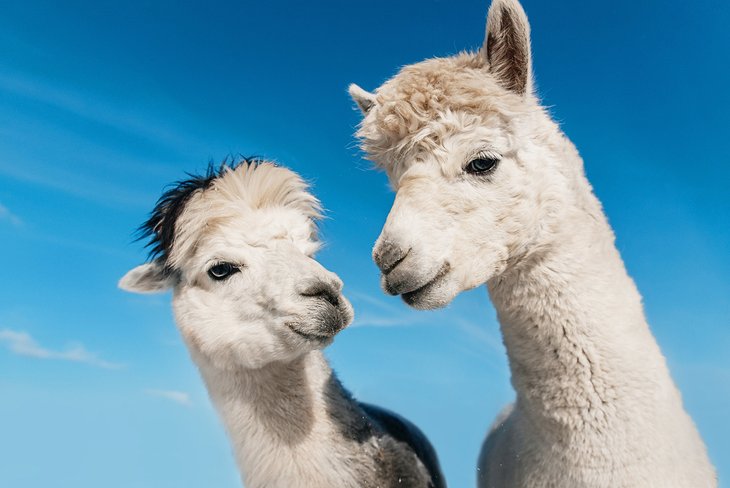 This alpaca ranch breeds and sells alpacas, South American animals like llamas. They have a herd of almost 40 animals, and the gentle creatures are fun to visit with.
The ranch is open for visits Friday, Saturday, Sunday, and Monday from 10:15am to 3:30pm. A few times a year, they hold free Farm Days, but admission is normally $15 per car, for up to five guests.
Once inside, you can get a tour of the ranch and barn and can pet and even feed the alpacas. You'll learn their fleece is three times better at retaining heat than sheep wool, and two times better than cotton for releasing heat and cooling.
The ranch makes and sells alpaca fiber socks, which are a very useful souvenir you can bring home from your visit.
The Alpacas of the Southwest ranch is about 15 miles from downtown Kingman; it's about 4,000 feet above sea level, so it sees four seasons a year, including some cold winters. The alpacas love the climate, as its similar to their native Andean environment.
Address: 1108 McCarrel, Kingman, Arizona
Official site: https://southwestalpacatours.com/
12. Shop for Unique Styles at The Farmhouse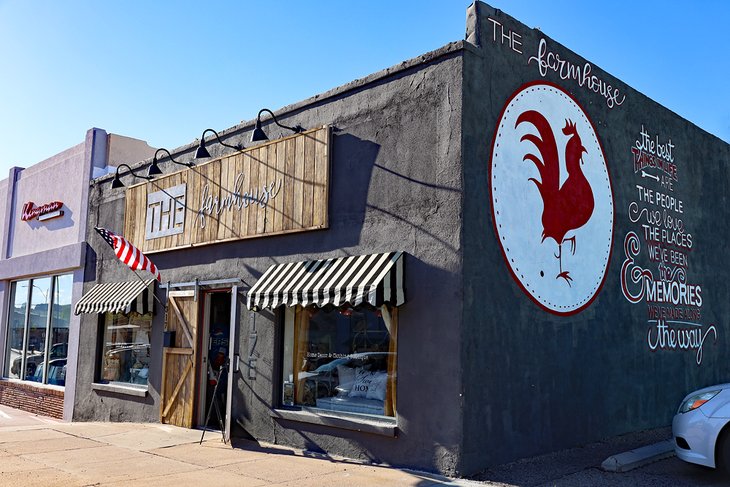 Located in the heart of downtown Kingman on Beale Street, this unique home goods and clothing store focuses on new local styles, vendors, and designers. There is clothing for men and women, along with kids and babies.
You can find a great selection of home products, like dishes, glasses, mirrors, and other cool stuff for your house. The Farmhouse also has an eclectically stylish selection of jewelry and accessories, along with hats, sunglasses, shoes (cowboy boots, sneakers, and sandals), and more.
There is a section of beauty and bath products (for men and women) and a lot of pretty paper products: notepaper, diaries, cards, stickers, calendars, and sketch pads. It's a very interesting place to shop for unique gifts or for things for yourself.
Address: 317 East Beale Street, Kingman, Arizona
Official site: https://thefarmhouseaz.com/
13. Hop aboard a Steam Engine at Locomotive Park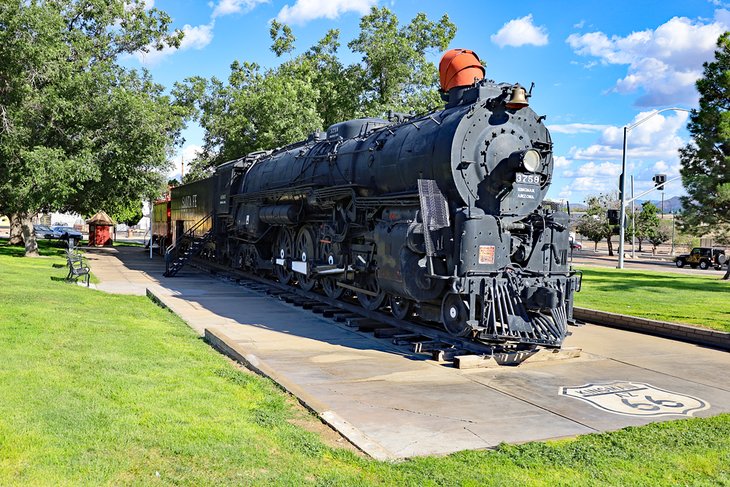 There's only one locomotive in Locomotive Park, but it's a massive and historic one. You can climb up into the cab and live out your steam engineer fantasies. Don't worry, the train is permanently mounted in concrete, it's not going anywhere.
The huge coal-burning locomotive was built in 1928 for the Santa Fe Railway, and it made the passenger run between Los Angeles and Kansas City (stopping in Kingman for water) for many years. In fact, it made the railroad's final steam run from Los Angeles before the steam trains were replaced with diesels. The amazing piece of transportation technology was presented to the city of Kingman in 1957 and is a cool place to visit for kids, too.
The locomotive sits in the park space across the street from the Kingman Visitors Center and the Route 66 Museum. You can visit this classic locomotive while modern trains go by, as the main track is only a few hundred feet away.
Address: 310 West Beale Street at 1st Street
Map of Things to Do in Kingman, AZ
Kingman, AZ - Climate Chart
Average minimum and maximum temperatures for Kingman, AZ in °C
J
F
M
A
M
J
J
A
S
O
N
D

12

-1

15

2

17

3

22

7

27

12

33

17

36

21

34

20

31

16

25

10

17

3

13

0

PlanetWare.com
Average monthly precipitation totals for Kingman, AZ in mm.

31

28

33

12

8

5

25

36

17

21

18

21