15 Best Things to Do in Lake Havasu City, AZ
The growing resort community of Lake Havasu City is all about having fun. The vacation destination's epicenter is the lake itself, and exploring the lake on a WaveRunner or a with a Rubba Duck boat tour is one of the top things to do here.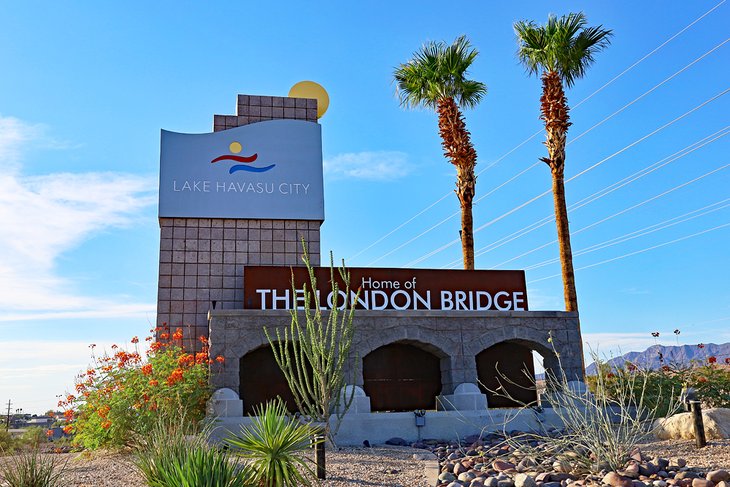 Adjacent to the lake is the city's now iconic London Bridge, an authentic antique bridge shipped over block by block from England. Directly adjacent to the bridge is the English Village, home to the Lake Havasu Visitor Center. The dock area next to the bridge is where adventures like the Sunset Experience cruise depart from and return to.
You may want to get out and explore the local mountains via a hike on the Crack in the Mountain trail at SARA Park or on a trail at Cattail Cove State Park.
Plan your sightseeing with our list of the best things to do in Lake Havasu.
1. Play on Lake Havasu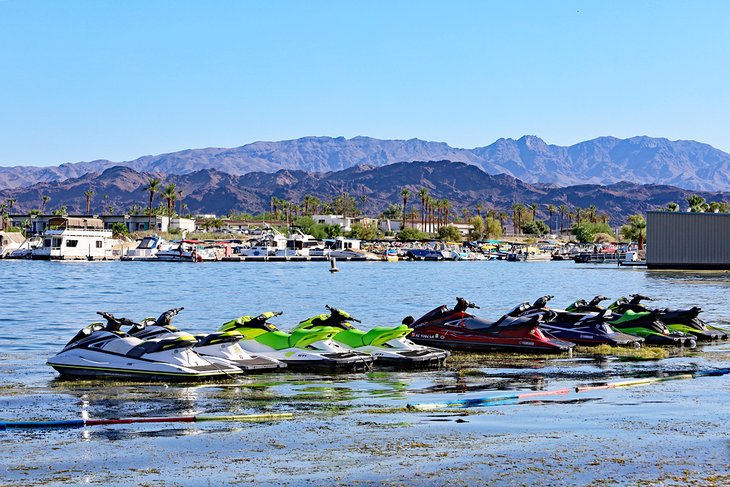 The main reason people come to Lake Havasu is to play in or on the lake and enjoy its more than 400 miles of coastline. The calm, warm water is perfect for swimming, and you'll find people enjoying it in every way possible.
It's all about boats here. You'll see people cruising on multi-million dollar jet boats next to people in inflatable row boats you buy at Walmart for under $30. If you don't have a boat or personal watercraft (Jet Ski, WaveRunner, etc.), there are many places that offer rentals.
There are multiple beaches along the lake, and most of them have roped-off (no boats) designated swimming areas for safety. Some areas of the lake are dog-friendly, but they must be on a six-foot lead. You can take them into the water.
2. Walk across London Bridge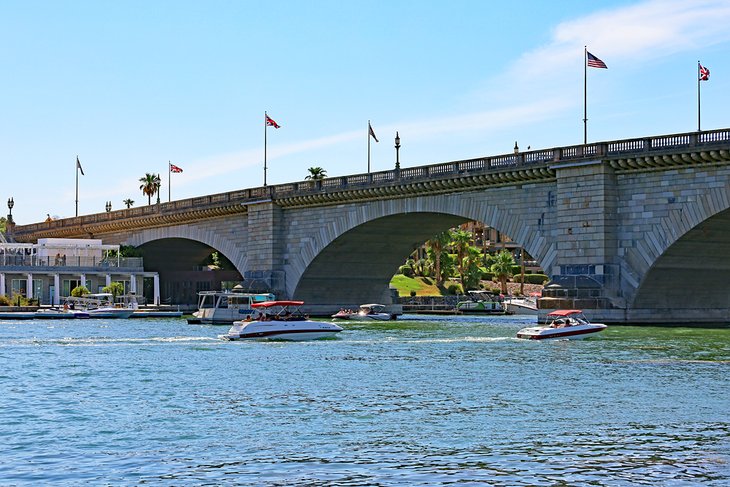 The most popular thing to see in Lake Havasu is a bridge that spanned the Thames in London for more than 150 years. In 1968, when the bridge was going to be torn down, the American real estate developer of Lake Havasu bought it to be a tourist attraction.
The numbered granite blocks were shipped to America and then carefully reassembled (over a modern concrete bridge) creating London Bridge in Arizona. The bridge's width and low span height makes it very accessible, and you can get up close and personal by walking up or down the stone stairwells on either end. They're made of the original stone as well.
One end of the span terminates at the appropriately named English Village tourist area. Located next to a channel of the Colorado River, the district is filled with shops, restaurants, and tour and activity businesses catering to the city's many visitors.
3. Take a Sunset Cruise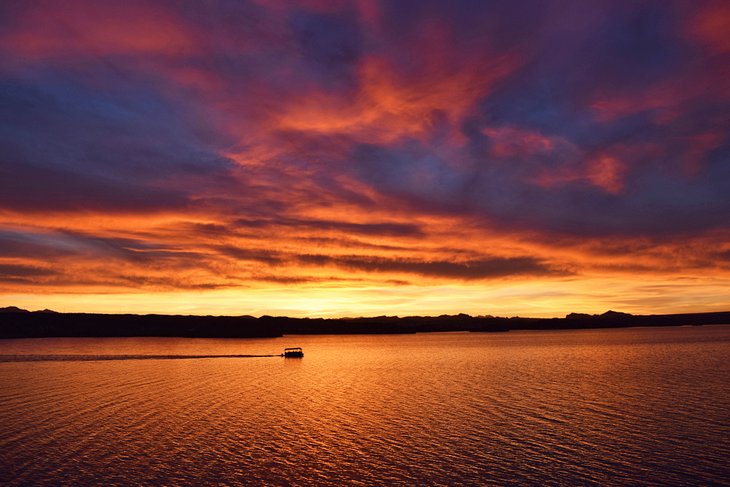 Lake Havasu and the surrounding mountains come alive at sunset with a lightshow of reds, purples, oranges, pinks, and other colors that will really take your breath away. One of the best things to do in Lake Havasu is a sunset cruise on the lake.
Sunset Charter and Tour Company's Serenity Now is the perfect boat to do it on. The pontoon boat is 30 feet long but only accommodates six passengers in total comfort. There is stadium-style seating and an on-board restroom; it's like a limo on the water.
The Sunset Experience cruise is a 24-mile, three-hour guided (if you want) journey around the lake and its most beautiful locations and features. The cruise leaves from the dock right next to London Bridge. Bottled water is provided, but you are welcome to bring your own beverages as well as light snacks.
Cruises run seven days a week and leave the dock around 5:30 pm, depending on what time sunrise is that day.
Official site: https://www.lakehavasuboattours.com/
4. Go on a Rubba Duck Safari
Rubba Ducks are small, easy-to-operate Zodiak-like inflatable boats with outboard engines and sun canopies. The boats can accommodate up to four people (adults and children), with a maximum capacity of 650 pounds.
The Rubba Duck Safari is a guided group tour of Lake Havasu, where you captain your own little Rubba Duck boat. Listening to the guide (who is in another boat in the group) on a headset, you explore the lake and visit some hidden areas only accessible by boat.
There are two tours a day: One is an early-morning, hour-long tour around the island between the channel and the lake; the other is 2.5 hours long and goes to Copper Canyon and Teal Bay.
During the fall and winter, they do a 5.5-hour tour that takes you into Topock Gorge, the area's mini Grand Canyon. The Rubba Duck Safaris leave from the dock area in front of English Village.
Official site: https://rubbaducksafari.com/
5. Check Out Arizona's Largest Skatepark at Rotary Community Park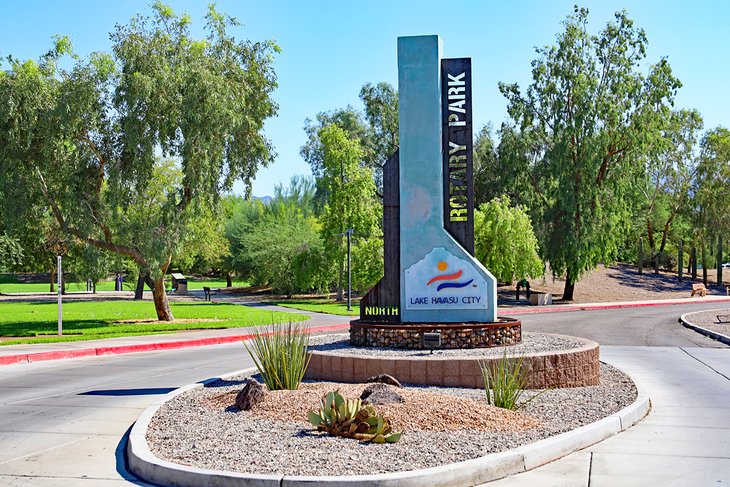 Rotary Community Park is a huge open space and play area in one of Lake Havasu's residential neighborhoods. Very popular with locals, it's on the shores of Thompson Bay and has multiple playgrounds, all kinds of picnic facilities and amenities, beach volleyball courts, baseball fields, bocce ball (lawn bowling) courts, and its own big beach area.
There is a designated swimming area marked off by rope buoys.
Within the park is the Tinnell Memorial Sports Complex, the formal name for Arizona's biggest skate and BMX park. The 40,000-square-foot facility is constantly in use and is a fun place to visit to learn to skate or watch the experts.
Address: 1400 South Smoketree Avenue, Lake Havasu City, Arizona
6. Hike the Crack in the Mountain Trail at SARA Park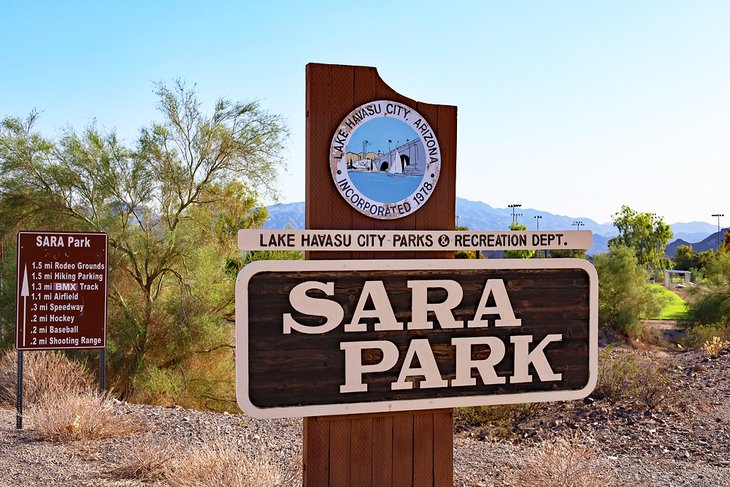 SARA (Special Activities and Recreation Area) Park is about five miles outside downtown Lake Havasu and has all kinds of cool things to see and do. There's a shooting range, a racetrack for full-size cars, a motocross course, a BMX track, and even a track for remote control cars. There's also an area for remote control model airplanes.
SARA Park has traditional park equipment, too. There are baseball fields, hiking trails, a big covered playground, and picnic facilities with ramadas (small, covered pavilions). The park is also home to a large dog park area, with separate fenced parts for small dogs and big dogs.
SARA Park is home to the Crack in the Mountain trail, aka the Sara's Crack trail, a moderate three-mile hike that takes you through one of the area's famous slot canyons, with high rock walls and a slot in the middle barely wide enough for a person to fit through.
Address: 7260 South Sara Park Way, Lake Havasu City, Arizona
7. Enjoy the Beach at Lake Havasu State Park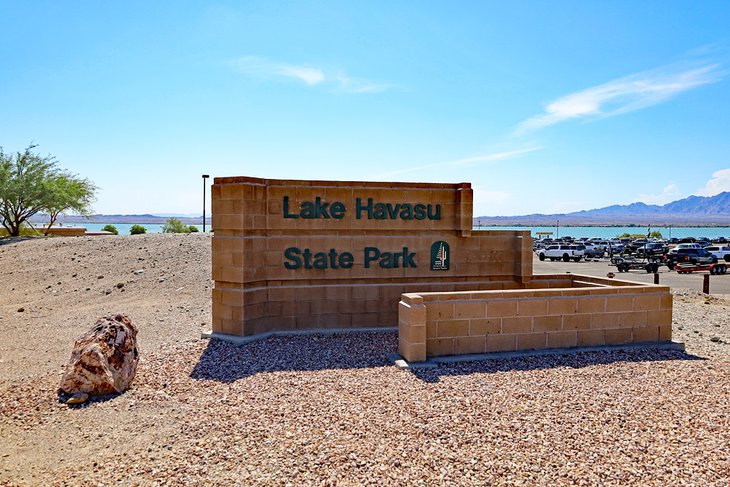 With over 2.5 miles of really white-sand beaches, you might think Lake Havasu State Park was a Caribbean resort. The park, which does get very busy on holidays and winter weekends, has five boat launch ramps and full picnic amenities.
There is also camping available for RVs and tents, and 13 very popular beachside cabins on the sand, which can be rented through the Arizona State Parks website. They each accommodate up to six people.
Lake Havasu State Park, with its large, green open space is where the city hosts its big events, fairs, expos, and music festivals.
There are also a few hiking trails of varying difficulties located within the park. The park is dog friendly, but they're not allowed on the beach or in the water here (they are allowed on the beach and in the water in other parks, like London Bridge Beach).
8. Stop by the Lake Havasu City Visitor Center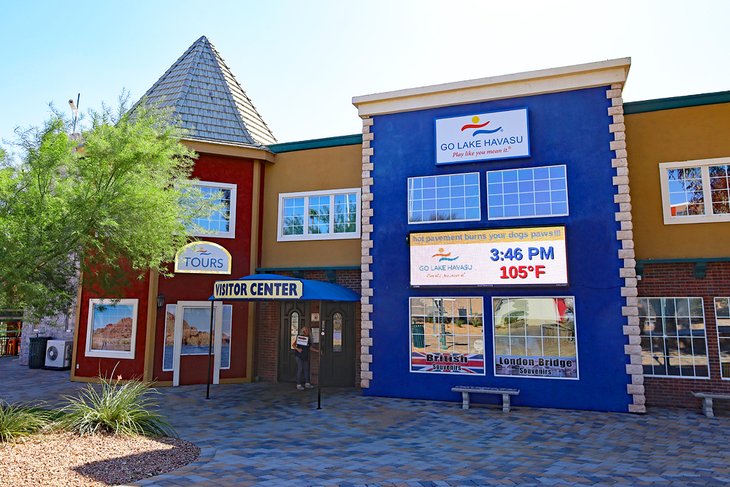 Part of the English Village tourist area directly adjacent to London Bridge, the Lake Havasu City Visitor Center is a one-stop-shop for tourists and locals who want to know what's happening in and around Lake Havasu.
The information center can book all kinds of activities for you, including tours, boat rentals, or watercraft rentals. They can help with lodging, accommodations, and transportation, too.
The center isn't just for tourists, if you're thinking of retiring or relocating to Lake Havasu, they can also help you with those moves. If you're a local and have friends or family coming into town to stay with you, this is a great place to visit for help planning an itinerary for them.
The visitor center also has a gift shop, where you can buy Lake-Havasu-themed memorabilia and souvenirs. It's right in front of the big fountain.
Address: 422 English Village, Lake Havasu City, Arizona
9. Search for Miniature Lighthouses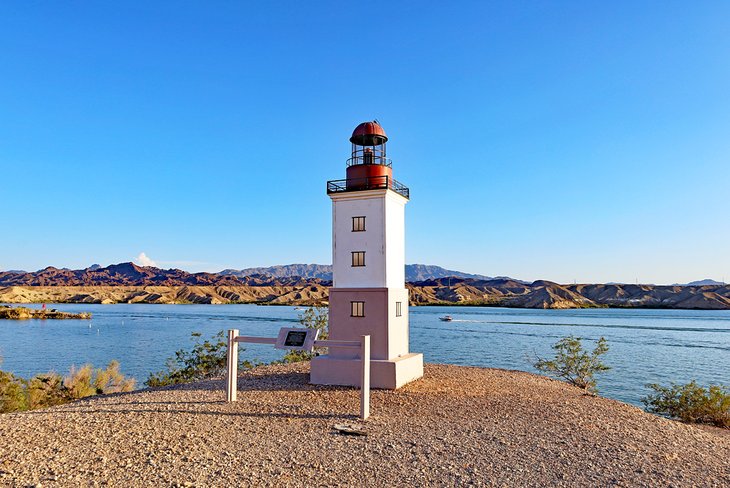 In locations around the island and on the shores of Lake Havasu, there are 27 working one-third-scale models of real lighthouses from around the country.
The detailed, handmade models are all unique, as they are reproductions of 27 different lighthouses located throughout the United States. Some are the traditional tower-type, and others are different. And while they're not official navigational aids, they do ring the island and dot the shoreline, helping ships identify where the shoreline is.
Each lighthouse can be visited, and they are marked with interpretive signage indicating the name and location of the real lighthouse the model is designed to replicate. The largest, a replica of the iconic Cape Hatteras Light, is 30-feet-tall.
The lighthouses are scattered throughout the area, some on rocky and dirt areas not accessible by car. The LHC Lighthouse Club has a list, including GPS coordinates, should you wish to visit them all.
Official site: http://lh-lighthouseclub.org/
10. Tour the Lake in a Flying Boat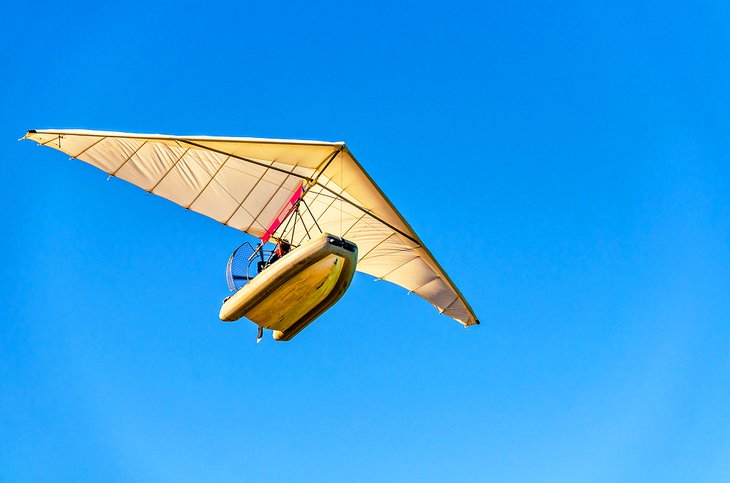 One of the best things to do in Lake Havasu also provides the best way to see the lake. The Hangin' Over Havasu experience is done in a flying boat, and gives you amazing drone-like views of the lake and the surrounding mountain landscape from 1,000 feet up in the air. The Cygnet is a small motorboat attached to a hang-gliding wing.
The introductory flight goes about 50 miles per hour at a height between 500 and 2,000 feet. They will even do a touch-n-go, where they land briefly on the water then take off into the air again.
The introductory flight is $199 per person for a half-hour, $299 for an hour. This is more than a tour, it's a flying lesson and introduction to the aircraft. If you want, you'll have a chance to take the controls and fly the Cygnet yourself.
Due to the extreme heat, the flights are only done from September to June.
Official site: https://www.hanginoverhavasu.com/
11. Hang Out at London Bridge Beach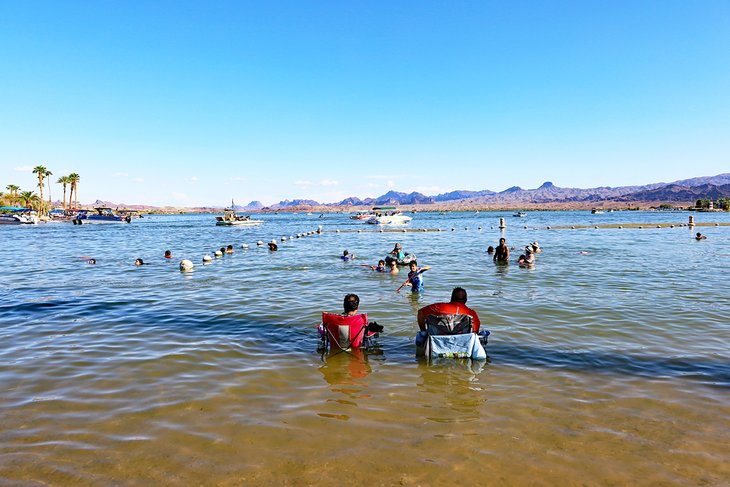 London Bridge Beach, close to the bridge, is the city's large, free-to-visit, and free-to-park public beach area. It's on the Bridgewater Channel, right where it meets Lake Havasu.
If you visit for the day or your accommodation isn't on a beach, this is a great place to come to have fun. On weekends and holidays, it becomes a huge gathering, extending from the packed lawns to the packed beach to the channel packed with boats.
There's a specific roped-off swimming area, and you can rent watercraft right on the beach. There are multiple playgrounds for kids and multiple basketball and sand volleyball courts, and even a community stage.
London Bridge Beach is very dog friendly; leashed dogs are allowed everywhere, including the beach and water. There's also a no-leash dog park with sections for large and for small dogs.
Address: 1340 McCullough Blvd. N, Lake Havasu City, Arizona
12. Learn about the Past at the Lake Havasu Museum of History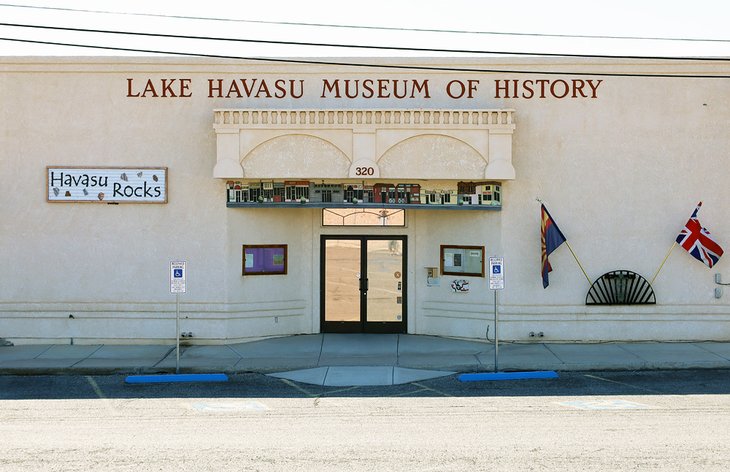 Aside from a permanent exhibition and static displays of many of the city's artifacts and historic documents and photographs, the Lake Havasu Museum of History hosts changing exhibitions of local artists' and artisans' work.
The permanent collection is vast and varied, representing millions of years, from tools made by prehistoric occupants of the region to sales brochures from failed airlines that served it in the 1970s. The artwork and art pieces shown in the changing exhibitions is for sale, and the sales benefit the museum.
A visit to the museum usually consists of a self-guided tour with no time restriction, and it's an interesting way to get out of the hot sun for a few hours. The Lake Havasu Museum of History is open Tuesday through Saturday from 11am to 3pm.
Address: 320 London Bridge Road, Lake Havasu City, Arizona
13. Relax at Cattail Cove State Park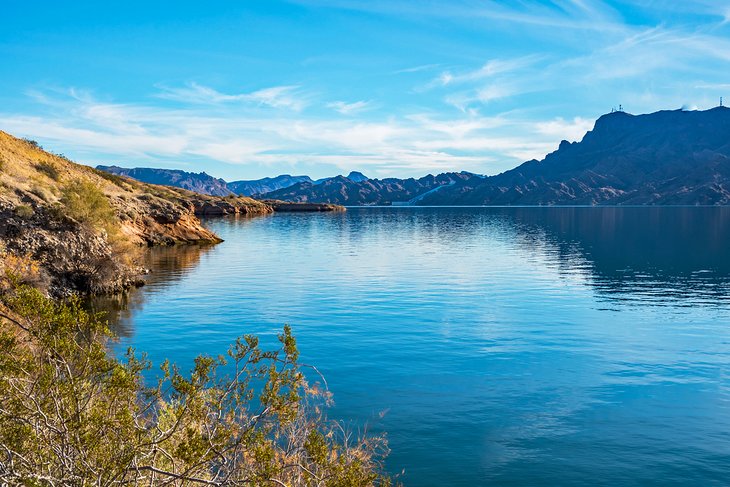 There's a reason the 2,000-acre Cattail State Park is one of the best things to do in Lake Havasu. It's a riverfront beach resort area that's about 30 minutes away from the crowds and craziness of Lake Havasu State Park or London Bridge Beach.
There's a beach and a boat ramp, along with 61 campsites. Cattail Cove even has boat-in campsites, where you pull your boat near the beach, swim to the sand, and camp right there.
Birding is popular here, with multiple species seen in the park. You might also see bighorn sheep, coyotes, snakes, and hummingbirds.
You have a few trails in the park for hiking, but Cattail Cove is mainly about the beach and the water. There is a designated, roped-off swimming area but you're also allowed to swim along the shoreline here.
The park is open 24 hours year-round, and the visitor center and store are open from 8am to 4pm.
14. Browse the Shops at Lake Havasu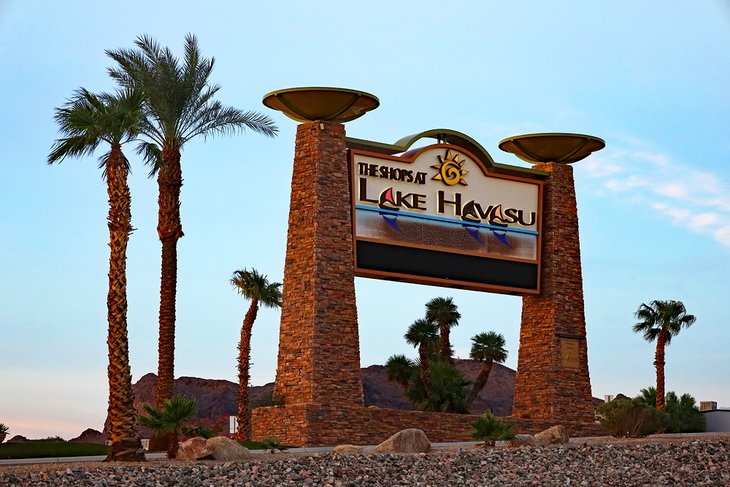 Sometimes you just want to get off the beach, get out of the hot sun, and enjoy some retail therapy. The Shops at Lake Havasu is a mainly outdoor mall with about 25 shops and stores.
On the practical side, there's a Walmart, which is a great place to stock up on anything you forgot, as well as snacks and beverages for the hotel, boat, and or rental. There's also a PetSmart, so you can get all the dog food and supplies needed to keep the puppy happy.
Entertainment-wise there is an 11-theater Star Cinemas, a perfect place to beat the heat and watch the latest movie while it sizzles outside at more than 100 degrees.
Shops at Lake Havasu are open Monday through Saturday from 10am to 8pm and from 1pm to 6pm on Sunday.
15. Celebrate Our Country's Heroes at the Havasu Memorial Walkway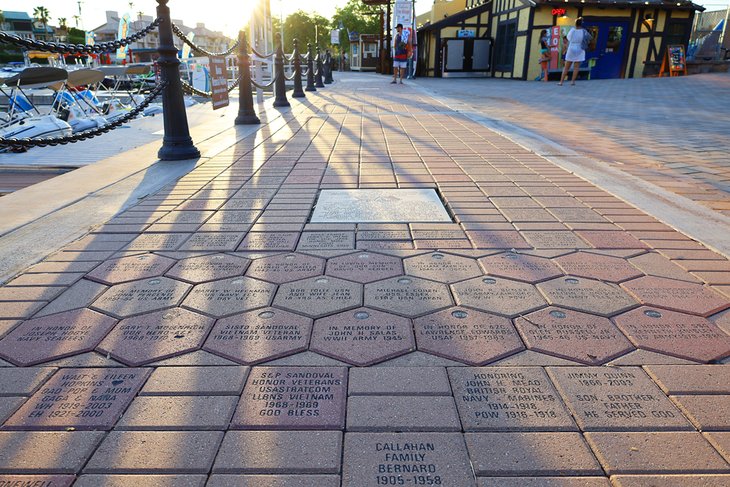 The Havasu Memorial Walkway is a section of the wide walkway next to the Bridgewater Channel, in front of the English Village, next to and under London Bridge. It's filled with bricks inscribed with the names of American heroes who died in service to their country in different wars and conflicts.
Among the individual bricks, there are plaques remembering "76 Moments of Freedom," 76 specific events of conflict that helped shape this country. There are also plaques honoring specific events when a group of people gave their lives together.
The majority of the bricks honor individual people, and they were donated by family and friends, so a visit is a very moving, personal experience.
The site plays host to frequent honor guard and other memorial ceremonies marking the anniversary of different conflicts and events.
Official site: https://havasumemorialwalkway.org/
Map of Things to Do in Lake Havasu City, AZ
Lake Havasu City, AZ - Climate Chart
Average minimum and maximum temperatures for Lake Havasu City, AZ in °C
J
F
M
A
M
J
J
A
S
O
N
D

18

6

22

8

24

11

29

15

34

20

39

25

42

28

41

27

38

24

31

17

23

10

18

6

PlanetWare.com
Average monthly precipitation totals for Lake Havasu City, AZ in mm.

27

23

22

5

3

1

10

17

14

11

10

15