9 Top-Rated Campgrounds near Prescott, AZ
The scenic landscape around Prescott, along with the huge pine trees and surrounding granite mountains, make this area a beautiful place to camp.
Whether you are tent camping or in an RV, you won't be disappointed with these campgrounds in Prescott. Many are just minutes outside town but still maintain a feeling of remoteness.
If you want something more urban, check out Watson Lake Campground, just a short walk from beautiful Watson Lake.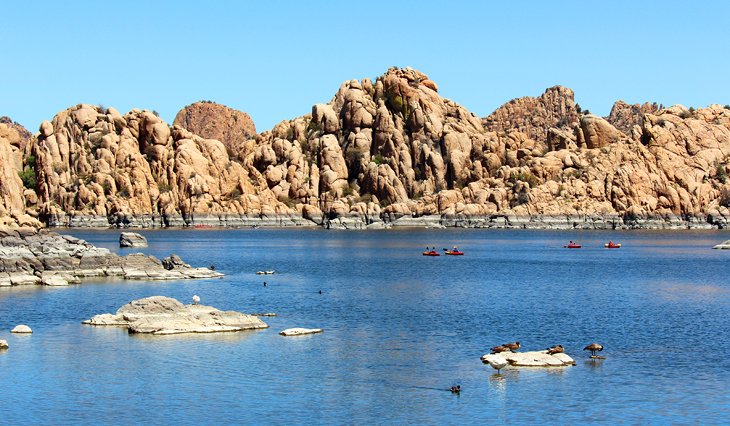 All campgrounds listed below, except Watson Lake Campground and Point of Rocks RV Campground, are Forest Service Sites, and reservations can be made up to six months in advance and not less than two days in advance.
Prescott takes pride in the fact that it has four seasons and even sees snow in winter. You'll want to take this into consideration when planning your camping trip.
Explore your camping options with our list of the best campgrounds near Prescott.
1. Lynx Campground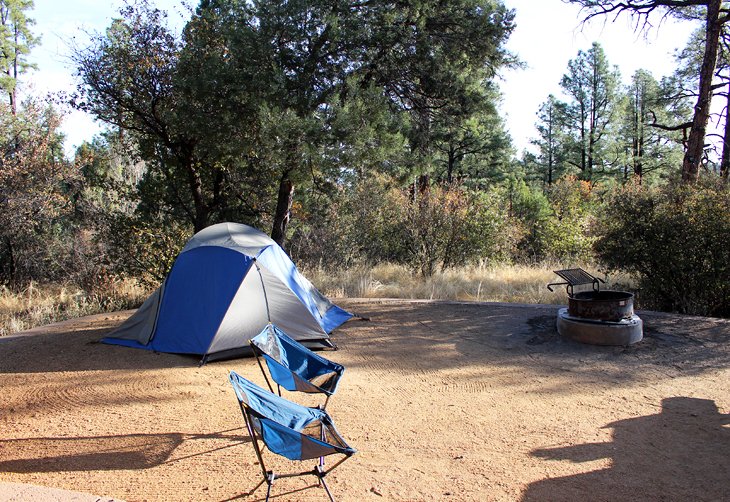 This beautiful campground on the east side of Prescott is just minutes from the city but feels like it's deep in a forest, far from civilization. The large pines trees are a welcome treat if you are coming from the nearby lowland areas.
The campground, located at an elevation of 5,600 feet, is set above Lynx Lake, a popular recreation area. Birds frequent the area, and a hiking trail rims the lake. Paths lead from some loops down to the shoreline. You'll also find mountain biking trails in the area.
Campsites generally offer plenty of privacy and are spread out over seven loops. Tent sites are level, and all campsites are very well-kept, clean, and raked.
Facilities include flush toilets, but no showers or hookups.
2. Hilltop Campground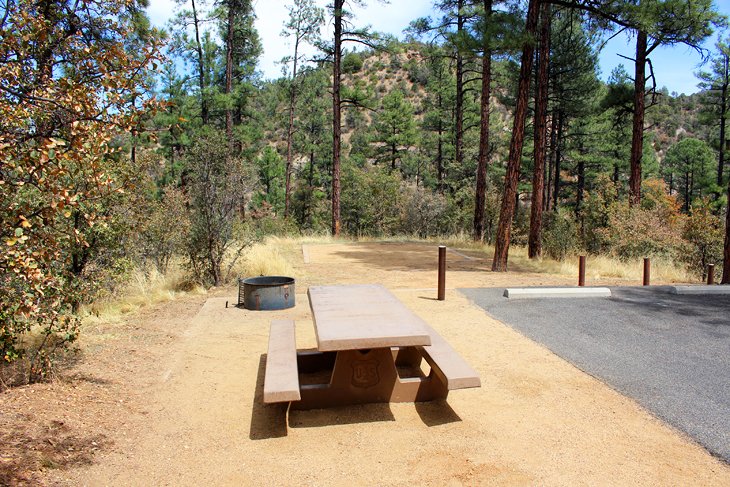 Just up the road from Lynx Campground, Hilltop Campground is picturesquely set amid rolling hills, and the campsites look out over gullies and hillsides.
The campground has 38 sites, but they are well spaced over three loops, and most sites have no neighbors. Some sites are built on small hillside terraces that support the tent pad area and a picnic table. You'll also find some pull-through sites.
Like Lynx, this campground is also graced with tall pines and a scattering of low level shrubs and bushes. It's similarly popular with campers interested in pursuing the recreational activities in the area, from hiking and ATVing to simply enjoying the lake.
You'll find only vault toilets here and no hookups.
3. White Spar Campground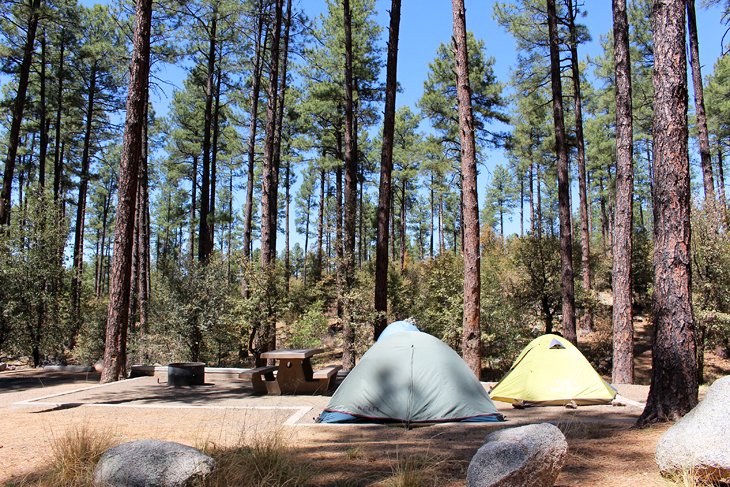 Directly south of Prescott, off Highway 89, White Spar Campground is about 10 minutes from downtown and set at an elevation of approximately 5,600 feet.
Although this campground does not have the same recreational offerings as those around Lynx Lake, it is every bit as beautiful and does have nearby hiking and mountain biking trails.
The picnic tables here look like tiny dollhouse furniture below the pine trees towering above. Sites are very large, and gray boulders dot the grounds. Many of the campsites look out to a tree-covered hillside. You'll find a variety of campsites big and small, some with paved parking pads, and others without.
Facilities are limited to vault toilets.
4. Yavapai Campground at Granite Basin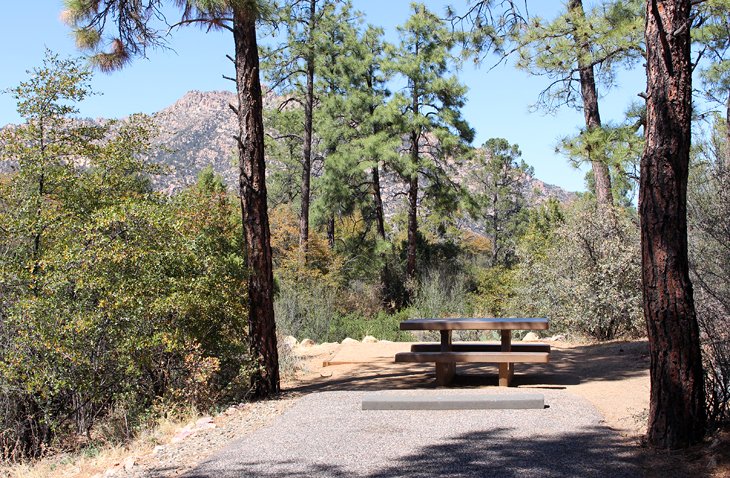 Located on the northwest side of Prescott, this campground is very different from those mentioned above, on the south and east side of the city. Trees here are much smaller, and the sites receive much more sunlight.
The views here are amazing, with sight lines out on the boulder-covered mountainside and ridge. Recreational opportunities are still plentiful here, with some wonderful hiking trails and even fishing at the tiny Granite Basin Lake.
Campsites are very private, with plenty of small trees and low-level vegetation and sites set far apart from each other. Sites have paved parking pads, and the only facilities are composting toilets.
5. Lower Wolf Creek Campground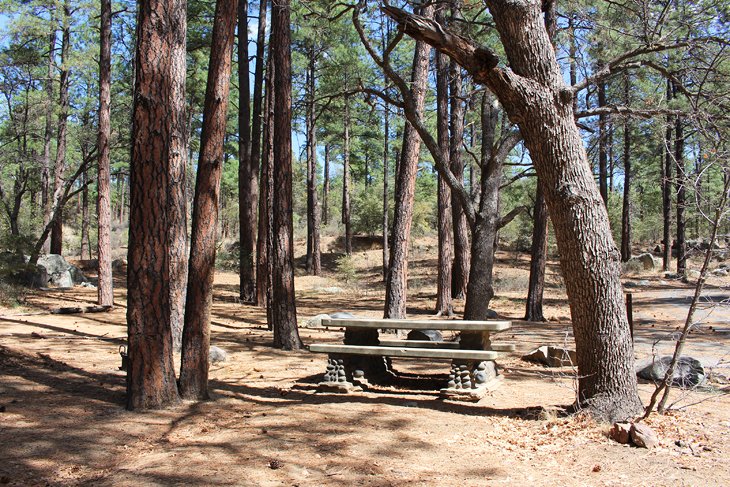 This beautiful campground south of Prescott definitely feels remote, although it's still within easy reach of the city. The road to the campground is unpaved for a stretch but is usually in quite good shape.
Set in an area of tall pines at the base of a hillside, campsites here are large and well-spaced, but privacy is limited. The surrounding area is total forest and home to some popular hiking trails.
Built in the 1930s by the Civilian Conservation Corps, some of the sites and picnic tables feature lovely stonework. The campground has no water, and facilities are simple vault toilets.
Upper Wolf Creek Campground, at the top of the hill, is a group campsite.
6. Watson Lake Campground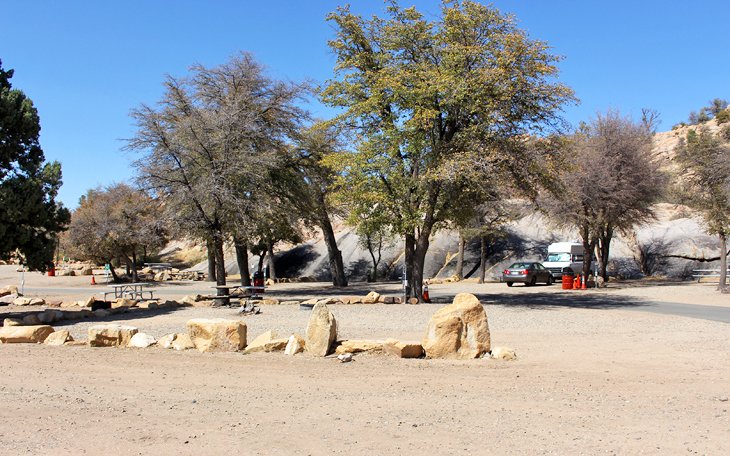 If you want easy access to scenic Watson Lake, a popular area for kayaking and canoeing, fishing, hiking, and mountain biking, camping at Watson Lake Campground in Watson Lake Park is a good option.
Located behind a hill from the lake, and just off a main road into Prescott, the campground is very open and offers essentially no privacy between sites. The area is mostly a large parking lot with 35 sites and a scattering of trees, and it butts up against a large rock ridge.
This campground is only open from early April to late October. You can reserve 19 of the campsites, the other 15 are first-come, first-served. Reservations must be made a minimum of seven days in advance.
Facilities include flush toilets and hot showers.
Official site: http://www.prescott-az.gov/recreation-events/recreation-services/facility-rentals/campsite-rentals/
7. Point of Rocks RV Campground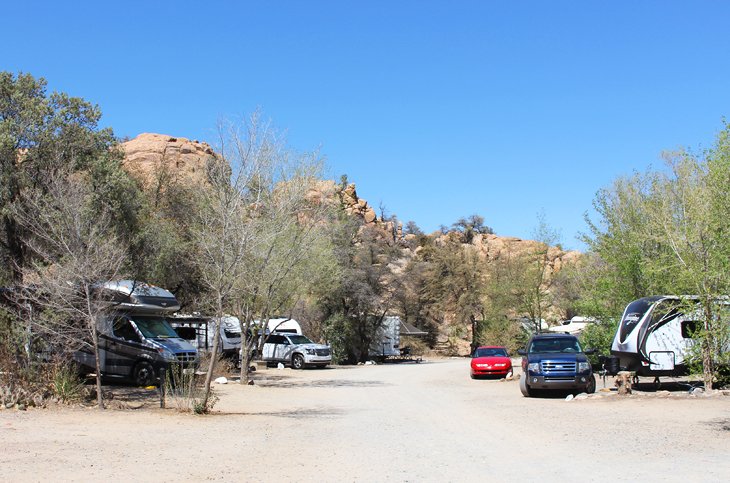 Ideally situated right near beautiful Watson Lake, the Point of Rocks RV Campground has everything you need if you like to be close to the city but just far enough out to have amazing scenery and peace and quiet.
The park is actually located in the heart of the stunning Granite Dells, a unique rock formation that Prescott is famous for. Sites have all the amenities of a typical RV park, including 30/50 AMP service, Wi-Fi, water, sewer, and picnic tables, and can accommodate rigs up to 50 feet.
If you like to hike, the trails of Watson Lake are a 10-minute walk away, and the Constellation Trails are only a short drive from here, and also worth investigating.
Prescott's tourist attractions and restaurants are a 10-minute drive away. The Phippen Museum is also just down the road and well worth a visit.
Official site: http://pointofrocksrvcampground.com/
8. Alto Pit OHV Campground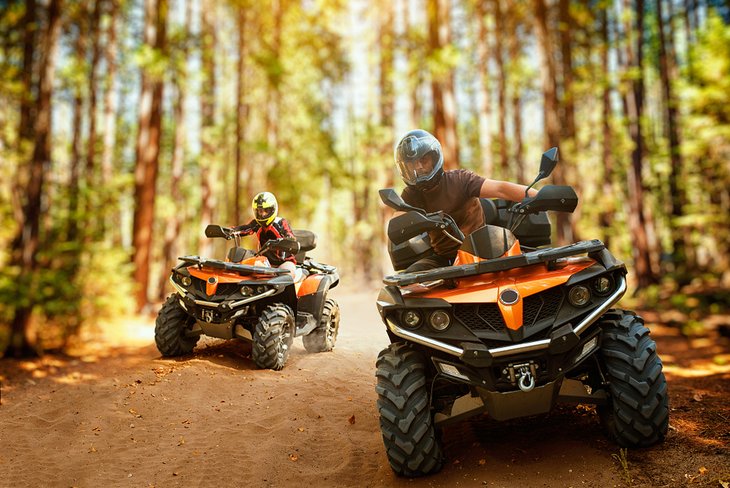 This is where you'll want to stay if you are into off-roading and want to be close to the trails. Park your rig and your trailer, set up camp, and head out directly from your site to 20 miles of trails spread out over 400 acres of forest.
The campground has 11 sites; all are first-come, first-served. Most sites have picnic tables, and vault toilets are available. Bring your own water - none is available.
9. Potato Patch Campground
If the heat is on, and you need an escape to a cool paradise in the woods, make a beeline to the Potato Patch Campground. Located at an elevation close to 7,000 feet, and only an hour from Prescott, the air up here is cool and refreshing.
Set among towering Ponderosa pines, you'll find 40 sites in two loops. A loop has 28 sites; B loop has 12 sites, all with electricity. Maximum vehicle length is 40 feet. Water and composting toilets are available.
Reservations are taken up to six months in advance on a rolling date basis.
If you've been camping for a few nights and feel the need for a dinner out or a quick return to civilization, the historic mining town of Jerome is only eight miles away.
10. Dispersed Camping in the Prescott Basin
For a more remote style of camping where you need to bring everything with you, consider camping in the Prescott Basin area. The camping here is free, but you must pack out whatever you pack in, no toilets are generally available, and no water is available.
The Prescott Basin is 59,000 acres in size and is spread across the area west, south, and east of Prescott. It's a wonderful, wild area, just perfect for those with an adventurous spirit. Depending on the location, sites are situated under a canopy of large pine trees on mostly level ground. You'll find them located along, or shortly off, forest service roads, marked with posts and campsite numbers. In the Prescott Basin area, 94 sites are available.
A couple of the locations to try include those listed below, all distances are from downtown Prescott.
Thumb Butte Loop: This is the largest of the camping areas, with 22 sites. Of the 22 sites, 17 will fit an RV, the other five are only for tents. This location is located 5.2 miles up FDR 373.
Potts Creek Road: Just 1.6 miles from the Thumb Butte Loop sites, this smaller set of eight sites is a good option if Thumb Butte is full. It can be found on FDR 51.
Map of Campgrounds near Prescott, AZ
Prescott, AZ - Climate Chart
Average minimum and maximum temperatures for Prescott, AZ in °C
J
F
M
A
M
J
J
A
S
O
N
D

11

-5

12

-3

14

-1

18

2

23

6

29

11

31

14

30

14

27

10

22

4

16

-2

11

-5

PlanetWare.com
Average monthly precipitation totals for Prescott, AZ in mm.

40

48

49

19

16

10

73

83

53

33

32

33

Average monthly snowfall totals for Prescott, AZ in cm.

9

13

18

6

0

0

0

0

0

1

4

14
Average minimum and maximum temperatures for Prescott, AZ in °F
J
F
M
A
M
J
J
A
S
O
N
D

51

23

54

26

58

30

65

35

74

43

85

51

88

58

86

57

81

50

71

39

60

29

52

23

PlanetWare.com
Average monthly precipitation totals for Prescott, AZ in inches.

1.6

1.9

1.9

0.8

0.6

0.4

2.9

3.3

2.1

1.3

1.3

1.3

Average monthly snowfall totals for Prescott, AZ in inches.

3.5

5.3

7.2

2.5

0

0

0

0

0

0.2

1.6

5.4
Discover More of Arizona's Outdoors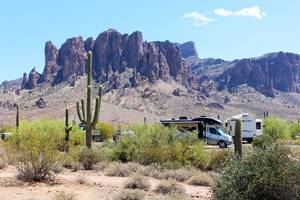 Camping in Arizona: For more camping among the pines in the high country, although something a little different than Prescott, see our article on the best campgrounds around Payson. And for some of the most beautiful scenery in the state, consider the campgrounds around Sedona.
When the temperatures are cool in Prescott, you may want to head to the desert to set up your camp. You'll find excellent campgrounds around Tucson, and even warmer areas for camping near Phoenix.
If you are still in the early planning stages of your Arizona trip and looking for ideas, you can find inspiration and destinations you may not have considered in our article on the best places to camp in Arizona.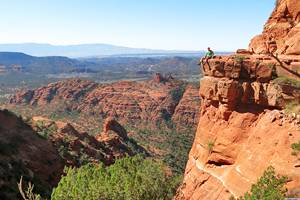 Hiking in Arizona: To truly appreciate the landscape around Prescott, lace up your hiking boots and wander around the lakes and forest. Here is our list of the best hikes in Prescott. If you like what you see here, you may also want to take a quick trip and head over to the hiking trails in Sedona. For more ideas on hiking around the state, see our piece on the best hikes in Arizona.